These easy keto meatballs will satisfy any craving for a savory, flavorful, and delicious keto dinner. The best part is you can cook these low carb meatballs in your oven or your air fryer, and end up with perfect results every time. Not to mention, each meatball has just 2 NET CARBS so they're perfect for any low carb diet, especially keto!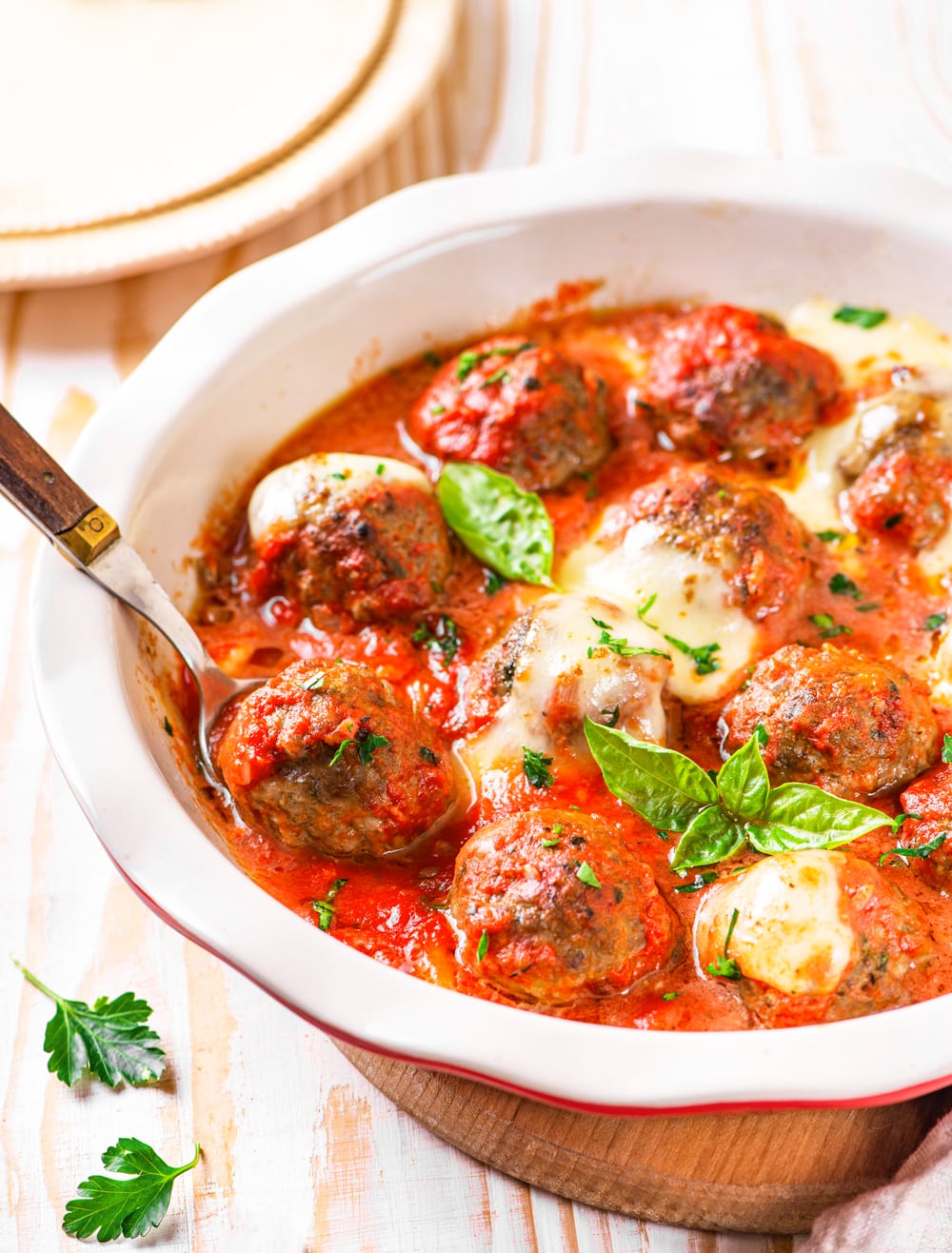 The BEST Keto Meatballs
This is one of those keto dinner ideas you'll definitely want to keep in your weekly rotation.
And I say that, because these are without question, THE BEST keto meatballs you can make!
The whole recipe takes about 40 minutes to do – a lot of it is just waiting for them to cook – and yields 12 pretty massive golf ball-sized meatballs. Plus, lots of delicious tomato sauce to pour over them too.
These keto meatballs aren't just a great dinner recipe though, they're a great meal prep recipe too.
And usually, when I meal prep these, I get about 4-5 meals out of this recipe.
Which, I think is the perfect amount for meal prep.
Especially when you serve them over some zoodles.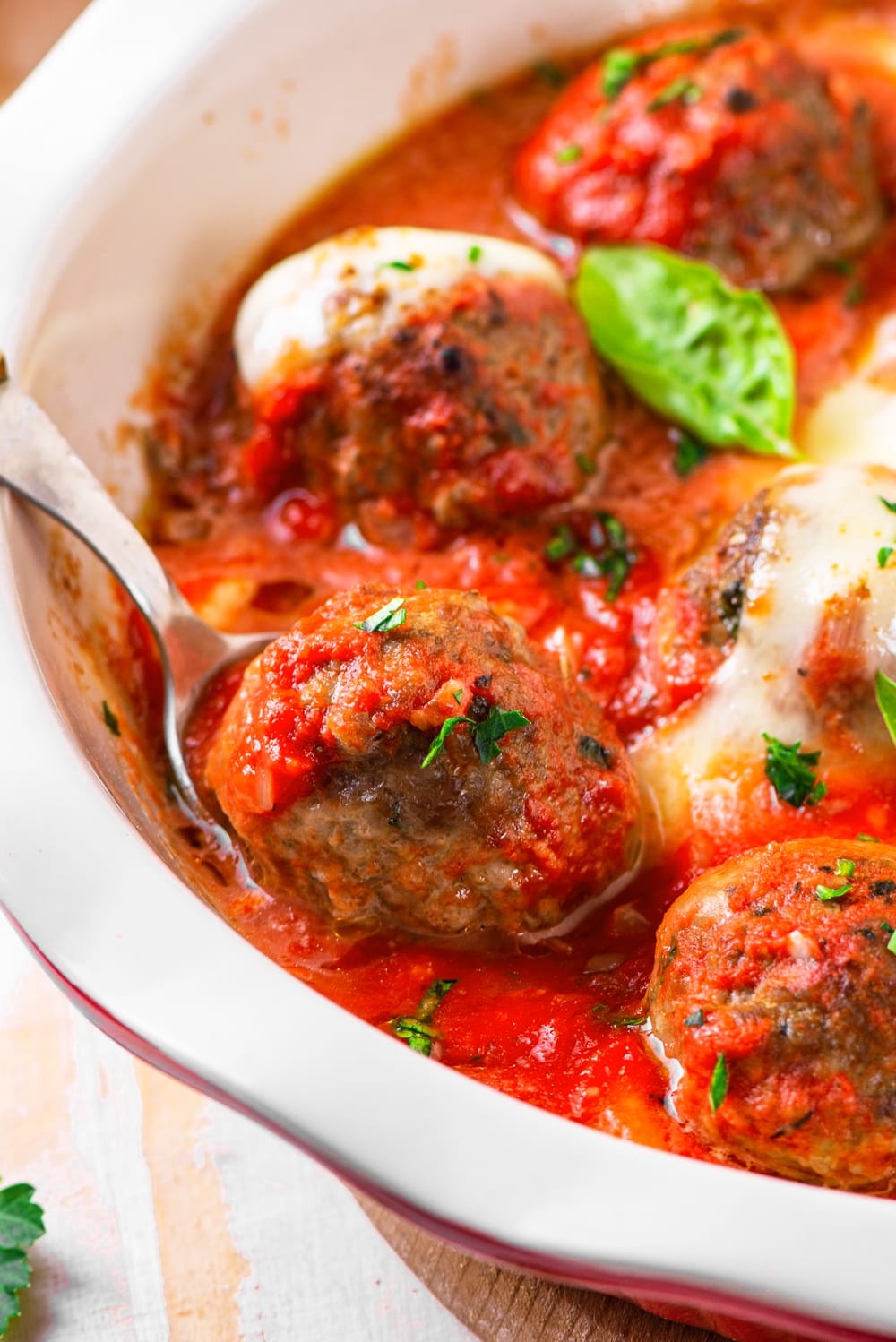 Easy Meatballs For Keto
These keto meatballs are the epitome of easy.
And you guys know I love easy.
So, it's probably no surprise that I love these meatballs.
As far as ingredients go there's just six...
Lean ground beef
A large egg
Chopped parsley
Salt
& Pepper
And the best part is all you have to do is add all of them to one bowl, mix, combine, and form!
Making meatballs doesn't get much easier than that, does it?
Oh, and did I mentioned each one of these has only 2 grams NET CARBS?
I did, right?!
How awesome is that?!!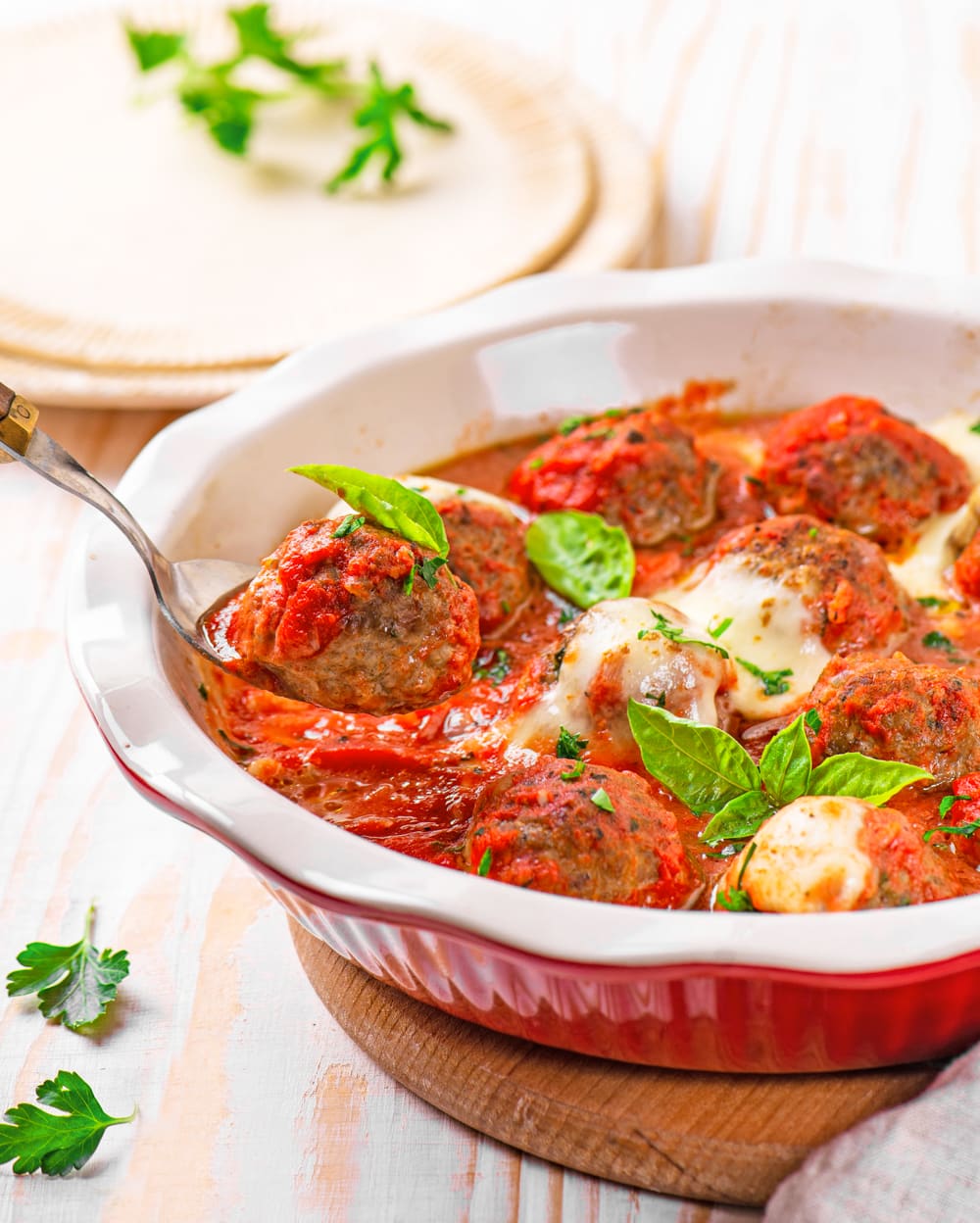 Low Carb Meatballs
So, most meatballs are pretty full of carbs and not ideal for the keto diet.
And as a proud Italian-American, I can confirm that this is indeed true.
I mean, I practically grew up on spaghetti and meatballs.
However, this delicious meatball recipe isn't my mama's meatball recipe.
It's close though.
It's just not loaded with all the carbs.
That said, these keto meatballs are still just as hearty, meaty, and flavorful as hers.
And what makes them so fantastic is the flavorful herbs infused into each meatball.
Chopped parsley and keto pesto – your choice of store-bought or homemade – take the meatiness of these hearty meatballs to another level.
Then, when you bake them to perfection – you get a toasty and crisp outer crust with a juicy inside dripping with meaty flavor.
Oh, it's so darn good!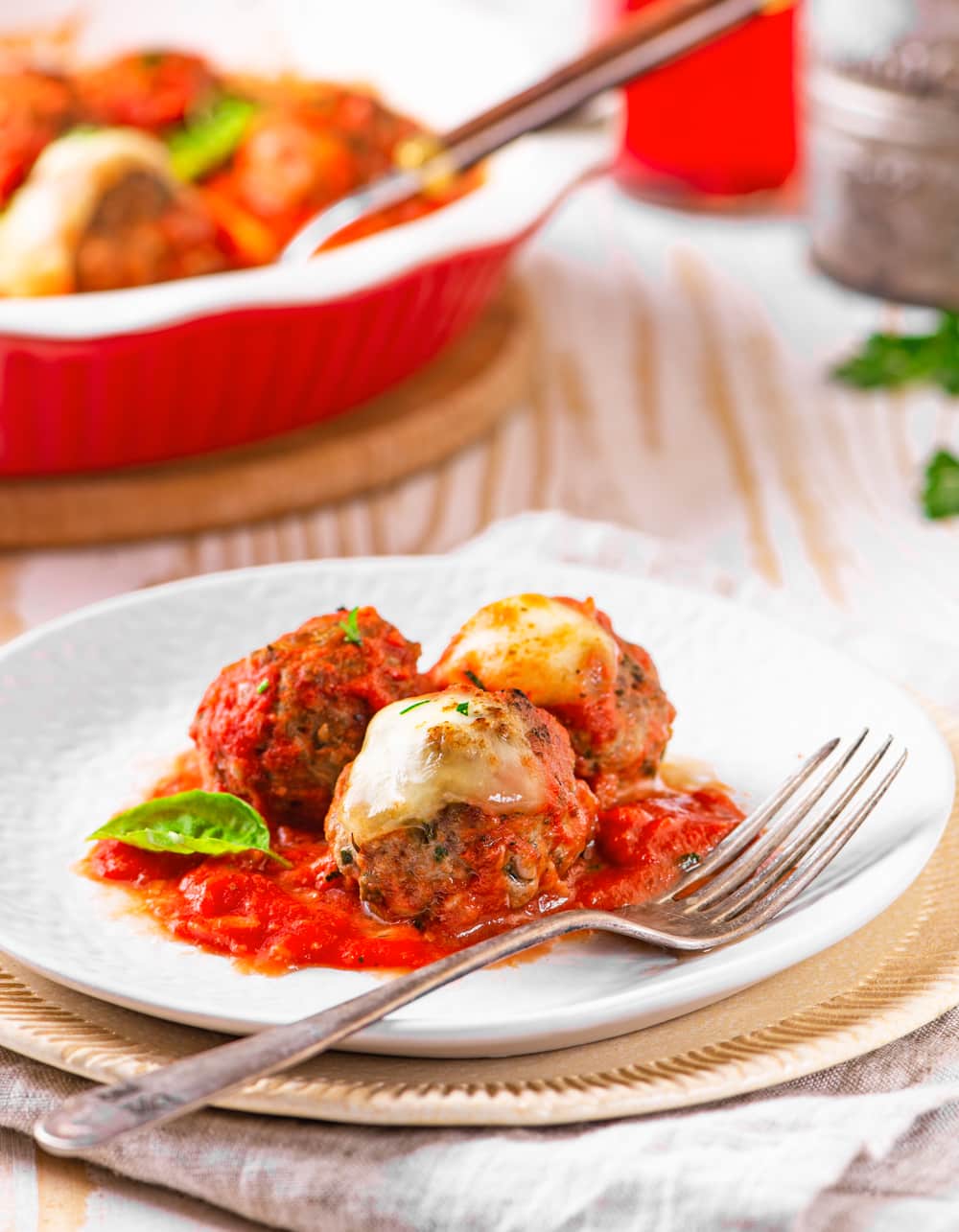 Keto Tomato Sauce
Now, one of the things that makes these the BEST meatball for keto is the addition of a tomato sauce full of deep & rich flavors.
I like to take a base store-bought keto tomato sauce like this one and elevate it with a few added ingredients.
Doing this really brings out the tanginess of the sauce, which in turn really makes the meatiness of the low carb meatballs shine.
Honestly, it's a match made in heaven!
Also, the sweet & savory flavor from the combination of onions, tomato sauce, and herbs is just insanely delicious too.
Oh, the sauce consists of just five ingredients...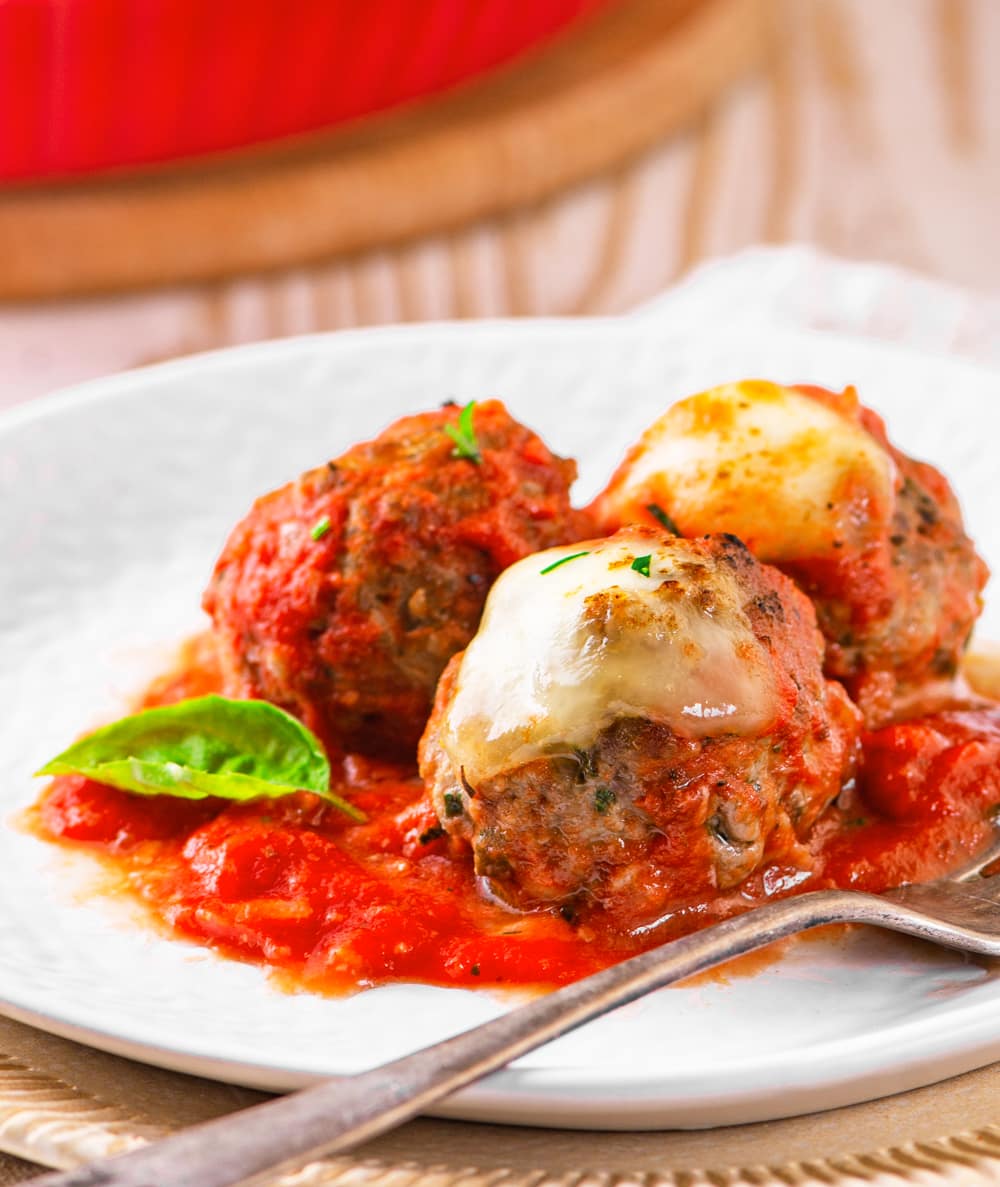 Now, the key to getting the most flavor out of this sauce is cooking down the onions and sautéing them until they're translucent.
Cooking them this way brings out a subtle mild sweetness that's an excellent base for the herbs and tomato sauce.
Another thing that takes this sauce to a whole different level of deliciousness is the Italian seasoning.
Honestly, I love using this stuff in meaty keto recipes like my keto meatloaf, and you'll even see me sneaking it into my cloud bread too.
I highly recommend using it for savory recipes because it's an effortless and straightforward way to elevate practically any keto dish.
By the way, don't hesitate to double the batch, and save some for other keto recipes.
It makes a fantastic sauce for my 10-minute keto pizza.
Cheesy Keto Meatballs
For the cheese lovers out there, you can add some cheese to make these meatballs even more satisfying.
I've found that adding about 100 grams – or a little less than 1 cup – of mozzarella cheese on the meatballs and sauce when they're close to being done is insanely good.
The mozzarella makes an incredibly melty & cheesy finish that goes perfectly with the tangy tomato sauce and hearty meatballs.
So I highly recommend adding it!
It's a lot like my keto cheeseburger casserole! Adding the cheese at the end of that dish just takes things to a whole other dimension of delicious.
So, when you're doing going H.A.M. on these meatballs, you'll want to try that recipe next.
Also, if you're not a big fan of pesto – or you just don't have any right now – you can sub in a tablespoon of grated parmesan.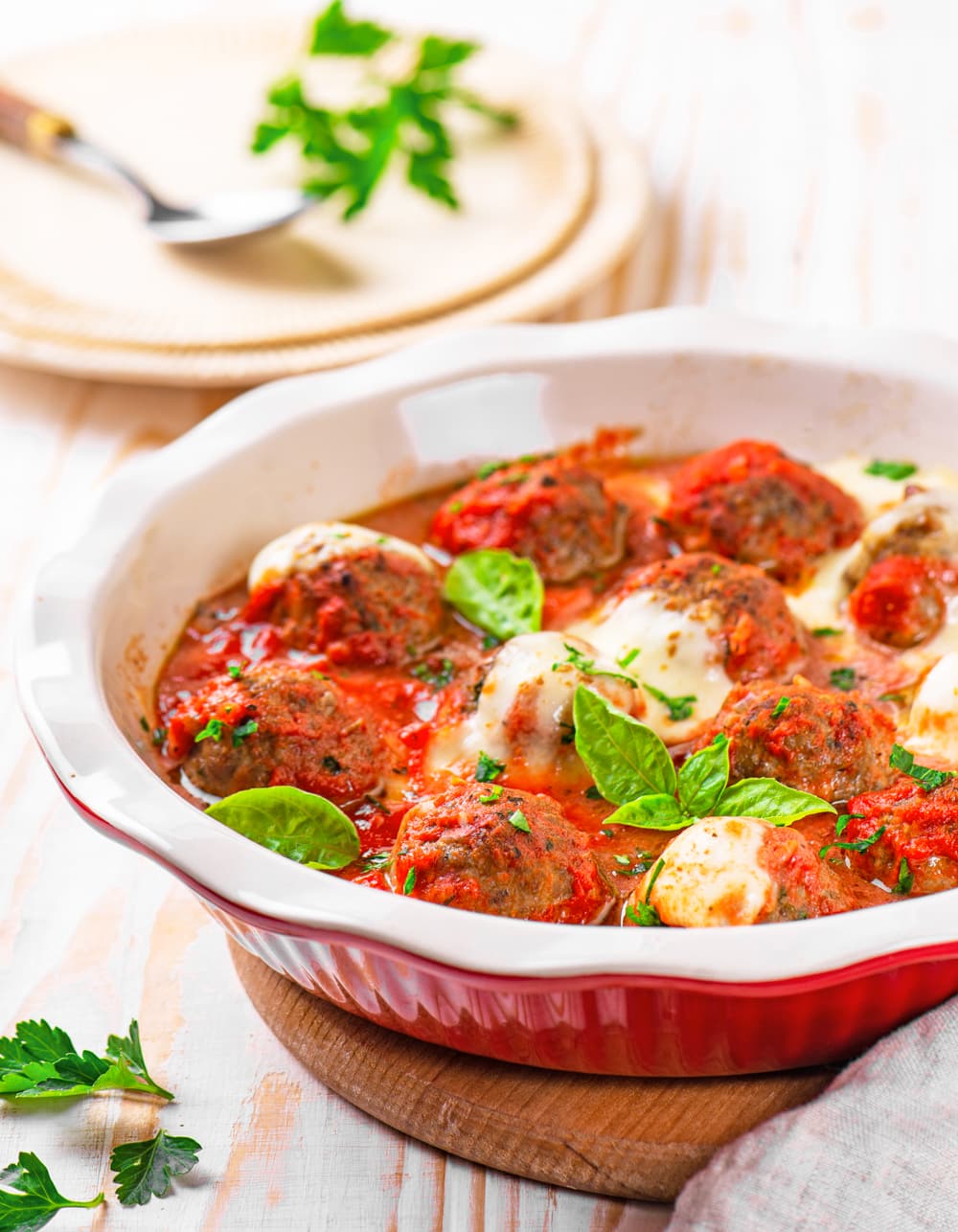 Air Fryer Keto Meatballs
For this recipe, I baked the keto meatballs in the oven.
But if you have an air fryer, you can use that too!
It will yield the same crisp, toasted outside and juicy and flavor inside that makes this recipe SO good.
To adapt this recipe for the air fryer, do the same process of shaping the meatballs then place them in your air fryer.
Make sure to set some tin foil at the bottom before baking – this is to keep the meatballs from sticking to your air fryer.
Then, you'll want to bake it at 325 °F for about 20 minutes.
Also, check-in on them around the 15-minute mark in case they cook quicker than expected.
Keto Meatballs Meal Prep Idea
Now, this recipe yields about 12 pretty big meatballs that only have approximately 2 NET CARBS each.
You can have some friends over for dinner – and impress them with your cooking skills – or you can make these for your meal prep.
As I've said, this would go great on top of some freshly made zoodles.
Or, even with a low carb salad or some roasted veg.
However, if you do meal prep these keto meatballs you'll want to portion everything out equally.
For that, I highly recommend using a food scale throughout the process.
This way, you can make sure you're getting the exact measurements as in my recipe, and you can portion out 12 low carb meatballs of the same size.
Plus, it will ensure that every meal prep container has the same amount of food.
Not to mention, using a scale will help you calculate the macronutrient info on each container as well.
Print
Keto Meatballs | The Best, Easy, Low Carb Meatballs For Keto
These easy keto meatballs will satisfy any craving for a savory, flavorful, and delicious keto dinner. Plus, you can cook these low carb meatballs in your oven or your air fryer, and end up with perfect results every time.  Not to mention, each meatball has just 2 NET CARBS so they're perfect for any low carb diet, especially keto!
Author:
Prep Time:

15

Cook Time:

25

Total Time:

40 minutes

Yield:

12

Meatballs

1

x
Category:

Dinner

Method:

Air Fryer / Oven

Cuisine:

Keto / Low Carb
Meatballs:
1 pound 80/20 ground beef (455g)
A Large egg
1 tablespoon (15g) pesto (store-bought or homemade) this one has 0 carbs
*You can substitute 1 Tbsp (15g) grated parm for the pesto
1 tablespoon finely chopped parsley
½ teaspoon salt
Pinch teaspoon black pepper
Chopped parsley and basil for serving
*Optional: Just less than 1 Cup (100g) of mozzarella cheese
Tomato Sauce:
1 Tablespoon (15g) olive oil
14.5oz (410g) Keto tomato sauce
½ Medium onion finely chopped
⅓ teaspoon salt
½ teaspoon Italian seasoning
Instructions
Oven Method:
Preheat the oven to 350F

In a large bowl combine all of the ingredients for the meatballs. Mix thoroughly with your hands for about 2 minutes.

Form meatballs about 1-inch in diameter and place them in a medium sized baking dish. Bake for 25 minutes (until the middle reaches 165F)

Meanwhile prepare the sauce. In a pan heat the olive oil over medium heat. Add onions and saute until soft and translucent.

Add the tomato sauce and spices, bring to boil and simmer on low.

When the meatballs are ready, pour the sauce on top of them. 

If adding the mozzarella cheese, add it on-top of the meatballs at this point, and bake for 5 more minutes - until the sauce is bubbly and the cheese has malted nicely. 

Top with chopped parsley and basil before serving.
Air Fryer Method:
Shape the meatballs and add them to your air fryer - make sure to add foil to the bottom of it before baking to ensure they don't stick.
Bake at 325F for around 20 Minutes.
Check on them at 15 minutes just in case they cook quick.
Nutrition
Serving Size:

1 Meatball

Calories:

135

Fat:

10

Carbohydrates:

2.5

Fiber:

.5

Protein:

8
Keywords: keto meatballs, meatballs keto, meatballs for keto, easy keto meatballs, how to make keto meatballs, best keto meatballs, keto meatballs recipe, low carb meatballs, air fryer meatballs, air fryer keto meatballs.