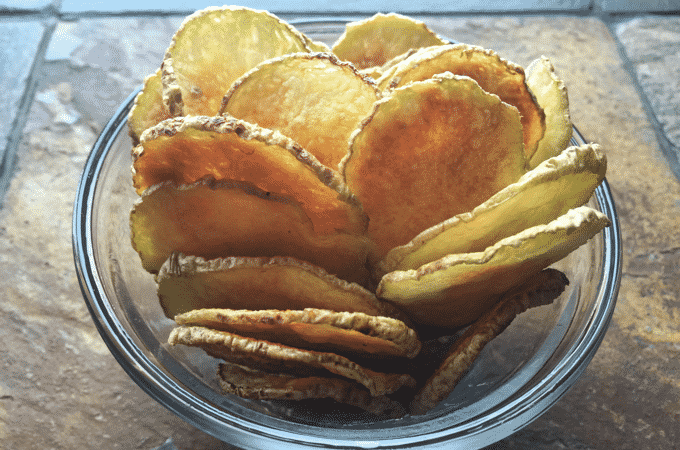 Say goodbye to those horrid, soggy, burnt, and time consuming oven baked potato chips.
For years I made healthy "potato chips" in the oven with limited success.
However, my potato chip life changed once I started using my microwave. Yes, I know, it's hard to believe the microwave could make such a drastic change cooking potato chips, but it makes a lot of sense. Microwaves work by heating the water molecules up in food (thus the water evaporates), which means sliced potatoes cook perfectly; they're unburnt, and crunchy.
Sometimes the best things are the simple things, and that's certainly true with these 6 minute homemade potato chips!
Note: Your cook-time might take a few minutes longer depending on the strength of your microwave, but even with the weakest of microwaves they'll only take 10/12 minutes.
If you try these potato chips out, don't forget to snap a pic and tag it #thedietchef
And of course, you can always check out this recipe, and many many more on my YouTube Channel
Macronutrients: Using 1 large potato (148g) - Enough for around 2-3 plates of chips
110 Calories, 0g Fat, 26g Carbs (3.2g Fiber), 3g Protein
3 Weight Watcher PointsPlus
Print
6 Minute Potato Chips (Fat Free)
Non-fried fat free potato chips
Author:
Prep Time:

5 mins

Cook Time:

6 mins

Total Time:

11 mins

Yield:

3 Plates Of Chips

Category:

Snack

Cuisine:

American
Potatoes (1 large potato 148g)
Baking spray
Salt (to taste)
Instructions
Cut potatoes into thin slices (the width of the quarter)
Spray a microwave safe plate with non-stick cooking spray (my favorite is buttered flavored)
Add potato slices to plate, spray potatoes, and cover them in salt
Microwave for 3 minutes (***1250 WATT MICROWAVED USED) may take longer if yours isn't as powerful
Flip and microwave another 3 minutes
They should be crunchy at this point, but if you let them cool they'll get even crunchier
If they are not atleast crunchy microwave 1 minute at a time until they get there...and let stand.
Notes
3 Weight Watcher PointsPlus
Nutrition
Serving Size:

1 Large Potato

Calories:

110

Fat:

0

Carbohydrates:

26

Fiber:

3.2

Protein:

3