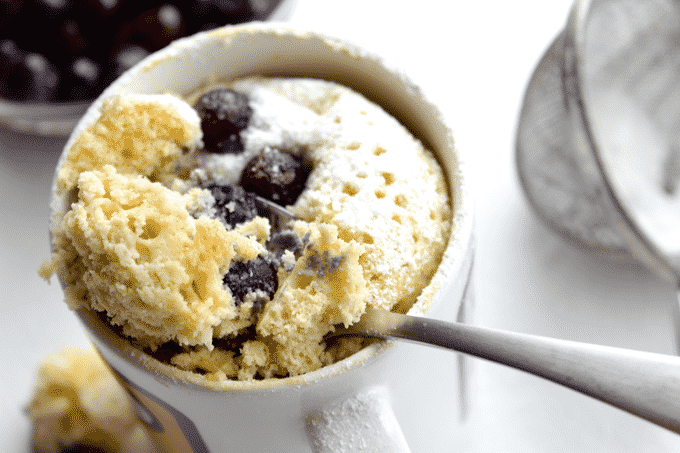 I'm sure you guys already know this....but I love mug recipes. I mean, I did do an entire YouTube series dedicated to them late last year that was appropriately named "Month Of Mug Cakes". I also made a free e-book that features all of those mug recipes, and you can get it simply by signing up for my Weekly Recipe Newsletter . And all the Newsletter is, is just 1 email a week containing my most recent recipes. You won't wanna miss it!
Alright, now lets talk a little bit about this blueberry muffin mug recipe.
First off, the consistency is spot on muffin. If you've tried mug recipes in the past (especially healthy ones), then you know sometimes the consistency just doesn't turn out cake-y, or muffin-y, or whatever-y your making. I can guarantee you, from making and eating several of these muffins, that this is not the case here. This blueberry muffin has that perfect muffin consistency...you know, the kind that's just slightly denser than an actual cake? Yeah, that's the kind this muffin has.
Of course, the top of this muffin doesn't get as "hard" as a typical muffin does, but honestly I really didn't miss that. The bites without blueberries have a wonderful vanilla flavor. In fact, if the muffin didn't have any blueberries, it would still be absolutely delicious. But the bites with blueberries certainly take this muffin to a whoooole new level of deliciousness.
And the last thing I'll say about this mug muffin is how big it is. This mug recipe makes a lot of muffin, for not a lot of calories/macros. You definitely can just eat this muffin by itself for breakfast, and feel confident you'll feel full until lunch.
Macros: 383 Calories | 8g Fat | 43g Carbs (6g fiber) | 35g Protein
Print
Healthy Blueberry Muffin In A Mug
High protein blueberry mug muffin
Author:
Prep Time:

2 mins

Cook Time:

1 min

Total Time:

3 mins

Yield:

1 Muffin

Category:

Breakfast/Dessert

Cuisine:

American
1 Tbsp

(

7g

) coconut flour

2

Tbsps (20g) oat flour

1

Scoop vanilla whey protein powder (i used Isopure)

1.5

Tbsps (18g) sugar substitute (make sure it has the same volume as regular sugar)

½ Tsp

baking powder

1

Whole egg

1 Tbsp

(15ml) vanilla unsweetened almond milk

1 Tbsp

(

20g

) unsweetened apple sauce

¼ Cup

(

35g

) blueberries
Instructions
Add all of the dry ingredients to your mug and mix well
Now add your wet ingredients and combine
Drop in the blueberries and just cover with batter
Microwave for around 1 minute (micro times may vary depending on the power of your micro)
Notes
*You may substitute the protein powder for:
30g Oat flour
6g Sugar Substitute
¼ teaspoon vanilla extract
Nutrition
Serving Size:

1 Muffin

Calories:

383

Fat:

8

Carbohydrates:

43

Fiber:

6

Protein:

35