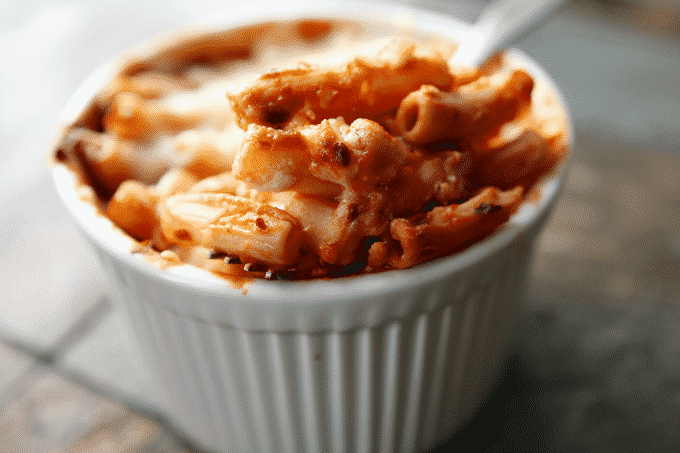 Growing up, there were plenty of days that my mom was to tired to make dinner. Her solution to this problem was always ordering a pizza (and occasionally Chinese food). However, often times we'd order more than just a pizza...there would be garlic knots, antipasto, and my favorite (besides the pizza of course) baked ziti! In fact, baked ziti was how I first discovered a love for ricotta cheese. So, you could say making a healthier version of this dish brings me waaaaay back to my childhood - and some really great memories of having dinner with my family.
It's actually unbelievably easy to make healthy baked ziti. All you need to do is make a few smart substitutions. The biggest substitution is using Banza's Chickpea Pasta (If you can't find it in your grocery store I've included a link so you can get it on Amazon). I'm obsessed with this stuff. It's awesome - and no, unfortunately their not giving me any free pasta, or paying me to say that. Anyways, if you've never tried it before, it a cooks a lot like, and has the consistency of regular pasta. I will say though, it does have a bit of a chickpea flavor (which I actually really like). The best thing about this product though are the macros. As far as pasta goes, it doesn't get much better than - 190 calories, 3.5g fat, 32g carbs (8g fiber), and 14g protein (per 56g serving).
The other substitutions for this healthy baked ziti are more straight forward. I used low calorie tomato sauce (you should look for one that's around 20 calories per 55g serving) and fat-free ricotta +fat-free mozzarella cheese.
This ziti also comes together quite quickly. It takes less than 20 minutes from start to finish, and you could probably even make it into a casserole for meal-prep purposes.
Macros Per 135g Serving (makes 2)
244 Calories, 3.5g Fat, 37.5g Carbs (9g fiber), 22g Protein
Print
Healthy Low Calorie Baked Ziti Recipe
Healthy Low Calorie Baked Ziti (High Protein)
Author:
Prep Time:

5 mins

Cook Time:

15 mins

Total Time:

20 mins

Yield:

2 Servings

Category:

Dinner

Cuisine:

Italian
4 oz

(

114g

) Banza's Chickpea Pasta

⅓ Cup

(

75g

) low calorie tomato sauce

⅙

(45g) fat-free ricotta cheese

¼ Cup

(

28g

) fat-free mozzarella cheese
Add Salt and Crushed Red Pepper to taste
Instructions
Add four cups of water to a medium sized pot and bring to a boil
Add the pasta and cook for around 6-8 minutes
Strain the pasta and add it to a medium-large sized ramekin
Add the tomato sauce, salt and crushed red pepper (if using) into the ramekin and stir
Top with ricotta cheese and then the mozzarella
Bake at 375 Degrees | 190 Celsius for 6-8 minutes
Nutrition
Serving Size:

135g

Calories:

244

Fat:

3.5

Carbohydrates:

37.5

Fiber:

9

Protein:

22