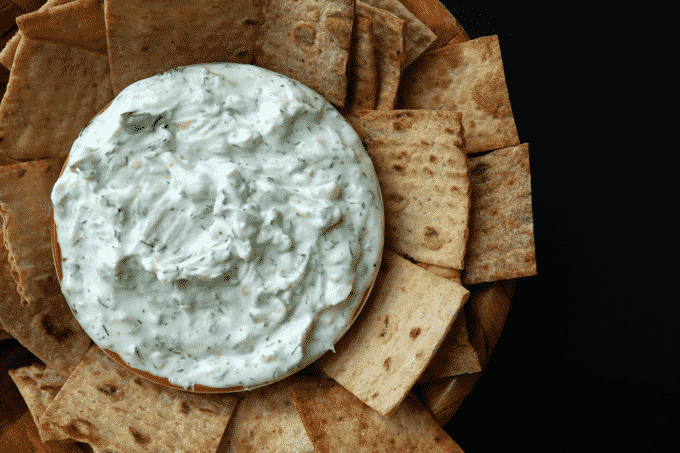 I have been obsessed with this healthy Tzatziki Sauce recipe for basically the entire summer.
If you don't believe me, check out this Full Day Of Eating Vlog I did.
Ok, so If you've followed the blog for a while, then you know I go through spurts with food. I'll make something...really, really, really like it, and then I'll make it non-stop for the next several weeks. And usually, after the spurt ends, I don't make it again for a long, long time. It's just the way I operate.
Well, the stopping part still hasn't happened yet with this tzatziki. I'm still as crazy as ever about it.
In my opinion, the best thing about this Tzatziki Sauce is how filling it is. Yes, it's delicious and refreshing - but I think that goes without saying. What's really surprising to me is how filling this sauce/dip is. I noticed a considerable difference in satiety when I used the sauce on things, and when I didn't. As a result, Tzatziki Sauce immediately became a staple of my diet leading up to my wedding (I recently lost 28lbs for the big day). See, when you're dieting feeling "full" is a mythical feeling (it's like a unicorn), and when you find foods that make you feel this way, you eat them!
Print
Healthy Low Calorie Tzatziki Sauce Recipe
Healthy low calorie tzatziki sauce
Author:
Prep Time:

5 mins

Cook Time:

1 min

Total Time:

6 mins

Yield:

2 Cups

Category:

Sauce/Dip

Cuisine:

Greek
1

Medium cucumber (

225g

)

1 ⅓ Cups

(

300g

) non-fat Greek yogurt

1

Heaping tablespoon (

18g

) extra virgin olive oil

½ Tbsp

(

3g

) dill

1

(3g) Minced clove of garlic

¼ Tsp

salt

⅛

th teaspoon pepper
Lemon juice to taste
Instructions
Coarsely grate your cucumber
Now, over the sink squeeze as much juice as possible from the grated cucumber
Next add all the ingredients into a medium sized bowl and mix well
Nutrition
Serving Size:

1 Cup

Calories:

178

Fat:

9

Carbohydrates:

9

Fiber:

1.5

Protein:

16