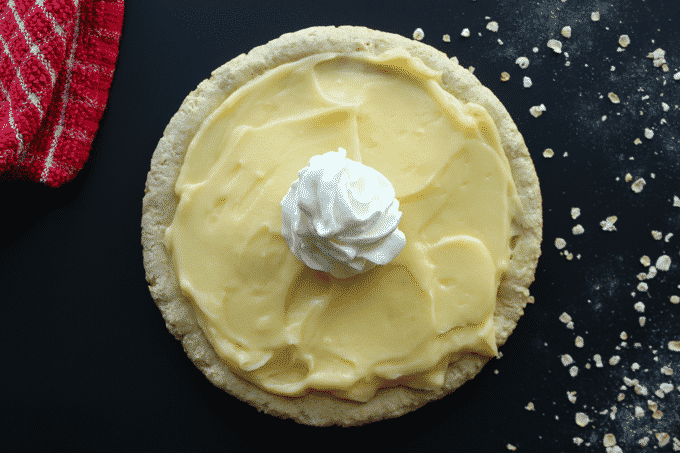 In the past, pie crust was one of those foods I just kind of stayed away from. I mean, who hasn't been told how bad pie crust is for you? I admit, for a long time I just avoided pies (and their delicious crusts) because people told me those things were "bad" for me. But that's a terrible reason to avoid something, especially food. So, I decided to do a bit of my own pie crust research. As it turns out, the macros on store bought pie crusts really aren't all that terrible. However, most pie crusts contain hydrogenated oils. 
What are hydrogenated oils you ask?
Well, I won't get into a full description in this blog post, but you should know they are man-made fats. Trans-fats to be exact. These fats have been shown to increase cholesterol levels, and your chance of heart disease. Here in the U.S., companies can label foods 0g trans-fats if the product contains less than .5g trans-fats per serving. That's an awfully big range as far as I'm concerned, since heart disease is the leading killer of men and women in America - according to the Mayo Clinic.
Ok, so back to this trans-fat free pie crust we're making today!
Well it's amazingly simple to make, and honestly I think it tastes waaaaay better than the store bought kind. Plus, each serving has 6.5g of muscle building protein. I personally like to make protein pudding pies with these crusts, just because they're so easy to do (see: vanilla pudding pie pictured above). I'll leave the recipe for the pudding pie in the "notes section" below. Honestly though, I'm sure you could fill this crust with just about anything and it'd be delicious.
I'd also like to mention this crust is versatile. You can use oat flour instead of self rising flour, but you'll definitely need some water to help you form the crust in the pan.
Have you subscribed to my YouTube Channel yet? If not, it's be pretty rad if you did! So be sure to checkout some of my vids, they're pretty, preeeetty, preeeeeeeeeetty cool.
Macros per slice (makes 8): 140 Calories, 6.5g Fat, 18.5g Carbs (2g fiber), 6.5g Protein
5 Weight Watcher SmartPoints
Print
Healthy Pie Crust Recipe
Author:
Prep Time:

15 mins

Cook Time:

12 mins

Total Time:

27 mins

Yield:

1 Pie Crust

Category:

Dessert

Cuisine:

American
Dry Ingredients:
1 Cup

(

122g

) self rising flour

⅙

th Cup (40g) sugar substitute

¼ Cup

(

28g

) coconut flour

1

Scoop (30g) Isopures vanilla whey protein powder
Liquid Ingredients
1

Egg

1

Egg white

2

Tbsps (28g) melted coconut oil
Instructions
Add all of your dry ingredients to a large bowl and mix well
Add your liquid ingredients to the bowl and mix until crumbly
Once crumbly use your hands to work the crumbles into a ball of dough
Spray an 8x8 baking dish with non-stick baking spray
Add your dough and form it to the pan by spreading it from the center out
Make sure the bottom is as thin as possible
Use a little water on your finger tips to help you spread the dough out on the pan if your having a hard time doing so
Bake at 350 degrees | 177 celsius for 10-12 minutes
Notes
5 Weight Watcher SmartPoints
*** To make the vanilla pudding pie add these ingredients to a medium sized bowl:
1 scoop vanilla Isopure protein powder
1 packet sugar-free fat-free vanilla pudding mix
1 ½ cups fat-free milk
mix until mix has dissolved and it starts to thicken a bit
refrigerate for about an hour
Pour into pie crust and serve
Nutrition
Serving Size:

1 Slice

Calories:

140

Fat:

6

Carbohydrates:

18.5

Fiber:

2

Protein:

6.5