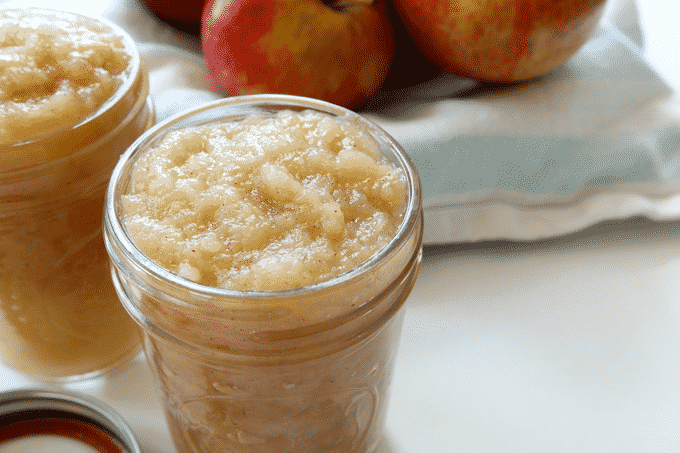 Here in the States applesauce is widely available. I mean, every grocery store carries the stuff, and that's not an exaggeration. So, I guess it just never crossed my mind to make my own applesauce, if I can get it just about anywhere. However, finding applesauce in stores internationally seems to be much more of a challenge. I know this is the case, because plenty of my international YouTube viewers have told me so, and for good reason. See, many of my recipes contain applesauce, and they constantly need to somehow find a substitute for it. Trust me, I get it, it's frustrating.
So, I wanted to solve this problem for a lot of my subscribers. And I'm glad I did, because as it turns out homemade applesauce is soooo much more delicious than the store-bought stuff. I've been missing out on some serious applesauce deliciousness for years now.
It also is quite simple to make too. You'll only need 3 ingredients - apples, water, and cinnamon. Plus, from start to finish your only looking at about 30 minutes. I don't think that's bad at all for something that will last weeks in your refrigerator.
Print
How To Make Applesauce
Author:
Prep Time:

10 mins

Cook Time:

20 mins

Total Time:

30 mins

Yield:

1.5 Cups

Category:

Side

Cuisine:

American
4

Medium apples (about

600g

)

¾ Cup

(177ml) water

½ Tsp

Cinnamon
Instructions
Peel, core and slice the apples
Add them to a pot along with the water and cinnamon
Simmer on medium heat for 15-20 minutes
Drain the apples and transfer them to a large bowl
Mash the apples with a potato masher until desired consistency is achieved
Add your sauce to sealable jars and store in the fridge for up to 2 weeks
Nutrition
Serving Size:

122g

Calories:

50

Fat:

0

Carbohydrates:

13

Fiber:

2

Protein:

0
---
Do you need help losing weight, but don't know where to begin?
My e-book Macros Made Easy can help!
The book is a detailed weight loss guide that shows you step-by-step how to build a weight loss plan specifically for you.
One of the most frustrating things about dieting is hitting weight loss plateaus. That's why Macros Made Easy also comes along with a spreadsheet to hold you accountable, and track your progress. The spreadsheet will also alert you when you need to make adjustments to your diet so you can continue losing weight, and avoid those annoying plateaus.
I started tracking my macronutrients (protein, carbohydrate, and fat intake) over 6 years ago - and I've lost over 70lbs because of it! Not only have I lost the weight, I've kept it off too. Plus, I didn't eliminate any foods from my diet to do it- and neither will you!
If you're ready to start your weight loss journey today, you can pick-up a downloadable copy of Macros Made Easy here!