This 2-minute Keto Pizza Recipe is about as easy as making pizza gets. Actually, this is the easiest pizza - keto, or not - that I've ever made. Of course, this is just a single-serve pizza, but still, it's incredibly simple & quick to make. Plus, the whole thing has less than 5 net carbs, so you don't have to feel bad destroying the entire pizza in one sitting!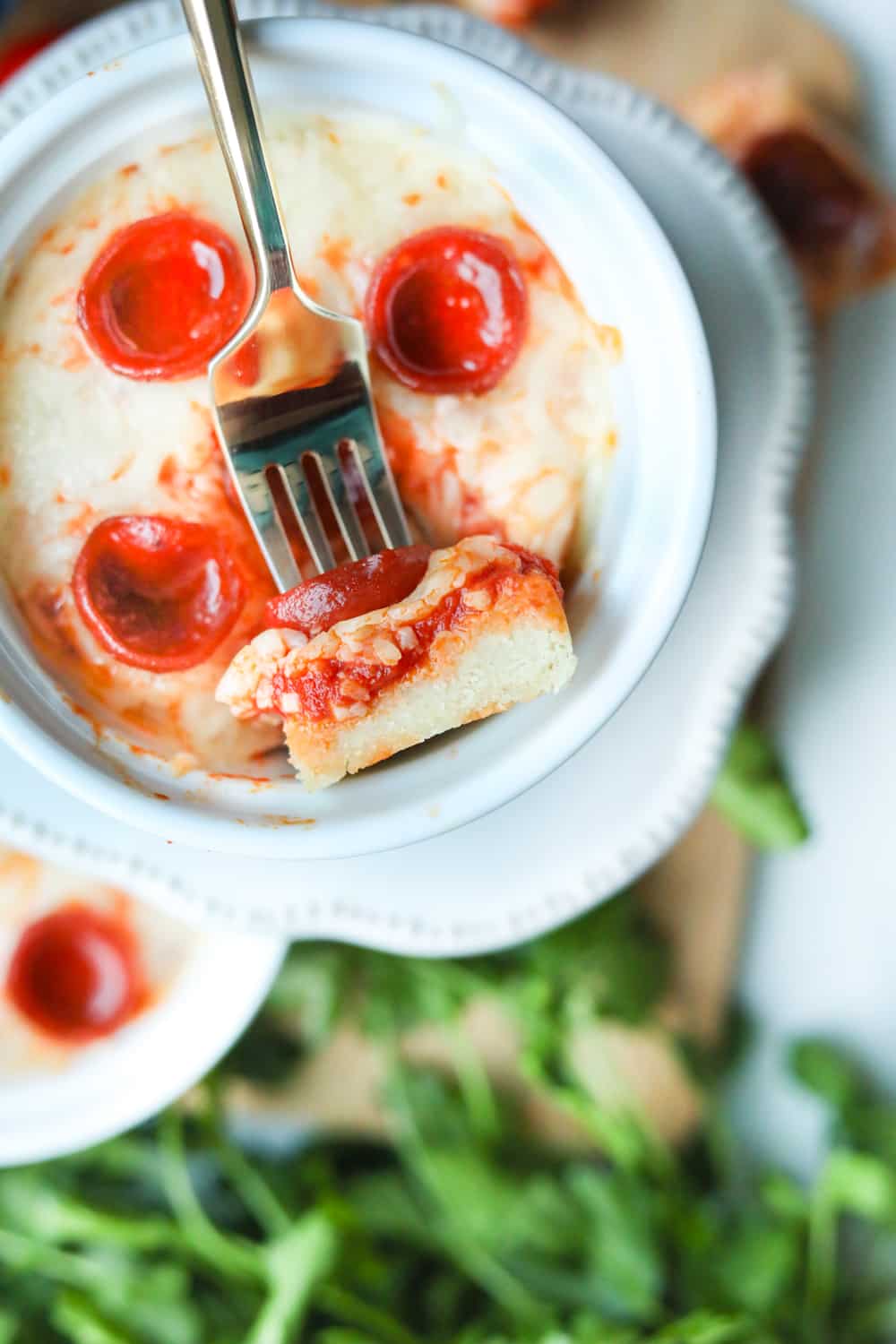 Keto Pizza In 2 Minutes
So, first-and-foremost, this keto pizza takes just 2 minutes to cook. And that's why it's called 2 minute keto pizza.
That said, from start-to-finish, it still only takes about 5 minutes to make.
And I don't know about for you, but for me, that's like a pizza making world record.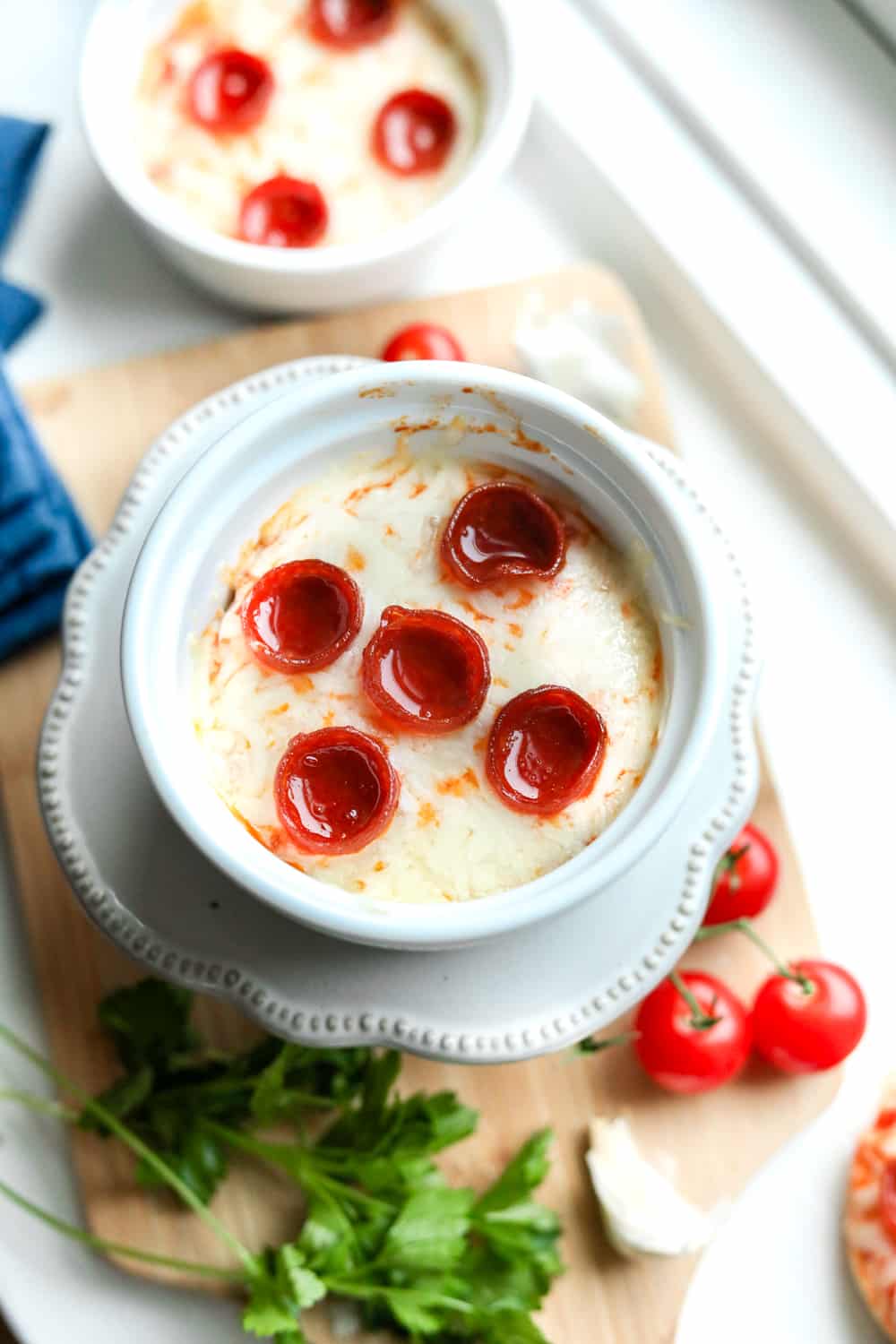 Single Serve Keto Pizza
Now, as I mentioned before, this recipe is just a single serve pizza recipe. But, that's what I love about it. I love the fact that I can get my pizza craving taken care of without having to make a large pizza.
Don't get me wrong, I love making my famous "10 Minute Better Than Fat Head Pizza Recipe", but it does have a lot of calories. And I'm always tempted to eat the entire pizza because it's so good.
However, that isn't an issue with this recipe. Portion control is built right into it.
And, as you guys know, I love recipes like this that keep me from overeating. Which is, and always has been, one of my biggest struggles.
You know, I'm the kind of guy who can't eat one slice of pizza, I've got to eat the ENTIRE pizza.
Anyways, let's talk about how to make this keto pizza!
How To Make Keto Pizza In 2 Minutes
So, the first thing you'll want to do is make the pizza crust.
Keto Pizza Crust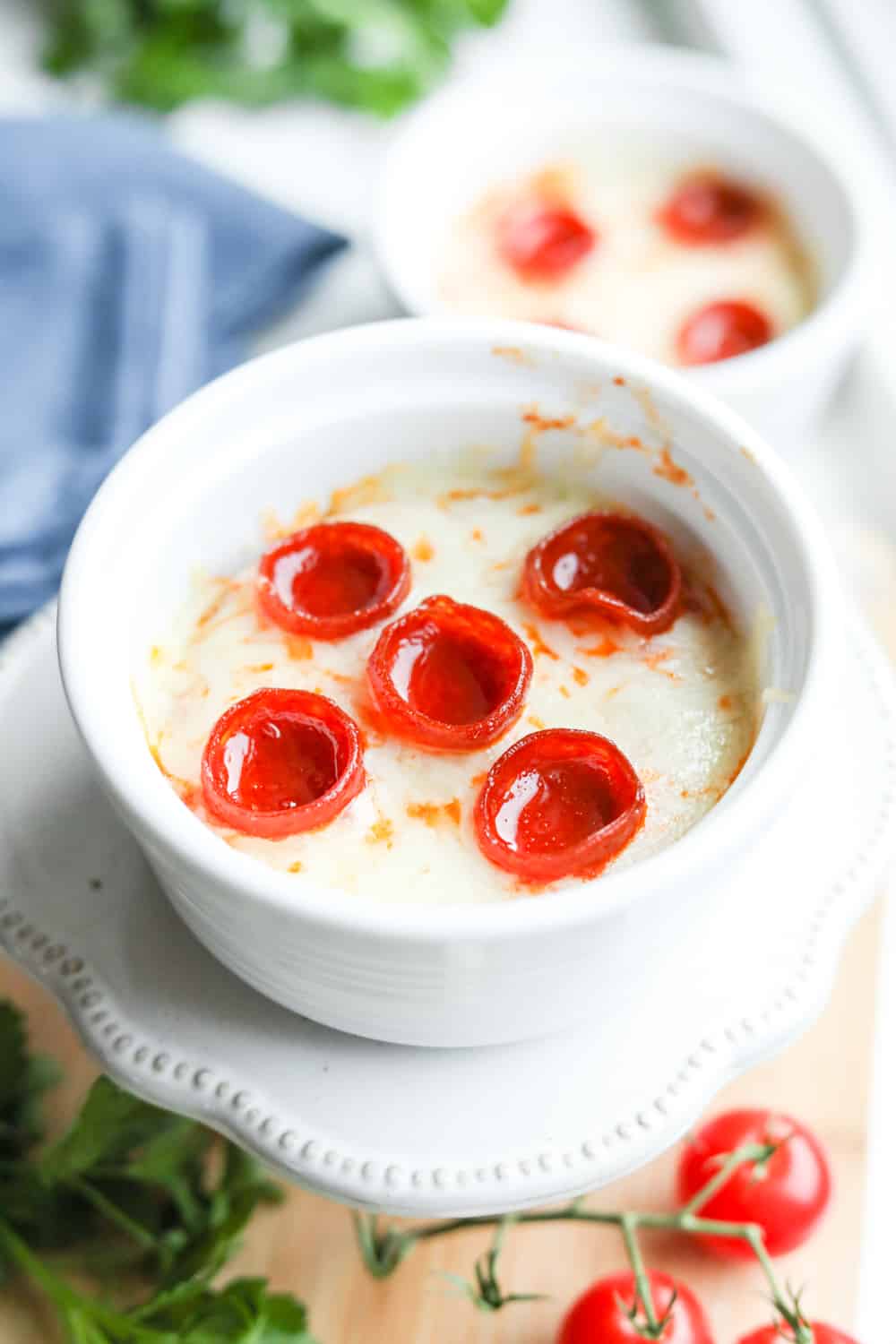 And the crust is made out of just 3 keto-friendly ingredients...
Almond flour

Xanthan gum

& Baking powder
Once you've added those to a small/medium sized bowl you'll want to add 2 tablespoons of water to the party and mix.
Eventually, a sticky "paste-y" ish kind of dough will form.
And when it does, you'll want to set it aside, and coat an 8 ounce ramekin with baking spray.
Now, at this point, you'll want to add your dough to the ramekin and spread it out evenly in the dish. By the way, make sure you wet your fingers - or spatula - with water before spreading it out.
This will ensure that the pizza dough doesn't stick to them when you're trying to press it out.
Anyways, once you've evenly spread the dough out in the ramekin, it's time to bake it!
And there are 2 ways you can bake your keto pizza dough. The quick and easy way, annnnnd the much longer way. Whichever option you choose is totally up to you.
So, for the quick and easy version, you'll want to microwave your keto pizza dough for around 1 minute. Of course, all microwaves have different power levels so you may need more or less time. Just for reference though, my microwave is 1100 Watts and 1 minute is the perfect amount of time.
However, the other option - which is the much longer one - is to bake the pizza crust in the oven for 20 minutes at 350 Degrees F.
I'm not going to lie, the longer option isn't my favorite. I'm very impatient.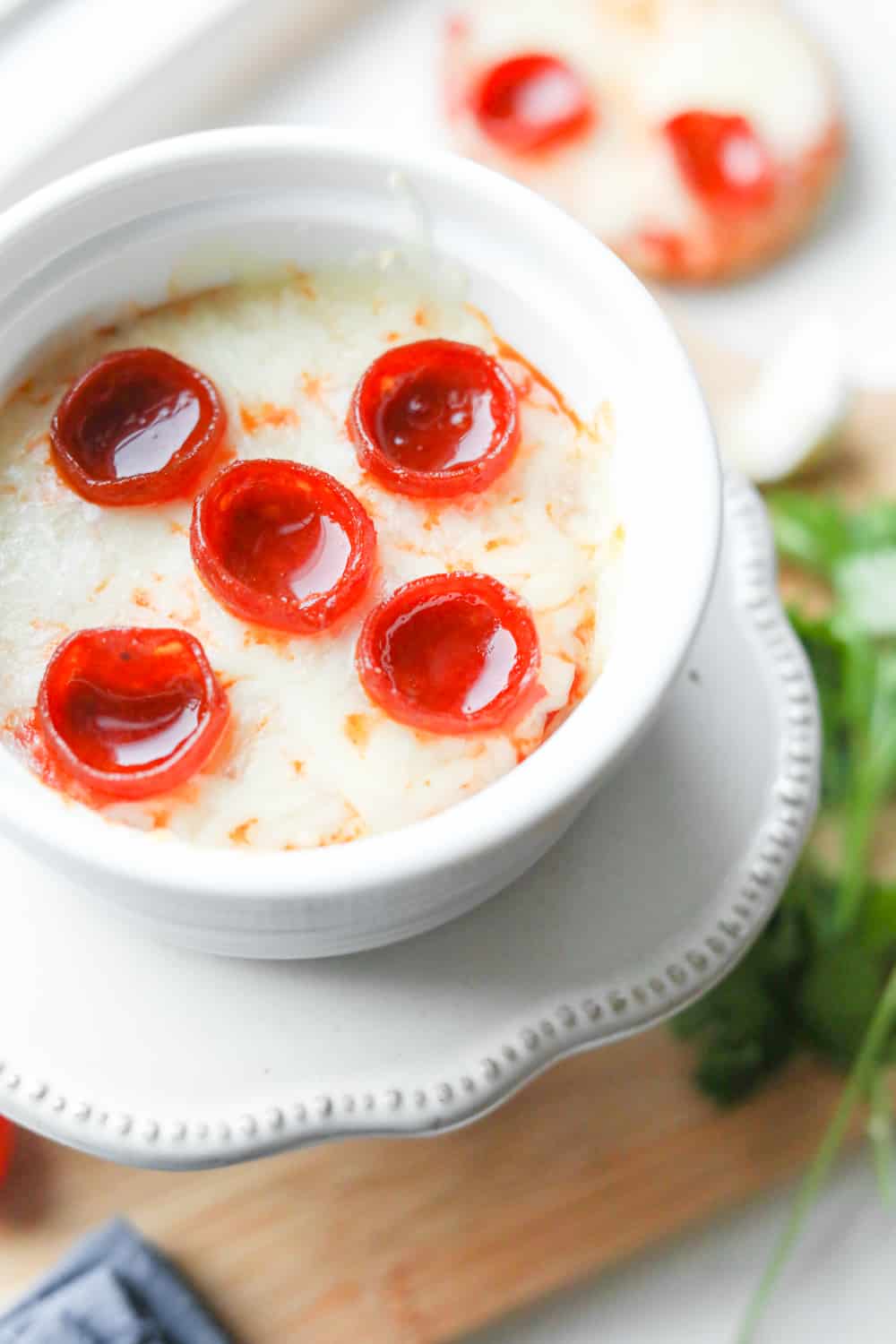 Sauce, Cheese, and Pepperoni
Anyways, once the crust is done cooking we're going to add some keto pizza sauce to it.
My favorite at the moment is this one by Rao's. It has no sugar added to it, and it only has 2 net carbs per serving. And for keto pizza sauce, that's the lowest carb-count you'll find.
So, when you've added the sauce, the next thing you'll want to add is some full-fat mozzarella cheese. And for this single-serve pizza, just less than a quarter cup is the perfect amount. However, if you like more cheese, add it!
And then finally you'll want to add some toppings. I used mini "cup" pepperoni for my keto pizza, but this is just personal preference. You can honestly top it with pretty much anything!
Once you've got the toppings on your pizza, the last thing you'll need to do is bake it for one last time.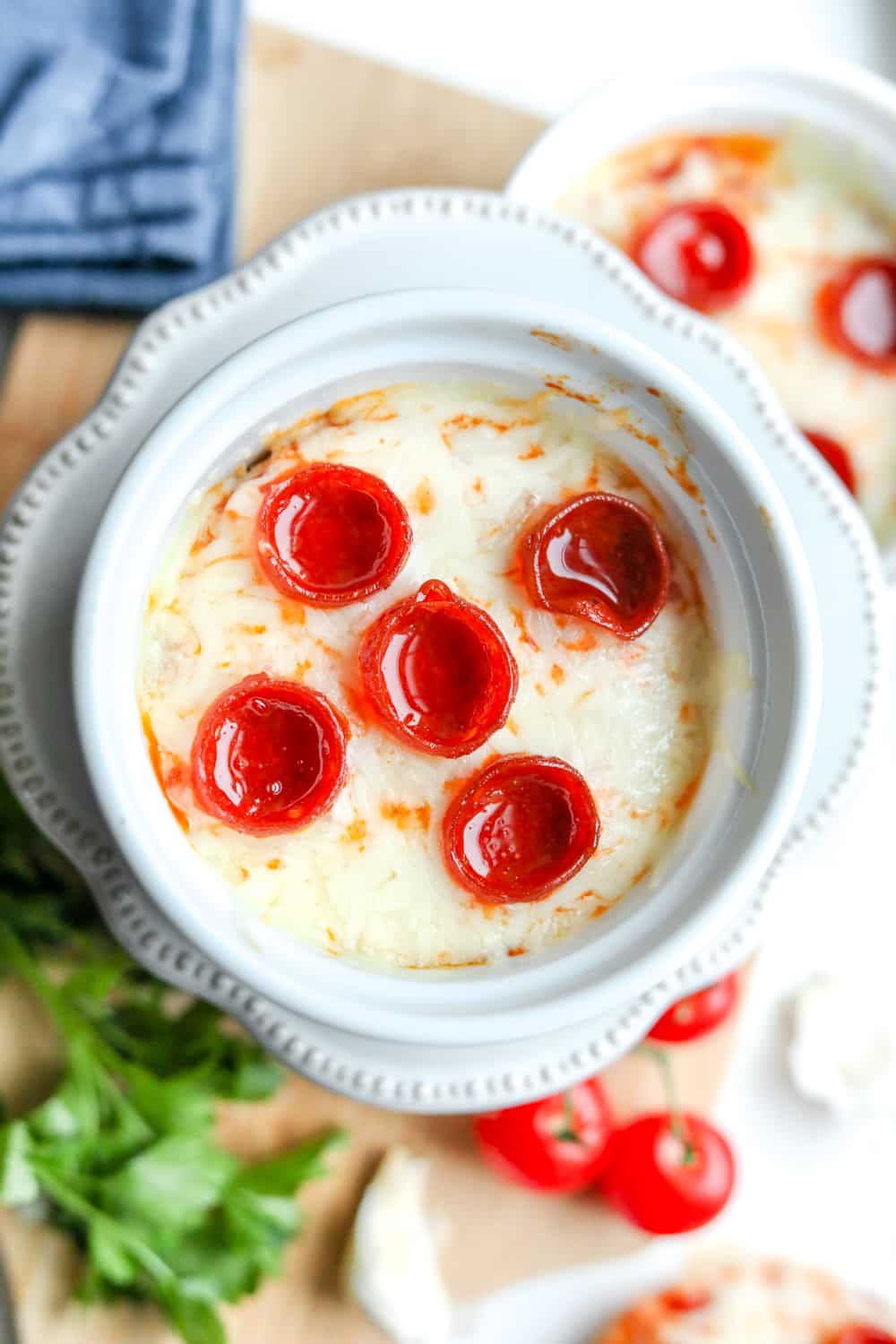 Keto Pizza Cook Times
If you're going with the microwave option, you'll want to cook it in 2, thirty-second intervals. Off-setting it on the left side for one interval, and then off-setting it on the right side for the second one.
But, if you're going with the oven, you'll want to set it to broil and cook it for just a couple of minutes. Really just until the cheese melts.
And that's pretty much it.
Let it cool for a minute or two, and dig in!
Oh, and by the way, if this pizza recipe has got you in the mood for Italian food, I have an amazing keto pasta recipe that you might want to try next.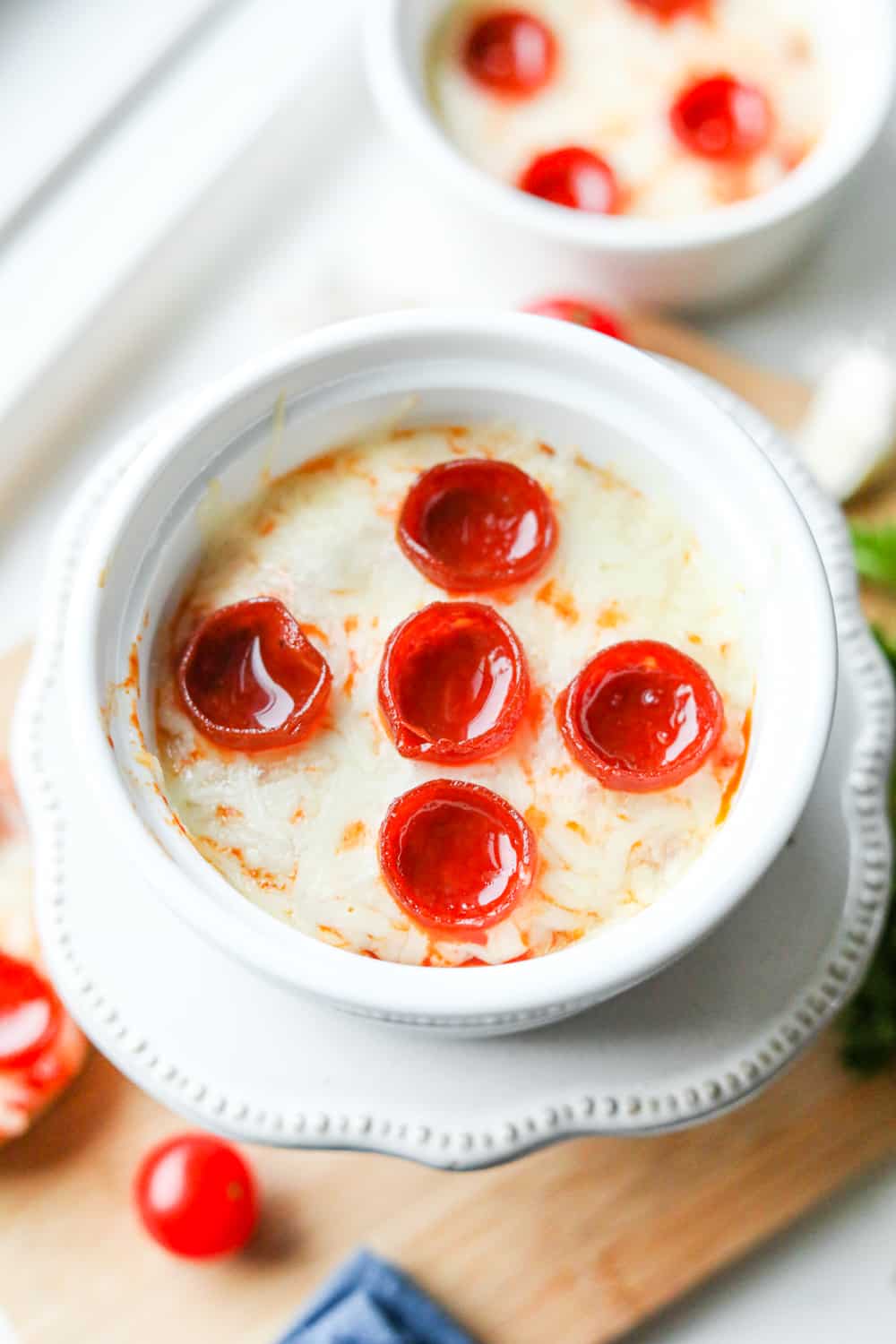 Almond Flour Keto Pizza crust
Obviously the base of this keto pizza is almond flour.
And I love using almond flour for 99% of my recipes because it's just such a versatile flour for the keto diet. I mean, it's incredibly low carb, and it's very neutral tasting. Which, in my opinion, makes almond flour the best flour to use for keto.
That said, I like to use this almond flour from Kirkland's. Every serving only has 2g NET CARBS, and it's reasonably priced too. Plus because it's "blanched" almond flour it looks A LOT like normal flour when you bake/cook with it. Instead of it having the tiny pieces of almond skin sediment that a lot of flours have in them.
Anyways, I know some people are allergic to almond flour, or just don't like to use it.
So, let's talk about how to substitute it out of this keto pizza recipe.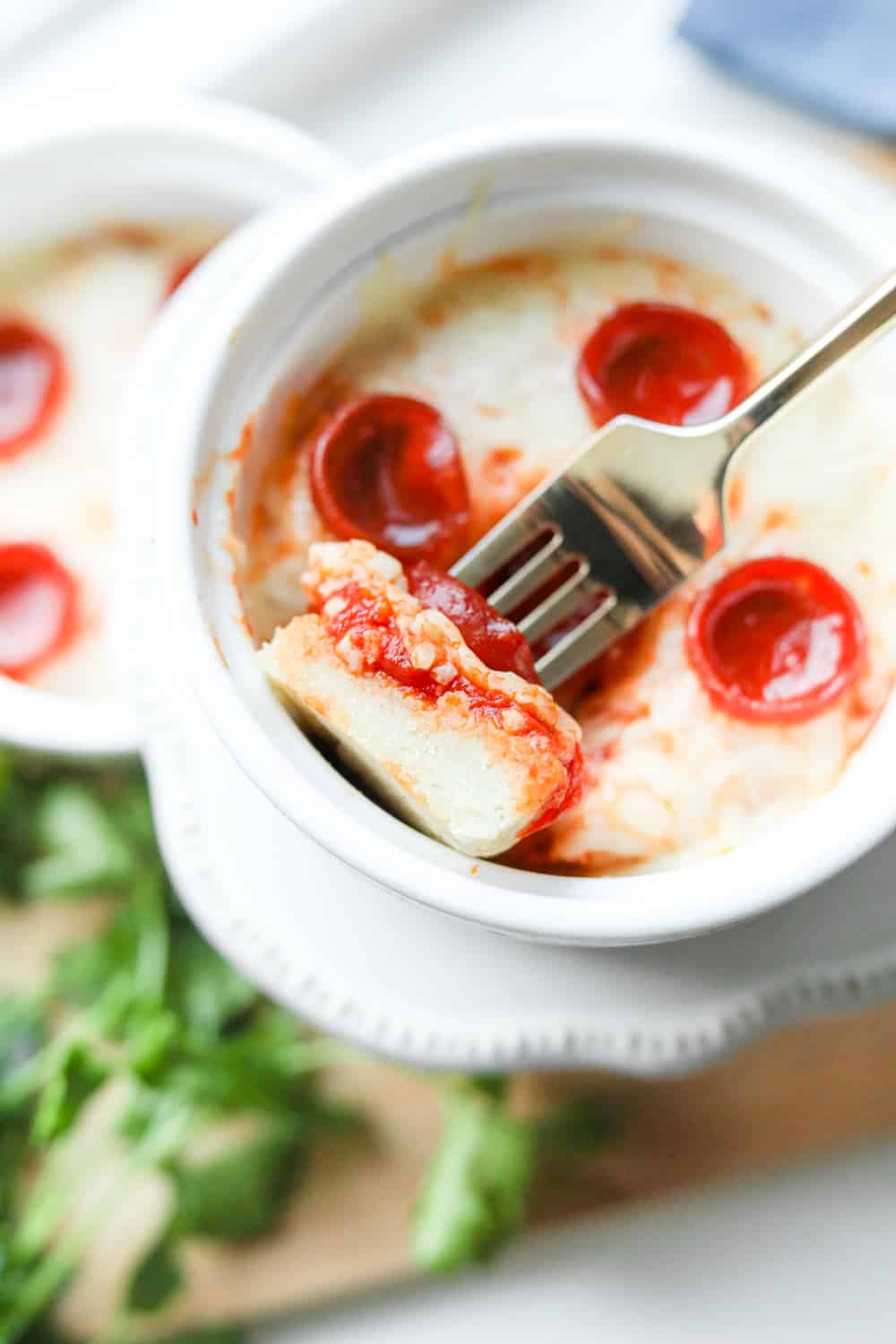 Almond flour substitutes for this keto pizza crust
A lot of people make the mistake of substituting almond flour with coconut flour.
THIS. IS. A. ROOKIE. MISTAKE.
So, don't do that.
Almond flour and coconut flour can not be substituted for one another on a 1:1 basis.
However, there are a few keto-friendly flours that can be evenly substituted with almond flour.
So, if you want to use something else try using these...
Like I said though, don't use coconut flour. You'll end up with a dry crumbly mess, and pizza dough that tastes like coconut.
Print
2 Minute Keto Pizza | Easy, Low Carb, and Made With Almond Flour
Keto Pizza in 2 minutes. This low carb pizza recipe is so quick & easy, and just so delicious too. The best part is that it's single serve - so portion control is built right into it - and the entire thing has LESS THAN 5 NET CARBS. Plus, all you need is almond flour and a few other keto friendly ingredients to make it!
Author:
Prep Time:

3 Minutes

Cook Time:

2 Minutes

Total Time:

5 minutes

Yield:

1 Pizza

Category:

Dinner

Cuisine:

Keto
Instructions
Add all of the crust ingredients to a medium sized bowl and mix until a thick, sticky, "dough" starts to form.
Once it does, coat an 8 ounce ramekin with baking spray, and add the dough to the ramekin.
Use a wet spatula to press the dough out evenly in the ramekin and then bake/cook it.
Microwave:
In my 1100 Watt microwave the pizza crust needed just 1 minute to cook. Cook-times will vary depending on the power of yours.
Oven:
If you decide to cook the crust in the oven, it will take around 20 minutes at 350 degrees.
Once the pizza crust is done cooking, add the sauce, the cheese, and any toppings you'd like.
Now at this point, you'll want to cook/bake the pizza one last time.
Microwave:
You'll want to cook the pizza in 2 seperate 30 second intervals if you cook it in the microwave. Off-set it to the left side for the first interval, and then the right side for the second interval.
Oven:
Turn your oven up to broil, and broil for just a few minutes. You're just looking for the cheese to melt.
Let it cool, and enjoy!
Notes
This pizza has 4.5g NET CARBS.
9.5g Carbs - 5g Fiber = 4.5g NET CARBS
Nutrition
Serving Size:

1 Pizza

Calories:

360

Fat:

29

Carbohydrates:

9.5

Fiber:

5

Protein:

14
Keywords: keto pizza, keto pizza recipe, how to make keto pizza, easy keto pizza, low carb pizza recipe, pizza for keto diet, best keto pizza