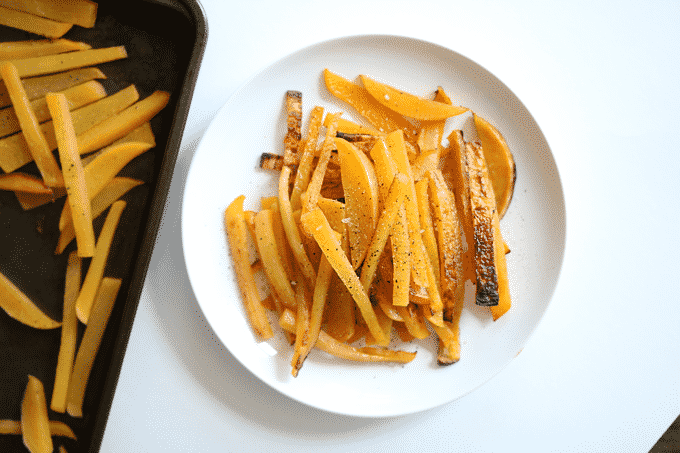 A few week's back, Alyssa and I had my good friend Nick over for dinner. Nick's the type of guy who has to be involved in the cooking of a meal in some way or another. Even if it's not at his house. So, needless to say, he brought over some pre-cut rutabaga fries.
Before he started making them, he looked at me and said "You having any?". I hesitantly replied, "Yeah, I'll have a few". I thought I'd just taste them, since I'd never eaten rutabaga before, and then that would be that. However, that's not what happened at all. I tasted the fries, and quickly became obsessed with them. Not only are they starchy like sweet potato fries, and tasty as all hell, but they have ⅓ of the calories of sweet potato fries too. How could I not fall in love with that?!
A few things you need to know about Rutabaga Fries...
Peeling a rutabaga is a pain in the butt
Cutting/slicing it can be just as much of a pain too (use a sharp knife)
You'll only need a few simple ingredients (and about 50 minutes) to make 'um
Macros (per 100g uncooked):
38 Calories, .2g Fat, 9g Carbohydrates (2.3g fiber), 1.1g Protein
Print
Rutabaga Fries
Rutabaga Fries - healthy French Fry alternative
Author:
Prep Time:

10 mins

Cook Time:

50 mins

Total Time:

1 hour

Yield:

400g Cooked

Category:

Snack

Cuisine:

American
1

Large rutabaga (

800g

)
Pinch of pepper
Pinch of salt
Pinch of rosemary
Instructions
Peel the rutabaga and cut-off the ends
Cut the sides of the rutabaga off as well
Now cut the rutabaga in half and cut into rectangular-ish chips
Cut the "chips" long-ways to create fries
Once all the rutabaga is cut into fries spray a baking sheet with cooking oil, add the fries, and spray the fries with oil as well
Add 2 Tbsps (30ml) water
Top with the pepper, salt, and rosemary (to taste)
Cover the tray with tin foil
Bake at 350 degrees | 177 Celsius for 50 minutes - Uncover the pan the last 10 minutes (broil for a couple minutes if necessary)
Nutrition
Serving Size:

100g (uncooked)

Calories:

38

Fat:

.2

Carbohydrates:

9

Fiber:

2.3

Protein:

1.1