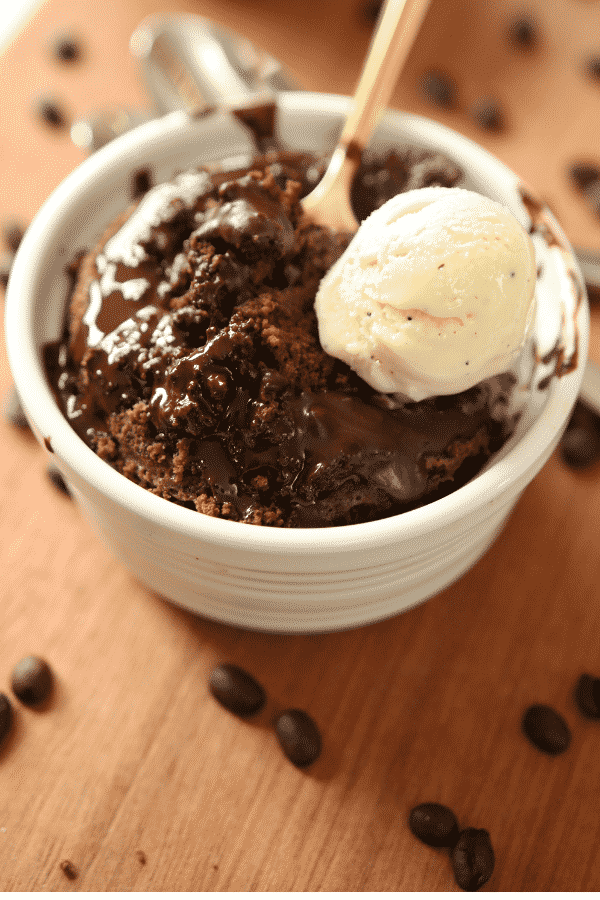 The BEST Chocolate Coffee Mug Cake For Keto
Today's Keto Mug Cake Recipe is made with two of the best things ever invented, chocolate and coffee! And this café mocha inspired mug cake - like most mug cakes - is made in the microwave in just minutes. Plus, the entire cake has only 4 net carbs!
How To Make A Keto Chocolate Coffee Mug Cake (Video)
If you've been following my recipes for any amount of time then you already know I love making keto friendly mug cakes!
In fact, some of the best low carb keto recipes I've made have been mug cakes. For instance, this low carb Banana Bread Mug Cake Recipe is dynamite! And this 3 Ingredient Peanut Butter Mug Cake Recipe is a fan favorite as well.
Anyways, lets chat about this Chocolate Coffee Mug Cake Recipe because I think it's the best keto mug cake recipe I've made yet. And I've made a lot of keto mug cakes!
Here are 7 reasons this is the best keto mug cake recipe...
It's full of caffeine
3 words - Rich. Chocolate. Deliciousness.
Less than 5 Net Carbs
It's made in just minutes
Portion control
It has the perfect cake consistency
Did I say caffeine?
How To Make A Keto Mug Cake With The Lowest Amount Of Carbs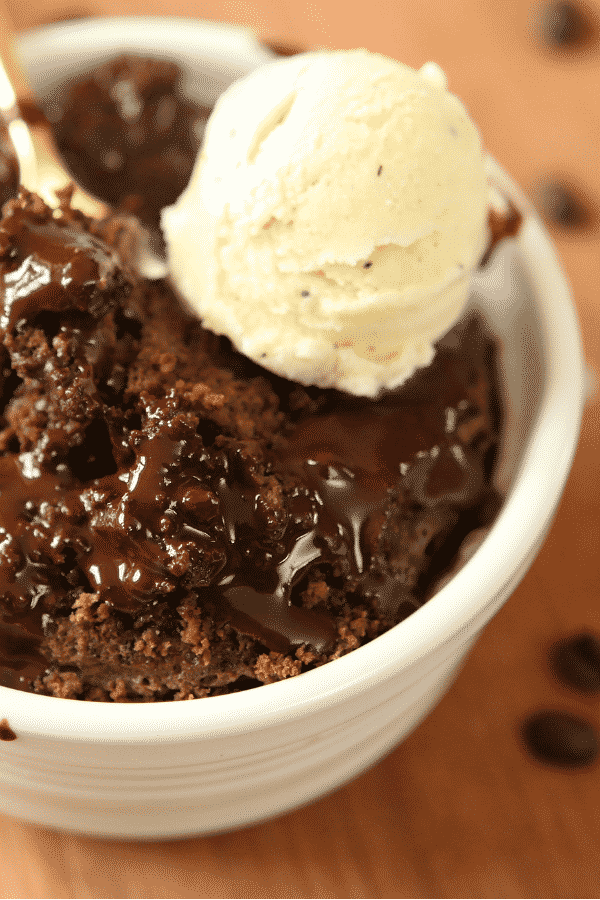 Cake is obviously not a low carb keto friendly option most of the time. So, I've got a couple of pro-tips on how to make a mug cake for keto with the lowest amount of carbs possible.
First off, lets talk about replacing the sugar component to your mug cake. Today's keto chocolate coffee mug cake recipe uses erythritol instead of sugar to add sweetness to the cake.
Erythritol has 0 NET CARBS, and it also has 0 calories.
That makes erythritol a fantastic sugar replacement for low carb diets, like the keto diet. I like to sweeten up all of my keto recipes up with Swerve. I think Swerve is the highest quality erythritol out there, and it's affordable too!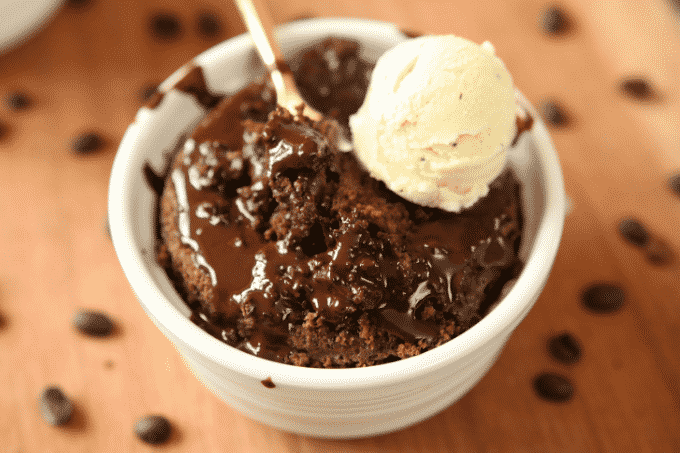 Another ingredient commonly used in cakes is flour. Flour is loaded with carbs, so you'll obviously want to avoid using "regular" flour for your mug cake.
Instead, you'll want to use coconut flour for you mug cake. The reason for this is because coconut flour has far fewer net carbs than regular flour does.
With that being said, I recommend using this coconut flour. I think it dissolves better than any of the other coconut flours I've used, and it's the one I use in all of my recipes.
Just by making those two small substitutions you'll save a ton of carbs in your mug cake! And the best part is, you'll do it without sacrificing any flavor.
Anyways, those are my best carb saving pro-tips for today's Keto Chocolate Coffee Mug Cake Recipe!
I hope you enjoy it!
Print
Keto Chocolate Coffee Mug Cake
An easy low carb keto Chocolate Coffee Mug Cake Recipe made with coconut flour in the microwave! This is one of THE BEST mug cakes you'll ever make, it's so rich and chocolate-y, and it even has a boost of caffeine to it. And the best part is that the entire mug cake has less than 5g NET CARBS!
Author:
Prep Time:

3

Cook Time:

2

Total Time:

5 minutes

Yield:

1 Mug Cake

Category:

Breakfast
Instructions
Add all the liquid ingredients to a medium sized bowl, and whisk until combined
Add the dry ingredients into the bowl, and whisk until combined again
When everything has dissolved/combined, coat a ramekin/mug/small dish with non-stick baking spray, and add the batter
Microwave for 1 to 2 minutes
***Microwave times will vary. ALWAYS go with less time than you think. Then keep microwaving until perfect cake consistency forms.
***My microwave is 700 Watts and 2:00 is about the right amount of time. Adjust accordingly
While the cake is microwaving add the topping ingredients to a small dish.
When the cake is done in the microwave add the toppings to the microwave and melt for 15-30 seconds.
Add the chocolate glaze to the top of the cake, and enjoy!
Notes
If making the Chocolate topping there will be an additional 2 net carbs.
*NOTE: The macros do not include the "carbs" from the erythritol. Erythritol doesn't have calories, thus I did not include the "carbs" in the macro nutrient information.
4 NET CARBS FOR THE CAKE!
Nutrition
Serving Size:

1 Mug Cake

Calories:

215

Fat:

11

Carbohydrates:

11

Fiber:

7

Protein:

15
Keywords: Keto mug cake, low carb mug cake, keto chocolate coffee mug cake, mug cake for keto, mug cake keto, best keto mug cake,