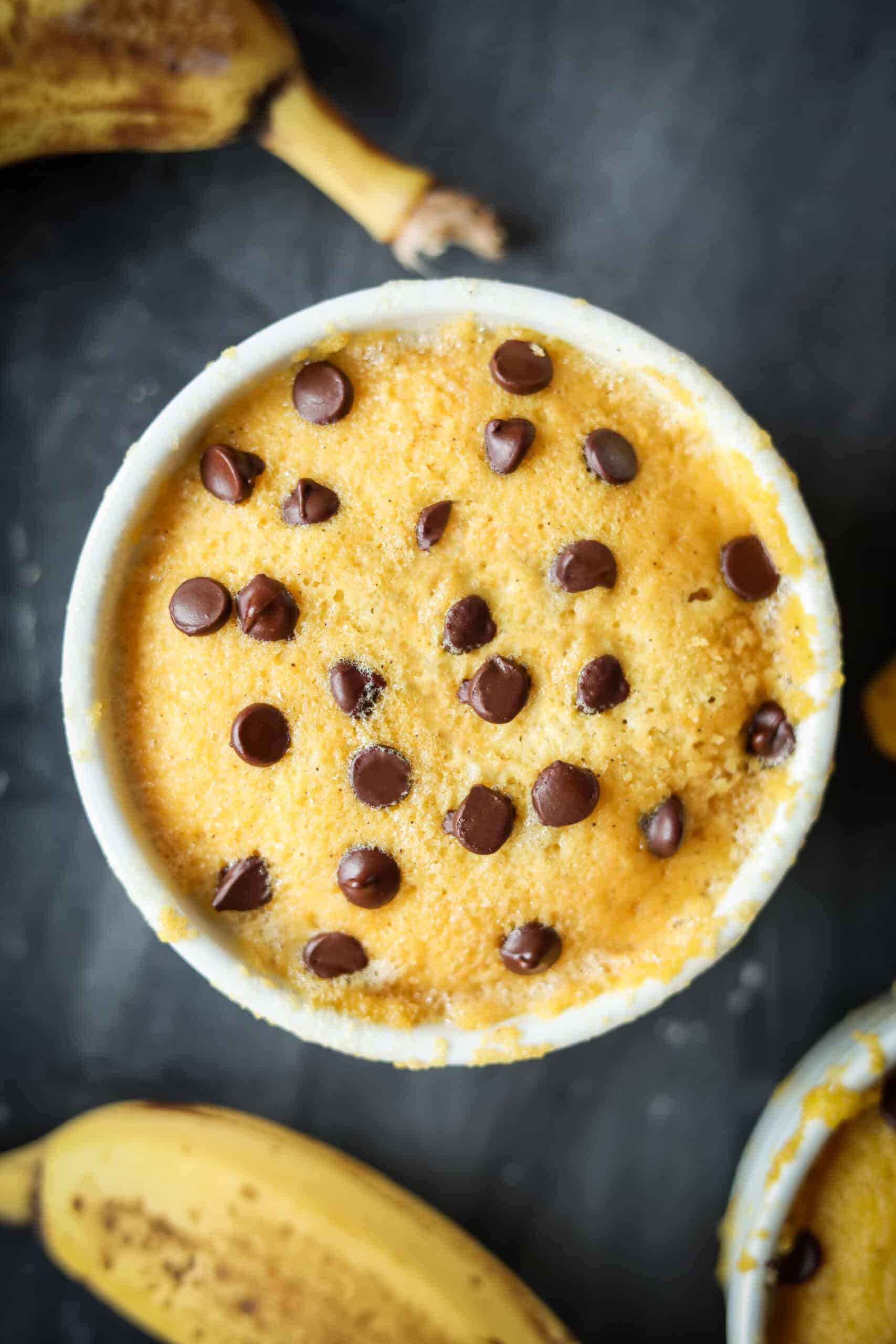 The Best Banana Bread Mug Cake For Keto
Mug cake recipes - like today's Banana Bread Mug Cake Recipe - are some of the best recipes for the keto diet! The biggest reason mug cakes are great for not just the keto diet - but any diet - is portion control.
Right from the get, you know how much you're going to eat when you make a mug cake. And that can be a huge help with staying on track, and not overeating!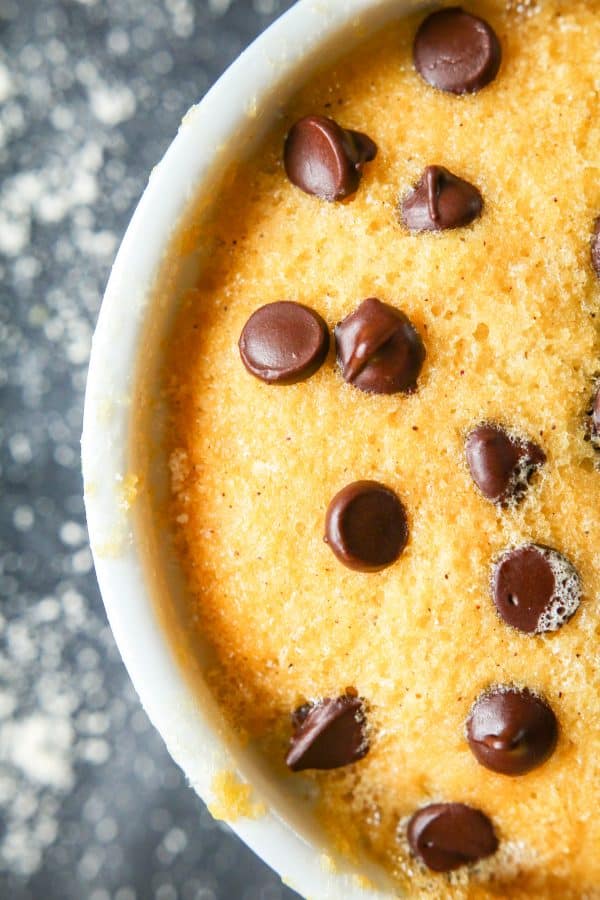 If I have a loaf of banana bread sitting around the house, eating one slice often leads to eating half the loaf. That's why I wanted to create this low carb keto mug banana bread recipe. Because, uhh, like I said, portion control!
How To Make A Keto Banana Bread Mug Cake
So, banana's are definitely not a keto "friendly" fruit. They're loaded with sugar.
Luckily, we won't have to actually use "real" banana's to give this keto banana bread mug cake tons of banana flavor. Instead of real banana's we'll be using banana extract.
This is the same stuff I used for the Keto Banana Bread Loaf recipe. That recipe is delicious, but portion control is tough with that one...atleast for me. 
Using the banana extract will definitely give this mug cake all the banana flavor it needs without adding any carbs, but it isn't sweet like normal bananas are. So, you'll have to sweeten the mug cake up yourself. 
I recommend using erythritol to sweeten up the banana bread mug cake. Erythritol is a 0 carb, 0 calorie sugar substitute that has no impact on blood sugar levels. This makes it the an ideal sweetener for people following any kind of low carb diet, such as the keto diet.
My Recommendations For Low Carb Keto Flours
"Normal" mug cakes use self-rising flour. However, SRF is not low carb, so we won't be using it in today's low carb keto banana bread mug cake. 
Instead, we'll use a combination of coconut flour and almond flour. These flours are both much lower in carbs. In fact, the Almond Flour By Kirkland only has 2 NET CARBS Per 30g. That's 10X less than self-rising flour. So, that's the almond flour I use, and recommend.
As far as the coconut flour I used in today's mug cake recipe, I used this one by Bob's Red Mill. I've used a lot of different coconut flours over the years, but none have had a better consistency.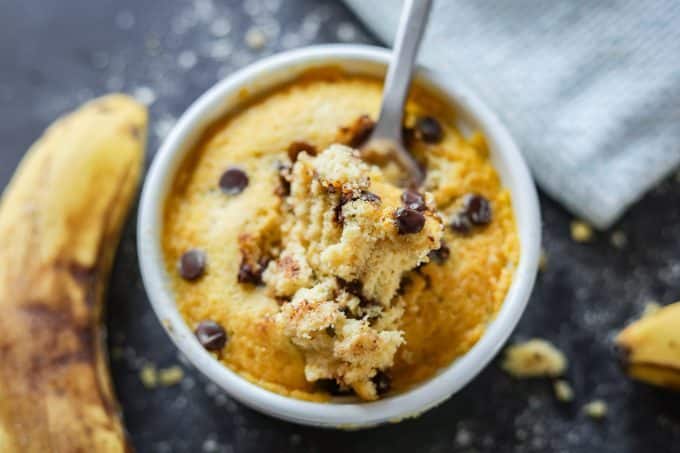 Best Way To Make A Mug Cake In The Microwave
Mug cakes are easy to make, but they're also easy to screw up. And the bad news is that keto mug cake can be even trickier to make than even normal ones.
However, I've got some PRO-TIPS to make sure you to have the BEST POSSIBLE Keto Banana Bread Mug Cake possible. 
Use a ramekin instead of a mug. Your mug cake will cook more evenly if you use one.
Keep an eye on it in the microwave, and err on the side of a little "under done". You can always pop-it back in the microwave for 5-10 seconds if it's not cooked all the way. But, if it's overdone you can't cook it for less time.
Microwave powers vary, so adjust your cook time accordingly. Mine is 700 Watts, and around 1:30-1:45 seconds is perfect.
If you want your chocolate chips - or other add-ins - to stay on top of your cake add them in around ¾ of the way through cooking the mug cake in the microwave.
Print
Low Carb Keto Banana Bread Mug Cake Made In The Microwave
This EASY, 1 minute, KETO banana bread mug cake recipe is the BEST! This low carb flourless mug cake is made in the microwave, and requires just a few ingredients to make. Ingredients like coconut flour, almond flour, and eggs. Plus, this entire keto mug cake has just 2.5g NET CARBS!
Author:
Prep Time:

5 min

Cook Time:

1 Min

Total Time:

6 minutes

Yield:

1 Mug Cake

Category:

Breakfast
Instructions
Add all the liquid ingredients to a medium sized bowl, and whisk until combined.
Now add all of the dry ingredients into the bowl, and whisk until the dry ingredients dissolve completely.
Coat a ramekin with baking spray, and add the batter to it.
Microwave for somewhere between 1 minute and 1 minute 45 seconds. Microwave times will vary depending on the power of your microwave. Mine is 700 Watts, and around 1:30 to 1:45 seconds is the perfect amount of time.
If you're using add-ins like low carb chocolate chips, I recommend adding them in half-way through cooking the mug cake in the microwave.
ALWAYS COOK YOUR MUG CAKE FOR LESS TIME THAN YOU THINK THAN MORE. YOU CAN ALWAYS COOK IT FOR 5-10 SECONDS MORE IF IT'S UNDERDONE A BIT.
Notes
The macros do not include the "carbs" from the erythritol. Erythritol doesn't have calories, thus I did not include the "carbs" in the macronutrient information.
2.5g NET CARBS.
Nutrition
Serving Size:

1 Mug Cake

Calories:

273

Fat:

17

Carbohydrates:

7.5

Fiber:

5

Protein:

16
Keywords: mug cake, keto mug cake, low carb mug cake, mug cake keto, mug cake low carb, how to make a mug cake, mug cake for keto, banana bread mug cake, cake in a mug, mug cake made in the microwave