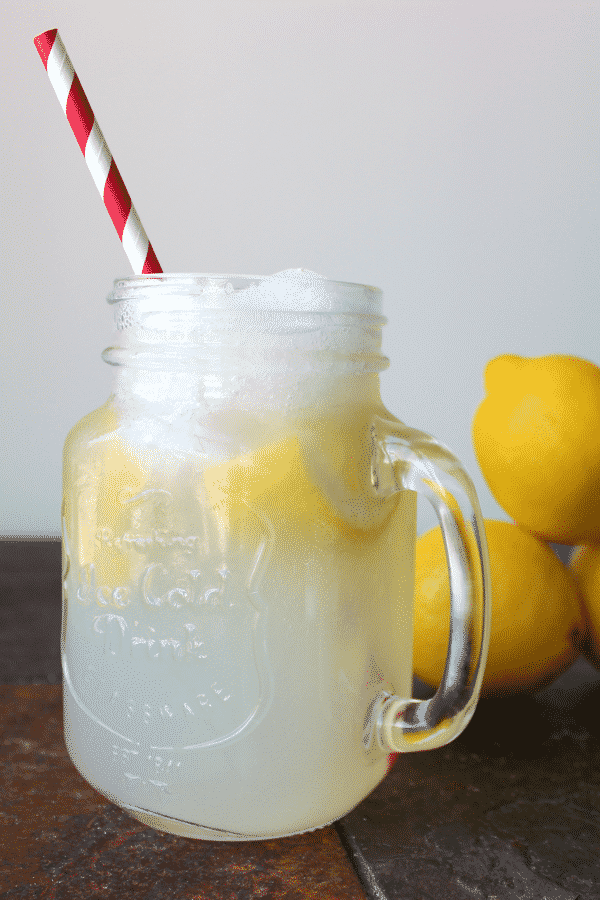 One of my favorite summertime drinks is lemonade - and I have a feeling I'm not the only one who feels this way. It's sweet, it's tart, and it's incredibly refreshing. Not to mention, I have a ton of childhood memories tied to this seasonal beverage. Yes, I like many other kids (in America anyways), sold lemonade at the top of my driveway. I even once robbed a lemonade stand - FYI this was as a kid, not an adult, and I didn't get away with it.
Ok, so now that you're done laughing, I'll explain what happened...
A few kids across the street had this elaborate stand that they sold lemonade from. As you can imagine, "the stand" had tremendous curb appeal, and stopped vehicles like nobody's business. I wasn't allowed to cross the street by myself at this point in my life, but one day my grandma took me over there so I could help out and play with these kids. I don't remember much else from that day, but I do remember making a mental note to myself about where they were storing the money. Inside the tent was this large plastic bag filled chock-full of change, and an occasional dollar bill.
Eventually the stand closed for the day, and everyone decided it would reopen early the next morning. However, I had decided that tomorrow was when I was gonna make my "move". The next day rolled around, and from inside my house I noticed the stand was open for business. I went out the backdoor to "play in the backyard" (at-least that's what my mom thought), and quickly hopped the fence to my neighbor's yard. I made my way to the edge of my driveway, I looked both ways, and darted across the street.
Now, I'm not sure of the details here, but somehow I had gotten into the stand alone. This is when I decided to grab the bag of change, and run as fast as I could back home. There was one problem though. One-BIG-problem. The bag of change exploded right as I was crossing the street. Hundreds of dollars in change was all over the road. The kids were screaming, the parents had been alerted....and I continued running home (like nothing ever happened). I got home, and as you can imagine, not even 2 minutes later the phone rang. Yep, I was busted.
As far as my punishment, well, I'm not quite sure what it was. I do know that the kids across the street and I, we didn't become friends until years later. So, the moral of this story is to never rob a lemonade stand - nobody wants to be your friend if you do, and your mom, she isn't going to be too happy either.
Ok, now lets talk about some healthy frozen lemonade!
Like I said before I love lemonade. The only problem with it (atleast in my opinion) are the "empty calories". Your average frozen lemonade is loaded with sugar, and not much else. So this recipe is my solution to that problem. I mean, who wants to go the entire summer without having lemonade?! Not me, that's for sure. And don't get me wrong, I can definitely fit "regular" lemonade into my macros, but why waste them if I can make a macro-friendly one so easily?
Here Are 3 Reasons Why You Need To Try This Frozen Lemonade:
You only need 4 ingredients
You can make it in less than 5 minutes
Every cup has only 30 calories
Macros Per Cup or 237mL (recipe makes 2 cups):
30 Calories, 0g Fat, 7g Carbs (1g fiber), 0g Protein
Print
Healthy Low Calorie Frozen Lemonade
Healthy Low Calorie Frozen Lemonade
Author:
Prep Time:

3 mins

Cook Time:

5 mins

Total Time:

8 mins

Yield:

2 Cups

Category:

Drink

Cuisine:

American
¼ Cup

(60mL) fresh lemon juice

1 Cup

(240mL) water

1 Tbsp

(10-1

2g

) granulated sugar substitute

1 Cup

(

135g

) ice
Instructions
Add all ingredients into a blender and process until combined
Nutrition
Serving Size:

1 Cup

Calories:

30

Fat:

0

Carbohydrates:

7

Fiber:

1

Protein:

0