This healthy low calorie chocolate mug cake is rich, decadent, incredibly moist, and takes only 1 minute to make! Plus, along with being easy and delicious, this cake in a mug is completely gluten free, sugar free, flour free and has just 150 calories.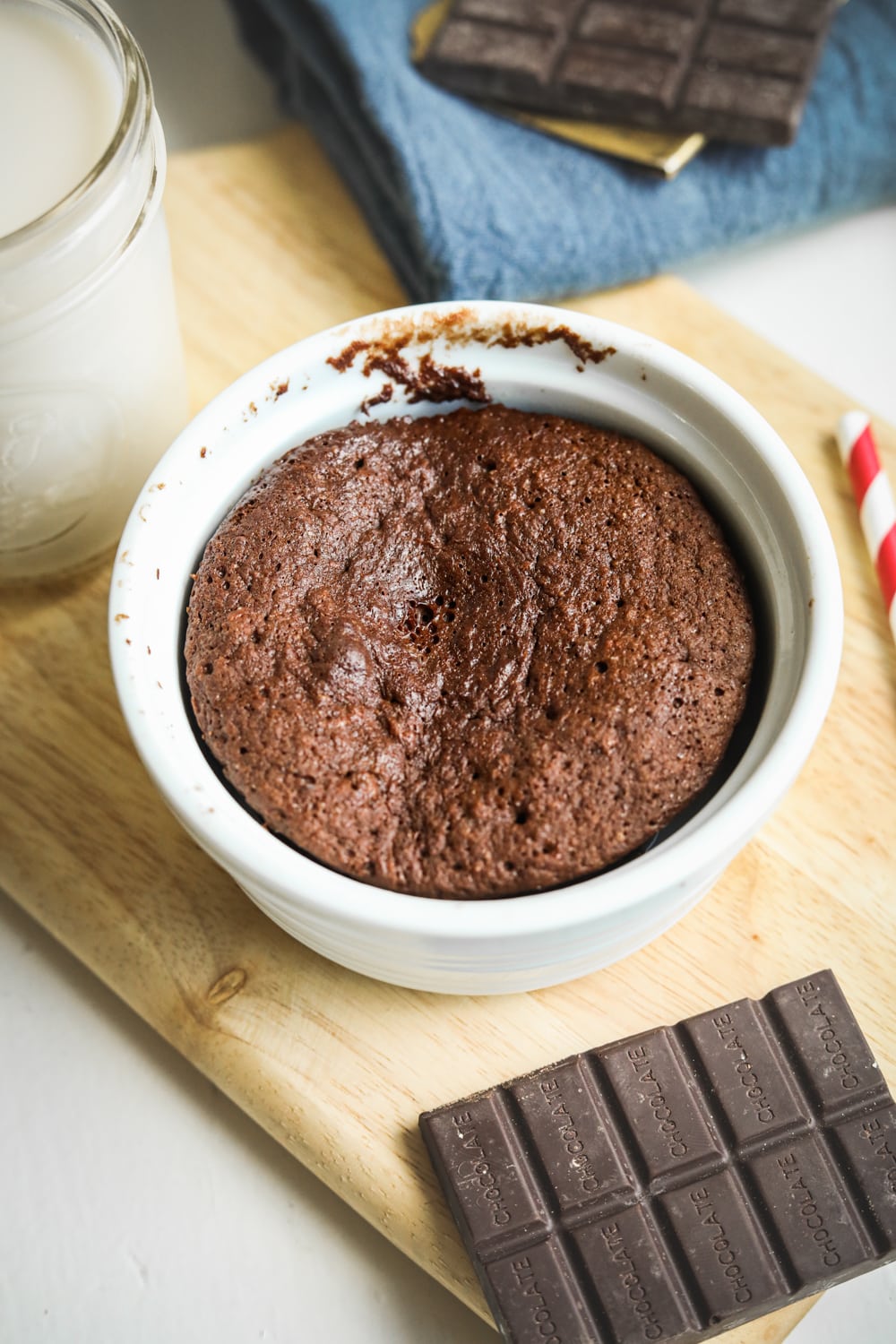 THE BEST LOW CALORIE MUG CAKE
If you've been searching for low calorie desserts that are quick, easy, tasty, and filled with chocolate, you're going to love this healthy mug cake.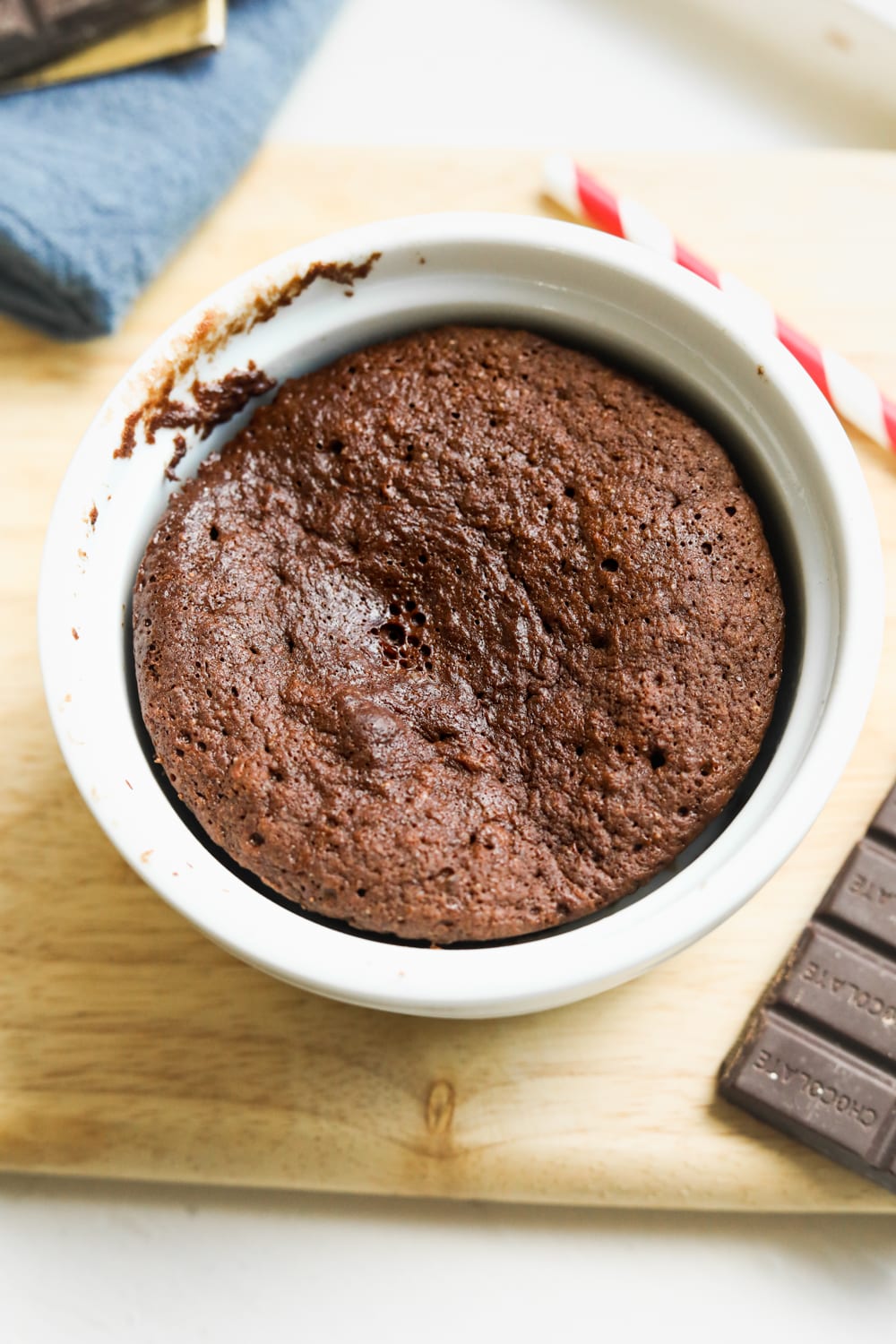 Also, this is a low carb mug cake too - it has just 5 net carbs - and it's high in protein. The cake clock in at almost 20 grams of protein per serving.
Oh, and to make it even better, you can make this mug cake in the microwave in just 1 minute. And even if you include the prep time to make this cake, you're looking at less than 5 minutes in total.
So, when the chocolate cravings hit, you can whip this up in a flash, and not have to worry about over-eating since portion control is built right into this recipe!
INGREDIENTS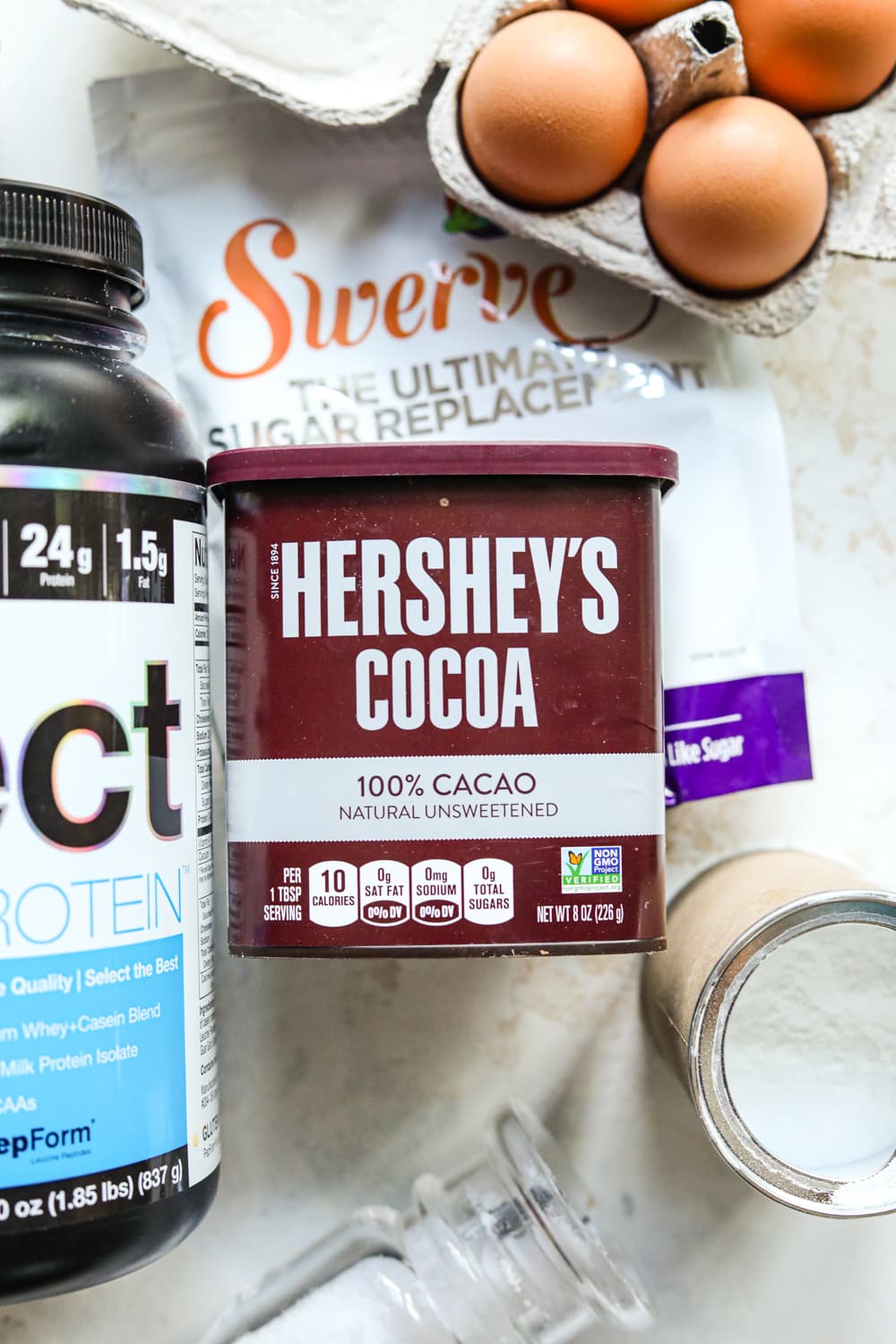 Now, let's dive into the ingredients for this low calorie mug cake recipe.
All you need to make it are 6 pretty common ingredients that you probably already have at home!
Here is what you'll need for this healthy mug cake recipe:
½ Scoop Vanilla Protein Powder
2 Tbsps Cocoa Powder
2 Tbsps Confectioners Swerve (or monk fruit)
¼ teaspoon Baking Powder
1 Large Egg
2 Tbsps Unsweetened Apple Sauce
Pinch of Salt
Pretty common stuff right?!
By the way, if you pick up the vanilla protein powder I use to make this mug cake, then you're well on you're way to having everything you need to make my "famous" weight loss smoothie recipe.
The smoothie tastes almost exactly like an oreo, but it has less than 90 calories a serving! So, I highly recommend making that recipe next.
Also, if you're looking for a higher fat mug cake - one that has macros geared more for the keto diet - you can use almost every single one of these ingredients to make this keto chocolate mug cake recipe!
But, if a low calorie high protein cake is what you're looking for, this recipe will be the one you'll want to stick with.
PROTEIN POWDER TO USE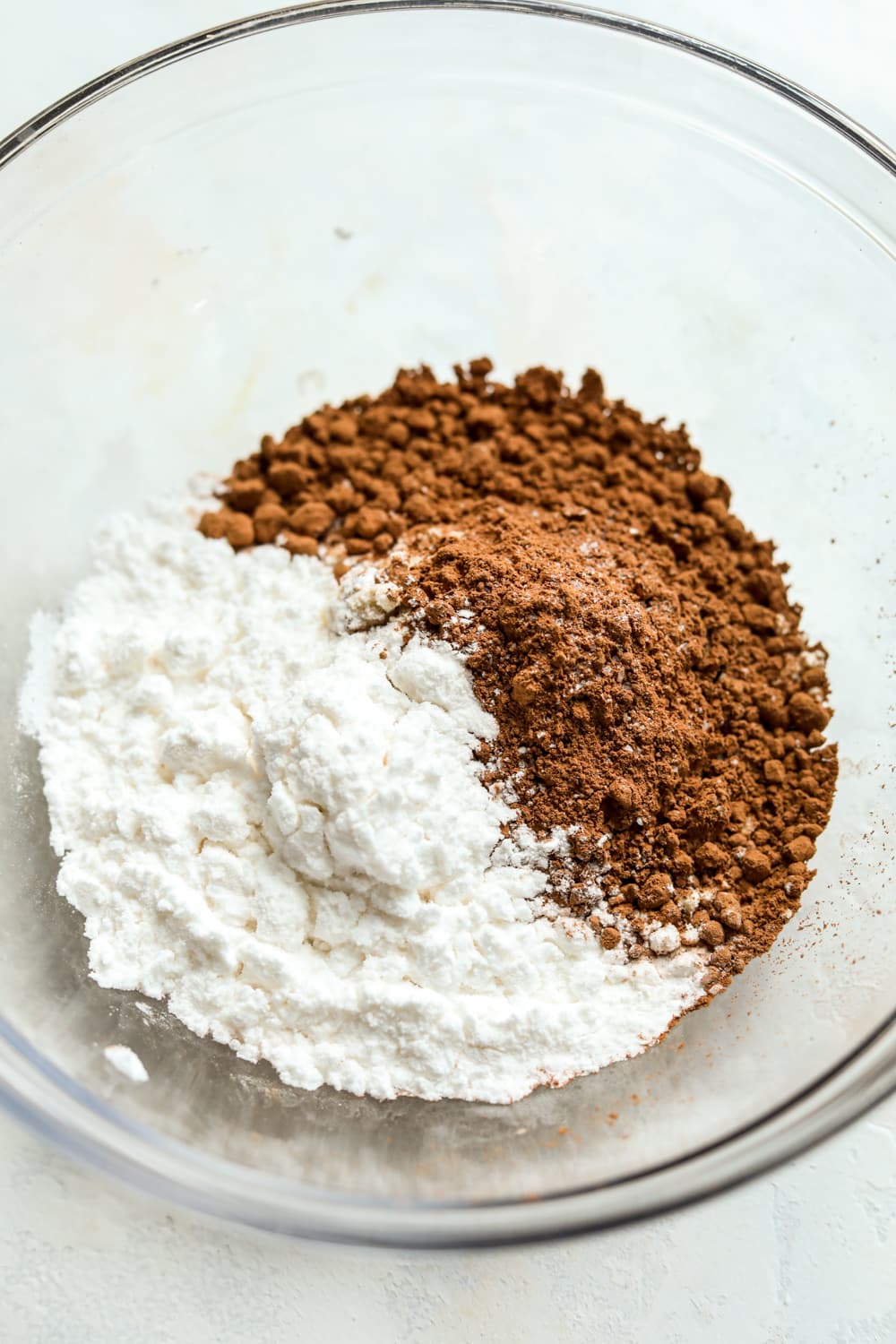 One of the main ingredients we will use to replace flour and add some protein is vanilla protein powder.
And for the protein powder, I recommend using one that has a casein and whey blend - I used the vanilla one from PE Science. I've found that a protein powder with both casein and whey bakes the best and will give you the best possible results. And I like vanilla because it balances with the unsweetened cocoa powder for the perfect flavor in a chocolate mug cake.
Having said that, if you just use whey protein, it will alter the texture of the cake but it will still have that chocolate flavor. In my experience, it's made the cake a bit too "fluffy" and not as cakey. Your healthy chocolate mug cake will still turn out good - it just won't turn out great. At least not as good as it could.
SWEETENERS TO USE
So, as I mentioned, we will be making a sugar free mug cake to keep it as healthy and low calorie as possible.
And to do that, I used Confectioners Swerve, a 0 calorie and 0 sugar sweetener that is just as sweet as sugar. I actually use this to make my low calorie pizza recipe too, so if your looking for another recipe to use it in, that one would be at the top of my list.
However, another sweetener you can use is Lakanto's Powdered Monk Fruit Sweetener - monk fruit is essentially the same thing as Swerve and will work just as well in this recipe!
And, of course, allulose is a great 0 calorie sugar substitute as well. You just may need a bit more of it if you're using one that isn't as sweet as sugar.
HOW TO MAKE LOW CALORIE MUG CAKE
The best part about this chocolate mug cake recipe might be how quick and easy it is to make.
It takes just 5 minutes - prep time included - and all you really have to do is mix the ingredients together.
Oh, and before we get into the recipe, I suggest using a food scale to weigh out all of your ingredients - using grams will give you the most accurate measurements.
Now, if you're ready for this homemade chocolate cake in a cup, let's get baking!
STEP 1: MIXING THE INGREDIENTS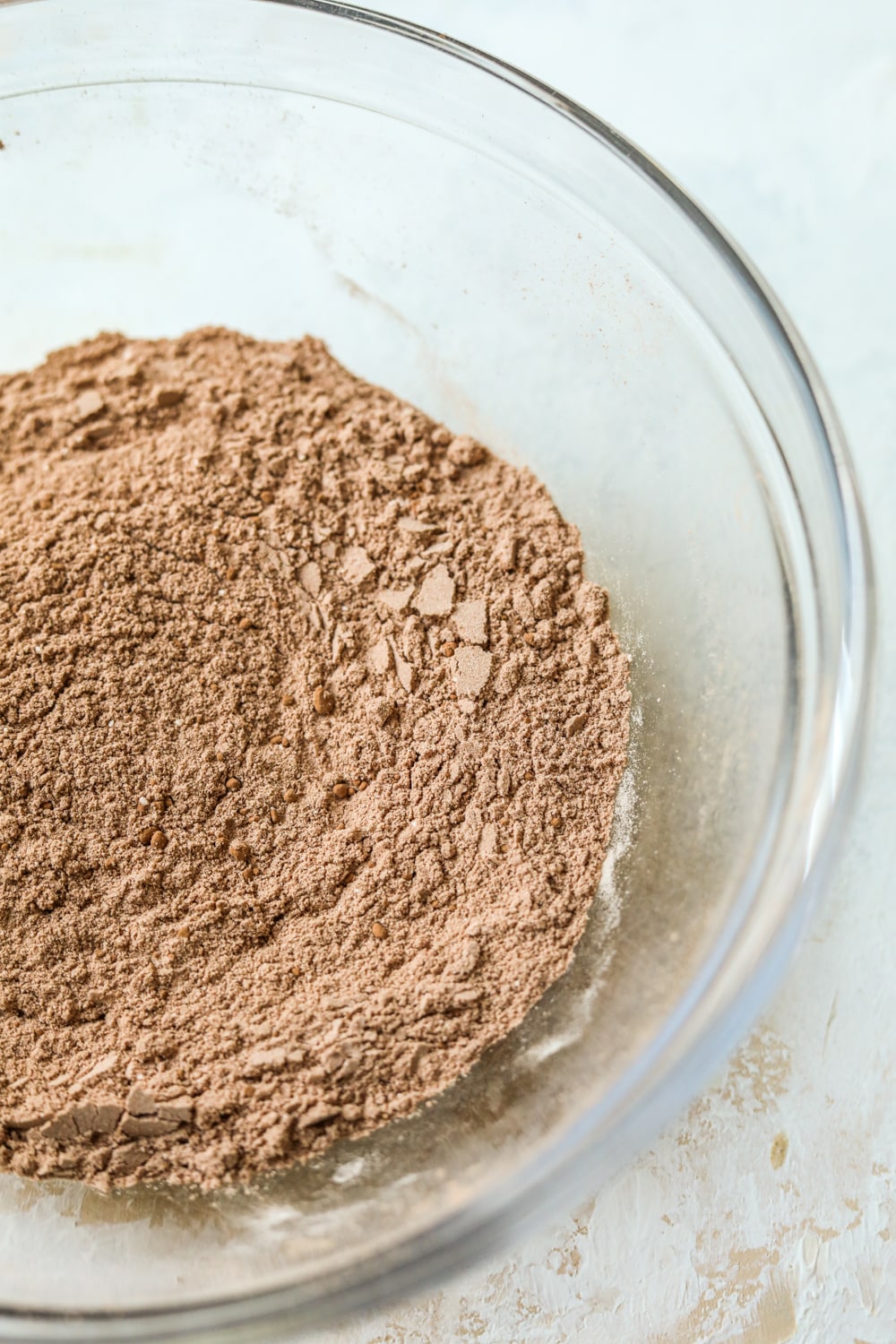 First, take out a small bowl or microwave safe mug and add in your dry ingredients - the protein powder, cocoa powder, Swerve, baking powder, and salt - and whisk them until combined.
Then, in another small bowl, add the egg and apple sauce and give them a whisk until they're well incorporated with one another.
Next, pour the wet ingredient mixture into the bowl of dry ingredients and use a spatula to mix them until a chocolate mug cake batter forms.
By the way, you can just add everything to a well-greased mug/ramekin, but I've found the ingredients don't combine into the mug cake batter as well if you do.
STEP 2: COOKING THE MUG CAKE IN THE MICROWAVE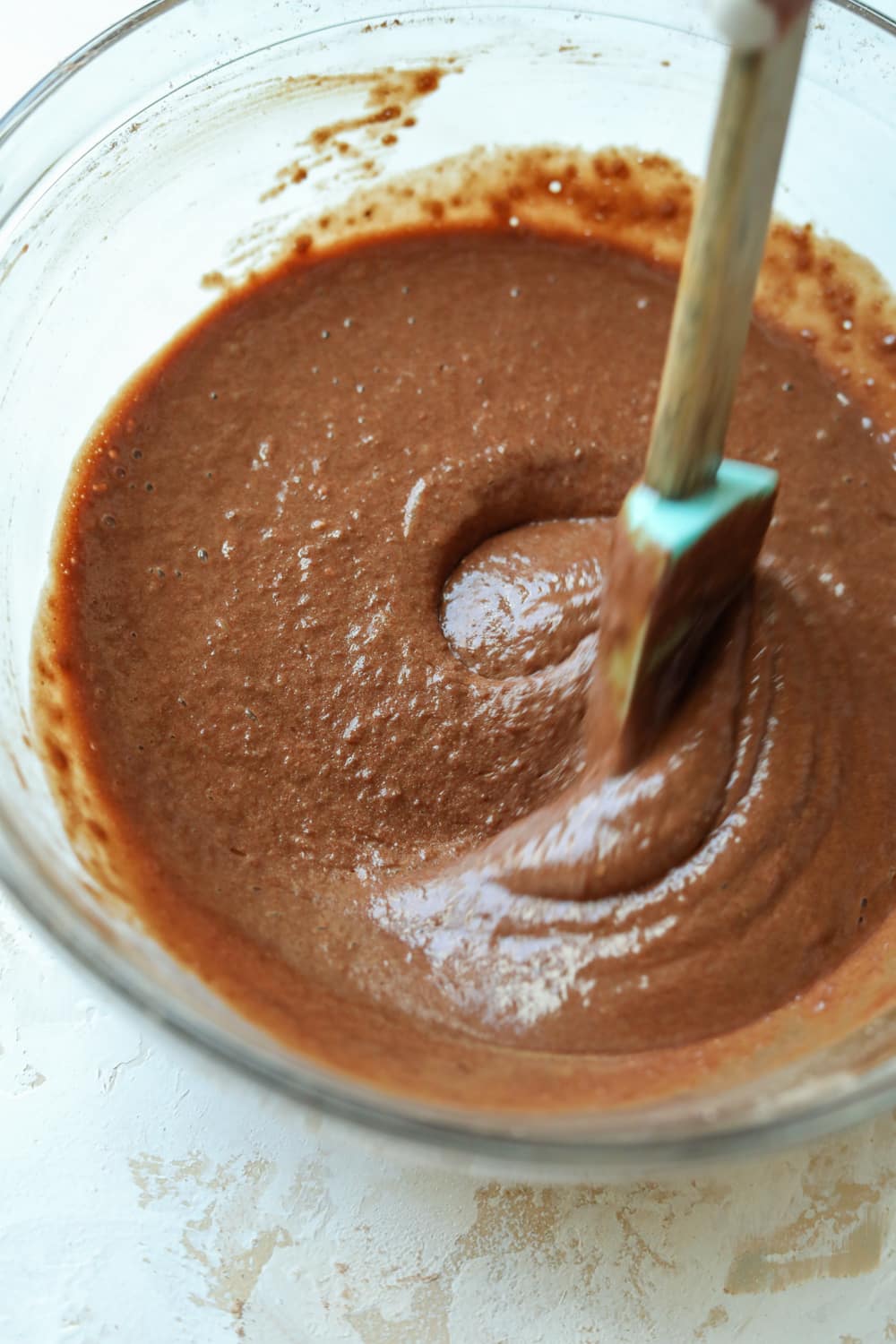 Now that you have a combined batter, coat a ramekin - or a mug- with baking spray and pour the batter into it.
Then microwave the cake for 30 seconds, give it a check to see how it's baking, and microwave for another 20-30 seconds.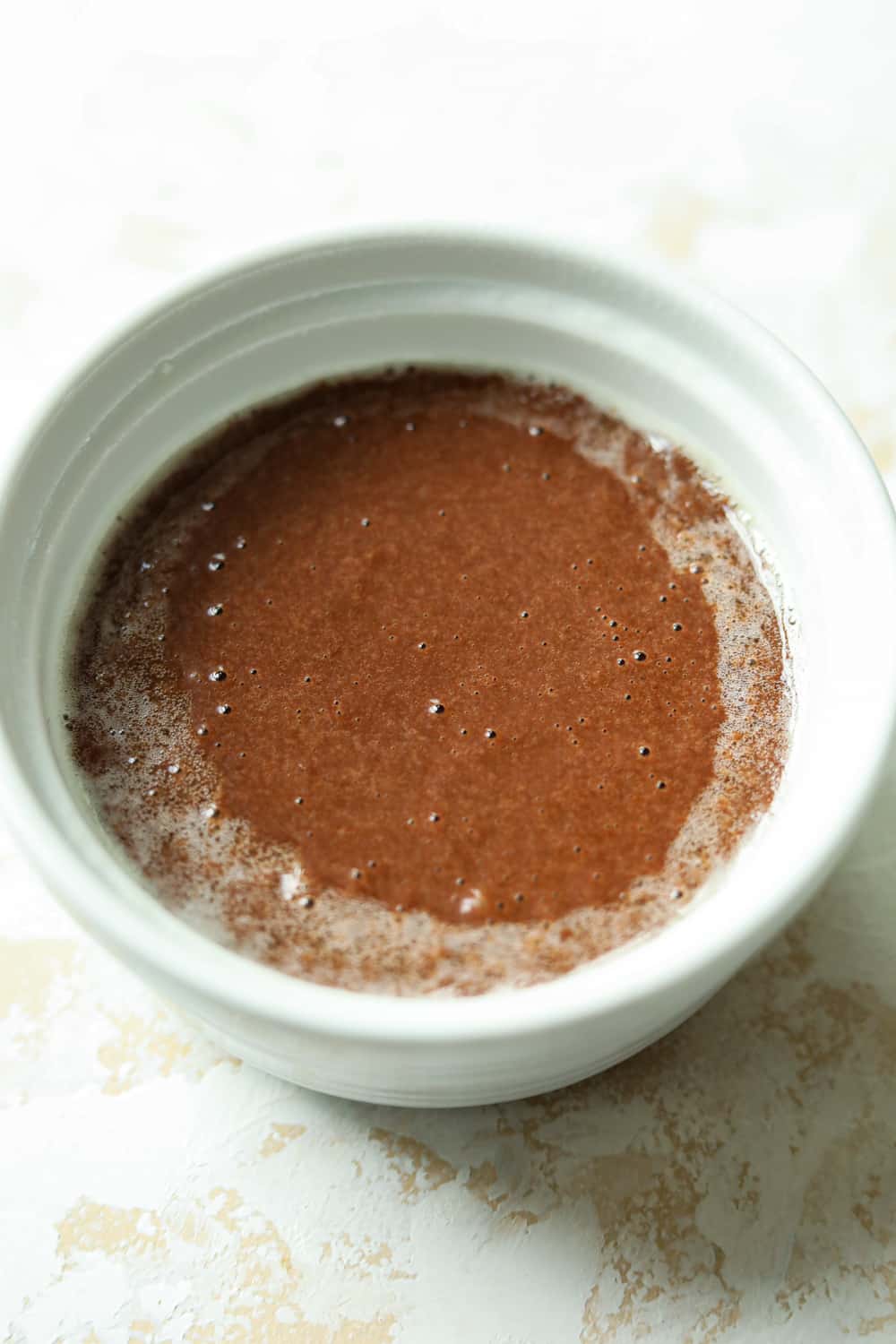 You'll want the center of the mug cake to look ever so slightly gooey because it will continue to bake when it cools.
Lastly, let the cake cool for 3-5 minutes and enjoy! If you want, you can even add some whipped cream on top since it's so low calorie!
How to Bake The Chocolate Mug Cake In The Oven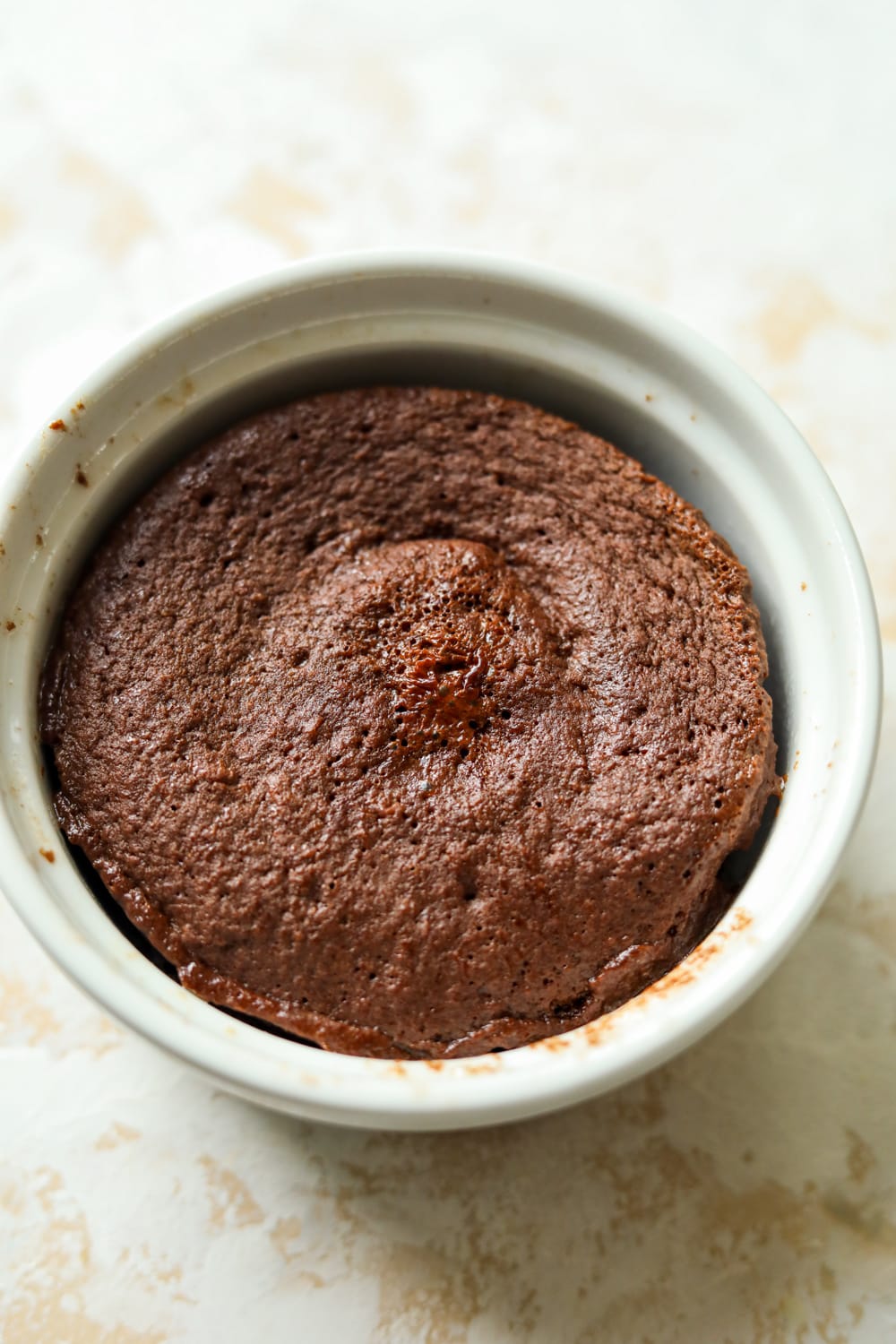 If you'd like to bake this mug cake in the oven - instead of using the microwave - you totally can do that as well.
All you have to do is cook it at 350 Degrees for around 17-20 minutes - until a toothpick comes out clean from the center of it. Then, when it does, remove the low calorie chocolate mug cake from the oven, and let it cool to room temperature.
STORING YOUR MUG CAKE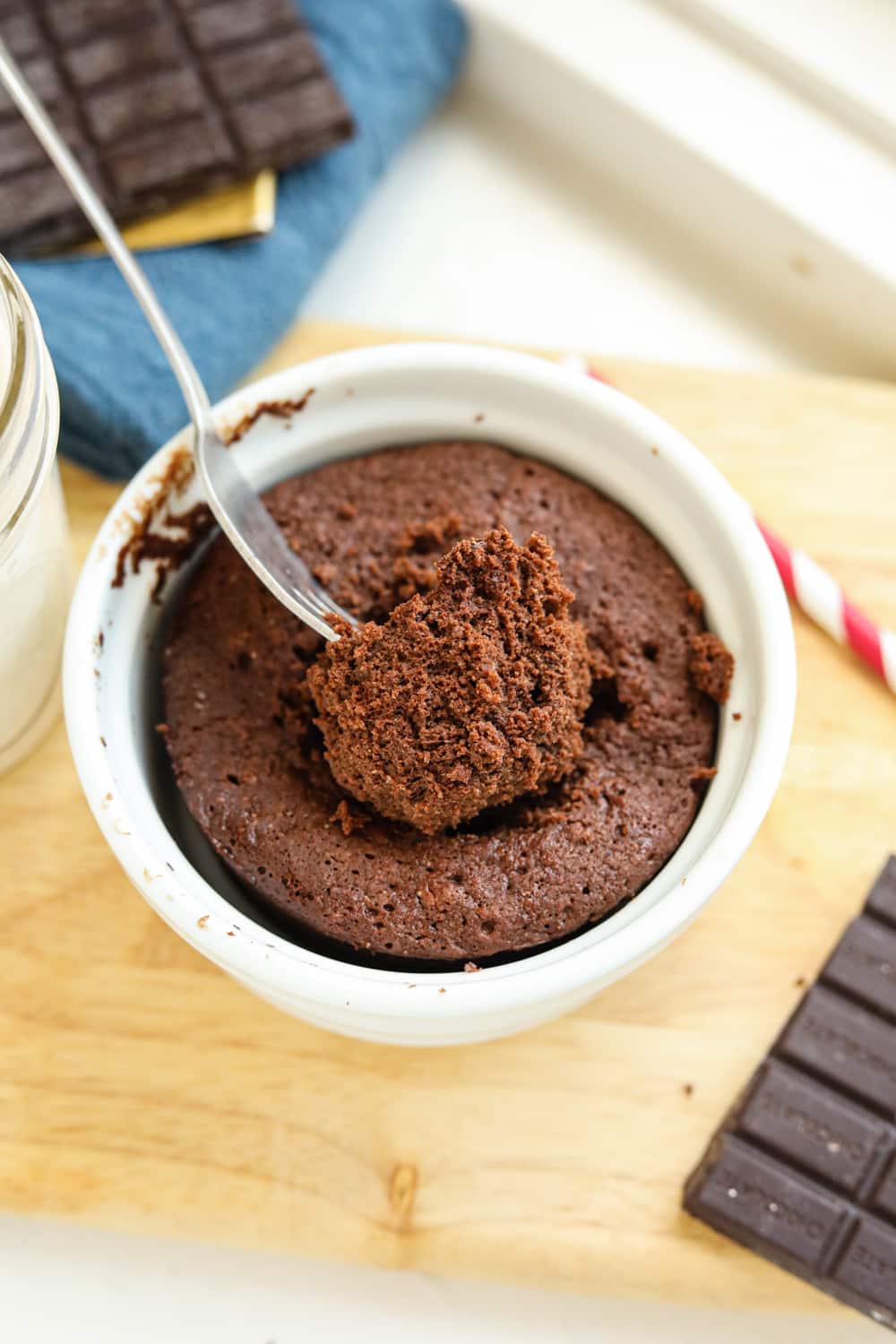 This healthy chocolate mug cake recipe is best enjoyed right after you make it, but you can make it ahead of time if you want to have this delicious treat ready to go.
If you do, you can store the low calorie chocolate mug cake on the counter or in the fridge for up to 2 days, but make sure it's covered with plastic wrap - or sealed in an airtight container.
WRAPPING IT ALL UP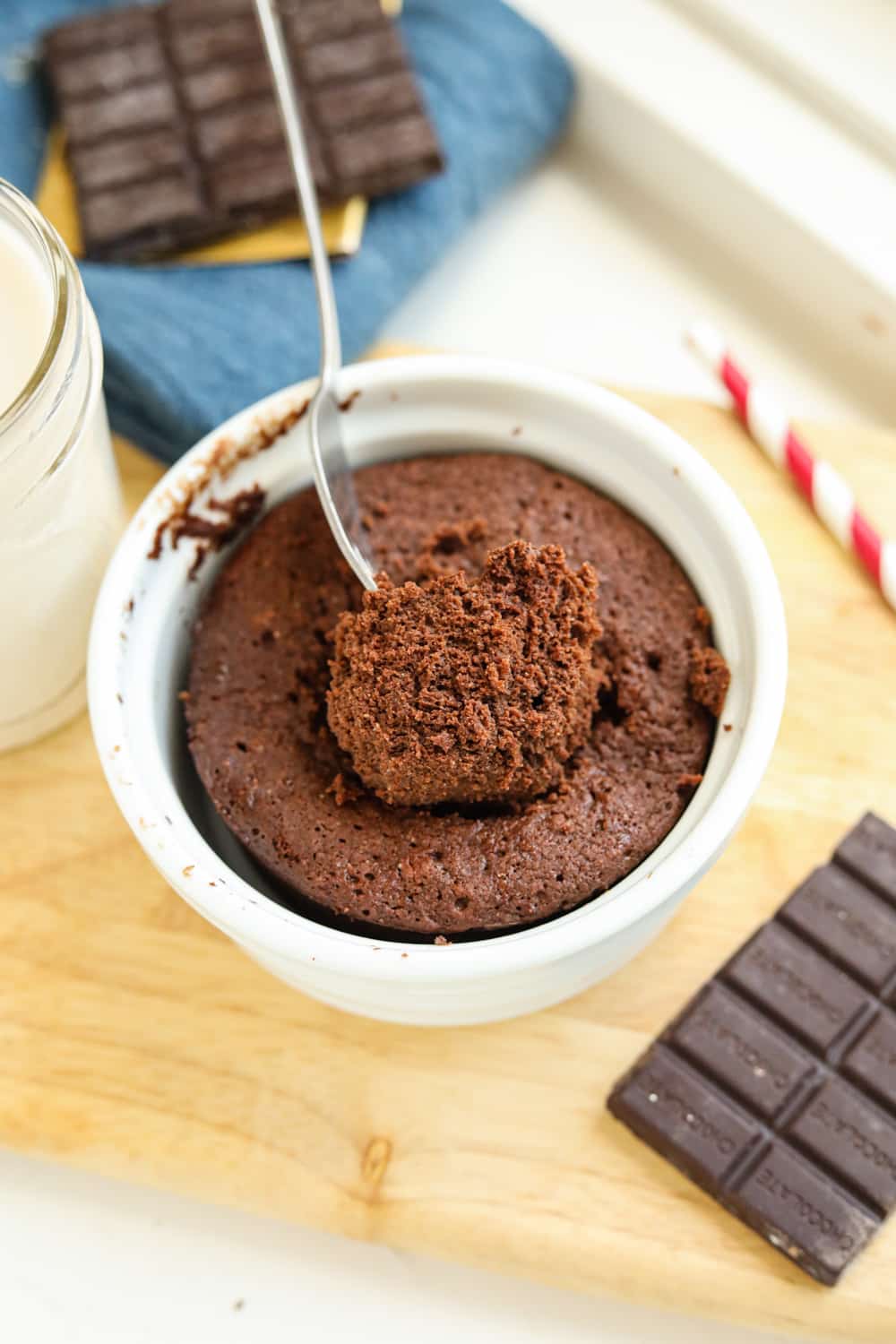 That is how you make a low calorie mug cake that is gluten free, low carb, and high in protein.
And this healthy mug cake is absolutely delicious, all of that without sacrificing any taste - it is incredibly rich and decadent with a delightfully sweet chocolate flavor.
So next time you're craving a chocolate dessert that is guilt-free and delicious, whip up this easy mug cake recipe to get your chocolate fix in.
Anyway, I hope you enjoy this low calorie chocolate mug cake recipe as much as I do. If you make it, leave a comment below and let me know what you think!
More Mug Cake Recipes
If you're a fan of quick and healthy microwave desserts, I have a ton of other mug cake recipes that I think you'll enjoy just as much as this mini chocolate cake.
Give one of these healthy mug cakes a try next:
Print
Low Calorie Mug Cake | The Best Easy Mug Cake Recipe
This low calorie mug cake is rich, decadent, so chocolatey, and only takes 5 minutes to make! And along with being easy and delicious, this cake in a mug has just 150 calories with 5 NET CARBS. Plus, it is a gluten free mug cake and made with no flour or sugar! 
Author:
Prep Time:

2 minutes

Cook Time:

1 minute

Total Time:

3 minutes

Yield:

1 serving

Category:

Dessert

Method:

Microwave

Cuisine:

Low Calorie
Instructions
Add the dry ingredients to a small bowl, and whisk until combined.

In another small bowl, add the egg and apple sauce and combine with a whisk until well incorporated with one another.

Pour the wet ingredients into the dry ingredient bowl and use a spatula to mix them until a thick chocolate batter forms.

Coat a ramekin - or mug- with baking spray and pour batter into it.

Bake in the microwave for around 30 seconds, check to see how it's baking, then bake for another 20-30 seconds (the center should look ever so slightly wet - it will continue to bake as it cools).

Cool for 3-5 minutes and enjoy!
***OVEN INSTRUCTIONS:
Bake in the oven for around 17-20 minutes.
I recommend pulling it out when the center is just ever so slightly gooey.
Notes
The scale up function does not change the gram measurements.
Nutrition
Serving Size:

1 serving

Calories:

154

Fat:

5

Carbohydrates:

7

Fiber:

2

Protein:

20
Keywords: low calorie mug cake, low calorie mug cake recipe, low calorie chocolate mug cake, low carb chocolate mug cake, cake in a mug, low calorie desserts, healthy mug cake, low carb mug cake, low carb mug cake recipe, microwave cake, microwave desserts, easy mug cake recipe, gluten free mug cake, gluten free mug cake recipe, cake in a cup, quick chocolate desserts,