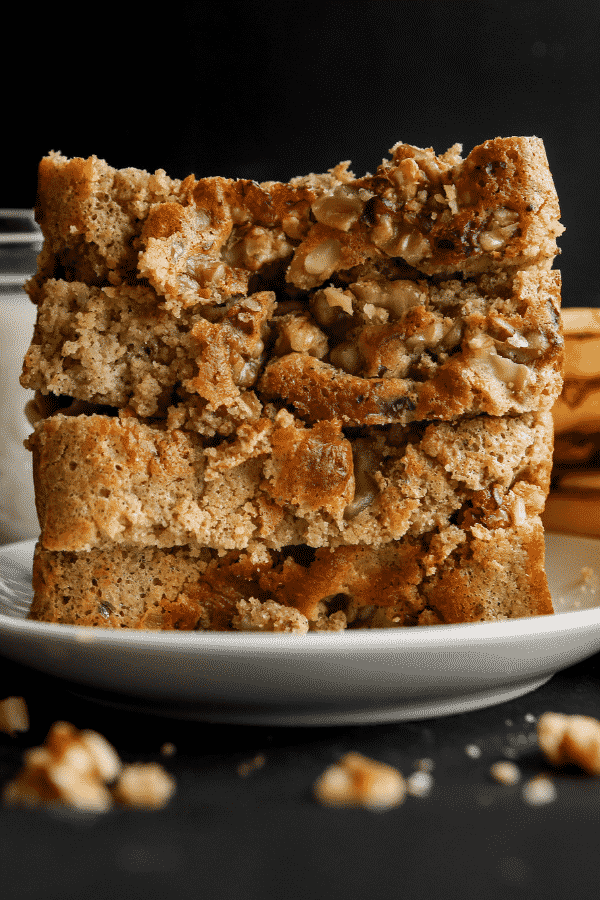 The Best Low Carb Keto Banana Bread Recipe
Low Carb Keto Banana Bread sounds kind of impossible right?!
I know what you're thinking, "Joe banana's are filled with sugar, so how can you make banana bread low carb?"
And the answer is very simple. We're not actually going to use bananas to make our low carb banana bread.
Once again, I know what you're thinking, "So then how is this banana bread going to taste like bananas?"
And, uhh, that's a simple answer too. We're going to use sugar-free banana extract to pack the banana flavor into this keto banana bread.
Yep, and this banana-less banana bread recipe is going to taste just like "normal" banana bread. It's actually kind of mind blowing how close it tastes to the "real thing".
Especially, when you consider the fact that each slice only has 2g net carbs!
How To Make Low Carb Keto Banana Bread (Video)
How To Sweeten Up The Low Carb Banana Bread
Now, even-though the banana extract is going to give our bread a ton of flavor, it isn't going to provide any sweetness to the loaf like typical bananas would. So, to add sweetness - without adding carbs - to our low carb keto banana bread, we're going to use erythritol.
Erythritol is a 0 carb, 0 calorie sugar substitute that has no impact on blood sugar levels. This makes it the an ideal sweetener for people following any kind of low carb diet, such as the keto diet.
Another way we're going to sweeten the keto banana bread up is by using a little 0 calorie - and 0 carb - maple syrup. I prefer this pancake syrup by Walden Farms. It adds a nice punch of sweetness to the banana bread, but also a hint of maple flavor as well. And it does it without adding any carbs!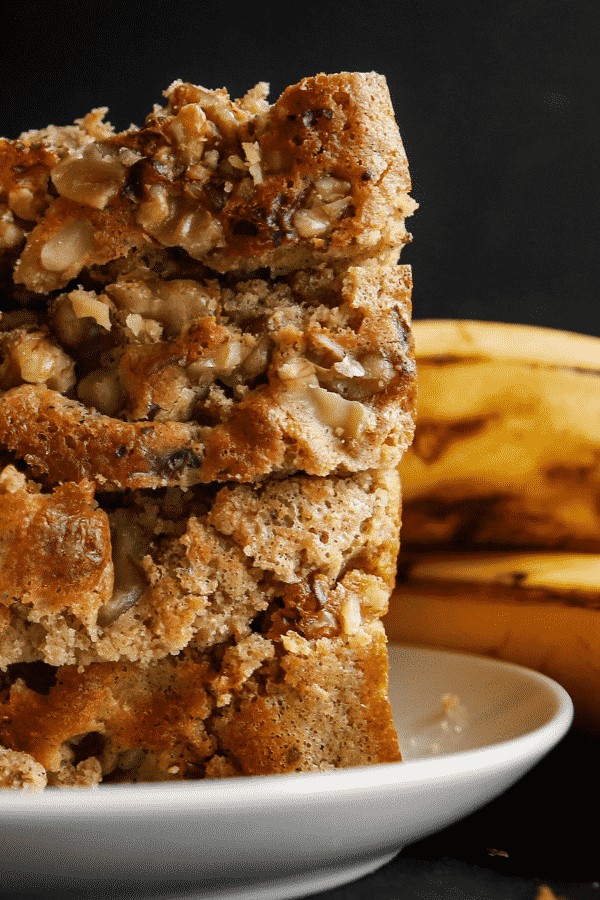 Replacing The Flour
Typically banana bread uses regular flour, but for our low carb banana bread we're going to use almond flour.
Almond flour is a wonderful low carb substitute for normal flour, and the Kirkland Blanched Almond Flour has only 2g net carbs per serving. Normal flour has 10 times that amount.
The crazy thing is that even-though almond flour is used as the base of the bread, the texture of it is much more like one that uses "normal" flour. This low carb banana bread is moist, crumbly, and dense! It's absolutely divine.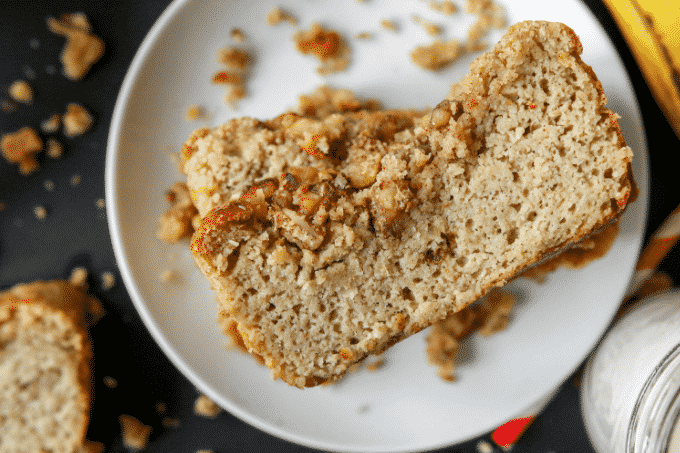 Print
Low Carb Keto Banana Bread Recipe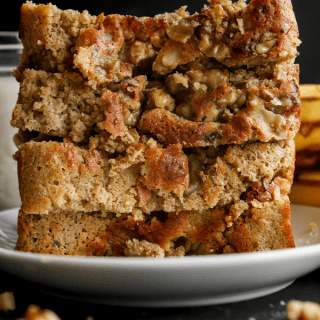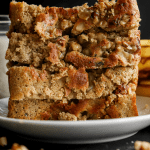 The BEST Low Carb Keto Banana Bread Recipe! This moist and dense "banana" bread isn't actually made using bananas, but by using banana extract and a few other ingredients like almond flour, eggs, and erythritol. It's incredibly easy to make, and each slice of this banana bread ONLY HAS 2 NET CARBS!
Author:
Prep Time:

15 minutes

Cook Time:

50

Total Time:

1 hour 5 minutes

Yield:

10 Slices

Category:

Breakfast
Instructions
Pre-heat your oven to 350 Degrees F.
Add all of the dry ingredients into a large bowl, whisk and set aside.
In an even larger bowl add all of the wet ingredient and combine them.
Now add the dry ingredients into the wet ingredients and fold them together with a spatula.
Once they're well incorporated with one another, line a 8.5" x 4.5" bread pan with parchment paper, coat the parchment paper with baking spray, and add the batter
Once the batter is fully poured in, add the toppings of your choice and bake for around 45-50 min.
Let the banana bread cool completely in the tray itself, preferably overnight.
Notes
Macros don't account for the erythritol sweetener, it has ZERO CALORIES, and thus should be tracked as 0 carbs as well.
Nutrition
Serving Size:

1 Slice

Calories:

191

Sugar:

0

Sodium:

0

Fat:

17.5

Saturated Fat:

0

Unsaturated Fat:

0

Trans Fat:

0

Carbohydrates:

3.5

Fiber:

1.5

Protein:

5.5

Cholesterol:

0
Keywords: keto banana bread, low carb banana bread, how to make keto banana bread, banana bread for keto, banana bread low carb, almond flour banana bread,
Other Low Carb Keto Bread Recipes
1. Keto White Bread recipe - LESS THAN 1 NET CARB a slice!