21 Keto Snacks at Target! These are some of the best on the go low carb keto snack ideas. All of these snacks are perfect for work, school, and travel. Plus, most of them are cheap - less than 5 dollars - and have less than 5 NET CARBS. So, make sure you've got a pen and paper ready. Because you'll definitely want to add these keto snacks to your Target shopping list!
Keto Snacks At Target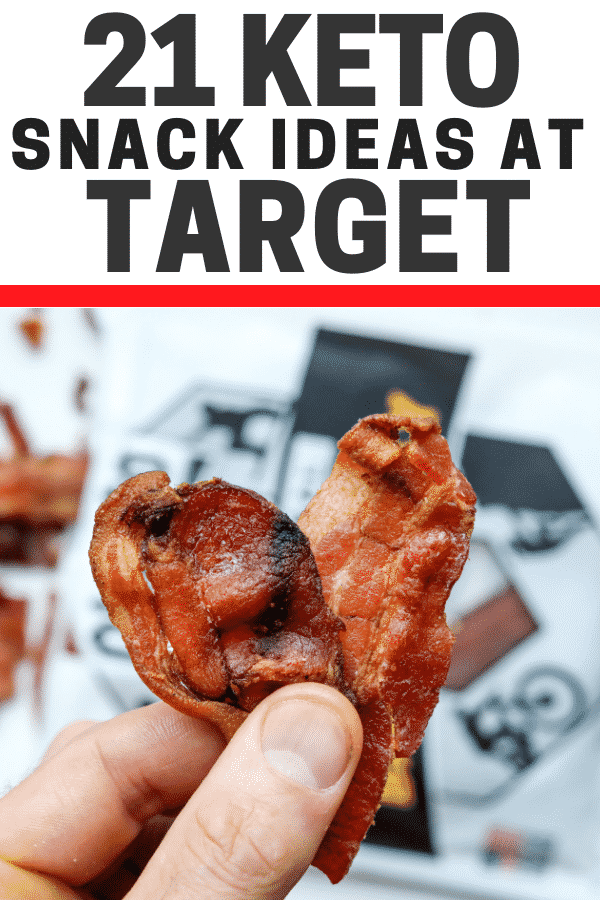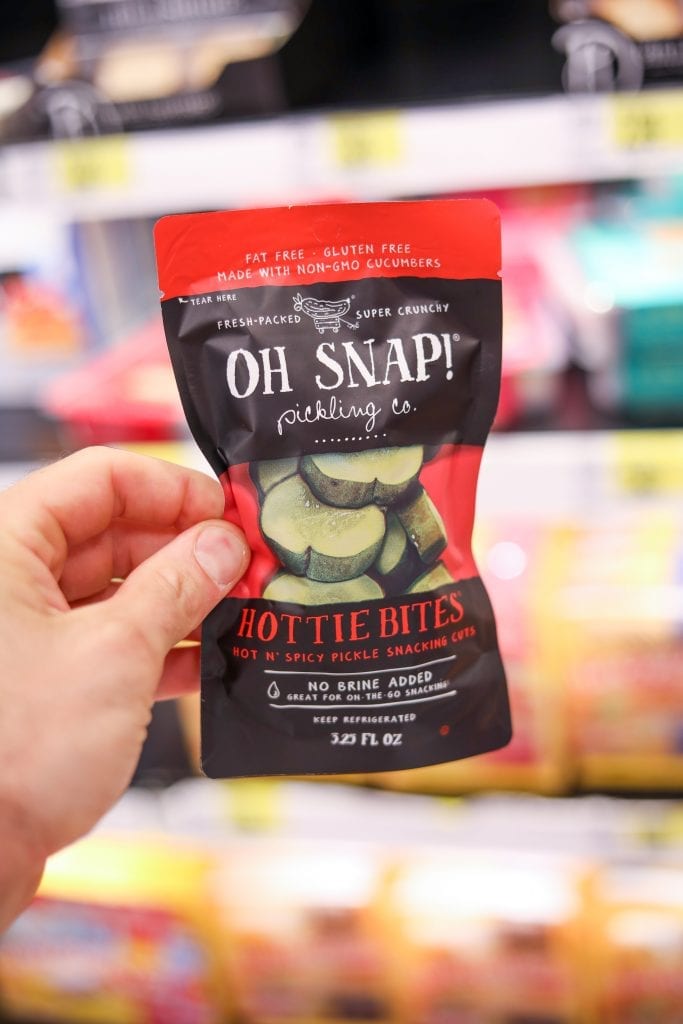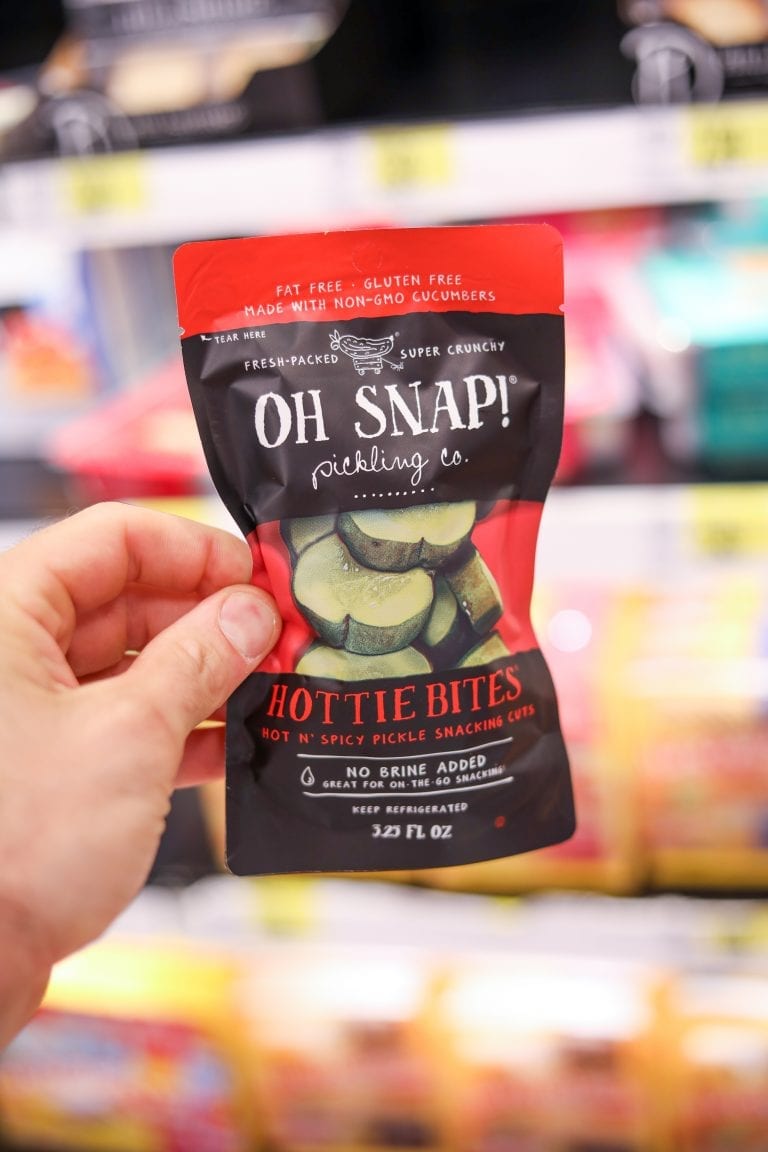 If you need a quick on the go keto snack, and you're craving something salty/spicy, these pickle hottie bites are the answer.
Plus, the macros are fantastic on this snack idea too. Each package of pickle bites has just 15 calories and only 2 net carbs.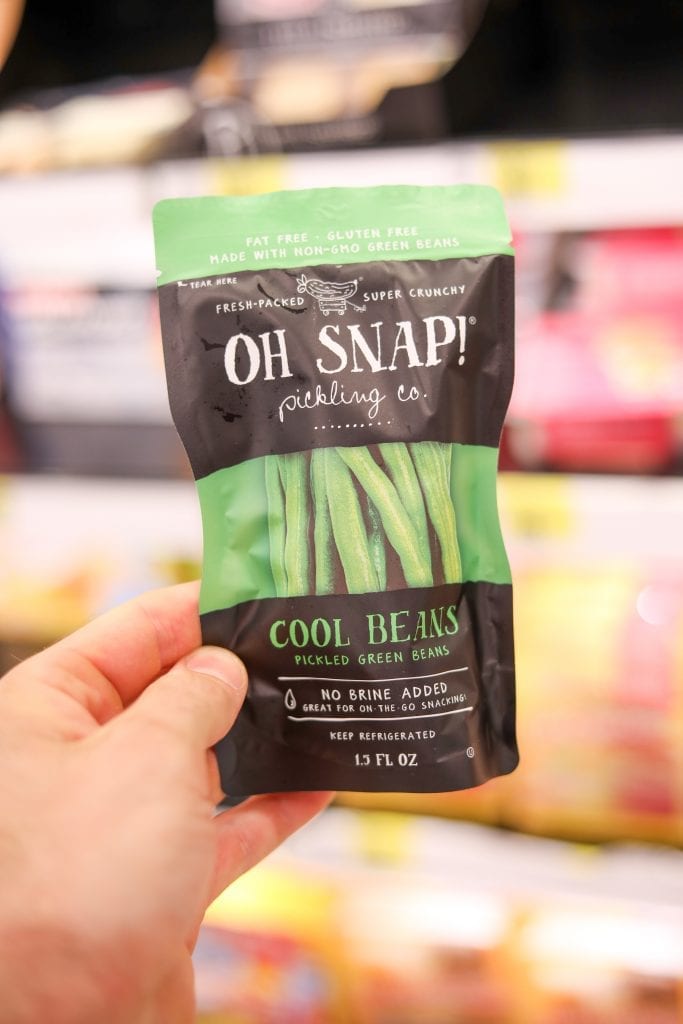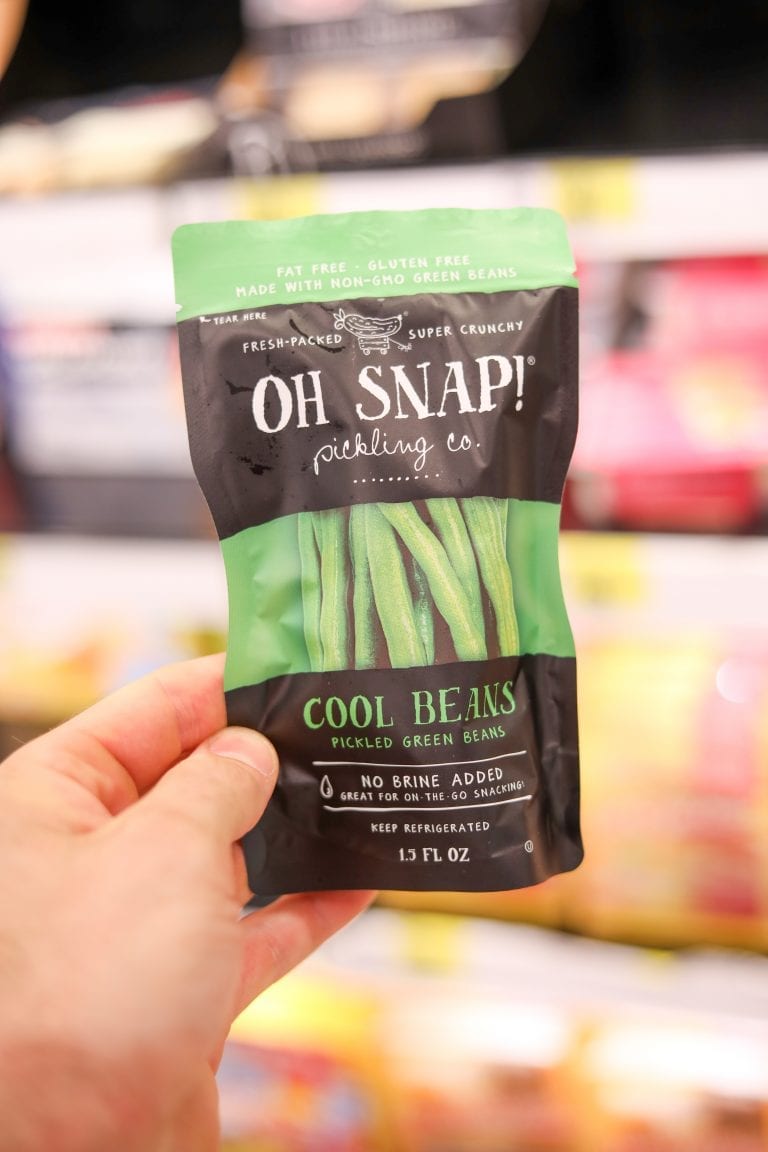 If you're looking for a keto snack idea that's not only crunchy but salty too, you've got to give these pickled green beans a shot!
By themselves they're delicious but when dipped in hummus they're next-level good. Of course, you can always eat them straight out of the bag for a quick on the go keto snack option too.
And, the entire bag comes in at just 15 calories and 2 net carbs.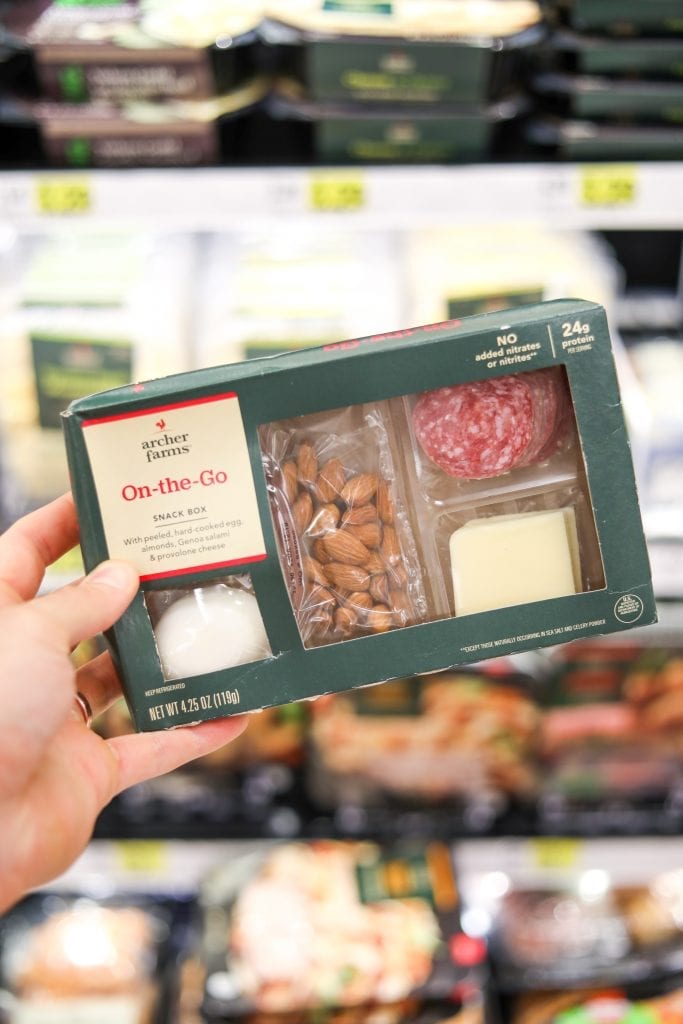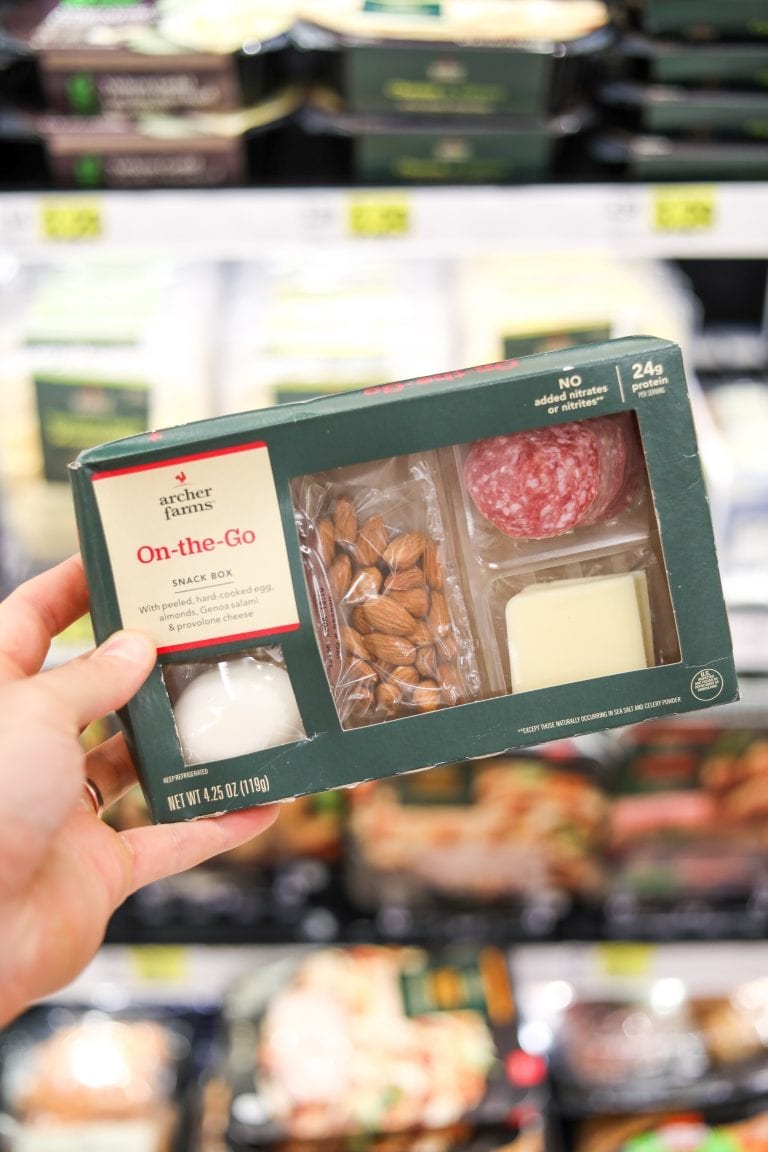 Maybe the best grab and go low carb keto snack option at Target is the Archer Farms On The Go Snack Box.
It's less than $5, and it's more than a snack, it's a meal.
This snack box comes with almonds, a hard boiled egg, genoa salami, and provolone cheese.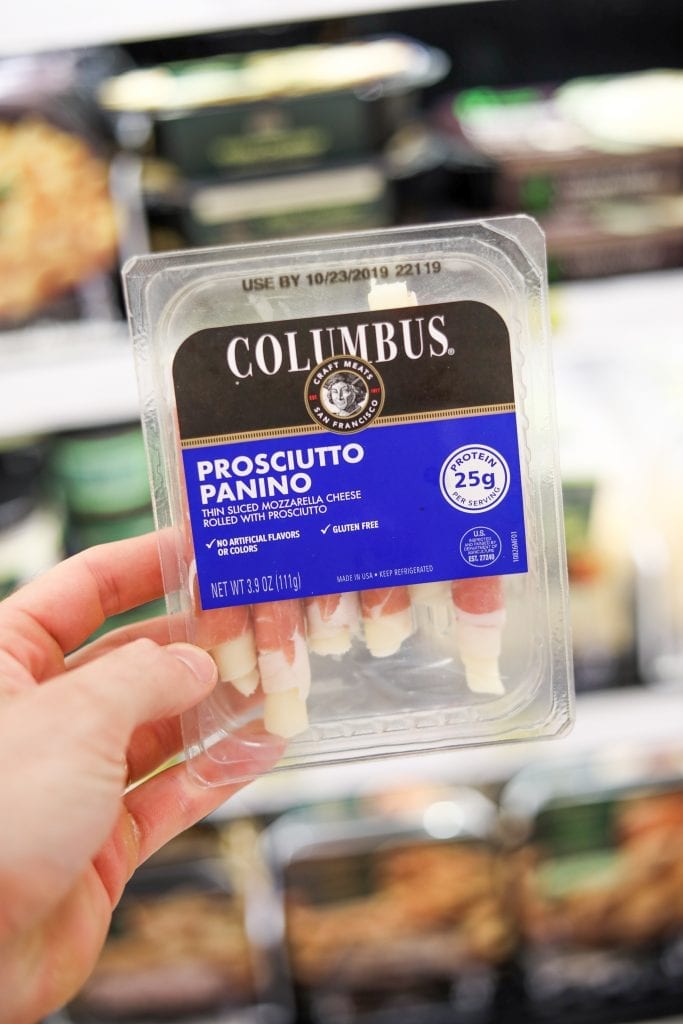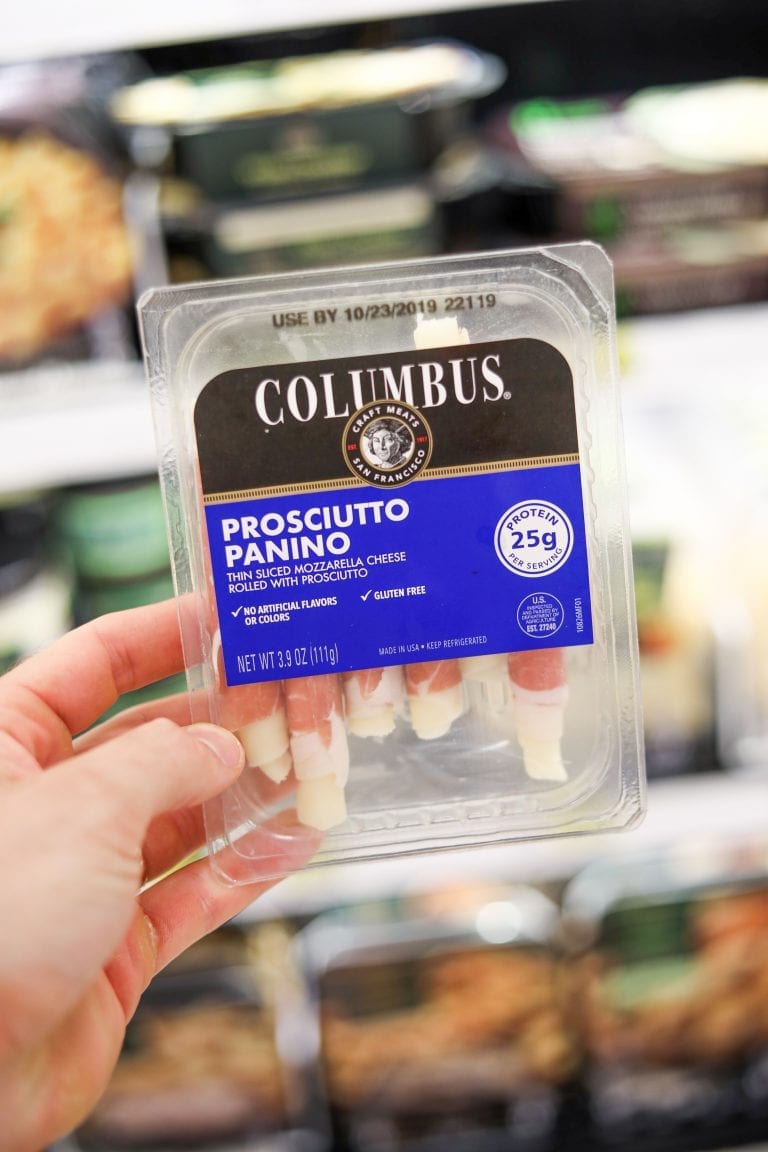 If you love meat and cheese the Colombus Prosciutto Panino's are a keto snack you've got to check-out.
They make a great on the go snack idea, especially if you're traveling. Or, if you're going to the movies, and want to sneak something in that's keto friendly these Panino's will work great too.
Plus, each container has 0g net carbs.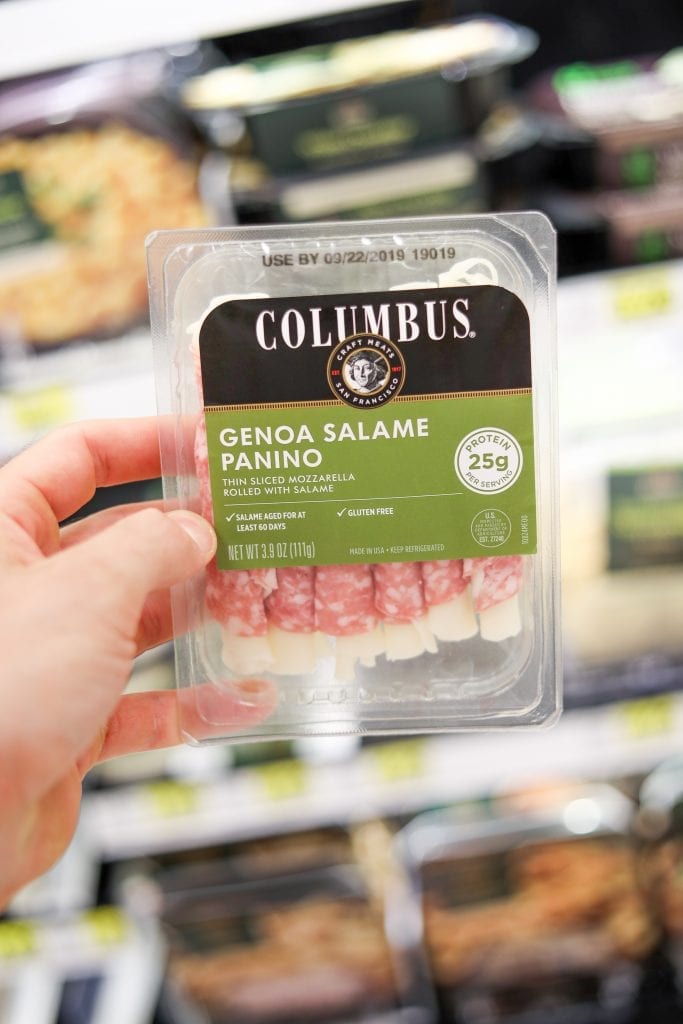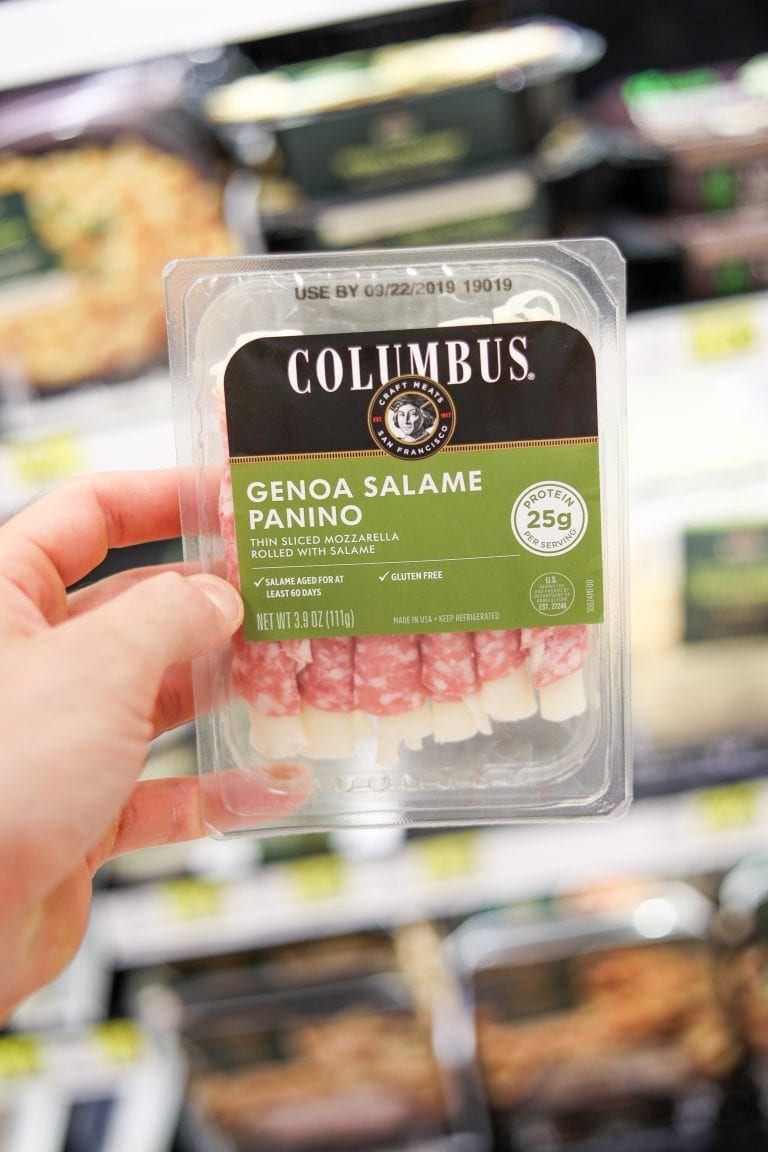 If prosciutto isn't you're "thing", then there's always the Colombus Genoa Salami Panino's.
You'll find these right next to the other Panino's at Target, and each package has just 1g net carbs.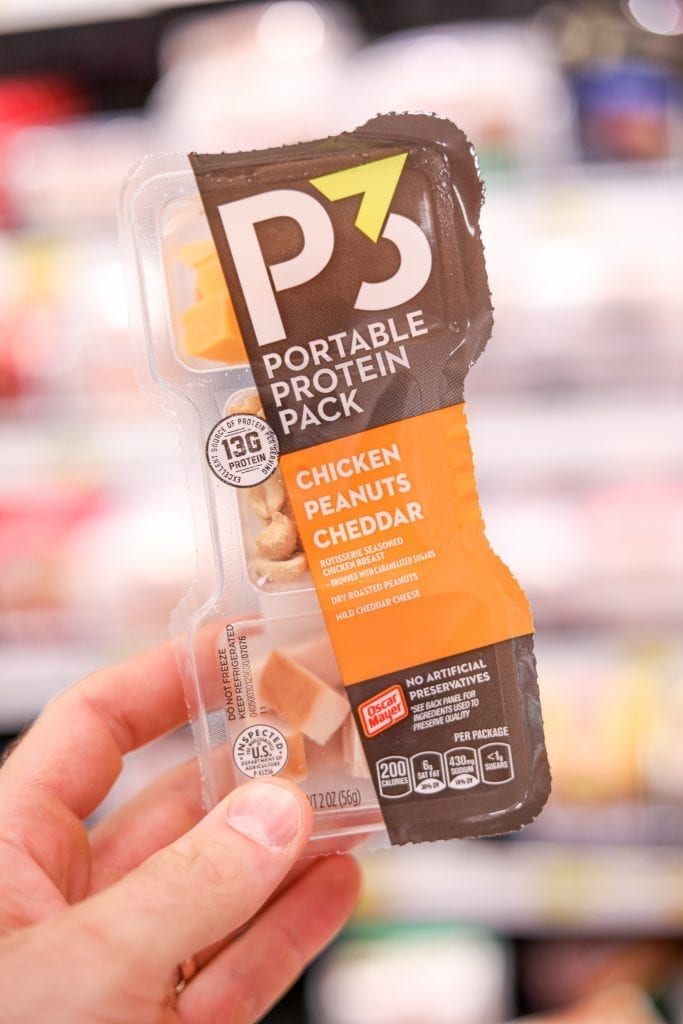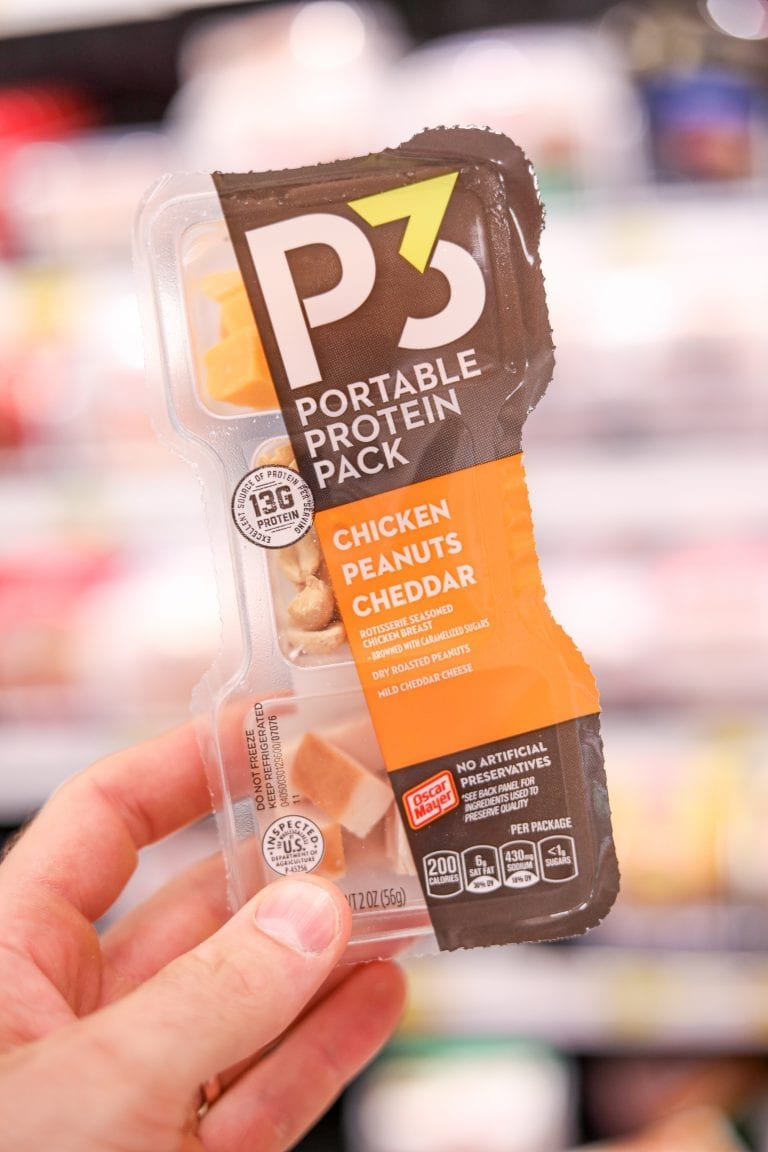 These P3's are one of the best quick, and easy on the go keto snacks you'll find at Target. They're preportioned out and are basically a tiny low carb Lunchable. Not all P3's are keto-friendly though so make sure you get the ones on this list.
The best part about these is that each one is only $1.00! And, this Chicken Peanuts and Cheddar one has just 2g net carbs a package!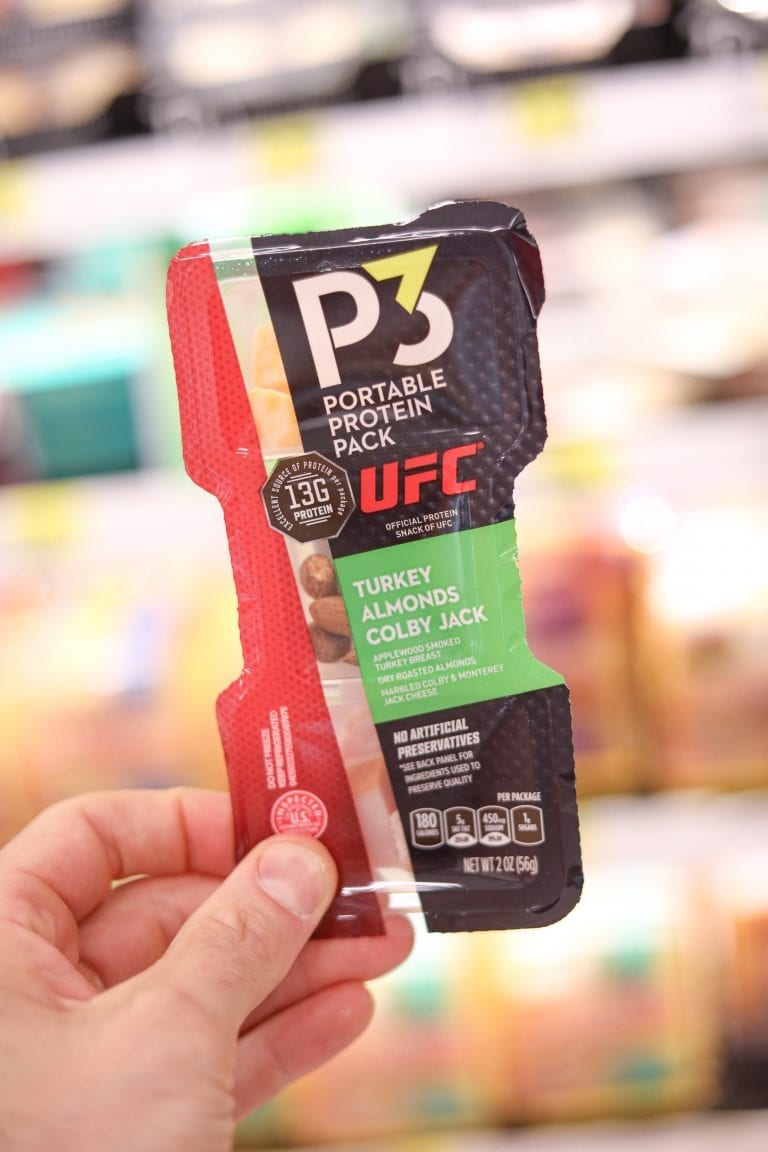 Once again, this P3 comes through in a big way. It's small enough to bring with you anywhere and makes a great addition to a keto lunch. Plus, it's a dollar just like the other one.
Is there a better cheap on the go keto snack idea from Target than these P3's? It's hard to say.
But, at just 3 net carbs a container - for this Turkey Almonds & Colby Jack one's anyways - how could you not add them to your shopping list!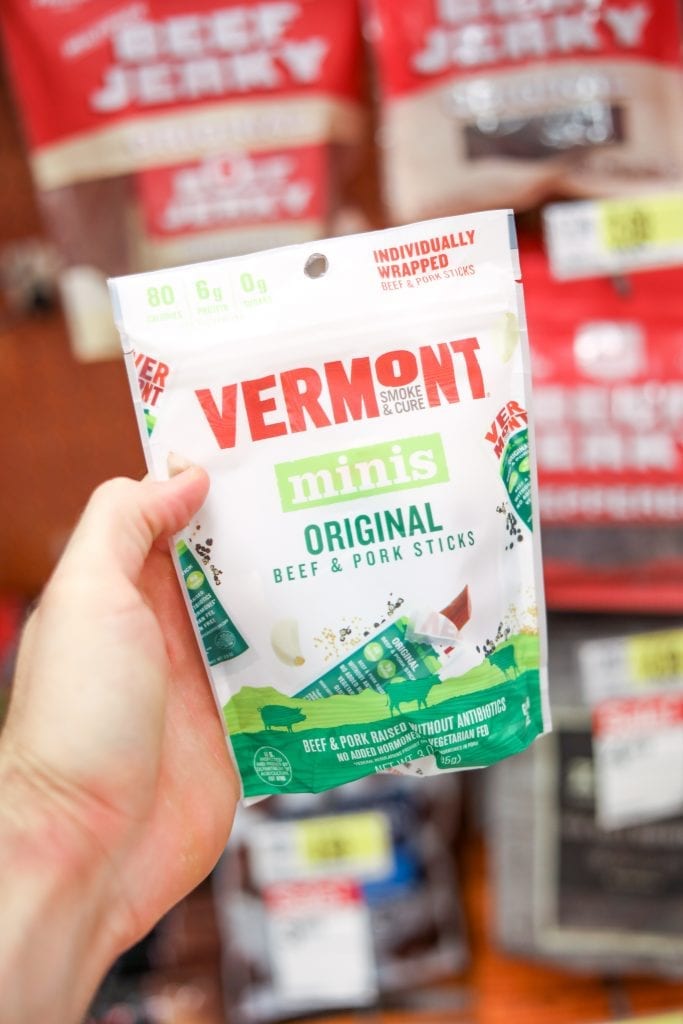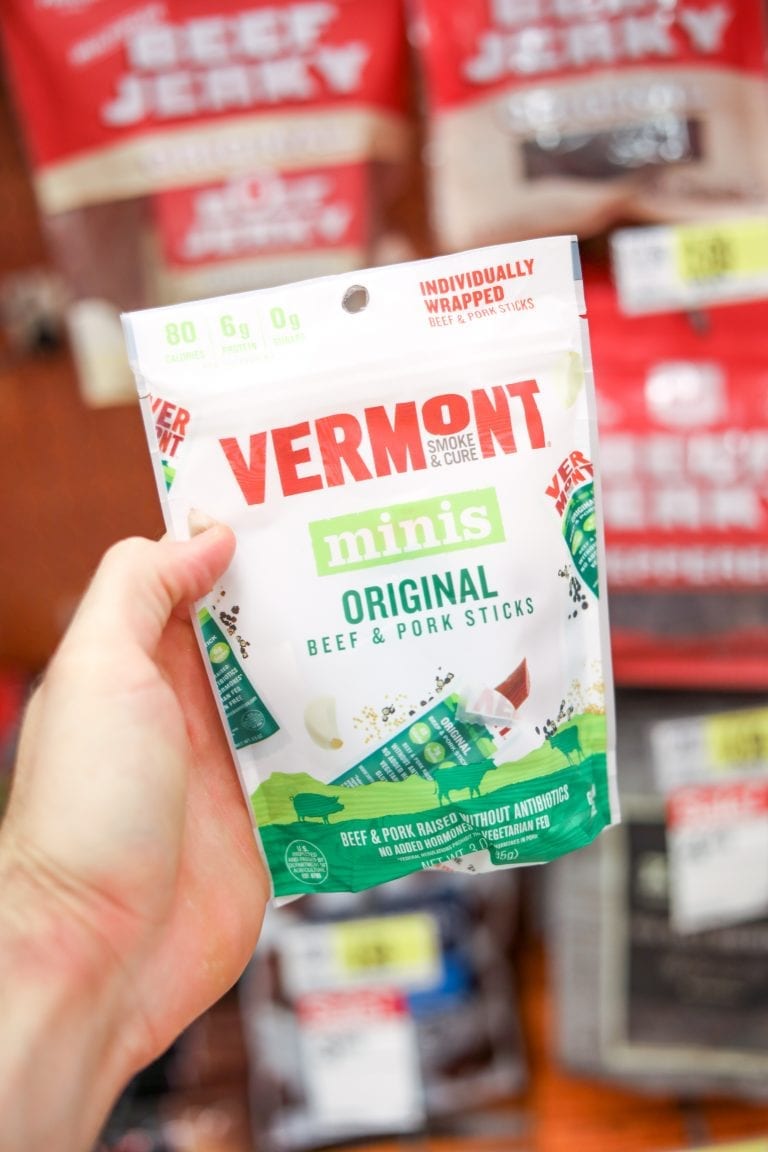 How do they pack so much flavor in such a tiny stick? I still don't know. But what I do know is that these Vermont Mini Meat Sticks are incredibly delicious.
I also love the fact that they're so small you can bring them with you anywhere.
Cough, cough, the movie theatre!
Also, these are another 0 net carb keto snack idea. And they obviously travel great too since no refrigeration is required.
So, whether you're on the go, at work, or at school these Vermont Mini Sticks can be an awesome keto snack.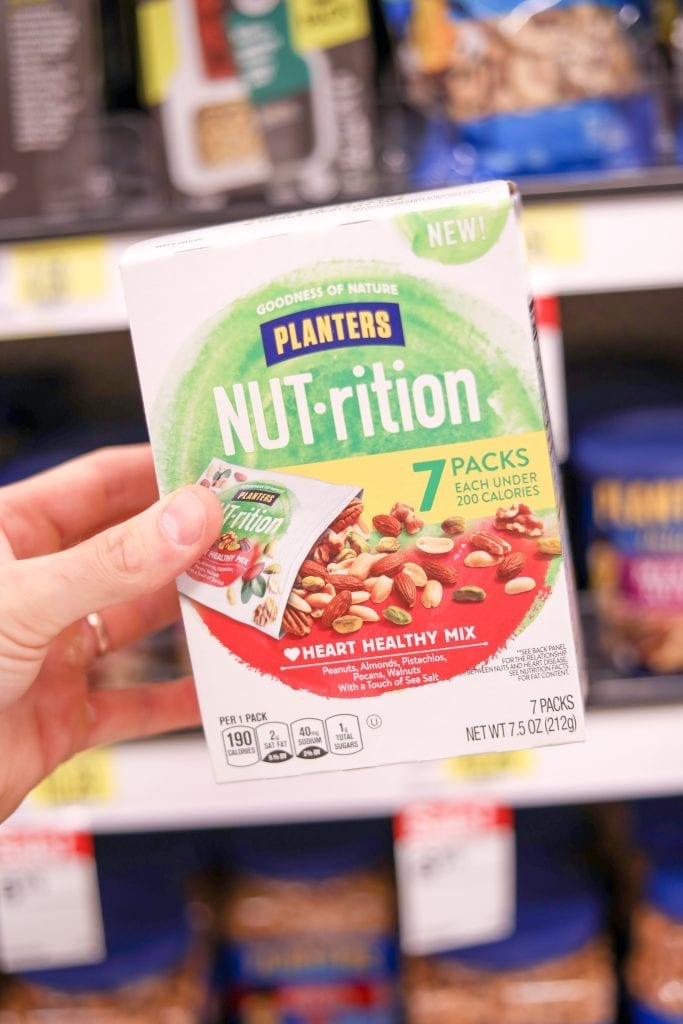 Not all of the Plantar's "NUT-trition" mixes are low carb or keto friendly. But, this Heart Healthy Mix is. So, just keep that in mind when you're shopping at Target.
I love this Heart Healthy Mix for a few reasons.
Number one, it's a delicious mix of nuts.
Number two, portion control. Most of us have a skewed perception of what a serving of nuts is, and using these individual servings is a hack to make sure you don't over-indulge.
Number three, each bag of this Heart Healthy Mix has just 3 net carbs!
The price is really decent too. Every bag works out to be less than $1. I think that's a reasonable price for nuts since they're never cheap, to begin with.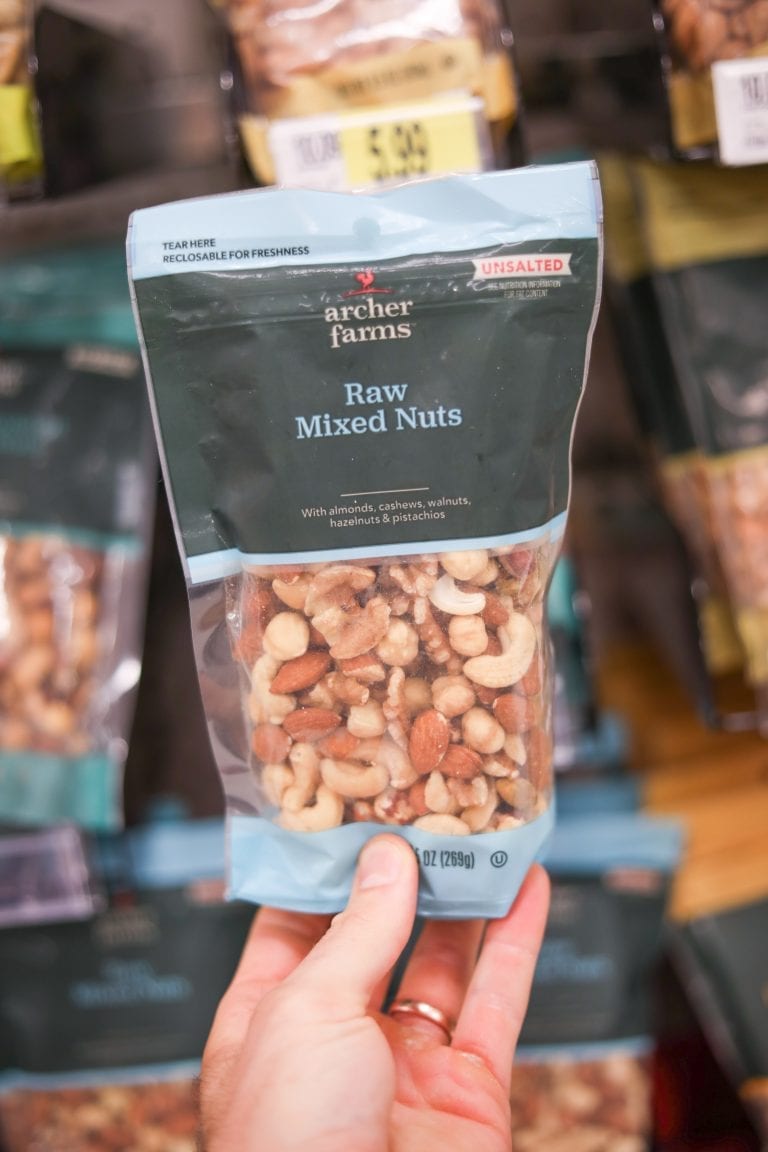 However, if portion control isn't a problem for you, or you want to portion out the nuts yourself, the Archer Farms Raw Mixed Nuts are a great option too.
This mix contains almonds, cashews, walnuts, hazelnuts, and pistachios.
And each serving has just 4g net carbs.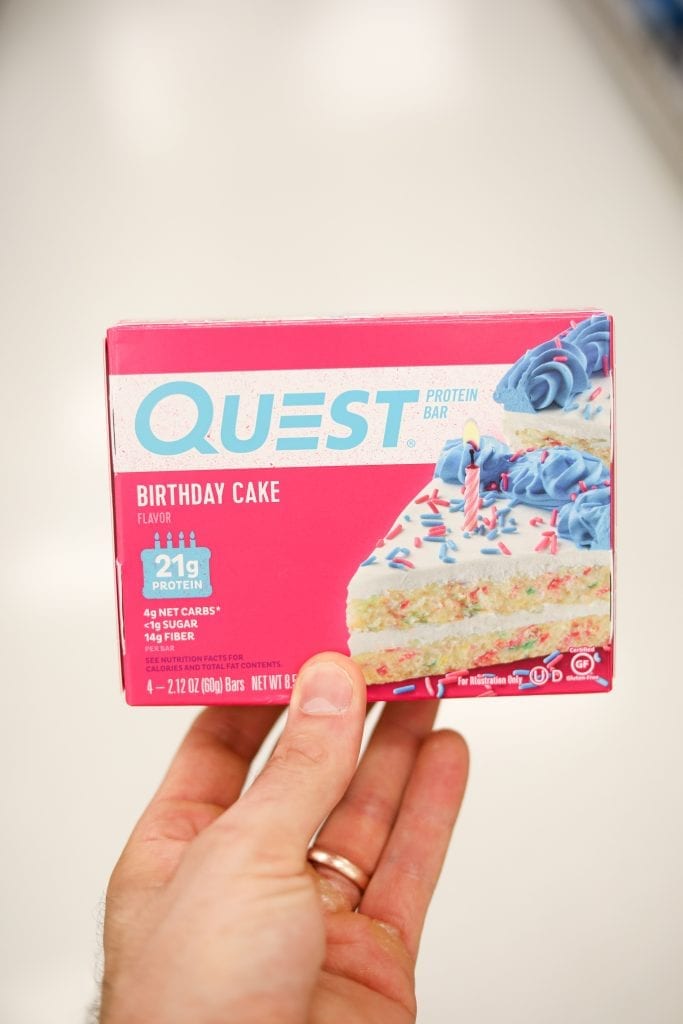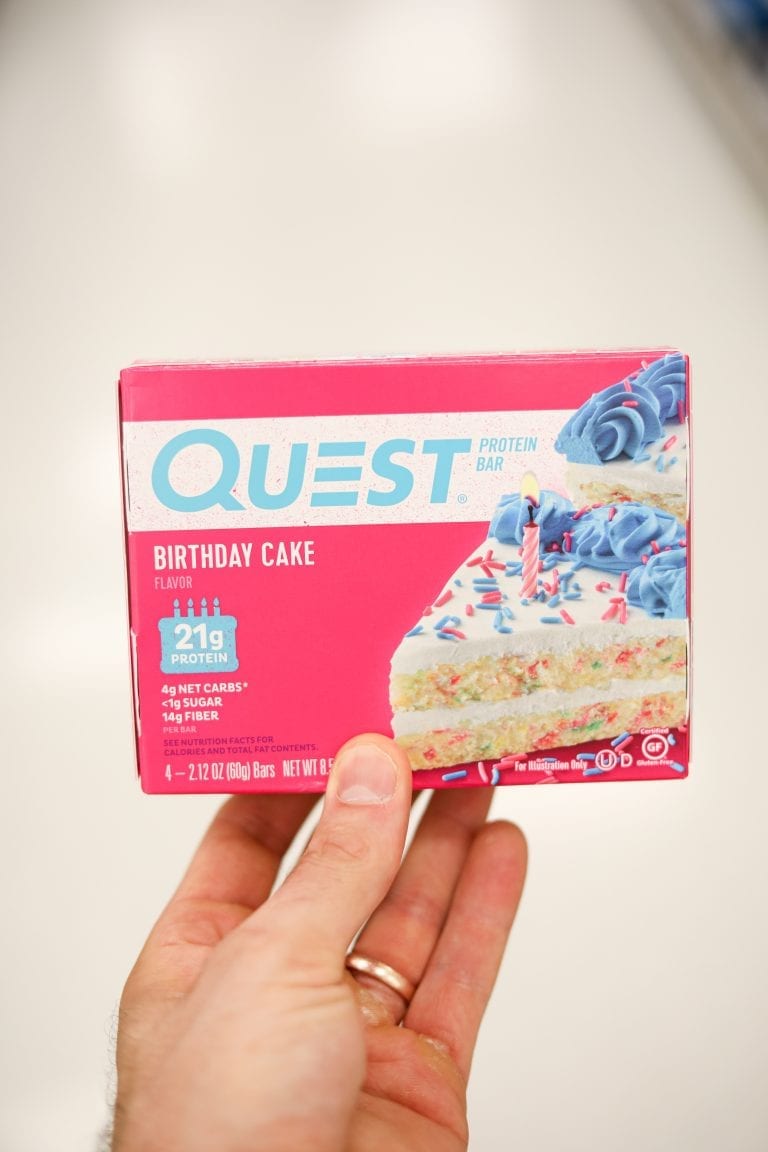 Once again, as far as on the go keto snacks, Quest bars - especially this Birthday Cake Flavor - have got to be at the top of my shopping list.
Each one of these bars has just 4g net carbs, and they cost about $2 a bar at Target.
As I'm sure you know, there aren't many sweet keto snacks you can find in grocery stores. So, these have got to be one of the best, if not the best, sweet snacks you can find.
Yes, they have more protein than fat, but you can always pair these with some nuts/nut butter. Or, you can just eat more fat and less protein later in the day.
So, toss 'em in your lunchbox for school, pack them for work, or just bring them along with you as you travel.
Actually I never travel without some because eating enough fiber is always tough when I'm away from home, and these solve that problem.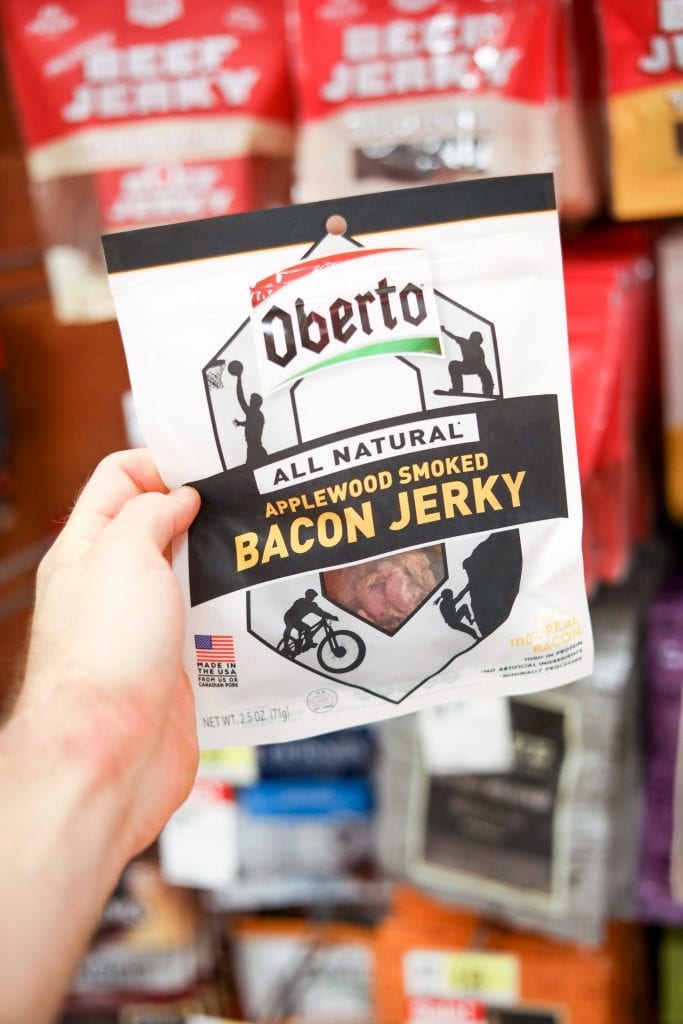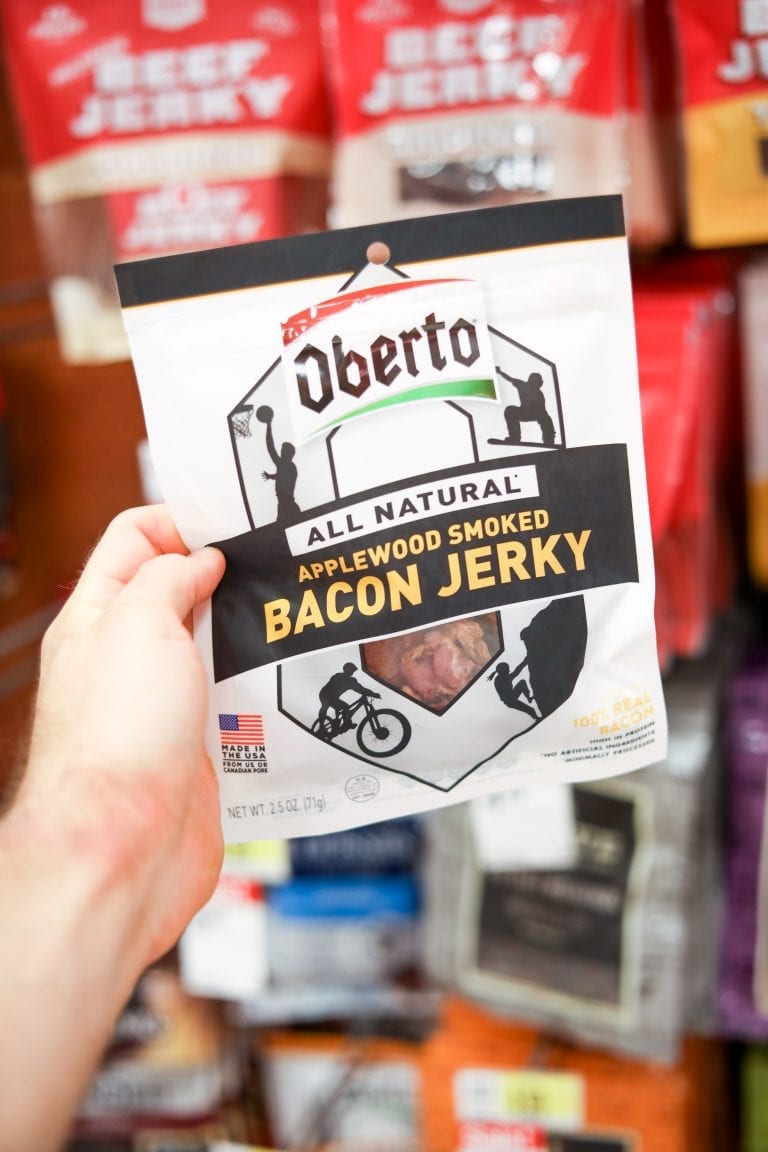 I scoured the jerky aisle of Target, and this is THE BEST jerky option they have.
Each serving of this Oberto Bacon Smoked Jerky has just 1 net carb. Plus, every bag is less than $5. Yep, you read that right, jerky that costs less than $5.
And this stuff looks like bacon and tastes like bacon, but you can literally bring it with you anywhere! Cough, cough, the movie theatre.
Honestly, this bacon jerky was one of the biggest surprises of my Target keto snack haul. If you've never had it before, I highly recommend picking a bag, or two, or three, up!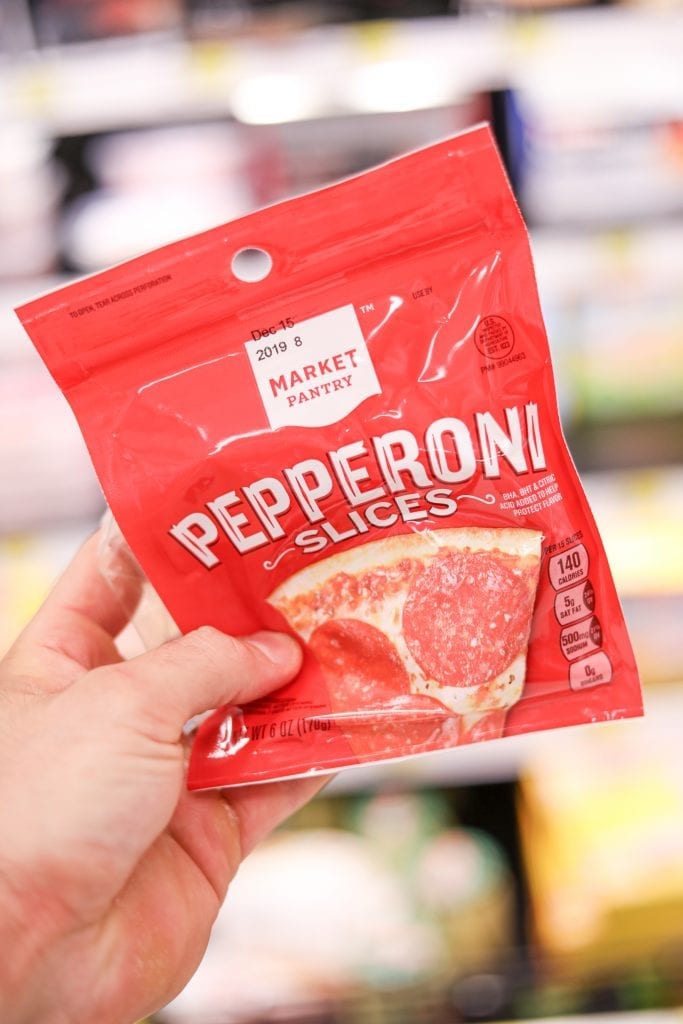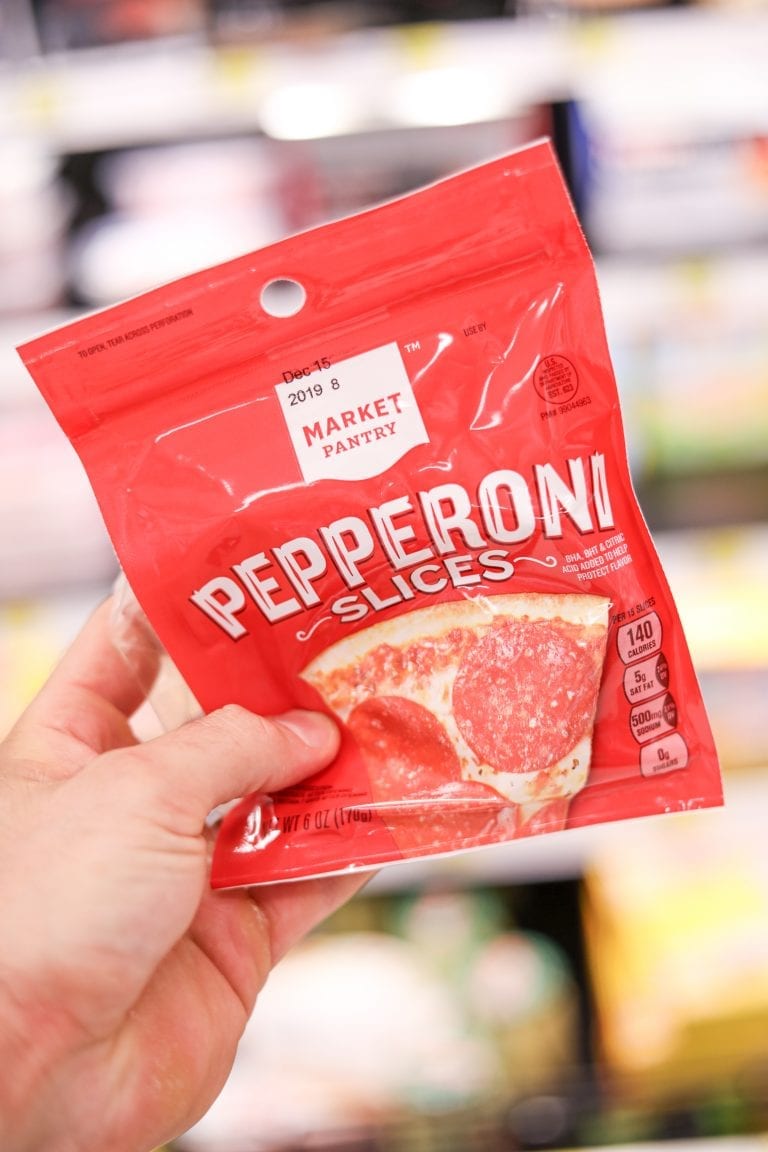 These Pepperoni Slices from Market Pantry are another zero carb keto snack idea! They also have great macros for the keto diet. Each serving has twice as much fat than protein.
Plus, the entire bag costs just over $2, which makes it a cheap keto snack idea too.
You could snack on these slices by themselves, or you could even use them to make chaffle pizzas with using my infamous savory chaffle recipe.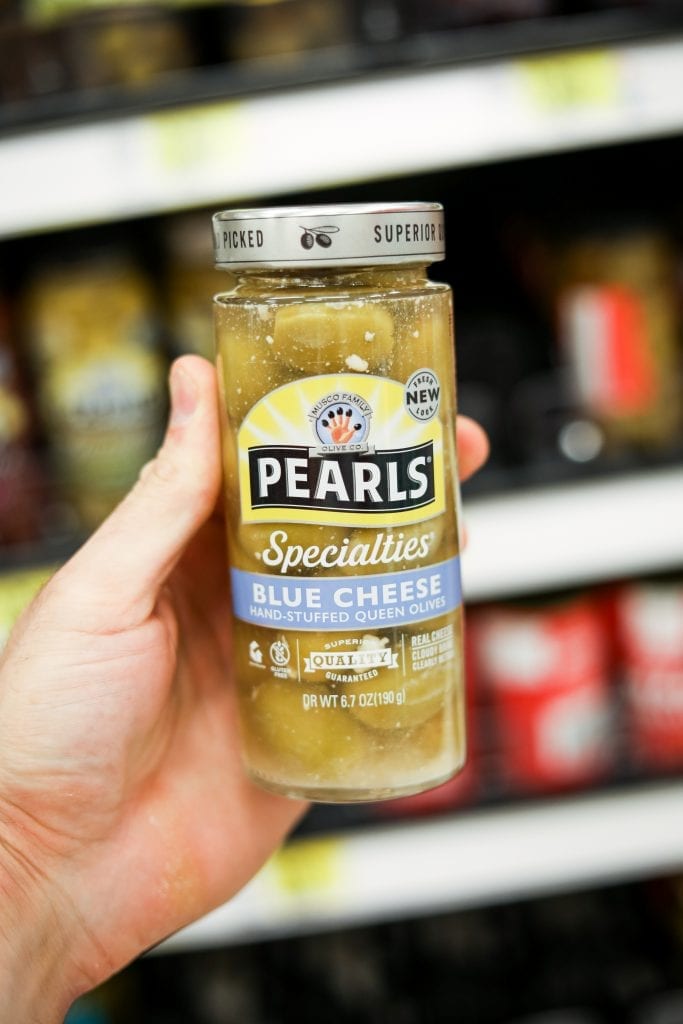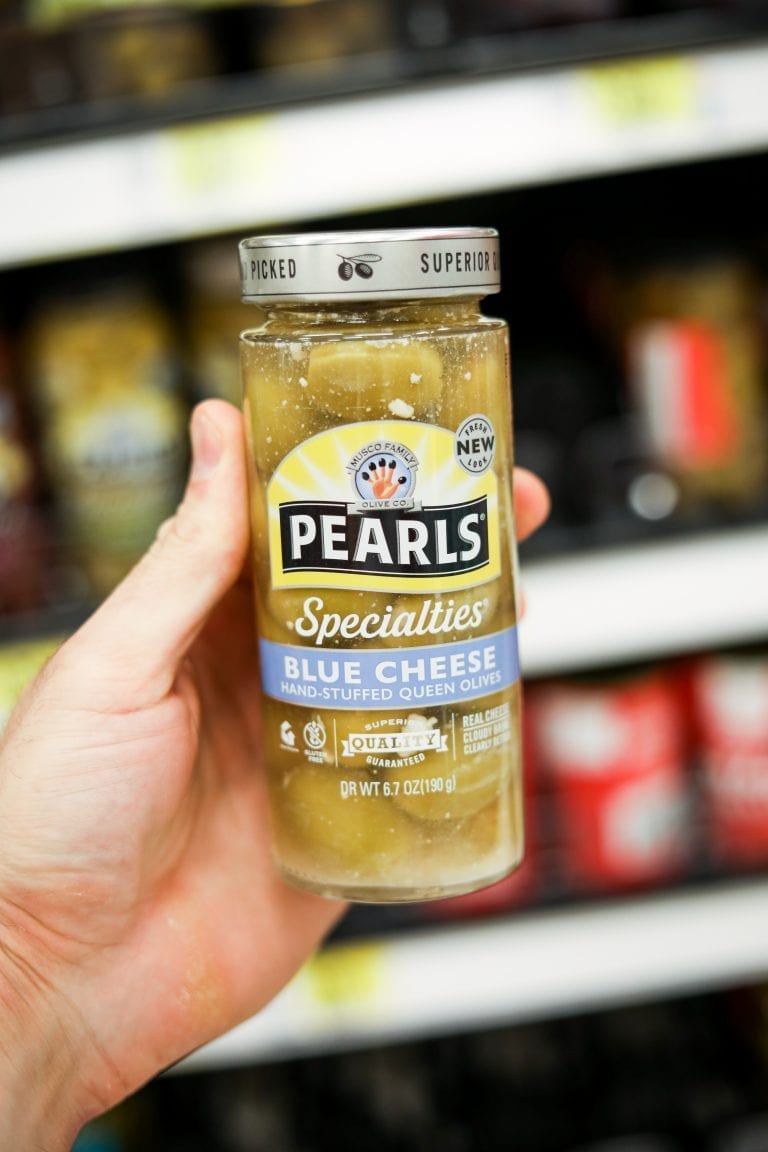 If you've never had Blue Cheese Stuffed Olives before, and you like cheese, you are missing out.
Typically you'd snack on olives and cheese separately, but some genius decided to stuff the olives with the cheese, and it's a game-changer.
And, once again this is another 0 carb keto snack idea!
Also, I'm not saying to do this, but you totally could eat the entire jar in one sitting. Not only because these olives are delicious, but because it would only be about 300 calories.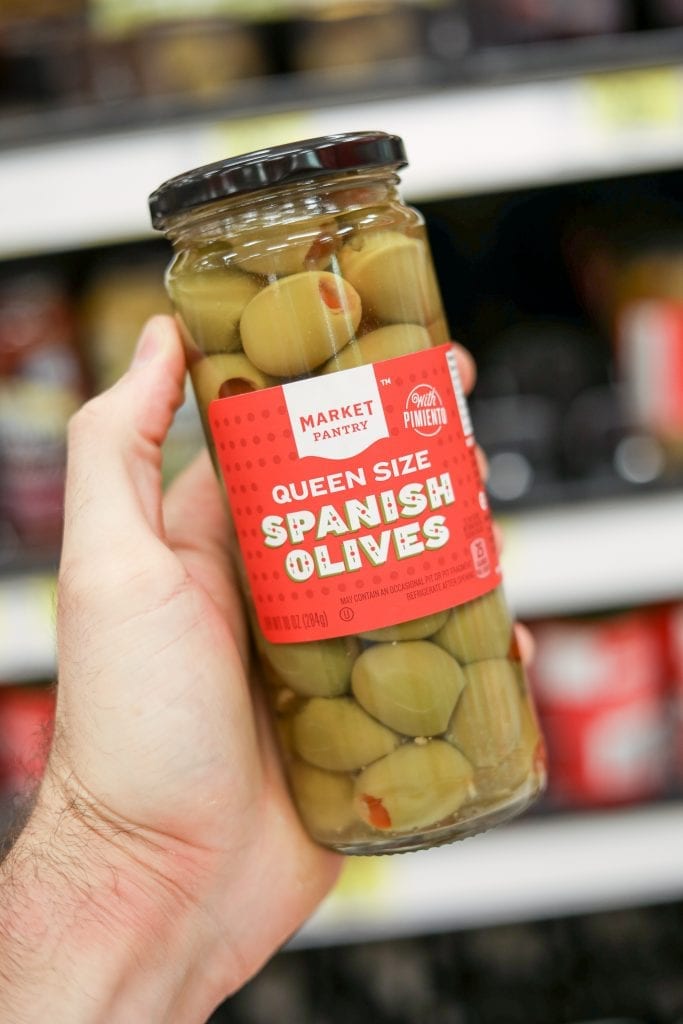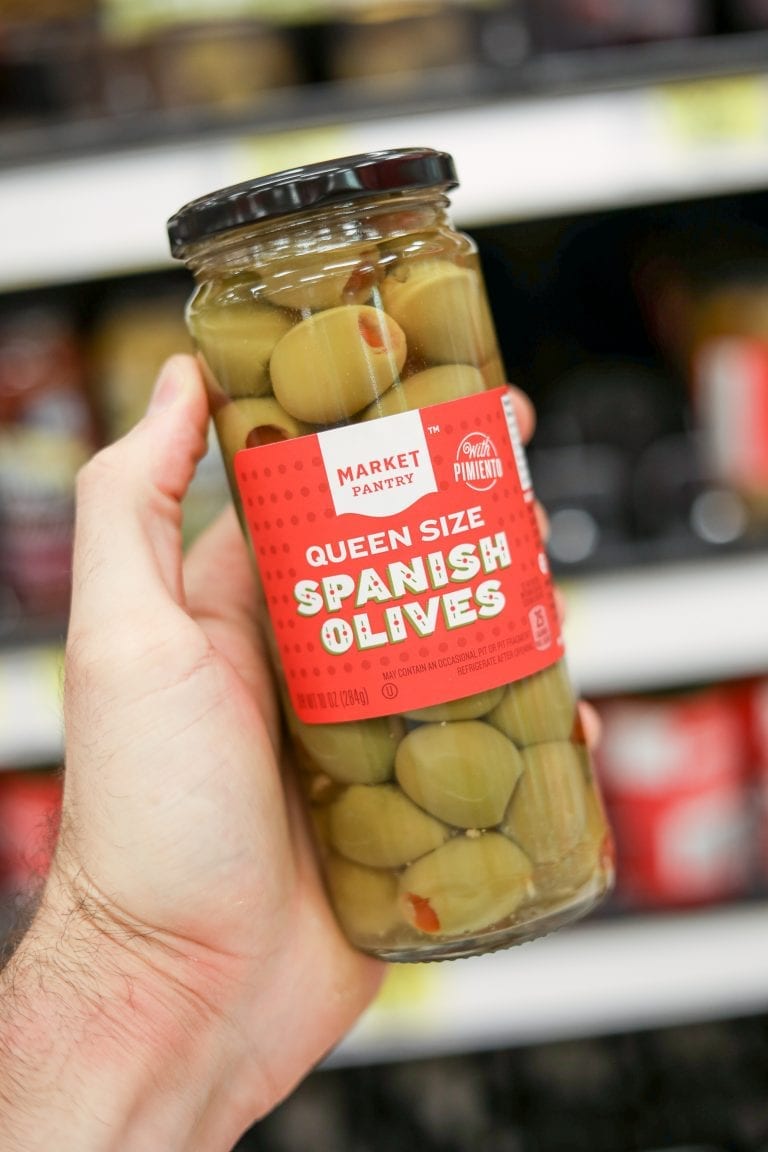 If cheese isn't your thing there's always Pimento Stuffed Olives.
Once again, another fantastic 0 carb keto snack idea, especially if you're craving something salty. Out of all of the snack ideas on this list, these were by far the saltiest.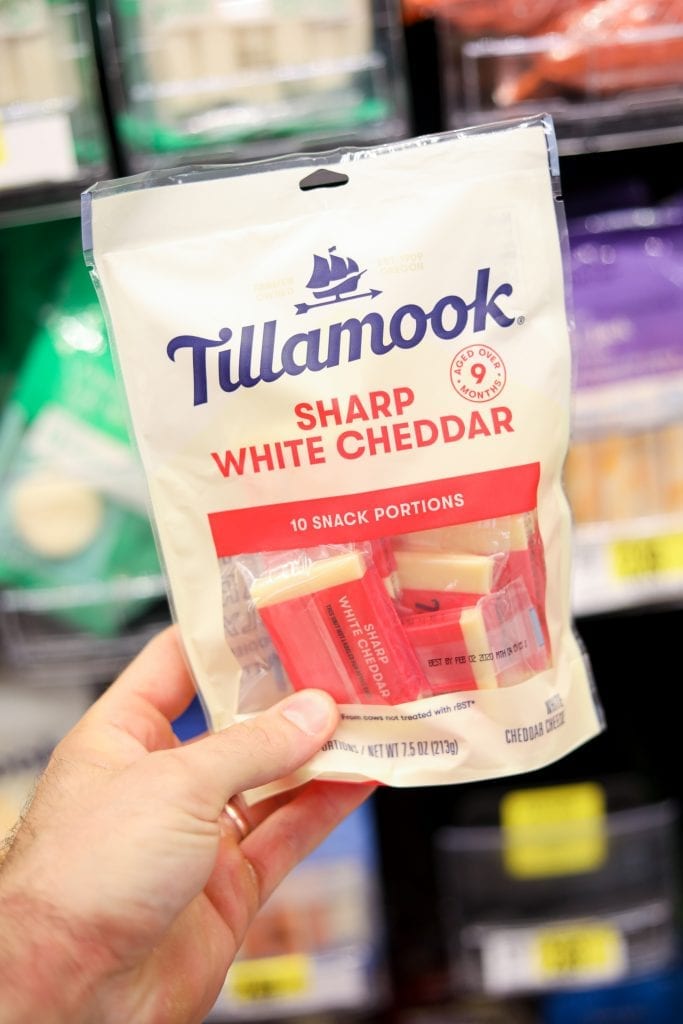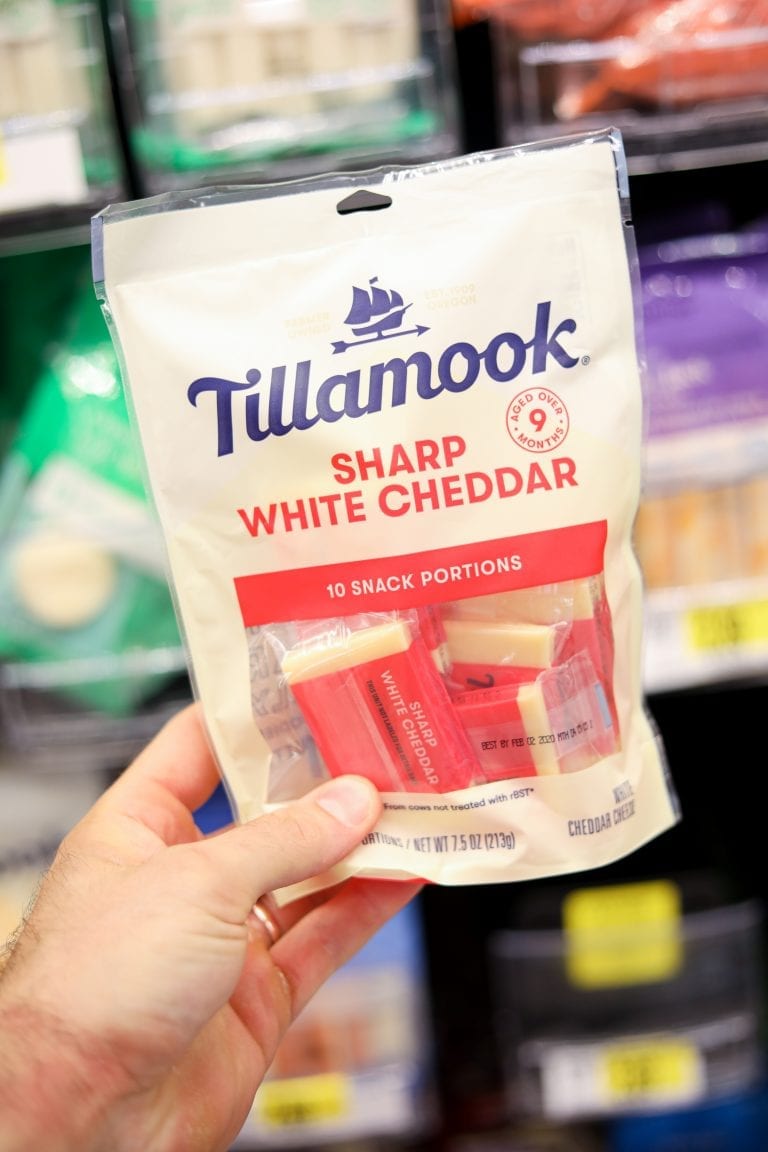 String cheese is a classic low carb keto snack idea. But, if you want to take your cheese snaking game to the "next level" I suggest checking out these Tillamook Cheese bars.
There's just SO MUCH MORE FLAVOR in them than you average cheese stick. And each one of these bars has just 1 net carb too. By the way, that's the same carb count on most cheese sticks.
Also, the price on these bars is fantastic...each cheese bar works out to be $0.35.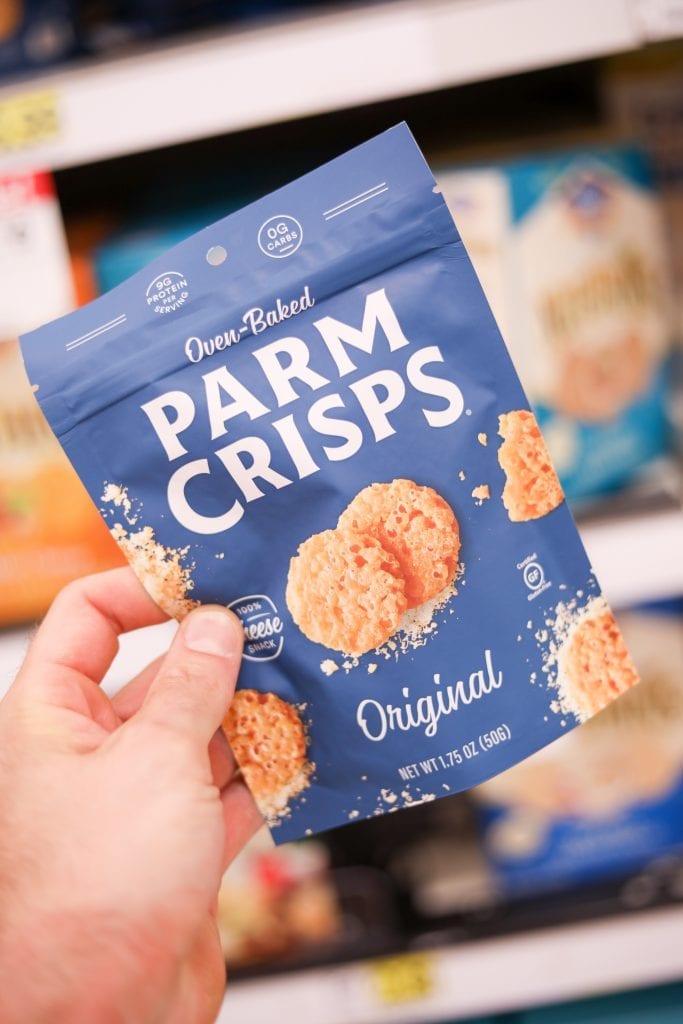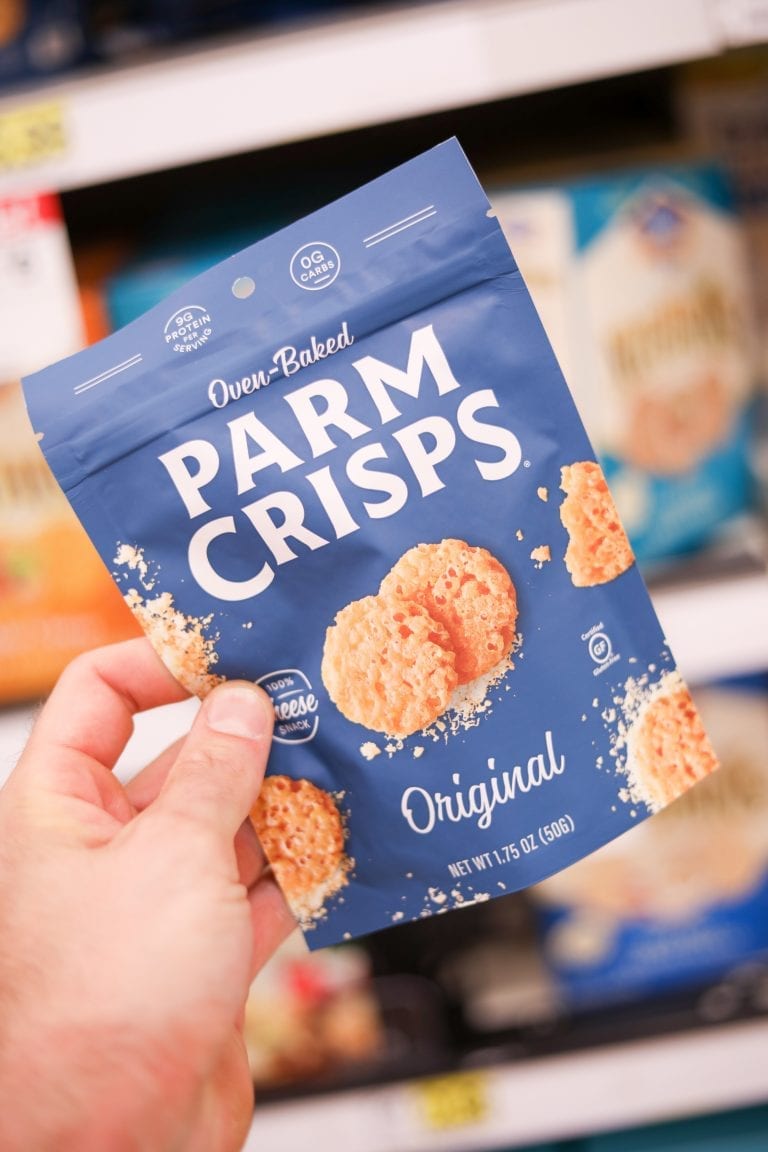 Target also carries a couple of different flavors of Parm Crisps which are one of the most popular crunchy keto snacks ideas.
The Original Flavor is incredible on its own. It's cheesy, and salty, and crunchy. And I dig it!
Parm Crisps are more versatile than just a keto snack though. They're great as croutons on a salad, or as like an oyster cracker in keto soup recipes.
Oh, and once again, these are ANOTHER 0 carb keto snack idea!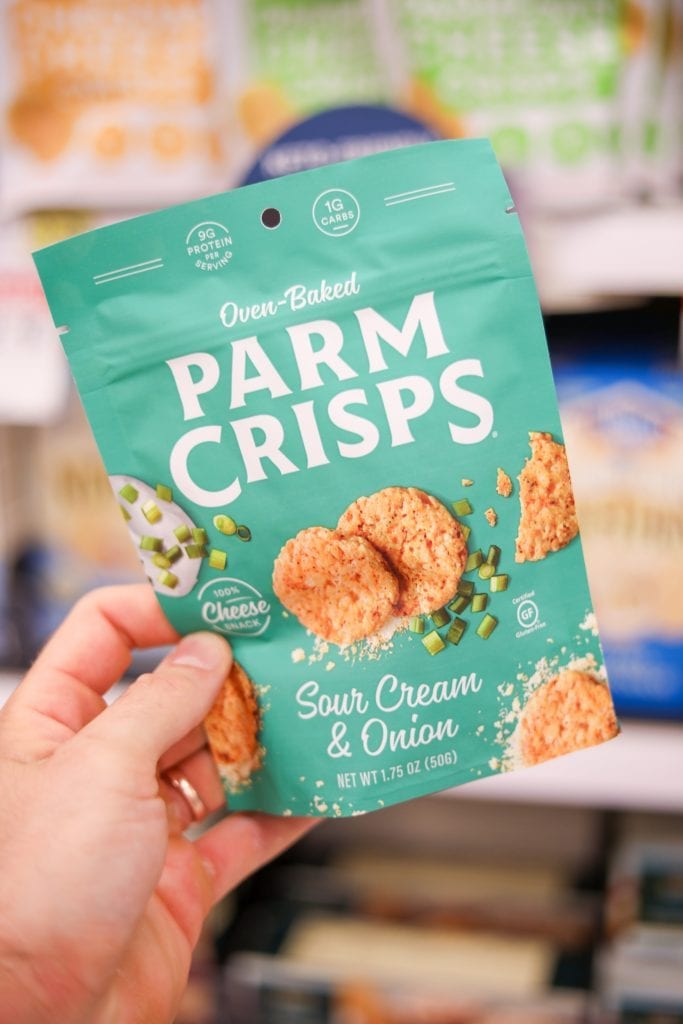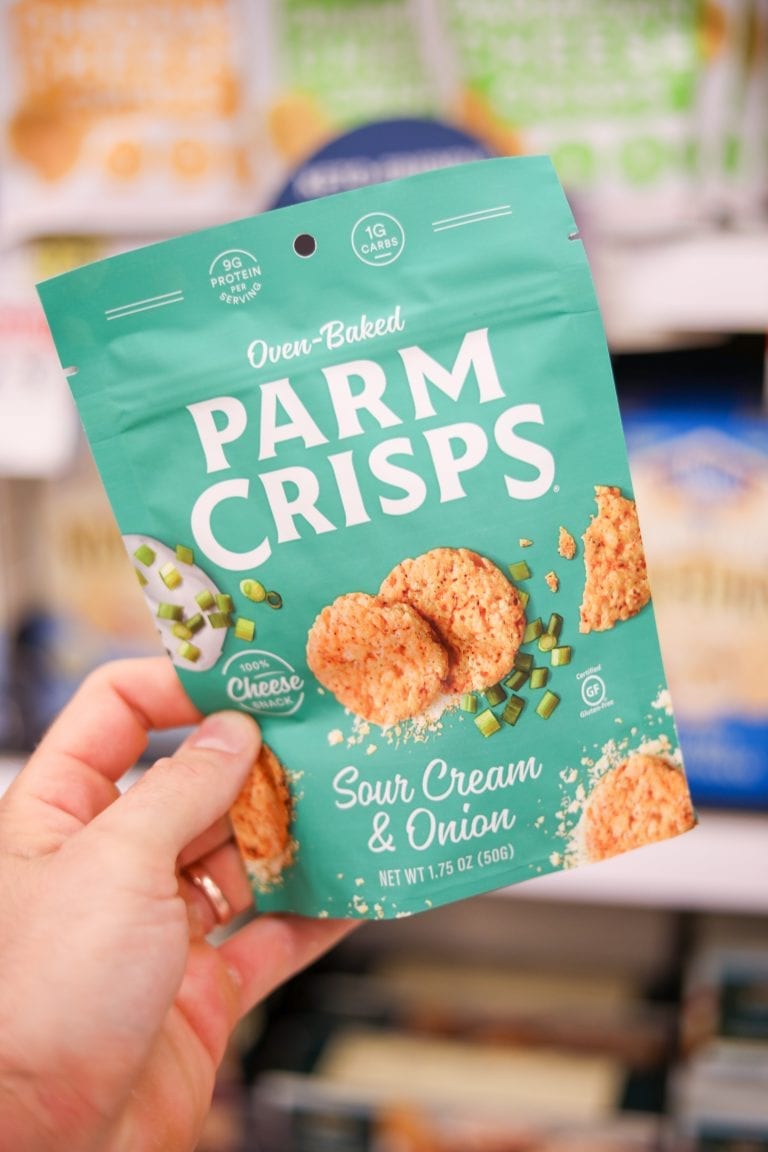 If you love sour cream and onion chips, then it's a no brainer, you've got to give these Parm Crisps a shot!
They are chock-full of sour cream and onion deliciousness, and they're so darn crunchy too. Mmmm, you've got to try 'em.
As far as I'm concerned, Parm Crisps are a "must" keto travel snack idea. They're non-perishable and easy to bring/fit anywhere which makes them one of the best on the go keto snacks out there.
By the way, each serving of these Sour Cream and Onion Crisps has 1 net carb.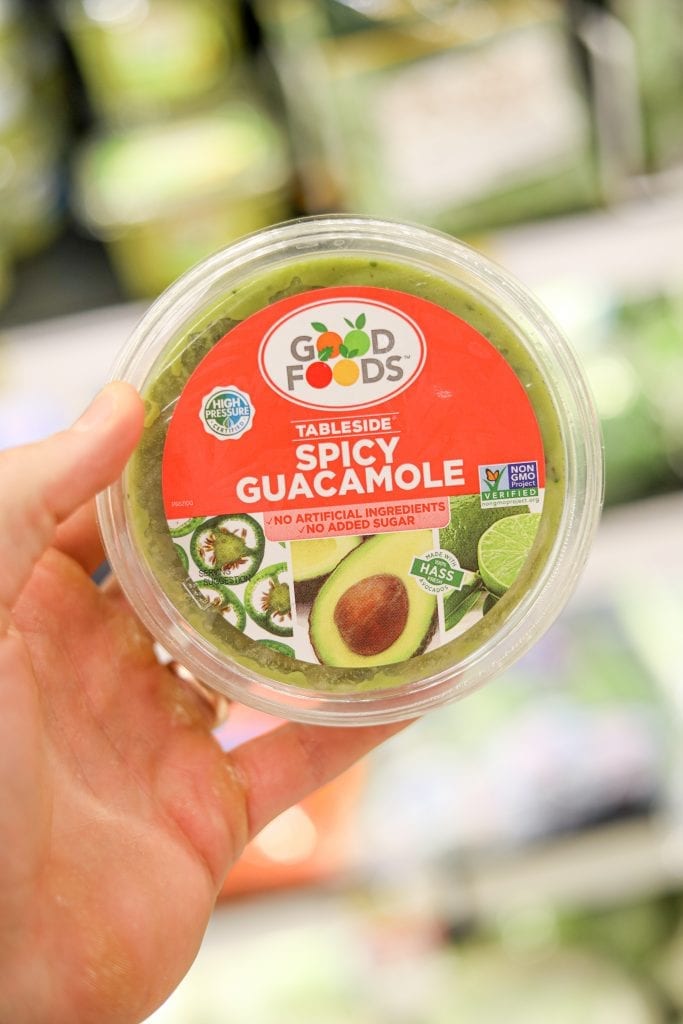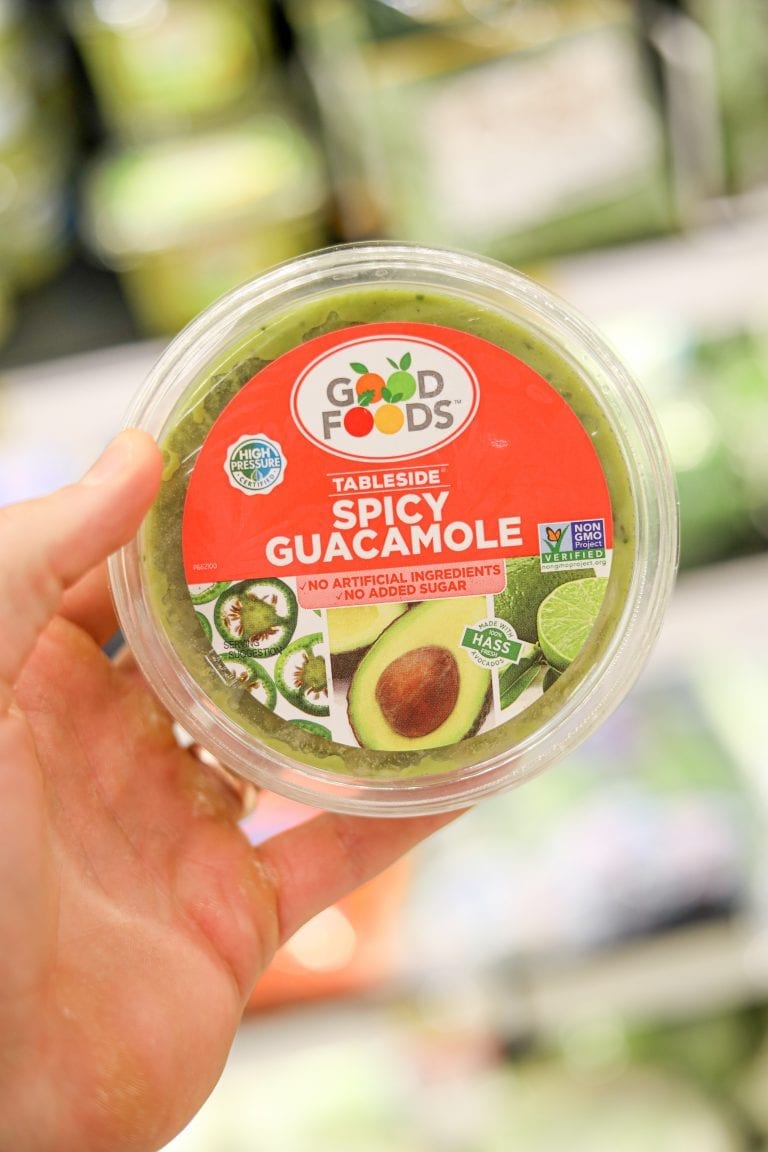 Obviously the Good Foods Guac is more of a dip than it is a snack.
But, we did just get done talking about Parm Crisps, and if you dip the Crips into this Guac that constitutes as a snack.
So, it's making the list.
Each serving of this guac has just 1 net carb, and it's reasonably priced at $3.99. And I think that's reasonable because let's face it, guac is always extra.
Eat it straight out of the jar, or dip something delicious in it.
The choice is yours.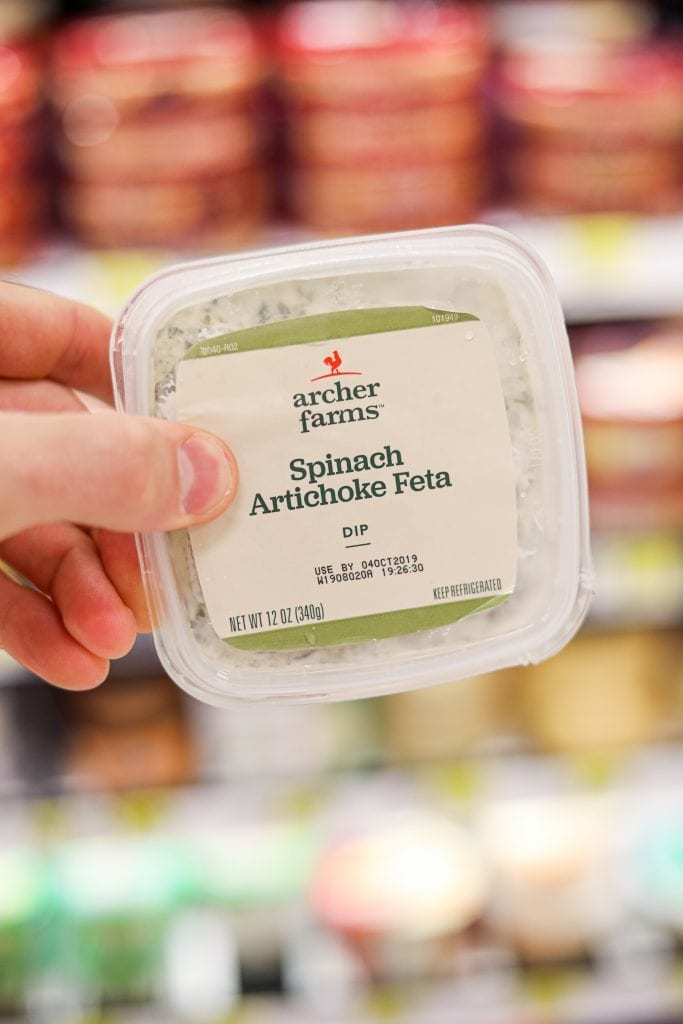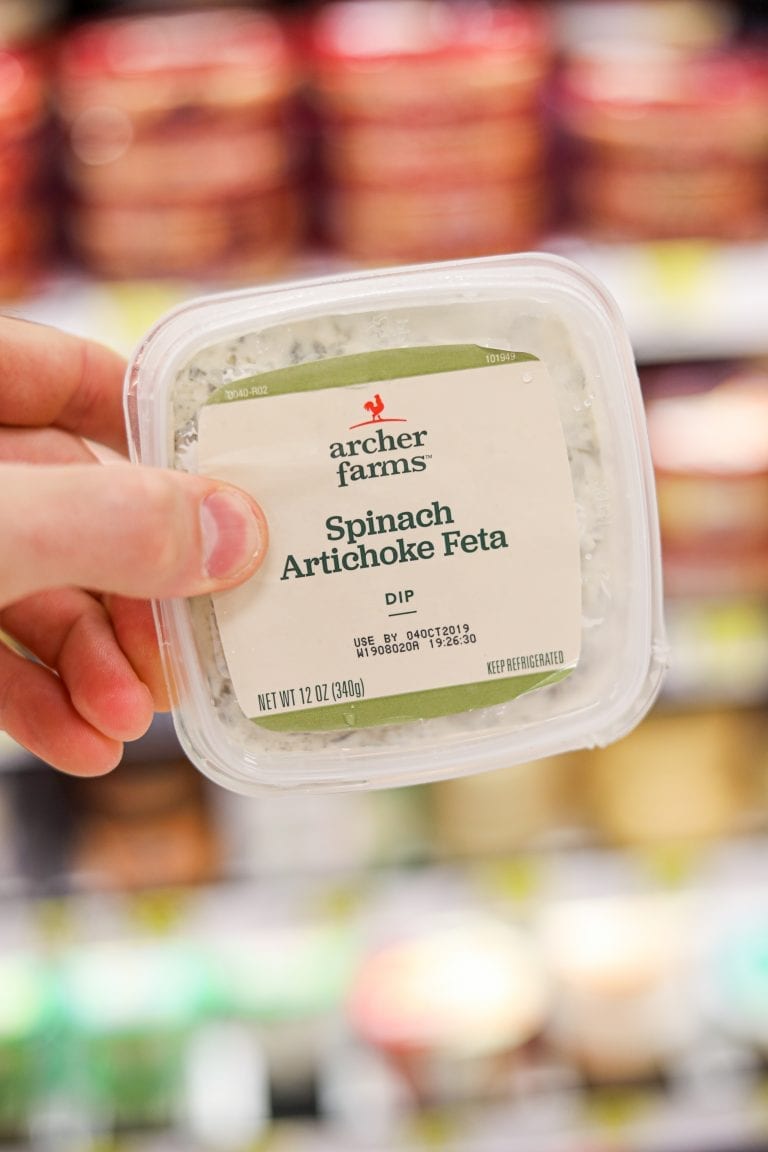 Speaking of dips, the Archer Farms Spinach Feta and Artichoke Dip is another keto friendly option too.
Each serving has just 2 net carbs, and it's $3.99 just like the guac.
If you're looking to dip you Parm Crisps in something not named "guacamole" I'd recommend this stuff. It's creamy, garlic-y, and filled with spinach artichoke deliciousness.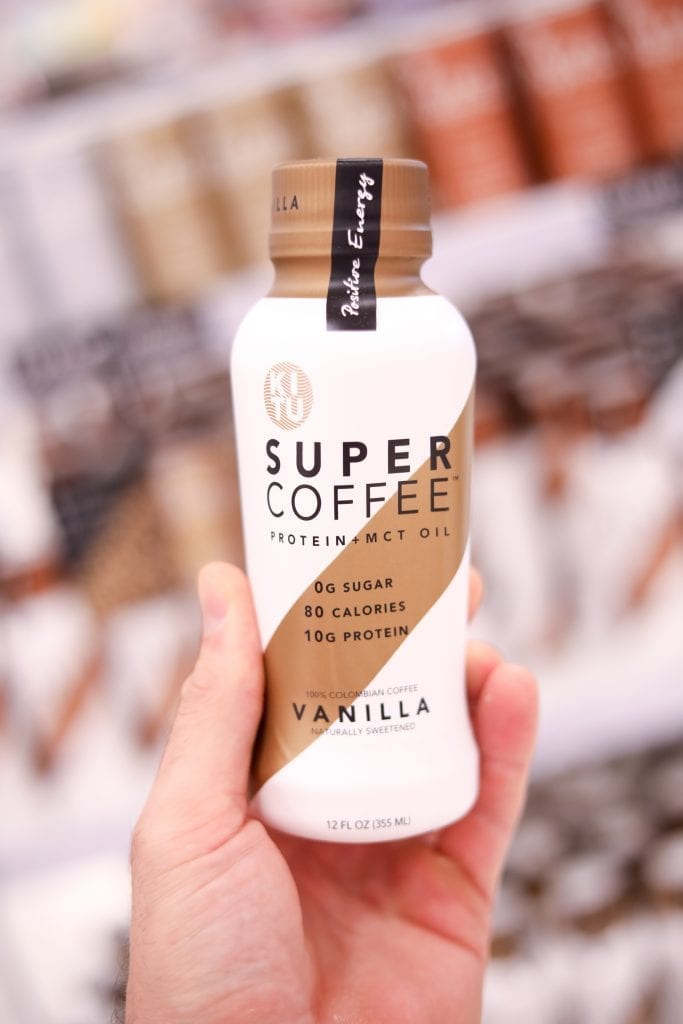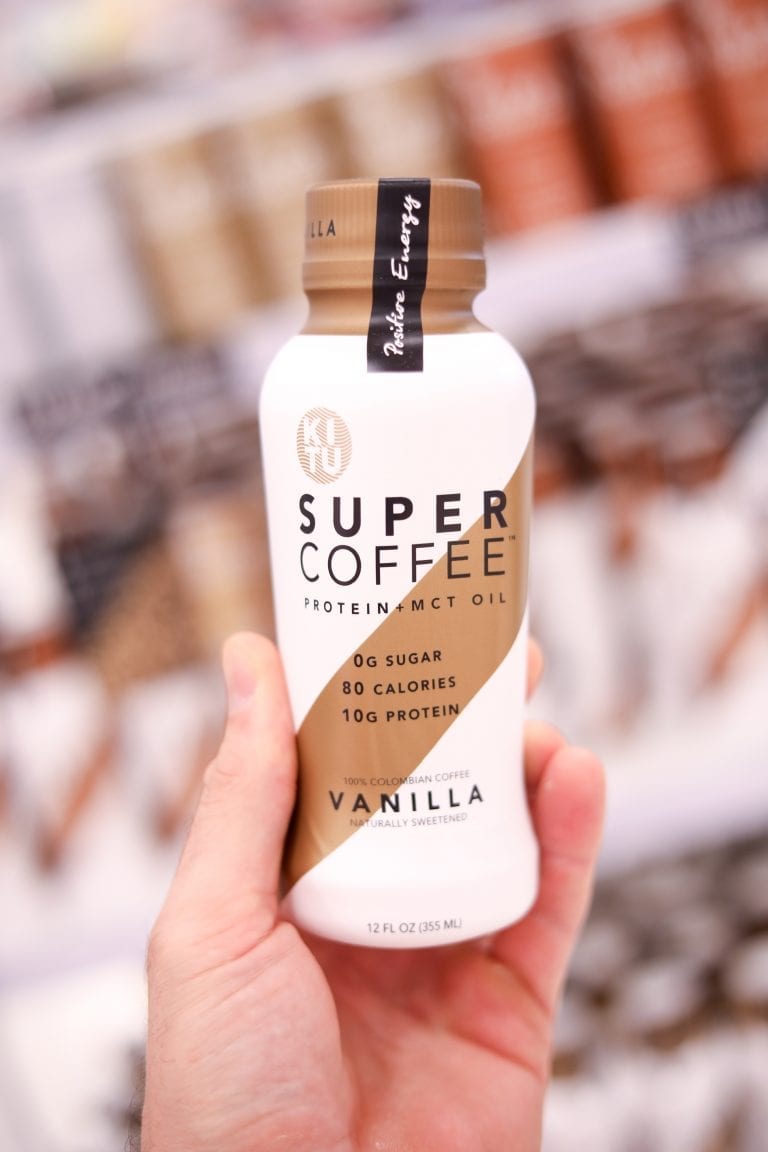 This is more of a "liquid keto snack" but a keto snack none-the-less.
I drink Super Coffee from time-to-time, and usually, it's to break my fast. The reason I like to break my fast with one of these is that it tends to hold me over for hours after I drink one.
The combination of MCT oil, caffeine, and protein keeps me energized and full throughout the day. And it allows me to push off eating a "real meal" until much later on.
Also, each Super Coffee has just 1 carb.
My only complaint is the price, it's $3.29 for each coffee. But, when you think about it in terms of getting a specialty coffee from Starbucks - or somewhere else - that isn't terrible. Most of the time those drinks will cost $5 plus.
By the way, my two favorites are Vanilla and Hazelnut. I'm not a huge fan of the Original, or Mocha, but a lot of people like 'em.