If you've been looking for Aldi keto snacks, this list is for you! I scanned every aisle at Aldi and found a variety of keto snacks to buy that are a good value, super low carb, and ideal for the keto diet.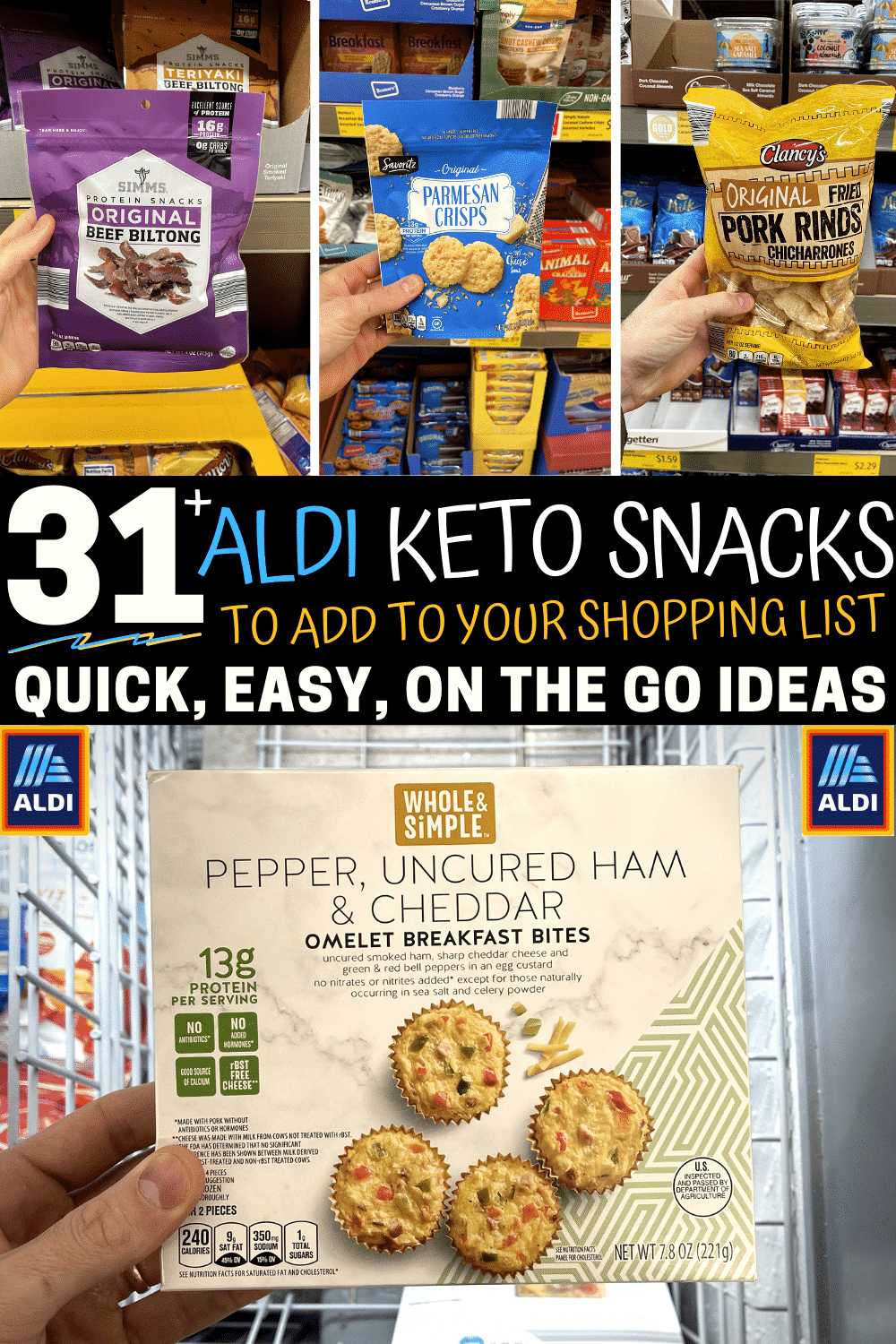 THE BEST ALDI KETO SNACKS
Having the right snacks on keto is key for sticking with a low-carb lifestyle. And when it comes to snacks, you need to have practical options that make eating low carb easy.
This list contains the best keto snacks that Aldi has to offer. Whether you're looking for cheap snacks, crunchy snacks, or everything in between, this list has an option for you. Oh, and the majority of these keto friendly snacks have 0 NET CARBS!
1. Original Fried Pork Rinds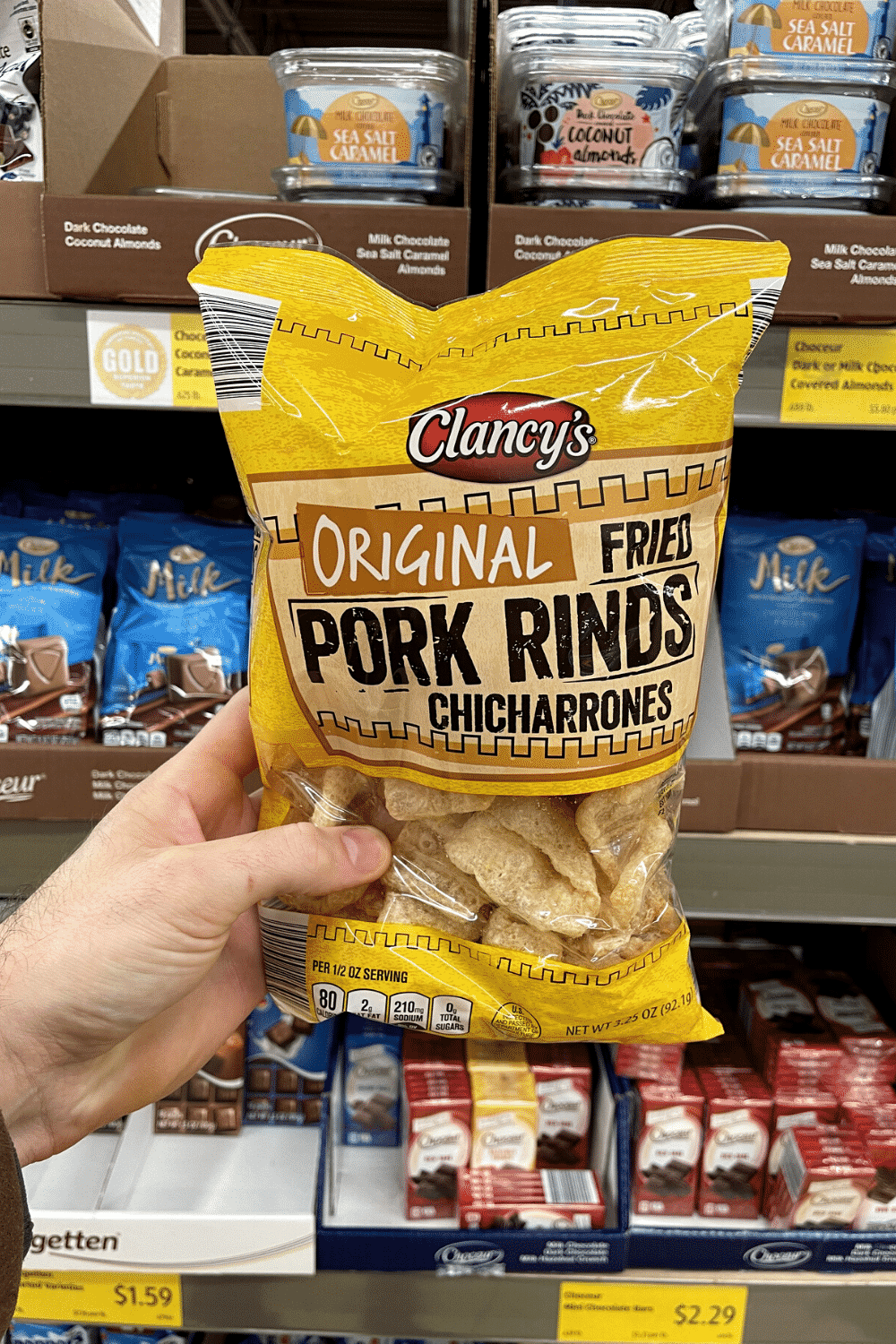 These pork rinds give you all the satisfaction of eating chips but with 0 carbs!
Pork rinds are an ideal chip alternative because they are super crunchy and salty, and can be eaten alone or paired with a dip.
Some of the best dips for pork rinds are guacamole, buffalo chicken dip, keto spinach and artichoke dip, and even keto cheese sauce.
I was only able to find the original flavored pork rinds, but Aldi also offers a spicy flavor.
As far as the price goes, these pork rinds are only $.79 for a 3 oz. bag - an excellent price for a bag this size.
2. Spicy Jalapeno Smoked Sausages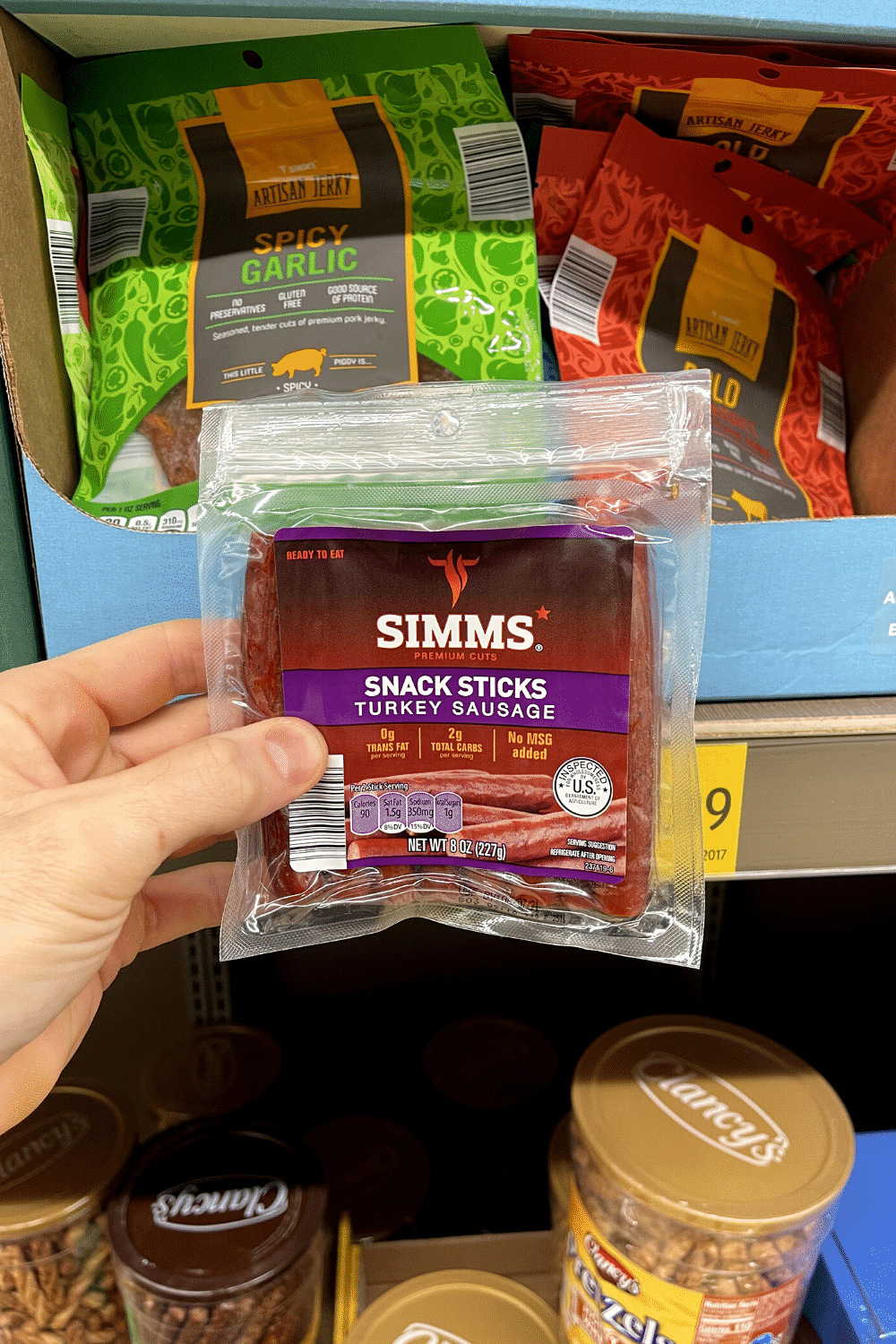 Another 0 carb snack at Aldi is these spicy jalapeno smoked sausages.
And these make a great on-the-go snack since they are super easy to bring with you - whether you take the whole bag or portion out a few pieces of jerky.
That said, as far as the price goes, Aldi is charging just $3.99 for a bag of 12 pieces. And jerky is typically pretty expensive, so this is an awesome deal for low carb jerky.
3. Parmesan Crisps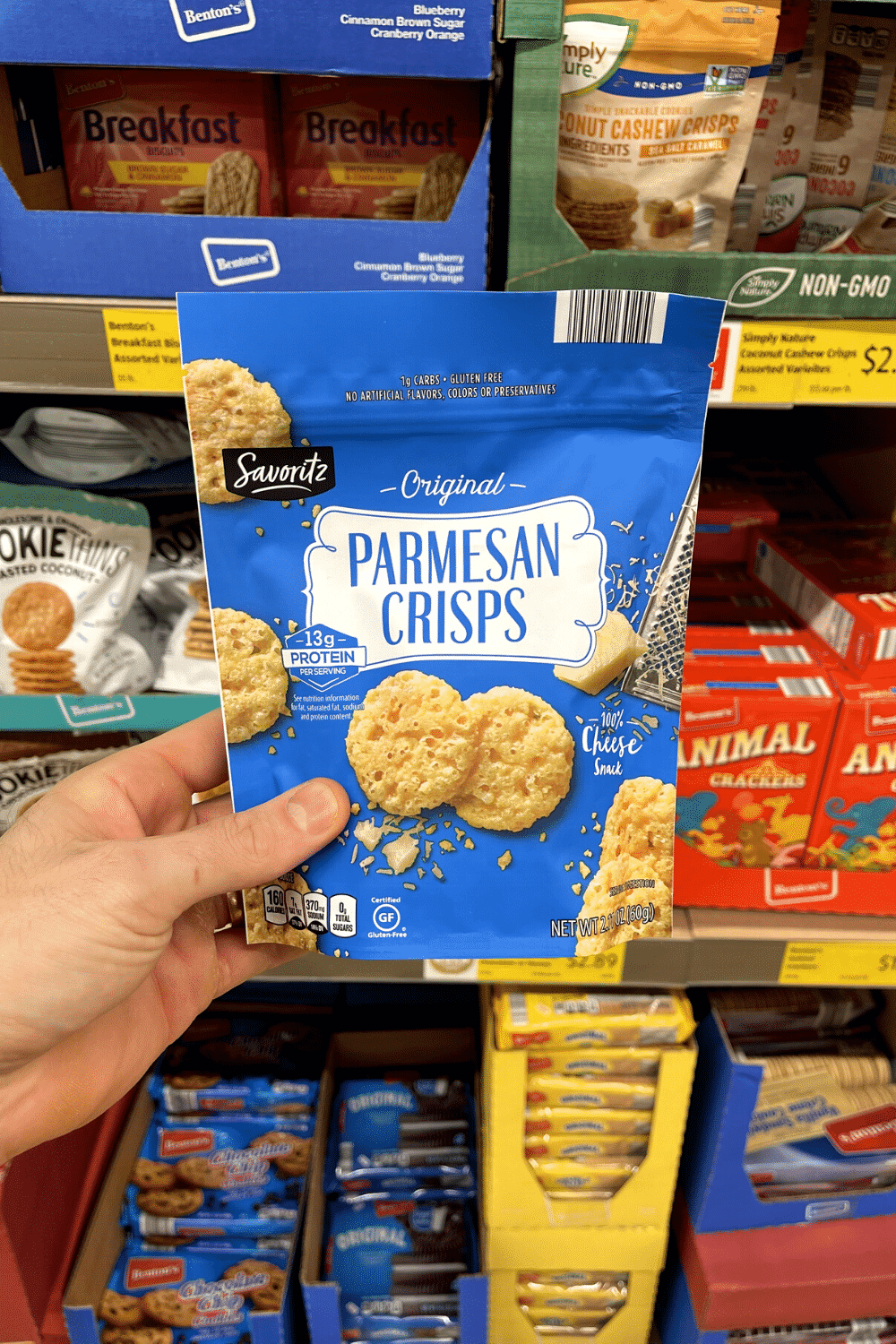 Up next on our keto snack list are these crunchy parmesan crisps.
If you've never had parmesan crisps, they are pretty much a cracker made out of cheese. You can add them to a salad, pair with various dips, or just eat alone.
Also, along with pork rinds, these can make a great breading for different foods when crushed up, replacing bread crumbs.
With 1 net carb and 13g of protein per serving, these parmesan crisps make one of the better high protein low carb snacks on the list. Oh, and don't worry if you can't stop eating them because the entire bag has only 3 net carbs.
For the price, the bag goes for only $2.49 at Aldi - another really good price for a keto snack that can be on the expensive side.
4. Prosciutto Italiano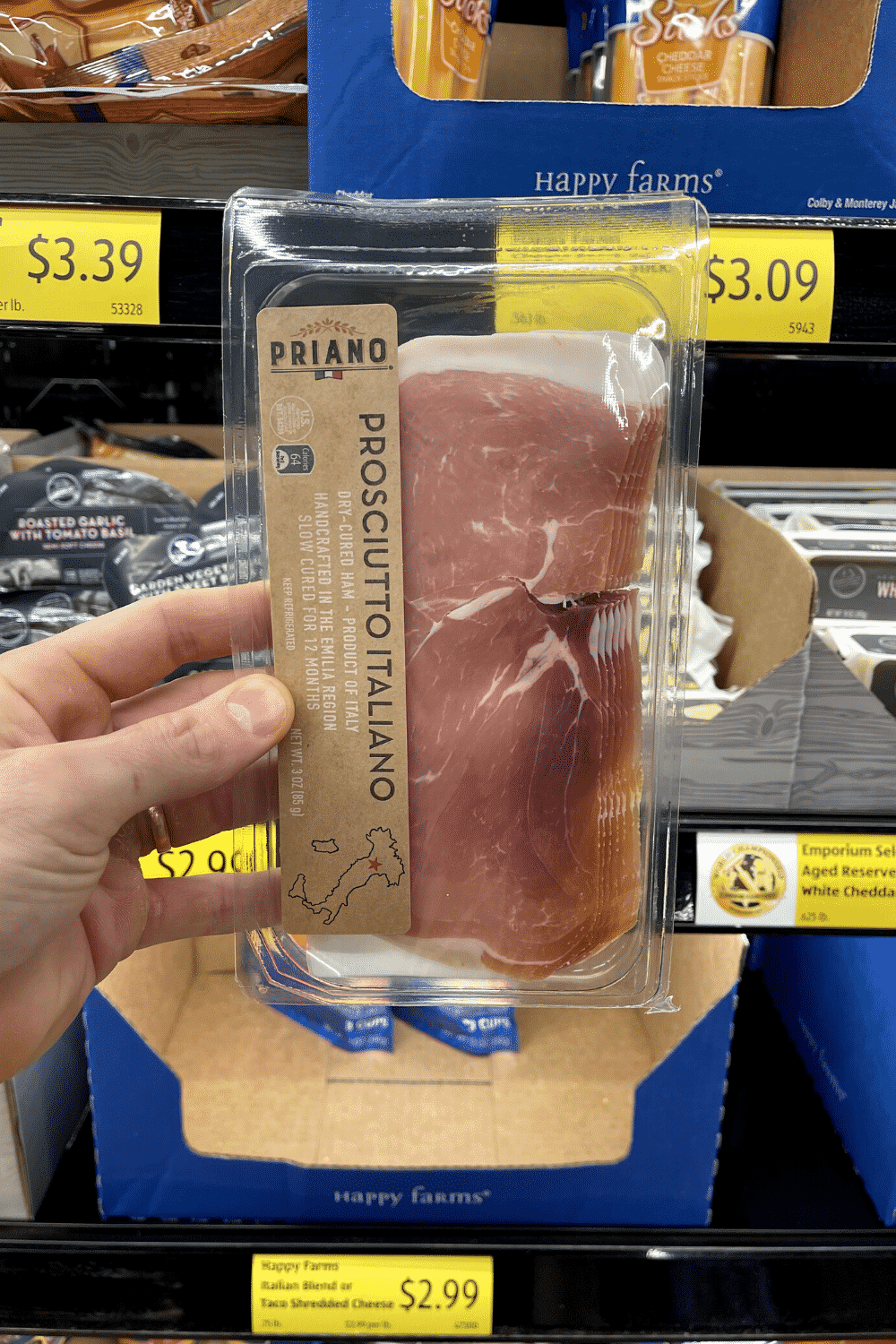 Our next snack item is this Prosciutto Italiano.
There are only two ingredients in this snack - pork ham and salt. And this prosciutto is Italian made, so you know it's good.
But, on top of being delicious, there are 0g net carbs in this snack. Not to mention, this 3 ounce package is super affordable at only $3.99
5. Sardines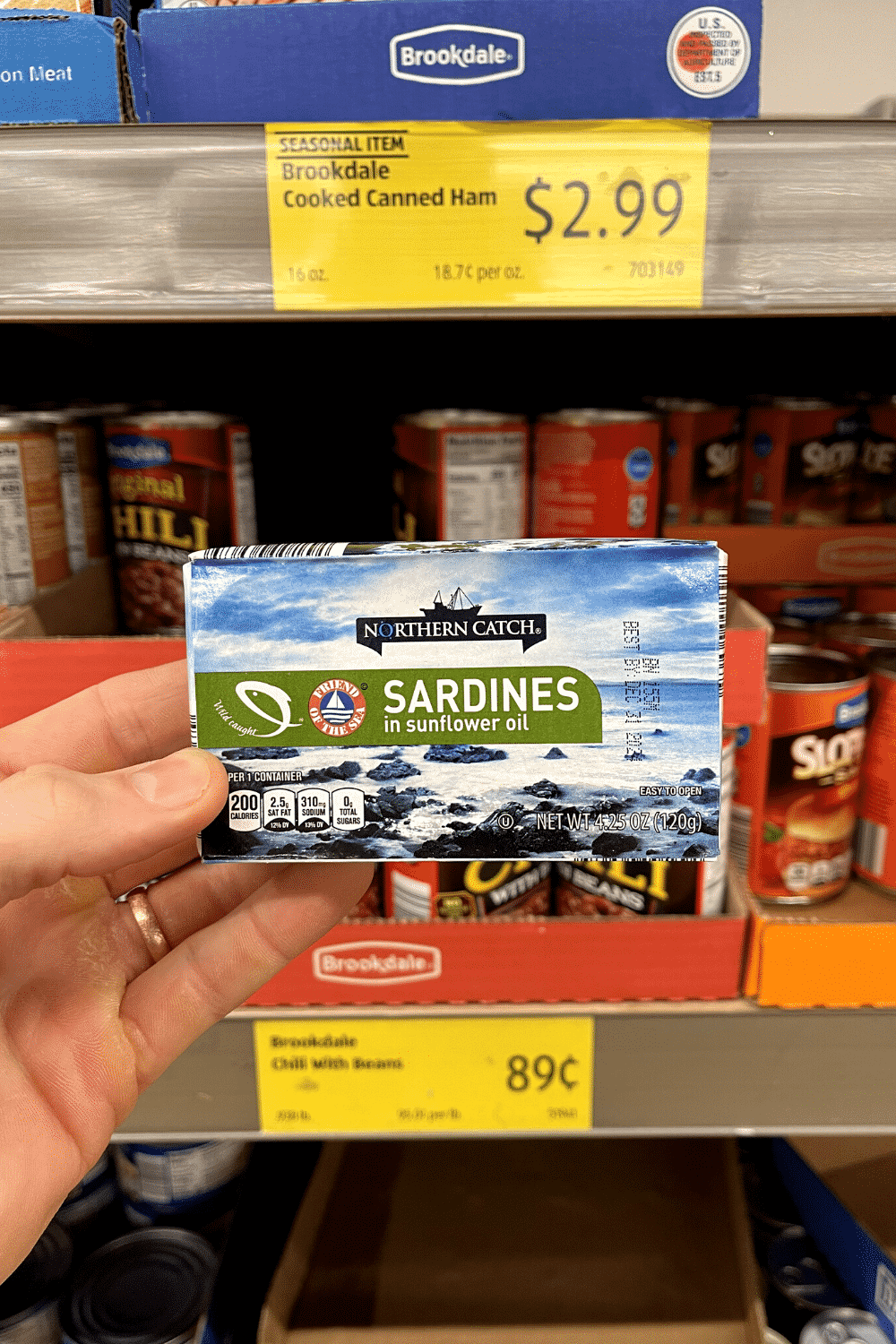 One of the more quick and easy keto snacks on this list is these sardines in sunflower oil. This snack is perfect if you love fish, or are trying to get some essential amino acids in.
What I love about this snack is each package is only $.89!
Another plus is the container is so small that you can fit it perfectly in your travel bag or lunchbox. And you can eat the sardines right out of the container, making it super conveinent.
Oh, and they are another one of the 0g net carb snacks on our list! So you can eat a whole container and stay on the keto train.
6. Kosher Dill Baby Wholes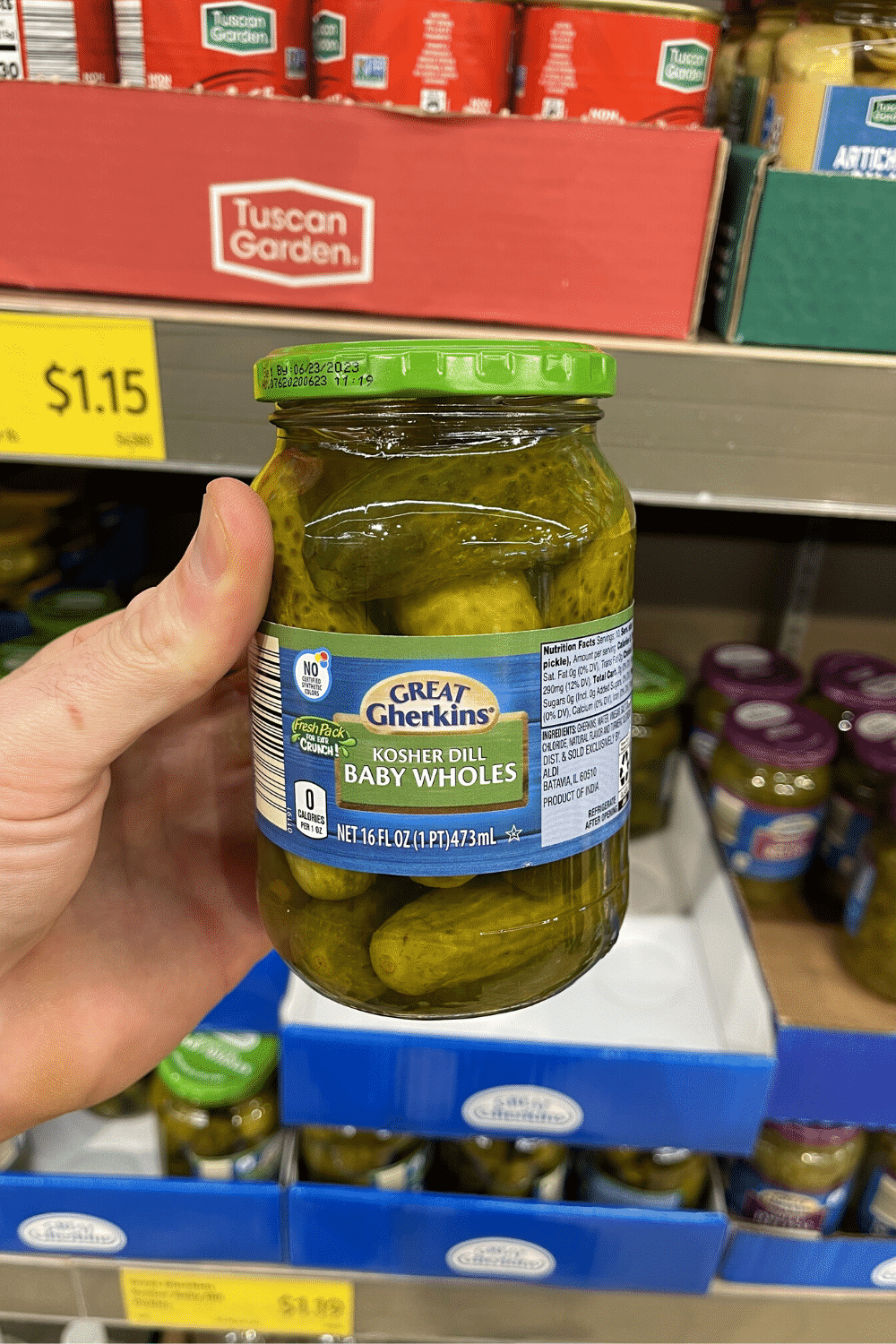 These baby kosher dill pickles are a super affordable and delicious snack. When I'm craving something salty and crunchy, pickles are definitely my go-to snack.
Also, I love snacking on pickles because you can eat a bunch of them and not have to worry about overeating.
And you can do this because each pickle has 0 net carbs and 0 calories! So if you're in that can't stop, won't stop snacking mood, these pickles are perfect!
And they are only $1.19 for a 16 oz. jar, so you can pick up a few and always have a super low-calorie snack ready to go.
7. Jubilee Assortment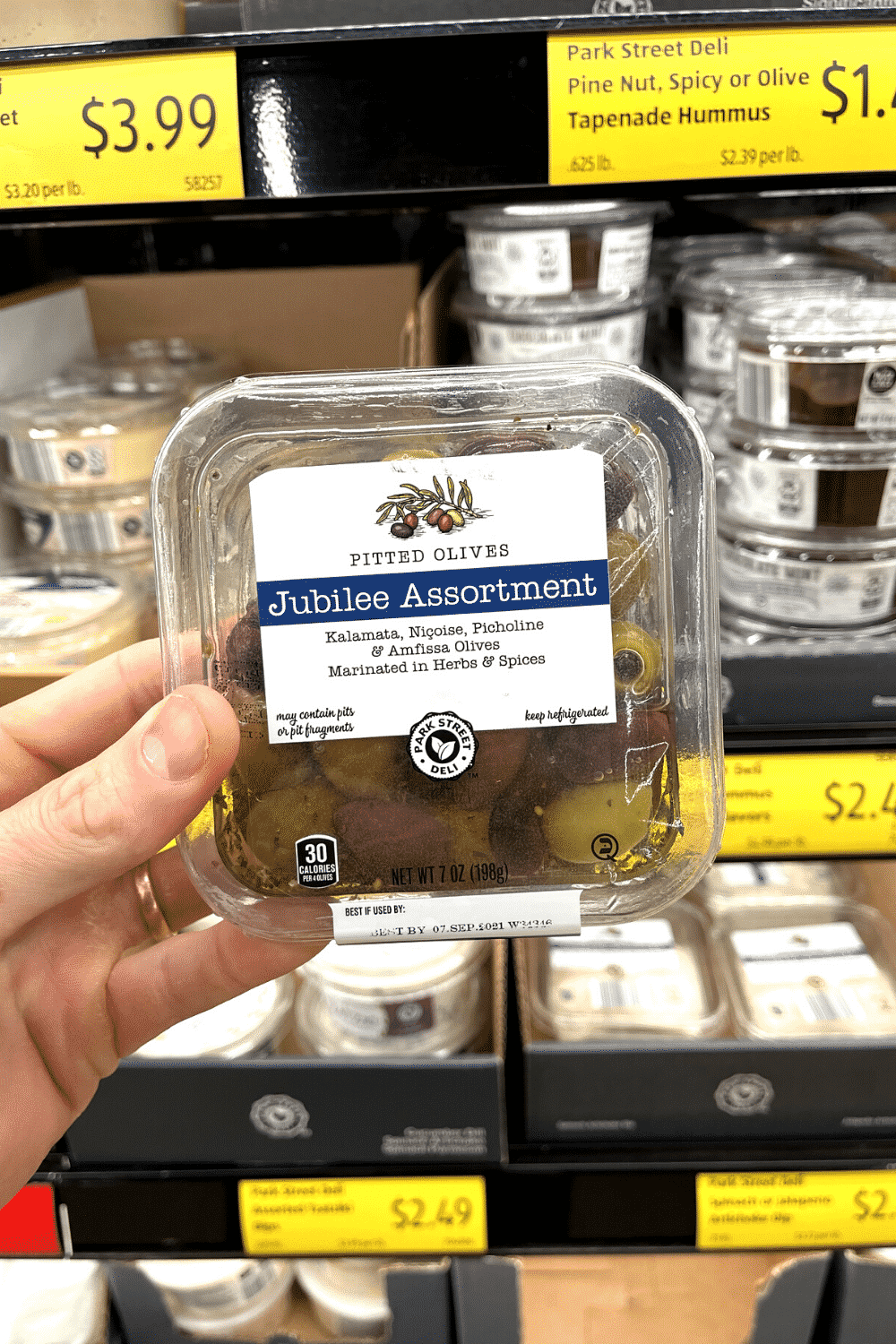 Keeping our list going strong is this jubilee assortment of pitted olives.
Like the pickles, this is another great "picky-kind-of-snack" that's super low in carbs and calories.
These olives have less than 1g of net carbs per serving!
And this assortment pack is awesome because you get a little variety within the snack and the olives are super flavorful.
Plus, since it is low in carbs and calories, you can eat as many as you want or pair it with another snack on the list like the prosciutto.
You can get this 7 oz. package at Aldi for only $2.99.
8. Chunky Guacamole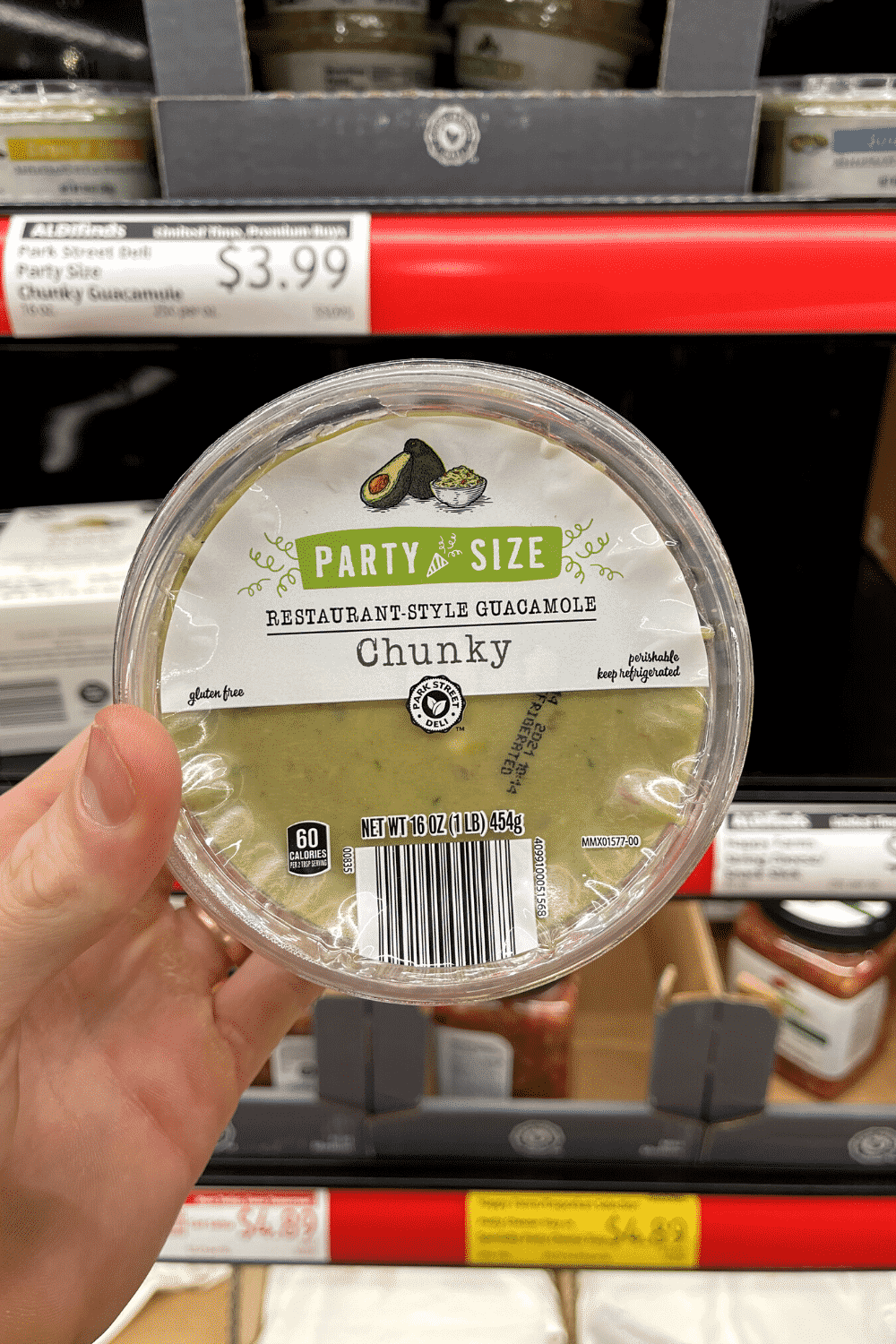 For our next snack item, we have one of Aldi's keto friendly dips.
This chunky guacamole is my personal favorite because it has all the flavors I'd want in guacamole, with only 2g net carbs per serving. And let's be honest, who doesn't love guacamole?
This 10 oz. container is only $2.99 - a total steal for guacamole.
You can dip the pork rinds or parmesan crisps in it or make these keto tortilla chips for classic chips and guac experience.
9. Buffalo Style Chicken Dip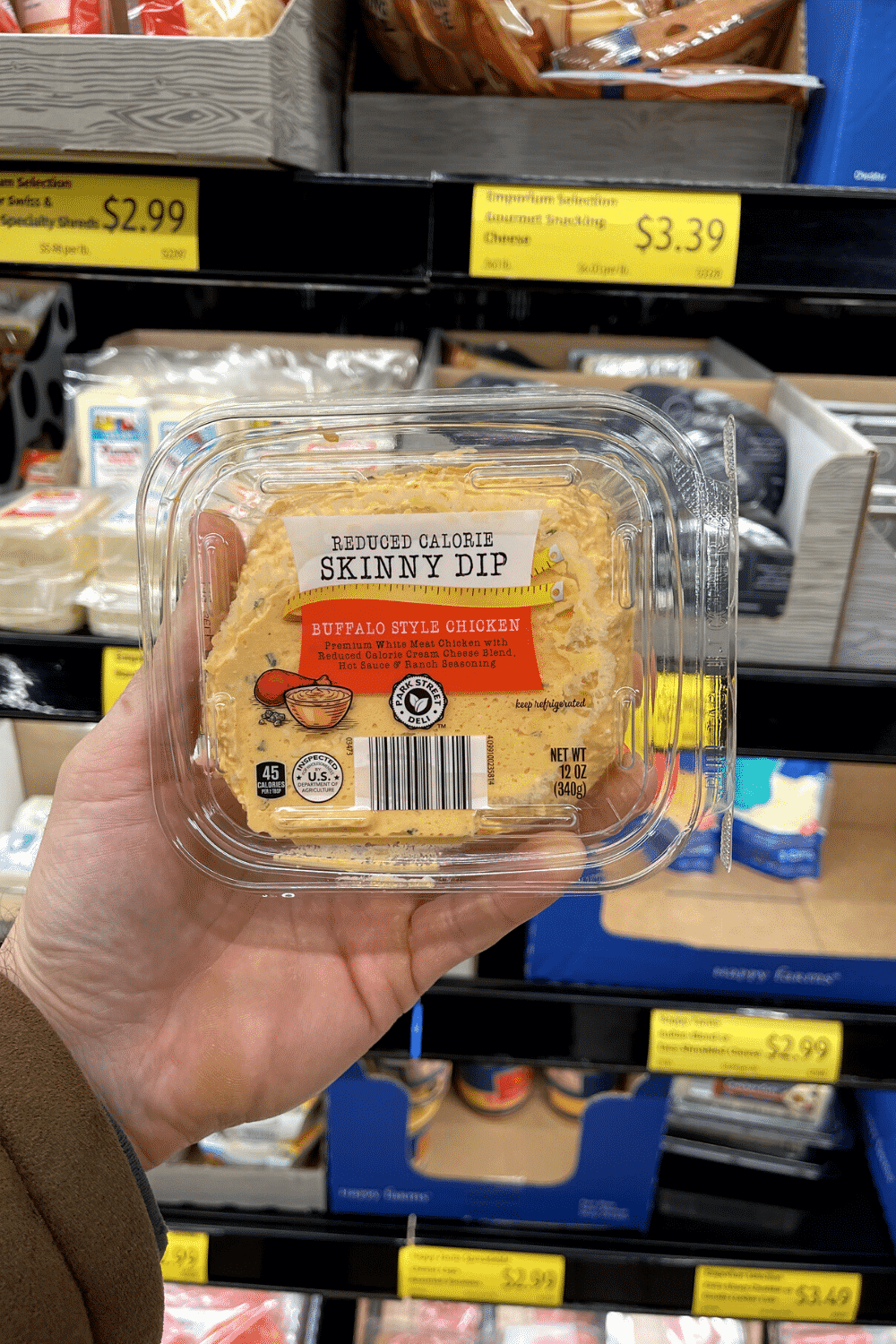 Another one of my favorite keto friendly dips at Aldi is this buffalo style chicken dip.
This dip has the perfect balance of cheesiness and spiciness with chunks of chicken for only 1g net carb per serving.
As far as the price goes, it is a bit higher than the guacamole coming in at $3.49, but you do get a 12 oz. container.
Oh, and this dip also pairs really well with pork rinds, keto tortilla chips, or even these keto crackers.
10. Aldi Keto Bread By L'oven Fresh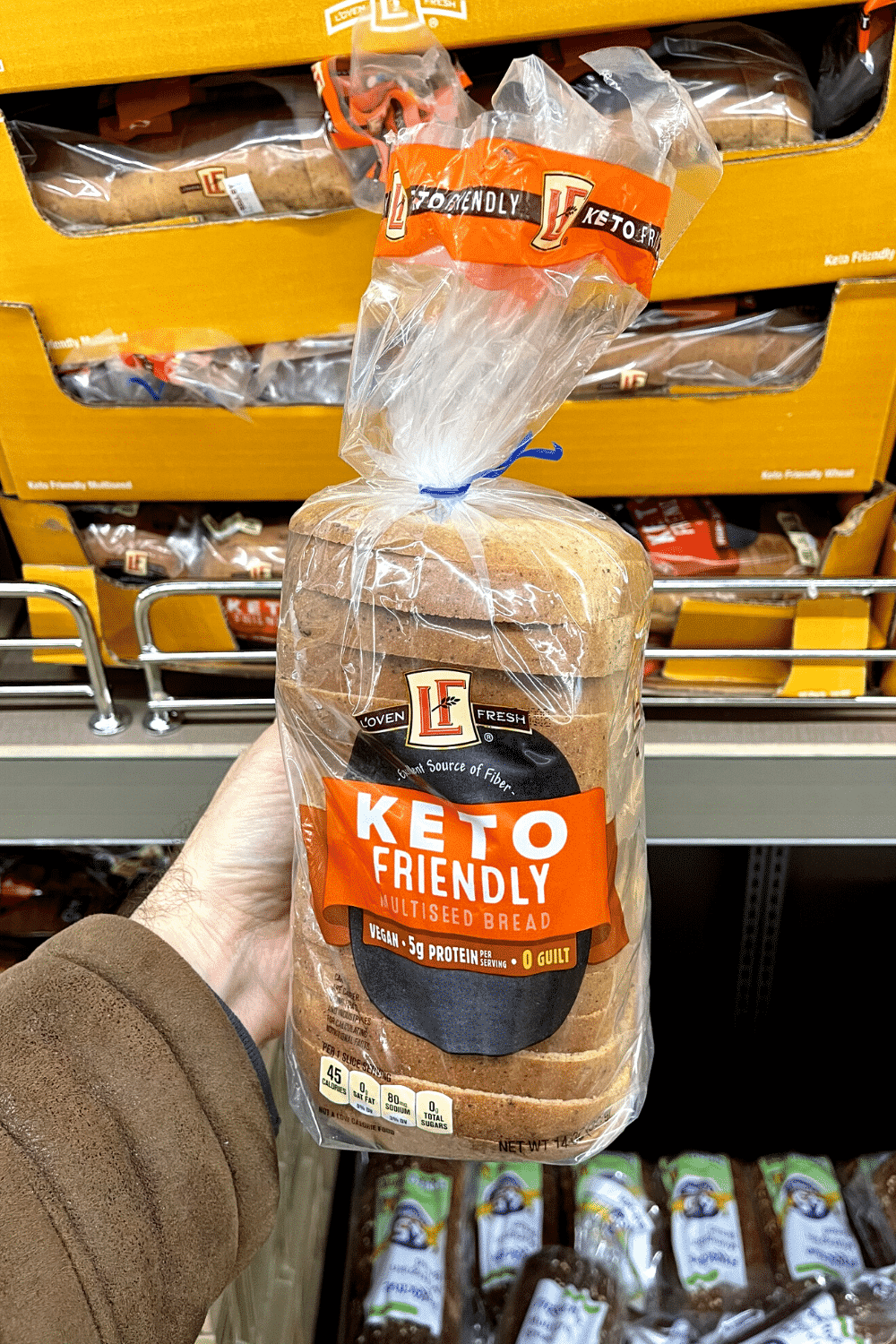 Ok, so this wouldn't be an Aldi keto list if it didn't contain the well-known Aldi keto bread.
This keto bread has 0 net carbs per slice! And while this bread doesn't make a snack on its own, but you can make a sandwich using the prosciutto or spread some nut butter on top.
Now, I have to mention that this bread isn't "clean keto," so if you are following a strict keto diet, you can make one of these keto bread recipes instead:
With that said, if you're following a more flexible keto approach, this keto bread at Aldi makes a great option for only $3.99 a loaf.
11. Low Carb Tortillas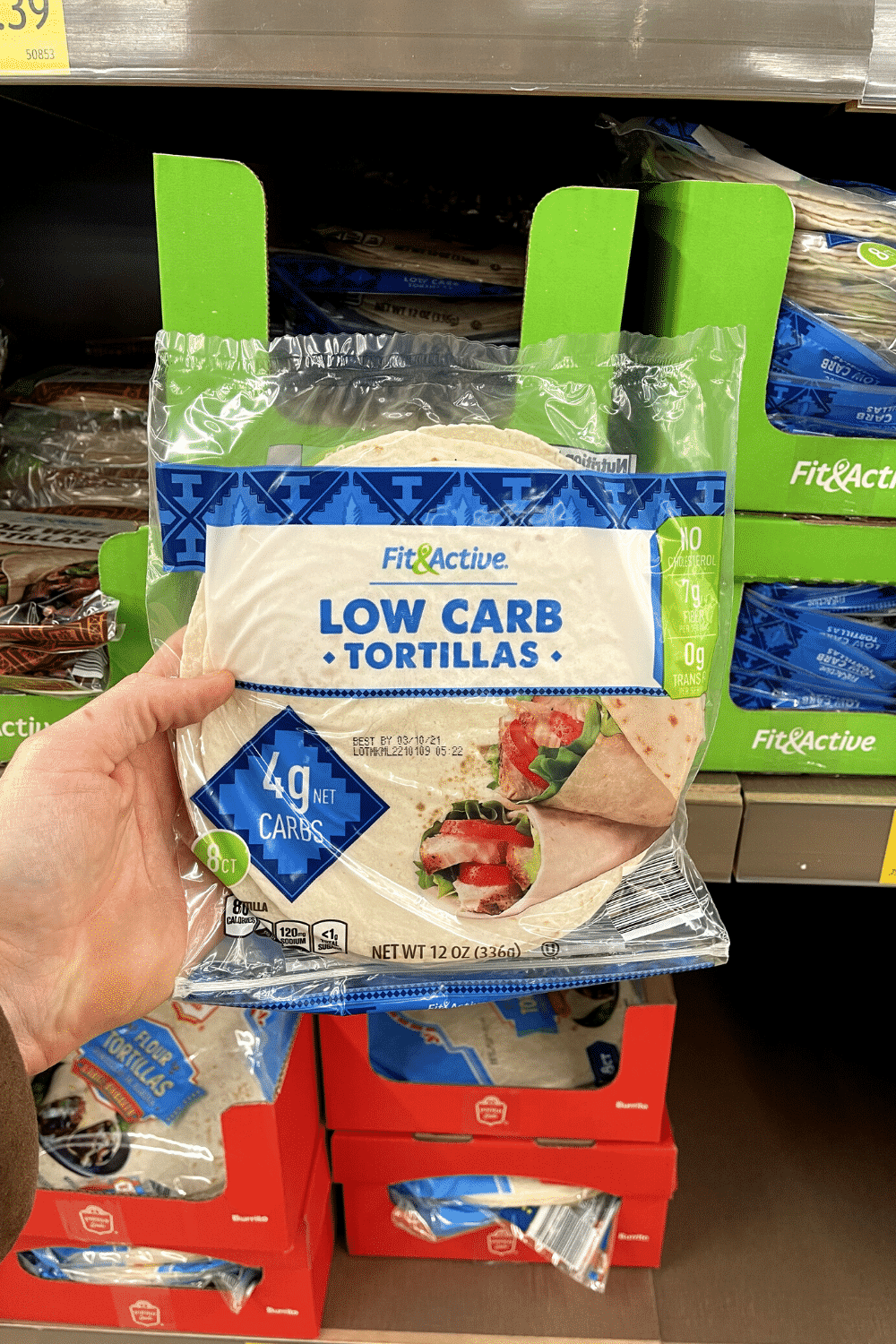 Moving onto our next item is another snack that is ideal if you're following more of a flexible keto diet.
You can make a ton of keto friendly snacks with these and fill them with anything you want, like cheese or jerky.
Each tortilla has 4 net carbs per serving, and an 8 pack is only $1.49.
But if you are following a stricter keto diet, you'll definitely want to make my keto tortilla recipe - it is one of my most popular recipes, has all super clean ingredients, and is just over 1 net carb.
12. Mozzarella Cheese Wraps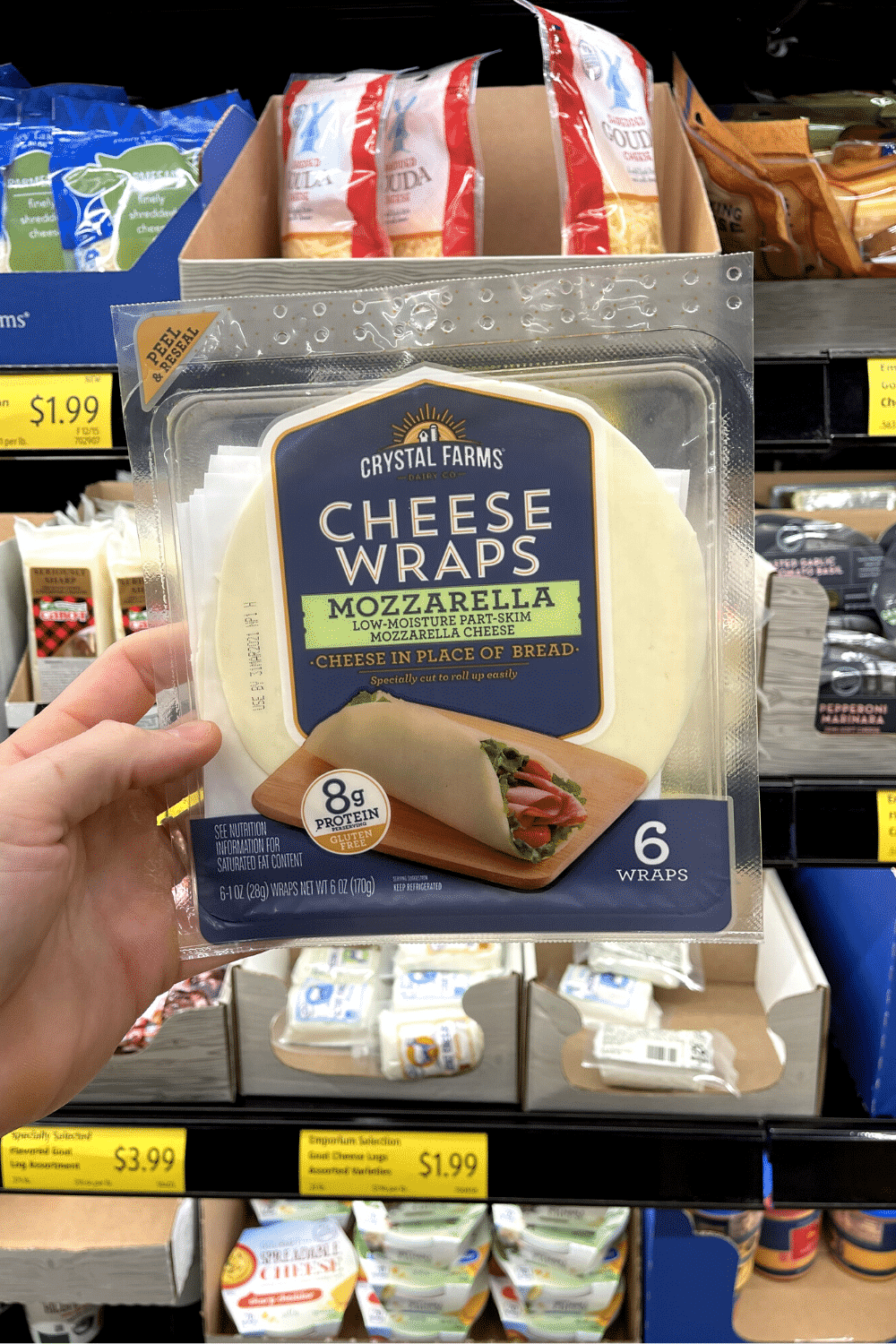 The next item on our list is another wrap-style snack. These mozzarella cheese wraps are a good replacement for tortillas or other wraps. And they have only two ingredients, cheese and salt, with 0 net carbs per wrap.
Of course, keep in mind that whatever you put in this wrap won't give you a tortilla flavor - it will taste like cheese.
Also, these are a bit pricer at $4.28 for an 8 pack of cheese wraps.
So if you don't want to spend that much but want a wrap, go with the low carb tortillas above.
13. Almonds, Pecans, and Pistachio Kernels Mix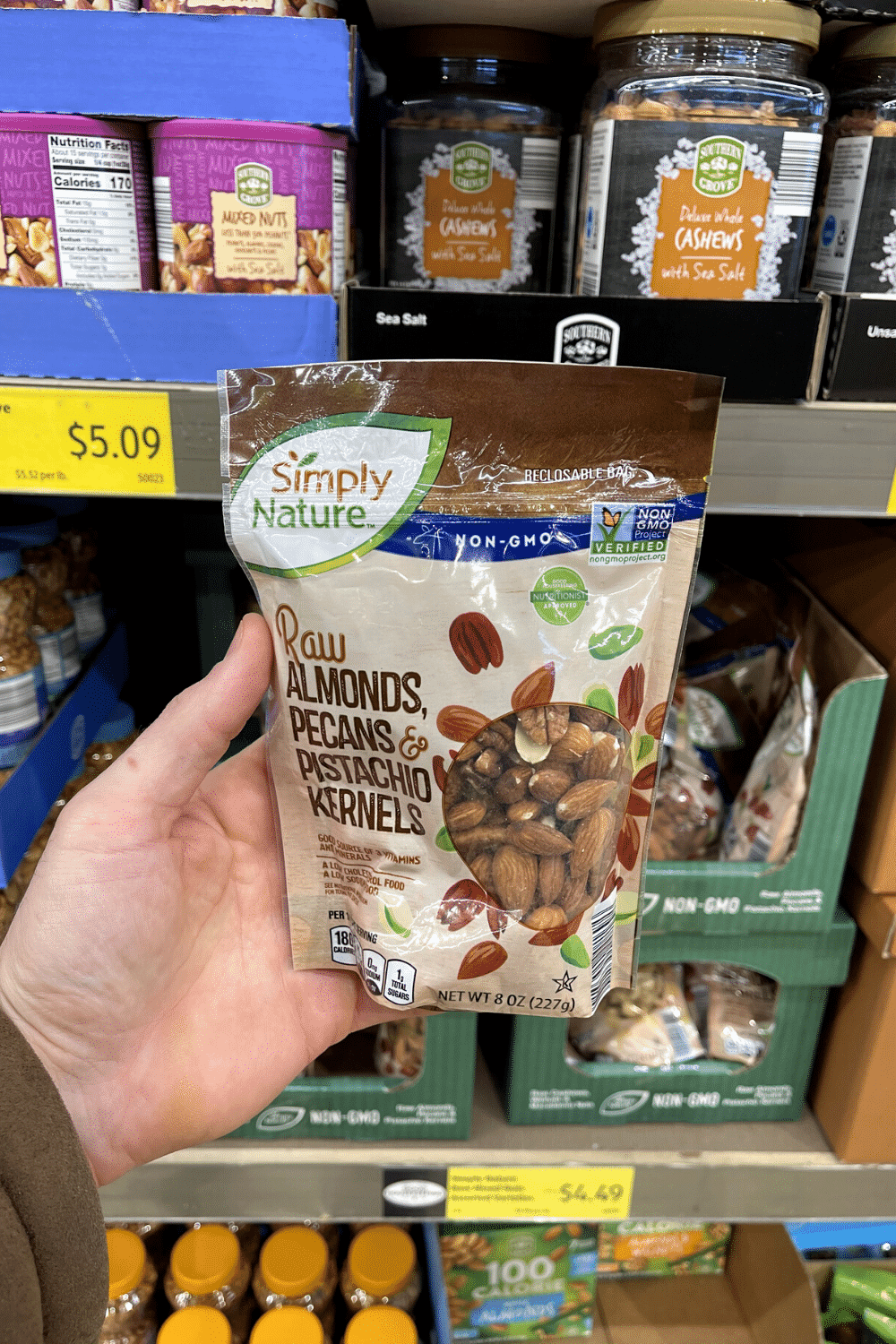 "Mixing" up our keto snack list is this nut mix consisting of raw almonds, pecans, and pistachio kernels.
Since it is a raw nut blend, there are no added oils or other ingredients added to the nuts.
And a great part about this nut mix is there are only 2 net carbs per serving, which is a super low carb count for nuts.
This is a satisfying snack to pick at when you're around the house, or you can fill up a Ziploc bag, portion them out, and bring them on the go.
As far as the price goes, this 8 oz. bag is $4.49 at Aldi - a super fair price considering most nut mixes are double the price at other stores.
13. 100 Calorie Almonds and Walnuts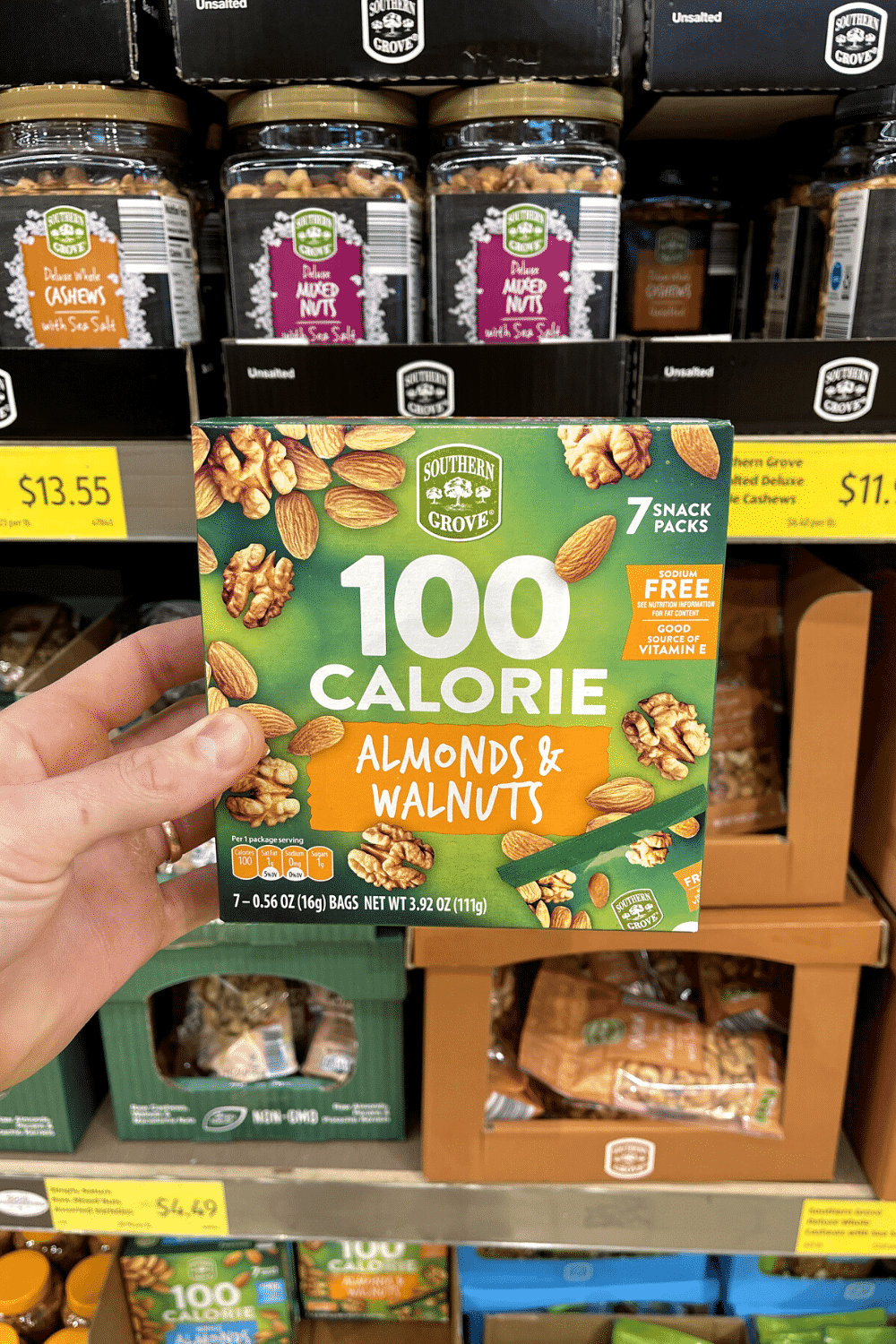 Sticking with the nut theme are these 100 calorie snack packs of Almonds and Walnuts.
I love how portion control is built right into this snack.
And I don't know about you, but I can easily overeat on nuts. So these preportioned packs make it much easier to have control and stick with a diet.
This is also a raw nut mix and there is only 1 net carb in each pack!
With all that said, this box of 7 snack packs is only $2.79.
Also, these pre-portioned packs are excellent for traveling and packing with you in a bag or even your pockets. The low price and convenience make this one of the best keto snacks on the list.
14. Chocolate Peanut Butter Bars
When it comes to snacks, you can't forget about protein bars. And these chocolate peanut butter bars make for a fantastic keto snack to curb your sweet tooth.
Since these bars are more filling than the other snacks on the list, they make a great meal replacement snack for when you're short on time or in a pinch.
Now, you have to be careful picking out these bars because almost all of them, except for this flavor, uses maltitol to sweeten them.
The reason you don't want something with maltitol in it as a sweetener is that has half the calories and carbs as regular sugar.
And on the nutrition label, companies give misleading net carb counts - so anytime you see maltitol, you want to count half the sugar alcohols as real carbs.
With all that said, just buy this chocolate peanut butter flavor, and you won't have to worry about it.
Each bar has only 4 net carbs and a box of 5 bars is $5.99.
15. Oh Snap Dilly Bites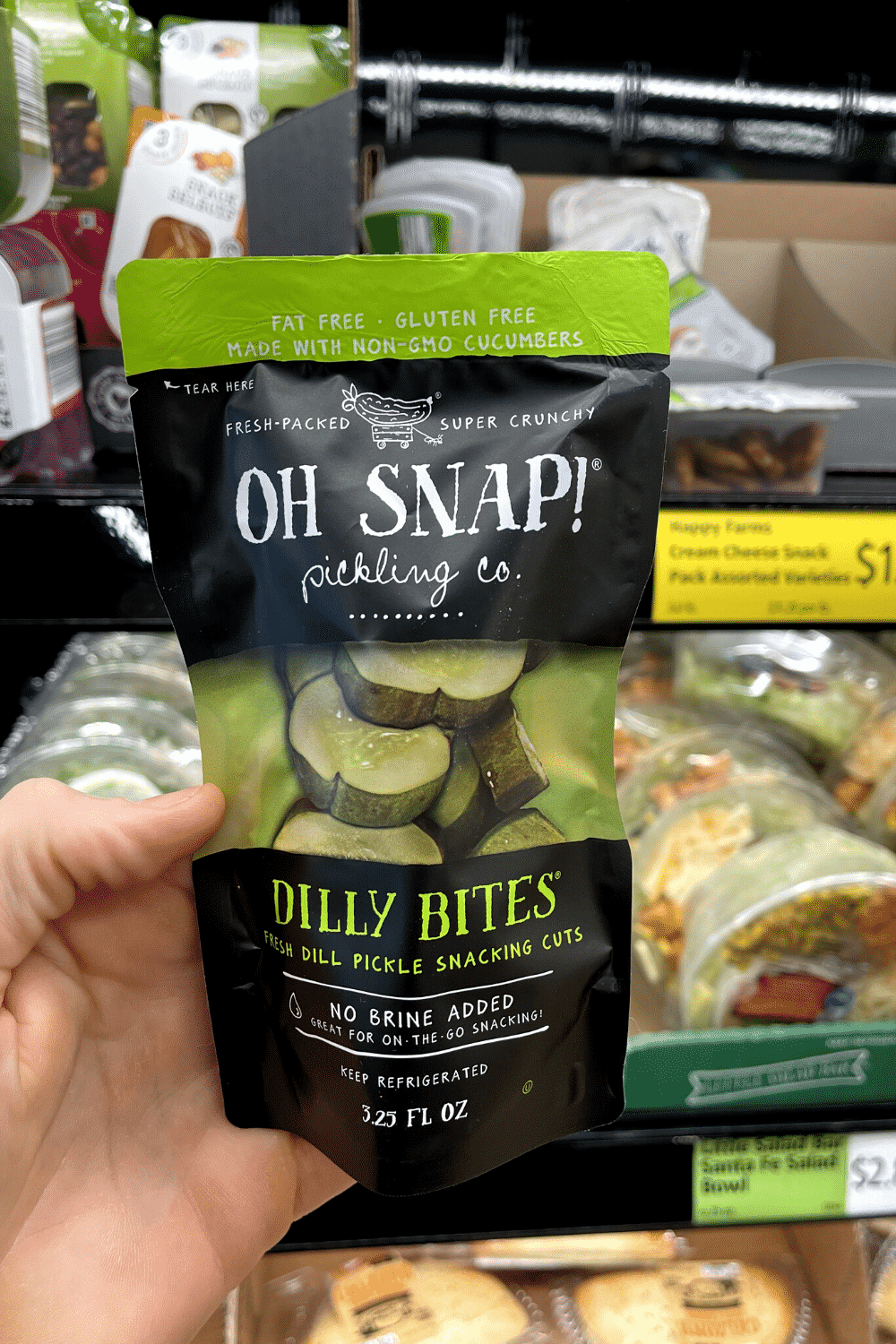 These Oh Snap Dilly Bites are a great salty keto snack option.
Each package has just 2 carbs, and you can bring them with you practically anywhere.
Plus, they have a fantasticly refreshing crunch to them too. So, if you're craving something crunchy, these might hit the spot.
As far as the price goes on these, Aldi charges $1.09.
16. Tuna Packets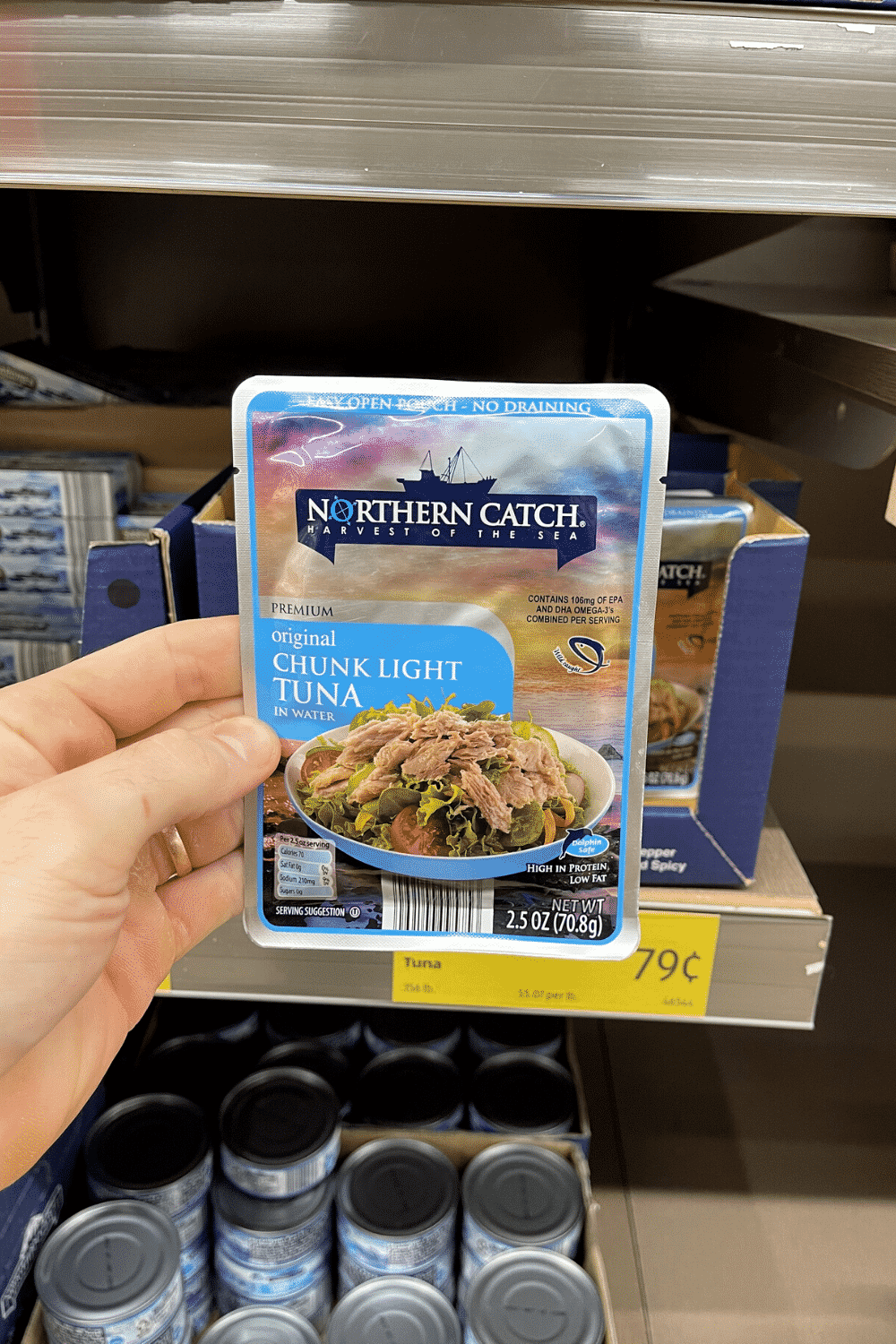 These tear-away tuna pouches are one of my favorite grab-and-go low carb snacks that Aldi sells.
Since there's no can opener necessary to open the can, you can bring them with you pretty much anywhere.
Also, since no refrigeration is necessary with these tuna packets, they make a great keto snack for when you're traveling too.
That said, each packet has just less than 1 carb and costs around $1.00.
17. SImply Nature Oven Roasted Turkey Lunch Meat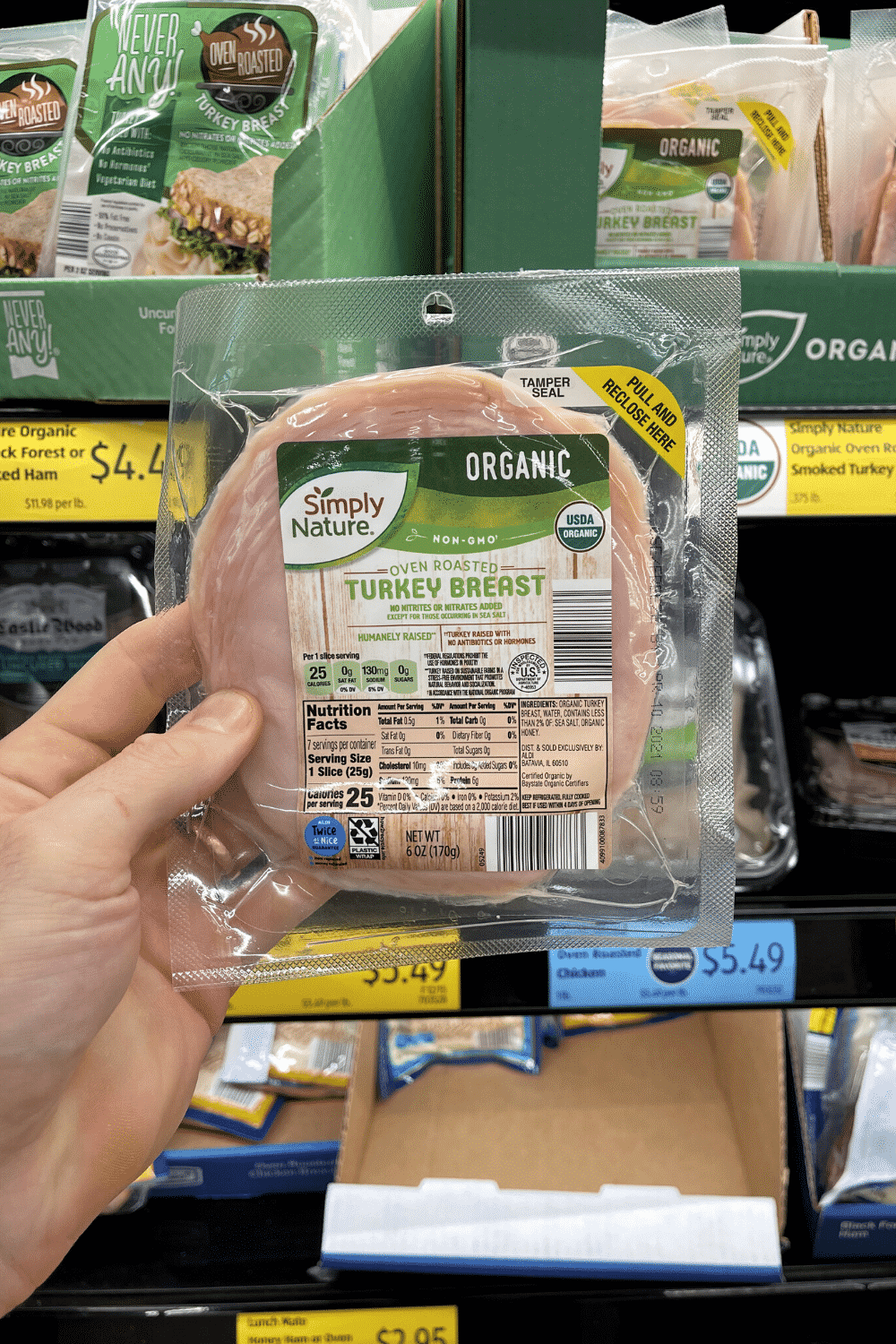 Lunchmeat is a keto snack I like to have from time-to-time, and this Roasted Turkey Lunchmeat by Simply Nature has NO SUGAR added to it, and NO CARBS too! And that's a huge plus since most lunchmeats have added sugars & carbs in them.
Having said that, Aldi sells it for just over $4.00.
18. Tillamook Zero Sugar Smoked Sausages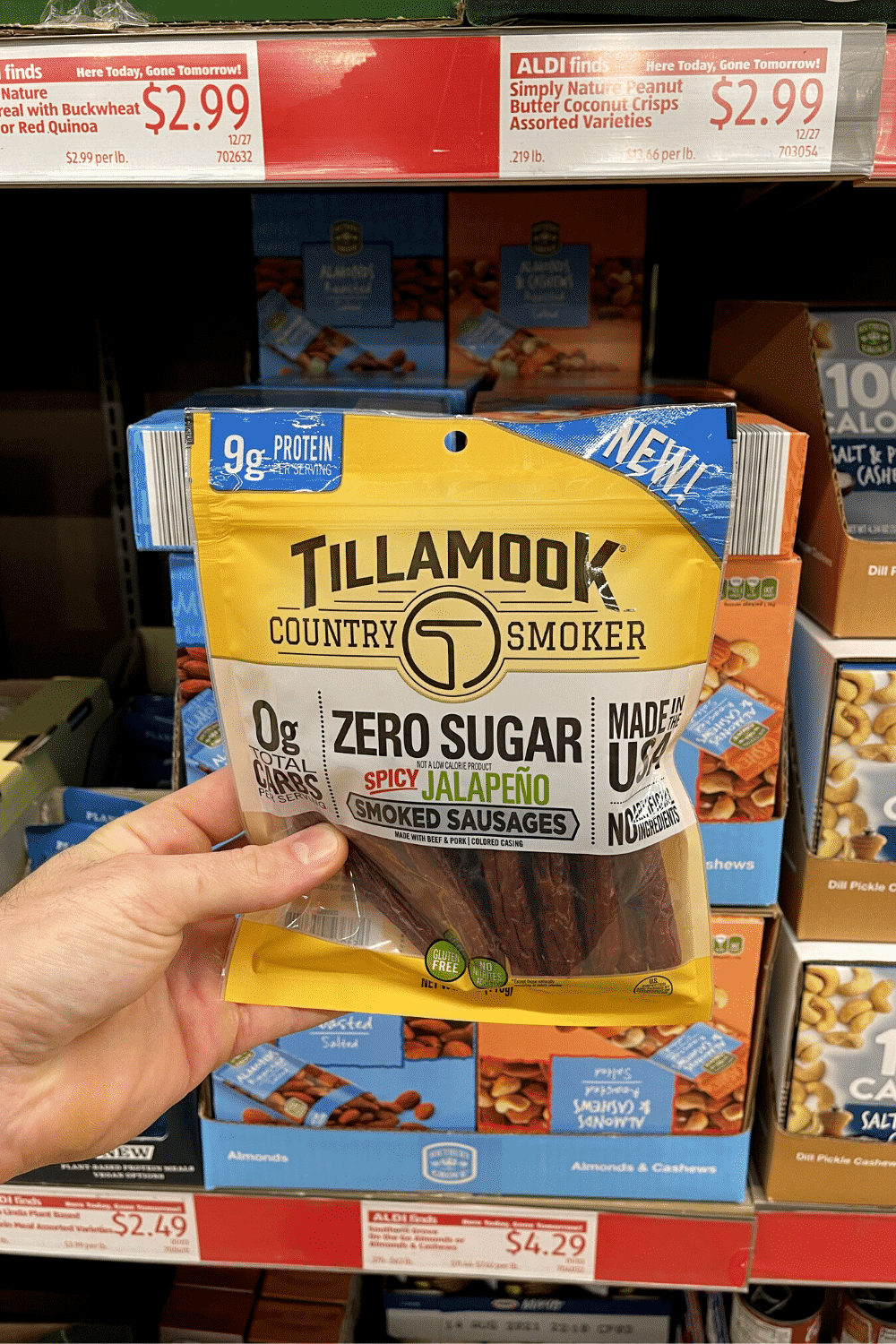 These smoked sausages not only have zero sugar, but they have zero carbs too.
And they have the perfect balance of meatiness, saltiness, and spiciness.
Aldi sells these for just under $4.00.
19. Brookdale Canned Chicken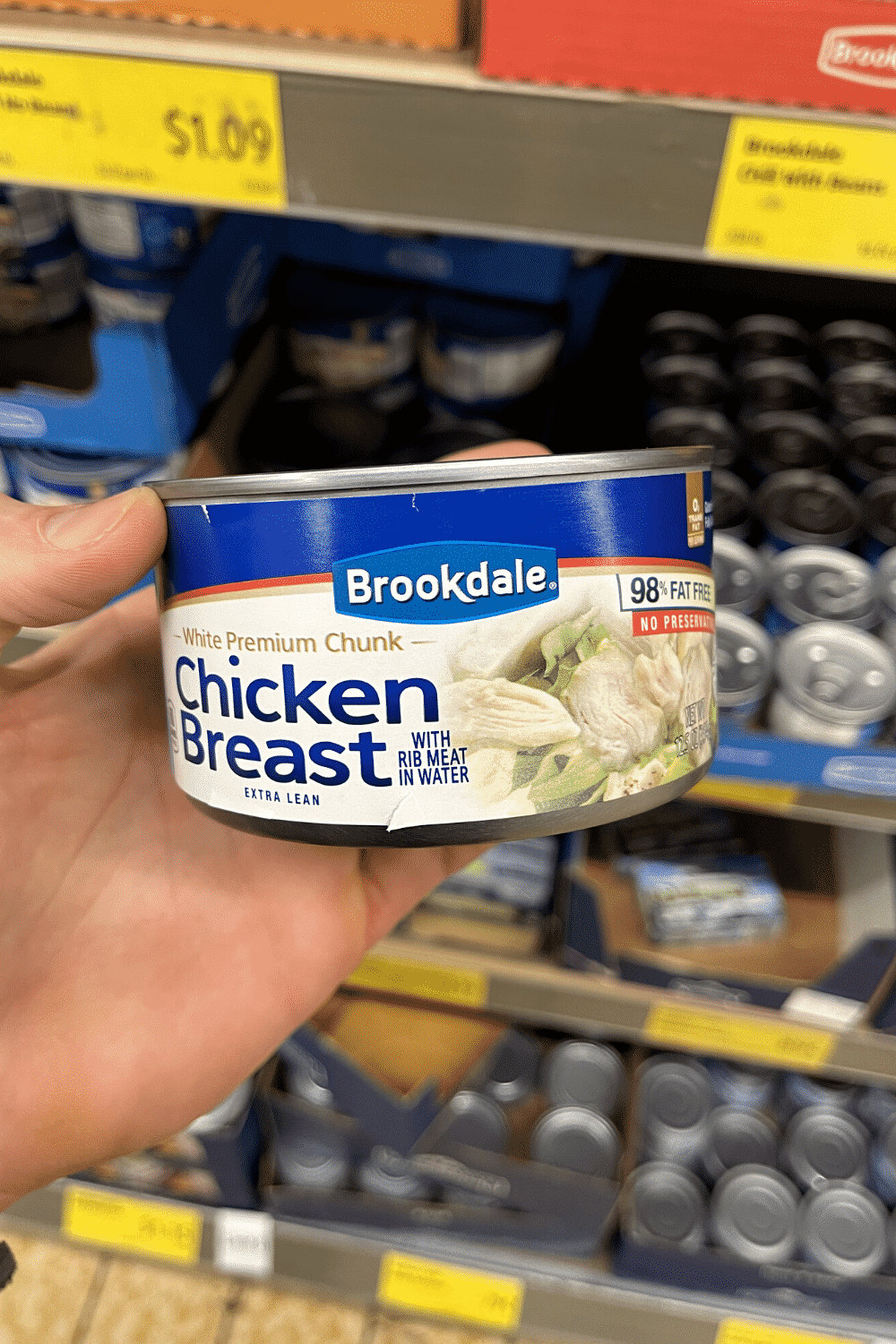 This keto snack requires a can opener to open, but it's totally worth it.
Every can is filled with meaty, chunky chicken deliciousness, and costs just under $2.00.
Best of all though is the fact that there are no carbs in it!
20. Vienna Sausages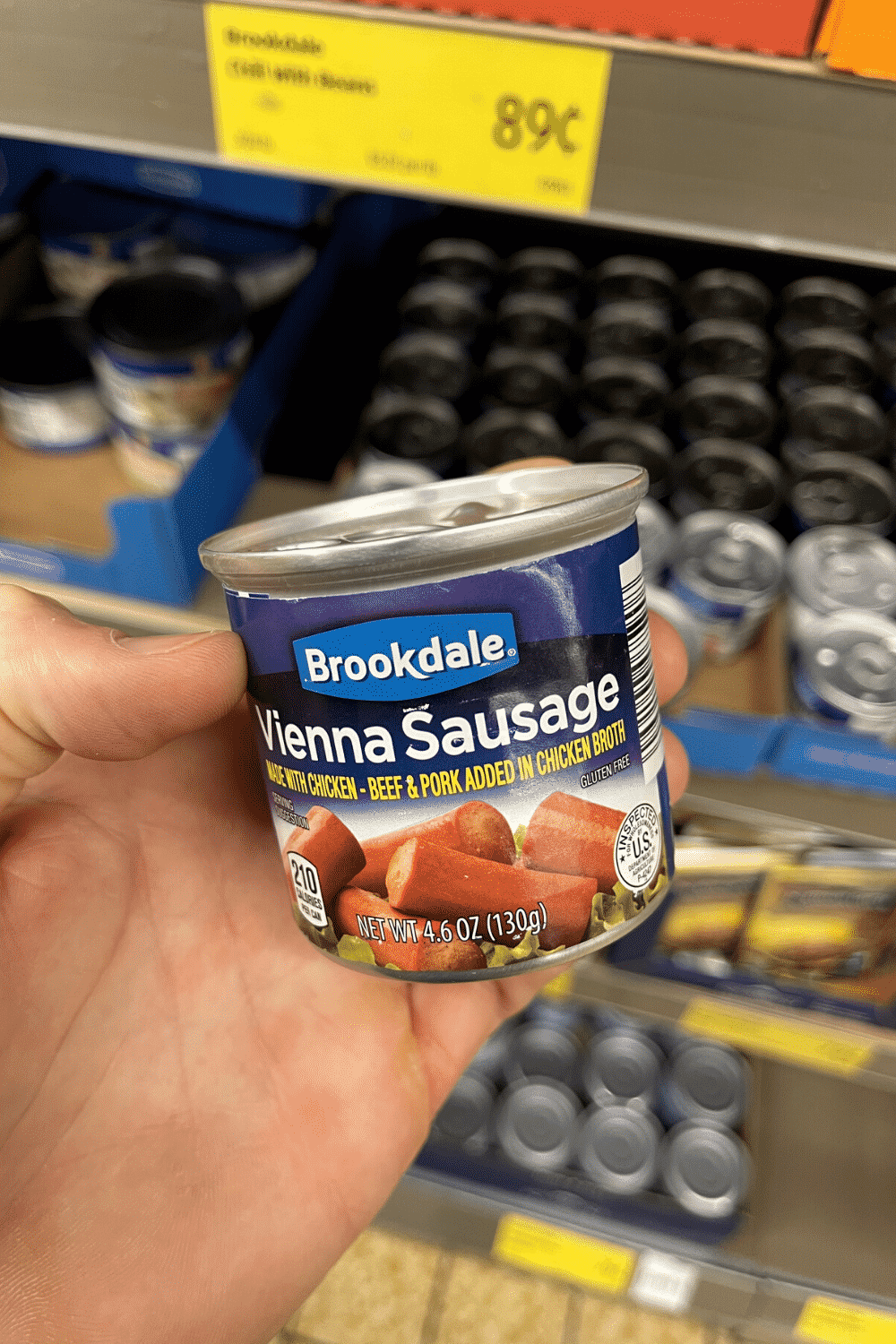 Another keto snack that's great for travel - or when you're on the go - are these Vienna Sausages.
Again, there's no refrigeration necessary with these, so that's a huge plus.
Not to mention, each container has just 2g of carbs.
Now, as far as the price goes, Aldi sells these sausages for $.48 a can.
21. Bite-Sized Dry Salami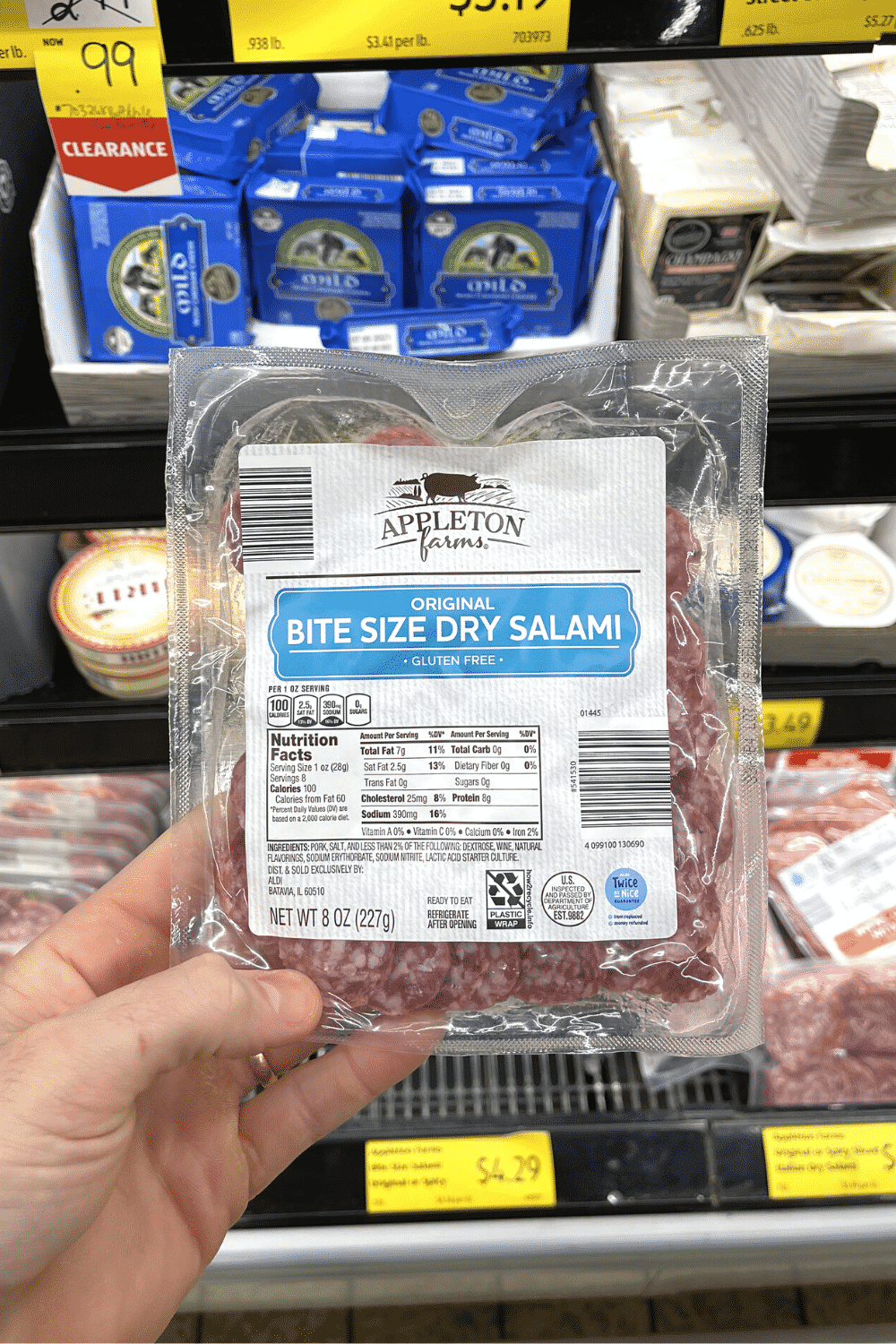 These bite-sized pieces of dried salami are another great low carb snack idea.
In fact, these tiny pieces of salami aren't just low carb, they're ZERO CARB!
So, if you're looking for a keto snack that's salty, meaty, and a tiny bit chewy, these mini-salami pieces might be the snack for you.
Having said that, Aldi is charging just over $4.50 for this 8-ounce (227 gram) package.
22. Canadian Bacon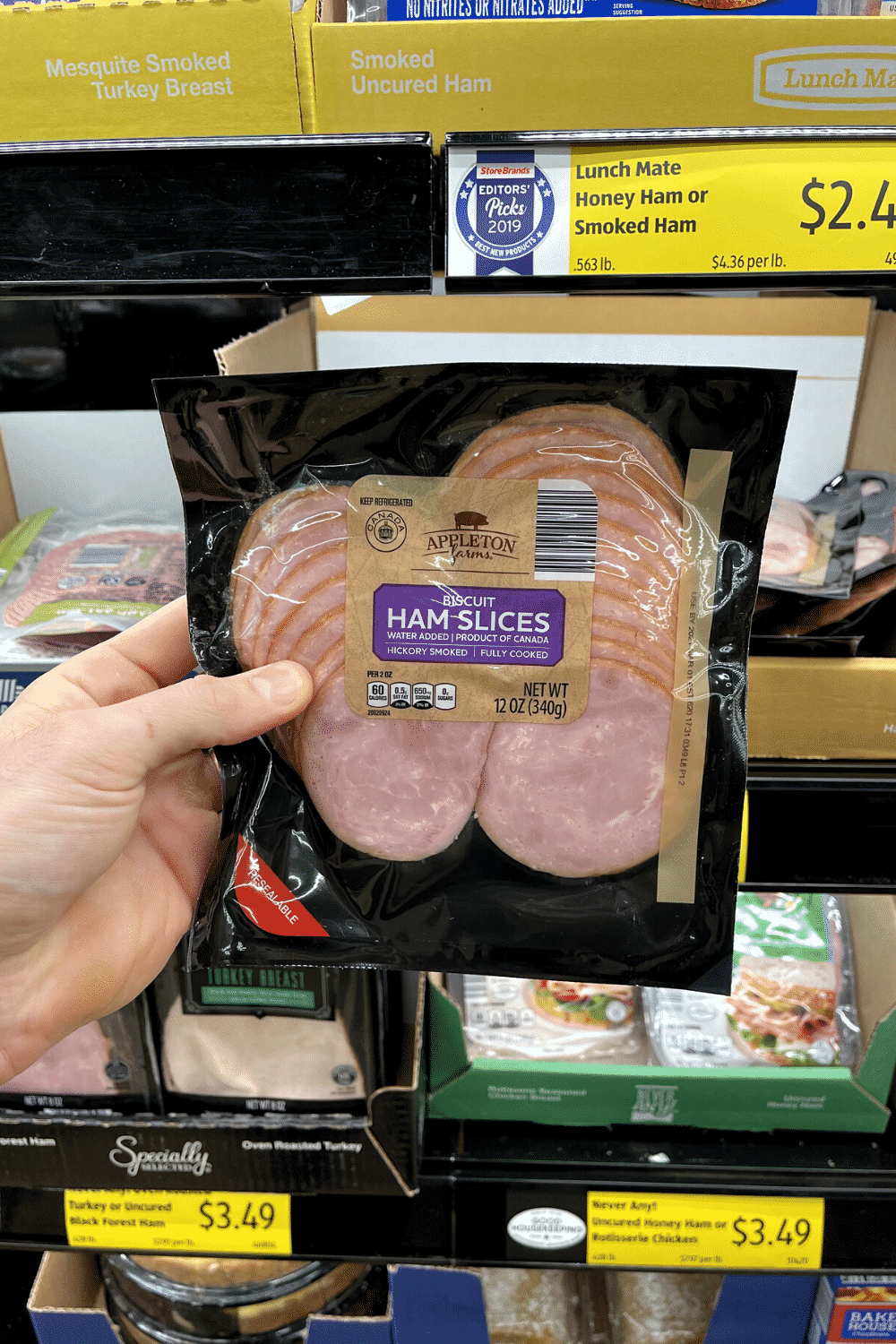 Of course, Canadian bacon is a fantastic addition to a low carb keto breakfast.
But, by itself, it's a pretty tasty keto snack option. Not to mention, it fry's up quick, and it's easy to prepare.
So, if you need something to hold you over in a pinch, cooking a few slices of this bacon might do the trick.
Anyway, as far as the price goes, it costs just over $2.75 for this three-quarter of a pound package of it.
23. Appleton Farms Gourmet Deli Selection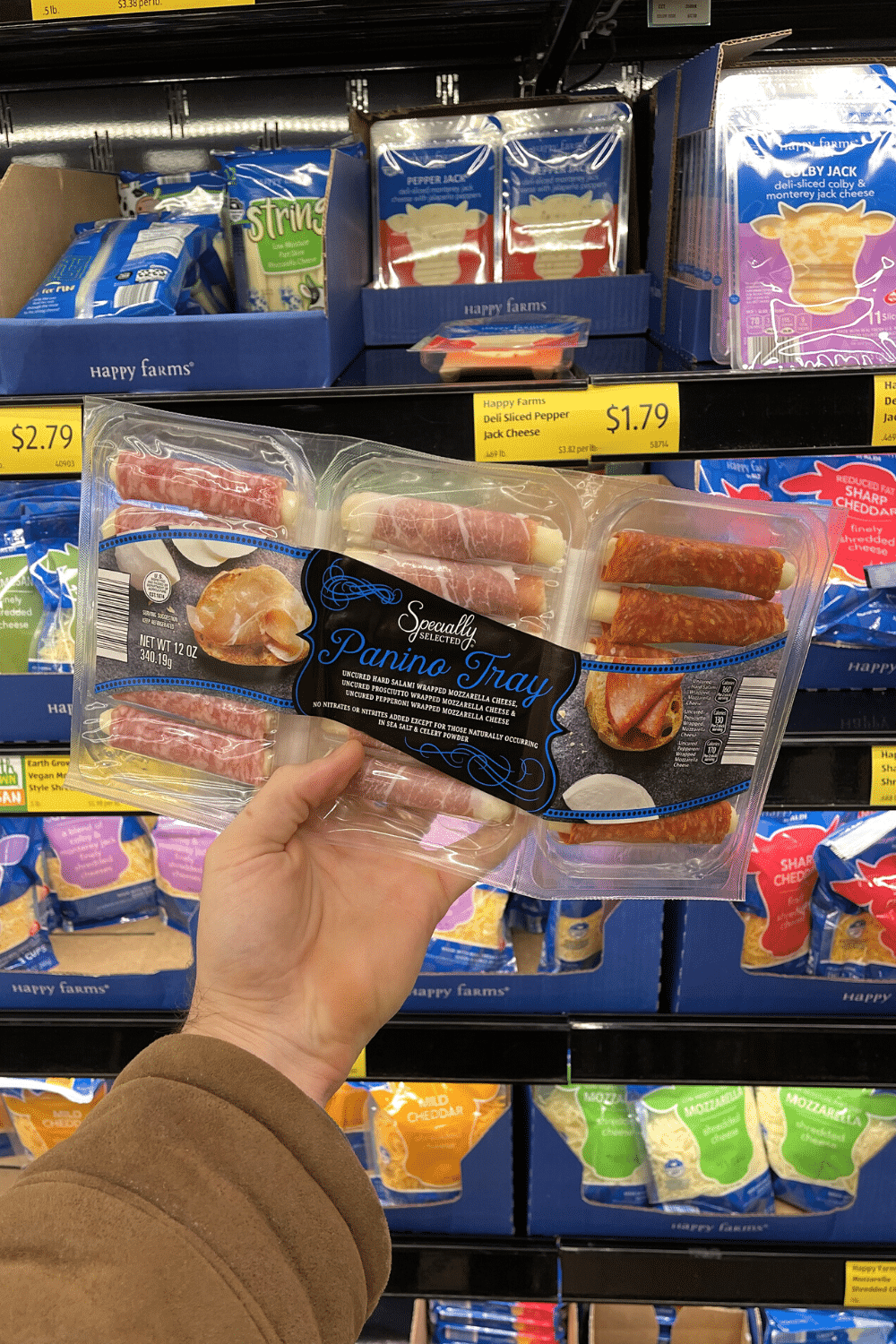 This tray contains 3 different cured meats - pepper salami, hot capocollo, and hot calabrese.
In our house, we keep a tray in our fridge almost constantly, and then just grab a slice, two, or three when we want a quick salty keto snack.
As for how much this tray costs, Aldi sells it for around $4.50.
24. Original Beef Biltong
Finishing up our list of store-bought keto snacks from Aldi is this original beef biltong, another fantastic keto jerky option.
If you've never heard of biltong before, it is basically a thinner sliced beef jerky that is air-dried instead of cooked. Also, there is NEVER any sugar added to biltong - there are 0g of sugar and 0g of carbs.
However, biltong is a little higher in protein, so if you are snacking on it, you'll want to balance it out with a higher fat snack like cheese or nuts.
As far as the price goes, this beef biltong is priced similarly to most beef jerky, coming in at $6.99 for a 4 oz. package at Aldi.
Wrapping it all up
And that concludes our Aldi keto list of some of the best storebought snacks for 2021. This list has all of my favorite keto friendly snacks to buy for the best value and lowest carb count.
Just remember, whenever you are searching for keto snacks, check the net carbs and ingredients to see what the snack contains.
Anyways I hope you found this Aldi keto snack list helpful! If you try any of these snacks, let me know which ones are your favorite!
Oh, and if you are looking for Walmart keto snacks, you'll want to check out this list of 35 Keto Snacks at Walmart.
And, as far as some food guides go check these out: