This Target Keto Shopping List is filled with a bunch of finds that will make grocery shopping effortless and exciting! And most of the things you'll find on this list are super quick and convenient keto foods that are great for work, school, or for when you're on the go. Not to mention, all of these keto Target shopping list items have under 4 NET CARBS!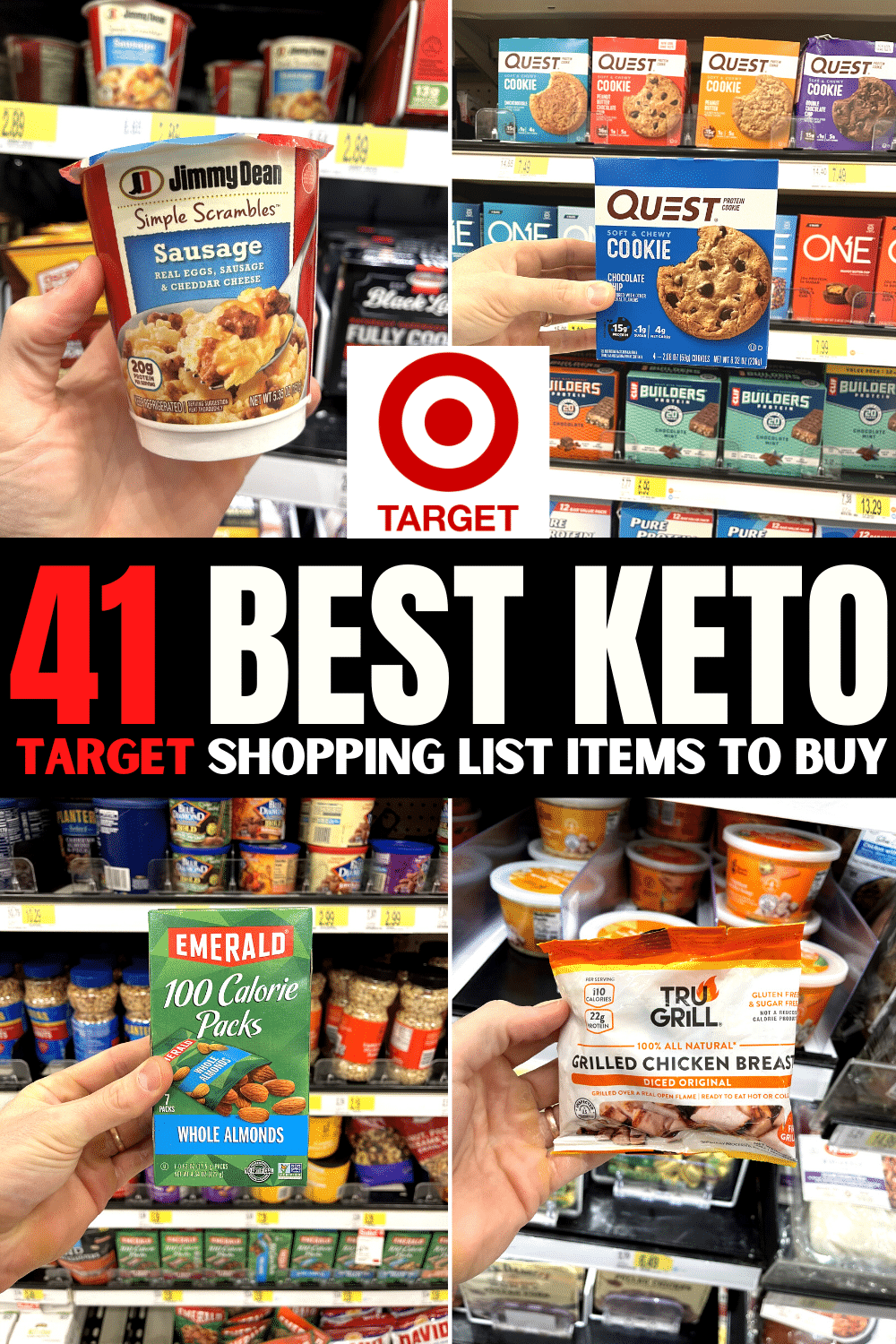 THE BEST TARGET KETO SHOPPING LIST ITEMS TO BUY
Finding keto friendly items can be a challenge if you don't know what to look for. And since there are so many food items to look through, it can be frustrating to read the nutrition label on all the potential low carb snacks.
So I compiled a keto Target shopping list to make your grocery shopping experience seamless.
I went through every aisle and scanned all the nutrition labels of every possible keto Target item. And I came up with this variety-filled list of some of the best keto options to buy at target.
And there are so many great choices on this list that you'll want to buy every single one.
So, without further adieu, let's get into this list!
1. Quest Protein Chips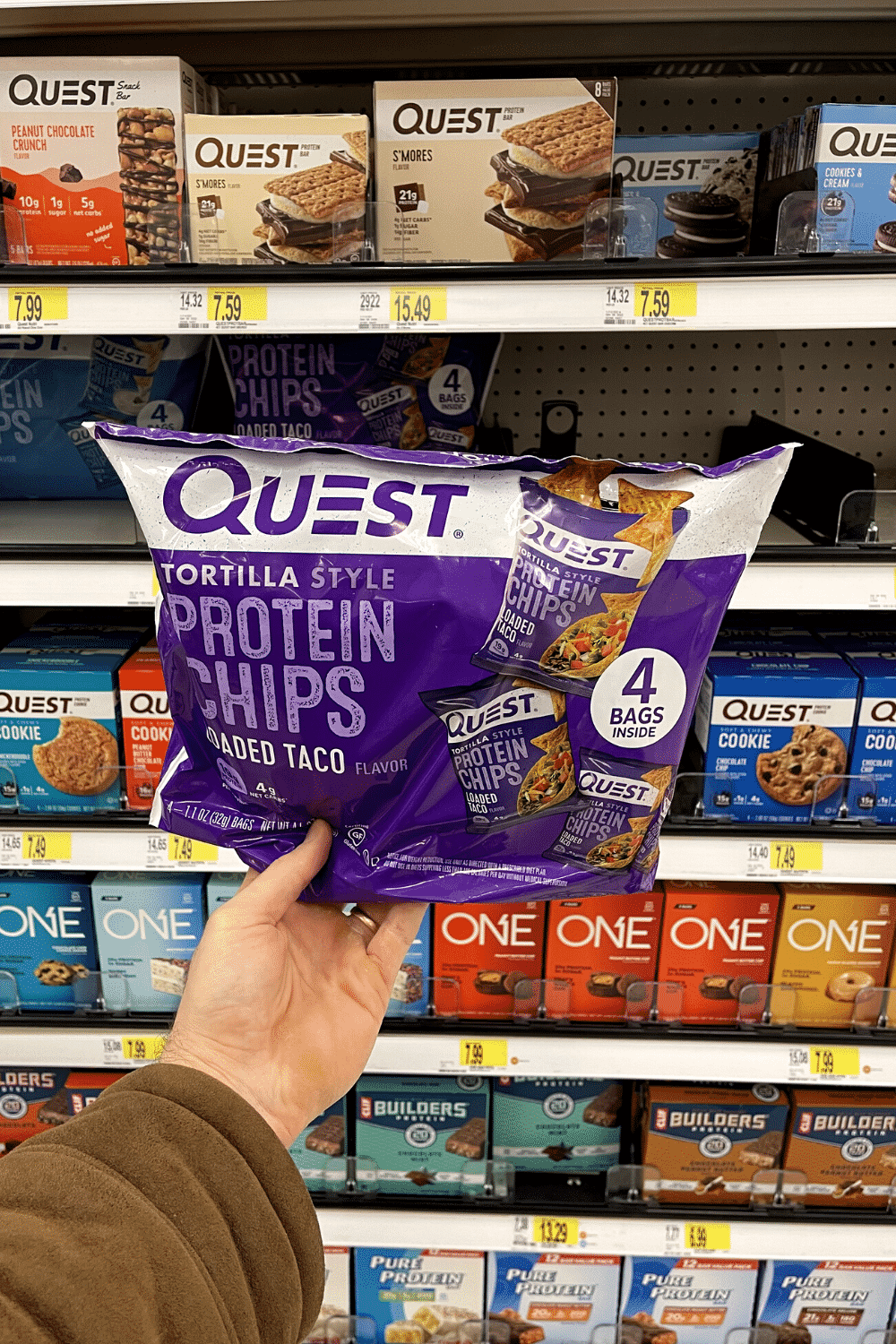 Kicking off our keto Target snacks are these Quest protein chips. And these are probably my favorite crunchy keto snack out there.
I mean, they're basically a keto Dorito, and I love the flavors they come in. The loaded taco flavor is my favorite, and if you're snacking at home, I highly suggest dipping them in this keto cheese sauce.
There is also a nacho cheese and cool ranch flavor that are pretty tasty as well.
But my favorite part of this keto snack has to be that there are just 4 net carbs per bag. So you don't have to worry about over-snacking since portion control is built right into this snack. And trust me, I could eat a whole big bag of these chips, so the portion control aspect is perfect.
Target is selling this 4 pack of Quest protein chips for $7.99.
2. Oh snap pickled green beans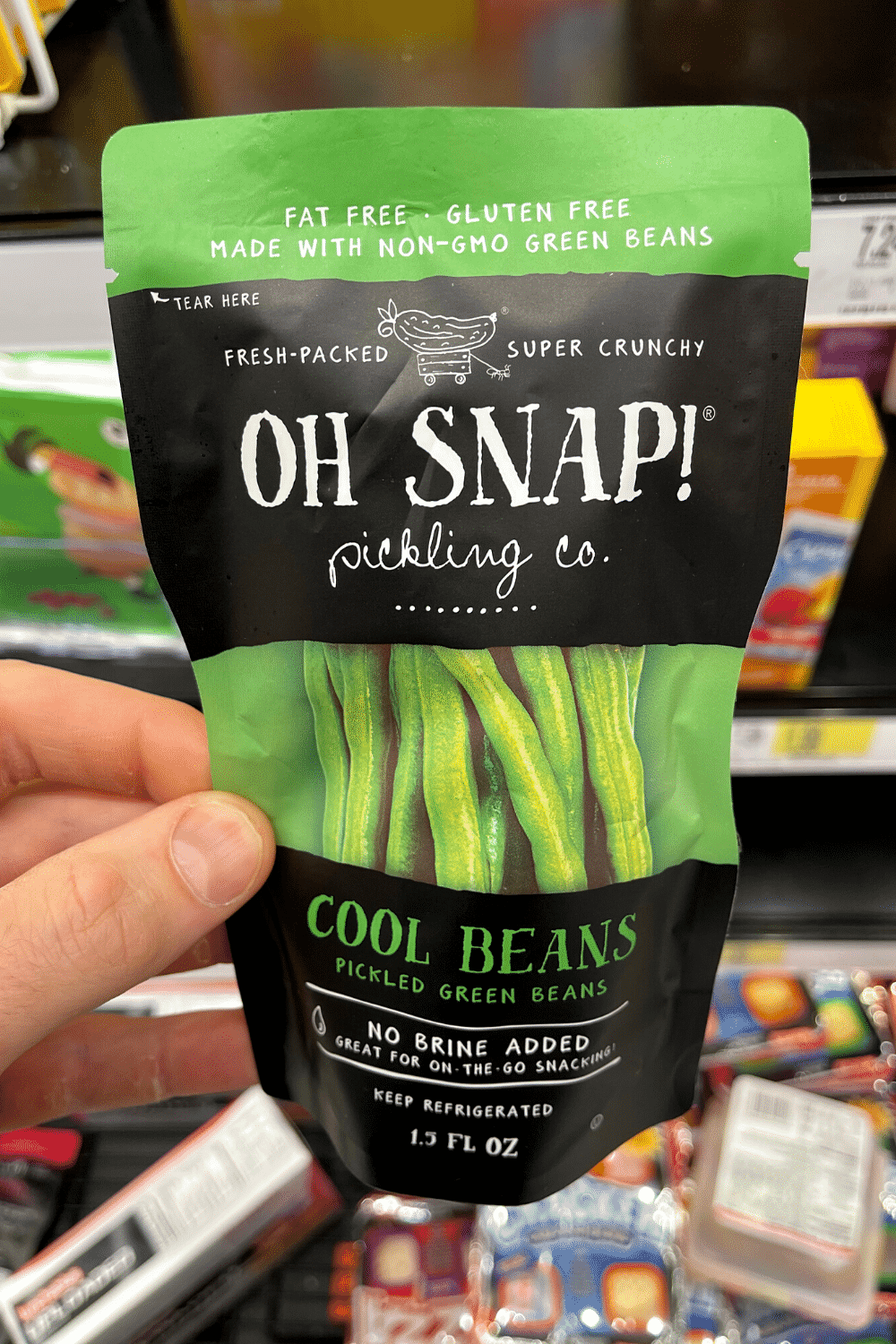 Another crunchy keto snack are these Oh Snap Pickled Green Beans.
And, these little pouches will definitely satisfy your salty, crunchy cravings.
But, Oh Snap also offers dill pickle bites if you'd rather snack on pickles over green beans.
No matter what you choose, each portable bag has only 2 net carbs, and you can get them for $1.39 at Target.
3. Atkins Endulge Peppermint Patties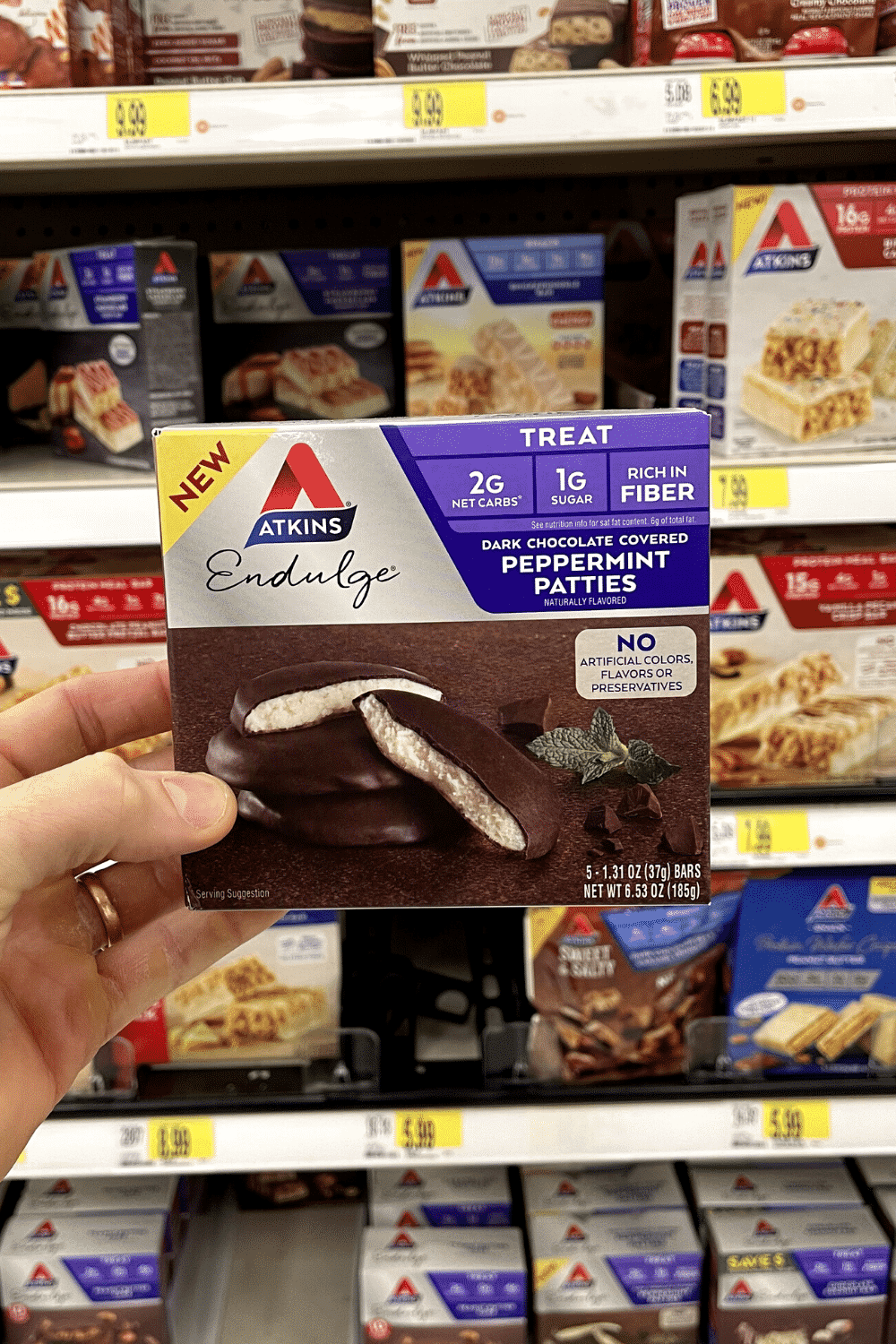 Next up is a great sweet keto snack, especially if you like minty, chocolaty stuff.
These Atkins endulge peppermint patties are kind of like a York peppermint patty, but with only 2 net carbs. So if you're looking for keto candy to snack on, these are a really great choice.
As far as the price, it's $5.99 for this 5 pack of peppermint patties.
4. Lily's Peanut Butter Cups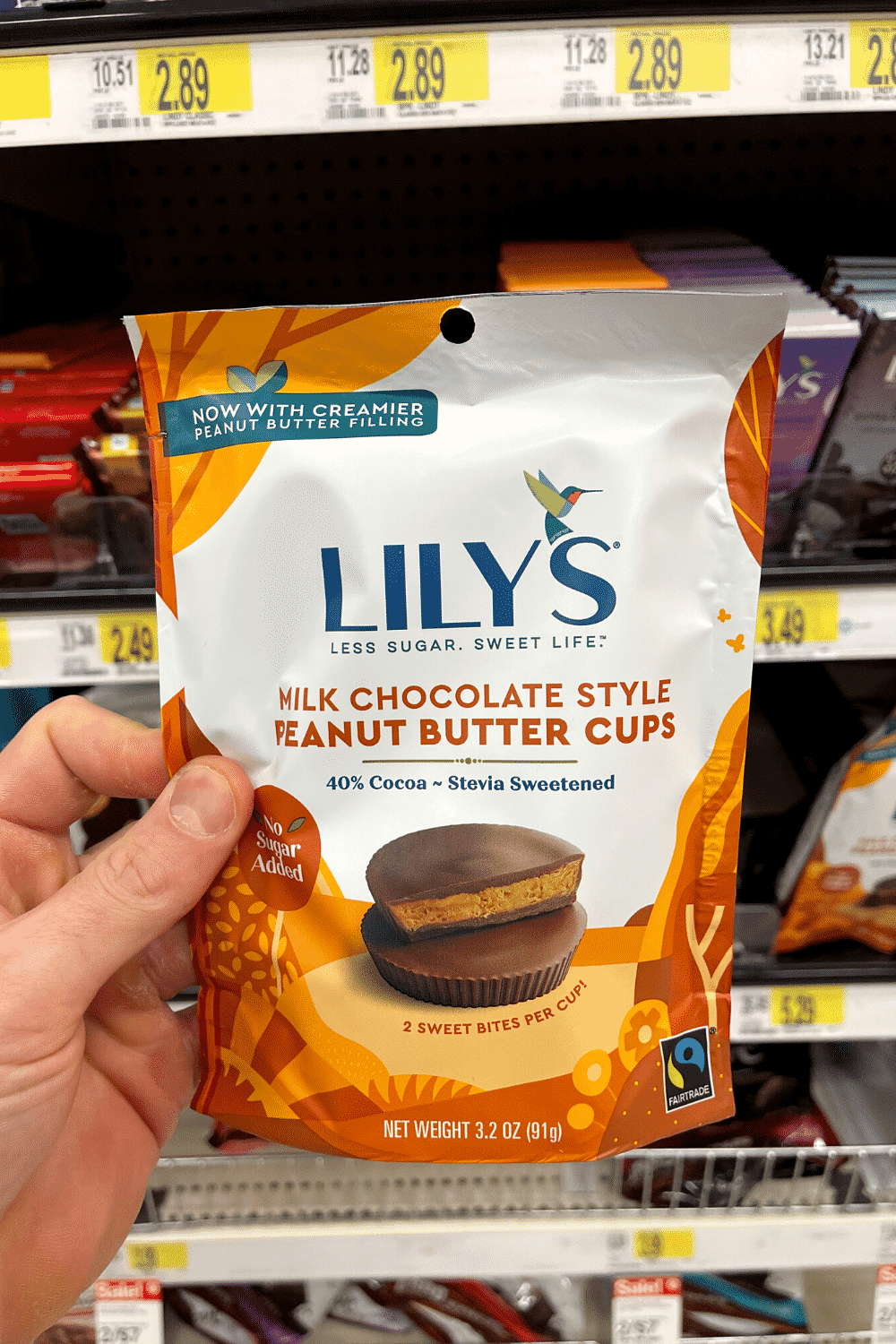 Another keto candy snack option is these Lily's peanut butter cups. They are pretty much a keto friendly Reese's cup. And honestly, they're pretty darn close to the real thing.
Peanut butter and chocolate are one of my favorite combinations. So if you're like me, you'll LOVE this keto snack.
Since they are prepackaged, you can bring them along with you anywhere you go.
If you want a chocolate peanut butter snack at home, try making this 1-minute mug cake - it's a Resse's cup in lava cake form.
Anyways, each Lily's peanut butter cup has just 1 net carb, and they are priced at $5.29 at Target.
5. Lily's chocolate chips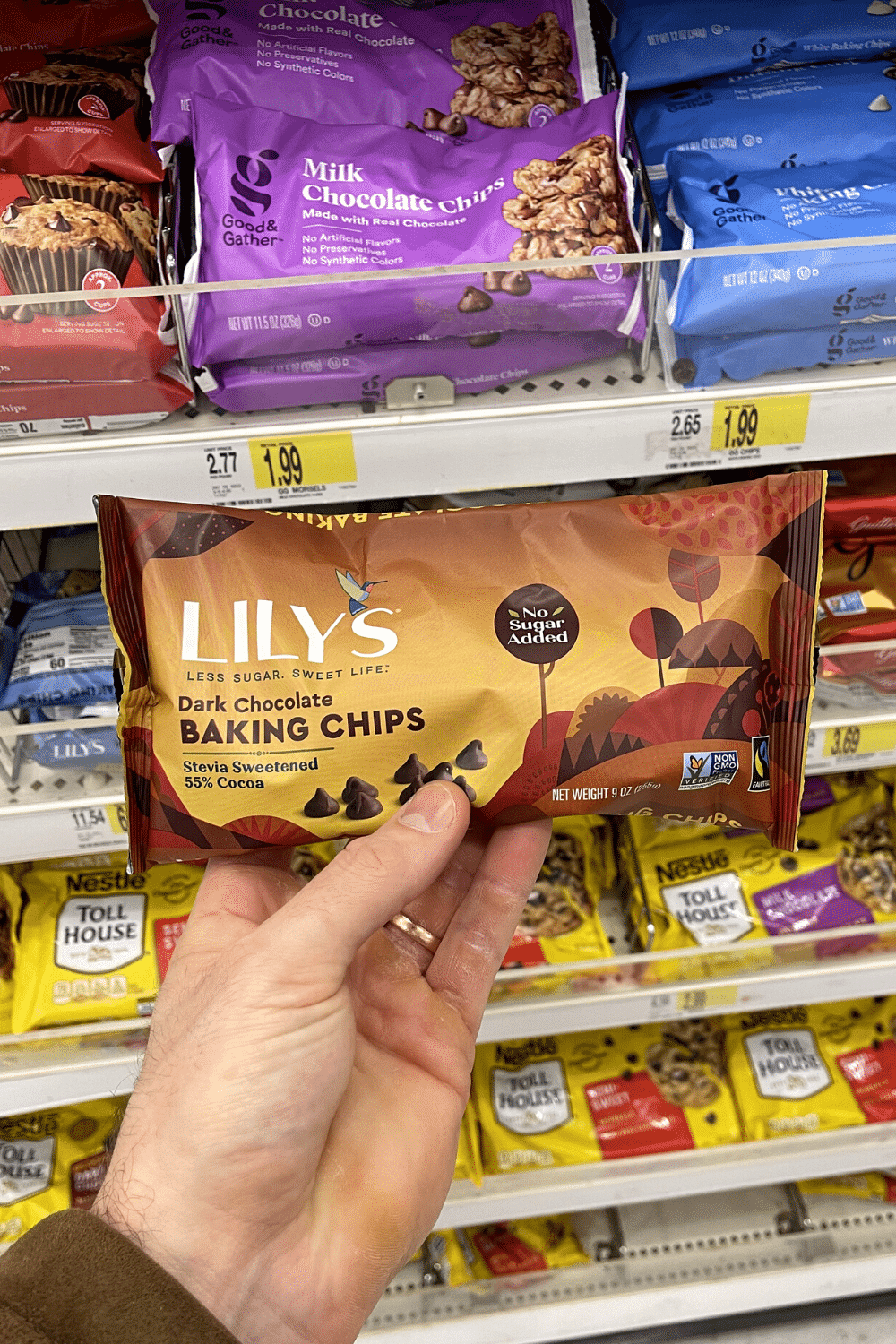 Another great keto snack by Lily's is these chocolate chips. Now, I use these a ton in my recipes, like for these keto chocolate chip cookies.
But I also love snacking on them when I need something quick and easy to curb my sweet tooth. And you can have one serving for just 1 net carb.
The bags are kind of expensive for chocolate chips though at $6.49 per bag.
6. Slim fast fat bomb bars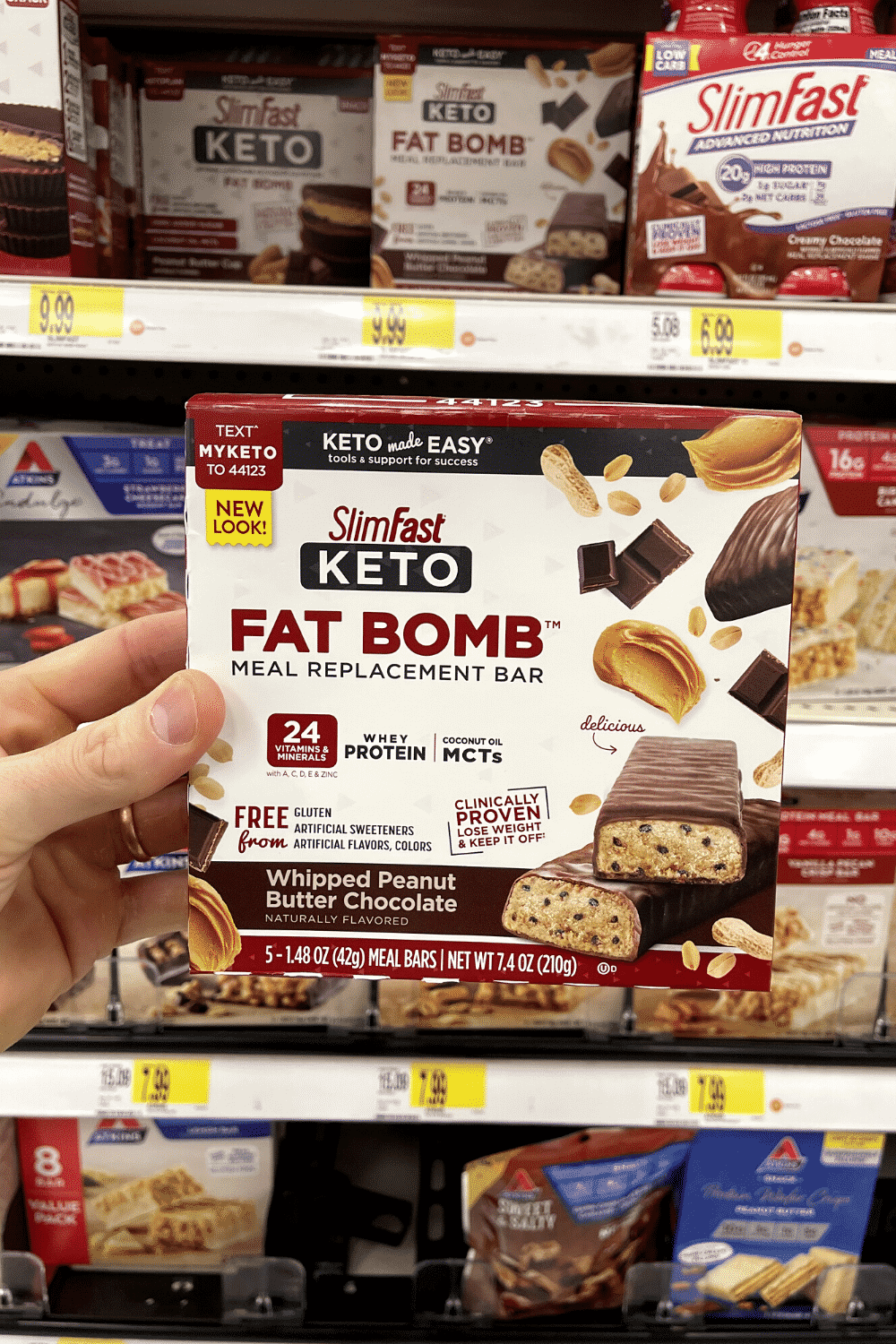 Continuing our keto snack list is another peanut butter chocolate snack.
These whipped peanut butter and chocolate meal replacement bars are a convenient bar to bring with you if you're traveling or to throw in your lunch bag if you need something filling when you have a sweet craving.
The only thing is these bars are pretty pricey at $9.99 for a box of 5 bars, but they do only have 3 net carbs per bar.
7. Quest birthday cake protein bars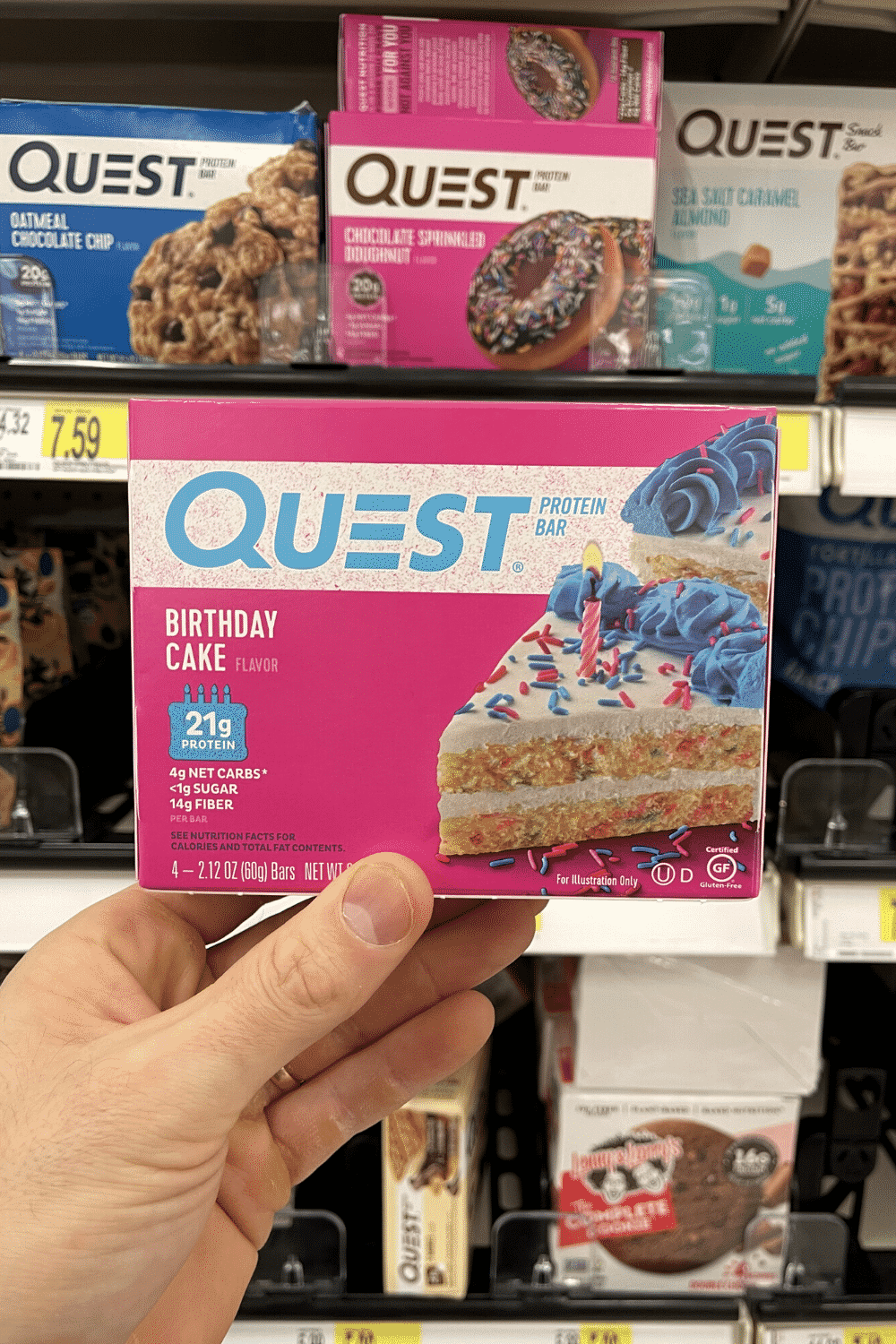 Now, I love having protein bars for a keto snack option - they are ideal to have as a travel snack or a post-workout snack if you can't get a meal in. And it doesn't get any better than these Quest birthday cake protein bars.
They're so good that they taste almost like candy. Honestly, I think these are the best protein bars you can buy taste-wise because they don't taste like a protein bar. And they have a softer texture, unlike the hard and super chewy texture most protein bars have.
Oh, and there are just 4 net carbs per bar, and you can get a 4 pack of them for $7.59.
8. Premier Protein Chocolate Shakes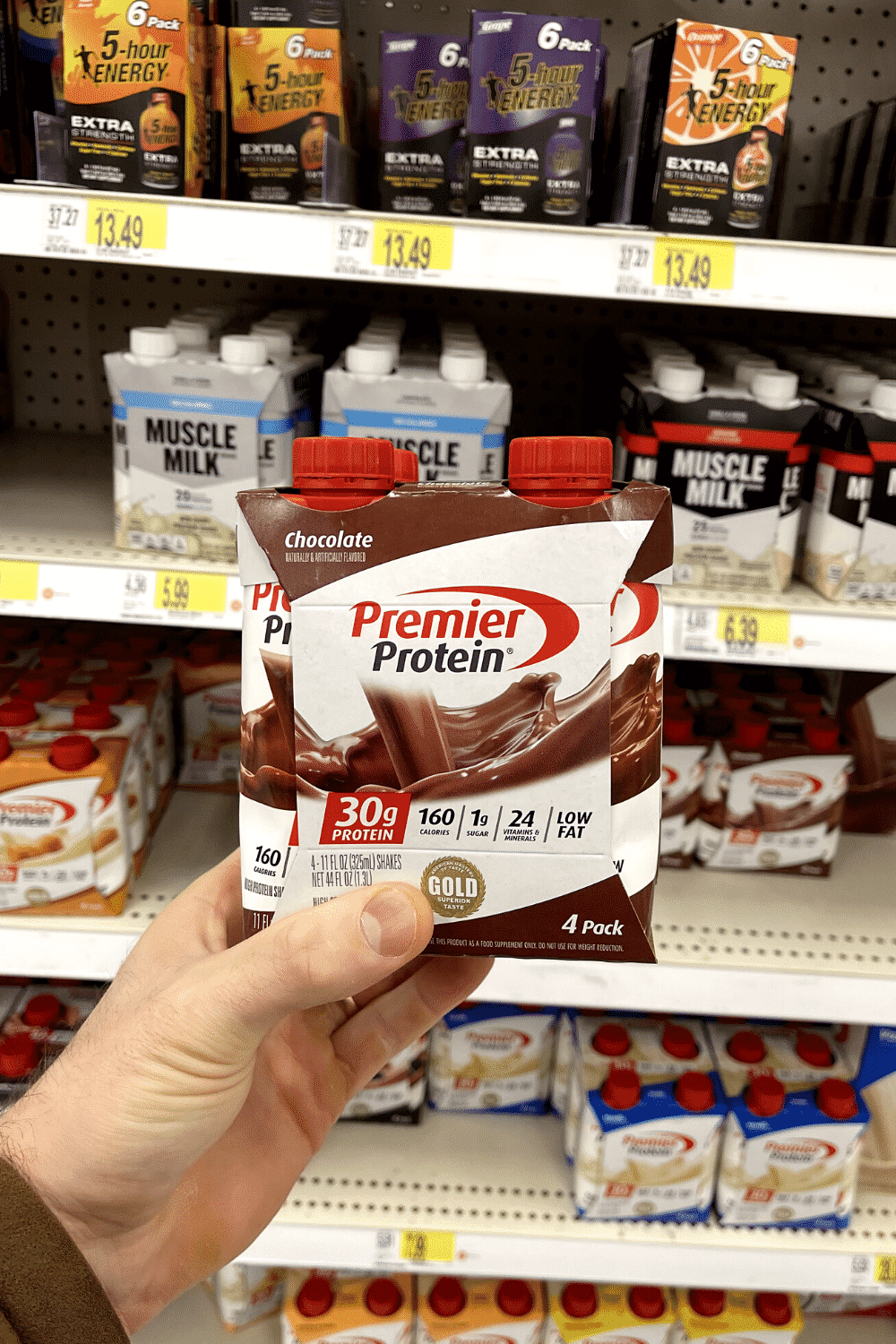 Another protein keto snack is these Premier chocolate protein shakes - an excellent on the go keto snack option, especially if you love chocolate milk.
They honestly taste like chocolate milk - super rare for a protein shake.
These bottles are so convenient to grab and bring with you anywhere. Plus, they're packed with protein, so they keep you full for a longer period of time.
And each shake has just 2 net carbs! You can get 4 of these shakes for $8.00.
9. Atkins protein wafer crisps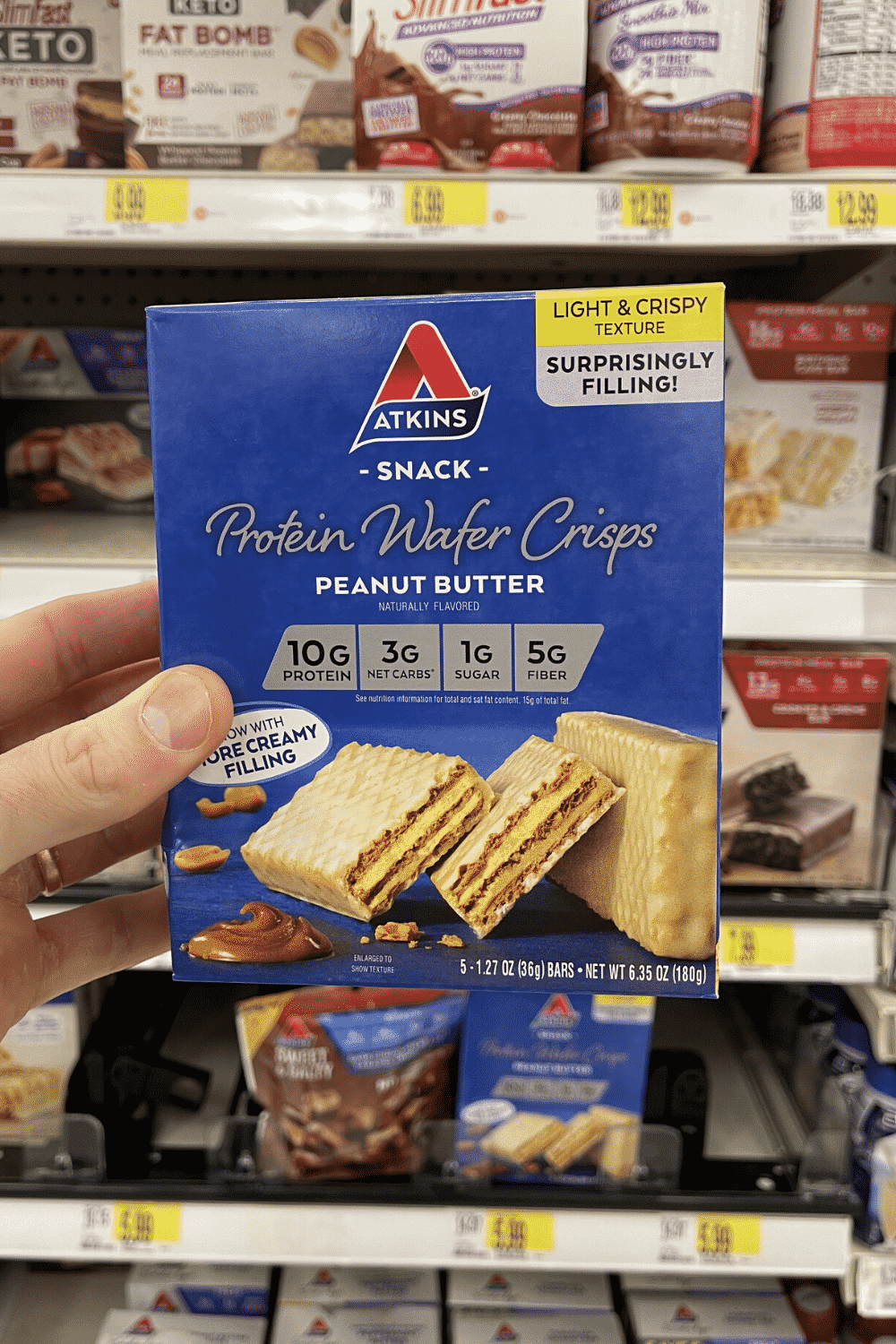 Adding to your protein snack repertoire are these Atkins protein wafer crisps. These are a sweet, light, and satisfyingly crunchy low carb protein snack.
So if you'd prefer more of a wafer-type snack instead of a traditional protein bar, these are the perfect option with only 3 net carbs per crisp.
And you can get a package of 5 for $5.99.
10. True Grill grilled chicken packs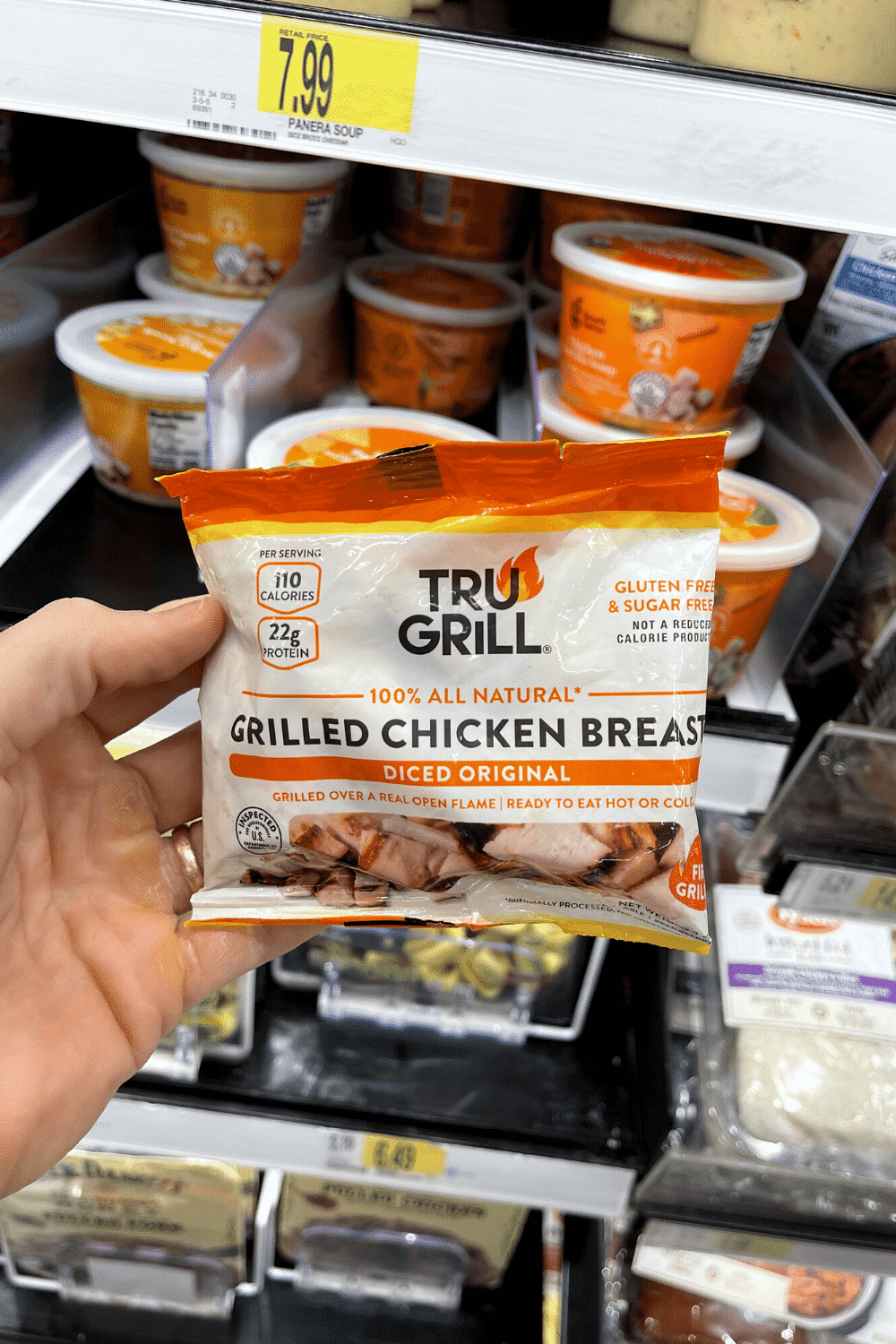 For a snack that is straight protein, I found these True Grill grilled chicken packs.
These packs take having to prepare chicken the night before out of the equation, and I love how convenient these are to just throw into a book bag or lunchbox.
And on top of that, each package has 0 carbs and goes for only $1.99.
11. Applegate Oven Roasted Chicken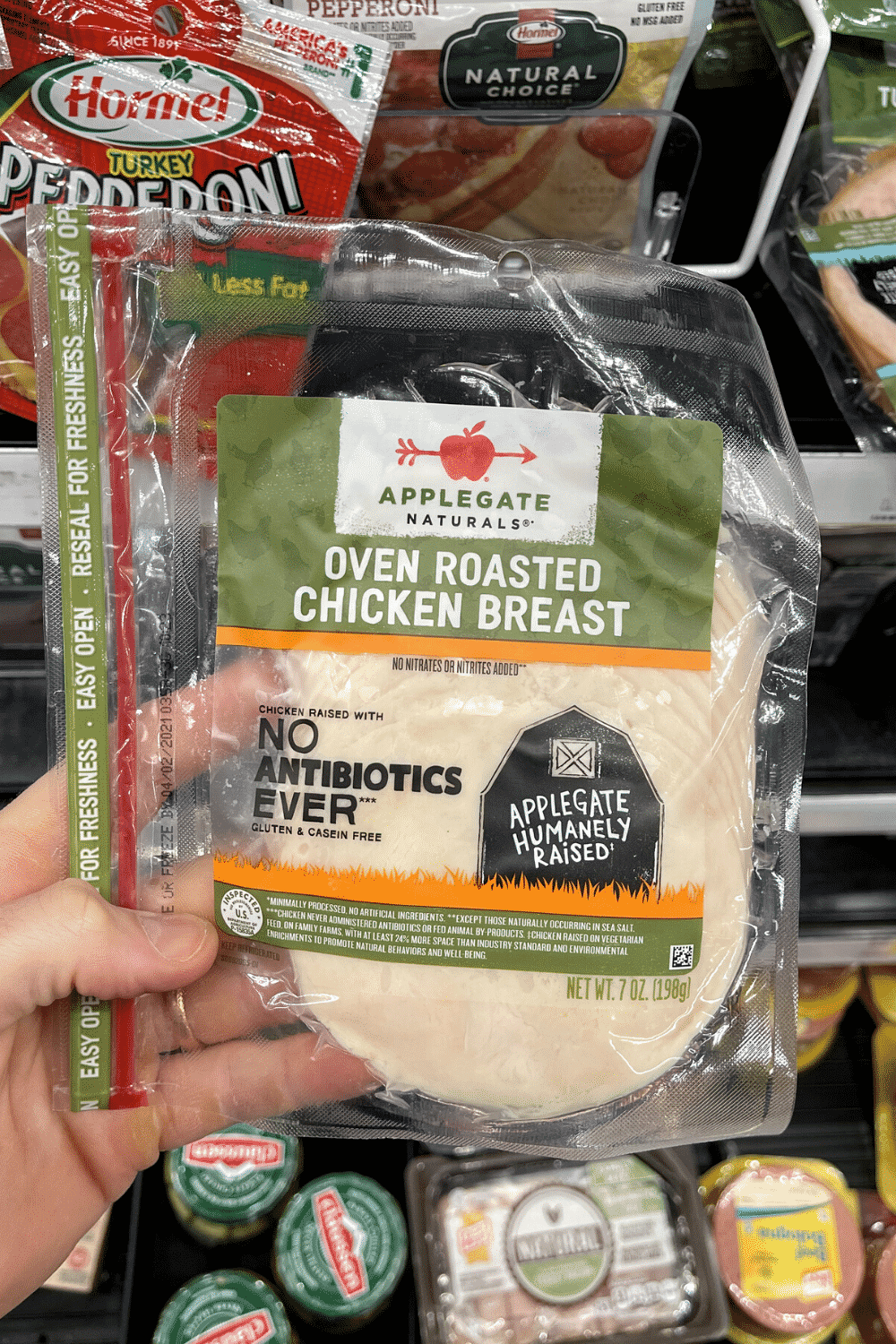 Of course, if you prefer more of a lunch meat snack, Target has a lot of lunch meats to choose from that are low carb and keto friendly.
One of my favorites has to be this Applegate oven roasted chicken. There is no sugar added and it has 0 carbs per serving - and lunchmeat snacks like this are hard to find because they typically have sugar and carbs added to them.
As for the price, you can get this oven roasted chicken for $4.99.
12. Jack links zero sugar beef jerky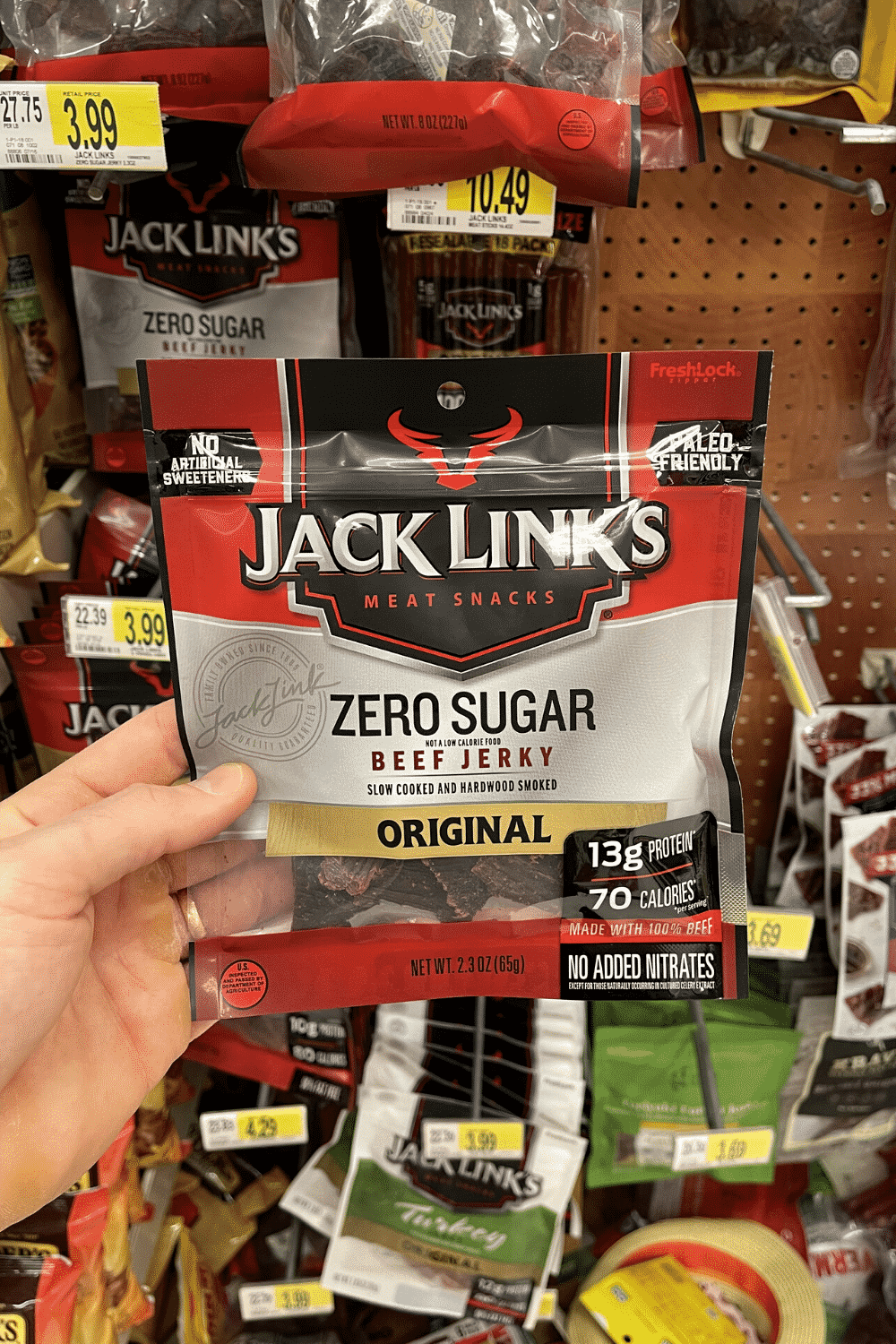 Sticking with meaty keto snacks, I found this zero sugar beef jerky. And beef jerky is an awesome travel snack, on the go snack, eat anywhere anytime kind of keto snack.
I love that this beef jerky is sugar free and only has 1 net carb for the entire bag! Most beef jerky is high in sugar, so this is a great find.
The price is very reasonable too - you can get an entire bag for only $3.99
13. Vermont beef sticks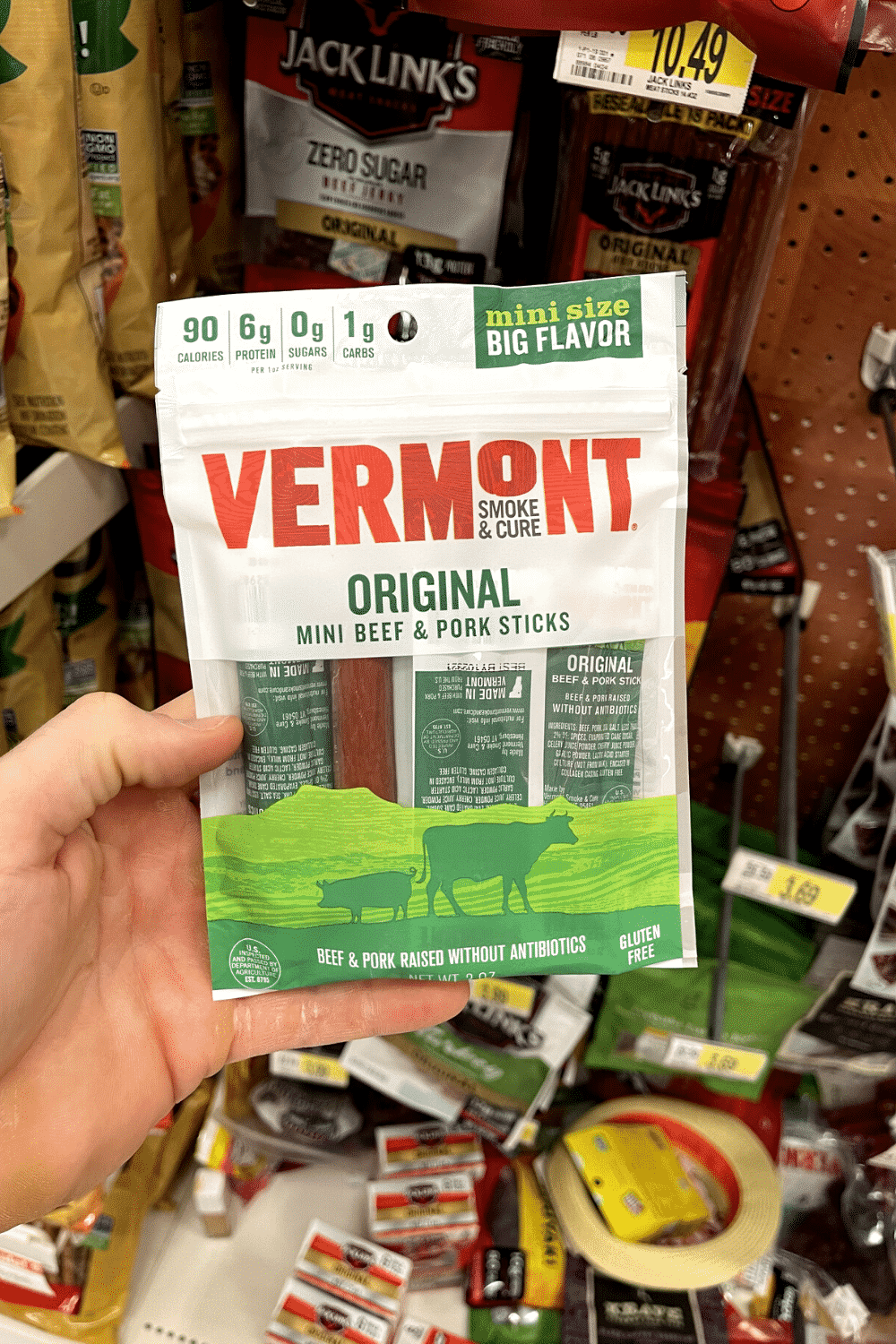 Another great jerky-ish on the go travel keto snack option is these Vermont beef sticks.
Like the jerky above, there is only 1 net carb per serving, and the serving size is two sticks.
And since the sticks are individually wrapped, it makes them convenient to just throw in your bag on your way out of the house.
For the price, they come out to $4.39 for a pack of 6.
14. Dukes Shorty sausages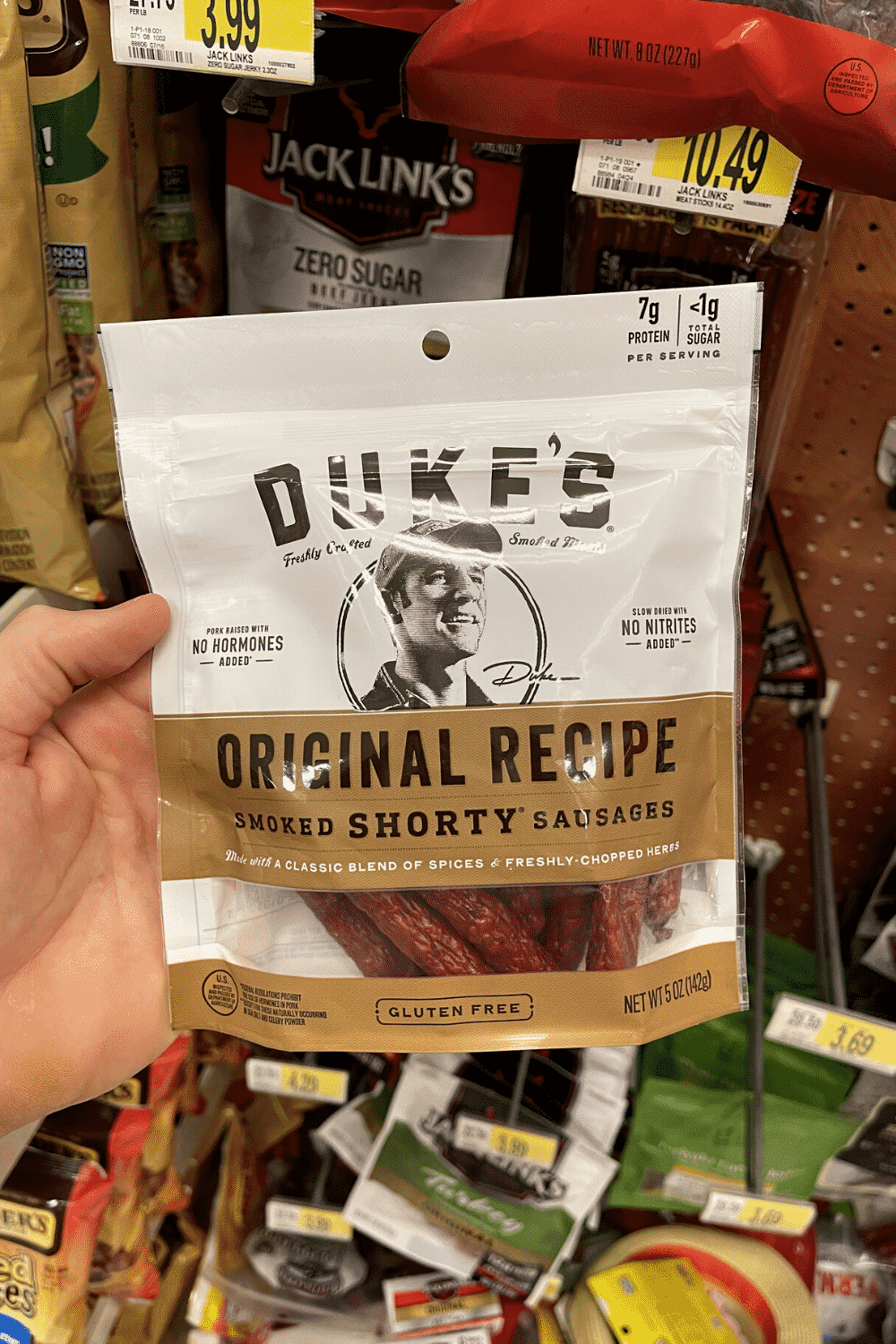 Sticking with the meaty keto snack trend are these Dukes Shorty sausages.
They are another low carb jerky-ish snack with less than 1 carb per serving.
And you can buy a pack at Target for $4.99.
15. Good & gather mozzarella cheese wrapped in prosciutto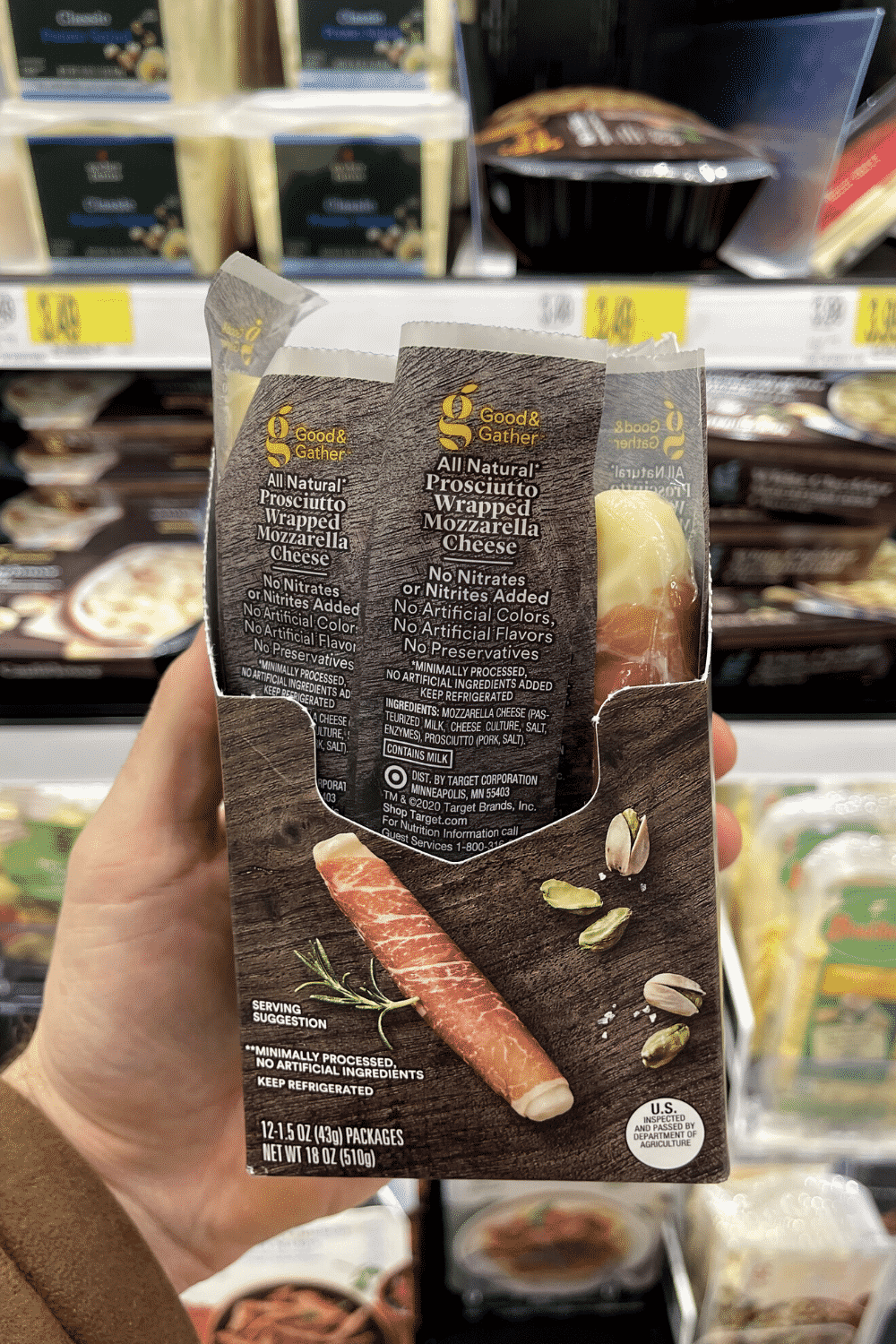 Next on our list, we have a meat and cheese keto snack option.
These mozzarella cheese wrapped in prosciutto are a great little keto snack to add to a lunchbox for work or a book bag for school. Of course, they're great to have on hand at home to hold you over until your next meal.
For $1.59 each and 2 net carbs, these make one heck of a keto snack.
16. Columbus Genoa Prosciutto Paninos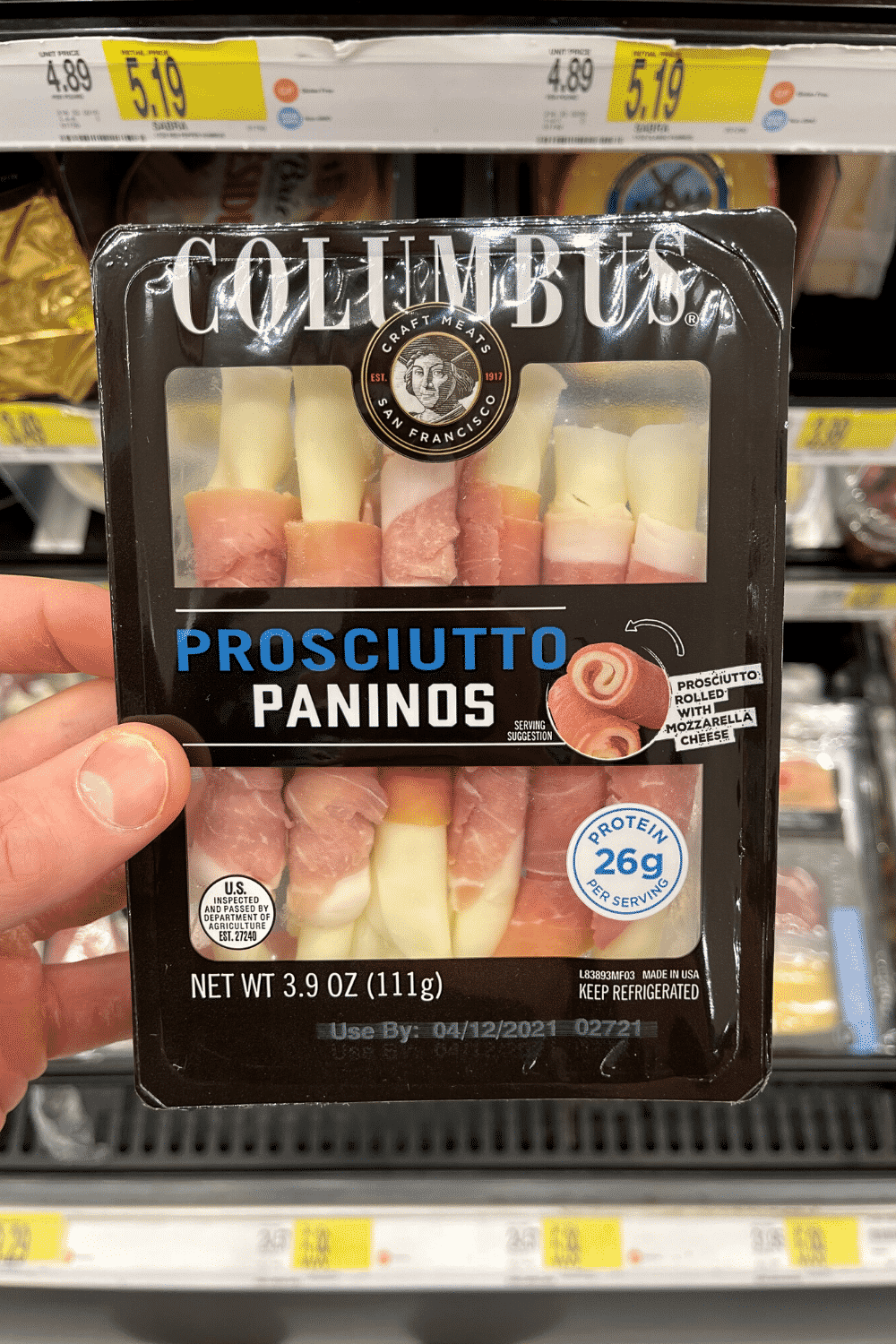 Another meat and cheese snack is this prosciutto rolled with mozzarella cheese.
Like the snack above, these are great for packing with you for lunch or just enjoying at home.
And what I love about these is there is only 1 carb for all six pieces of prosciutto rolled with mozzarella cheese for $5.99.
17. Creminelli Uncured Italian salami with Manchego cheese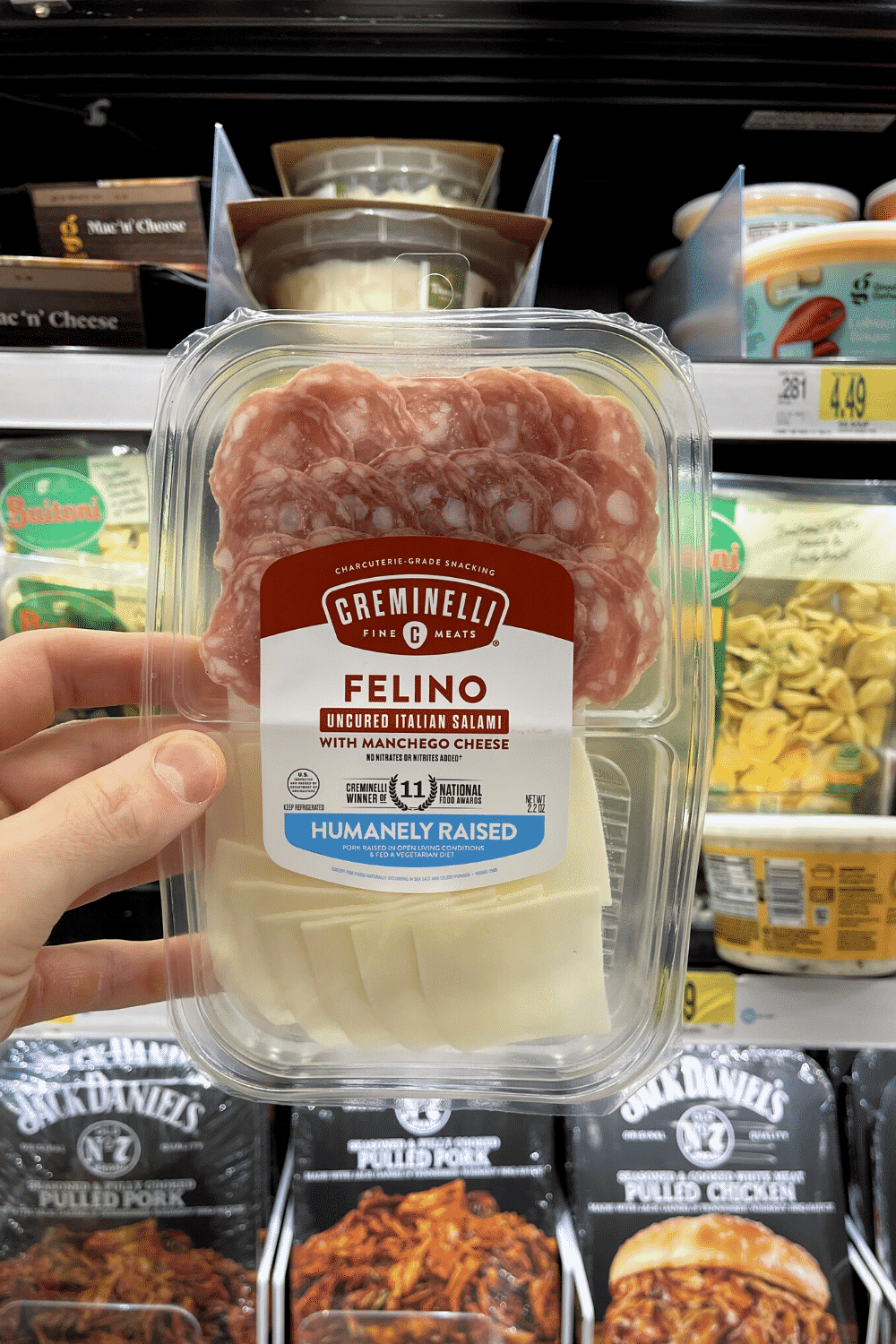 This next meat and cheese snack has a tray with Italian salami and Manchego cheese.
Now, this is a little fancier cheese than the options above, and it is also priced at $5.99.
The entire salami and Manchego cheese tray have 0 carbs, so you know I'm a big fan of this snack.
18. BabyBel mini cheese wheels
Now, if you love snacking on just cheese, these BabyBel mini cheese wheels are for you.
I love the fact that portion control is built right into these little wheels of deliciousness. And since they're so small, you can bring them with you pretty much anywhere and eat them at any time.
But I think the best part about them is that they have 0 carbs per cheese wheel. And these are priced at only $2.99.
19. Greek olive mix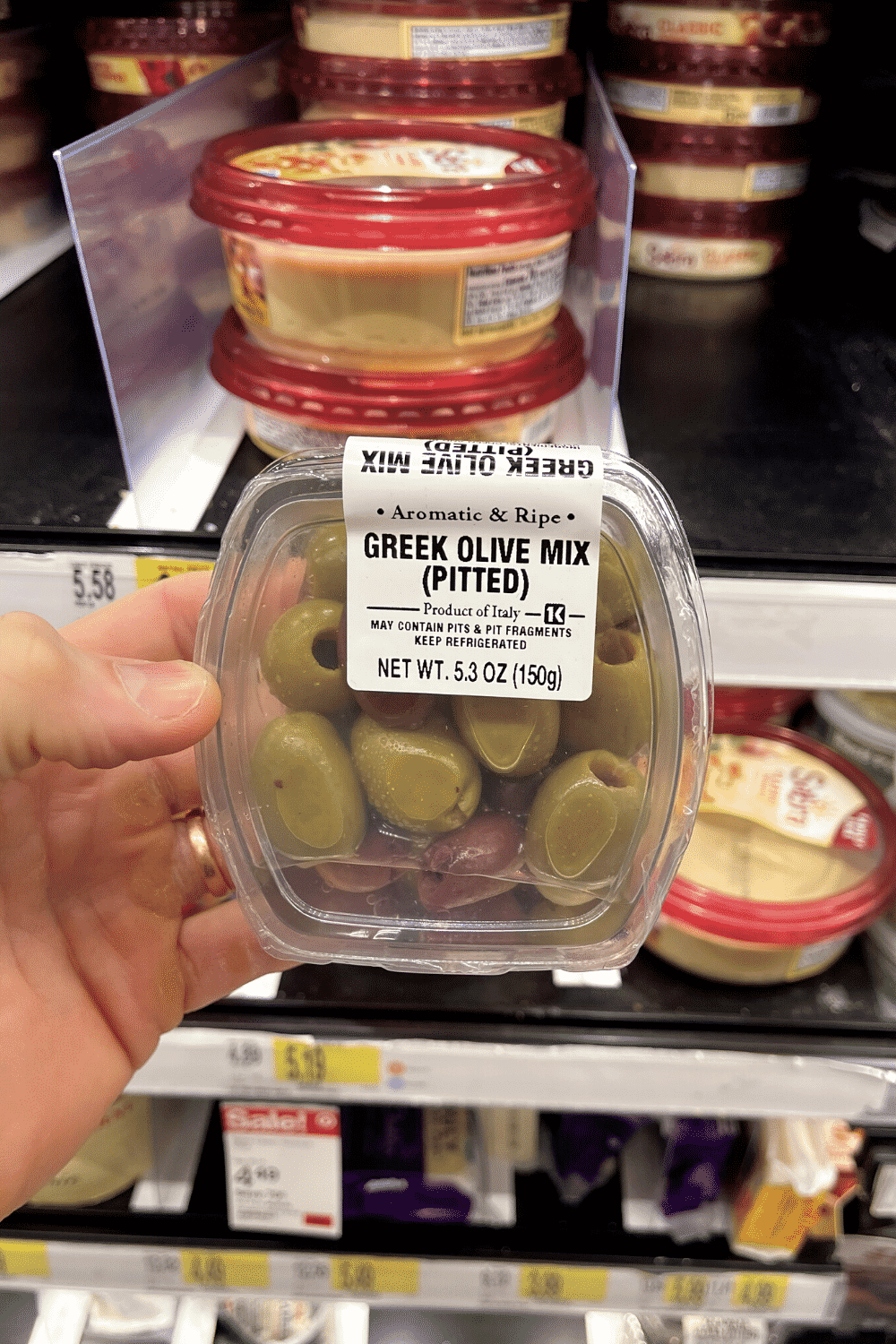 Keeping our keto snacks list rolling is this Greek olive mix. You can find this snack by the dips in the refrigerated section at Target.
This olive mix is perfect if you want a snack you can keep picking at without worrying about calories. And not only is it low in calories, but it also has nearly 0 carbs per serving.
As far as the price goes, you can get this Greek olive mix for only $1.49.
20. Charcuterie Bites Tray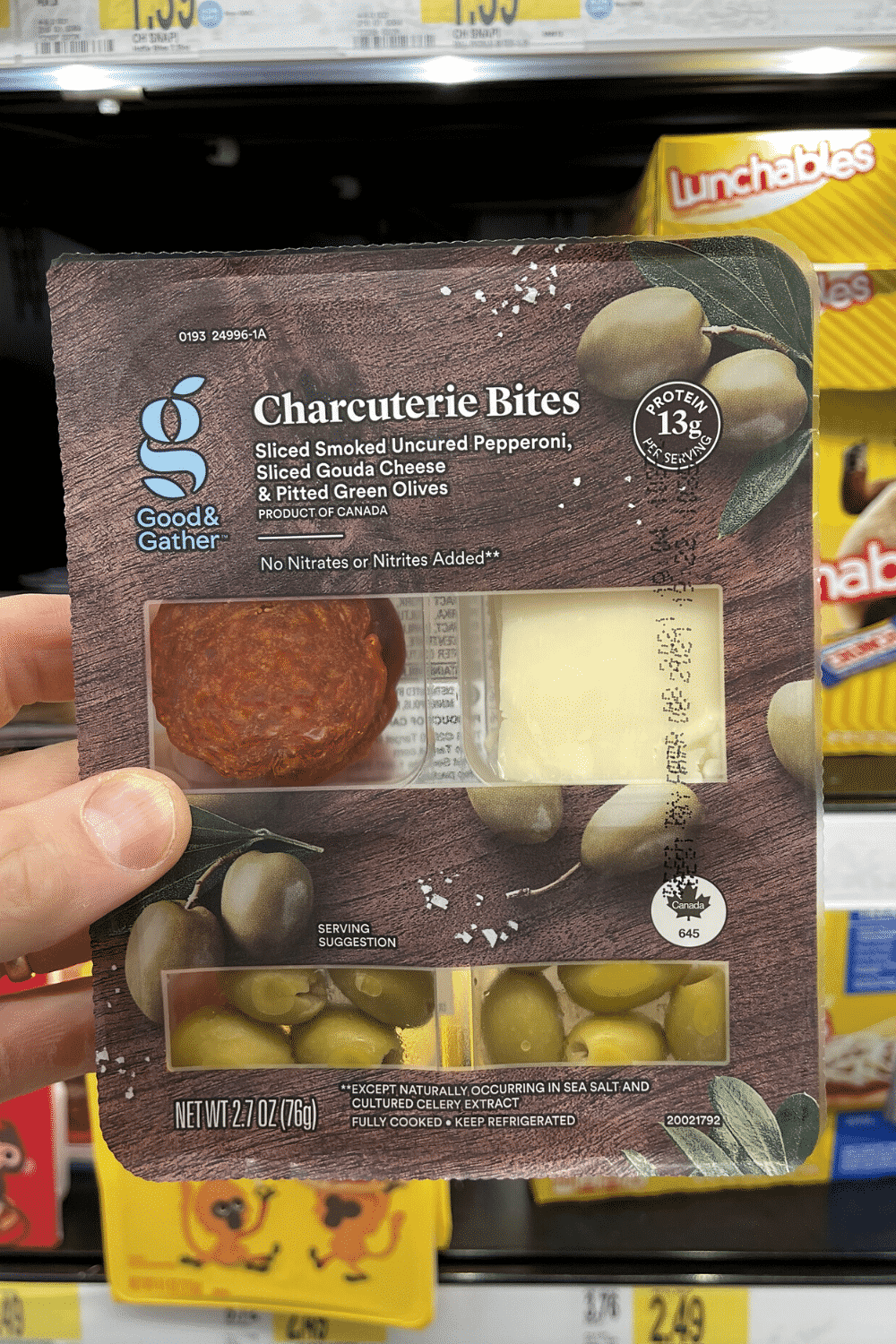 Put together the theme of the last few keto snacks, and you've got yourself this charcuterie bites tray.
This charcuterie tray consists of pepperoni, gouda cheese, and olives - it is basically an adult lunchable, and an ideal hold you over type snack.
Plus, the entire tray has 1 net cab and is just $2.49 - a really good price for everything you get.
21. Good & Gather Salami, cheese, and almond tray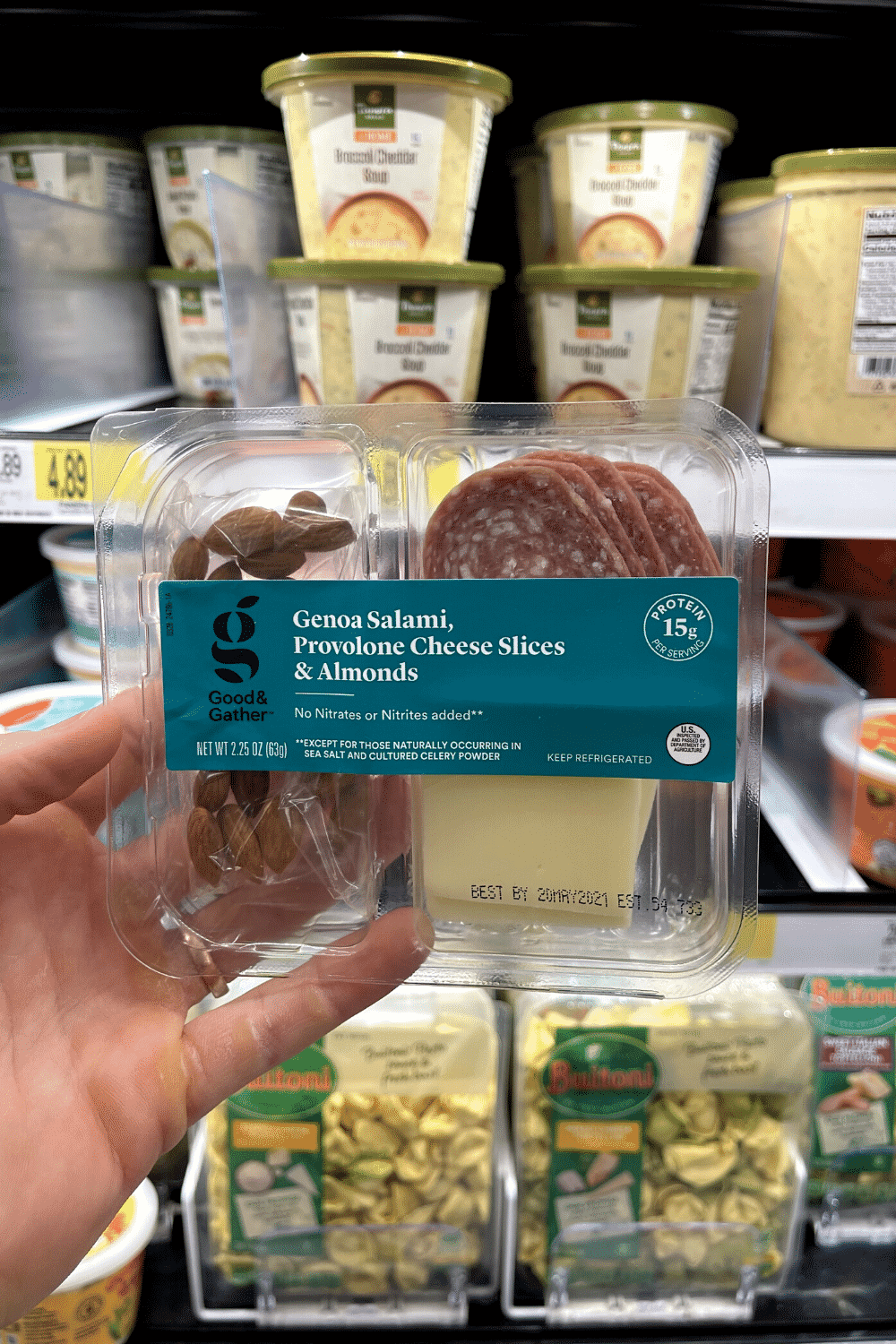 Another adult lunchable type snack is this salami, cheese, and almond tray.
So it's basically the same thing as the charcuterie tray above but with almonds instead of olives.
And this tray has 2 net carbs and also goes for $2.49.
22. Blue Diamond Salt & vinegar bold almonds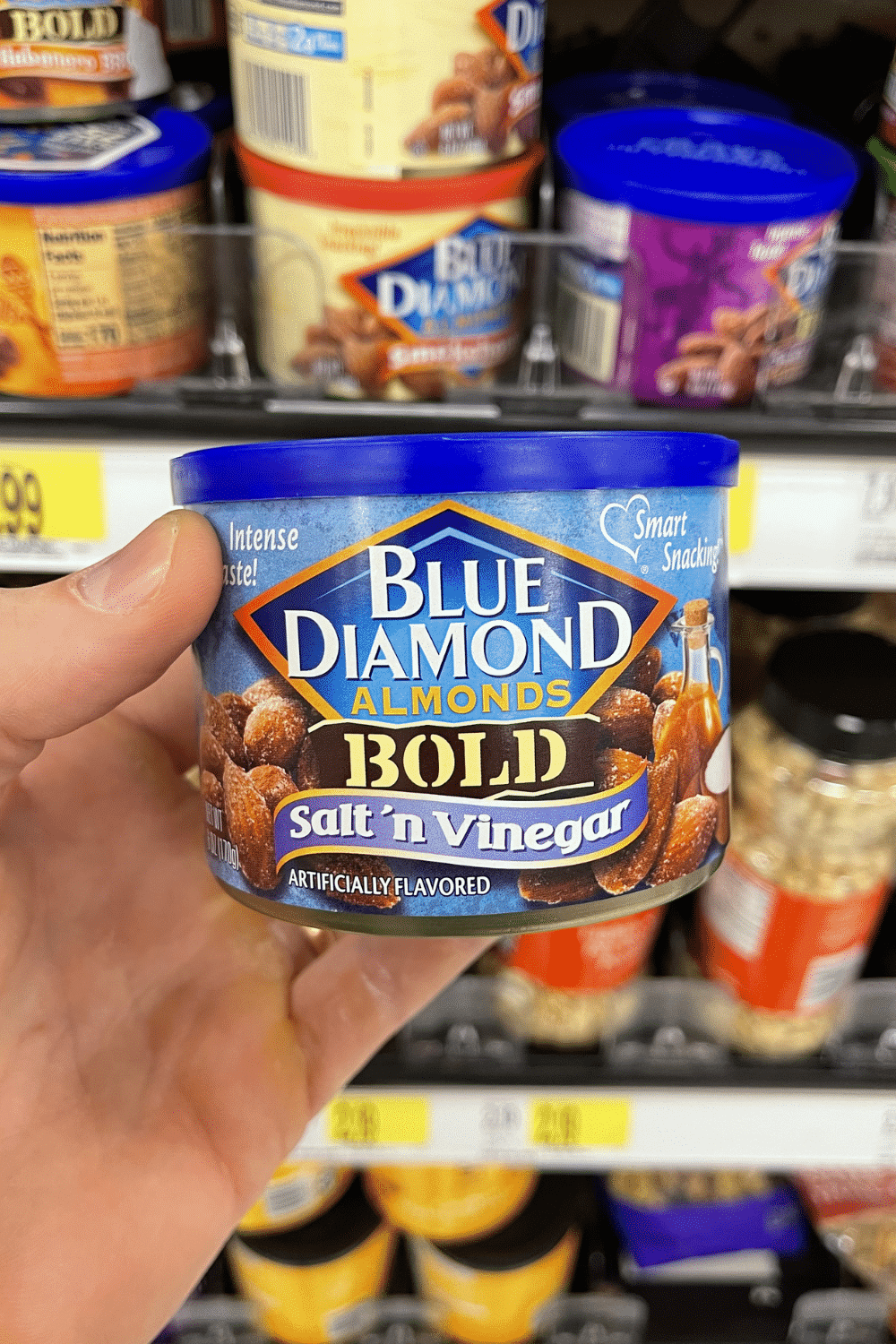 Speaking of almonds, our next snack is these salt and vinegar almonds from Blue Diamond.
And I absolutely love these - it's like salt and vinegar chips in nut form. But you get all the saltiness and crunchiness for just 2 net carbs per serving.
You can get these salt and vinegar almonds at Target for $2.99.
23. Raw Mixed Nut Snack Packs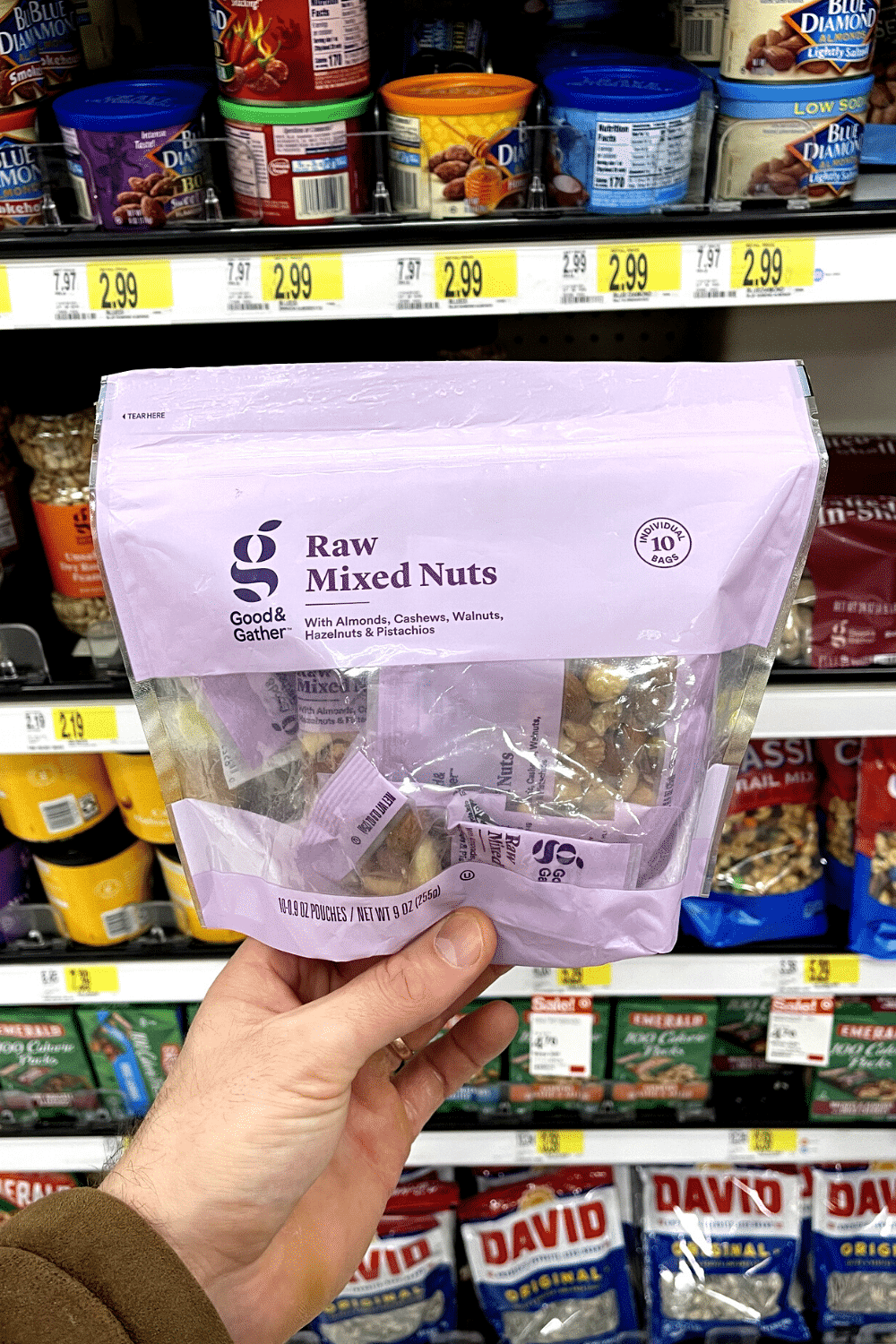 Another keto snack containing almonds is this raw nut mix, consisting of almonds, cashews, walnuts, and pistachios.
This nut mix is another awesome portion control snack since it comes in individual snack size baggies. And since this is a raw nut mix, meaning nothing is added to the nuts, each bag has just 4 net carbs.
You can get 10 of these snack sized baggies for a pretty reasonable price for nuts at $7.29.
24. Good & gather sea salt dry roasted macadamia nuts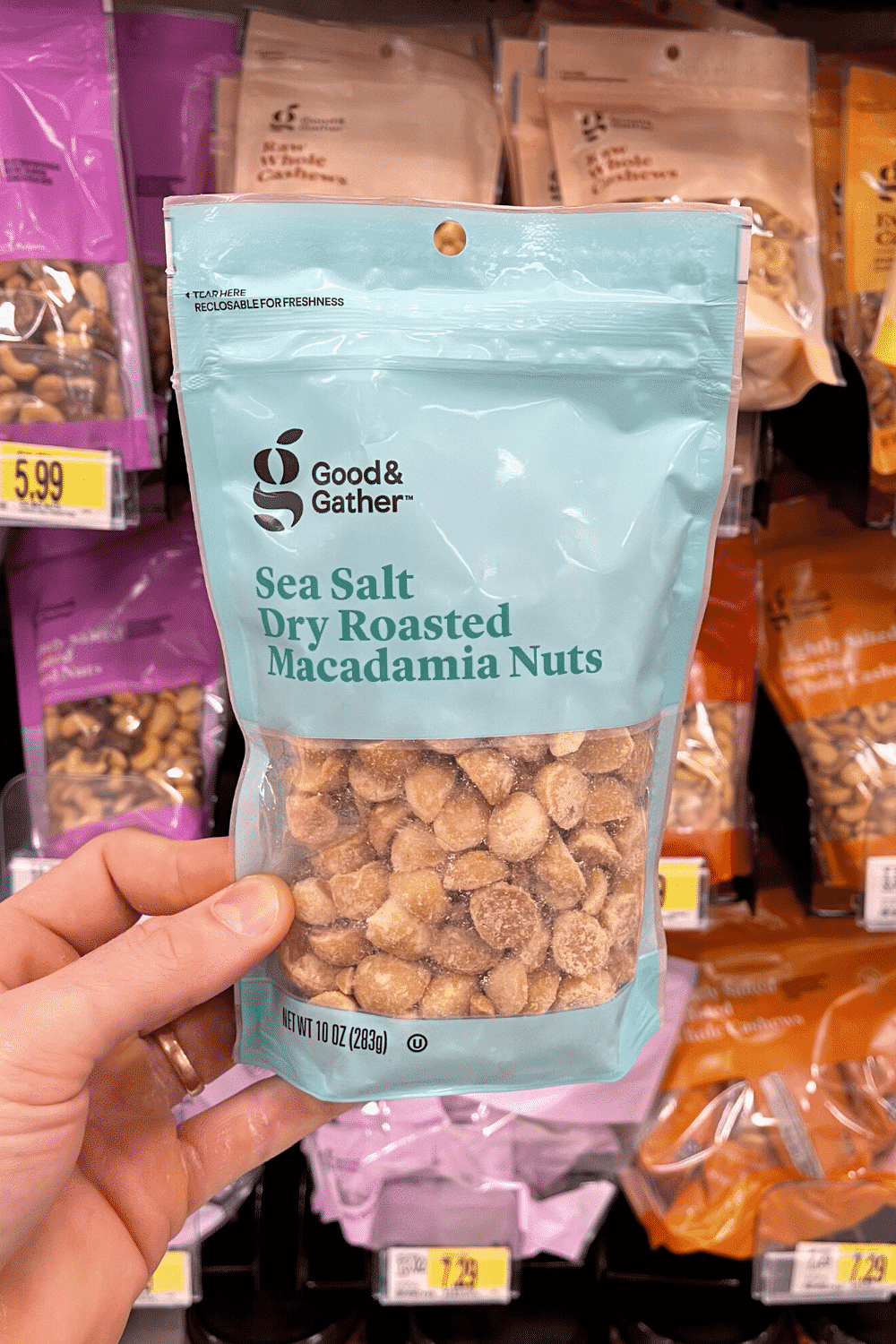 Now, one of the best nuts you can snack on is macadamia nuts because they have the lowest carb count out of any nut. Each serving of macadamia nuts has just 2 net carbs.
And they are also a nut that is high in fat, so they're pretty much THE keto nut.
But all those great aspects of these macadamia nuts come at a price - this 10 oz. bag is $10.99.
25. Starkist Tuna Pouch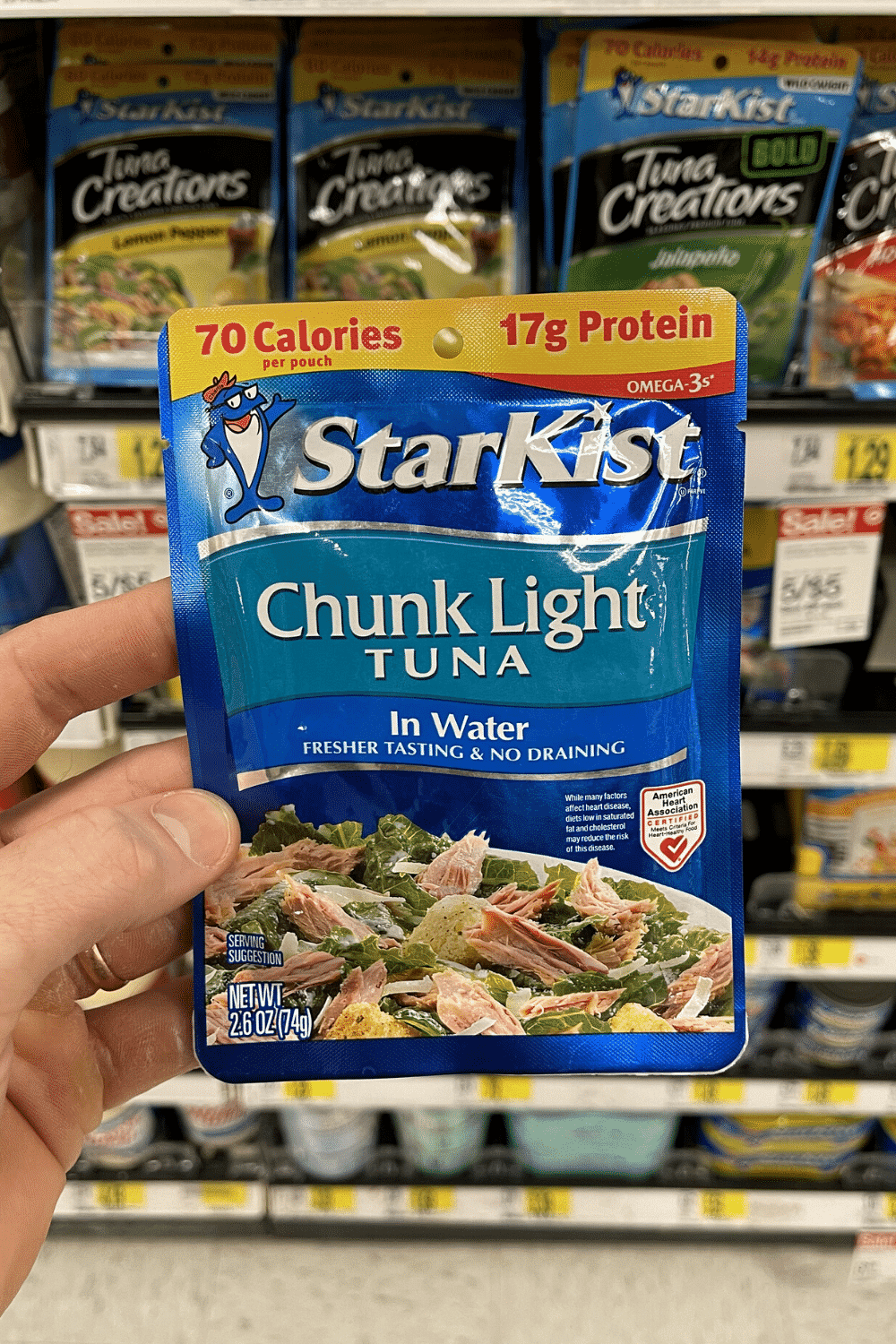 Changing up the pace of our keto snacks is this Starkist tuna pouch.
If you like tuna, this snack is great for when you're on the go because there's no can opener necessary. You can just tear the pouch, eat, and go.
Plus, each pouch has 0 carbs and is a pretty great price at only $1.00.
26. 2 good yogurt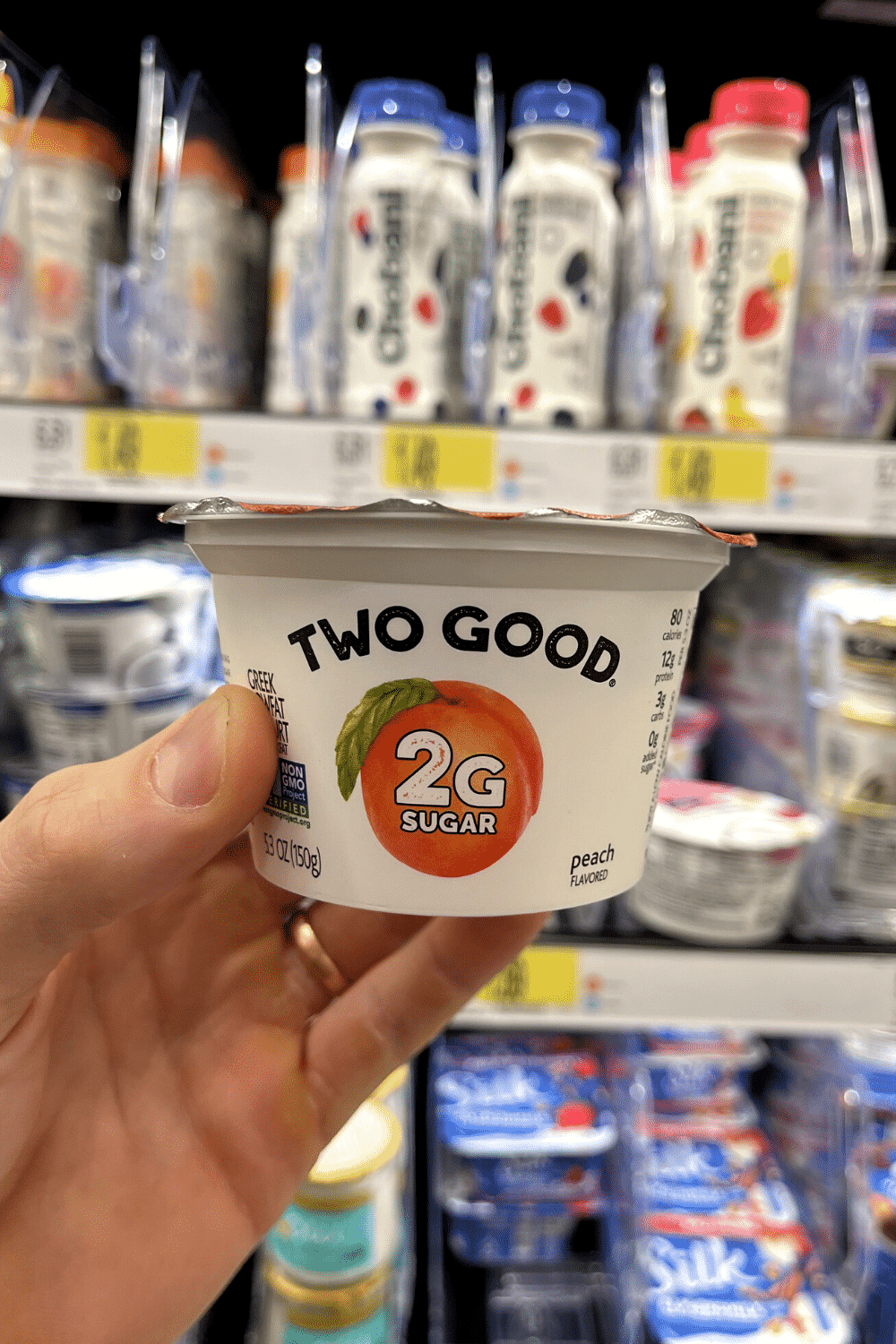 I love eating yogurt for a cold and refreshing snack, but it is hard to find yogurt that isn't pretty much all sugar.
Well, this yogurt by 2 good ends that struggle - it comes in a variety of different flavors, and they all have just 2g of sugar and 3g of carbs total!
And each cup of yogurt is just $1.29 at Target, a standard price for any yogurt.
27. Good Culture Whole Milk Cottage Cheese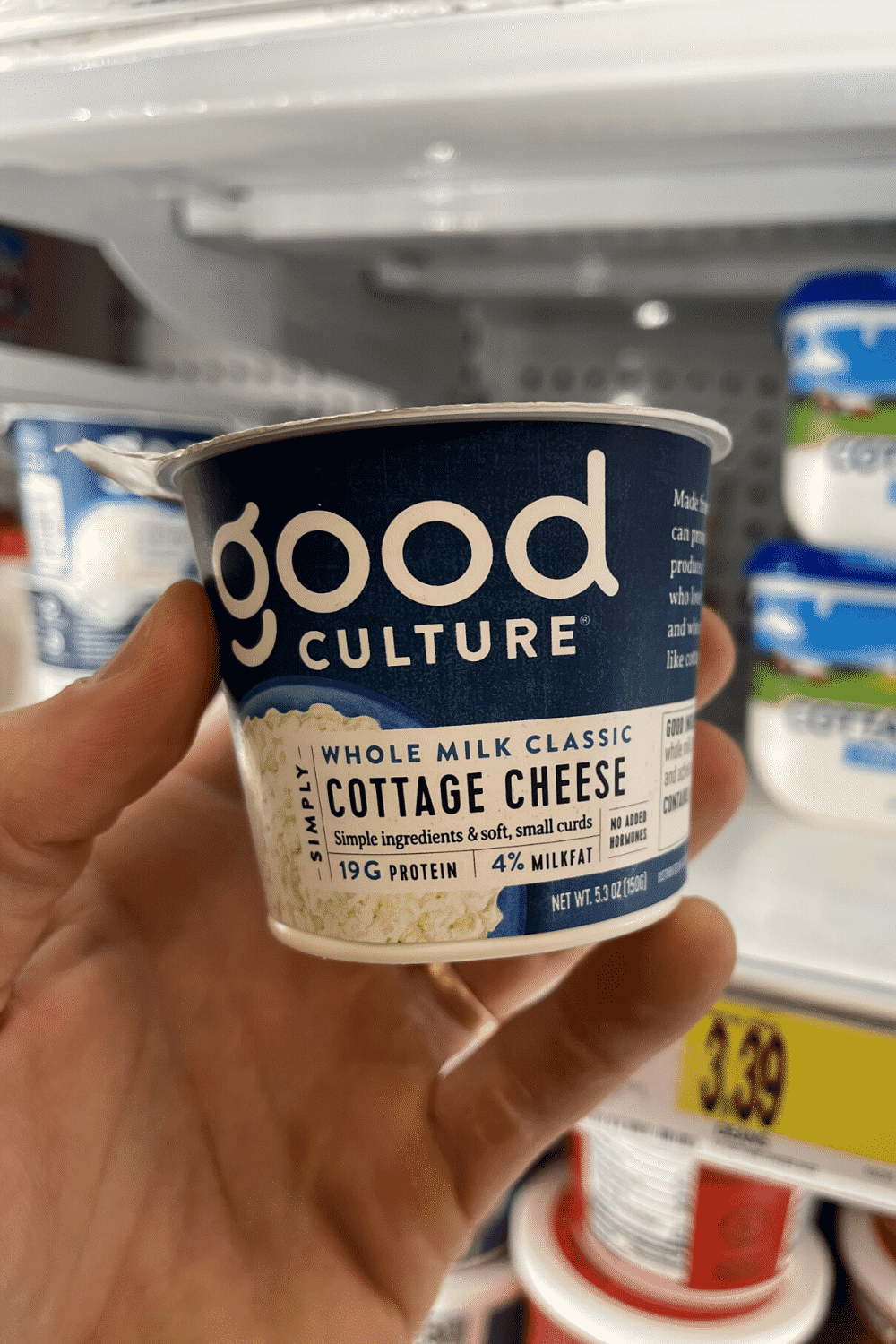 Cottage cheese is a pretty versatile snack, and you can put it on a ton of foods. So this makes more of an at-home keto snack option.
My favorite way to eat cottage cheese is by dipping these keto crackers in it.
This cottage cheese is loaded with nutrients and has only 3 net carbs per container, and it costs $1.49.
28. REBEL Birthday Cake Ice cream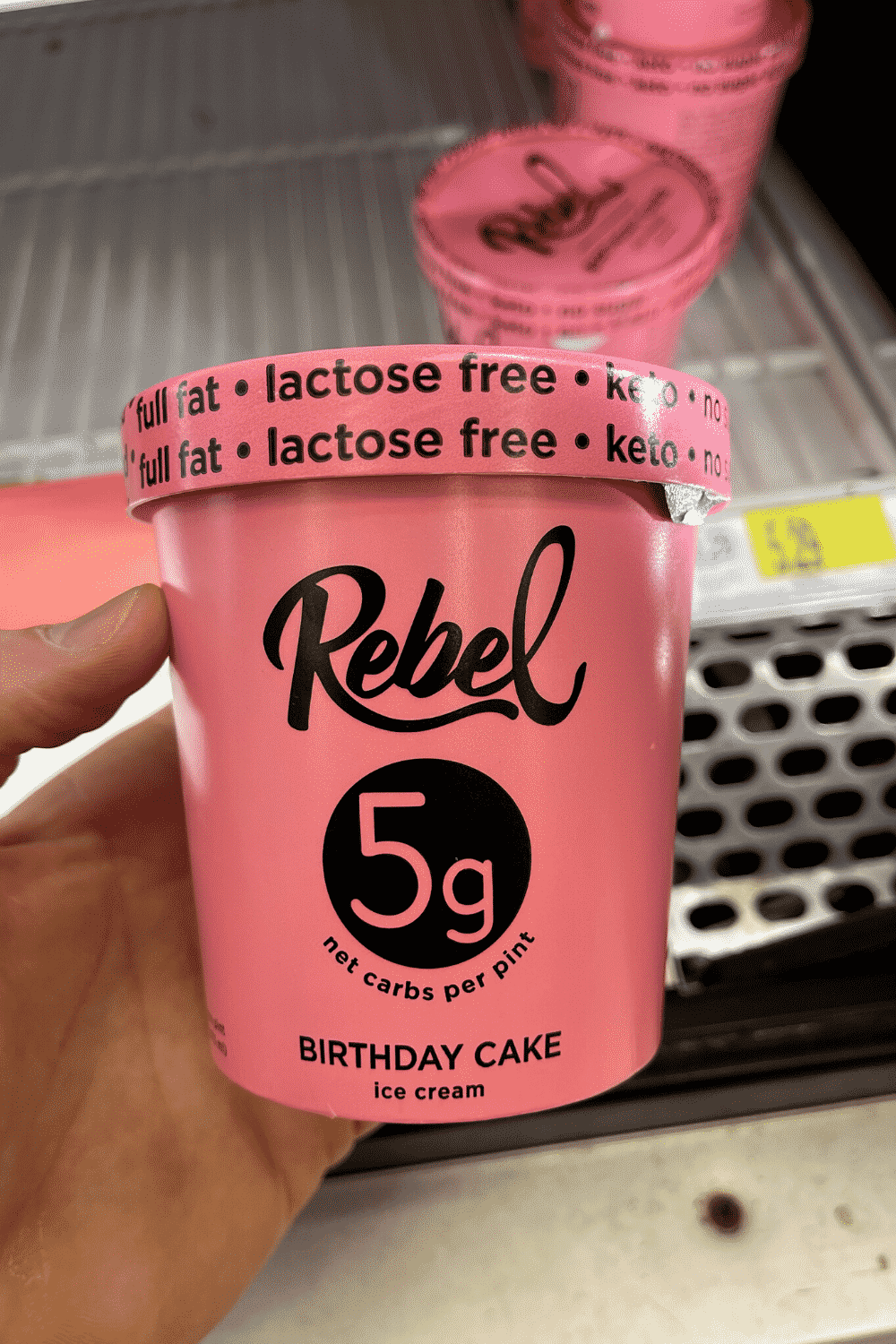 Of course, you can't have a keto snacks list without some ice cream. And there a ton of keto Target ice cream options.
One of my favorites is this Rebel pint of birthday cake flavored ice cream. This is so creamy and tastes just like "regular" ice cream, but with only 5 net carbs for the entire pint.
But this is definitely not the cheapest ice cream, coming out to $5.49 per pint.
If you want to save money and snack on some delicious ice cream, you can make my keto mint chocolate chip ice cream or strawberry keto ice cream. Both tastes like store bought ice cream and have under 3 net carbs.
29. Halo top Mini Pops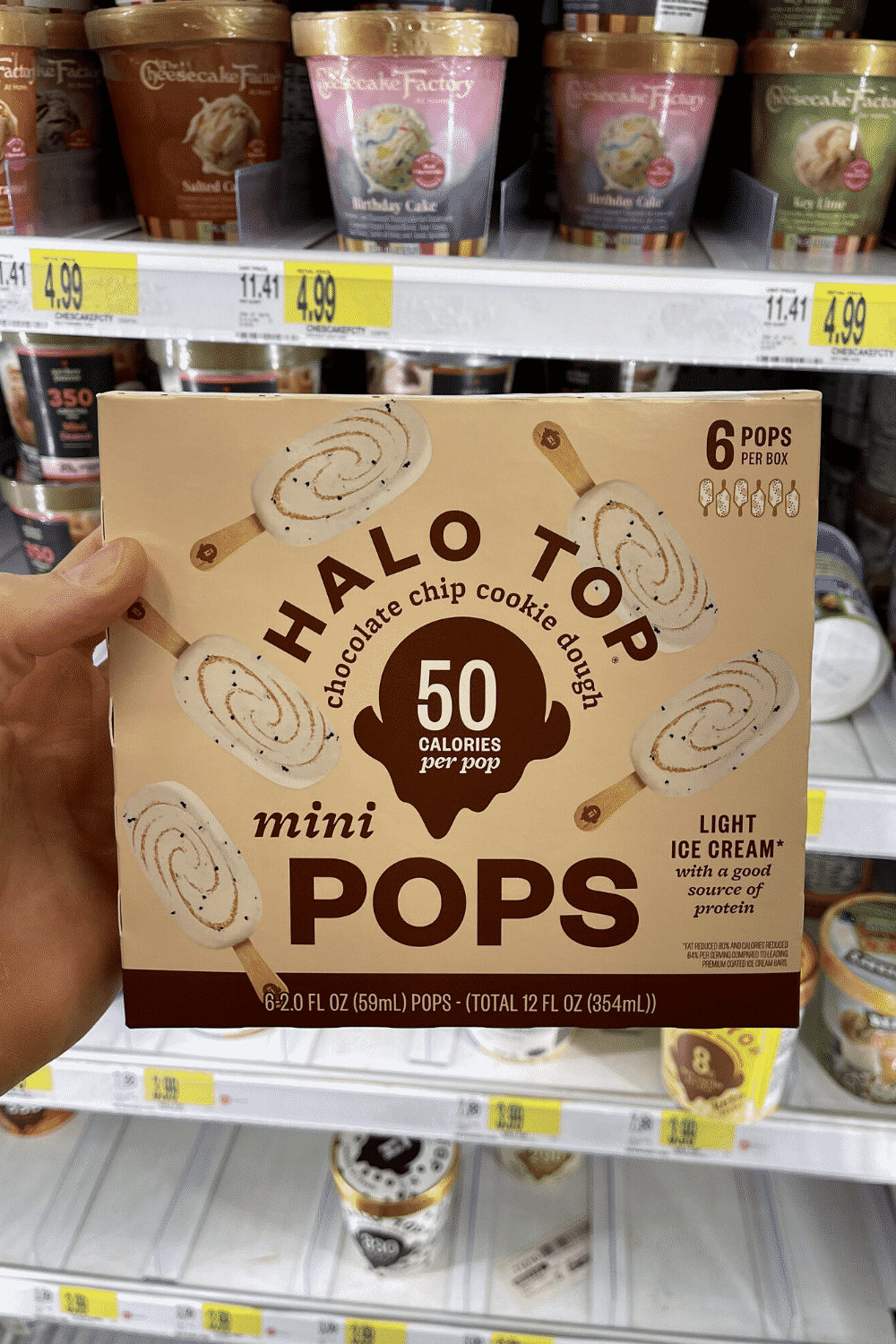 Finishing off our keto Target snacks is another one of my favorite low carb ice cream snacks.
These cookie dough flavored mini pops are an excellent portion control ice cream snack. There are only 50 calories in an entire ice cream pop, and each one has just 4 net carbs.
They are also kind of pricey though at $5.49 for the box.
30. Roasted Seaweed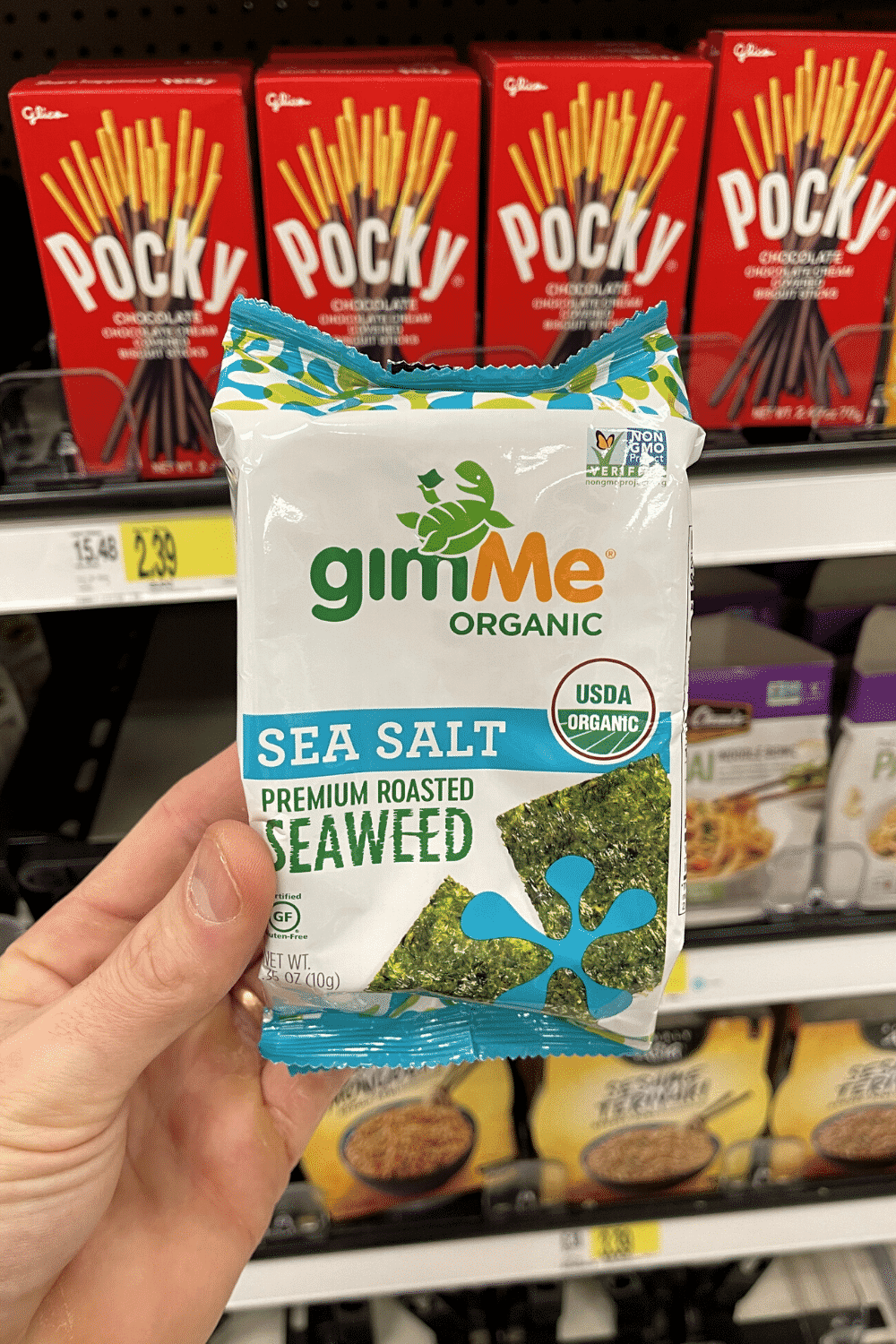 These Gimme Organic Roasted Seaweed Snacks are another 0 NET CARB keto snack idea that's worth considering picking up at Target.
Each package is just $1.99, and fits perfectly in every low carb lunch box!
Click here to pick some up.
31. Quest Cookies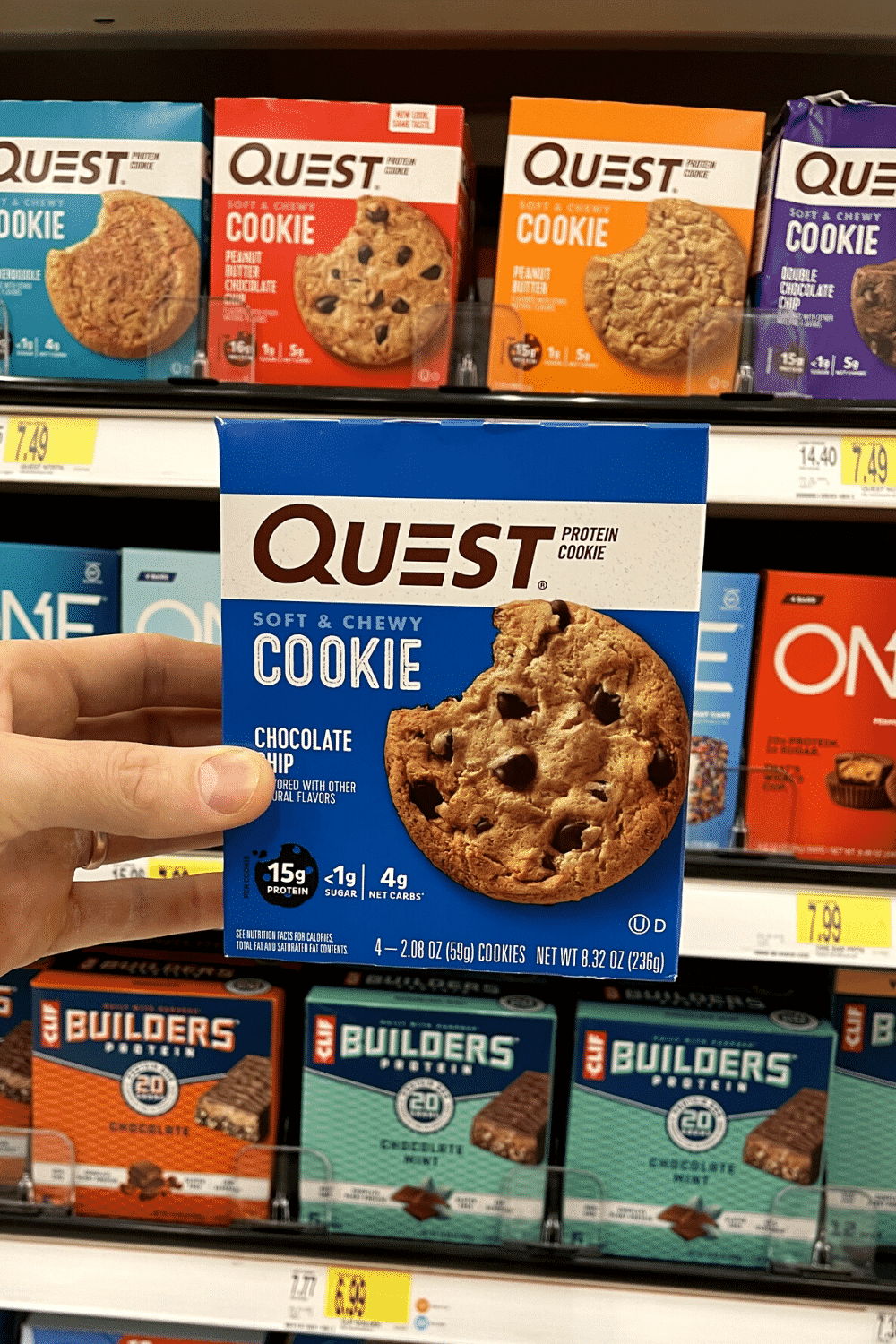 If you're looking for a great ready-to-eat keto cookie option these ones by Quest are pretty darn tasty!
Not to mention, each cookie has just 4 NET CARBS!
A box of 4 at Target costs $7.59 at Target, and you can pick some up by clicking here.
32. Three Bridges Egg Bites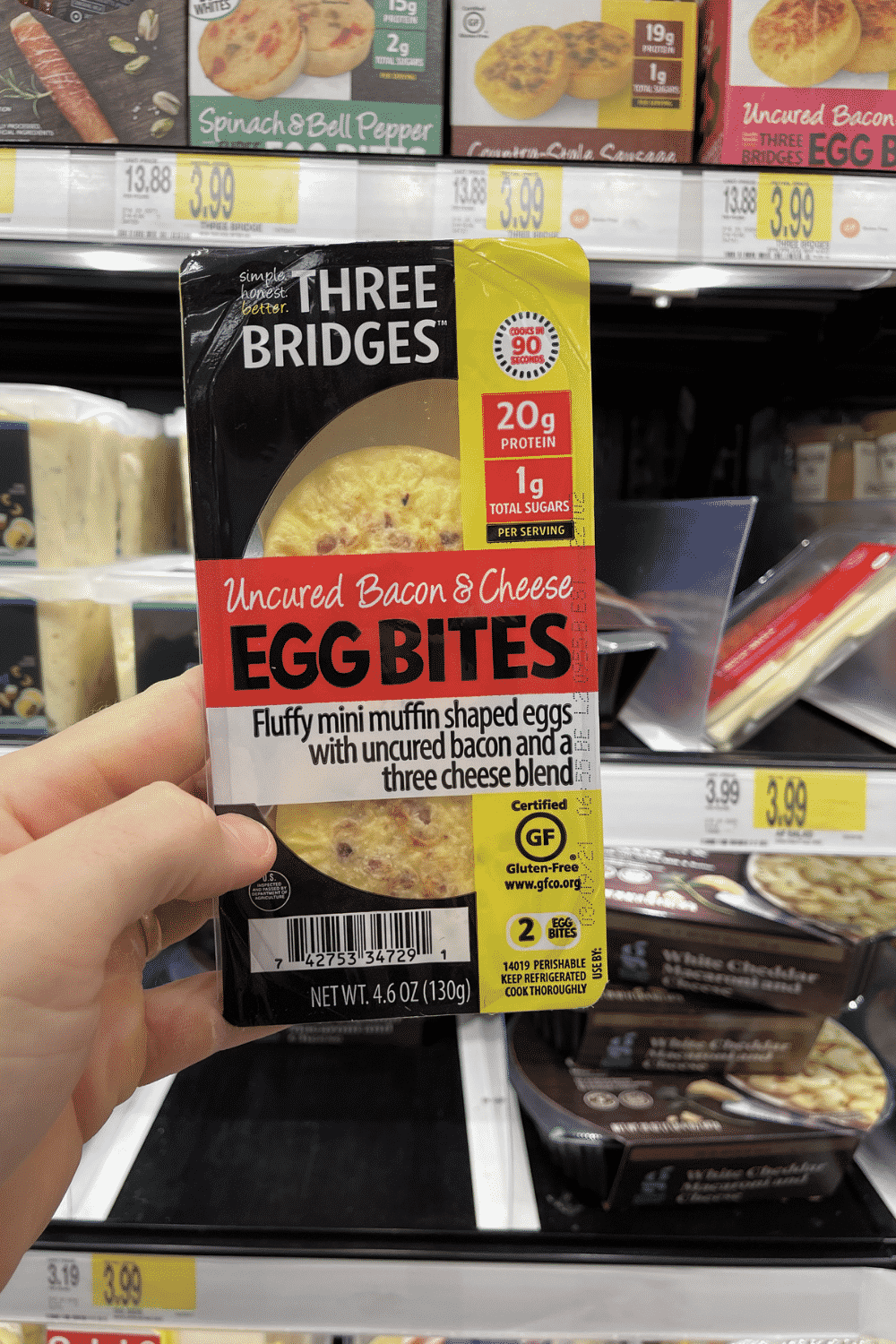 These Uncured Bacon And Cheese Egg Bites by Three Bridges are a perfect on the go keto breakfast option.
Each package has just 3g of carbs, and 20 grams of protein.
And as far as the price goes on them, they cost $3.99.
33. Emerald Almond Snack Packs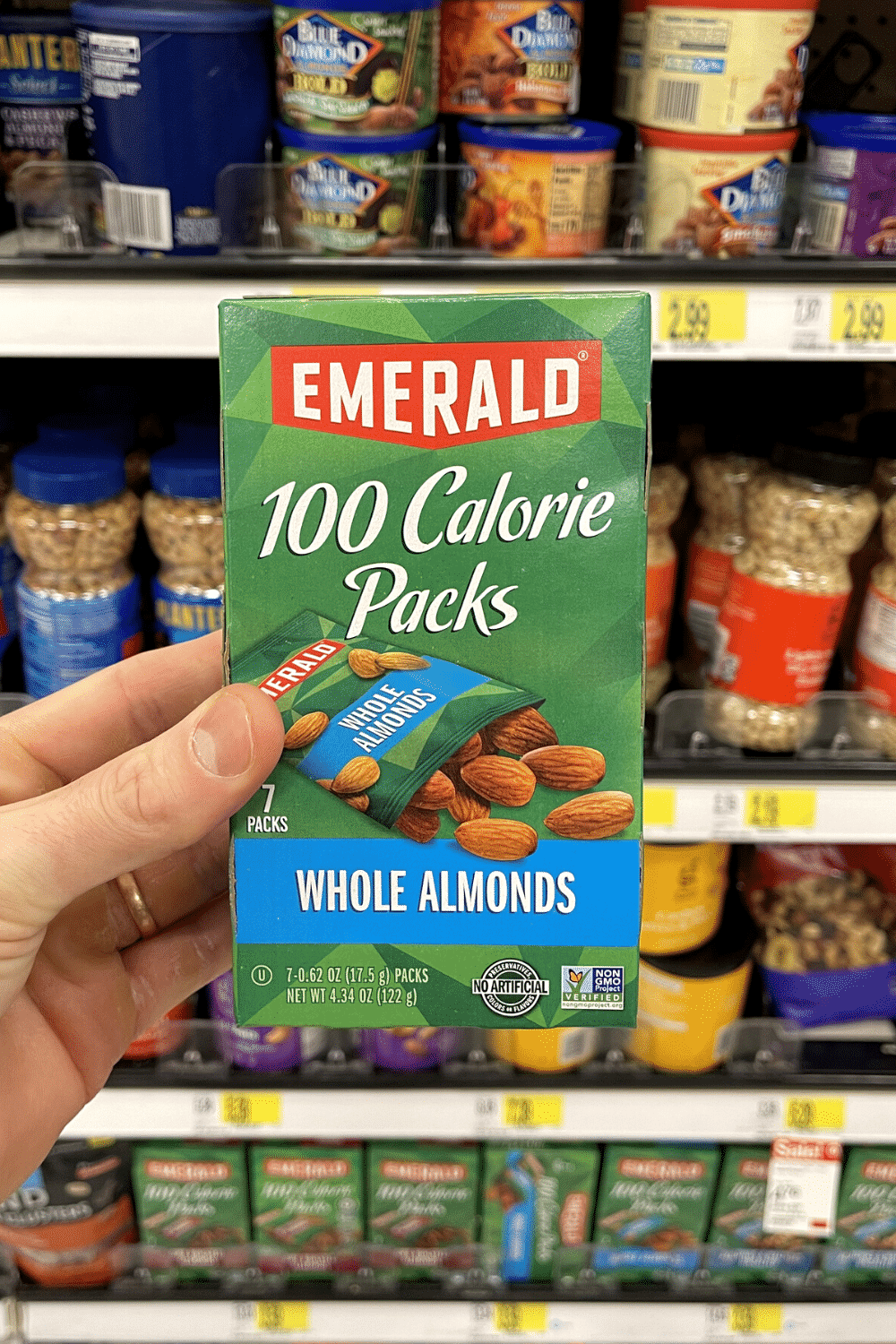 These 100 calorie almond snack packs by Emerald are a fantastic portion-controlled keto snack option you'll find at Target.
Each one of these packs has just 2 net carbs, and the entire box costs just $3.49.
Click here to pick some up.
34. Good & Gather String Cheese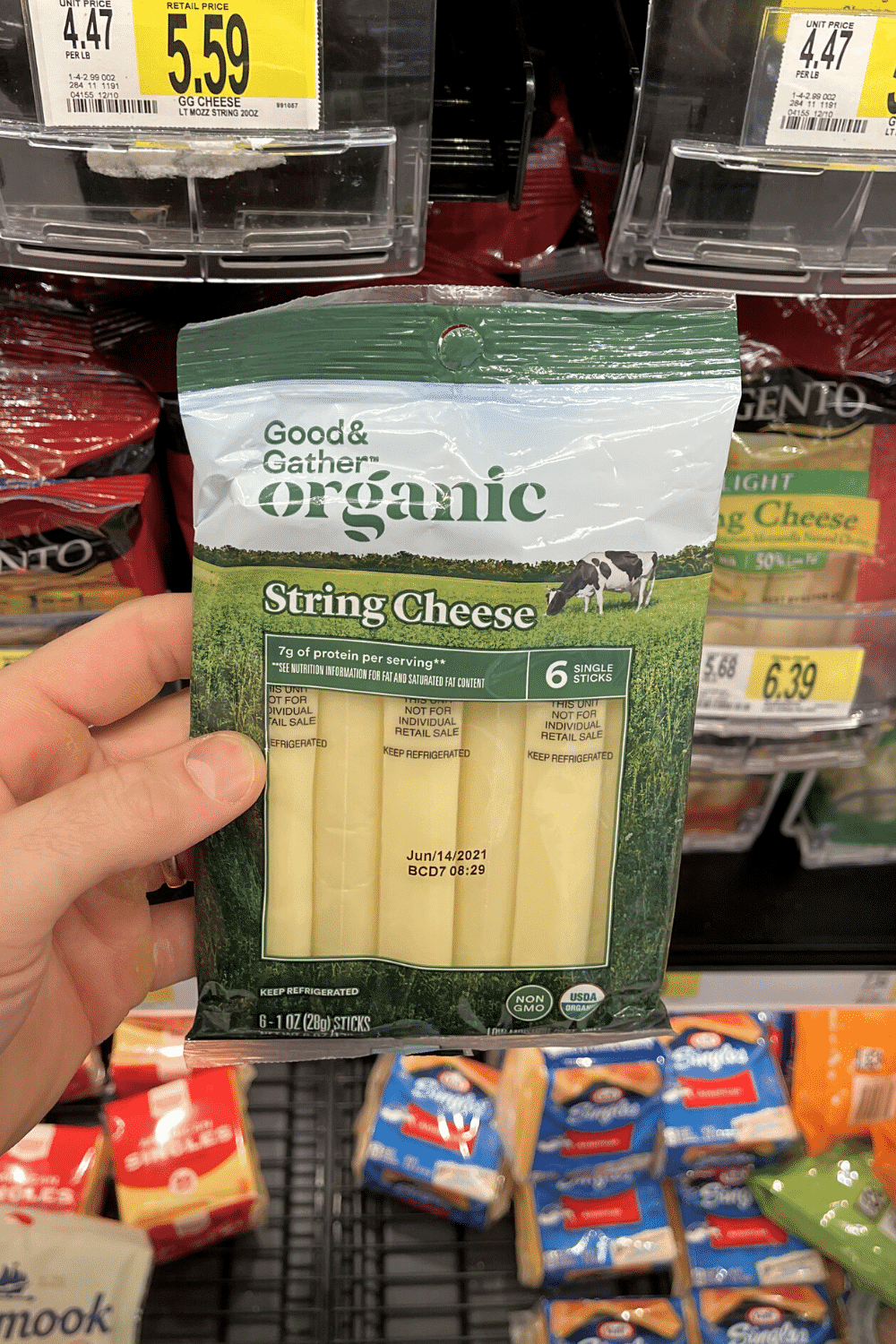 This string cheese by Good and Gather is the lowest carb string cheese you'll find at Target.
In fact, this string cheese isn't just low carb, it's NO CARB.
Yep, you read that right, this is a 0 carb keto snack!
That said, you can find these at Target for $3.99.
35. Atkins Peanut Butter Fudge Crisp Bars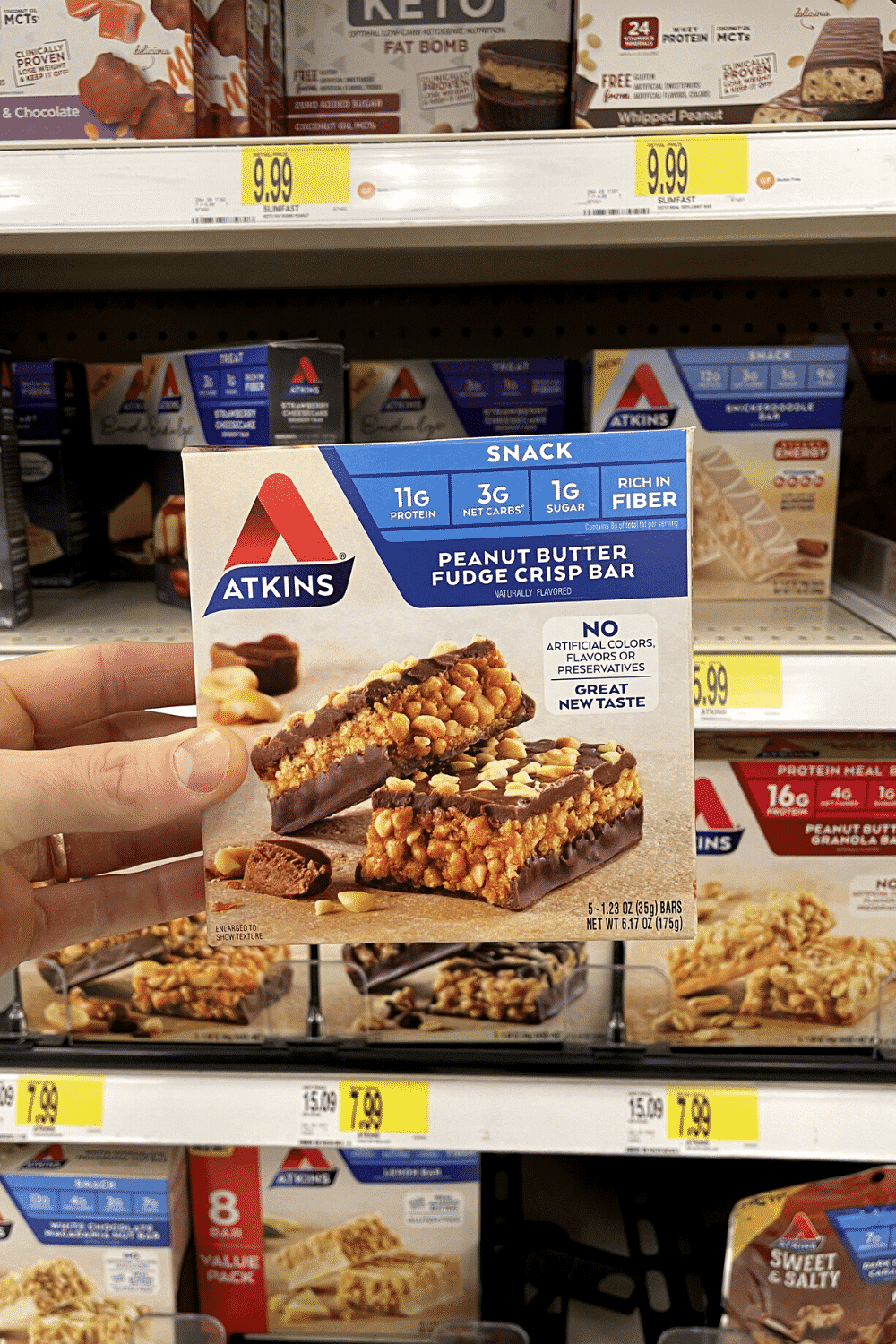 These Peanut Butter Fudge Crisp Bars by Atkins make a pretty tasty low-carb keto treat to have every now and then.
Each bar has just 3 net carbs, and a box costs $5.99.
36. HeluvaGood French Onion Dip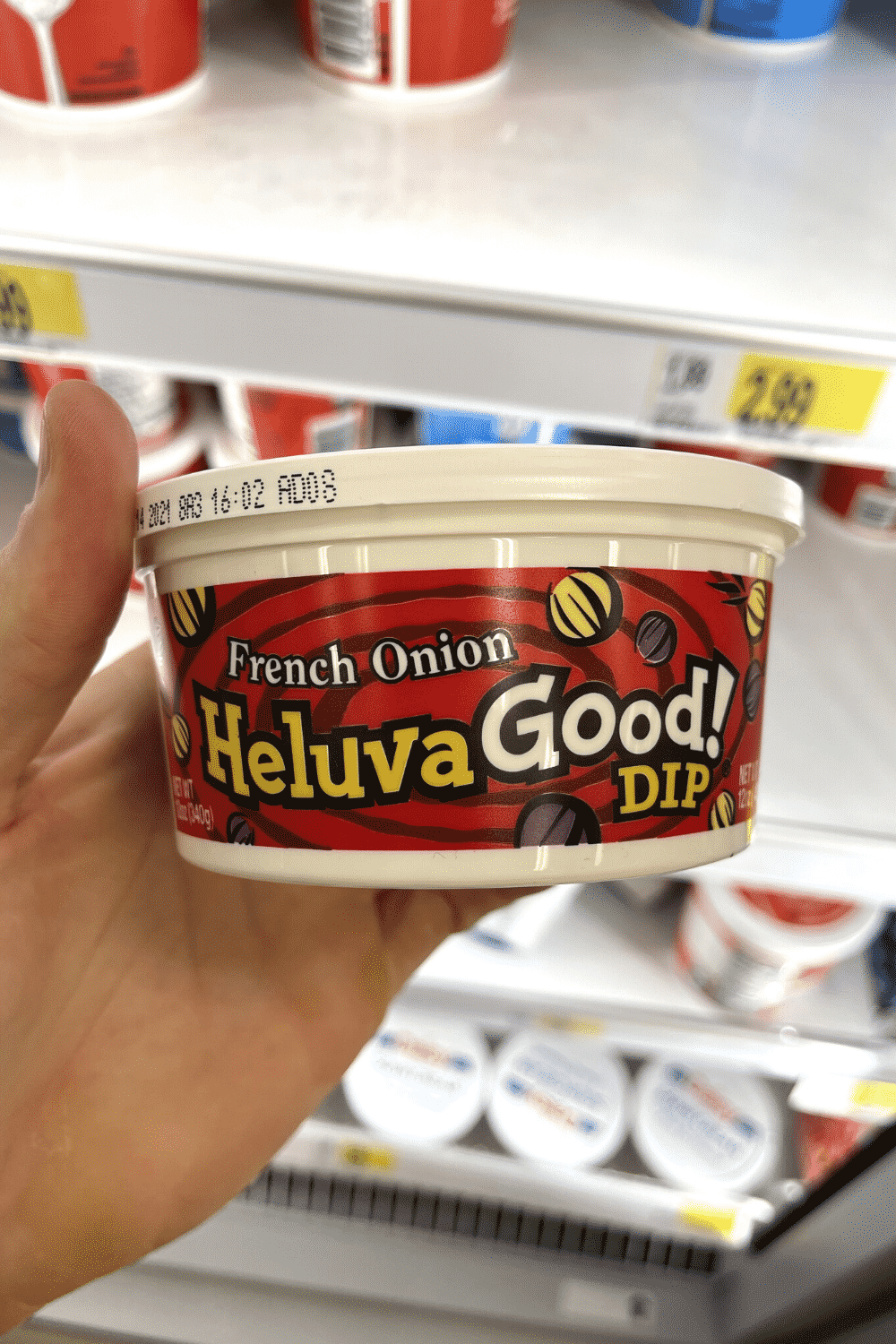 This French onion dip by Helluvagood can make snacking on veggies a bit more delicious.
Each serving has just 2 carbs, and the container costs $2.19.
37. Good & Gather Guacamole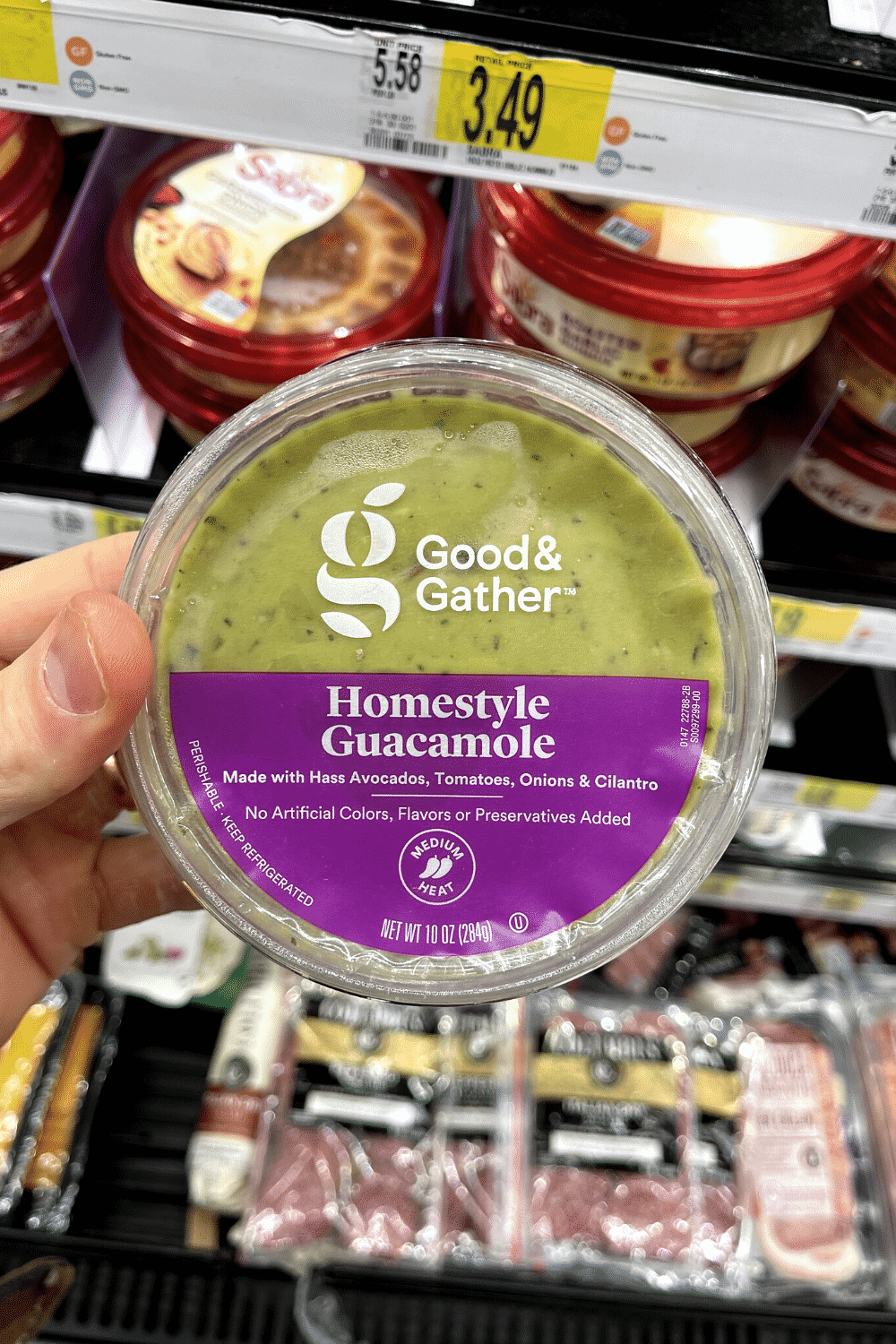 Let's be real, guacamole makes everything taste better! And this guacamole by Good and Gather not only is delicious, but it's totally low carb and keto friendly.
Each serving has just 1 net carb, and the container costs just $3.99 at Target.
38. Sabra Roasted Pine Nut Hummus
This Roasted Pine Nut Hummus by Sabra is another tasty low carb keto friendly dip that I love to pick up at Target.
There's nothing better than dipping my keto naan bread in this stuff!
Anyway, each serving has just 3 net carbs, and Target sells it for $3.49.
39. Good & Gather Basil Pesto Sauce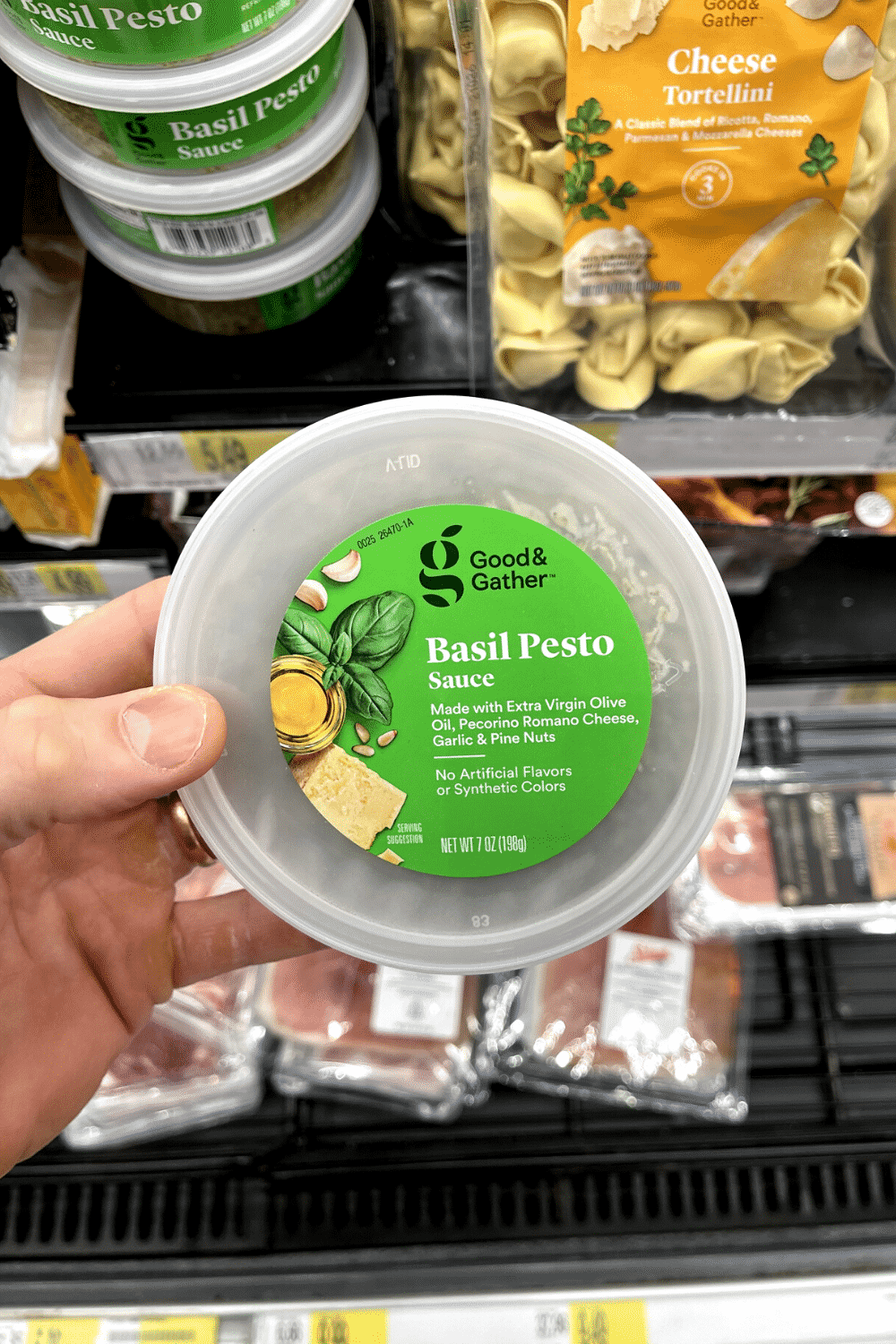 If you're looking for a delicious sauce to dip some keto bread into - or put over some zoodles - this Basil Pesto Sauce is a delicious one to choose!
And best of all, each serving of this sauce has just 1 net carb.
Having said all of that, Target sells this sauce for $5.49.
40. Good & Gather Spinach and Artichoke Dip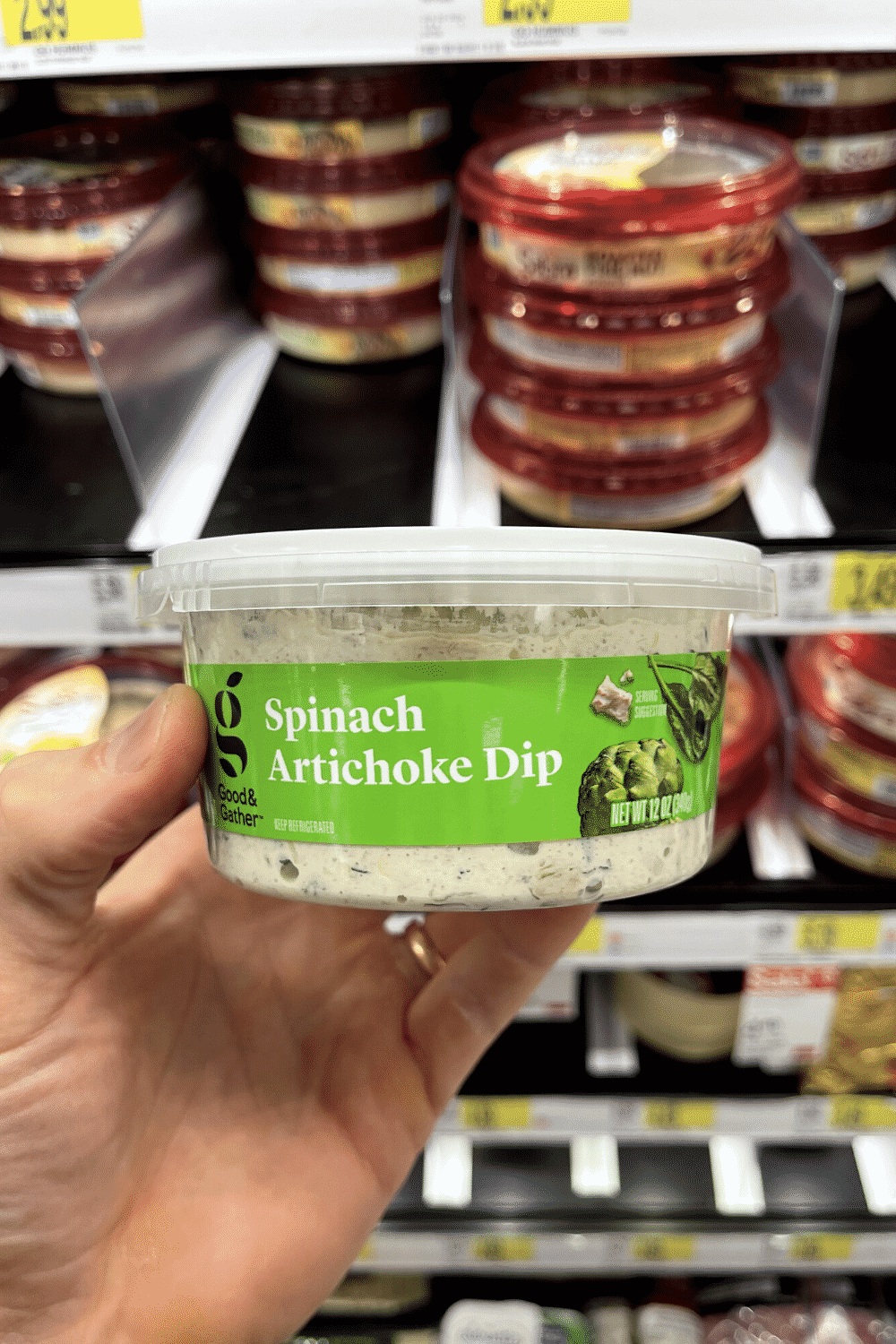 One of my favorite things to dip pork rinds into is this Spinach and Artichoke Dip by Good & Gather. It's salty, creamy, and oh-so-delicious!
Plus, each serving has just 2 carbs.
As far as the price goes, the entire container costs just $3.99 at Target.
41. Spinach Dip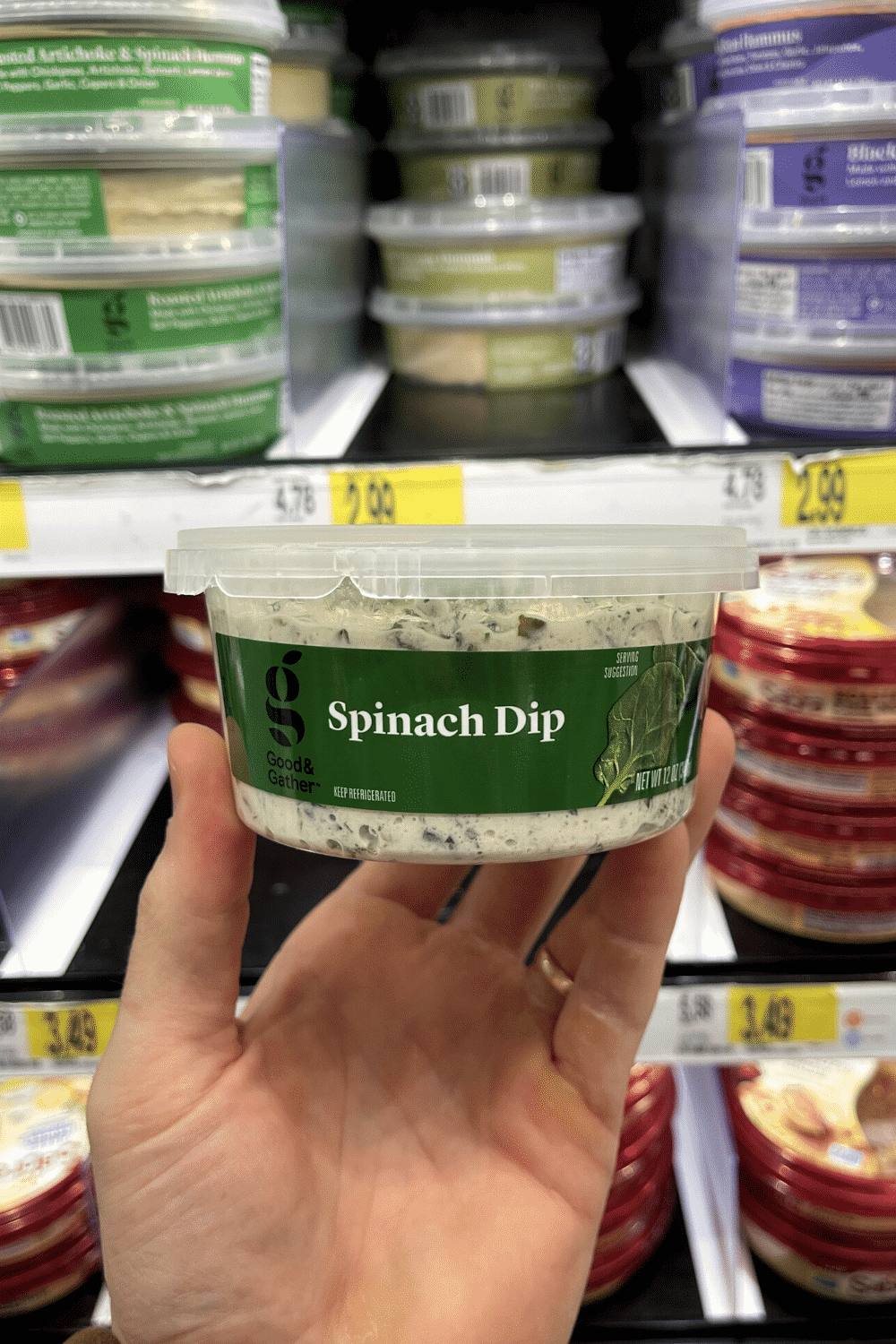 Another dip I can't get enough of is the regular old Spinach Dip by Good & Gather. It is yummy, yummy, yummy!
It costs just $3.99 at Target, and each serving has 2 carbs.
That's a Wrap
And there you have it my friends, 41 Target keto shopping items that you'll definitely want to add to your cart in 2021.
I hope this Target keto shopping list gave you some new ideas on what to pick-up the next time you're at the store.
As always, if you try anything from the list - or if you've got something I should add - let me know what it is in the comments below.