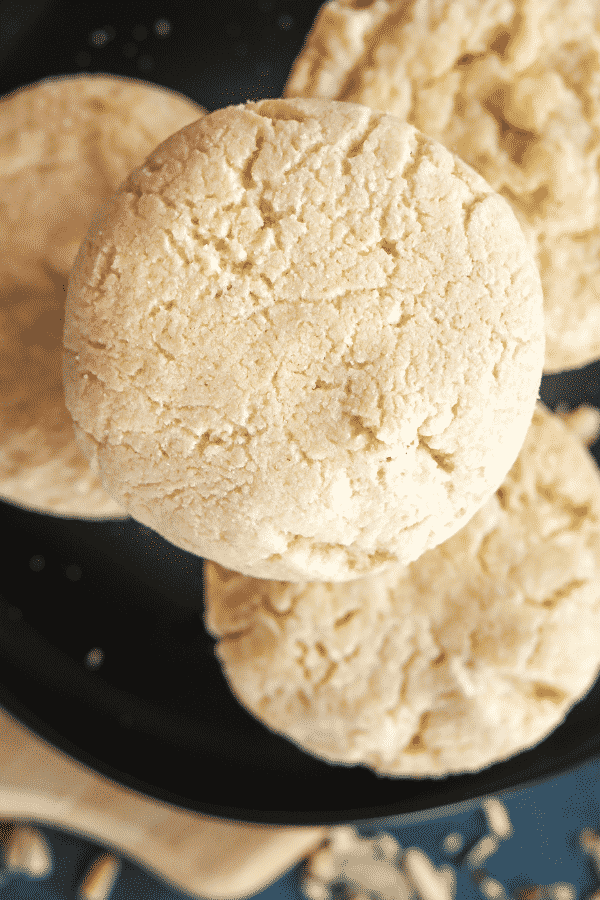 The BEST Easy Low Carb Biscuits
Low Carb Biscuit Recipes don't get easier - or quicker - than this biscuit recipe!
That's because these fluffy & buttery keto biscuits take less than 3 minutes to make in the microwave. And, from start to finish - including cook time - these biscuits take less than 10 minutes to make.
However, the cook time is just one of the things that make these the best low carb biscuits. The consistency and texture of these keto biscuits is another.
These biscuits are...
Crumbly

Buttery

Fluffy

& Dense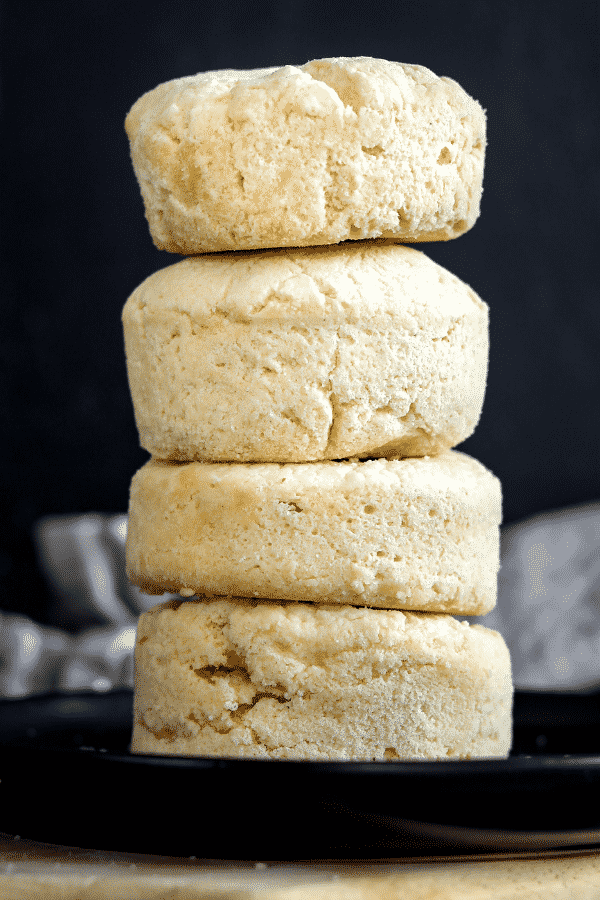 Making These Biscuits Low Carb
Biscuits are typically loaded with carbs. However, today's keto biscuit recipe is the complete opposite.
Each one of these biscuits - and these are HUGE biscuits - has just 4.5g net carbs. You actually could probably make two normal sized biscuits from this recipe, but the cook time will definitely be less if you decide to do that.
So, the base ingredient of today's low carb biscuit recipe is blanched almond flour. And if you're trying to keep the carbs as low as possible I recommend using the Blanched Almond Flour By Kirkland's. Each 28g serving only has 2 NET CARBS, which is the LOWEST I've seen. It's also cheaper than most - if not all - the other brands too.
While we're talking about flour, this recipe also uses a small amount of coconut flour. The reason for this, is to add a crumbly texture to the biscuits. I highly encourage you not to substitute this out with more almond flour. If you do use almond flour, it will not be an even substitution and you'll need more than just 2 teaspoons of it.
How To Make Low Carb Keto Biscuits (Video)
Also, these low carb biscuits use a little bit of Unflavored Whey Protein Powder. Mainly this is to add volume to the biscuits, without adding carbs to them. I like this one by Isopure. I use it in a lot of my other keto recipes, and it's a great way to replace some of the coconut/almond flour in those recipes - like I just mentioned - without adding carbs. 
Lastly, to give the biscuits a touch of sweetness I used Confectioners Swerve, instead of sugar. Swerve is a brand of erythritol, which is a 0 net carb, 0 calorie sugar substitute. And, it's what I like use to sweeten up all of my other low carb recipes.
Print
3 Minute Low Carb Keto Biscuits
Low Carb Keto Biscuits In 3 Minutes! This quick + easy biscuit recipe is THE BEST, and made with coconut flour, almond flour, butter & just a few other ingredients. Plus, each biscuit is HUGE, and only has just 4 NET CARBS.
Author:
Prep Time:

5 minutes

Cook Time:

3 minutes

Total Time:

8 minutes

Yield:

1 Biscuit

Category:

Side
Instructions
Add all of the dry ingredients to a medium bowl.
Next, add the wet ingredients, and mix everything until crumbly.
Once crumbly, use your hands to form a ball of dough, and then shape the dough into the shape of a biscuit.
Now, coat a small ramekin with baking spray, and add the dough to the ramekin.
Microwave for somewhere around 1:30 - 2:30 minutes depending on the power of you microwave.
*NOTE: Around 2:15 seconds is perfect in my 700 WATT Microwave, adjust accordingly. 
Remove the mug from the microwave, and let the biscuit cool down.
Once it cools down, run a knife around the edge of the ramekin and remove it from the dish.
Store the biscuits in the fridge for several days.
Notes
Macros DO NOT account for the erythritol, it has 0 calories and should be tracked as 0 carbs!
These are HUGE Biscuits. You can 100% half the recipe, or just split the recipe up into 2 "normal" sized biscuits.
Nutrition
Serving Size:

1 Biscuit

Calories:

640

Fat:

54

Carbohydrates:

13

Fiber:

9

Protein:

26
Keywords: keto biscuits, low carb biscuits, how to make keto biscuits, how to make low carb biscuits,