This Buffalo Chicken Dip Recipe is so easy to make, and it's low carb and keto friendly too! This dip recipe makes the perfect side dish or appetizer for game-day, or any occasion really. And you only need 5 simple ingredients to make it.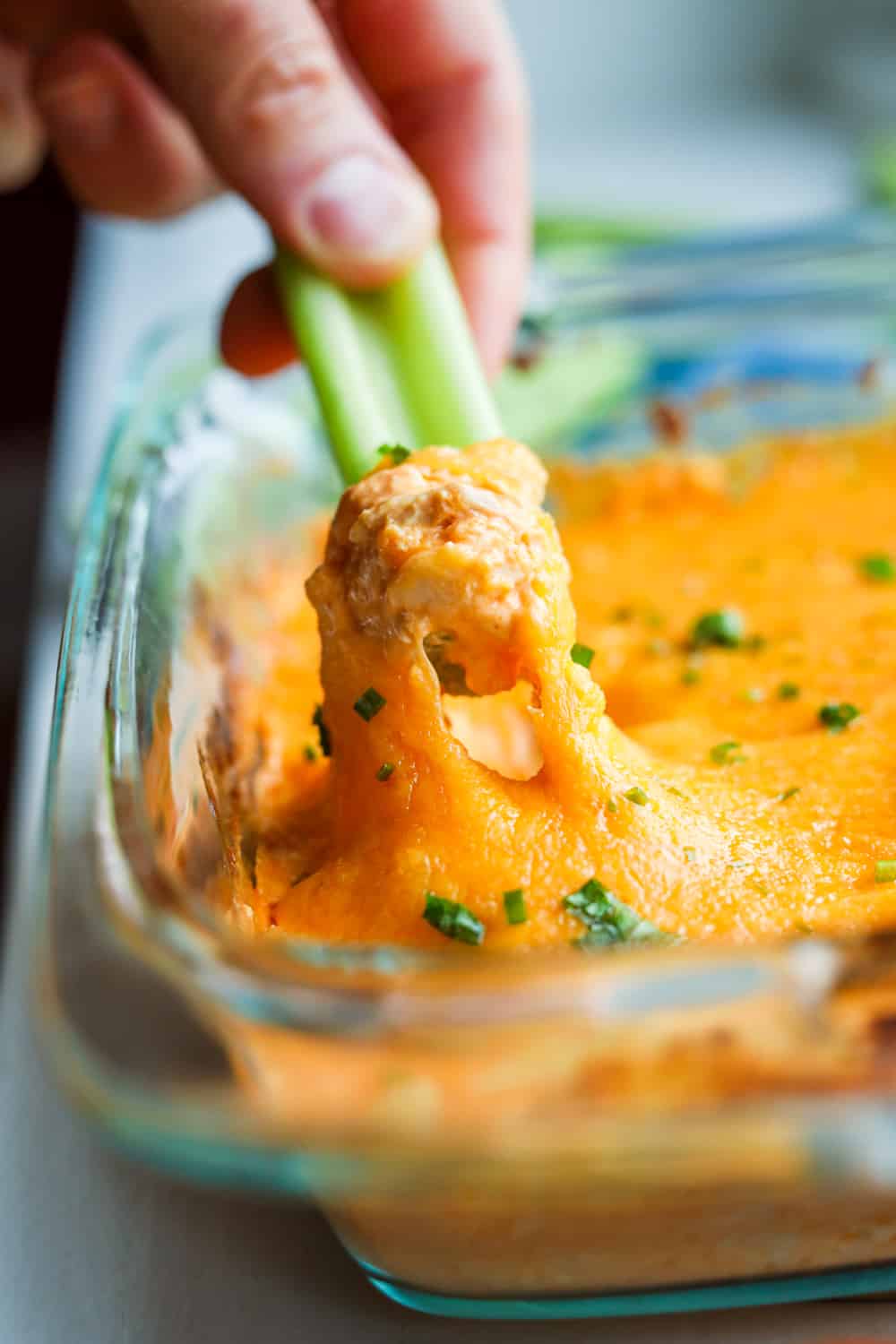 Buffalo Chicken Wing Dip Recipe
The "Big Game" is only a day away, and a solid Buffalo Chicken Wing Dip Recipe is a must for the occasion!
At-least it is at my house.
Which, by the way, is in Buffalo, New York. The home of the Buffalo Chicken Wing.
In fact, a lot of you probably don't know this....but my dad is the owner of the oldest family-owned/operated chicken wing restaurant in America, the world, and yes, the galaxy - Duff's Famous Wings.
We've actually been selling chicken wings there since 1969.
So, uhh, enough shameless plugging, and humble bragging about the restaurant. Let's get back to talking about this dip.
I really just told you all of that to let you know, that I know - lol - what I'm talking about when it comes to Buffalo Chicken Wing Dip.
Which, by the way, we just call it "wing dip" here in Buffalo. It's actually giving me pain writing "Buffalo" before it.
Also, if you ever come to Buffalo, we'll know you're from out of town when you order "Buffalo wings".
Again, it's just wings or chicken wings here...no need to say the Buffalo part.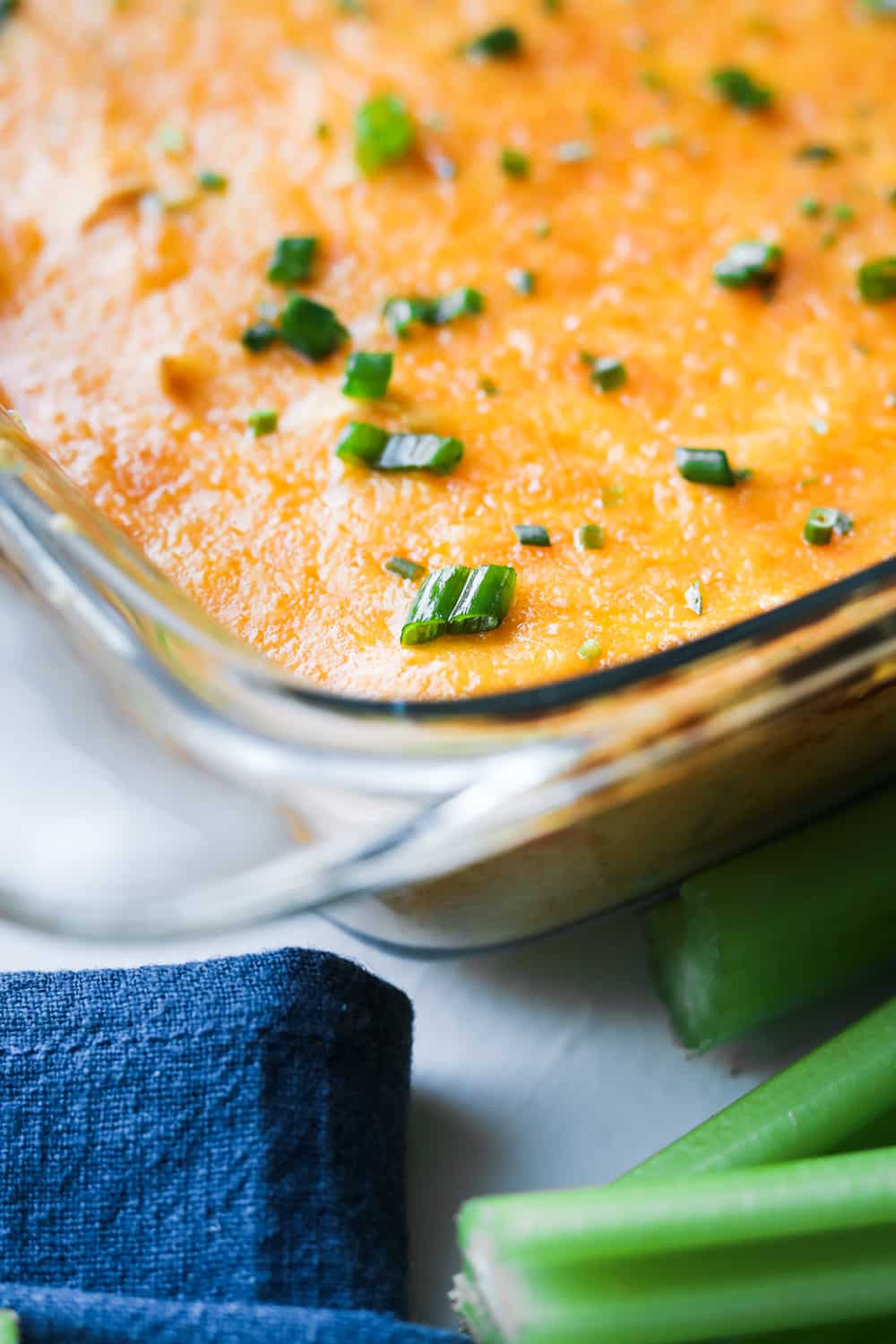 How To Make Buffalo Chicken Wing Dip
Ok, so to make things as easy as possible on yourself the best thing you can do is use a rotisserie chicken for this dip recipe.
That way, you don't have to worry about cooking anything besides this dip, and rotisserie chickens are super cheap too.
However, if you don't use a rotisserie chicken, you'll want to have some cooked chicken breasts or thighs available before you make the dip.
That said, let's talk about ALL the ingredients you'll need for this chicken wing dip...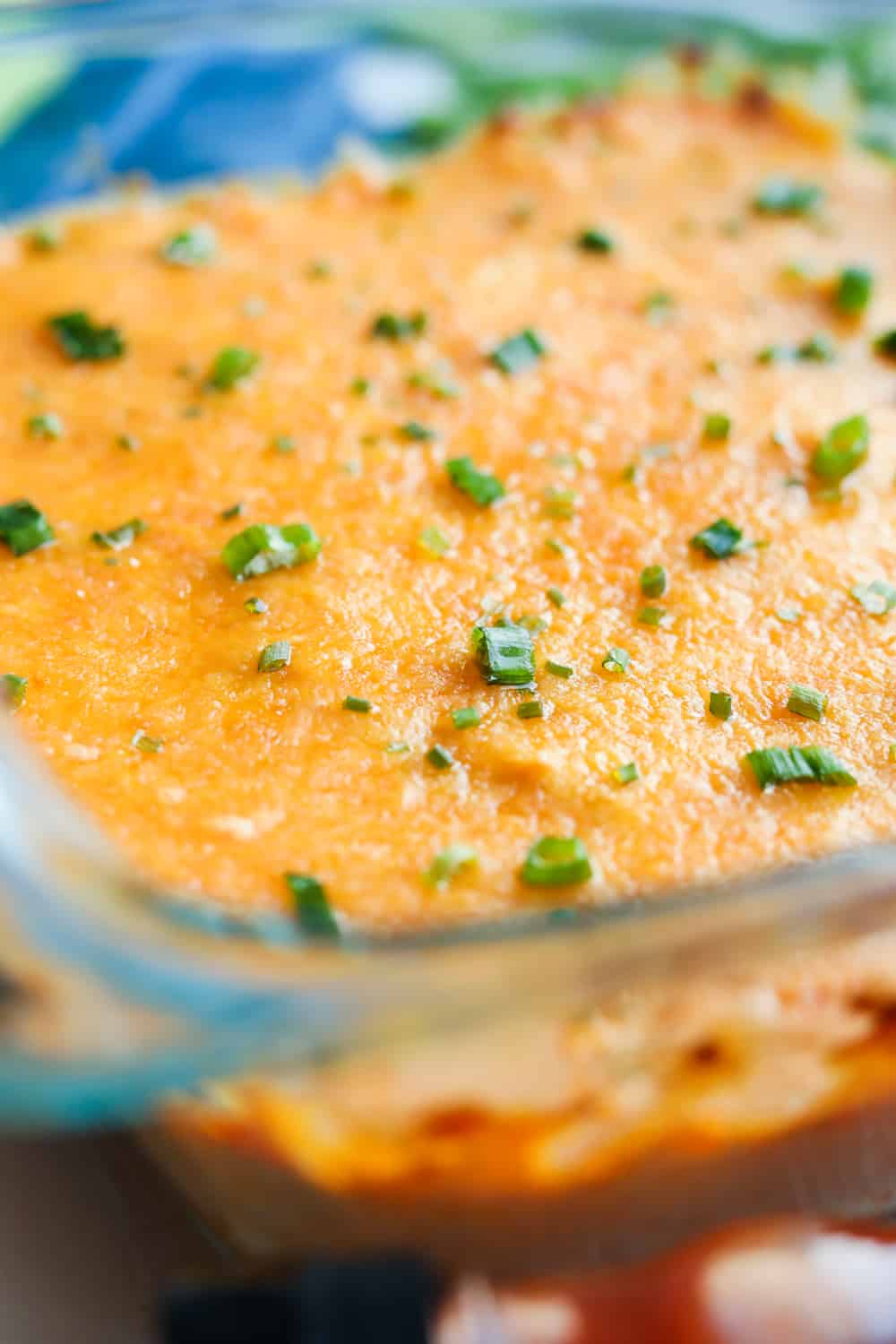 Shredded Chicken
Cubed Cream Cheese
Blue Cheese ... or Ranch Dressing
Frank's Red Hot Sauce ... or Duff's Hot Sauce (wink wink)
Cheddar Cheese
By the way, if you have the blue cheese and hot sauce ready to go for this dip you might as well make this air fryer chicken wing recipe next.
Now, you'll want to shred about 2 ½ cups (300 grams) of chicken, and set that bowl aside.
Then, in a separate bowl, you'll want to add 8 ounces (224g) of cream cheese and a heaping ⅓ cup (110 grams) hot sauce. Use a hand mixer to combine the two together.
Once combined, add the chicken and the blue cheese - or ranch dressing - (120 grams) to the bowl, and stir with a spatula.
When everything mixes into one another, transfer the dip to an 8x8 dish, and bake at 350 Degrees Fahrenheit for around 20 minutes.
Now, top the dip with ½ a cup (56 grams) of cheddar cheese, and broil until bubbly and melted.
Serve hot with celery!
Oh, and you can use a lot of these same ingredients to make this healthy Buffalo chicken dip for another terrific option.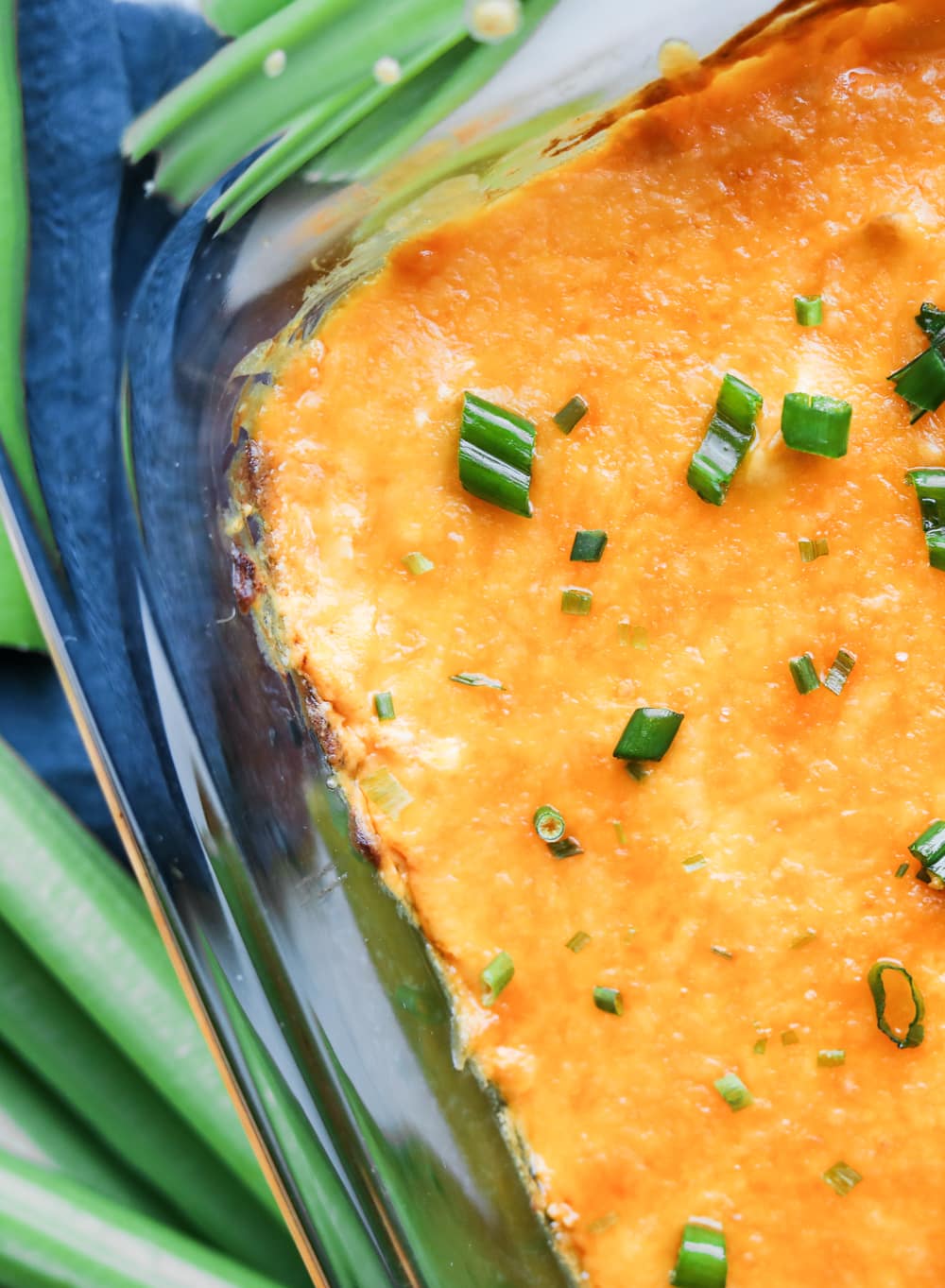 How To Make Low Carb Keto Buffalo Chicken Wing Dip
Yes, this Buffalo Chicken Wing Dip recipe is low carb and keto friendly.
In fact, every serving has just 1 Carb.
That said, I have some tips on keeping the carbs as low as possible when you make this dip.
So, here they are...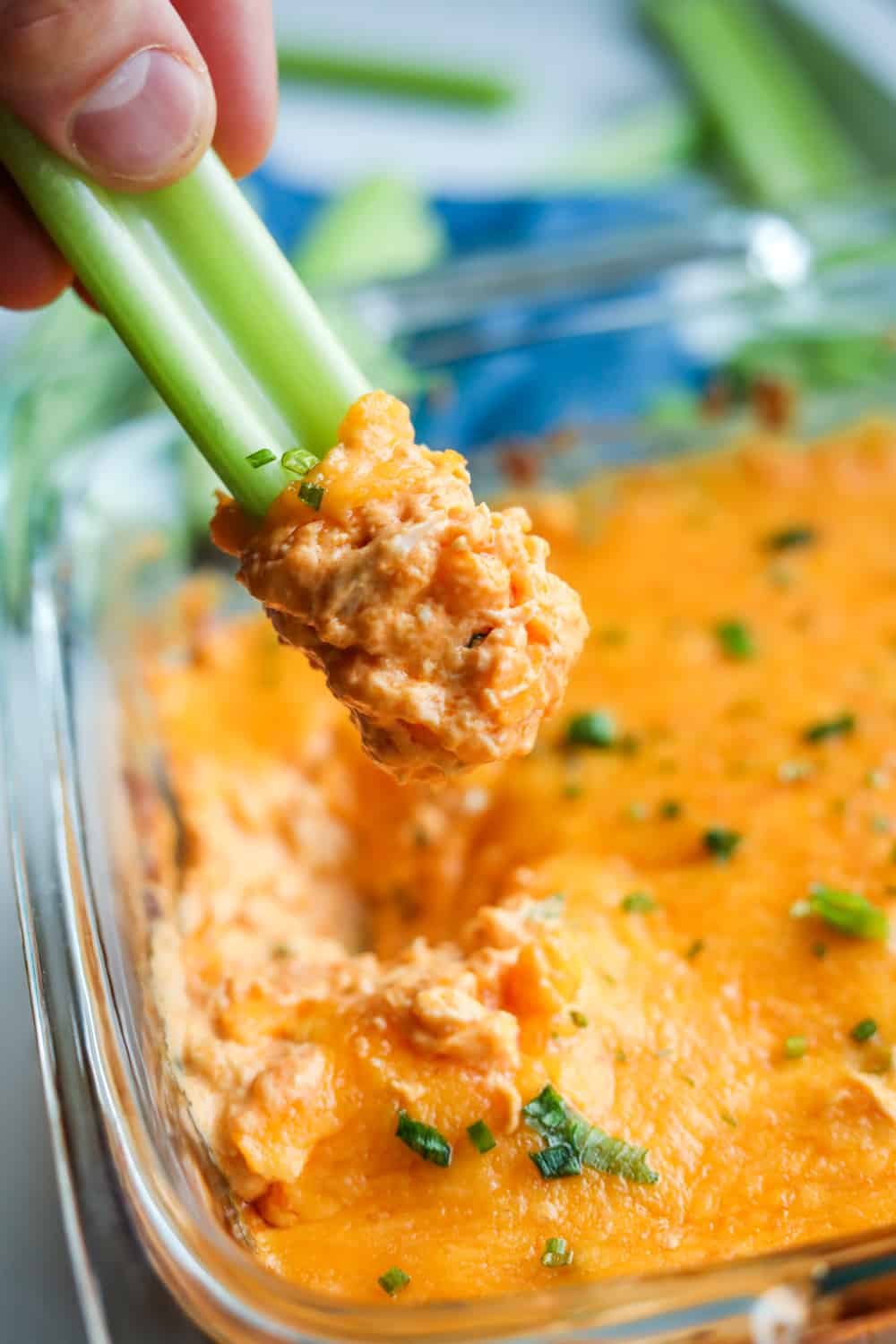 Use the lowest carb cream cheese you can find - Philidelphia Cream Cheese has just 1g per ounce.
Try to find/use Olive Garden's Ranch Dressing in place of the blue cheese - It's less than 1 carb per serving.
Top the wing dip with fresh cheddar cheese instead of shredded - The fresh stuff has 0 carbs.
If you follow my advice here, the entire 8x8 dish of Buffalo Chicken Wing Dip will have just 8 Carbs.
And we're talking about a TON OF DIP for that amount of carbs.
What to Dip Into This Recipe
Ok, so, one of the most difficult things is finding acceptable low carb keto dipping vehicles.
What I mean by that is "normal" chips obviously don't work if you're trying to keep the carbs low.
However, there are plenty of alternatives you can use.
Here are a few of my favorites...
Celery
Cucumbers
Zucchini
All of these are really great dipping options for folks following a low carb keto diet!
And they all pair perfectly with this Buffalo Chicken Wing Dip recipe.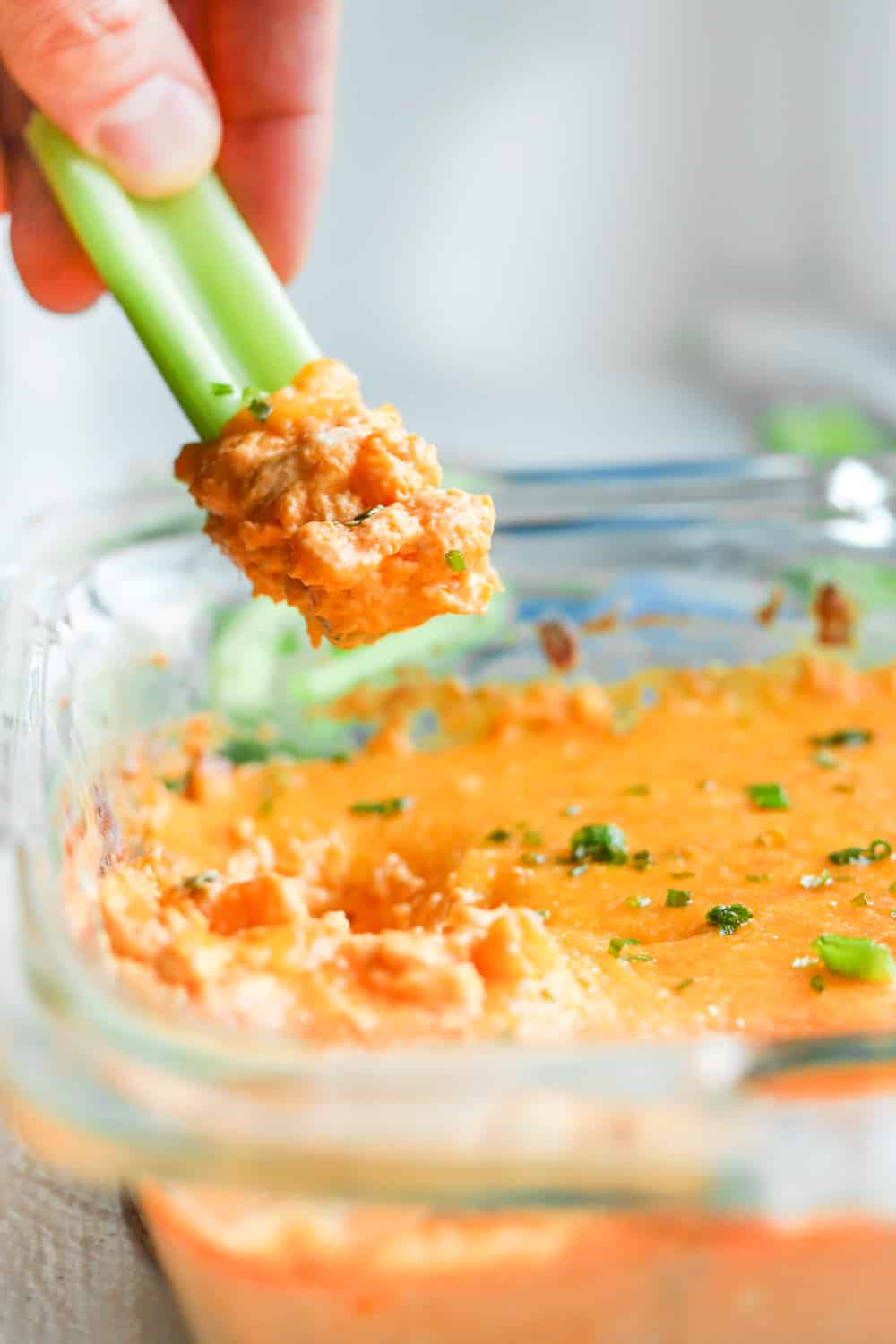 Print
Buffalo Chicken Wing Dip | Easy, Keto, & Low Carb
A Buffalo Chicken Wing Dip Recipe that's low carb and keto approved! This wing dip is so easy to make, requires just 5 ingredients, and is perfect as a keto side dish or appetizer. Plus, you can use blue cheese or ranch dressing to make it depending on your preferences
Author:
Prep Time:

10

Cook Time:

25

Total Time:

35 minutes

Yield:

8 Servings

Category:

appetizers and side dishes

Cuisine:

keto
½ (300g) Shredded Rotisserie Chicken - No skin or bones
8 Ounces (224g) Cubed Room Temp. Full Fat Cream Cheese
Heaping ⅓ Cup (110g) Frank's Hot Sauce
½ (120g) Cup Blue Cheese OR Olive Garden Ranch Dressing ... it has less than 1 carb
½ Cup (56g) Freshly Shredded Cheddar Cheese
Instructions
Pre-heat your oven to 350 Degrees.
Shred the chicken, and set it aside.
Now add the cream cheese and the hot sauce to a large bowl, and use a hand mixer to combine themn until smooth.
Once smooth, and the rest of the ingredients, and use a sptaula to mix them into one another.
At this point, you can add the dip to an 8x8 pyrex dish, and bake it for 20 minutes.
After 20 minutes, top it with the shredded cheddar cheese and broil until melted and bubbly.
Serve hot, and enjoy!
Notes
Here are a few really awesome things to dip into this stuff...
Celery
Cucumbers
Zucchini
Nutrition
Serving Size:

3-4 Tbsps

Calories:

245

Fat:

19.5

Carbohydrates:

1

Fiber:

0

Protein:

13
Keywords: buffalo wing dip, keto wing dip, buffalo wing dip recipe, how to make wing dip, chicken wing dip recipe, easy wing dip, best wing dip, best chicken wing dip, easy buffalo wing dip, low carb buffalo wing dip recipe, buffalo wing dip keto