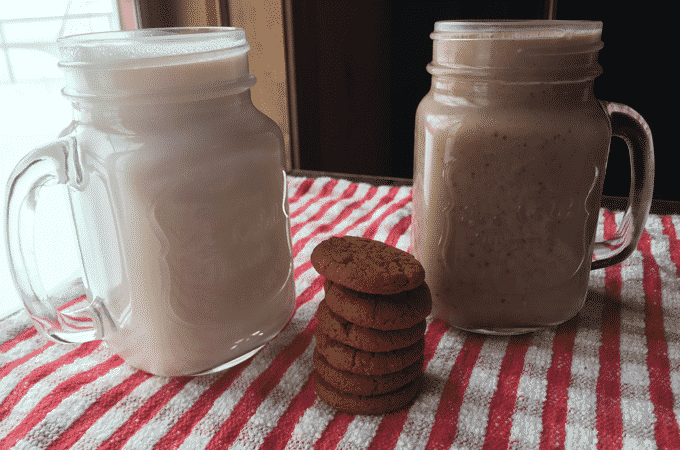 I love almond milk...
Like really love almond milk. So much so, I go through a gallon of unsweetened vanilla every couple of days. I have to admit the regular unsweetened they sell in stores is just, egh, ok. However, when you make it at home it totally changes everything.
3 Things about making your own almond milk:
1. It takes a little bit of time, but it's worth it
2. It's SOO much nuttier than anything you can find in the store
3. I'll go out on a limb and say it'll be the best almond milk you've ever had
Check-out the video below to find out how easy it is to make almond milk 3 ways (regular unsweetened, unsweetened vanilla, and chocolate).
If make try out this almond milk recipe, don't forget to snap a pic and tag it #thedietchef
And of course, you can always check out this recipe, and many many more on my YouTube Channel
Macronutrients for unsweetened regular almond milk
(per 8oz or ¼ liter):
30 Calories, 2g Fat, 1g Carbs, 1g Protein
Print
How To Make Your Own Almond Milk (3 Ways)
Homemade Almond Milk 3 Ways
Author:
Prep Time:

6 hours

Cook Time:

10 mins

Total Time:

6 hours 10 mins

Yield:

32 oz 1 liter

Category:

Beverage

Cuisine:

American
1 cup

(

112g

) raw almonds
Water
For vanilla (Per 16oz or ½ liter) add:
*⅛ teaspoon vanilla extract
*pinch of sugar substitute
For chocolate almond milk (Per 16oz or ½ liter) add:
*3-4 tablespoon (40mL) low-calorie or calorie-free chocolate syrup
Instructions
In a medium sized dish add:
cup (112g) raw almonds
-3 cups of water
Let your almonds soak for at least 6 hours (I like to just let them sit overnight)
Strain and wash your almonds
Add your almonds to a blender along with 4 cups of fresh water
Blend for several minutes
Your almonds should be in teeny tiny pieces and your milk should be creamy white
Place a strainer lined with a cheese cloth over a large bowl
Pour your almond milk into the strainer lined with cheese cloth
The cheese cloth will now be filled with almond pulp
Take the cloth out of the strainer and ring out as much milk from it as you can over the strainer.
You now have unsweetened almond milk
For "unsweetened vanilla"
*Per 2 cups (16oz)*
I add ⅛ teaspoon vanilla extract and just a tiny pinch of sugar substitute
For chocolate almond milk
*Per 2 cups (16oz)*
Add 3-4 tablespoon low-calorie or calorie-free chocolate syrup
Nutrition
Serving Size:

8oz ¼ liter

Calories:

30

Fat:

2

Carbohydrates:

1

Protein:

1