This easy chocolate protein pudding recipe is delightfully rich, smooth, and creamy. It's a quick and effortless healthy dessert or snack, made in just a few minutes with your favorite protein powder and 5 simple ingredients!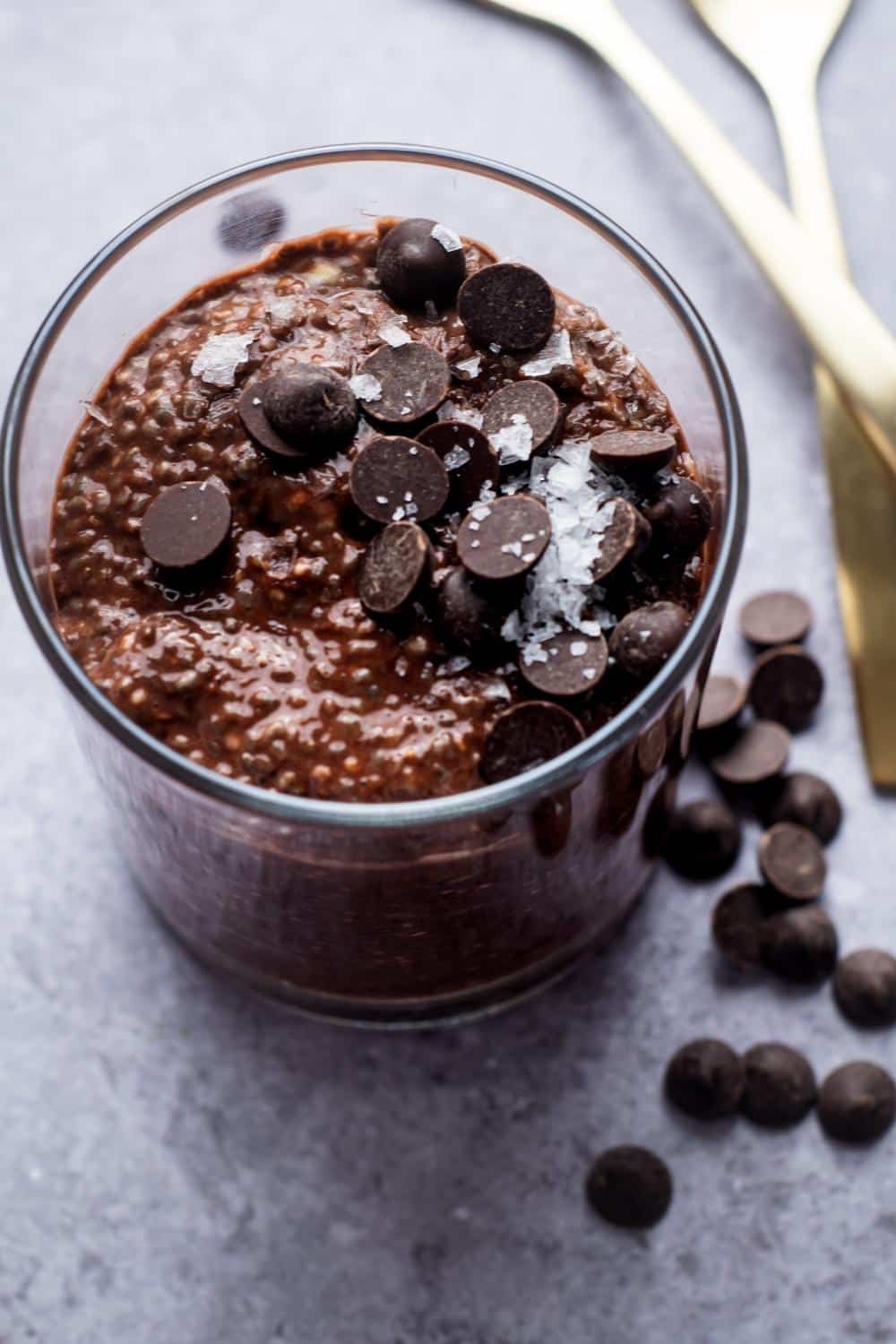 The Best Protein Pudding
When you're craving something sweet and creamy, this high protein pudding recipe is just what you need. It's the perfect switch up from your usual protein shake and it's packed with 30 grams of protein.
Seriously, this chocolate chia seed pudding is decadent and rich, yet it's also so light and creamy. Gah, it's good.
Plus, it's quick and effortless to make. I mean, it's made in just a couple of minutes and with just a handful of simple ingredients. It's just like my classic chia seed pudding, but with more protein and chocolatey deliciousness.
It doesn't get much easier than that does it?!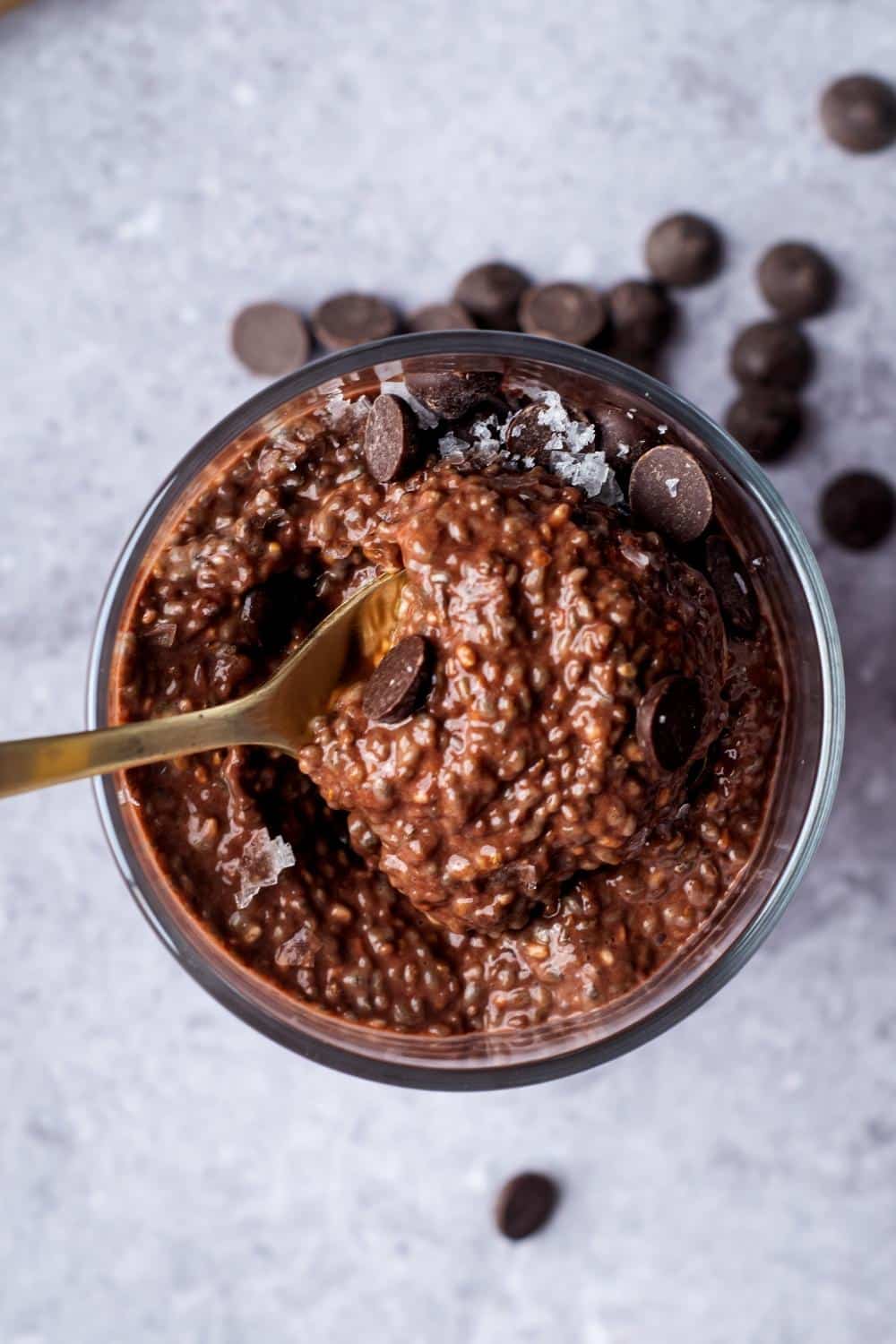 Ingredients
As I mentioned earlier, all you need for this protein pudding is your favorite chocolate protein powder and 5 common ingredients.
And if you've tried any of my other high protein recipes, like this protein mug cake and these protein overnight oats, you likely have most - if not all - of these ingredients already.
So, here's everything you'll need for this protein chocolate pudding:
⅓ cup Almond Milk

1 Scoop Chocolate Protein Powder

1 ½ tbsp. Chia Seeds

1 tbsp. Cocoa Powder

1 tbsp. Sugar free Chocolate Chips

Pinch of Salt Flakes
Now, if you don't have chocolate protein - or if you want a lighter chocolate flavor for your protein pudding - you can use vanilla whey protein powder or any vanilla protein powder instead.
And if you use want to make vanilla protein pudding, just leave out the cocoa powder and use instant pudding mix instead.
You can also try other protein powder flavors like caramel, peanut butter, or cookies and cream for more variations of this protein pudding. Any protein powders will work great to make it for different flavor variations.
Oh, and for your sugar free chocolate chips, I recommend using Lily's Semi-Sweetened sugar free Chocolate Chips. They're the highest quality - and best tasting - that I've found.
By the way, if you're looking for even more high protein recipes made with protein powder, I highly recommend making these protein blueberry muffins, this protein oatmeal, or these peanut butter protein cookies next! They're all super tasty ways to put some of that extra protein powder to use.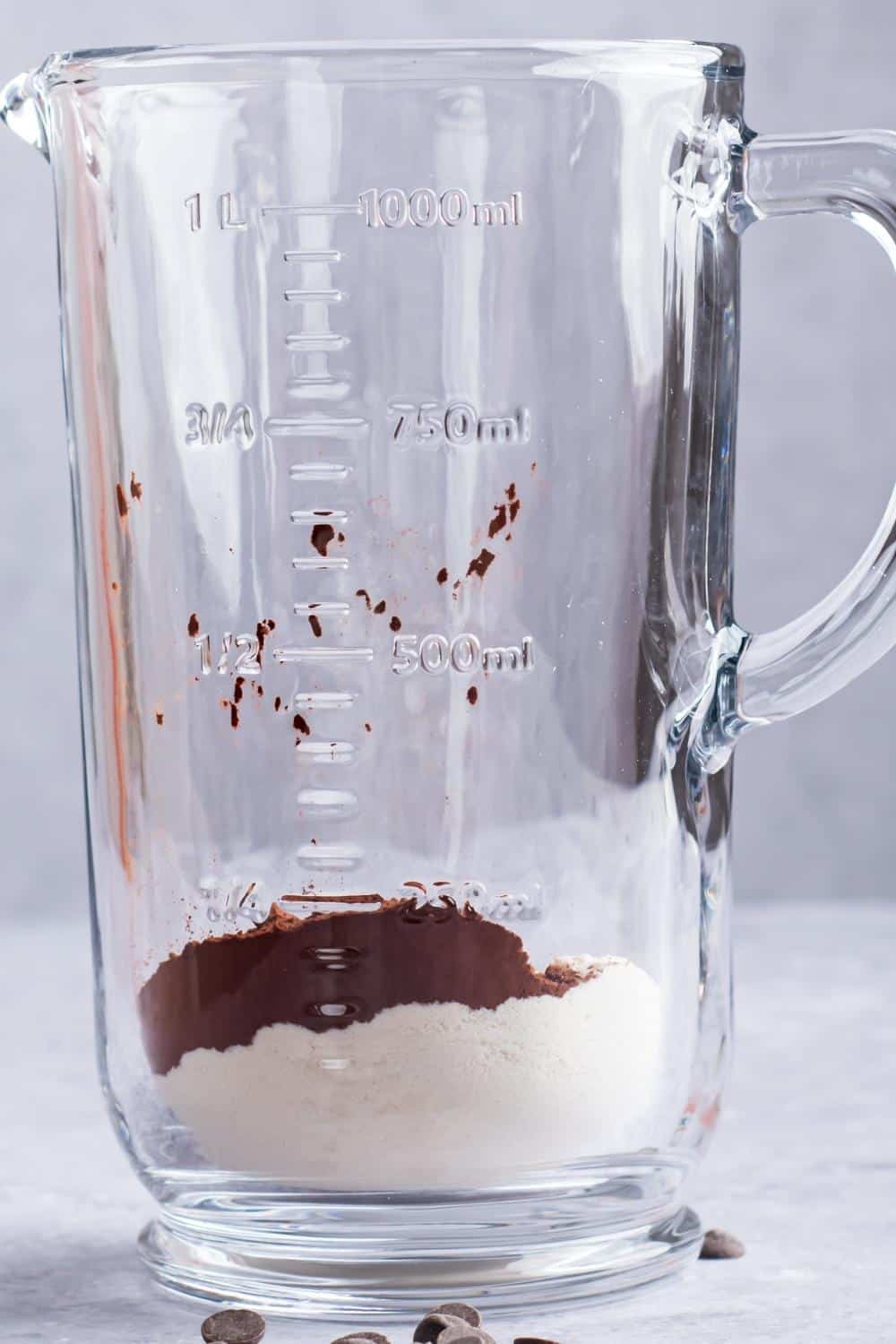 How To Make Protein Pudding
Again, this protein pudding is crazy easy to make.
All you have to do is blend the ingredients together and set the pudding in the fridge.
It's as simple as that! So let's not waste another second and get to it.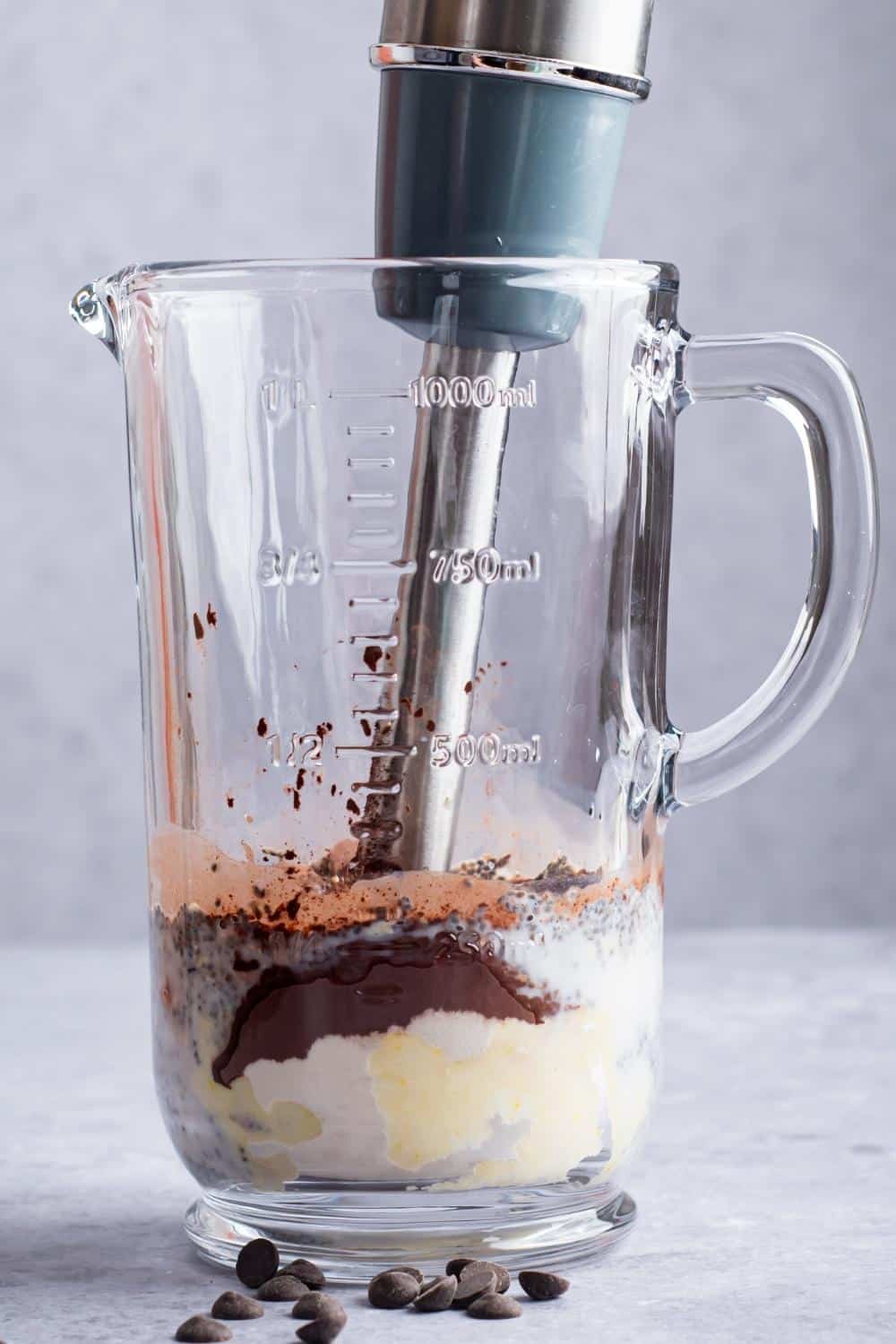 Step 1: Combine The Ingredients
To start, take out your blender and pour in the almond milk, followed by the protein powder, chia seeds, and cocoa powder.
Then, blend everything together until the mixture is well combined and creamy.
By the way, you can also do this with an immersion blender and a wide-mouth mason jar.
And if you make your protein pudding this way you can store it right in the mason jar itself.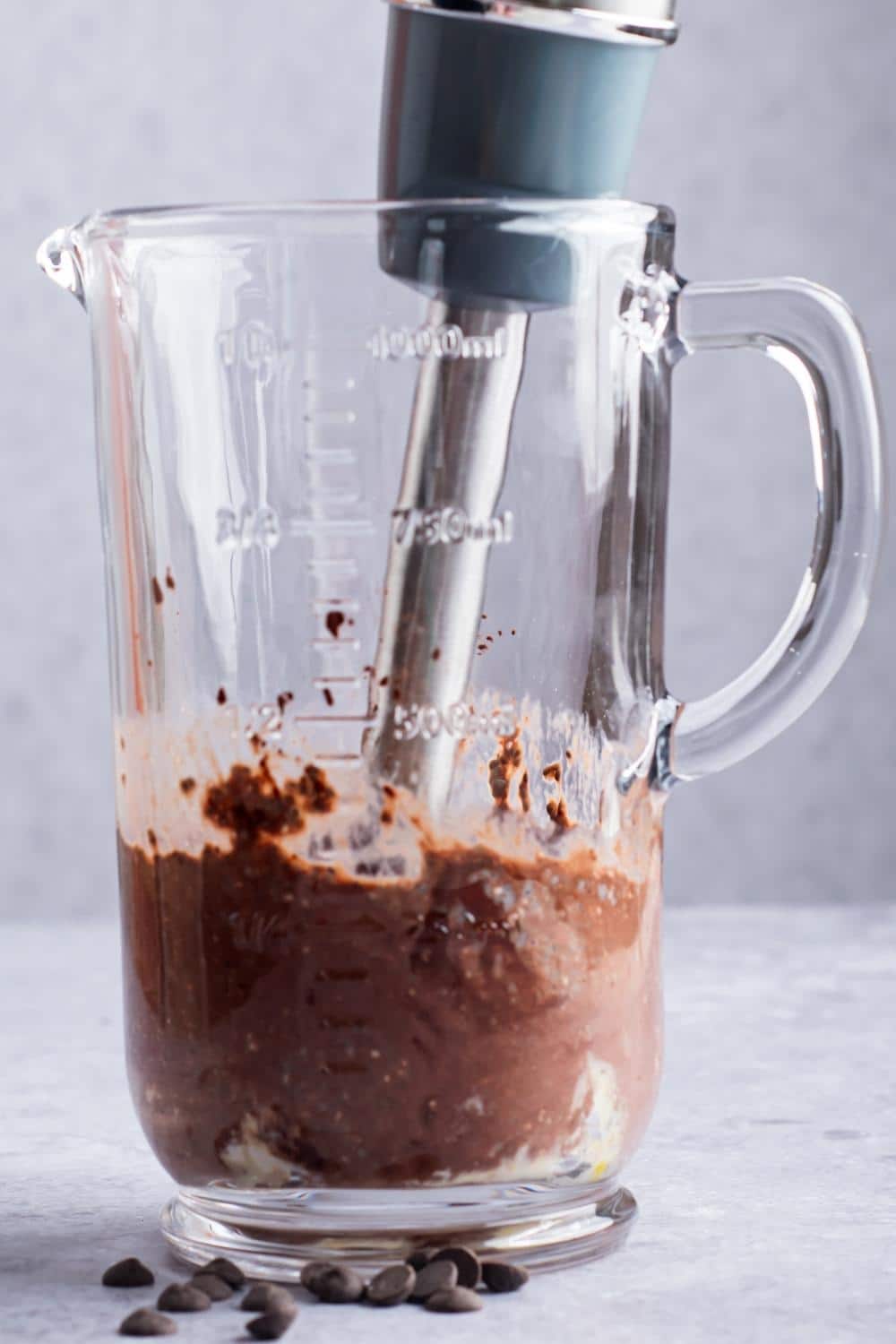 Step 2: Refrigerate To Set
So, now you can refrigerate your pudding for at least 3 hours to set. This will thicken the mixture and give it that jiggly, creamy pudding consistency.
With that said, if you're in a rush, you can keep it in the freezer for 45 minutes to 1 hour. Just make sure to check every 20-30 minutes to make sure the pudding doesn't freeze. And, of course, if you see any ice crystals forming, you'll want to transfer your pudding to the refrigerator - or let it chill on the counter for a few minutes if you're ready to dig in.
Lastly, top your healthy chocolate pudding with some chocolate chips and salt flakes before serving.
Enjoy!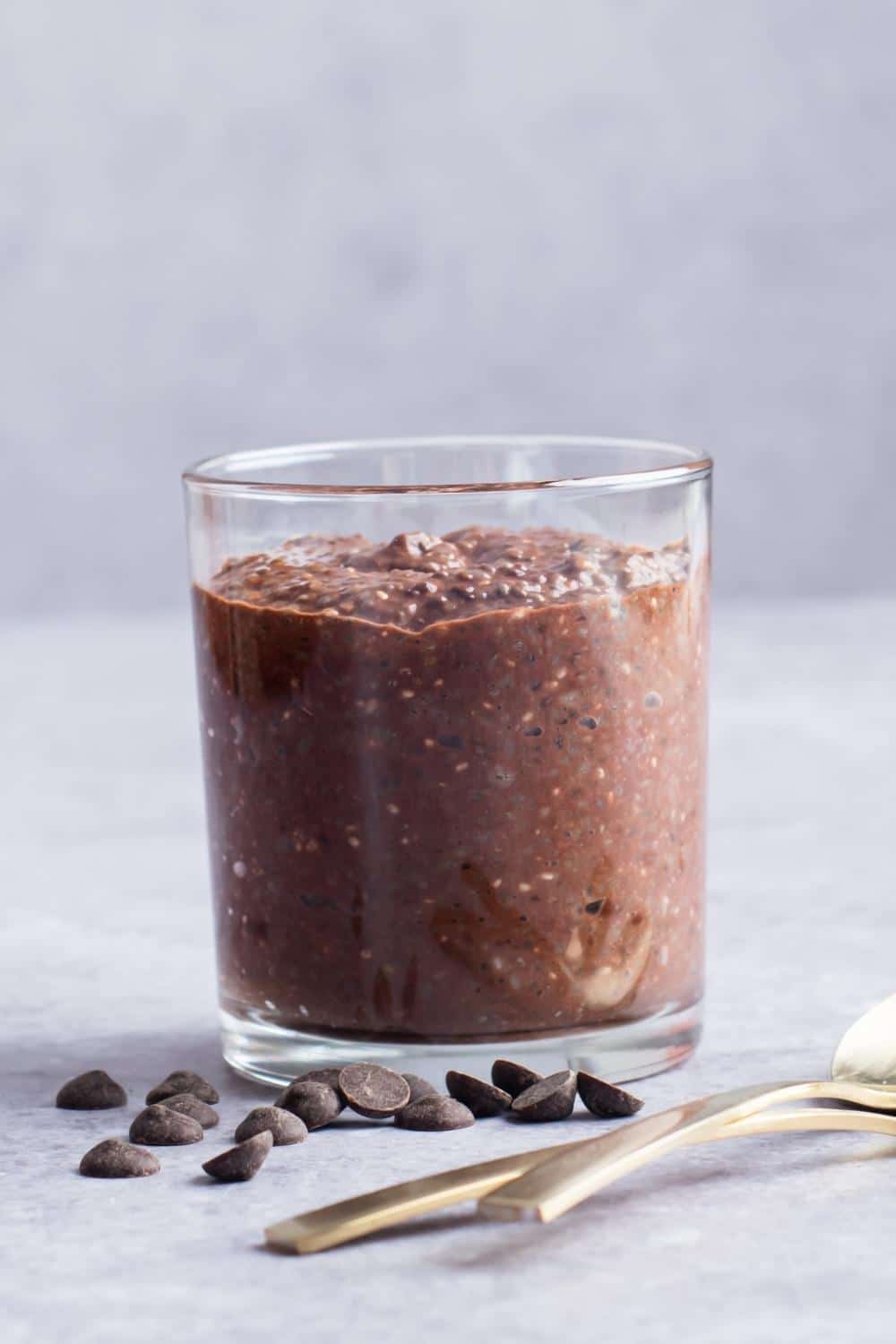 How To Store Chocolate Pudding
This recipe makes just enough for 1 serving of protein pudding. So odds are you won't have leftovers if you make it as is.
However, I always triple or quadruple the recipe when I make it. And that's because I like making a large batch of this pudding on Sunday nights as part of my meal prep. This way, after I make it once, I have a tasty stash of it ready for me - and my family - to enjoy throughout the week.
Now, if that sounds like something you'd like to do as well, you can keep this protein pudding in an airtight container in the refrigerator for up to a week. You can also keep it in the freezer in a freezer-safe container for 1-2 months. Just make sure to let it thaw before digging into it!
FAQS About This Protein Pudding Recipe
Is protein pudding healthy?
Yes, protein pudding is healthy. This protein pudding is packed with protein, low in carbs, and high in fiber from the cocoa powder and chia seeds.
Why is my protein pudding not setting up?
Your protein pudding is not setting up because you either used too much milk or did not let if set in the refrigerator long enough. And to make it thicker, you can add some almond butter. peanut butter, or any nut butter. Or you could even add in some vanilla Greek yogurt.
How do you make protein pudding from scratch?
You can make healthy protein pudding by blending almond milk, chia seeds, and optional flavorings with your favorite protein powder.
Just follow the steps in this protein pudding recipe and you're good to go!
It's pretty easy, and you'll love the results.
Can you mix protein powder in pudding?
You definitely can. Adding protein powder to homemade - or instant pudding - is a great way to easily up your protein intake while indulging in a snack you enjoy.
You can also experiment with different flavor combinations of protein powder and pudding. Vanilla pudding is a great base for almost any protein powder flavor.
Can I make pudding with Premier protein?
Yes, you can. Premier Protein powder is a great choice for using in protein pudding since it has 30g of protein in a serving with just 160 calories and one gram of sugar.
If you're using a prepared Premier Protein shake, you can blend it with a couple of tablespoons of chia seeds and set it in the refrigerator for a quick high protein pudding.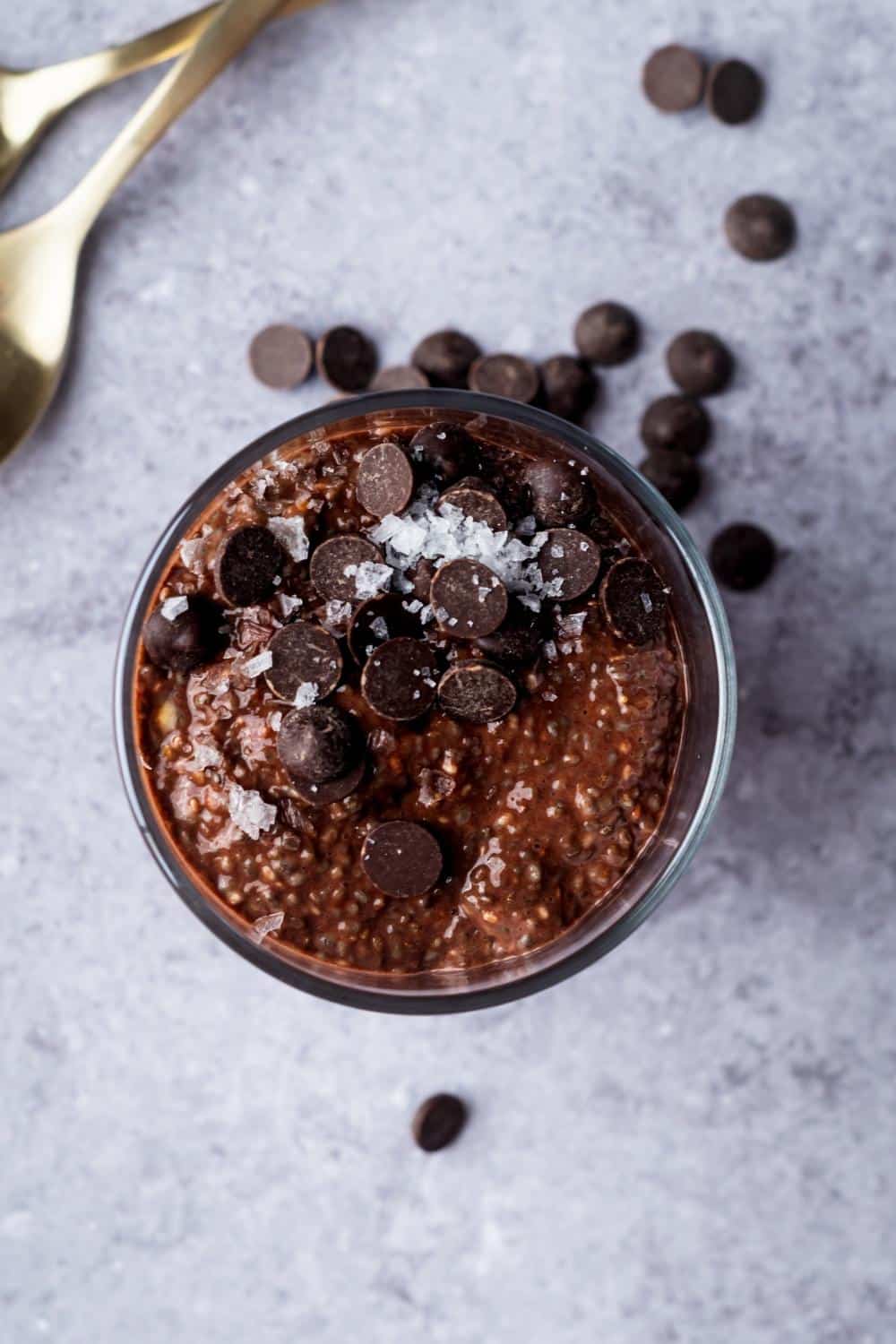 Wrapping It Up
Well, there you have it! That's how to make protein pudding from scratch.
This high protein dessert recipe is insanely easy to make but has the most decadent chocolate flavor and a thick creamy texture that can match any store-bought chocolate pudding.
Don't be surprised if your kids get a taste and start requesting it for dessert or a snack. It's just that good and is easily one of the best protein pudding recipes in existence.
Anyway, I hope you enjoy this simple chocolate protein pudding as much as I do for a delicious healthy snack or dessert.
As always, if you give it a try, let me know what you think in the comments.
Oh, and for more healthy dessert recipes like this, don't forget to check out my Youtube channel!
More Protein Recipes
If you want to make some more delicious high protein recipes, I have a ton on the blog that I think you'll love!
Give one of these recipes a try next: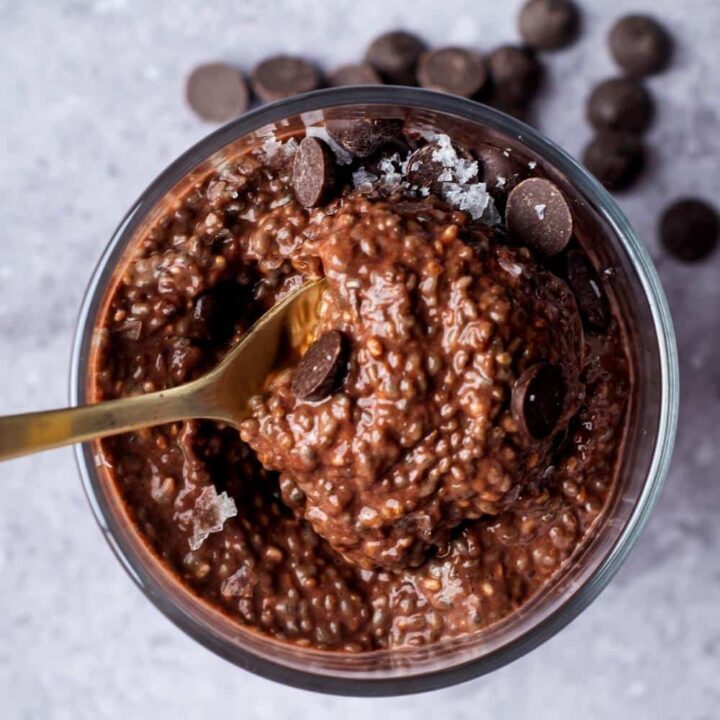 Protein Pudding With 30 Grams of Protein
This easy chocolate protein pudding is delightfully rich, smooth, and creamy. It's a quick and effortless healthy dessert or snack, made in just a few minutes with your favorite protein powder and 5 simple ingredients!
Instructions
Combine almond milk, chocolate protein powder, chia seeds, and cocoa powder in a blender and process until creamy.

Refrigerate at least for 3 hours and serve with chocolate chips and salt flakes.
Nutrition Information:
Serving Size:

1 serving
Amount Per Serving:
Calories:

209
Total Fat:

9g
Saturated Fat:

0g
Trans Fat:

0g
Unsaturated Fat:

0g
Cholesterol:

0mg
Sodium:

0mg
Carbohydrates:

8g
Fiber:

6g
Sugar:

0g
Protein:

30g