These low calorie bagels are perfectly soft, chewy, and each one has only 99 calories! Best of all, they have the same taste and texture as regular bagels!
The Best Low Calorie Bagels
A bagel is one of the most classic breakfast foods of all-time.
I mean, you can't go to a coffee shop, bakery, or breakfast spot without having a number of bagels to choose from.
However, if you're following a low calorie diet - or just trying to eat healthier in general - all of those bagels are pretty much off-limits since a "normal" one can have upwards of 250 calories.
And, I don't know about you, but even though I love bagels, I definitely don't love all of the calories that typically come with them.
So, having said all of that, you know I had to a low calorie bagels recipe.
And, I know I'm a little biased, but I think they're just as good as the "regular" ones.
They have a soft and fluffy inside with the perfect outer crust and chew. And these healthy bagels only have 99 calories each! So they're some of the lowest calorie bagels you can eat.
Plus, not only are these low calorie bagels delicious, but they're super quick and easy to make! They don't require any kneading or waiting for the dough to rise, so the effort - and skill - required is super low, and you end up with perfect results every time.
Oh, and if you're wondering what is the healthiest spread for bagels, this sugar free Nutella is a great choice! You can whip it up while the homemade bagels are baking.
Why This Recipe Works
You only need 2 ingredients. These have to be the easiest bagels to make ever since you only need to mix together two ingreidents!
Easy to customize. You can turn these bagels into any flavor that you want by adding a topping of your choice. There are so many possibilities!
It's healthy. One of the ingreidents is Greek yogurt, so these bagels are way lower in calories and higher in protein than regular bagels.
The bagels are baked. Instead of boiling or frying the bagels, they're baked to make this recipe even easier and healthier.
Ingredients
So, this is really a 2 ingredient bagel recipe with just a few more additions to elevate the flavor.
And the added ingredients aren't essential for making these easy bagels, so if you want to make 2 ingredient bagels - just using the self-rising flour and Greek yogurt - instead, you totally can!
Anyway, here's everything you need to make bagels low calorie:
1 cup Greek yogurt
1 ½ cup self-rising flour
¼ tsp. salt (optional)
1 tbsp. light butter, melted (optional)
2 tbsp. sesame seeds or everything but the bagel seasoning (optional)
See? You don't need anything crazy to make the most delicious and healthiest bagels. And the 2 main ingredients that you need to use are the Greek yogurt and self-rising flour.
Oh, and for a complete low calorie breakfast, pair one of these bagels with one of these low calorie Starbucks drinks!
How To Make Low Calorie Bagels
So, as you might know, making bagels is a daunting task. But, I promise you this recipe is foolproof, and way easier to make than "normal" bagels are.
Anyway, let's not waste any more time and make the easiest and healthiest bagels ever!
Step 1: Making The Dough
First, preheat the oven to 350ºF (175°C) and line a baking sheet with parchment paper.
Now, take out a large bowl and add the flour, yogurt, and salt to it.
Then, mix these ingredients together until the dough is easy to handle. If it's sticky, you might need to add a little extra flour and mix some more.
Step 2: Shaping The Bagels
Next, lightly flour a flat surface and transfer the dough ball to it. Then divide the dough into 8 even balls, and roll them out one at a time into a log shape.
Now, once you have the log shape formed, close the ends of it to form a circle - or bagel shape.
Step 3: Baking The Low Calorie Bagels
So, now you'll want to put each bagel on the parchment-lined tray and brush the tops of them with melted butter.
Then, sprinkle some sesame seeds, everything but the bagel seasoning, or really anything you like on top of your bagels. Now all that's left to do is bake 'em for about 15 minutes, or until they're golden brown.
Then, when they're done baking, slice them in half and spread whatever you want on top and enjoy!
How To Store Bagels
Alright, so this easy bagel recipe will make 8 bagels. And there's a more than good chance you'll end up with some leftovers.
To store them, DO NOT refrigerate the bagels. It will actually make them get staler quicker.
How you store the bagels will depend on when you plan on eating them. So, with that said, you can find the best ways to store your leftover bagels here.
Wrapping It Up
Well, that is how to make low calorie bagels with just 2 main ingredients!
It truly is amazing just how delicious these bagels are, so you'll definitely want to keep this recipe bookmarked whenever the bagel cravings hit.
Anyway, I hope you enjoy these healthy bagels as much as I do.
If you make them, leave a comment below to let me know what you think.
And make sure to check out my Youtube Channel for more recipes like this one!
Low Calorie Recipes
If you want to make more low calorie recipes, I have a bunch on the blog that you can try next!
Here are a few of my favorites: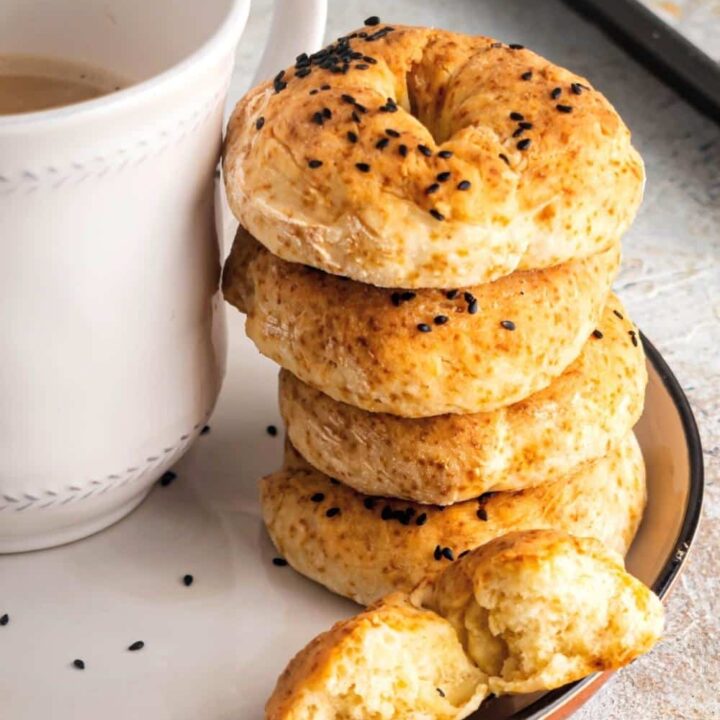 Low Calorie Bagels Made With 2 Main Ingredients
These low calorie bagels are perfectly soft, chewy, and each one has only 99 calories! But they have the same taste and texture as regular bagels! 
Instructions
Preheat the oven to 350ºF (180°C). Line a baking sheet with parchment paper.
In a big bowl, combine Greek yogurt, self rising flour and salt. Mix until the dough is easy to handle, you may need to add a bit more flour if it's too sticky.
Add a bit of flour to a working surface and transfer the dough to it. Divide it in 8 portions and roll each into a long shape and close in a circle - bagel shape.
Brush with melted butter and top with sesame seeds or everything bagel seasoning.
Transfer to the baking tray and bake for around 15 minutes, or until golden brown.
Nutrition Information:
Serving Size:

1 Bagel
Amount Per Serving:
Calories:

99
Total Fat:

0g
Saturated Fat:

0g
Trans Fat:

0g
Unsaturated Fat:

0g
Cholesterol:

0mg
Sodium:

0mg
Carbohydrates:

20g
Fiber:

1g
Sugar:

0g
Protein:

5g