Today's Keto Cookie Dough Recipe is one of the best quick and easy low carb snacks. Especially if you love making/eating chocolate chip cookies like I do, but enjoy eating the cookie dough even more!
I'm not going to lie, cookie dough was one of my all-time favorite things as a kid. So much so that my favorite ice cream growing up was - you guessed it - cookie dough!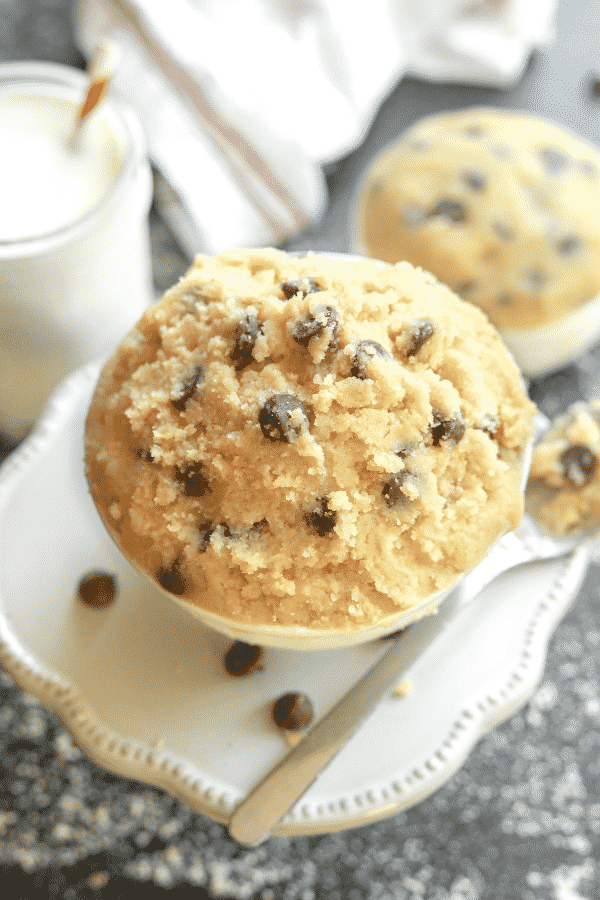 By the way, it's actually really easy to make keto cookie dough ice cream. All you have to do to make it is add today's cookie dough recipe to my keto vanilla ice cream!
I know, I just blew your mind.
Where's that mind-blowing emoji when you need it?!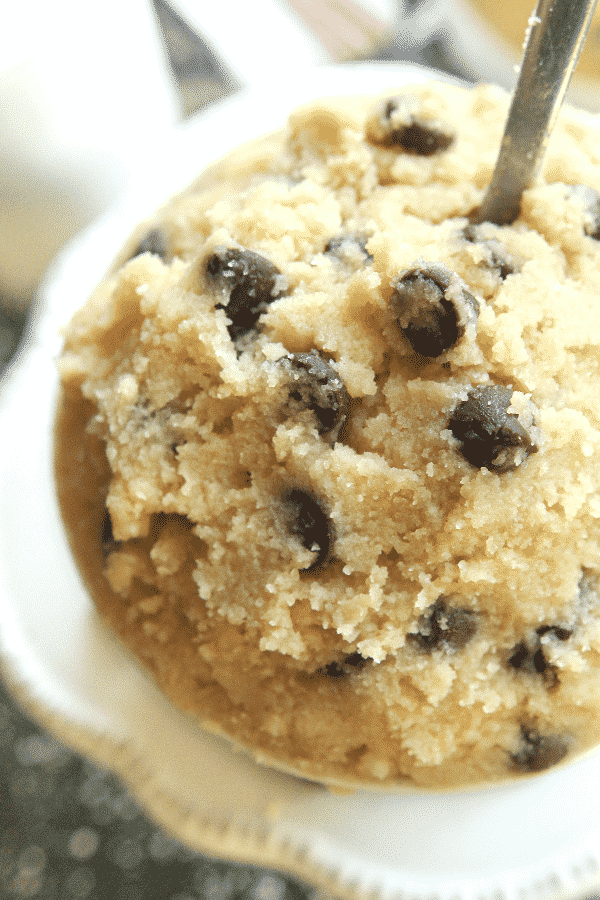 Edible Keto Cookie Dough In 5 Minutes
Honestly, it takes less than 5 minutes to make this stuff!
And that's not an exaggeration.
Honestly, this keto cookie dough is just as easy to make as my Keto Brownie Batter!
It actually might even be EASIER.
Seriously, all you have to do to make it is add all of the ingredients into a bowl, and mix.
Having said that, this recipe is TOTALLY SAFE to eat raw.
Usually, raw eggs are used to make cookies. And, as you might know, eating raw eggs can make you sick. So, we're going to replace raw eggs with Egg Beaters, since they're pasteurized, and safe to consume raw.
Anyways, I personally love recipes like this cookie dough. Recipes that are big on taste, but small on carbs, cook time, and clean-up. They're some of my favorite keto recipes actually.
How To Make Keto Cookie Dough
If you want step-by-step instructions on how to make keto cookie dough check out the video above! It's loaded with some really great tips!
Like I said before though, making this recipe is SUPER simple. All you have to do is add the ingredients into a bowl and mix.
And you'll only need 6 ingredients to make it too.
Ingredients like blanched almond flour, Swerve, vanilla extract, and salt. You probably have most of the ingredients - if not all of the ingredients - at your house already. Especially if you've been following a low carb diet like keto.
Also, this low carb edible cookie dough stores incredibly well in the fridge.
For whatever reason, I actually think it's better after it's had a day to sit in there. I think the cookie dough flavors just get to jive a bit more with one another, and it also gives the dough a chance to firm up a bit too.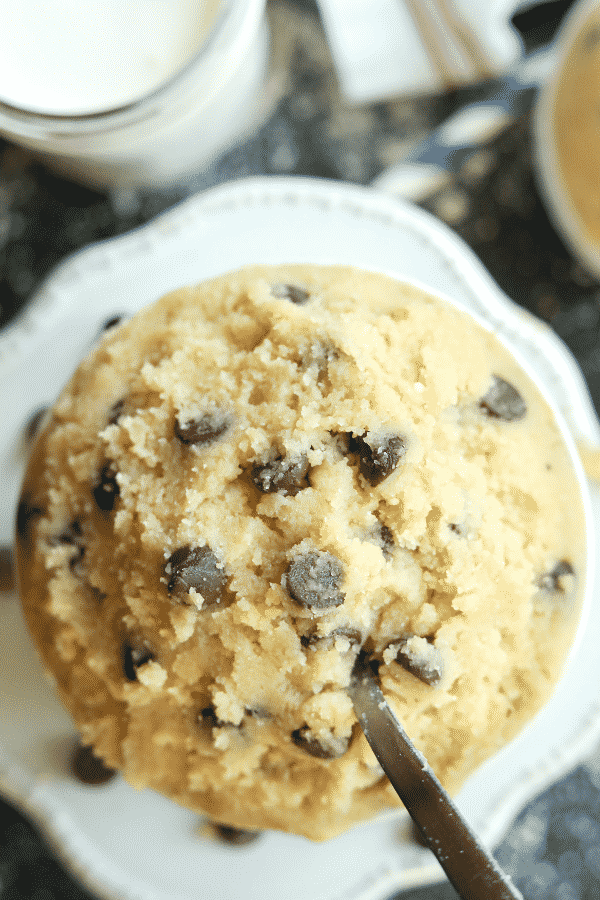 No Sugar Edible Cookie Dough
Today's edible cookie dough has NO SUGAR added to it.
If you're following a low carb diet - like the keto diet - you obviously are trying to avoid using/consuming added sugars.
So, instead of using sugar for the cookie dough, you'll want to use a keto friendly sugar substitute like Swerve.
I actually used Confectioners Swerve for today's low carb cookie dough. But all "confectioners" means is that the sweetener is extremely fine (it's blended up into a powdered) so it dissolves better. It's like powdered sugar, but without all the carbs.
If you don't want to use Swerve - or don't have it - another really great alternative is using Monk Fruit like this.
But I WOULD NOT use Stevia or other alternatives. And the reason for this is because typically other sweeteners (like Stevia) are MUCH SWEETER than Monk Fruit, or Swerve are. So you can't just substitute one for another equally.
Just to give you a for instance, Stevia is 200 times sweeter than sugar. Swerve & Monk Fruit are 70% as sweet as sugar. That's a HUGE difference.
So, don't use a different sweetener if you want to make the BEST Keto Cookie Dough you can!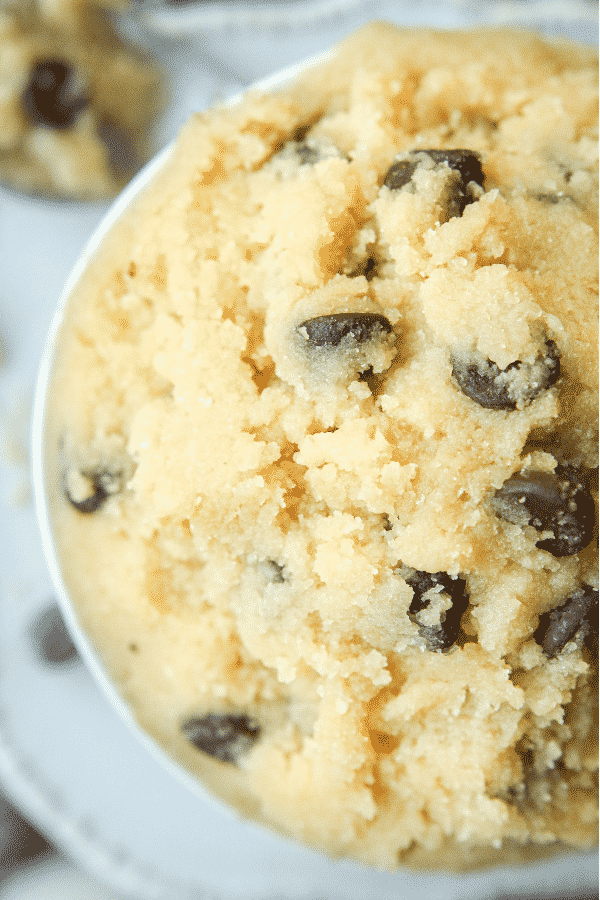 Gluten Free Edible Keto Cookie Dough (Flourless)
Today's edible cookie dough is not only sugar-free, but it's also flourless and gluten-free too.
Most cookie recipes use white/wheat flour as the base of the recipe. However, those flours are not low carb or keto friendly because they're loaded with carbs.
So, instead of using those, you'll want to use Blanched Almond Flour as the base of the cookie dough. Not only is Blanched Almond Flour gluten-free, but it's also low carb.
This one by Kirkland's has just 2g NET CARBS per serving. Plus, it's super affordable too!
By the way, DO NOT substitute coconut flour for the almond flour. Coconut flour is HIGHLY ABSORBANT, and almond flour isn't. So, you should NEVER SUBSTITUTE the two of them.
Think about coconut flour like a sponge, and almond flour like a rubber boot. I'm exaggerating here, but you get the idea. Your cookie dough will require MUCH MORE liquid if you use coconut flour, and it will cause the rest of the ratios in the recipe to be way off.
Print
Keto Cookie Dough Recipe | Easy, Low Carb, Gluten Free
This is THE BEST Keto Cookie Dough Recipe. My friends and family seriously can't believe it's low carb! Plus, this edible cookie dough is just incredibly easy to make. All you need is almond flour and just a few other ingredients. The recipe makes enough for one person, but can easily be doubled or tripled!
Author:
Prep Time:

5 minutes

Cook Time:

0 minutes

Total Time:

5 minutes

Yield:

2

Servings

1

x
Category:

Desserts
Instructions
Add all of the ingredients to a medium-sized bowl
*Note: For BEST results use a food scale, and weigh out the ingredients to the gram
Mix until combined
Refrigerate for up to a few days if needed
Notes
The Macros DO NOT include the "carbs" from Swerve. Swerve has 0 calories, so it should be tracked as 0 carbs. The FDA makes food companies list "sugar alcohols" as carbs, but that doesn't mean they should be tracked as such. That's why it's ALWAYS important to look at the calories of sweeteners and determine the true carb count FROM THE CALORIES!
Nutrition
Serving Size:

½ Cup

Calories:

320

Fat:

25

Carbohydrates:

10

Fiber:

6

Protein:

12
Keywords: Keto cookie dough, low carb cookie dough, edible keto cookie dough, how to make keto cookie dough, easy keto cookie dough, almond flour keto cookie dough, gluten free cookie dough