These keto peanut butter fat bombs literally taste like cookie dough! They have a delicious peanut butter flavor with chocolate chips and a texture that is to die for. But the best part is each one only has 1 NET CARB!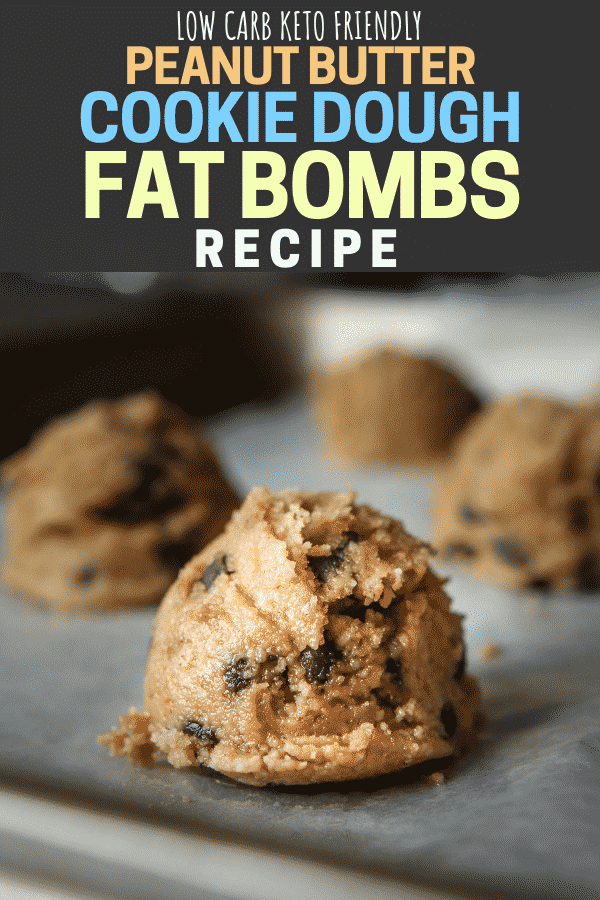 The Best Keto Peanut Butter Fat Bombs
Keto fat bombs don't get any better than these peanut butter fat bombs. The taste and texture is spot on cookie dough. Each one is loaded with chocolate chips, creamy peanut butter and a perfectly sweet flavor.
You seriously won't believe that these chocolate and creamy peanut butter bites of heave are low carb, sugar free, and gluten free! But they totally are, and since each one has just over 1 NET CARB, you can eat a few to curb all of your sugar cravings.
These low carb peanut butter fat bombs have quickly become one of my go to snacks that is not only delicious, but is loaded with healthy fats.
They're right up there with my peanut butter nut clusters that can be made with other nut butter, and my chocolate nut clusters.
Ingredients
So, to make one of the most delicious keto fat bomb recipes, you'll only need a few simple ingredients.
And they are all staple keto baking ingredients that I use for a ton of my keto desserts! So if you've made some of my recipes or any other keto recipes, odds are you'll have all of these on hand.
Here's what you'll need:
1 Cup Super Fine Almond Flour
2 Tbsps Confectioners Erythritol
⅓ Cup Sugar Free Chocolate Chips
6 Tbsps Natural Peanut Butter
1 Tbsps Coconut Oil (melted)
1 teaspoon Vanilla Extract
Pinch of

salt
Super simple, right? It's crazy that you can combine peanut butter with just a few more ingredients to make spot on cookie dough balls. And if you want, you can also make these with almond butter or any other nut butter.
Oh, and if you want some edible cookie dough, you have to try my keto chocolate chip cookie dough next!
How to Make Keto Fat Bombs
The process of making these peanut butter ball recipe is as easy as it gets! So if you've never made a keto dessert before or are new to baking, this recipe is an excellent place to start.
All it takes is one simple step and then you'll have one of the most delicious keto treats in existence. So let's not waste any more time and get into the recipe.
Step 1: Mixing The Ingredients
First, take out a large bowl along with all of the ingredients. Then add the almond flour, erythritol, chocolate chips, peanut butter, melted coconut oil, vanilla, and a pinch of salt to it.
Now mix everything together with a rubber spatula until the ingredients combine and a crumbly cookie dough consistency forms.
Step 2: Forming The Fat Bombs
Next, line a baking sheet with parchment paper. Then use a cookie scooper or your hands to form about 12 one tablespoon sized doughs balls.
Next, put all of the dough balls on the baking sheet and refrigerate them for at least 1 hour or until they set.
How To Store Keto Fat Bombs
So, this recipe will make about 12 fat balls. And honestly, they won't last very long since they're so addictive. I eat about 3 or 4 in one sitting, and it's totally fine since the carb count is so low and these are ideal for the keto diet!
Now, to store them, you can keep them in an airtight container or sealable bag in the fridge for about 4 days.
So you might want to double or even triple this recipe when you make it to have these little bites of deliciousness on hand all week long.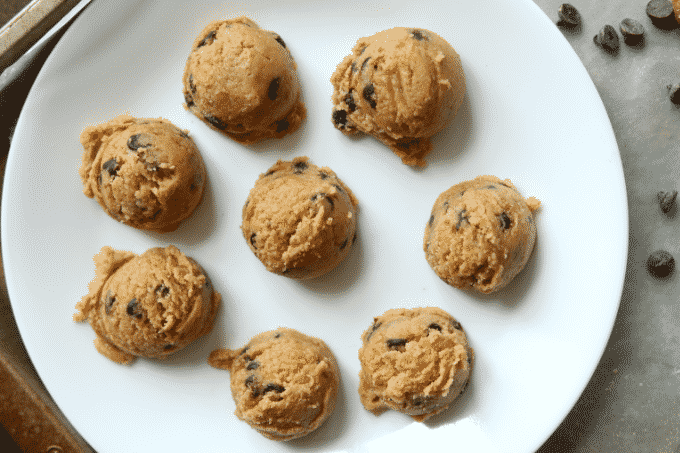 Wrapping It All UP
As far as keto snack ideas or dessert ideas go, these keto peanut butter fat bombs are at the top of my list. If you have a sweet tooth like me, eating one or two of these is a sure fire way to curb your cravings.
And the crazy thing is, these fat bombs ACTUALLY taste like peanut butter cookie dough. Like, it's crazy how good these are guys. To make them eve better, each one has just over 1 NET CARB, 4 grams of protein, and a ton of healthy fats!
I hope you enjoy these as much as I do. If you make them, leave a comment below and let me know what you think! And make sure to check out my Youtube channel for more keto recipes!
Print
Keto Peanut Butter Fat Bombs
These keto peanut butter fat bombs literally taste like cookie dough! They have a delicious peanut butter flavor with chocolate chips and a texture that is to die for. But the best part is each one only has 1 NET CARB!
Author:
Prep Time:

5 mins

Total Time:

5 mins

Yield:

12 Fat Bombs

Category:

Dessert

Cuisine:

Keto Low Carb
Instructions
Add all ingredients to a large bowl

Mix with a spatula until crumbly

Use your hands to form a ball of dough

Once a ball of dough forms, scoop 12 equal sized cookie dough fat bombs onto a baking sheet lined with parchment paper

Refrigerate for atleast an hour

Store in a ziplock bag in the fridge once they're done setting.
Notes
*NOTE: Macros don't account for the erythritol sweetener, it has ZERO CALORIES.
Nutrition
Serving Size:

1 Fat Bomb

Calories:

135

Fat:

11

Carbohydrates:

5

Fiber:

3.5

Protein:

4
Keywords: keto fat bombs, keto fat bomb, keto fat bomb recipe, keto peanut butter fat bombs, keto peanut butter fat bomb recipe, keto peanut butter fat bombs recipe, low carb fat bombs, low carb fat bomb, low carb peanut butter fat bombs, low carb peanut butter fat bomb recipe