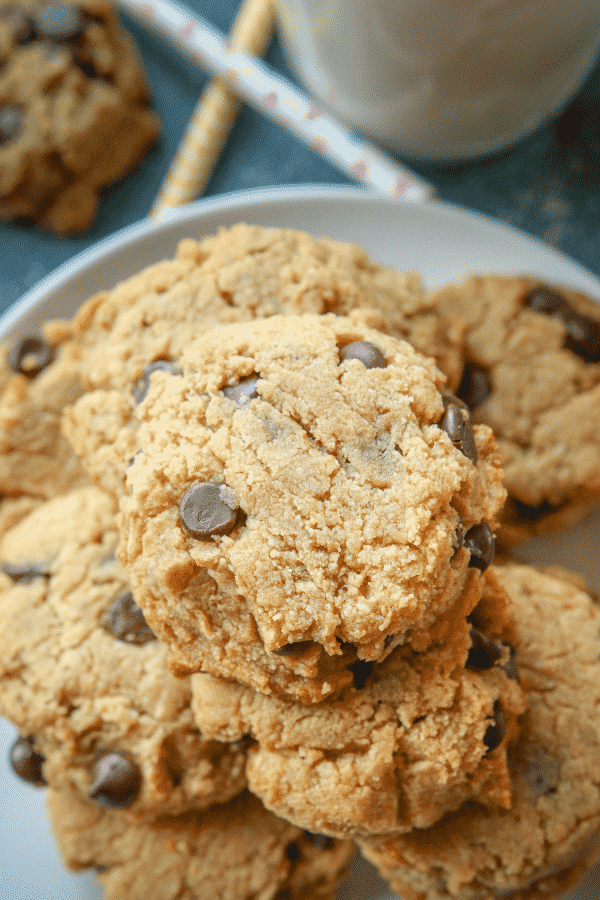 The BEST Chewy Keto Cookies
Keto cookies don't get better than today's Low Carb Peanut Butter Chocolate Chip Cookie Recipe!
I've made a lot of low carb cookie recipes over the past few months - like these, and these - but today's recipe may very well be the best keto cookie recipe I've ever made.
How To Make Keto Cookies (VIDEO)
So what makes these the best keto cookies?
Well, for one, they only take 15 minutes from start-to-finish to make. So if you're looking for an easy keto cookie recipe, this is it!
Secondly, these Peanut Butter Chocolate Chip Cookies are incredibly soft and chewy. And that's certainly not an easy feat to pull off when you're making low carb cookies.
Deliciously Easy Keto Cookies
Also, these cookies are incredibly delicious! Every bite has the perfect amount of sweetness, even though there's actually no sugar added to them.
Honestly, you'd never know these were low carb keto cookies unless somebody told you they were.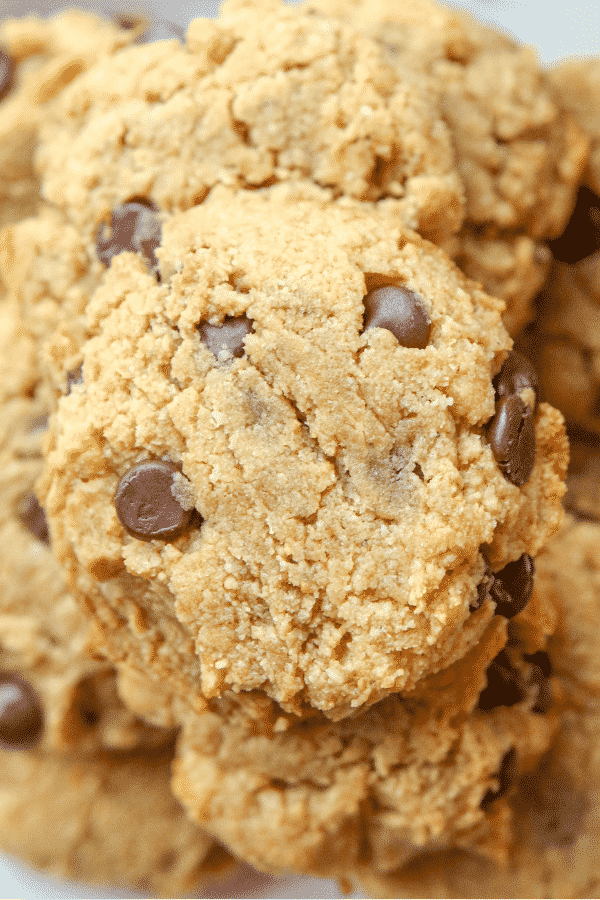 How To Make Keto Cookies With The LOWEST Carbs Possible
Cookies are typically loaded with carbs. The two main ingredients to almost all cookie recipes are flour and sugar. Both of which are basically just all carbs.
So, naturally we'll have to avoid using those 2 ingredients in our keto cookies.
Instead, we'll use Almond Flour, and Swerve.
The BEST Almond Flour To Use For Your Keto Cookies
Almond flour works great as a low carb keto friendly flour substitute. There are a few different kinds of almond flour that you can buy, but the Kirkland's Blanched Almond Flour is what I recommend.
I say that because the Kirkland's Almond Flour is MUCH cheaper than other brands, and it has the lowest amount of net carbs per serving. Every 28 grams of that almond flour has just 2 net carbs.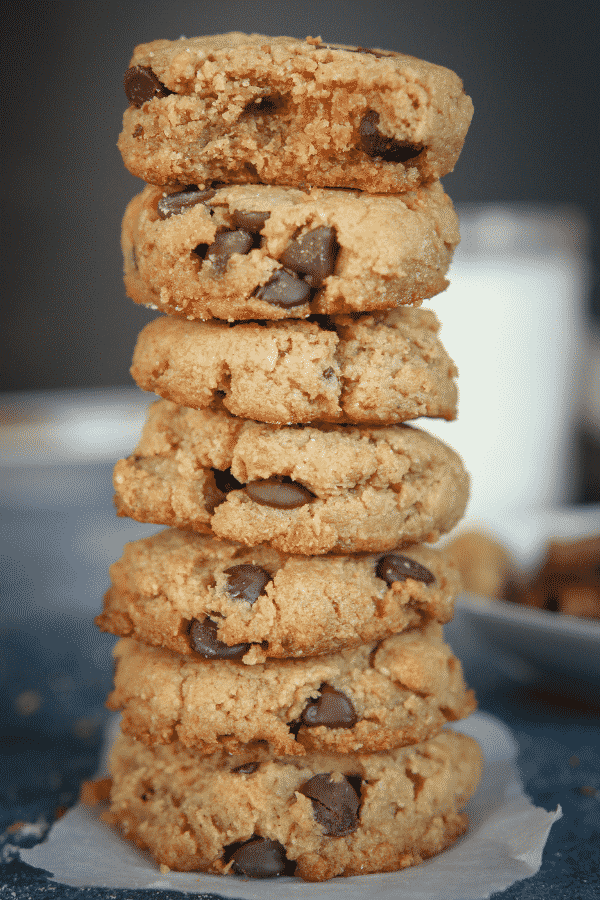 Using Swerve To Sweeten Up Your Cookies
Swerve is a fantastic 0 carb replacement for sugar. I use Swerve to sweeten up all of my recipes, and it worked especially nice in today's Peanut Butter Chocolate Chip Keto Cookie Recipe.
With that being said, you can either get the Granulated Swerve, or Confectioners Swerve. I prefer to use the Confectioners in almost all of my recipes because it dissolves so much better than the granulated kind. So, that's the kind I'd recommend getting, and it's also the one I used for the keto cookies today.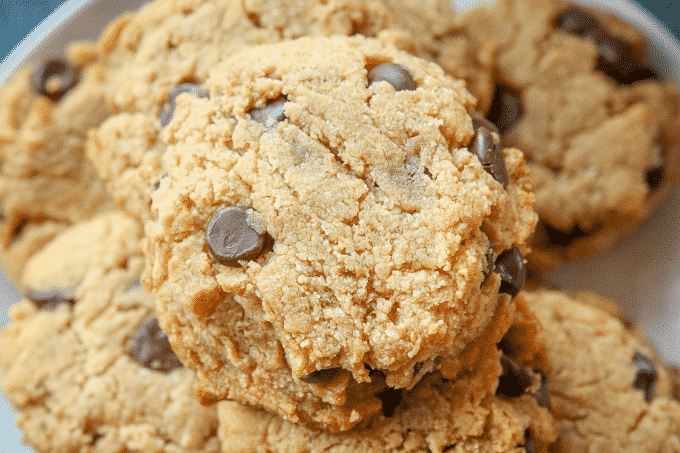 The BEST Chocolate Chips For Keto Cookies
Lily's Chocolate Chips are a low carb keto game changer. They are absolutely delicious, have no-sugar-added to them, and every serving has only 2g net carbs.
In my opinion, there is no better option as far as keto chocolate chips go, and you'll save a ton of carbs by using them. Also, you can use them to make these incredible sugar free chocolate chip cookies - each cookie has just 59 calories!
Do NOT Substitute Ingredients
By the way, DO NOT substitute coconut flour for the almond flour. They have different absorption properties and the cookies will not work.
Also, DO NOT substitute stevia or Splenda for the Swerve. However, you can substitute it with Monk Fruit, and you can also substitute it with other kinds of erythritol too.
Anyways, if you use all of the same ingredients I used for my cookies, each one will only have 2g of net carbs! So, I encourage you to use them because I know they'll turn out perfect if you do.
Print
Keto Cookies In 15 Minutes | Peanut Butter Chocolate Chip Cookies Using Almond Flour
Keto Cookies in 15 Minutes! These easy low carb Peanut Butter Chocolate Chip Cookies are THE BEST. They are SO soft and chewy, and each cookie has ONLY 2g NET CARBS. If you're looking for a delicious quick keto cookie recipe, look no further!
Author:
Prep Time:

5

Cook Time:

10

Total Time:

15 minutes

Yield:

15 Cookies

Category:

Dessert
Instructions
Preheat your oven to 325 Degrees
Next, add all of the liquid ingredients into a large bowl
Now, mix and combine them with a spatula
So, now at this point you'll want to dd all of the dry ingredients into the same bowl
Once you've done that mix and combine all of the ingredients with a spatula until a batter starts to form
Once it does, use your hands to form a ball of dough, and set the bowl aside
Now, line a baking sheet with parchment paper, and coat the parchment paper with baking spray
Use a Tablespoon Sized Cookie Scoop, and add 12 equal sized scoops to the baking sheet
Bake the cookies for around 8-10 minutes
They will be soft to the touch - almost cake like - this is normal, but the edges should be golden brown
Let them cool down completely on the baking sheet
Once they completely cool down and set they'll become firm, and much more cookie like
Enjoy!
Notes
*NOTE: Macros don't account for the erythritol sweetener, it has ZERO CALORIES.
2 NET CARBS PER COOKIE:
4g Carbs - 2g Fiber = 2g NET CARBS
Nutrition
Serving Size:

1 Cookie

Calories:

133

Fat:

10

Carbohydrates:

4

Fiber:

2

Protein:

4
Keywords: keto cookies, low carb cookies, chocolate chip keto cookies, cookies keto, cookies for keto, peanut butter keto cookies, how to make keto cookies, best keto cookies, easy keto cookies, almond flour keto cookies, keto cookies using almond flour