This Keto Pizza Dip Recipe has everything you love about pizza but without all the carbs! It makes a great side dish for game-day, or really just any get-together. And it's SO EASY to make too!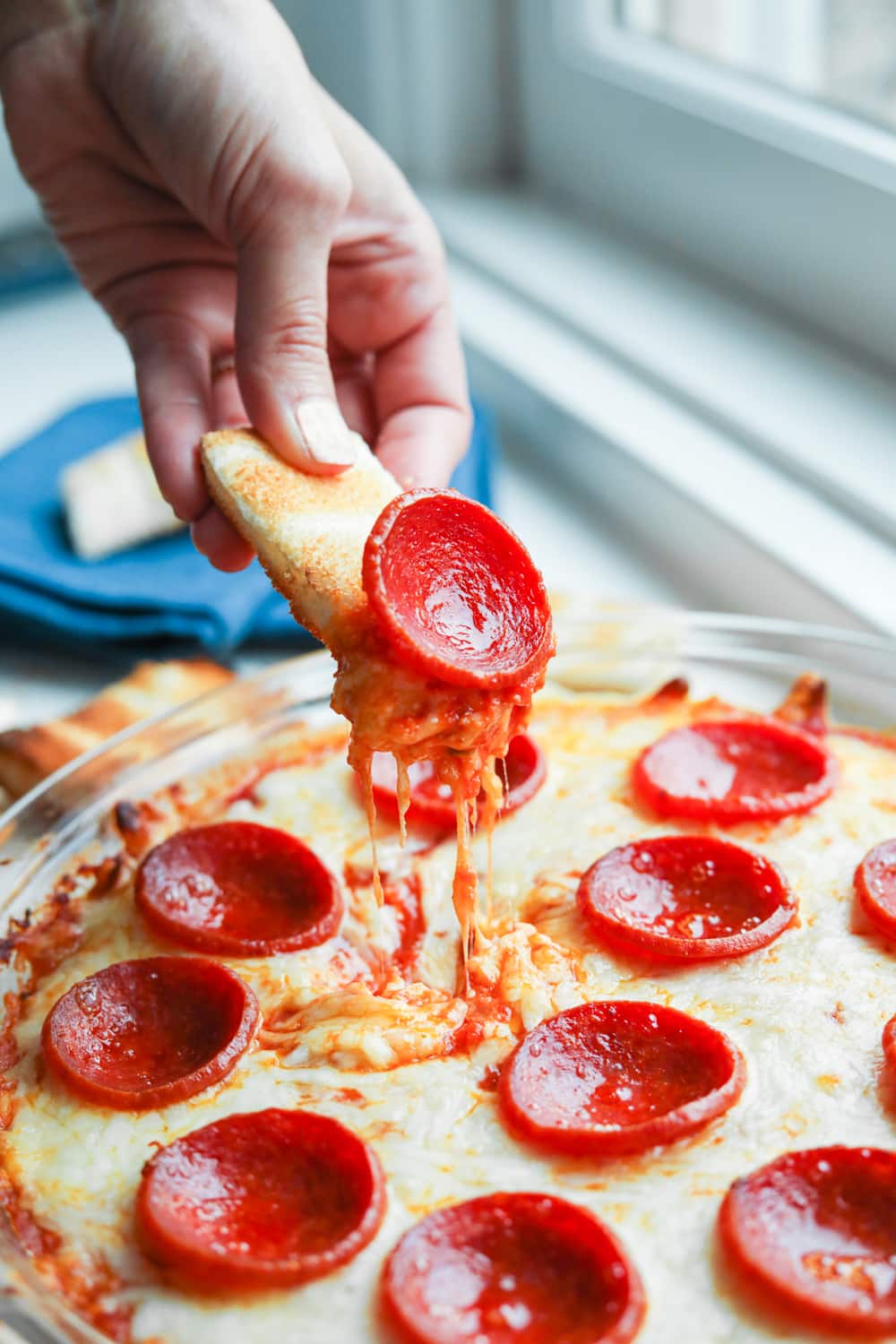 Keto Pizza Dip
Ok, so, whether you're hosting a party, or you need a side dish for one, this dip recipe is sure to be a hit!
In fact, your guests will have no idea this is a low carb keto pizza dip that's how good it is. I mean, it's basically pizza without the crust, and who doesn't love pizza?!
Now, I'm sure you're thinking, "Joe, pizza dip is great, but WHAT CAN I DIP INTO THIS that's low carb & keto?"
Well, I have some suggestions...
By the way, I used my 2 Minute Bread to dunk into this pizza dip, and it was incredible!
So, that's my number 1 suggestion.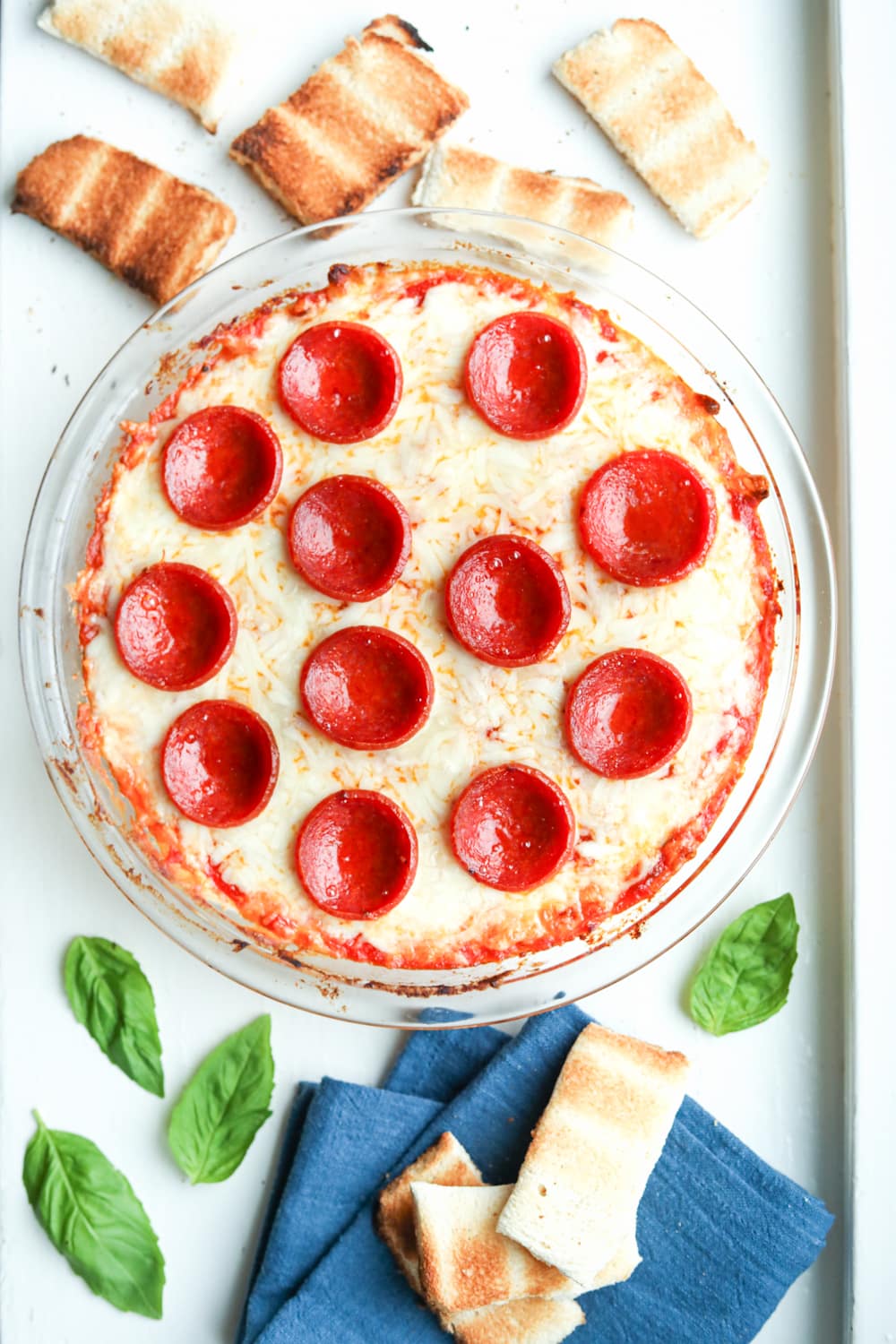 How To Make Keto Pizza Dip
As I mentioned, this dip is incredibly easy to make.
There are very few ingredients, and from-start to finish it takes about 15 minutes to put together.
Speaking of ingredients, you'll need...
Milk

Cream Cheese

Mozzarella

Pepperoni
So, basically you're going to add the first 3 ingredients to a pot and melt them together.
Once melty, spread everything evenly on an 8x8 baking dish, top with keto pizza sauce, followed by more cheese, and then lastly pepperoni.
Now at this point, you'll just toss that dish into the oven, and broil until the cheese melts and becomes bubbly.
Literally it's that easy to make this dip!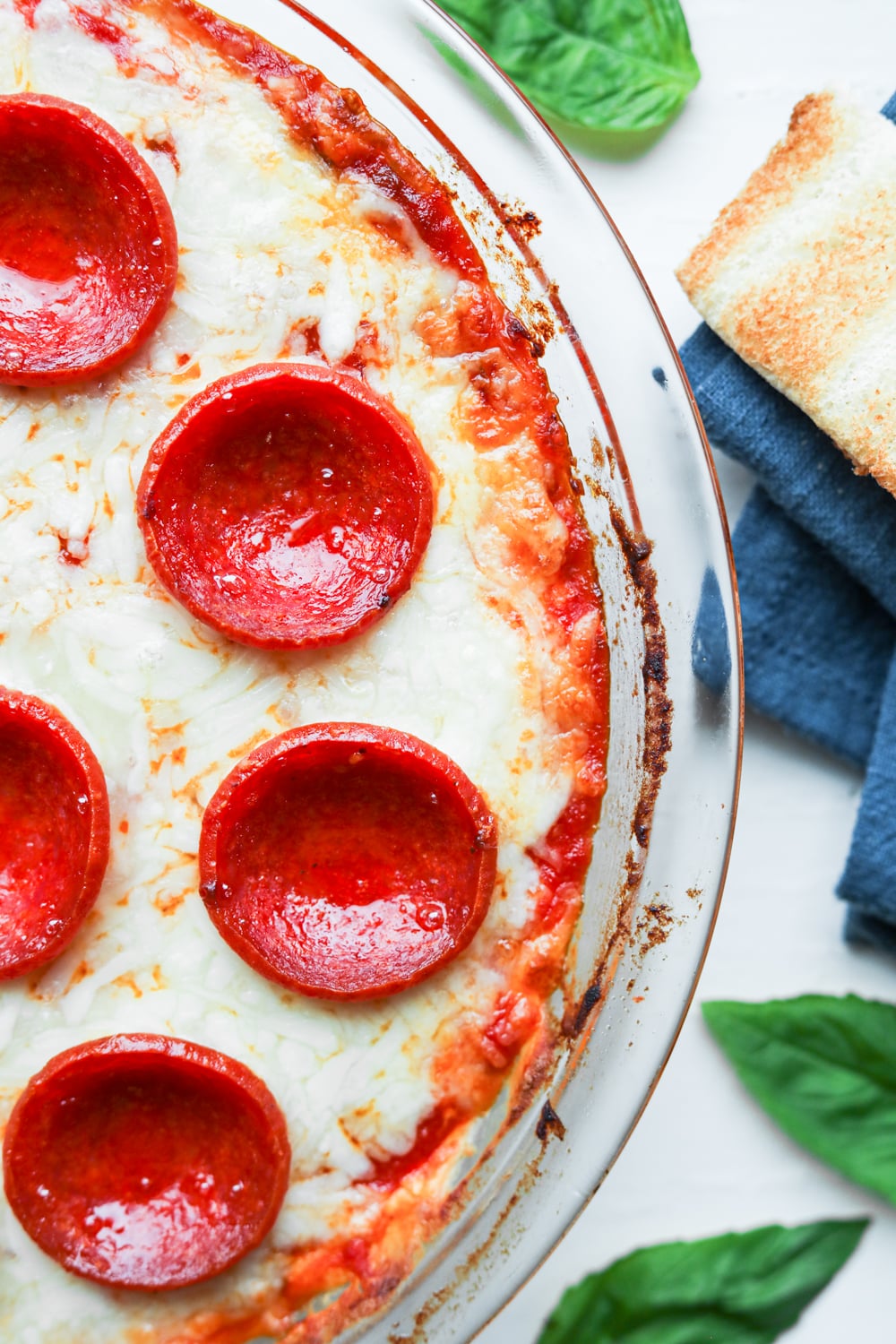 Low Carb Keto Ingredients For This Pizza Dip
Ok, I have some tips for you to keep this dip as low carb as possible.
There are a few ingredients you can use that can drastically reduce the number of carbs in the dip.
So let's get into them...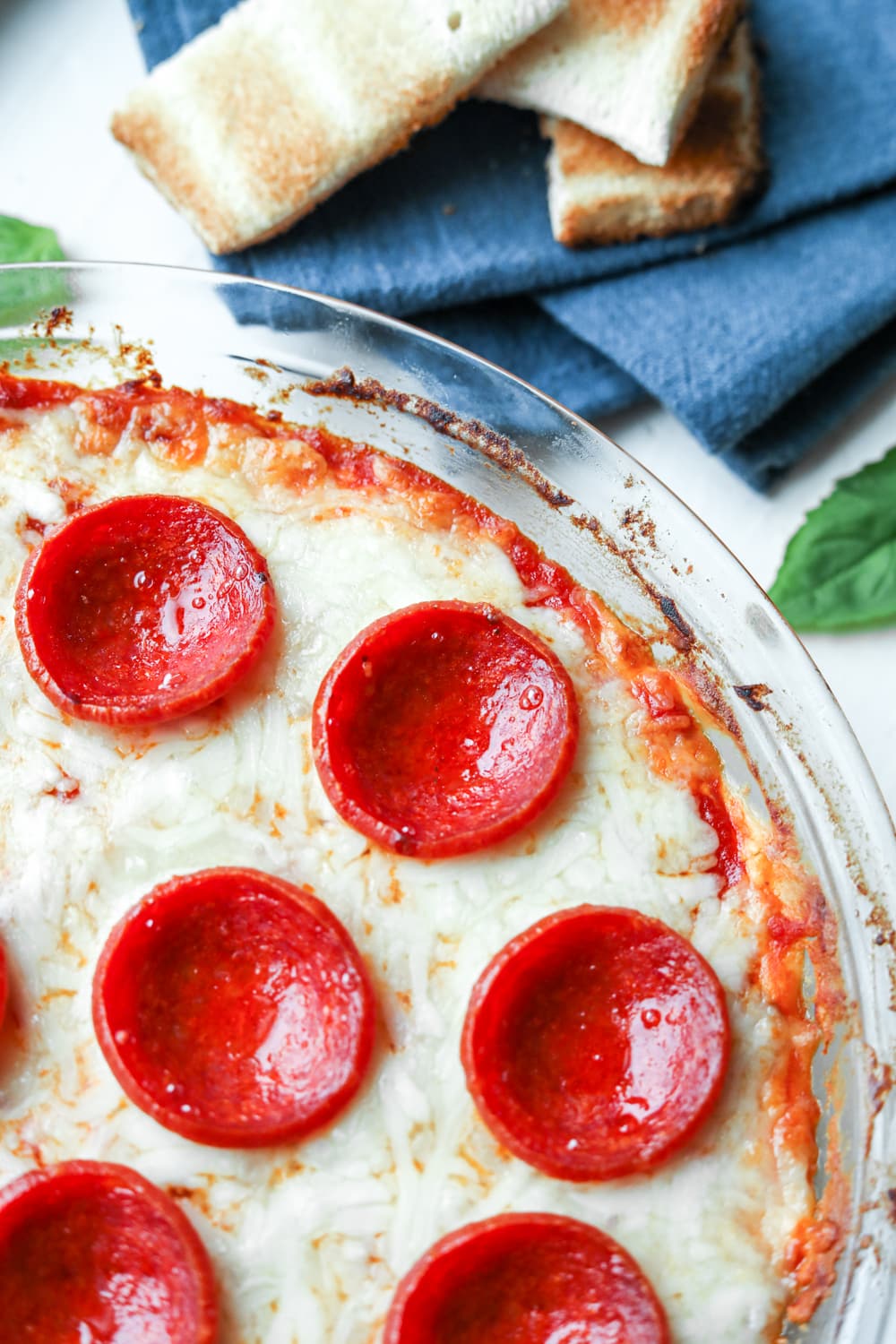 Choose The Right Milk
Number one, use a "milk alternative" instead of regular milk.
Milk has a lot of carbs...but almond milk, macadamia nut milk, and cashew milk all have nearly 0 carbs. That said, just make sure you use the unsweetened version of those "milks".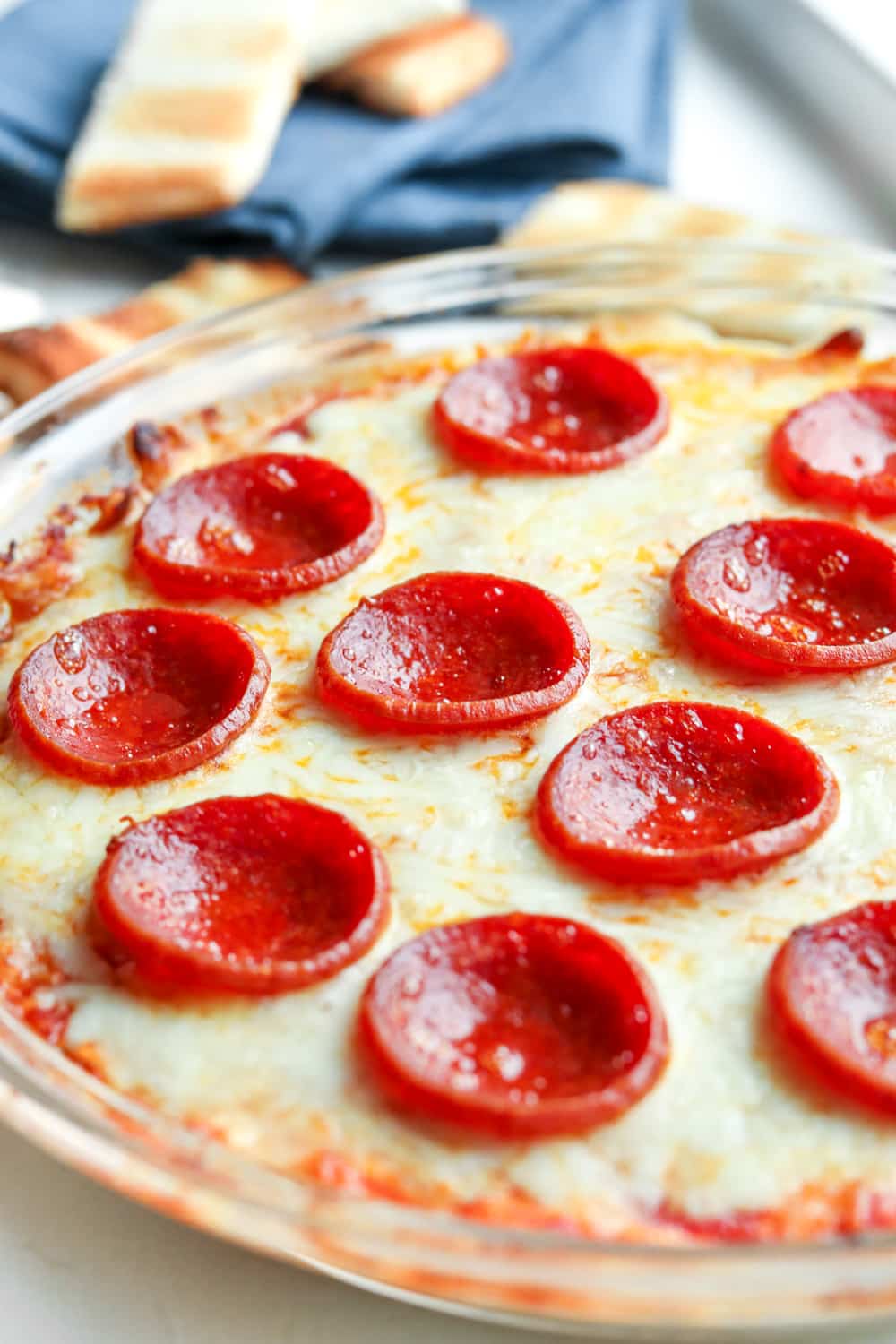 Cheese
Shredded mozzarella cheese is definitely the easy choice, but it's not the lowest carb one. To keep the cheese "fresh" companies add starch, and it increases the carb count on the cheese.
Instead, opt for some fresh mozzarella, and shred it yourself! Fresh mozzarella has next to 0 carbs.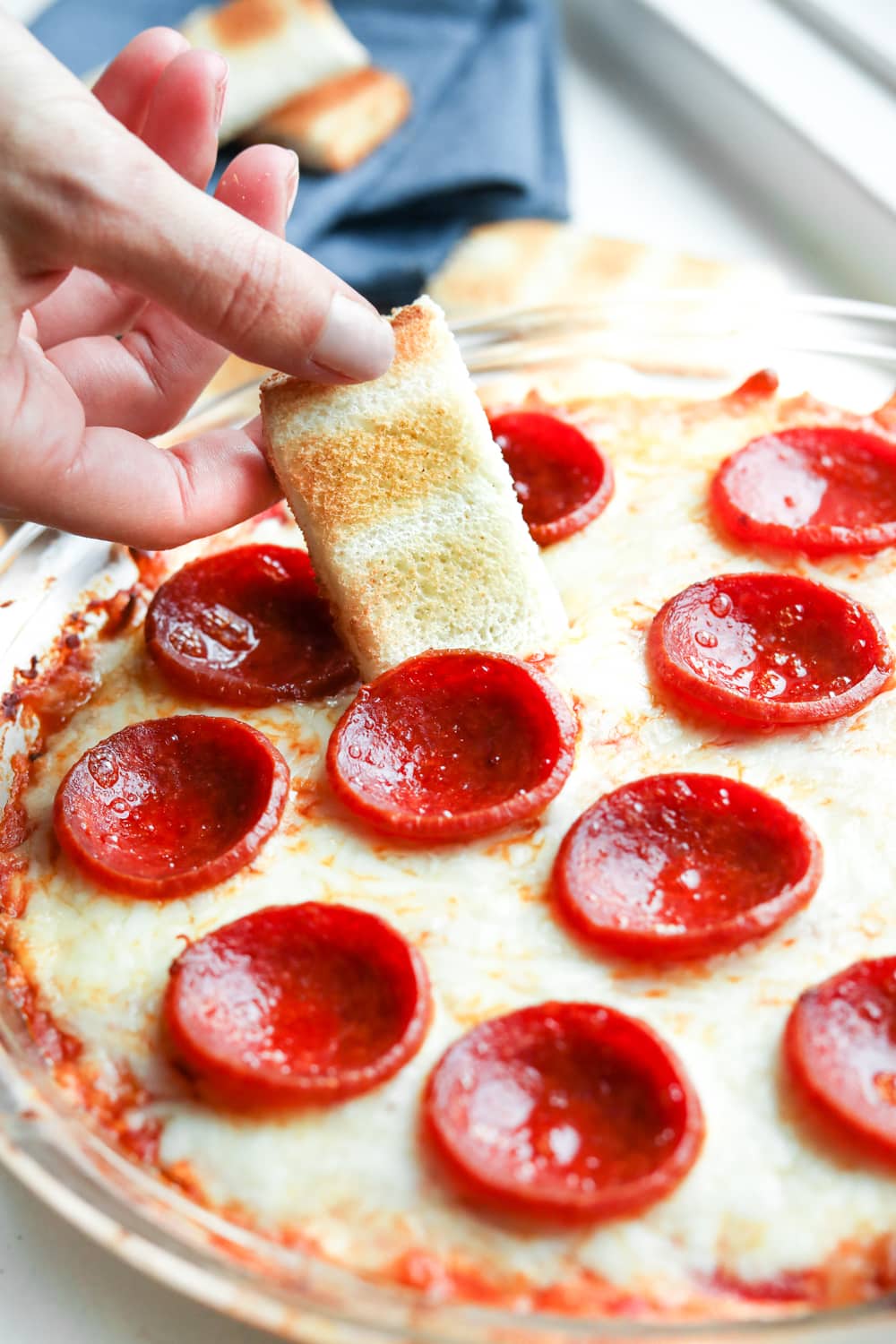 Pizza Sauce
There are A LOT of different pizza sauces out there.
And most are definitely not a good low carb keto option.
However, a couple of them are. My personal favorite is this one by RAO'S. It only has 2 net carbs per 60 grams, and that's about as low as you're going to find for a sauce.
Not to mention, RAO'S sauce is just tasty, tasty, tasty!
That said, no matter what sauce you go with, try to find one that only has 2 net carbs per 60 grams.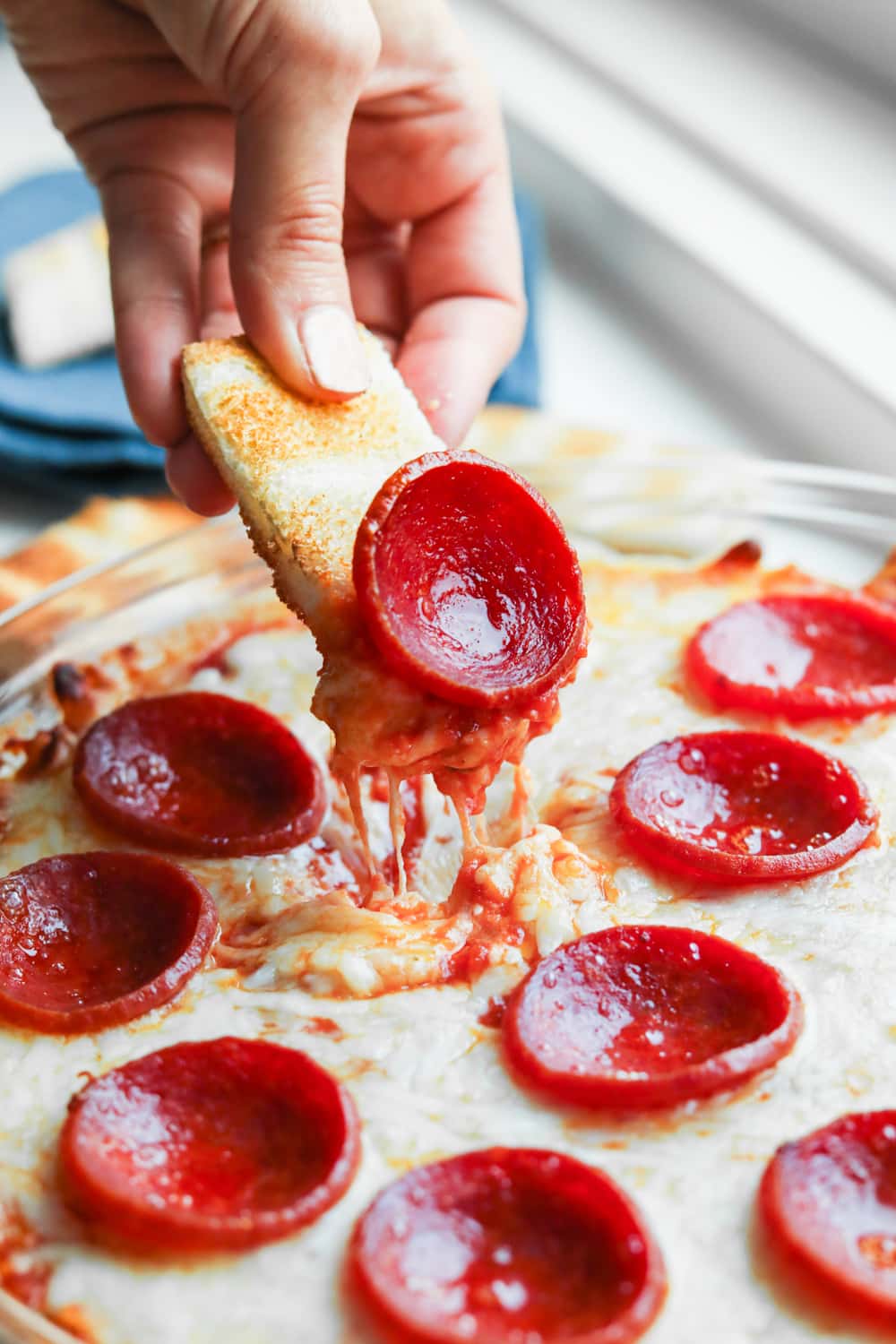 Print
Keto Pizza Dip | Easy & Low Carb
This Keto Pizza Dip recipe is the perfect keto side dish or appetizer. It has everything you love about pizza, except the carbs! And it's incredibly easy to make, requires just a few keto friendly ingredients, and tastes delicious. And it's sure to be a hit with everyone, not just low carb keto dieters.
Author:
Prep Time:

10

Cook Time:

5

Total Time:

15 minutes

Yield:

8 Servings

Category:

Side Dish / Appetizer

Cuisine:

Keto
Instructions
To a pot add the almond milk, cream cheese, and 1 cup of the mozzarella cheese.
On medium high heat, mix/combine the ingredients into one another - Stirring with a spatula the entire time.
Once combined, transfer the cheese mixture to the bottom of an 8x8 pyrex dish.
Add the pizza sauce, and the remaining cheese, as well as the pepperoni.
Set your oven to broil, and cook until the cheese melts and begins to bubble.
Serve hot!
Nutrition
Serving Size:

3-4 Tbsps

Calories:

180

Fat:

14.5

Carbohydrates:

1

Fiber:

0

Protein:

7
Keywords: keto pizza dip, keto pizza dip recipe, how to make pizza dip, low carb pizza dip, easy pizza dip, pizza dip keto, keto side dishes, keto appetizers