Making the most out of your weight loss journey is all about picking the best exercise equipment. See, if you have the right equipment, it makes it super easy to lose weight at home. And this list has all of the best home exercise equipment for weight loss!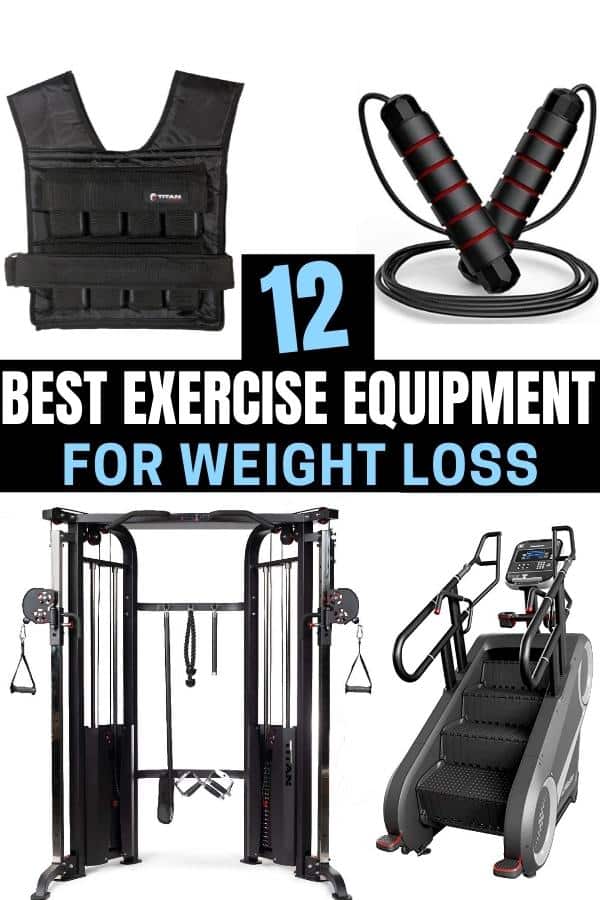 The Best Home Exercise Equipment For Weight Loss
While a gym membership and working out at the gym have their perks, having your own home exercise equipment also offers a lot of advantages.
For one, it makes it easier to be more consistent with your workout routine, and consistency is everything when it comes to losing weight. Instead of having to drive and go out of your way, you can work out right in your own home!
Another plus of having home exercise equipment is that you can work out any time you want. First thing in the morning, in the middle of the day, at night - whenever you feel it!
I know for me it's super convenient having home exercise machines and equipment right in the comfort of my own home - well, actually my garage - and accessible whenever I need it. And that's been especially true since I've had kids.
Also, a big plus to having exercise equipment at home is that you don't have to wait to use what you want to use. Nothing breaks up the flow of a workout more than wanting to use a machine and having it be in use and unavailable.
Anyway, with all that said, there's a ton of exercise equipment out there, and it can be hard to narrow down which ones are the best for weight loss - and what is actually worth buying.
Oh, and I included a few options for each one that you can buy depending on what you're looking for.
So, let's dive into this list and I'll go over the best exercise equipment for weight loss to have at home!
1. Jump rope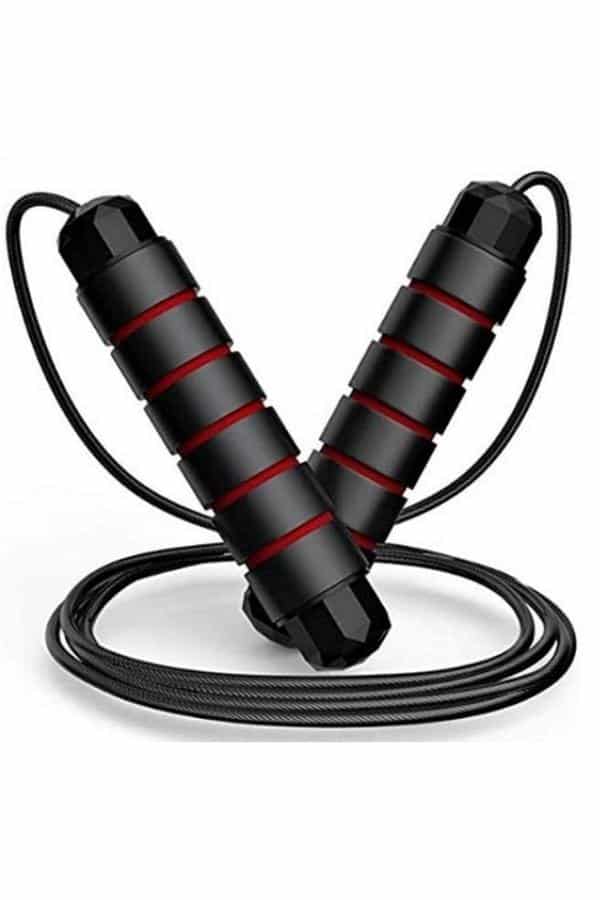 Jump ropes aren't just a popular childhood toy, they're super affordable and an effective piece of exercise equipment that burns a ton of calories. The average person can burn about 200-300 calories by jump roping for only 15 minutes!
And jumping rope is a thermogenic exercise; it helps your body produce a lot of heat, burning fat and calories in the process. Plus, it improves your lung capacity and stamina, so it's great for cardio training.
You can use a jump rope as a warm-up for your workout, or as a workout all by itself! Also, since it's so portable, inexpensive, and doesn't take up any space, it's definitely a must-have in your home fitness equipment arsenal.
Here are some jump rope options you can buy:
The lowest-priced jump rope is your typical basic jump rope that offers everything you need to get a sweat in.
The average-priced jump rope has an LED display that tracks your jumping speed and calorie count which is super cool. This can help you monitor your workout and progress each time you use it.
The highest-priced jump rope has weighted handles to incorporate your upper body into the workout! So you'll get a shoulder and forearm workout while jumping rope.
2. Treadmill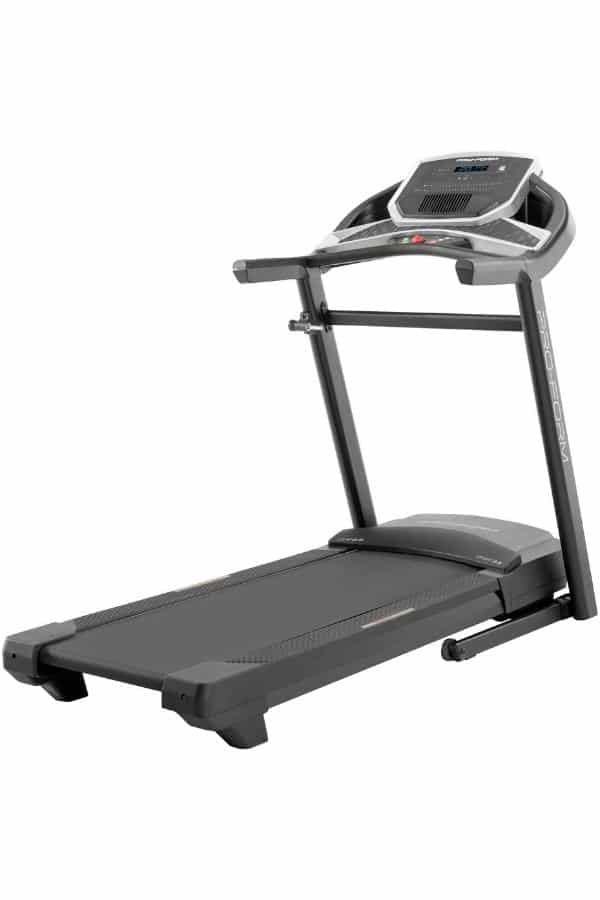 A treadmill is often the first big piece of home exercise equipment people buy when they get serious about losing weight.
The treadmill is one of the best machines for cardio training that also aids in weight loss. It's incredibly versatile, working great as both a low-impact workout and high-intensity workout.
But you can also jog, run, or do some high-intensity interval training which really increases the calorie burn.
Overall, the intensity, duration, and pace will determine how many calories you are able to burn on the treadmill. But for an example, the average person can burn 300 calories in 30 minutes running at a 6 mph pace.
Here are the different treadmills you can buy:
The lowest-priced treadmill only has 3-levels of incline, but it does offer an onscreen display that you can monitor all of your exercise data.
The average-priced treadmill has an adjustable incline and foldable design, a built-in blue-tooth speaker, and a multi-tread and anti-shock running belt.
The highest-priced treadmill has a ton of workout features and it will monitor and adjust your speed for higher efficient workouts. It also comes with a 10-year frame warranty, 2-year parts warranty, and 1-year labor warranty.
By the way, if you want a treadmill that is easily storable and is perfect for a home office, this one is a great choice - you can put the handle down and walk on it while you're doing work!
Also, for what it's worth, I love walking on the treadmill on a steep incline for an hour or so when I am trying to lose a little extra weight. Honestly, for me, there is no better piece of home exercise equipment for weight loss than a treadmill. I use mine almost every day.
3. Elliptical
The elliptical is another cardio machine to consider for your weight loss fitness journey. And that's especially true if you prefer a low impact workout - meaning it's easier on your joints - but still want to effectively burn calories and fat.
What's unique about an elliptical is it can work out your arms and legs at the same time for an entire body workout, which is something you can't really do on a treadmill alone. And the more muscles you use, the more calories you burn!
Now, the number of calories you burn on an elliptical will largely depend on your pace, duration, and bodyweight. For example, someone who weighs 155 lbs. can burn up to 324 calories during a 30-minute workout - and that's at just an average pace.
Here are some ellipticals you can buy:
The lowest-priced elliptical has 8 levels of resistance, a digital monitor to track your workout, and it's easy to put together.
The average-priced elliptical has a device holder for your cell phone, 24 unique workout modes, and an onboard backlit display to track your workout including calories burned, speed, time, distance, and RPM.
And the highest-priced elliptical has an app that you can track everything on, 50 plus routes that you can travel via Bluetooth on your device, 25 levels of resistance, and an adjustable ramp for incline workouts.
4. Exercise bike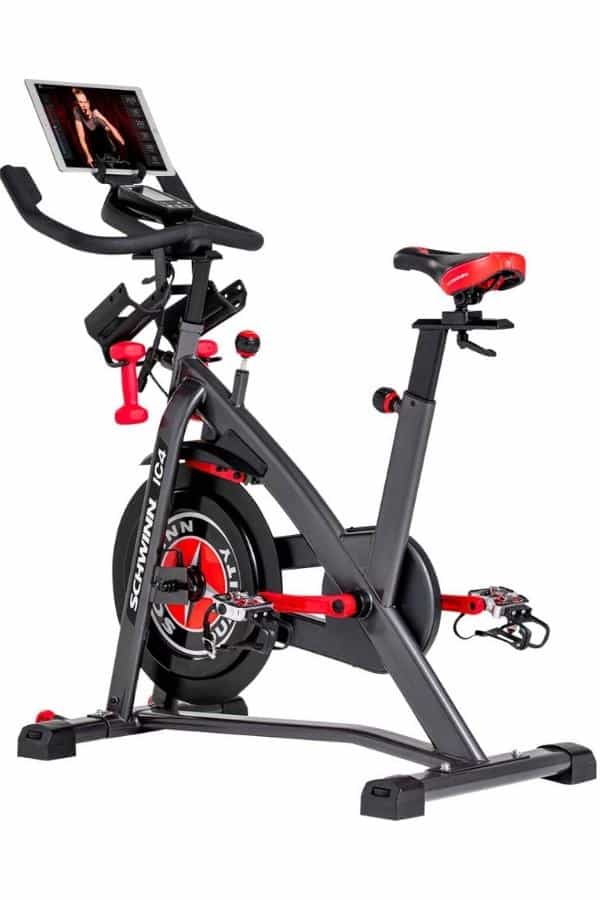 Another great cardio option that can help you lose weight is the exercise bike.
Although you're sitting down, the exercise bike can still be a killer workout that results in a high calorie burn. Plus, it builds your leg muscles more than the treadmill and elliptical.
The average person can burn 260 calories in a moderate 30-minute bike ride. But, like the treadmill and elliptical, the pace you ride at will affect how many calories you are able to burn.
Here are some exercise bike options:
The lowest-priced option is very basic, but it does have up to 8 levels of resistance.
The averaged-priced bike has an extra-wide seat cushion, adjustable handlebars, and adjustable saddles, and is just as good for beginners as it is for experts.
The highest-priced bike has a digital monitor that tracks everything you need to ensure you're getting in a quality workout. And it is built with heavy steel, so it is a super long-lasting bike.
5. Rowing machine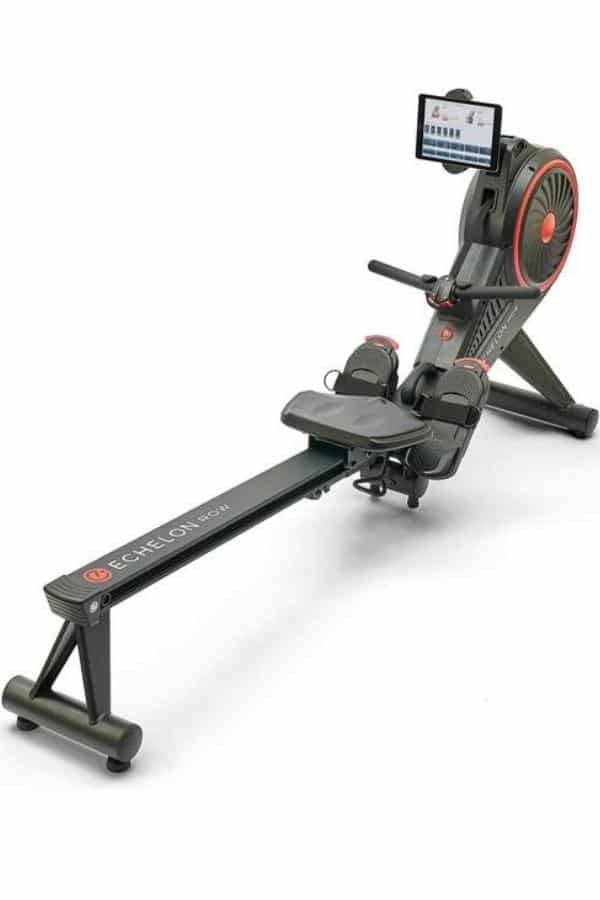 If you prefer a quick and low-impact full-body workout, rowing machines are a solid piece of home exercise equipment to have.
Compared to other cardio machines, the rowing machines engage more muscle groups and burns more calories in less time. Of course, the number of calories burned depends on the intensity and also bodyweight of the individual.
But, for an example, a person that weighs 145 lbs. and rows at a moderate pace can burn up to 116 calories in 15 minutes.
If you want to add a rowing machine to your home exercise machines, here are some great options:
The lowest-priced has 8 levels of magnetic resistance and a large adjustable monitor that displays elapsed time, stroke count, and calories.
The average-priced has an interactive personal training app that comes with the machine, an LCD monitor, and it's a water rowing machine, so it stimulates real rowing in the water.
And the highest-priced rowing machine is the one that you'll find at a gym with all of the advanced features.
6. Dumbbells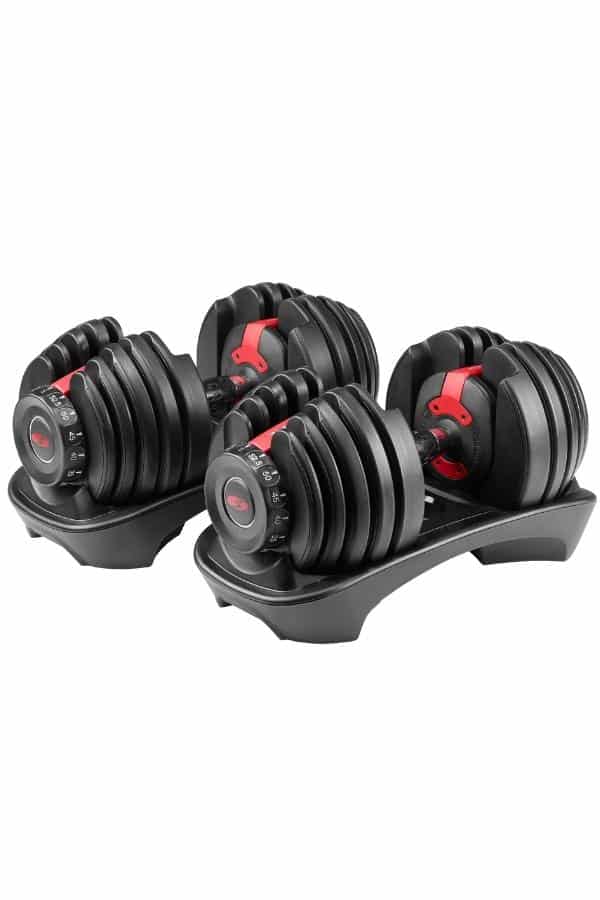 I love dumbbells because you can work out your entire body - incorporating more muscles - in a variety of ways. And they're great to burn fat because you're building muscle while burning calories.
Just like the jump rope, dumbbells don't take up a lot of space so they are perfect if you don't have a lot of space to work with for your home gym.
A huge benefit of having dumbbells is mixing strength training and cardio is a great way to burn even more fat.
I like to mix dumbbells with some of the other equipment on this list for a complete workout. For example, you can jump rope for 30 seconds and then do 10 squats holding the dumbbells.
Now, the price of dumbbells will vary depending on how heavy they are. With that said though, these Bowflex ones are great because you can adjust the dumbbells from 5 pounds up to 52.5 pounds.
And if you want to pick a specific weight, here are options for 1o-45 pound dumbbells.
7. Assault bike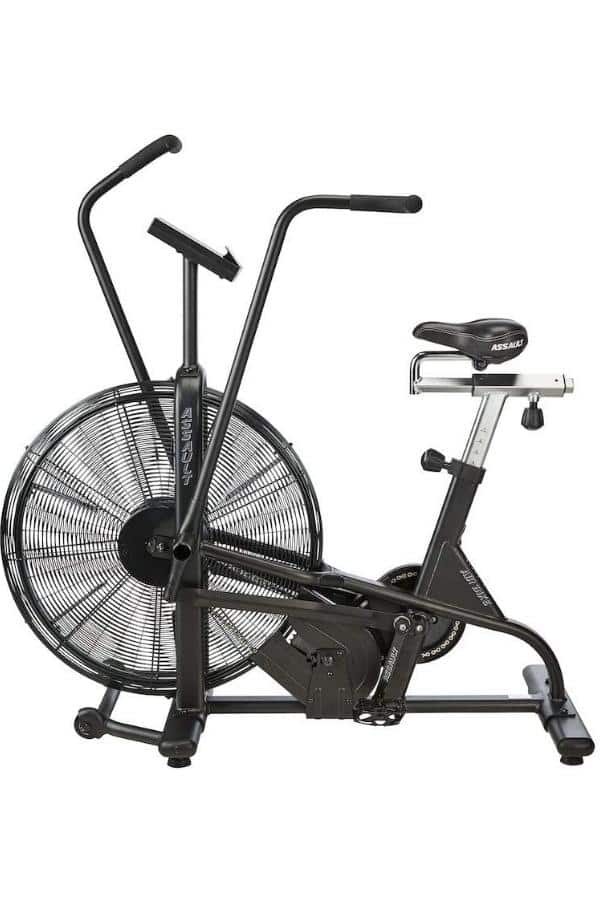 If you're looking for a cardio machine like an exercise bike but want more of a full-body workout, the assault bike is just what you need.
The Assault Bike is built with a large fan and moving handlebars. The fan creates resistance based on the amount of speed and power you put into the workout, and the moving handles train your upper body as you pedal with your legs.
With this intense combo, you can burn even more calories since you're using more muscles!
Now, like other cardio machines above, the intensity and duration will determine how many calories you burn. But at a moderate pace, the average person can burn 20 calories per minute.
So you can burn the same amount of calories in 5 minutes that it would take you to burn in 30 minutes on the treadmill.
Here are the different assault bikes you can buy:
The lowest-priced functions like all of the other assault bikes, but the handle placement is not as efficient.
The averaged-priced has a large 27.5" fan that creates more air resistance resulting in a more effective workout.
The highest-priced has a comfortable adjustable seat, it's super quiet, and it has progressive wind resistance for an endless number of ways to challenge yourself.
8. TRX suspension trainer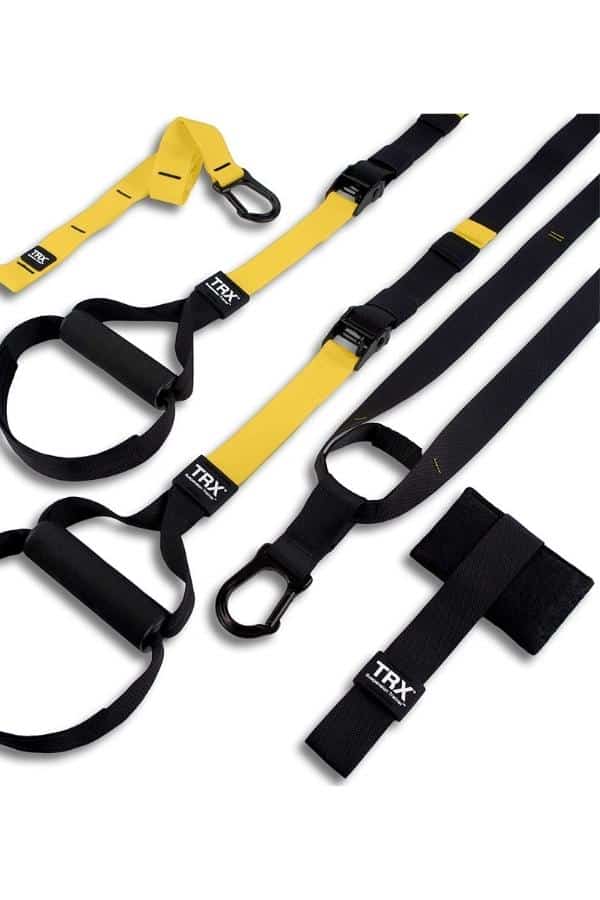 TRX stands for Total Resistance Exercises and if you like your workouts intense, you'll definitely want this bodyweight exercise equipment in your home gym.
Similar to the dumbbells, the TRX is great to add to your workout routine since the mix of strength training and cardio is best to lose weight.
You can use the TRX to do things like push-ups, pull-ups, squats, core exercises, and so much more. And if you didn't think TRX could burn calories, a 1-hour class using all TRX exercises can burn between 360-530 calories.
And since it uses your body weight as the resistance, you can adjust it however you need, making it perfect, if you're at the beginner or advanced level.
Here are the different levels of TRX trainers that you can buy:
The lowest-priced is really everything you need for your home gym. It hooks up to a door frame, so it's super portable.
The average-priced one comes with a wall anchor so you can set it up if you have a designated workout room. It also comes with mini bands that can be used for a variety of exercises, and a water bottle as an added bonus to staying hydrated.
The highest-priced TRX has thicker, more durable handles and it comes with an exercise manual for every exercise that you can do with the TRX. So you'll never run out of exercise!
9. Functional trainer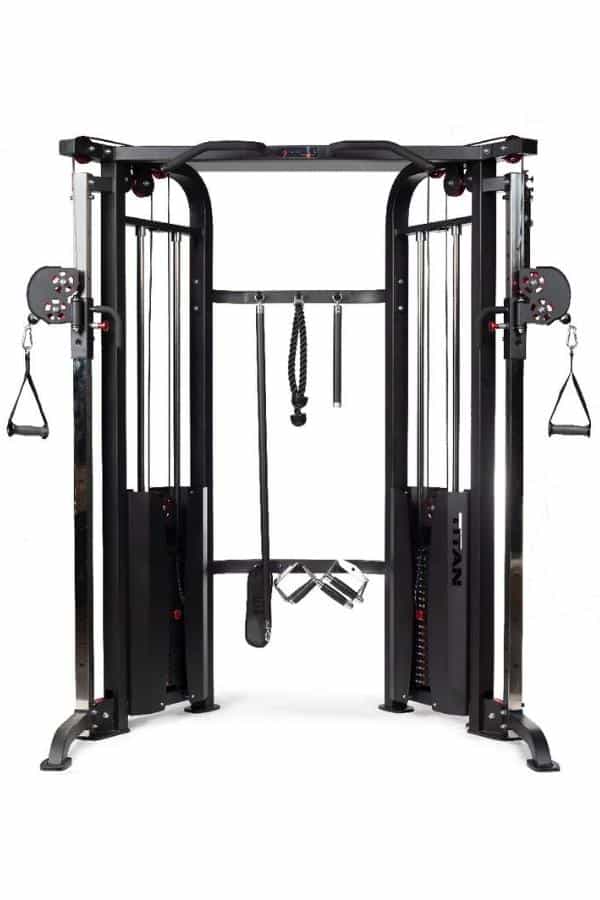 While the functional trainer is primarily made for strength and resistance training, it helps burn calories too. It's perfect if you want to be able to do a variety of exercises to burn fat and build lean muscle mass.
It offers a variety of things you would get at a gym all in one. Of course, what the functional trainer offers will vary based on which one you buy.
Here are all of the options:
The lowest-priced functional trainer has a weight stack lock, dual-action arm press, and removable leg curl pad. It offers 150 pounds of resistance.
The average-priced one is quite different and it has two weight stacks, adjustable pulleys, and different attachments for even more exercise options.
And the highest-priced is like the average-priced one but it has even more attachments. It has more pull up grip options, and swivel pulleys for more flexibility with your movements.
10. Stair master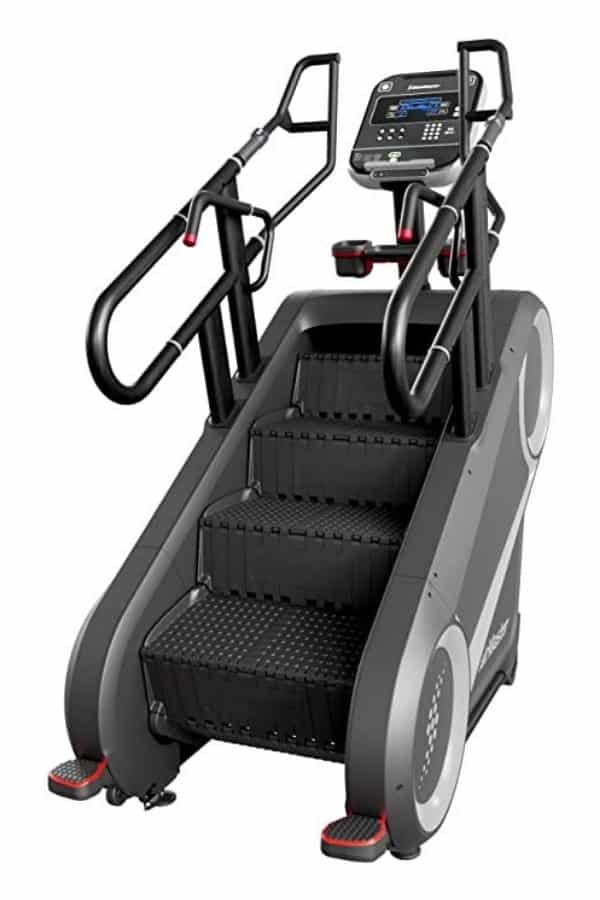 You've probably heard that if you want to lose weight, take the stairs. And, although you can just take the stairs, having a stair master is a great addition to any home gym.
The stair master works all of your leg muscles, and core muscles, and incorporates a cardio component. A half-hour on the stair master can burn 180-260 calories or more depending on your body weight and the intensity you're stepping at.
There are a few different options for the stair master, so here are the ones you can buy:
The lowest-priced stair master is super basic, but it has everything you need to get in a great workout.
The average-priced stair master is a little smaller than the one you'd find at a commercial gym. The step range is 26 to 162 steps per minute and it comes with 10 total workout programs.
The highest-priced one is the one you'll find at a gym. It has all of the features and options you can get in a stair master.
11. Step-Up Box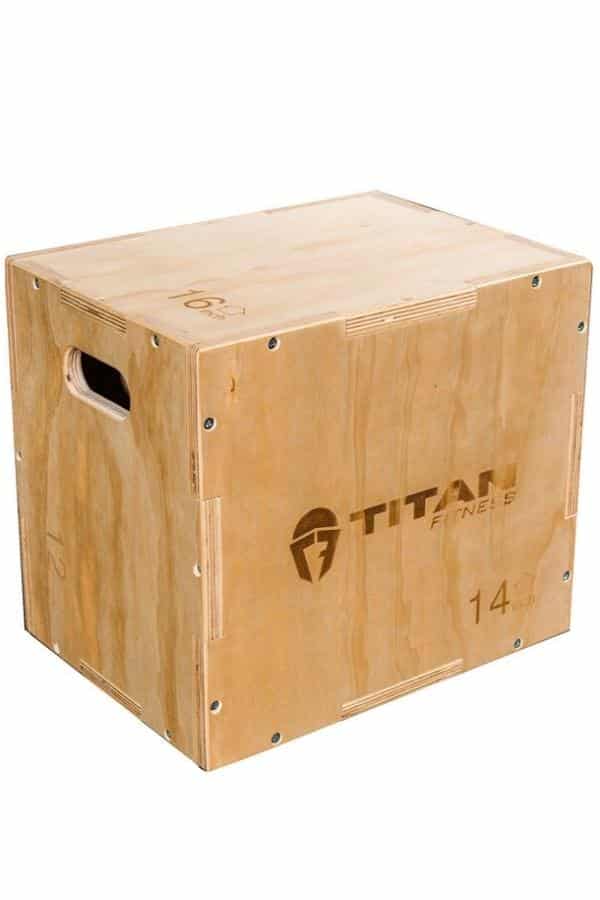 A step-up box is everything that you need for a full lower body workout. You can do things like squats, step-ups, box jumps, and more.
For the step-up box, the best option out there is this one. It has three different heights so you have plenty of options to adjust your workouts. It also is nice to have the different height variations if your husband - or wife - is working out with you too, since everyone can find a setting that's perfect for them.
With that said, I think the 12x14x16 inch step-up box is the most versatile height, so that's the one I recommend getting.
12. Weight Vest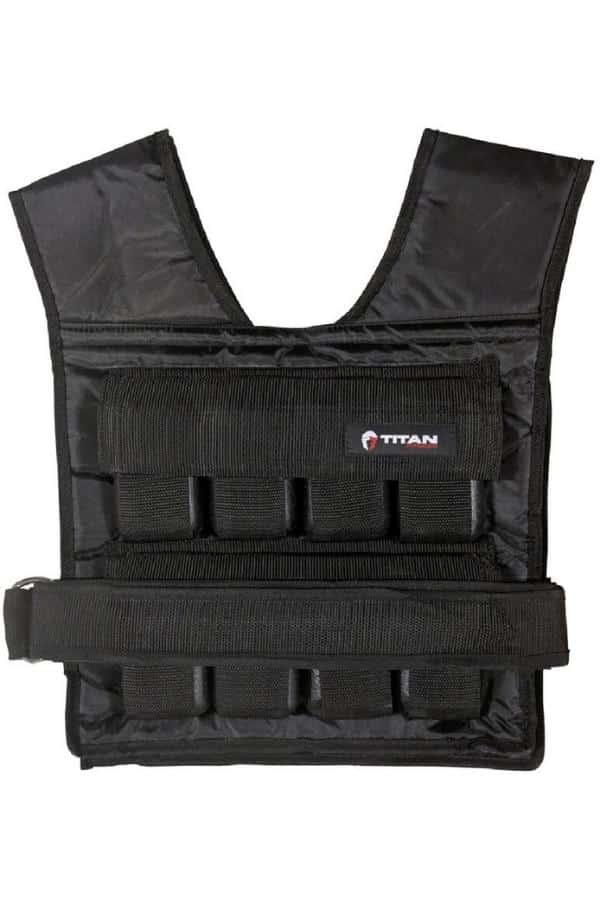 Want to burn even more calories? A weight vest is the answer.
It is one of the most versatile pieces of exercise equipment you can buy for weight loss.
You can wear it while you're walking on the treadmill, doing the stair stepper, using the TRX, jump roping, and really when you do any type of exercise.
And since it adds weight to you, it results in burning more calories no matter what you're doing!
There are a few variations of weight vests that you can buy, but I think this one is by far the best.
You can pick what weight range you want and then you are able to add more weight to the vest in increments.
WRAPPING IT ALL UP
Well, that's my guide to all the best home exercise equipment for weight loss!
There's something on this list for everyone. Whether you're looking for an intense workout machine or casual gym equipment all of these options will help you lose weight. And for each home exercise equipment, there are a few different options that vary in price and utility.
By the way, if you want to boost your weight loss results - even more - check out my list of the best pre workout supplements for weight loss, the best protein bars for weight loss, and the best green tea for weight loss next. Adding these to your daily routine can help you lose weight even faster!
Oh, and if you want to make recipes that can help you lose weight too, make sure to check out my Youtube channel as well.