From burgers to chicken to breakfast sandwiches, everything on this low calorie Burger King list comes out to less than 450 calories! So, if you thought you had to skip Burger King while following a low calorie diet, think again.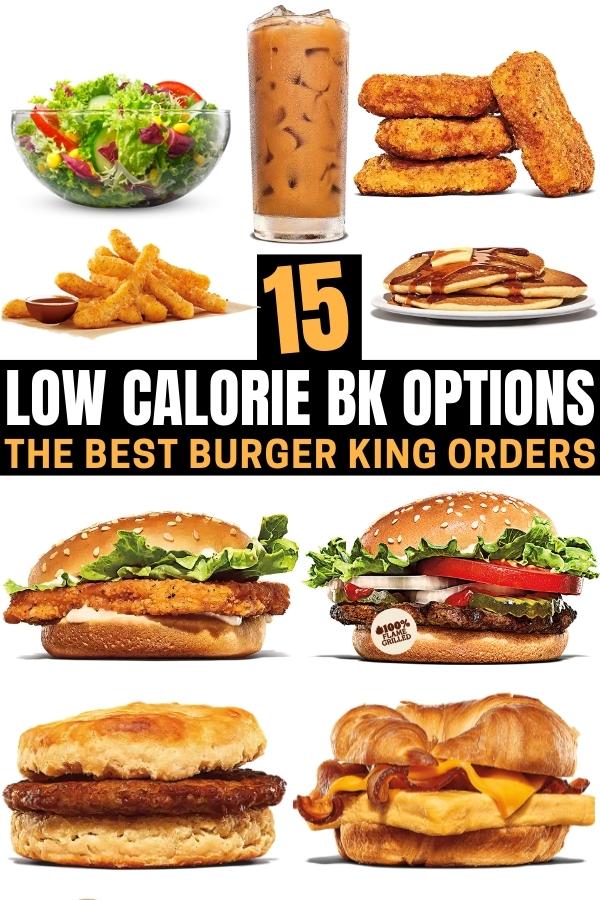 The Best Low Calorie Burger King Menu Orders
Burger King is well known for their insanely calorie-packed burgers and menu items.
I mean, a Whopper alone has almost 700 calories. And then if you make it a "meal" and add fries and a drink, you're looking at over 1,000 calories. Yikes!
With that said, there are a ton of really tasty low calorie Burger King menu options, you just have to know what to look for. And that's exactly what this list will help you do.
This list has all the best low calorie menu options Burger King offers - all under 450 calories. And I've also included some low calorie drinks you can add to your order, and a brief guide on which desserts have under 300 calories as well.
So, whatever you're craving, you're sure to find it - or maybe something even better - on this list!
By the way, everything on this list was calculated using the Burger King Nutrition Explorer. So if you want to check out the nutritional breakdown for anything on their menu, you can find it there.
1. 4 Piece Chicken Nuggets
Though Burger King is obviously known for their burgers, you can't miss out on its delicious chicken nuggets.
An order of 4 pieces of chicken nuggets at Burger King has just 192 calories.
Also, for what it's worth, they go terrific with some of my 0 calorie BBQ sauce.
2. 9 pc. Chicken Fries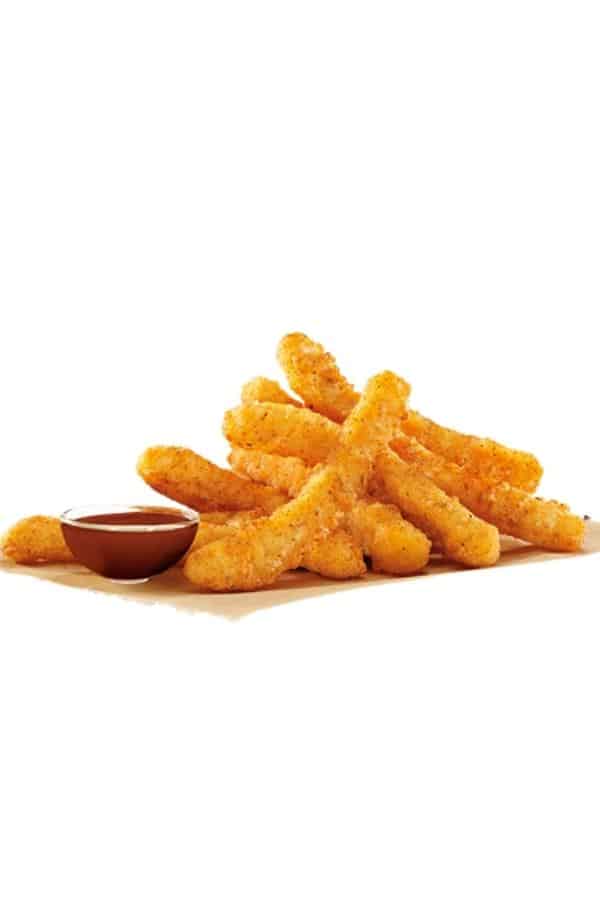 These crispy breaded chicken strips combine the portability of french fries and the deliciousness of crispy chicken cutlets into one tasty package. And you can get a 9-piece box for just 252 calories!
By the way, if you want to pair your chicken fries with a dip, I have an awesome low calorie sauce list with a ton of options that would be terrific with these chicken fries.
3. Hamburger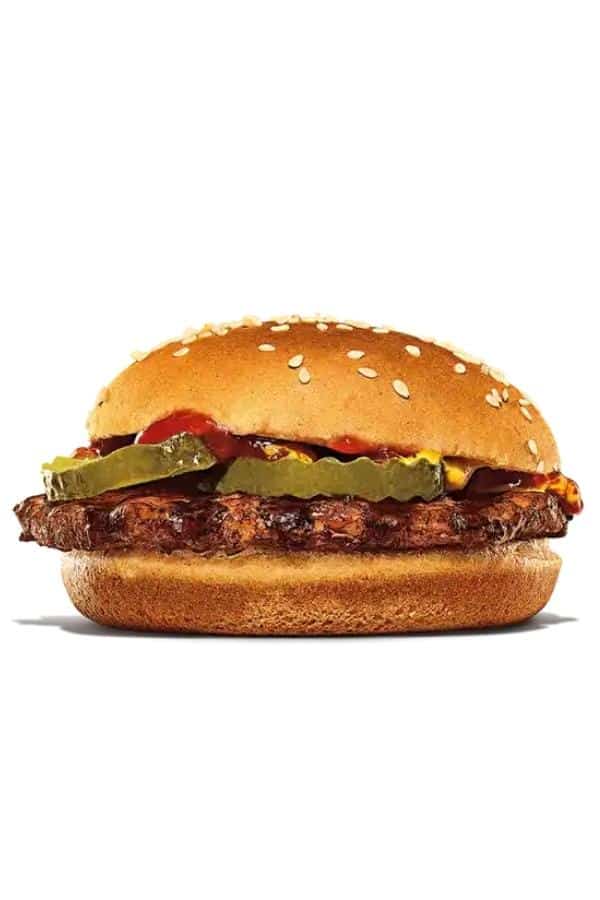 You can't go wrong with a classic hamburger at Burger King.
The patties themselves hold a ton of flavor, so even a basic hamburger with their flame-grilled beef patty, pickles, mustard, and ketchup on a toasted sesame bun can make for a satisfying lunch - with a total of just 259 calories.
If you're extra hungry, you can even add on an order of 4 pc. jalapeno cheddar bites (171 calories) without going over 450 cals!
4. Cheeseburger or Bacon cheeseburger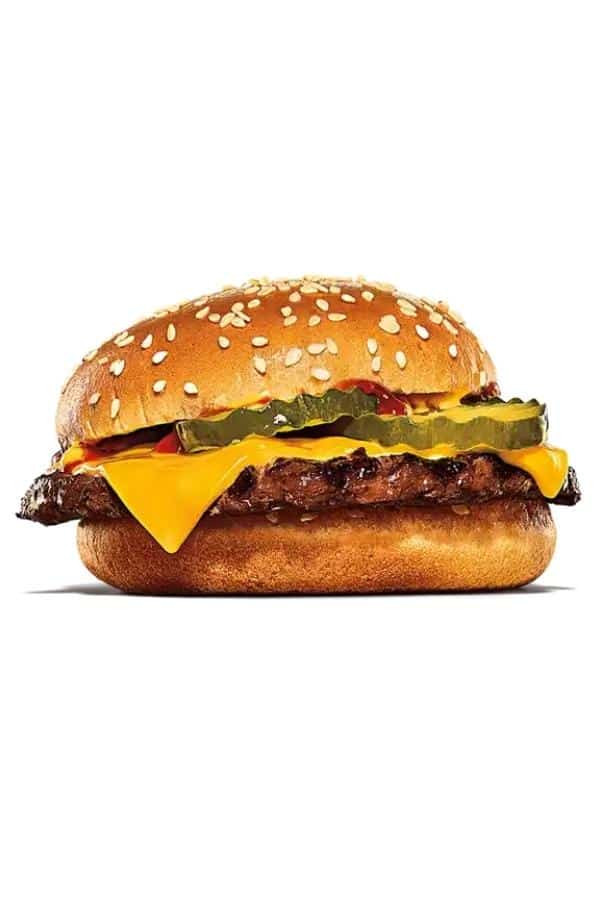 The all-American classic cheeseburger comes out to just 301 calories at Burger King. It has all the deliciousness of the regular BK hamburger, but is topped with a rich slice of melted American cheese that makes the whole thing that much more satisfying.
Also, if you're craving a slice of bacon on top, you can order a bacon cheeseburger for a total of just 343 calories.
5. Side Garden Salad
This crisp and cheesy side salad make a great lunch when you're in the mood for something fresh and healthy. It's made with a mix of lettuce, tomatoes, croutons, and a three-cheese blend and comes in at only 322 calories without dressing.
For your dressing, choose Ken's lite honey balsamic dressing (120 calories) for a total of 442 calories. However, if you'd like to use any other dressing, you'll want to use just half the packet to keep everything under 450 calories.
Oh, and you'll want to avoid the honey mustard dressing altogether - it has a whopping 270 calories per packet.
With that said, you can ask for no dressing and use one from this low calorie dressing list instead to save well over 100 calories!
6. Rodeo Burger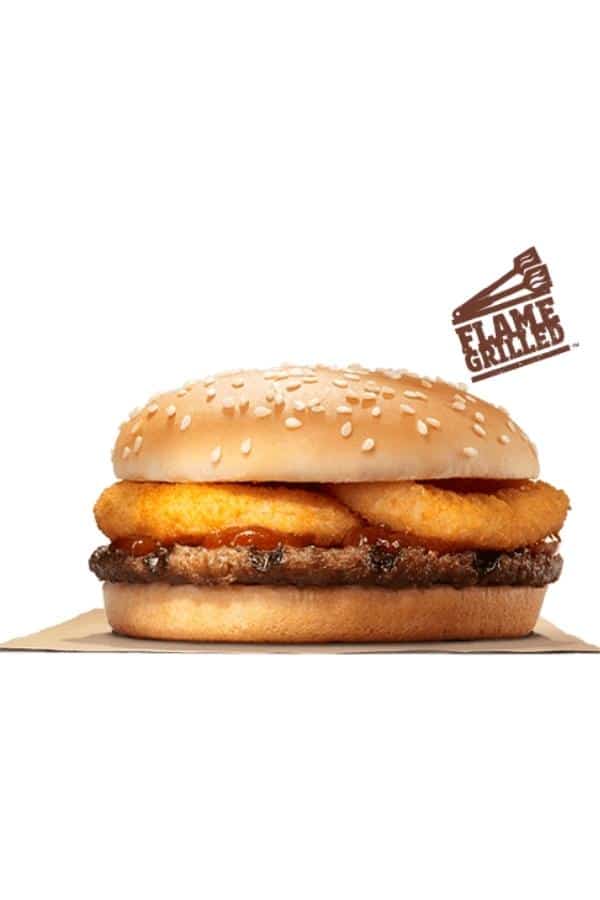 Instead of ordering your onion rings on the side, you can enjoy them right on the burger when you order the rodeo burger!
This low calorie Burger King burger has just 339 calories and features a flame-grilled beef patty topped with BBQ sauce, and two fried onion rings all sandwiched in a toasted sesame seed bun.
7. Whopper Jr.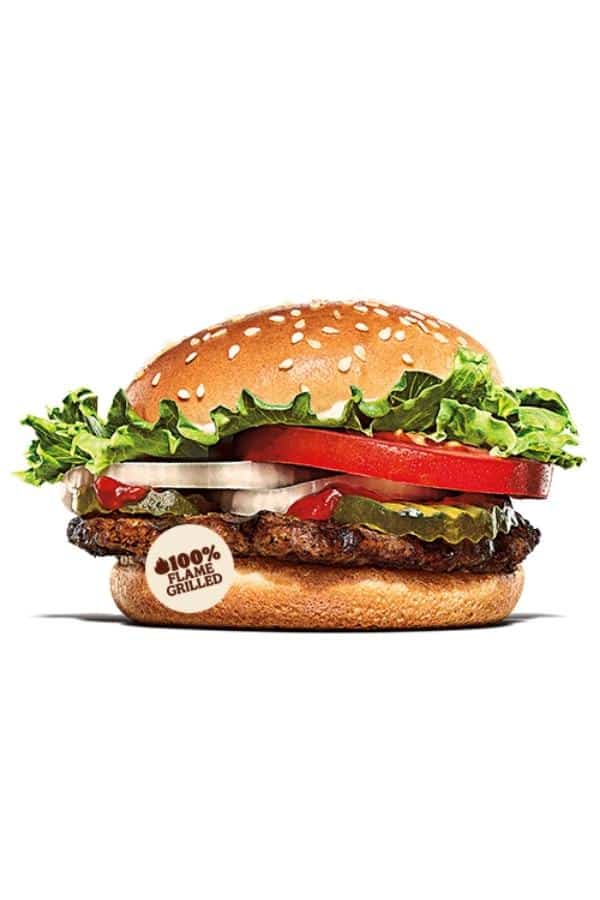 Of course, you can't talk about Burger King without talking about the Burger King Whopper.
It's the quintessential burger with all the classic fixings and veggies. It's got lettuce, tomatoes, pickles, and onions over a flame-grilled beef patty, making for a tasty - and balanced - burger.
Well, the good news is that the smaller Whopper jr. comes out to just 340 calories!
Not too shabby, eh?
8. Bacon/Ham Egg And Cheese Croissan'Wich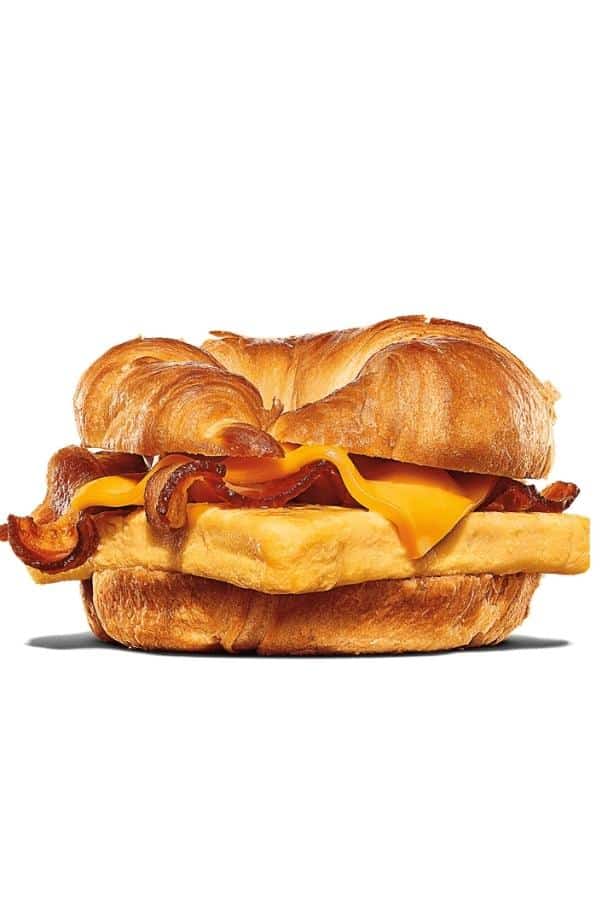 The Croissan'wich is a definite must try from Burger King's menu of breakfast sandwiches.
It's flaky, crispy, and filling, with a fluffy omelette and melty American cheese plus your choice of meat. Overall, a pretty satisfying way to start your day!
You can choose from the ham, egg, and cheese croissan'wich - which has 361 calories - or the bacon, egg, and cheese croissan'wich - which has just 364 calories - and keep the orders below 400 calories.
9. Egg & Cheese Biscuit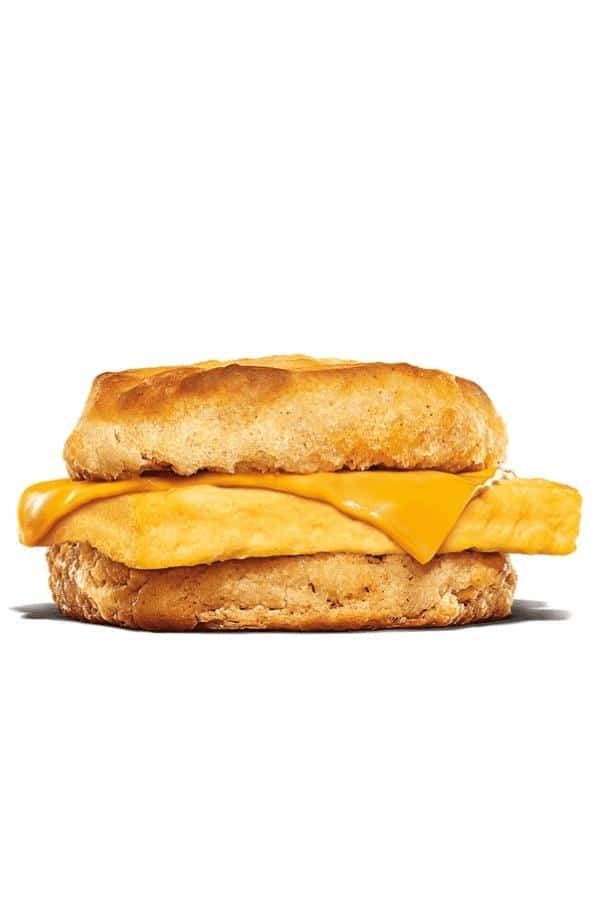 If you aren't in the mood for meat, a simple egg and cheese biscuit at Burger King is another solid breakfast option.
The toasty, tangy buttermilk biscuit is an amazing compliment to the egg omelet and the gooey American cheese. And, best of all, you can get it at just 372 calories.
Oh, and don't forget to order some coffee or decaf (both 0 calories) to go with it!
10. Pancake Platter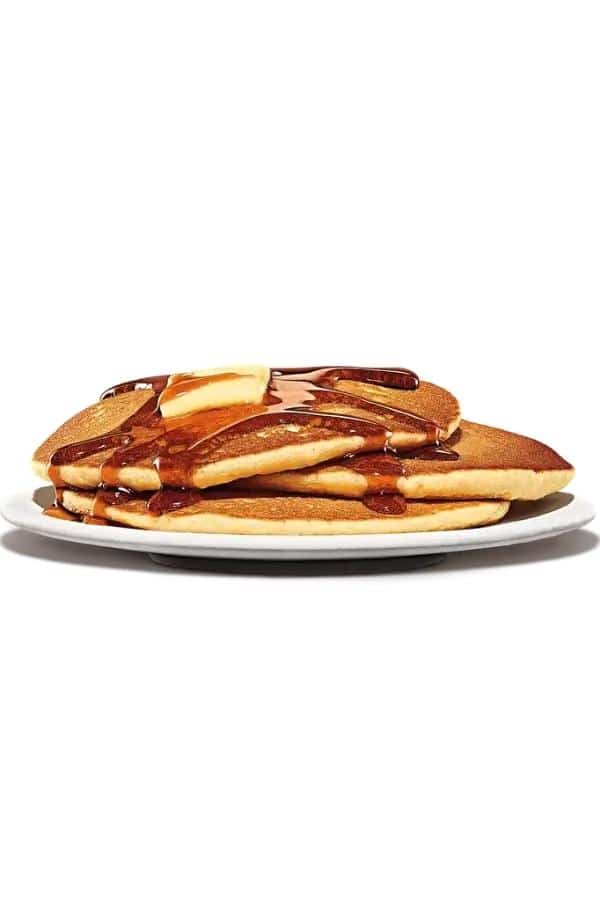 If you're craving something sweet for breakfast, you can't go wrong with this classic breakfast staple. Burger King's pancake platter features a triple stack of fluffy pancakes with butter and syrup. And, honestly, this option is one of the best low calorie Burger King breakfast orders on the menu.
The pancakes on their own are 235 calories, while the syrup is 80 calories and the two pats of butter are around 70 calories. Everything adds up to just around 385 calories in total!
If you want to cut down on the calories, don't use the butter, and top the pancakes off with my 0 calorie maple syrup.
By the way, if you want to make some super low calorie pancakes, you have to check out my low calorie pancake recipe! Each pancake only has 39 calories.
11. Double Cheeseburger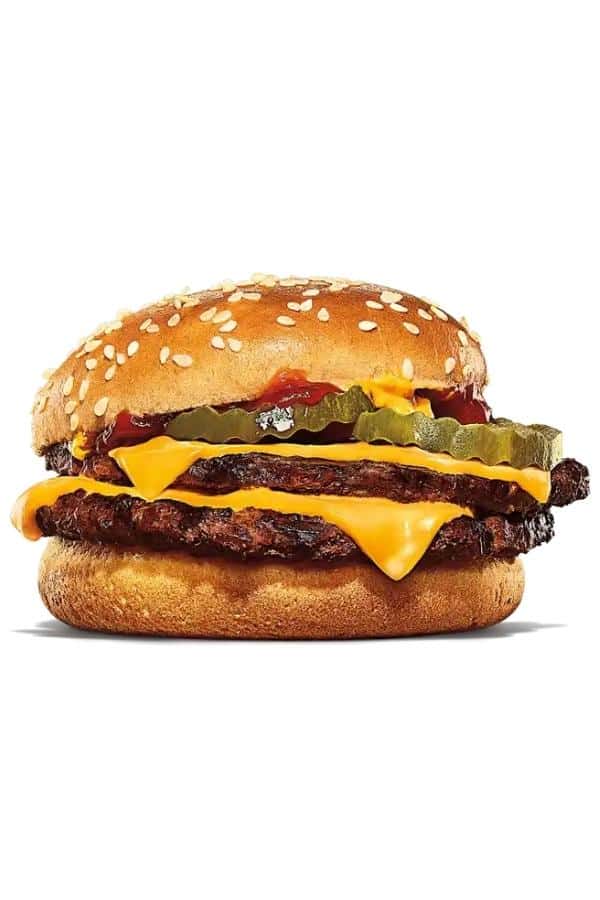 One of the meatiest burgers you can get under 450 calories, Burger King's double cheeseburger has two grilled beef patties - or the equivalent of a ¼ lb. beef patty - with two slices of melted American cheese.
This is a good pick if you're feeling extra hungry at lunch or need a boost of protein without breaking your low calorie diet, as it totals out to about 400 calories for the whole thing.
Also, for what it's worth, this is one of my favorite low calorie burgers to order at Burger King. It's just super filling and I always feel like I got my money's worth when I order it.
12. Bacon/Ham Cheesy Breakfast Melt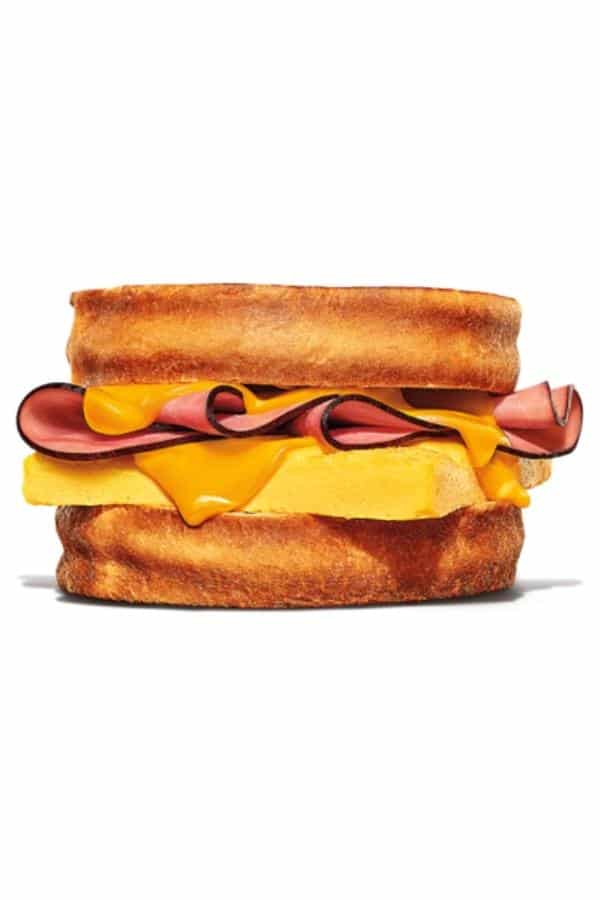 These sandwiches are relatively recent additions to the Burger King breakfast menu, but they are another must-try low calorie Burger King breakfast order.
They're soft and cheesy, and they're toasted to perfection, and each one them has only about 400 calories. The ham cheesy breakfast melt has 407 calories, while the bacon cheesy breakfast melt has 409 calories.
13. Bacon/Ham Egg, & Cheese Biscuit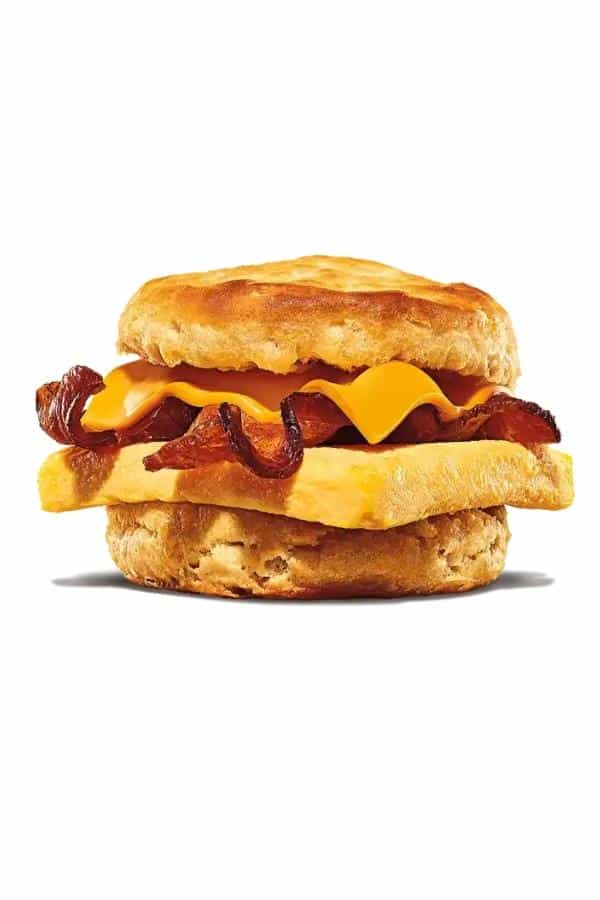 If you're craving the tangy-buttery flavor of Burger King's buttermilk biscuits in the morning with some extra protein, order this filling and flavorful breakfast sandwich.
An egg and cheese biscuit with ham has 411 calories, while one with bacon has 414 calories.
14. Breakfast Burrito Jr.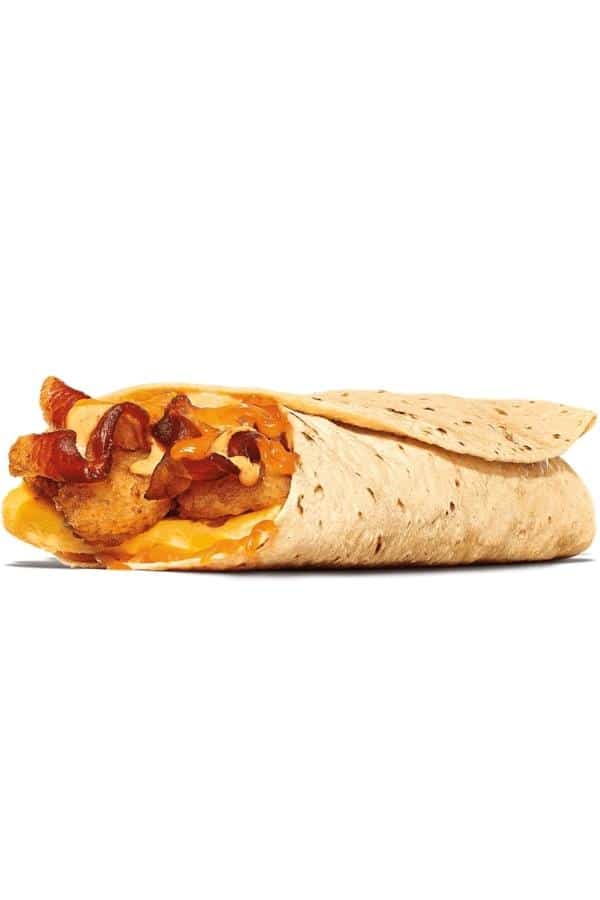 Burger King's breakfast burrito jr. has all your breakfast favorites wrapped up into one menu option.
It's made of a soft flour tortilla, fluffy eggs, American cheese, crunchy hash browns, breakfast sausage, and a little dash of creamy spicy sauce. And, unbelievably, all that deliciousness comes out to just 415 calories!
By the way, if you're looking for a breakfast burrito lower in calories, you have to make my o carb breakfast burritos! They're a hit every time I make them.
15. Sausage Biscuit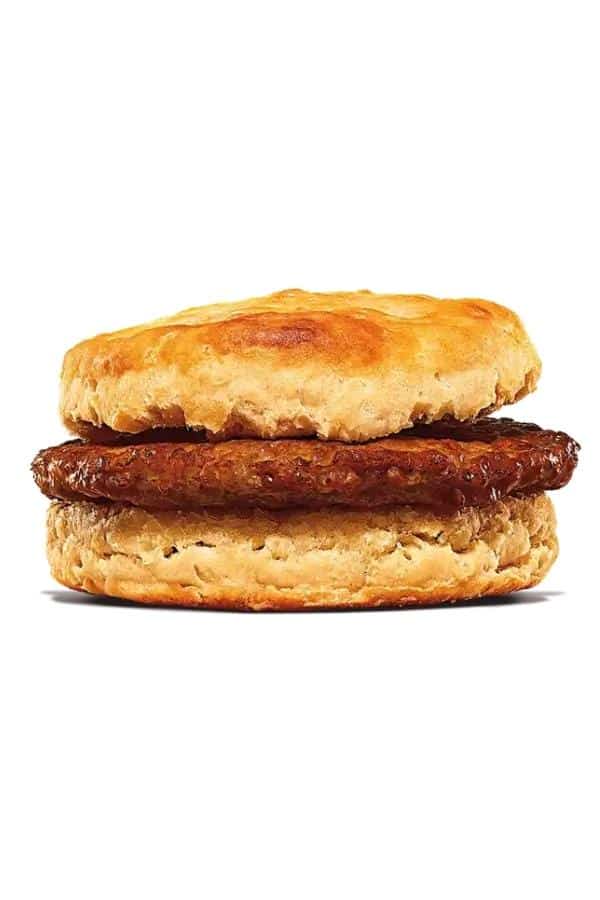 If you love Burger King's breakfast sausage patty, the best way to enjoy it - not to mention the lowest in calories - is with their sausage biscuit.
The tangy buttermilk biscuit complements the salty-meaty taste of the sizzling sausage perfectly. This simple and delicious breakfast has just 431 calories.
16. Bonus: Chicken Jr.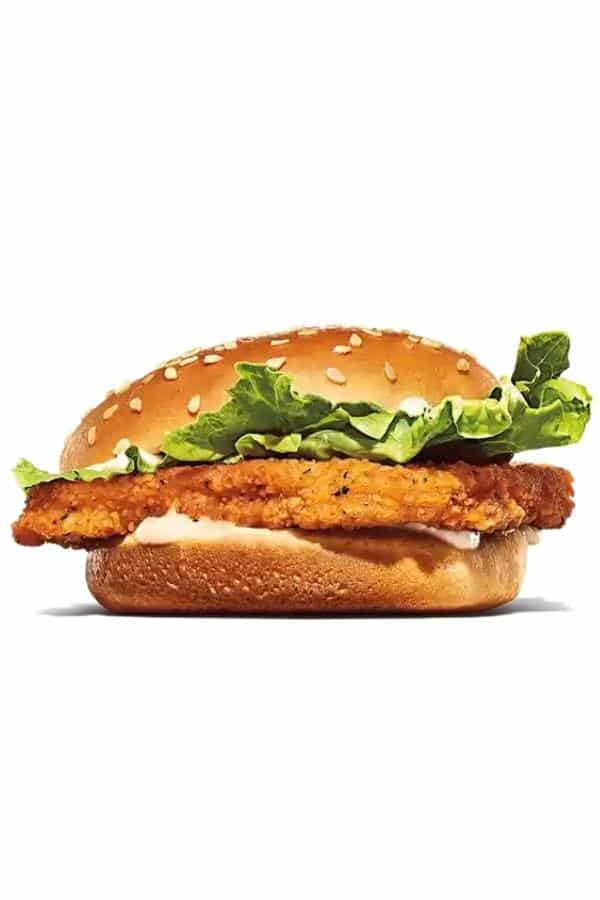 Now, this crispy chicken sandwich didn't quite make the cut since it's 451 calories, which is slightly above the 450 calorie limit we put out.
However, it is the most low calorie chicken sandwich at Burger King, and is simply too tasty not to include in this list!
This crispy chicken sandwich jr. has everything you get from the original chicken sandwich - a crispy breaded chicken patty, lettuce, and mayo in a sesame seed bun - but it's just a little smaller.
Don't let its smaller size fool you though, this crispy chicken sandwich is a pretty filling and satisfying lunch option.
Low Calorie Desserts at Burger King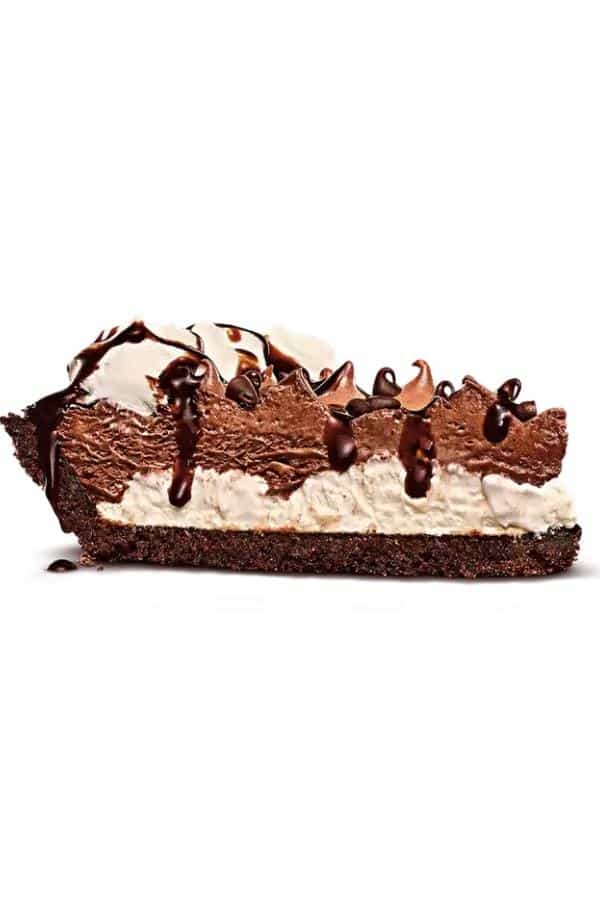 If you're hitting up Burger King just for the desserts, here are all the sweet treats you can get under 300 calories:
Soft Serve Ice Cream Cup - 176 calories
Soft Serve Ice Cream Cone - 201 calories
Hershey's Sundae Pie - 295 calories
Pro-tip: You can add the soft serve cup to your chicken fries or hamburger order without going over 450 calories!
Low Calorie Drinks at Burger King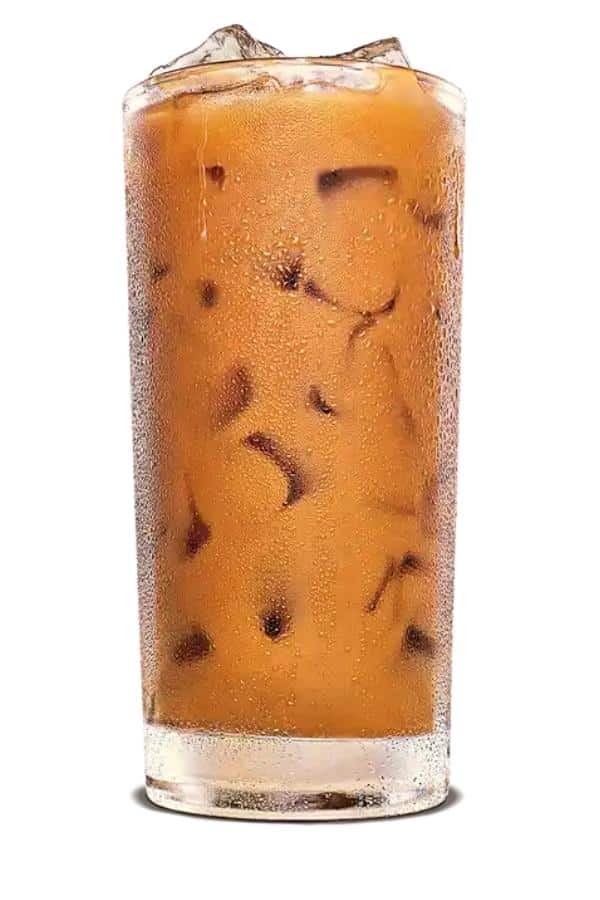 And to add to your meal, here are some low calorie and calorie free Burger King drinks you can get:
Unsweetened Iced Tea - 0 calories
BK Cafe - 0 calories
BK Cafe Decaf - 0 calories
Plain Cold Brew Iced Coffee- 0 calories
Coke Zero (Medium) - 1 calorie
Diet Coke (Medium) - 2 calories
Diet Barq's Root Beer (Medium) - 2 calories
Sprite Zero (Medium) - 6 calories
Capri Sun Apple Juice - 83 calories
Fat Free Milk - 90 calories
Wrapping It Up
Well, I hope this list has given you a few ideas for what you can order the next time you're at Burger King!
As you can see, you can satisfy pretty much any craving you've got with this list. Whether you're in the mood for beef burgers, breakfast sandwiches, or chicken, there was something on this list for you.
As always, if you ended up giving any of these low calorie Burger King orders a try let me know what you thought about it in the comments below! I love hearing your feedback.
More Low Calorie Lists
If you liked this list and want to check out some more low calorie lists just like it, I have a ton on the blog!
Check out one of these lists next: