This list has 30 of the best low calorie Dunkin drinks you can get! From coffee to tea to everything in between there's a healthy Dunkin order for it. In fact, if you know what to order, you can get almost any Dunkin drink to have less than 50 calories!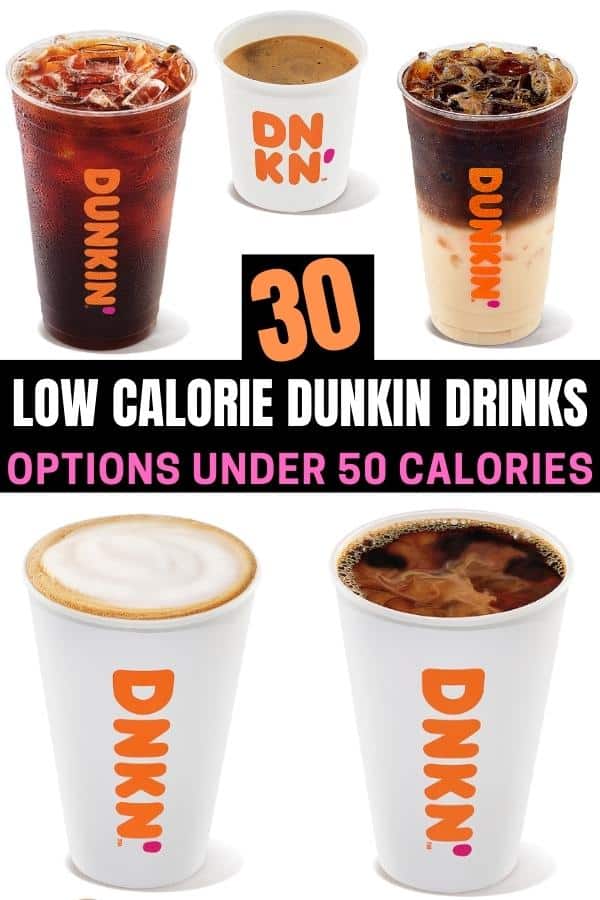 The Best Low Calorie Dunkin Drinks List
One of the best things about Dunkin Donuts is their fully customizable drinks menu.
Now, of course, there are plenty of low calorie drinks at Dunkin on their normal menu, but you can also customize a ton of drinks to be that way too. And I'll show you just how to do that in today's post!
So, if you're a little lost about what low calorie Dunkin drinks you can get, this list is exactly what you need!
Tips for Getting Low Calorie Drinks at Dunkin
Now, before customizing a Dunkin drink, you need to know which of their offerings are low calorie and which ones you should avoid.
Generally, you'll want to avoid the hot chocolate and coolattas at Dunkin since these are packed with calories. A small serving of hot chocolate at Dunkin has 210 calories while a small blue raspberry coolatta has 230 calories.
You'll also want to stay away from anything with whole milk, sweet cream, and flavor swirls. These can add as much as 160 additional calories to any drink.
The best low calorie add-ons for your Dunkin drinks are almond milk, oat milk, skim milk, and coconut milk. However, note that their almond milk is sweetened with sugar, so you'll want to limit your add-on to just a splash.
Also, the flavor shots at Dunkin are sugar free and only have around 15 calories per shot, so it's a good idea to choose those instead of the flavor swirls, which do have added sugar.
With all that said, let's get into this list of the best low calorie Dunkin drinks!
Low Calorie Iced Coffee at Dunkin
1. Iced Coffee with Skim Milk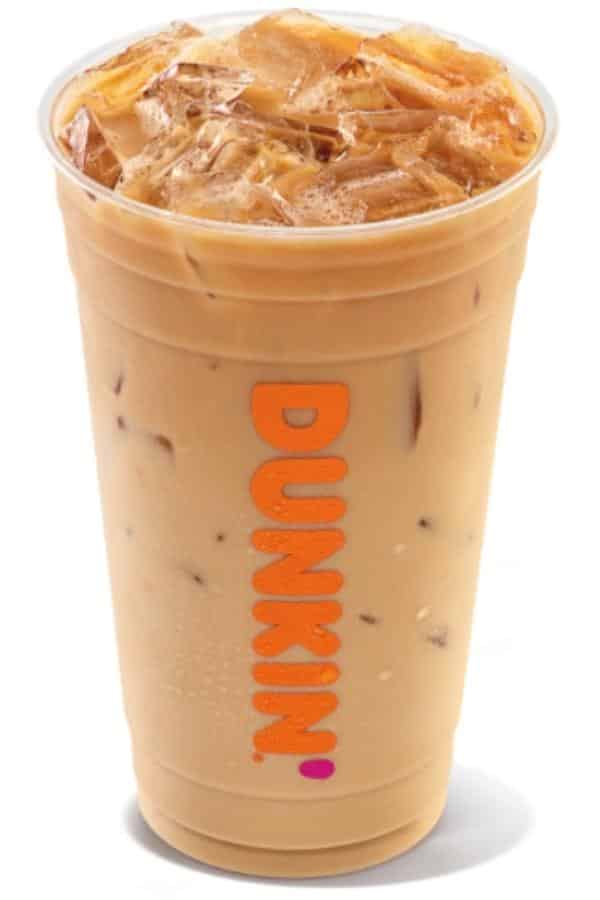 You can get your usual creamy iced coffee fix by swapping out the whole milk with skim milk.
A medium-sized drink will only have around 20 calories, and you can add any sugar free flavor shot for an additional 15 calories.
By the way, if you love coffee, and you're trying to sneak some extra protein into your day, give this iced high protein coffee recipe a shot sometime!
2. Sweet Coconut Iced Coffee
To make this coconut-ty cold coffee drink, order iced coffee with coconut milk and a coconut shot.
It's perfectly creamy & sweet and it has just around 30 calories for a medium-sized drink.
3. Plain Iced Coffee
Of course, you can never go wrong with a classic iced black coffee.
It only has a maximum of 5 calories for any size drink, and you can sweeten it up with your choice of flavor shot for a total of 20 calories. I highly recommend french vanilla or caramel here!
4. Iced Americano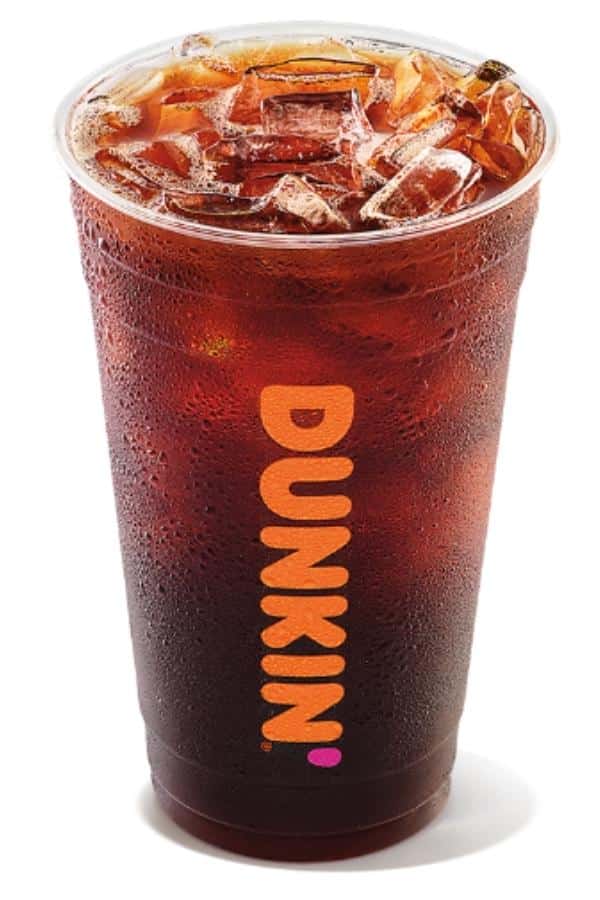 If you prefer the taste of espresso over regular coffee, get an iced americano. Just like the iced coffee, it has around 5 calories maximum and you can always add a splash of skim milk, oat milk, or almond milk and a flavor shot.
5. Iced Coffee with Oat Milk
For a vegan friendly and creamy iced coffee, try ordering a medium iced coffee with oat milk. Ordered this way it'll have just 30 calories.
You can also do almond milk instead if that's more your style. Just note that your drink will end up being around 45 calories if you do.
Low Calorie Latte, Cappuccino, and Macchiato Drinks at Dunkin
6. Cappuccino with Skim Milk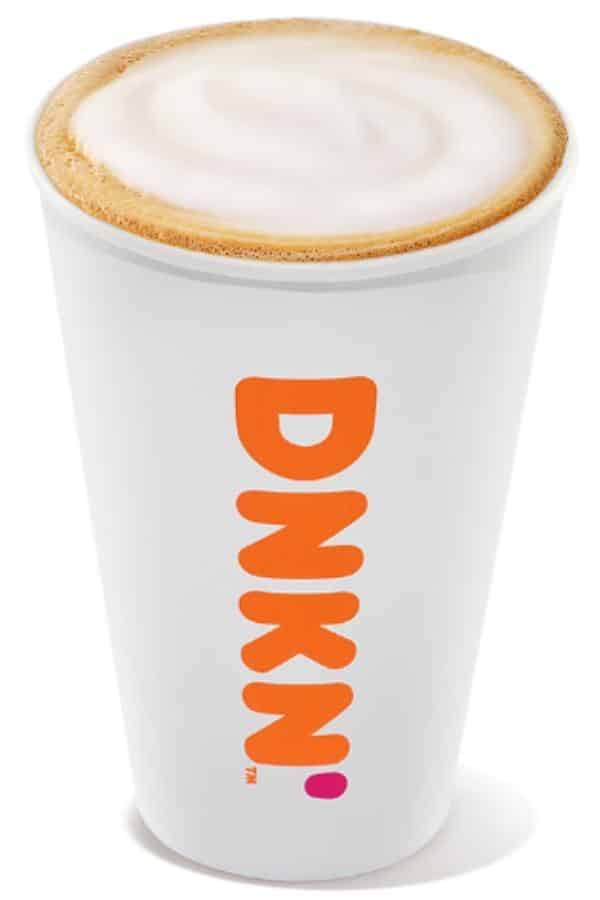 You can enjoy a creamy, frothy medium skim milk cappuccino for just 70 calories. A French Vanilla shot would take the decadence here over the top while keeping the drink under 100 calories.
7. Unsweetened Hot Macchiato with Oat Milk
The naturally sweet and toasty flavor of oat milk is the perfect compliment to the double shot of espresso in Dunkin's hot macchiato. A medium drink does go up to 90 calories though, so it's best not to size up.
Also, if you're looking for a tasty breakfast recipe to pair with this delicious Dunkin drink, give these protein pancakes a shot!
Oh, and by the way, if you want to make your own low calorie macchiato at home, I've got a delicious recipe for a caramel one on the blog. You should totally check it out sometime - the entire drink has just 10 calories!
8. Skim Milk Latte with French Vanilla
A latte is one of the highest calorie drinks you can get at Dunkin because of the milk.
But if you really want the best latte experience for fewer calories, you can order a small latte with skim milk and french vanilla for around 82 calories.
9. Almond Milk Iced Latte with Toasted Almond
The double almond latte can be made by ordering an unsweetened latte with almond milk and a shot of toasted almond.
It's a satisfyingly sweet and creamy drink that comes out to just 90 calories for a medium-sized drink.
10. Iced Cappuccino with Skim Milk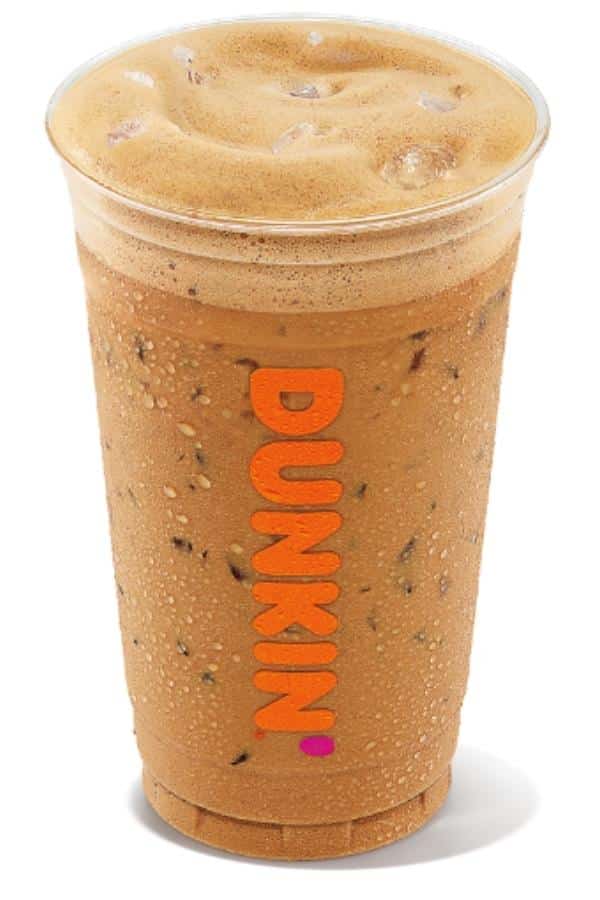 Just like the hot skim milk cappuccino, an iced skim milk cappuccino has just 70 calories for a medium size. So you can happily sip this milky drink away guilt free.
11. Double Coconut Iced Macchiato
Dunkin recently released a double coconut iced macchiato that's insanely delicious and surprisingly low calorie. In fact, it has just 45 calories for a medium.
With that said, if they don't have it in your area, you can make your own by ordering a coconut milk macchiato with a shot of coconut.
12. Cappuccino with Whole Milk
If you really miss the taste of rich and creamy whole milk in your Dunkin drinks, you can order a small cappuccino with whole milk for about 70 calories.
13. Iced Macchiato with Skim Milk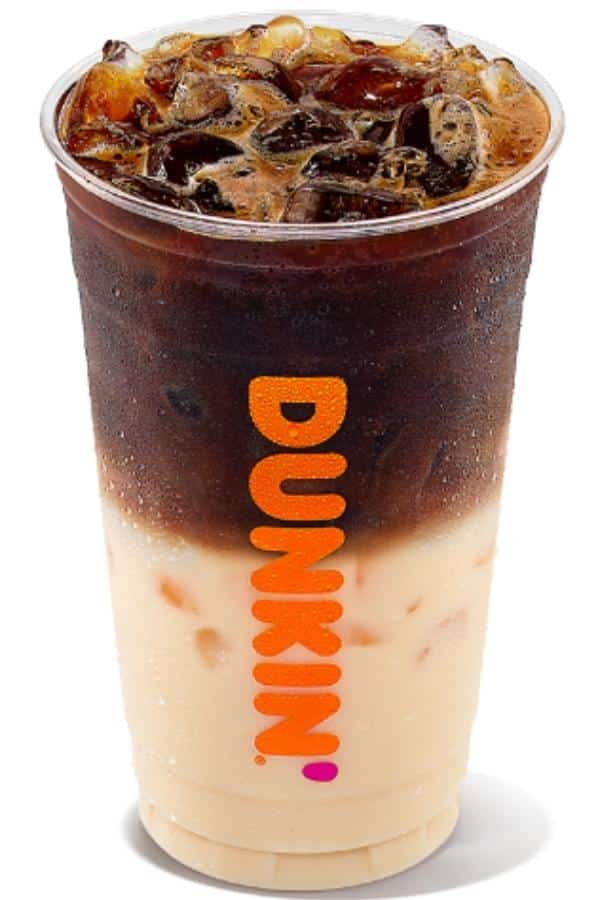 When ordering your skim milk macchiato, be sure to ask your barista to skip the flavor swirl!
In total, a medium size for this drink has just 70 calories.
14. Coconut Milk Latte
Swap out regular milk in your medium latte for coconut milk for this creamy treat that's just 50 calories.
Oh, and if you want to amp up the coconut goodness, add a coconut shot for an additional 15 calories.
Low Calorie Tea Drinks at Dunkin
15. Unsweetened Iced Green Tea
Order the iced green tea at Dunkin unsweetened for a refreshing chilled drink at just 5 calories. Green tea has about ⅓ the amount of caffeine as coffee, so it's a great way to add some energy to your day without the jitters.
16. Hot Herbal Tea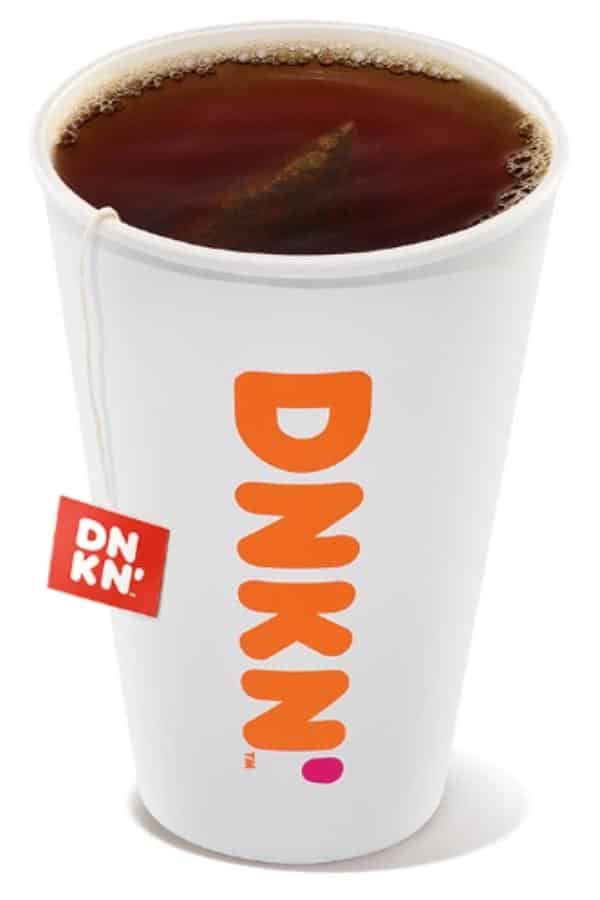 Dunkin has 6 delicious herbal tea flavors you can choose from to warm you up in chilly weather. They're all at just 5 calories or less, with most having zero calories.
17. Raspberry Iced Tea
You can make sugar free raspberry iced tea at Dunkin for only 20 calories by ordering their unsweetened iced tea with a raspberry shot. The flavor shot brings some added sweetness and just the right amount of fruity tartness.
18. Unsweetened Iced Tea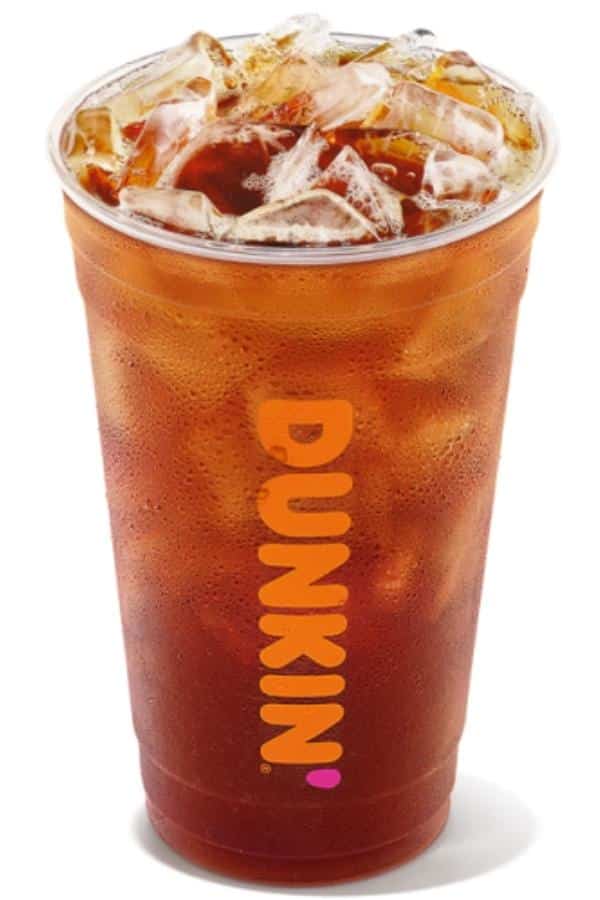 If you're in a rush and want a fuss-free tea order, Dunkin's unsweetened iced tea is naturally low calorie at just 5 calories for any size drink. And if you want to add a little sweetness, you can use any sugar free sweetener packet of your choice.
19. Unsweetened Iced Green Tea with Raspberry
The raspberry flavor shot tastes just as delicious paired with iced green tea as it does with the regular iced tea and also has just 20 calories. So if you like a little flavor in your tea, this one is a fantastic choice.
20. Blueberry Iced Tea
If you want another flavor other than the raspberry tea, order a blueberry shot in your unsweetened iced tea.
The total is just 20 calories for any size and it tastes delicious.
Low Calorie Hot Coffee at Dunkin
21. Plain Hot Coffee
Dunkin's classic hot coffee only has around 0-5 calories in any size. However, if you want it sweeter, you can add a caramel flavor shot - or any other flavor shot - for just 15 extra calories. I think it's well worth the extra few calories.
22. Hot Coffee with Skim Milk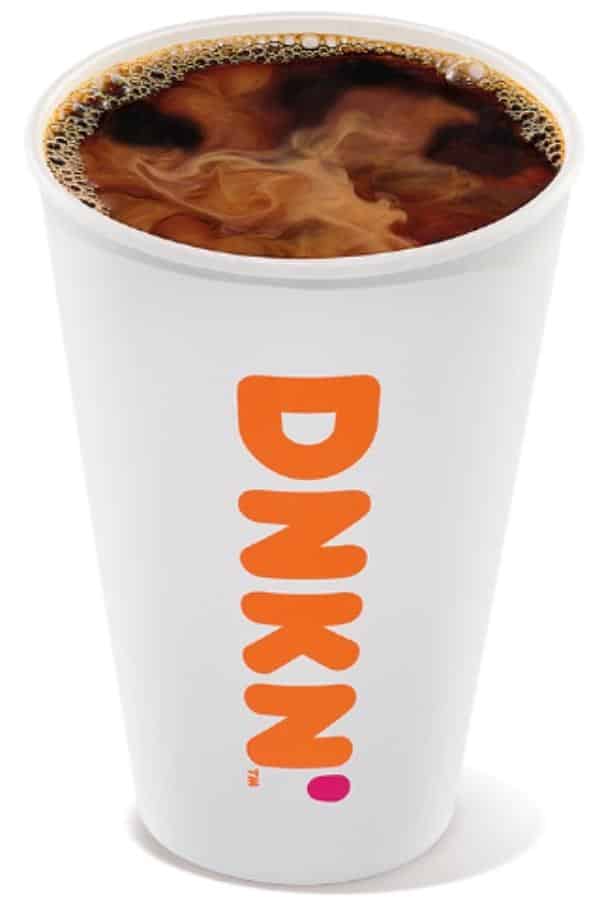 Swapping the regular whole milk in your hot coffee with a splash of skim milk is a great way to keep that same milky flavor, and it'll only come out to about 20 calories for any size!
23. Hot Americano
If you're more of an espresso person, you can get a hot americano instead of the usual hot coffee. It has 5 calories at the most in any size.
24. Hot Coffee with Cream
You can get a small hot coffee with cream for 90 calories. And though it does have a higher calorie count than most of the options here, sometimes you just really need a shot of ultra-rich and creamy coffee to get you through the day!
25. Espresso Shot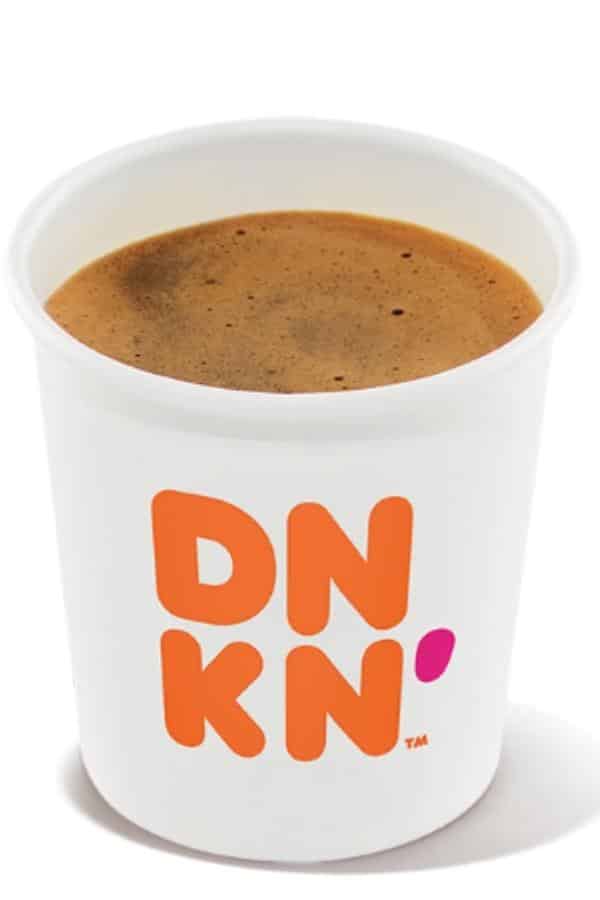 When you just need a strong kick of energy and fast, you can grab an espresso shot (or two) at Dunkin for about 5 calories per shot.
26. Hot Coffee with Almond Milk
For a vegan friendly milky hot coffee, add a splash of almond milk to your medium hot coffee for just 25 calories. And, as a bonus, it adds some extra sweetness too!
Low Calorie Cold Brew Drinks at Dunkin
27. Plain Iced Cold Brew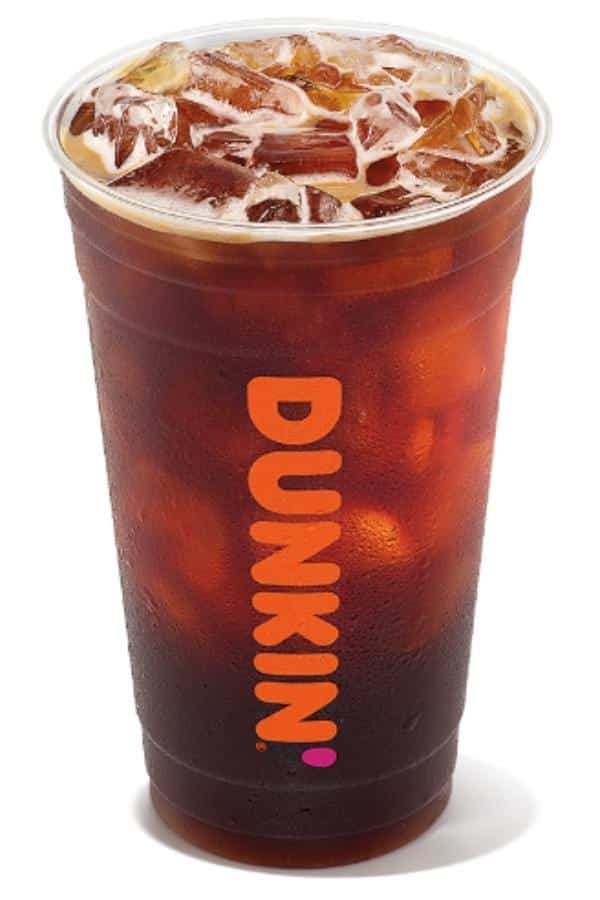 If you love iced coffee, you need to give Dunkin's cold brewed coffee a try too. It's less acidic than regular coffee and also has a lot less bitterness, giving the natural flavor of the beans more room to shine. Oh, and it only has 5 calories or less!
28. Toasted Almond Cold Brew
A shot of toasted almond is the perfect way to sweeten up your iced cold brew for just 15 calories. The toasty flavor is a fantastic compliment to the taste of the coffee.
29. Vanilla Hazelnut Cold Brew
This sweet cold brew drink almost tastes like Nutella!
Order your iced cold brew with one shot of french vanilla and one shot of hazelnut. The total order comes out to only 30 calories total.
By the way, if you'd like to make your own iced skinny vanilla latte, I've got a fantastic recipe for you to try. It only has 15 calories. I'm hooked on it.
30. Blueberry Oat Cold Brew
Dunkin's blueberry oat cold brew is an unexpectedly fantastic combo. And you can get it at 30 calories for a medium and 45 calories for a large!
However, if they don't have it in your area, you can make your own with cold brew, oat milk, and a blueberry flavor shot.
Wrapping It Up
Well, that's my list of the best low calorie Dunkin drinks you can order!
Everything on this list is under 100 calories, with most of them being under 50 calories.
And a lot of them taste so deliciously sweet and creamy, you'd never guess they were low calorie!
With that said, these are just some of the many customizable healthy drink options you can have at Dunkin. So feel free to experiment with adding flavor shots or splashes of low calorie milk according to the tips I mentioned up top.
Anyway, let me know which drink on this list is your favorite by leaving a comment below!
More Low Calorie Lists
If you found this list helpful and want to check out more low calorie lists, I have a ton on the blog that I think you'll like too!
Give these a look next: