When it comes to your weight loss journey, you don't want just any green tea drink. You want a green tea that tastes great, makes you feel good, and has effective weight loss results. And if you're still looking for your perfect match, this guide to the best green tea for weight loss is for you!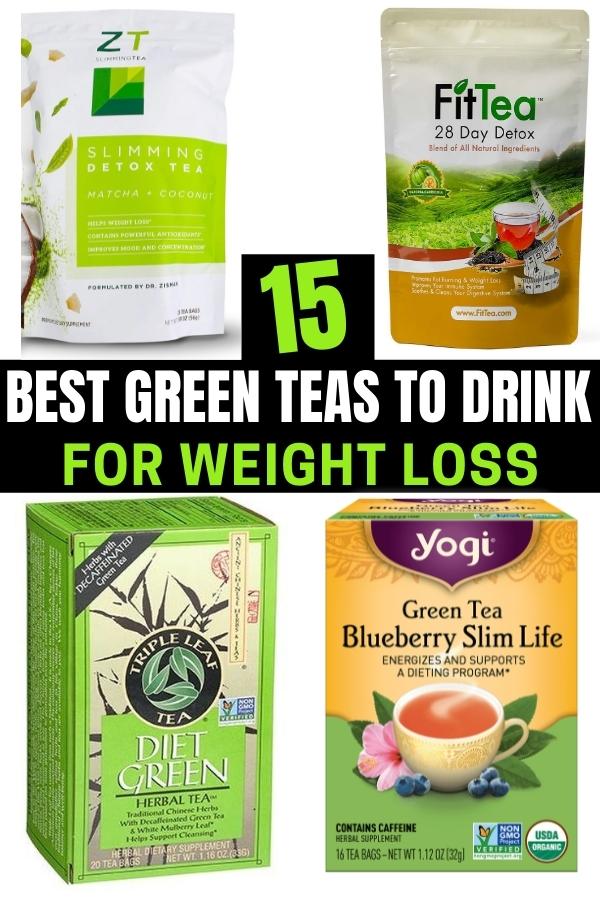 The Ultimate List Of Weight Loss Tea
Green tea is well-known as one of the best drinks you can have for weight loss. It can boost your metabolism, increase calorie burning, and reduce belly fat, making it a must-have for any weight loss journey.
But with so many options for green tea on the market, it can be hard to know which tea is the best for you. So, I made this guide to all the best green tea for weight loss I could find.
And these are more than just your usual green teas. Most of them are formulated with additional ingredients to aid in weight loss, from fat burning to appetite suppressants and detoxing. Whatever you're looking for is bound to be on this list!
Now, with all that said, let's dive into this list of the best green tea for weight loss.
The Best Green Tea For Weight Loss
1. Yogi Green Tea Blueberry Slim Life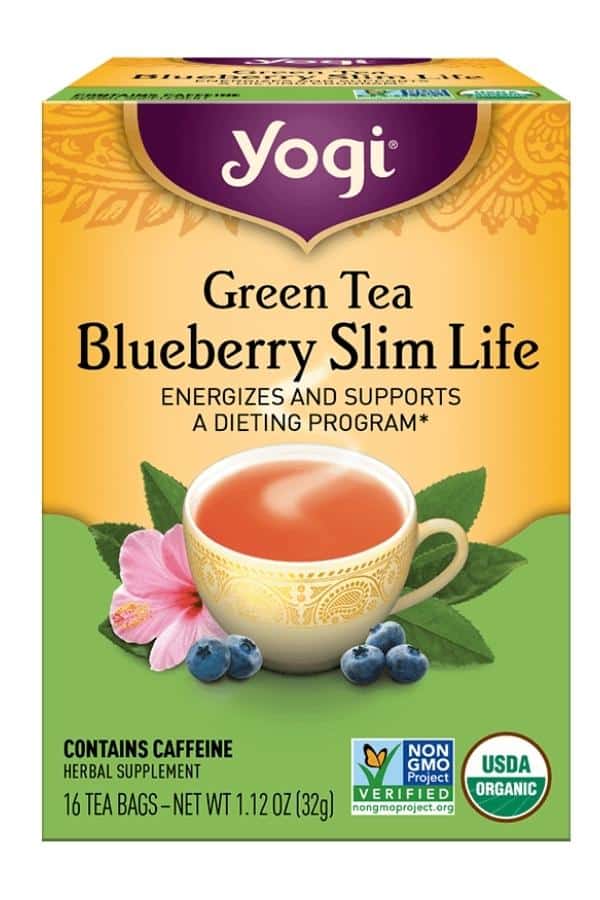 Yogi is one of the most known green tea brands, and for what it's worth, I think it's the best green tea brand out there.
This organic green tea from Yogi is boosted with garcinia cambogia, a superstar natural ingredient used in weight loss supplements. That, plus energizing ginseng makes this green tea the perfect drink for complementing a healthy, active lifestyle and speeding up your weight loss journey in the best way.
Plus, it tastes pretty fantastic too.
Not to mention, this Yogi green tea is naturally flavored with organic orange, hibiscus, and blueberry, and sweetened naturally with monk fruit. This is perfect if you prefer to drink green tea that is sweet and flavorful.
You can stock up on this delicious tea here.
2. The Republic of Tea Super Green Tea: Lean Green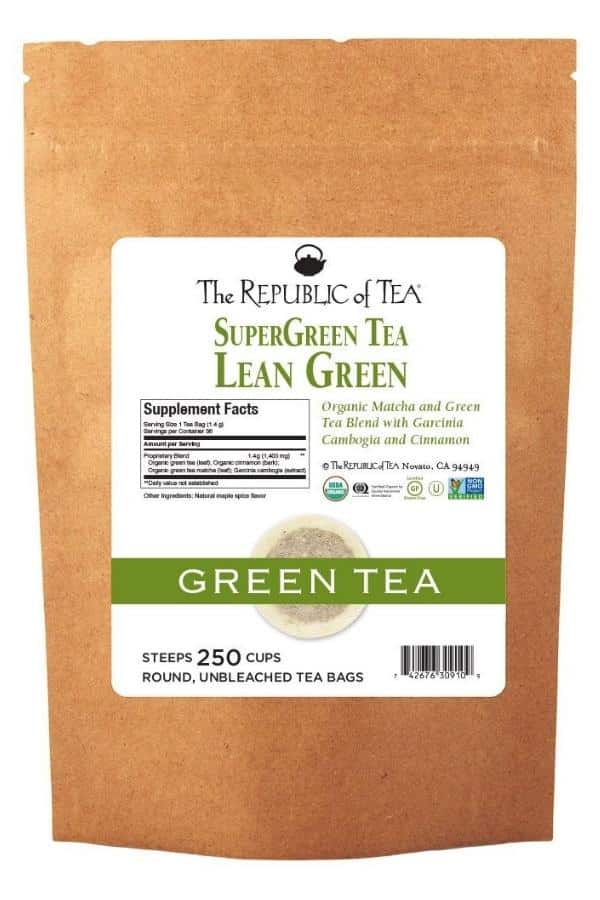 Another fantastic green tea for weight loss is the Lean Green Tea from the Republic of Tea's Super Green Tea line. It is the best option if you want to drink green tea with a classic deep, rich flavor.
It's made with a mix of high-quality organic green tea and green tea matcha, plus garcinia cambogia - like the green tea above - and cinnamon to help you lose weight. Also, a hint of maple spice flavor brings out all those earthy green tea flavors, so consuming green tea has never been so indulgent.
You can get 250 tea bags here.
3. ZT Slimming Detox Tea Matcha + Coconut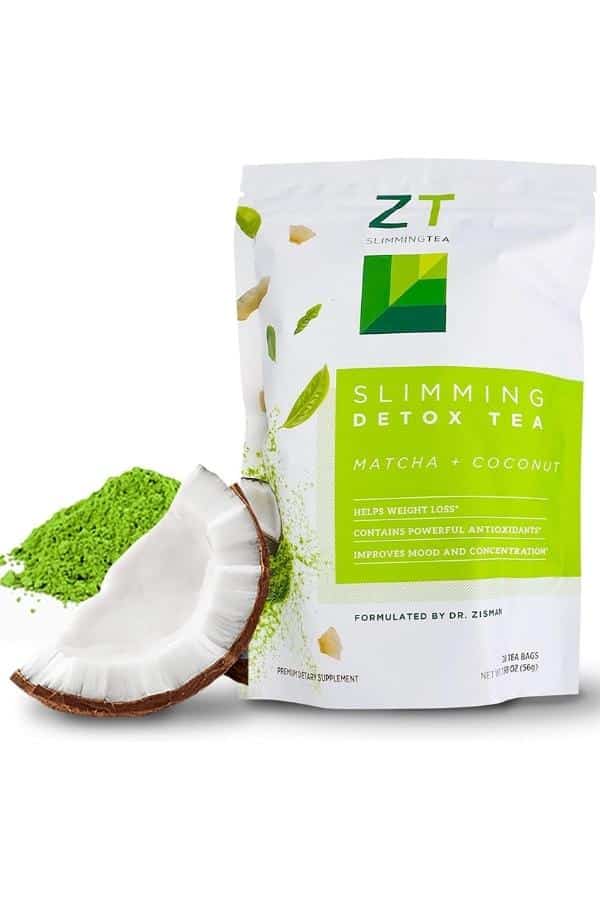 This slimming detox tea is a flavorful blend of roasted coconut and matcha green tea fortified with the best natural ingredients for weight loss.
What really sets this powerful blend of botanicals apart is that it was designed by a Harvard-trained and board-certified endocrinologist, Dr. Zisman. He is known for his expertise in nutrition, hormones, and metabolism.
So you can be assured this is one of the best green teas formulated to help you lose weight.
Grab 28 tea bags of this awesome detox tea here.
4. The Republic of Tea Get Lost Stackable Teas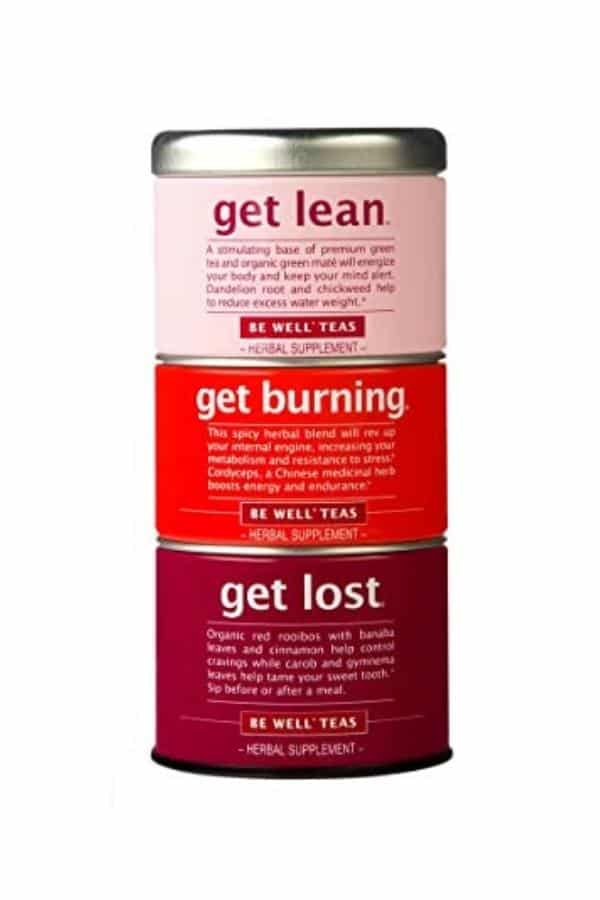 This is actually a set of three teas, each one formulated to help with weight loss in a different way.
The "Get Lean" loose leaf green tea is made with dandelion and chickweed for flushing out excess water weight, "Get Burning" green rooibos tea increases your metabolism, and "Get Lost" red rooibos tea tames your appetite and sugar cravings.
All three of these loose leaf tea options work synergistically to complement an active lifestyle and give you the best weight loss results.
You can choose just the green tea option or get the stackable tin set to get all the health benefits on your green tea consumption journey.
Pick up the 3 set of this tea here.
5. ZeroTea 14 Day Detox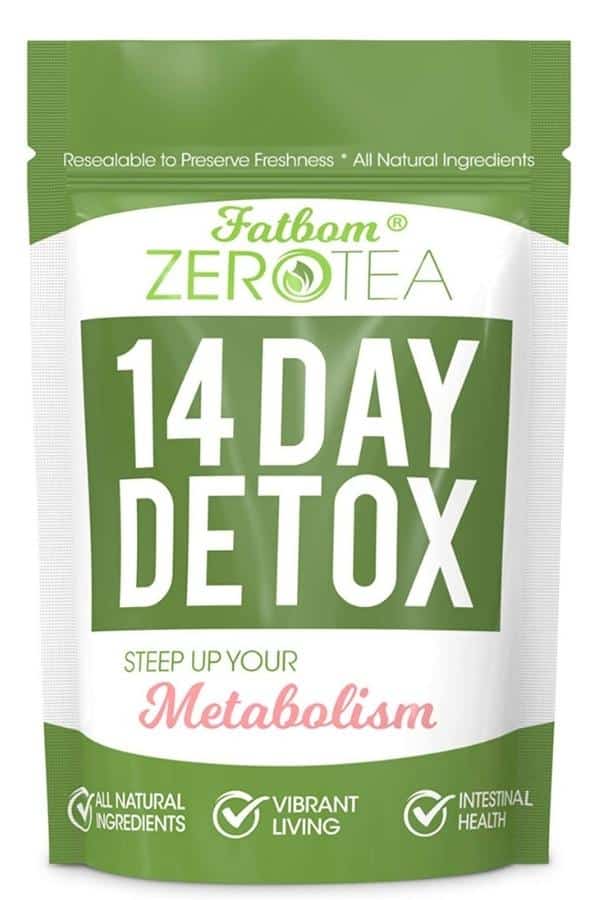 This green tea detox drink reduces bloating, boosts your metabolism, and optimizes digestion, all things you need for effective weight loss. And it does all of that with a blend of organic and natural teas and spices.
A plus point for this green tea detox is that it has no laxatives. While laxatives are pretty good for detoxing in general, they might not be the best thing to have in your system when you've got a busy day ahead.
So, for the reasons above, ZeroTea is ideal if you want a more gentle detox with your green tea.
You can pick up a 14 day supply here.
6. FitTea 28 Day Detox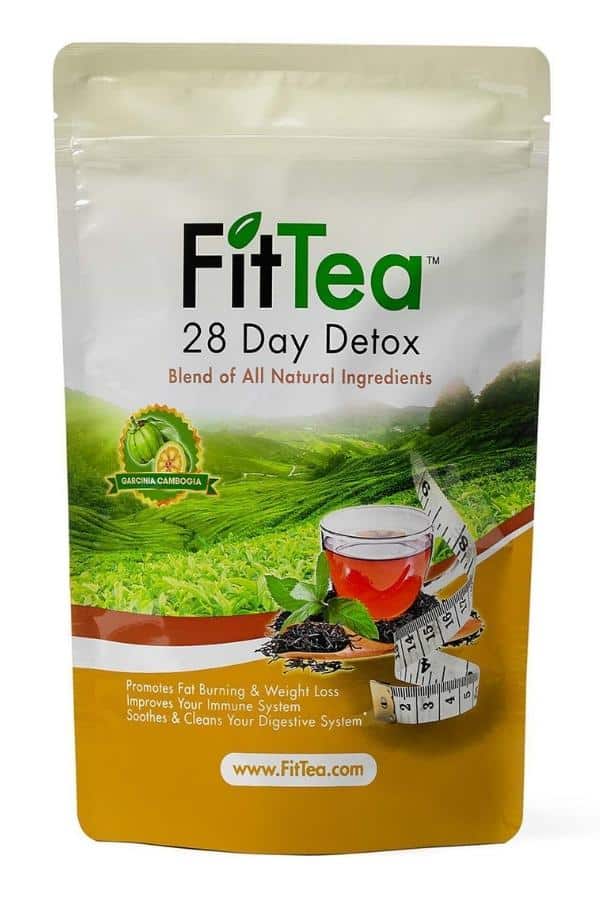 FitTea is one of the most popular detox teas for weight loss out there and with good reason. It's a laxative-free green tea detox made with natural and organic ingredients that burn belly fat, boost your energy, and reduce bloating.
It's a blend of green tea leaves, rooibos tea, and oolong wu yi tea, all teas that are known for their weight loss benefits, plus ginger, pomegranate, and garcinia cambogia, superstar calorie, and fat burning ingredients. And for what it's worth, I think it's delicious over ice for cold green tea.
Pick up the 28 day supply here.
7. Hyleys Slim Tea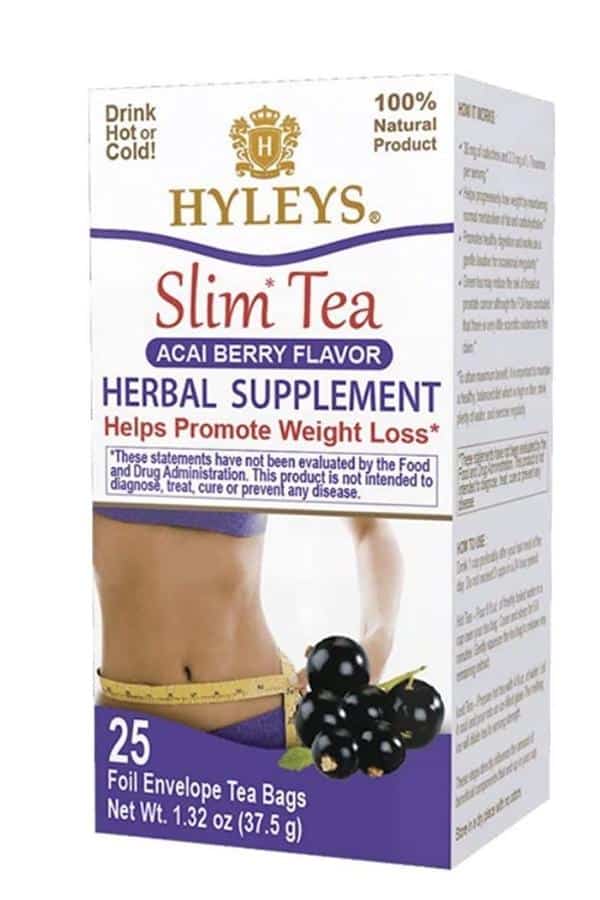 If the idea of drinking the same flavor of green tea every day doesn't appeal to you, you'll for sure want to check out Hyleys Slim Tea. Each box comes with five naturally flavored slimming green tea varieties - acai berry, goji berry, raspberry, blueberry, and pomegranate. You can also get it in pineapple, mango, and blackberry versions.
The secret to this slimming green tea is the senna leaves. They're a gentle laxative that promotes regular healthy bowel movements, reducing bloating and naturally supporting weight loss. So this green tea helps a variety of things.
Here is a 25 assorted pack of tea bags with all 5 flavors.
8. Bigelow Matcha Green Tea with Turmeric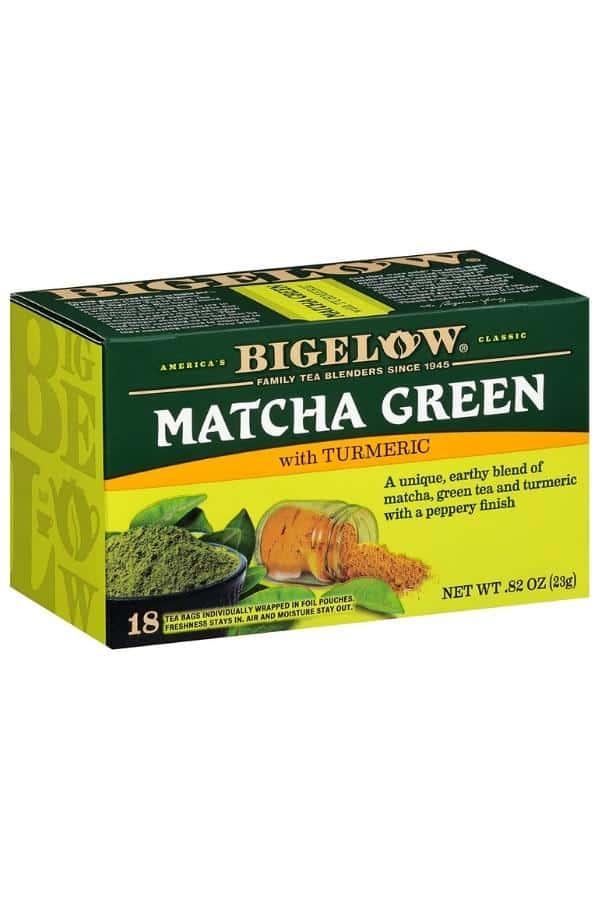 This tea from Bigelow is more than just matcha green tea and turmeric. It's also made with other weight loss powerhouse ingredients like dandelion root, nettle, fennel, and cayenne. All these botanicals combined help reduce bloating, decrease extra water weight, and increase your metabolic rate.
Turmeric is also an anti-inflammatory and is loaded with antioxidants, which can both play a role in weight loss.
You get can a big pack of 108 tea bags here.
Oh, and this may sound a little weird, but I love dipping these protein cookies into this tea. If you pick some of this Bigelow green tea up I highly recommend giving it a try.
9. SkinnyBoost 28 Day Detox Tea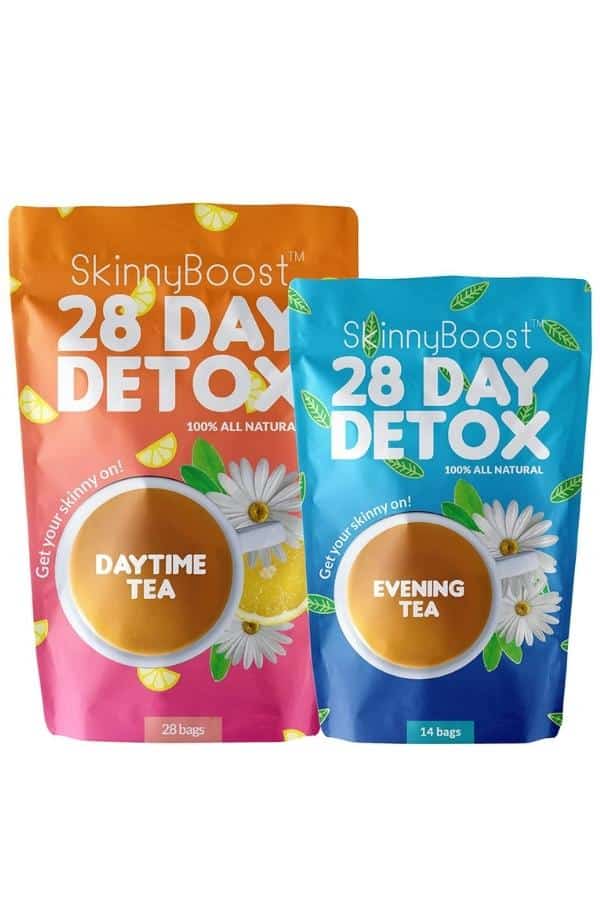 This detox tea is actually a set of two synergistic weight loss teas. The Daytime Tea is a green tea and oolong mix with dandelion and garcinia cambogia, fantastic natural ingredients for weight loss that are also featured on a few of the other green teas here.
What really takes this green tea to the next level is the ginseng. Ginseng is a powerful metabolism booster and helps weight loss by inhibiting fat tissue formation. So not only does this green tea help burn belly fat, but it can also prevent more fat from forming for weight management.
You can drink the Daytime green tea on its own, or for even better weight loss results, pair it with the Evening Tea version.
You can get a double pack of the daytime and evening tea here.
10. Slimming You Morning Boost Tea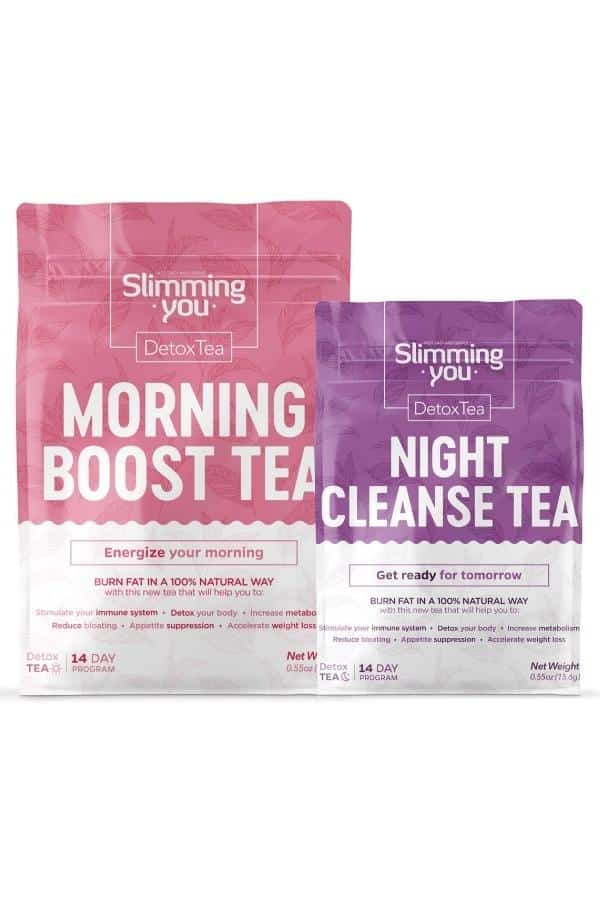 Besides the usual weight loss powerhouse ingredients like dandelion, garcinia cambogia, and ginger, this green tea and oolong tea blend has gynostemma, an underrated but powerful medicinal herb.
Gynostemma pentaphyllum has been shown to reduce body weight and overall fat mass in the human body. It's especially effective in burning off pesky belly fat.
For the best results, you can drink the Morning Boost green tea with breakfast and the Slimming You Night Cleanse Tea before bed.
You can get a combo pack of the morning boost and night cleanse teas here.
11. Nutra Trim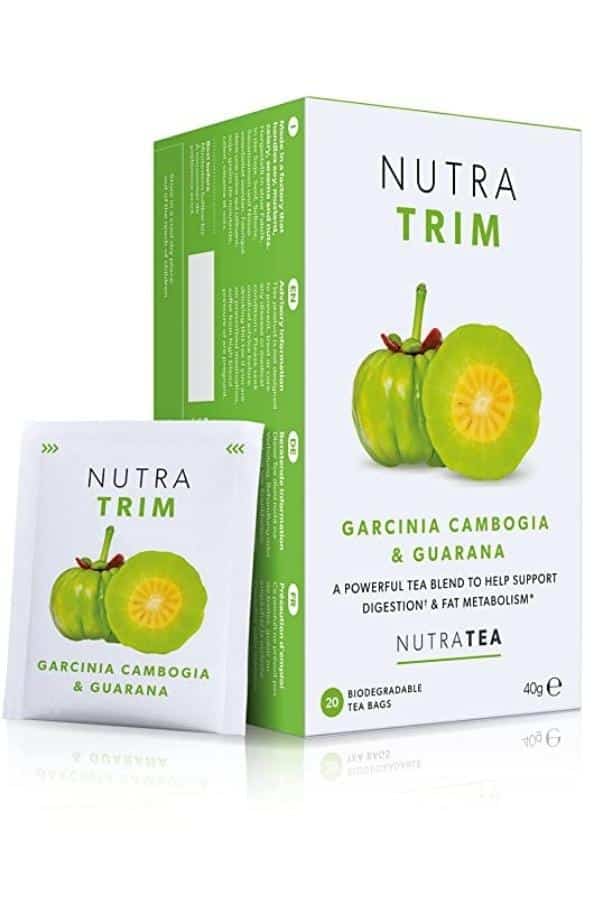 This slimming green tea is made with all the best natural ingredients to help you lose weight. Fat-reducing green tea, appetite suppressing fennel, and metabolism-boosting nettle are the main players.
It also has dandelion roots and garcinia cambogia for a one-two punch of shedding water weight and blocking fat production.
You can get about 2-3 cups worth per tea bag, which you can enjoy throughout the day. So not only is it great for the body, but it's a sustainable choice too.
Get some of this Nutra Trim tea blend here.
12. Triple Leaf Tea Dieter's Green Tea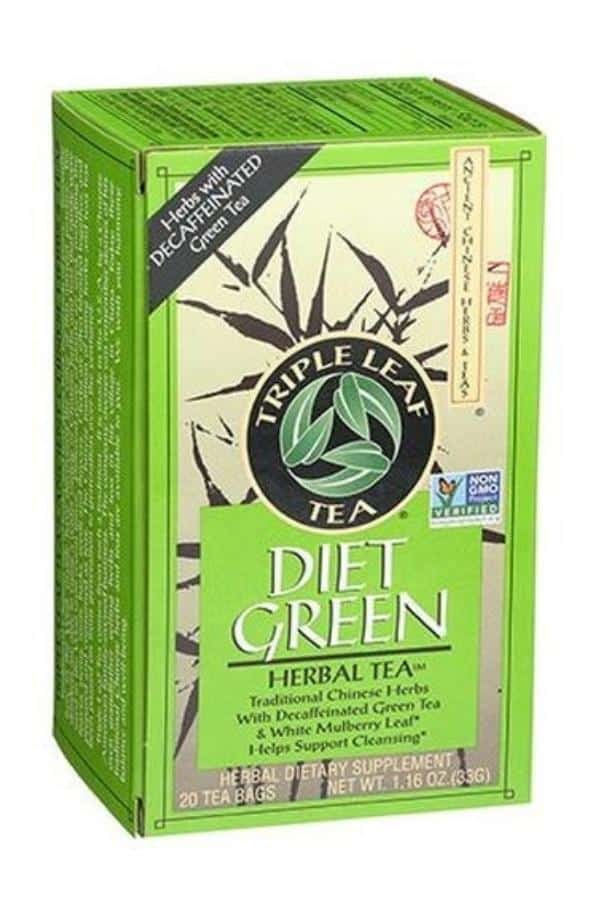 Another great choice for bulk buying green tea is this diet herbal tea. It contains naturally decaffeinated green tea leaves, so there are zero milligrams of caffeine per cup!
Drinking green tea, while great for weight loss, can sometimes keep you up at night because of the caffeine content, so the naturally decaffeinated green tea leaves here are a huge plus if that's been a problem for you.
You can grab this decaffeinated green tea here.
13. Javita Lean + Green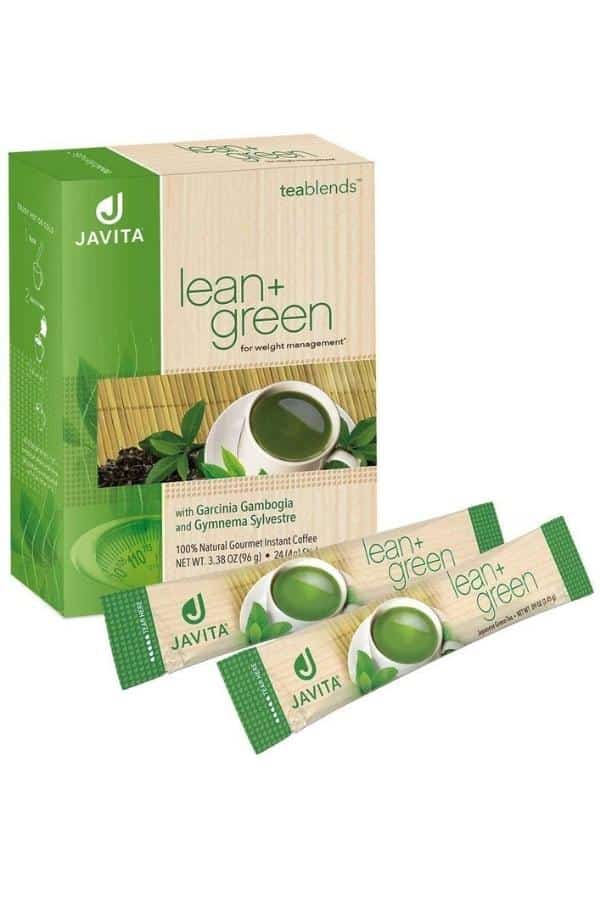 If you're looking for quality Japanese green tea for weight loss, this is it. Javita Lean + Green green tea is made of sencha green tea leaves grown in the Shizuoka region of Japan.
The sencha green tea leaves are grown in sunlight to increase the concentration of phytonutrients and give a deliciously smooth flavor and sweet aroma, making it one of the tastiest and healthiest green tea options you can find.
On top of the high-quality green tea, this tea is also made with garcinia cambogia and gymnema sylvestre extracts. Garcinia, as you already know, can block your body's ability to produce fat while also suppressing your appetite. The Gymnema extract doubles down on this by instantly reducing your sugar cravings - studies say it can start working in as fast as 30 seconds.
You can grab a 24 pack of this sencha green tea here.
14. 360 Nutrition Green Tea Cleanse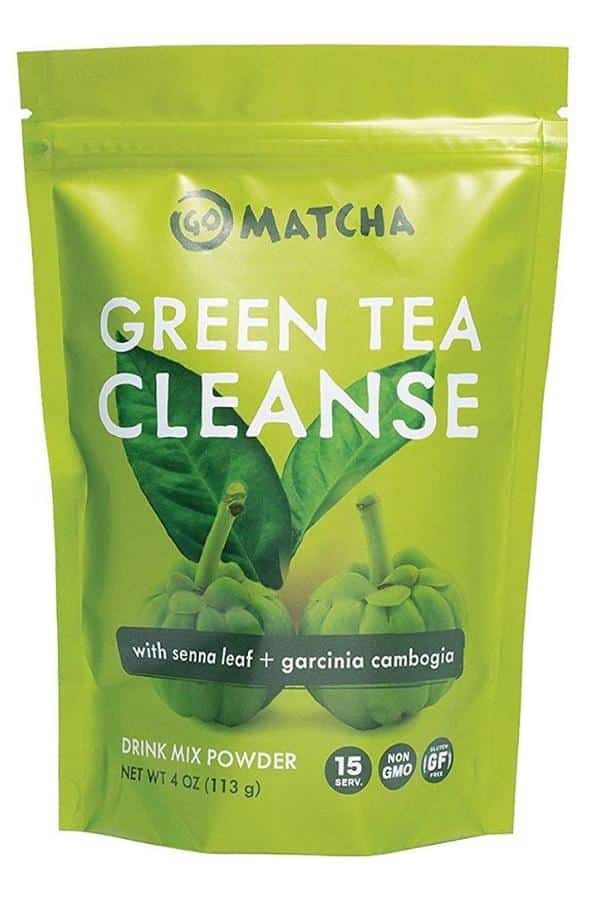 Matcha green tea lovers, you'll want to keep an eye out for this one. This matcha green tea drink for weight loss is made with senna leaf to kickstart your digestive system and garcinia cambogia to suppress your appetite and inhibit fat production.
Besides the weight loss benefits, this green tea powder is also super flavorful and perfectly sweetened, making it a great choice for matcha dessert or matcha latte fans.
That being said, this tea does have maltodextrin and artificial flavors added. So if those are things you tend to avoid, this may not be the best choice for you.
You can get a bag of this matcha tea powder here.
15. Uncle Lee's Organic Green Tea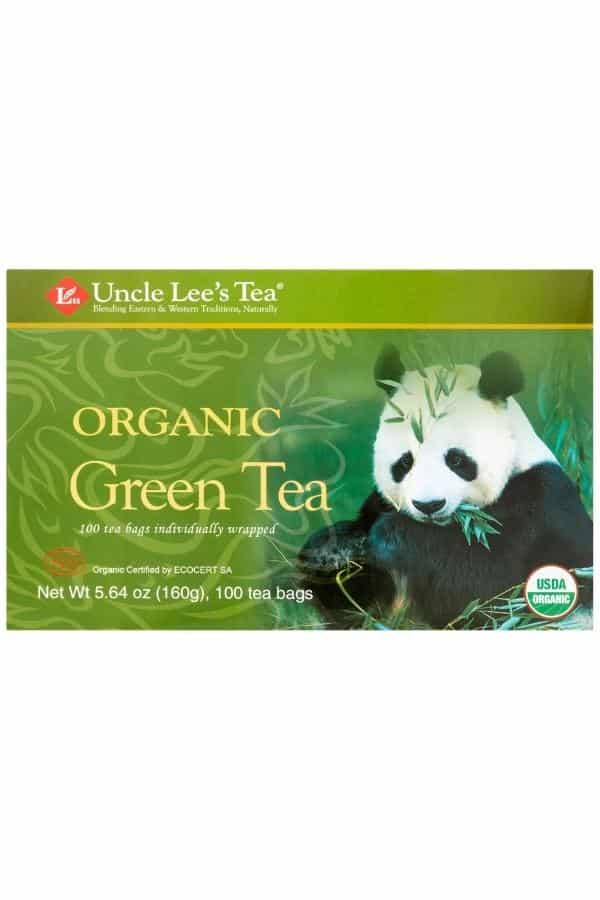 If you want to buy your green tea in bulk, I highly recommend Uncle Lee's Organic Green Tea. Not only is it the most affordable green tea option here, but it's also high-quality, organic, and non-GMO.
Drinking green tea, even without any additional ingredients, is proven to reduce belly fat and naturally burn calories by improving your metabolism. So if you prefer pure green tea for weight loss, you'll definitely want this.
It's made with 100% organic green tea leaves and has a deliciously smooth and balanced taste without the harsh bitterness that lower-quality green tea tends to have.
Grab a 100 pack of Uncle Lee's tea here.
Wrapping It Up
And there you have it, a list of the best green teas for weight loss!
These weight loss teas are all formulated to help you achieve your weight loss goals in the healthiest and tastiest way. It's a small addition to your diet but has the potential to have a huge positive impact on your body.
Of course, if you consume green tea alone, it won't magically make you lose weight, but it will contribute to your weight loss goals in a positive way along with a healthy diet.
By the way, I also have lists of the best pre-workouts for weight loss, best fruits for weight loss, best nuts for weight loss, best protein bars for weight loss, so you may want to check those out to combine with green tea.
Plus, I have this list of the best home exercise equipment for weight loss on the blog, so you'll be loaded up with everything you need to lose weight!
Oh, and if you're interested in making healthy recipes to go along with everything else, don't forget to visit my Youtube channel.