This keto alfredo sauce is insanely rich, creamy, and cheesy. Honestly, it's so good that your friends and family won't even know it's low carb. Plus, this keto alfredo sauce is easy to make too - it takes just 5 minutes! Not to mention, every serving of it has just 1 NET CARB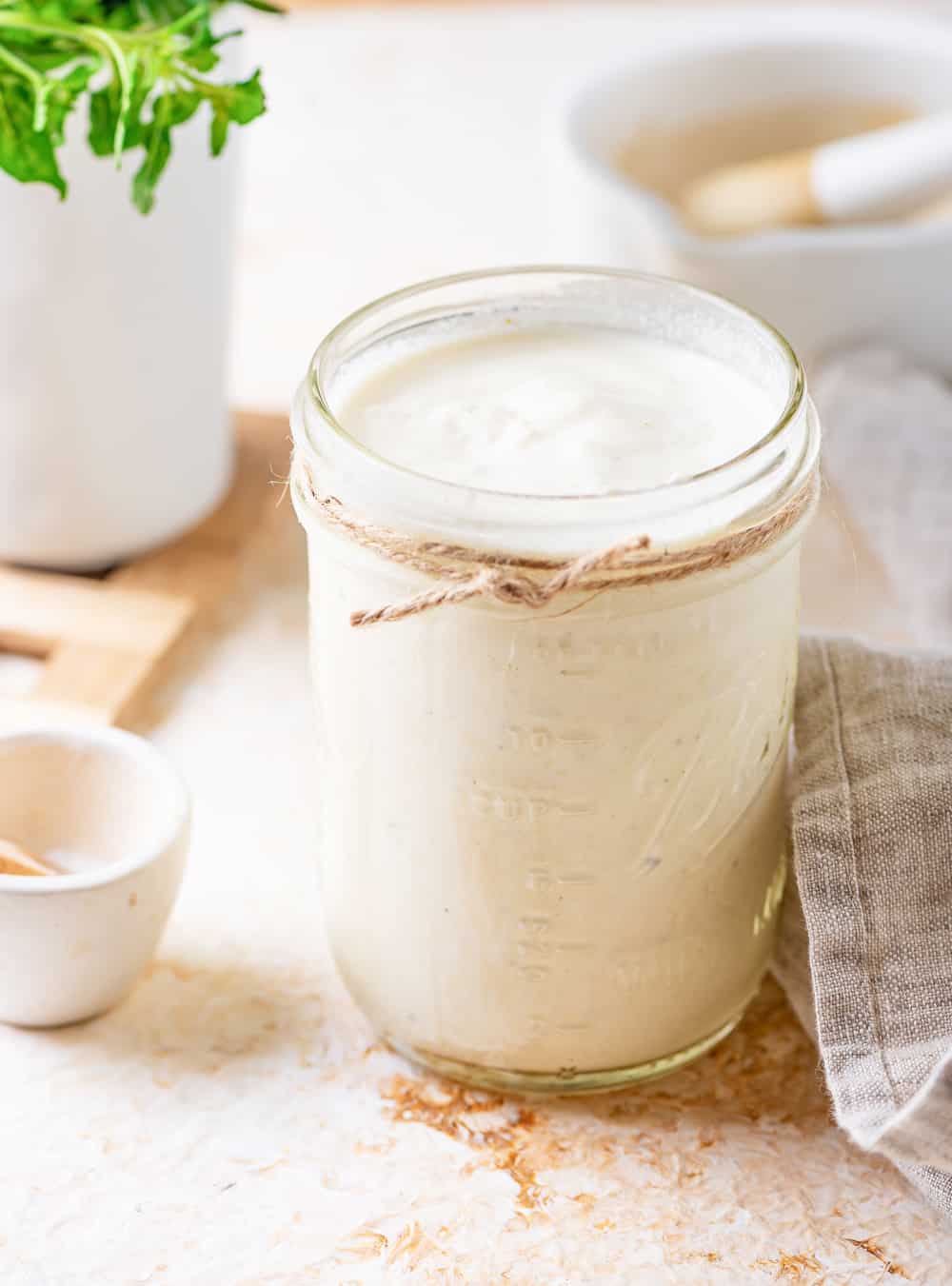 The Best Keto Alfredo Sauce
If you're looking for the best keto alfredo sauce recipe to use during your next keto pasta night, this is it! It's rich, velvety, and buttery all at the same time. And this homemade keto alfredo sauce delivers all of that deliciousness without the added "junk" ingredients you'll find in the store-bought kind.
Having said that, this creamy keto alfredo sauce is the perfect sauce for more than just pasta. It can complement a variety of other dishes too.
I mean, you can serve it over vegetables, chicken, and shrimp. And it's so smooth and tasty that literally anything you decide to put on it is instantly upgraded with some added savory deliciousness.
That said, my favorite way to use this sauce is to make some keto chicken alfredo with zoodles with it! The whole thing comes together in literally just 15 minutes, and I swear it's one of the best quick and easy keto dinners you can make!
Now, I'm sure all of this food talk is getting you hungry, so let's jump into the recipe!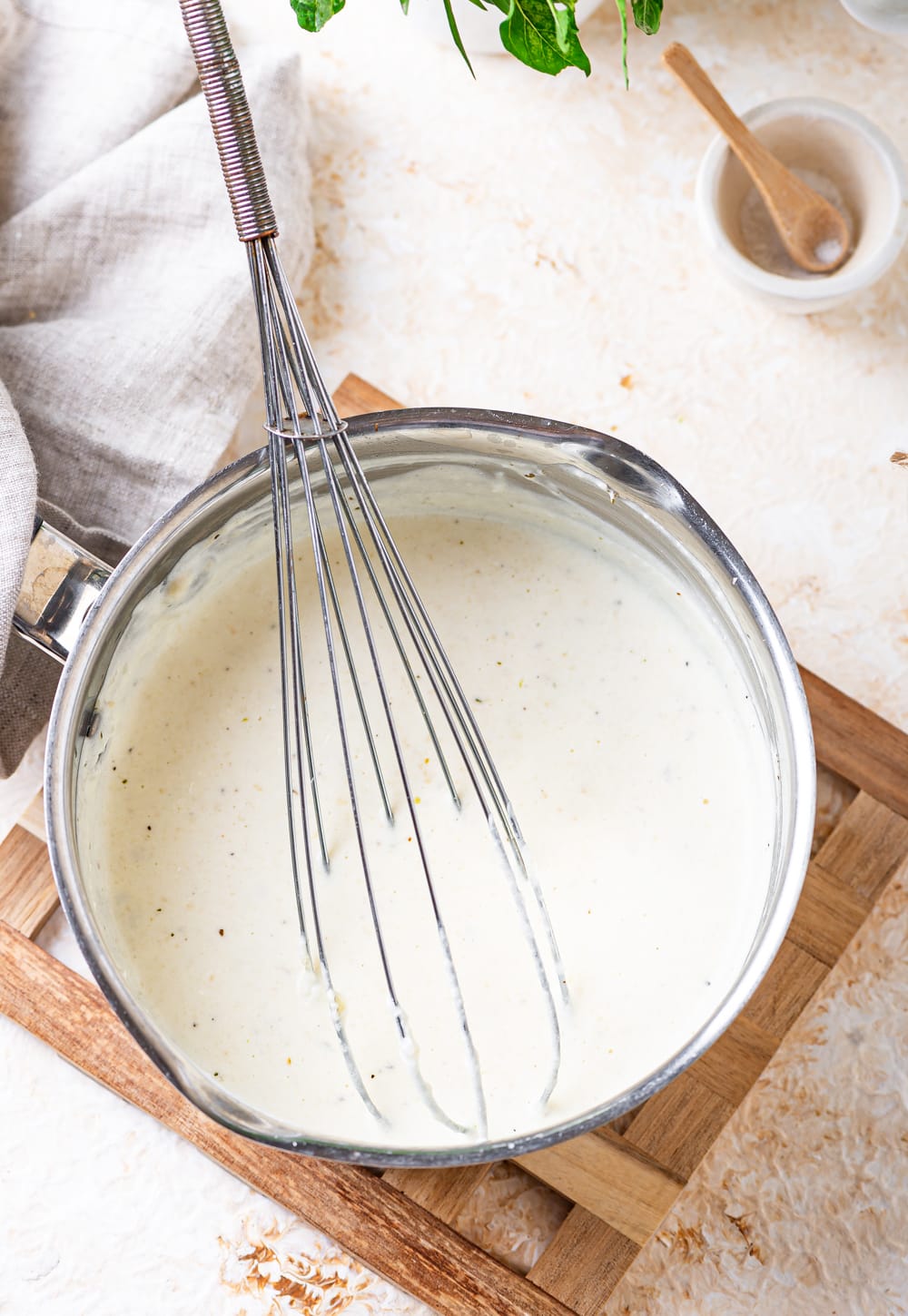 Ingredients
Ok, the keto alfredo sauce ingredients are all simple keto friendly ingredients.
And there's a good chance you have all of these ingredients at home already.
Here's what you'll need to make low carb alfredo sauce:
1 Tbsp. Butter
2 Cloves Garlic, Minced
1 Cup Heavy Cream
½ Cup Cream Cheese
½ Cup Grated Parmesan Cheese
⅓ Tsp. Oregano
Black Pepper to Taste
Salt to Taste
Isn't it crazy how just a handful of ingredients can make such a flavorful sauce?!
By the way, if you want to make a bigger batch of this keto alfredo sauce, all you have to do is double the amount of each ingredient. You'll then have sauce for a large family dinner or even an entire week's worth of meal prep.
Also, if you have some heavy cream left over, put it to good use and make this Buffalo chicken soup with it.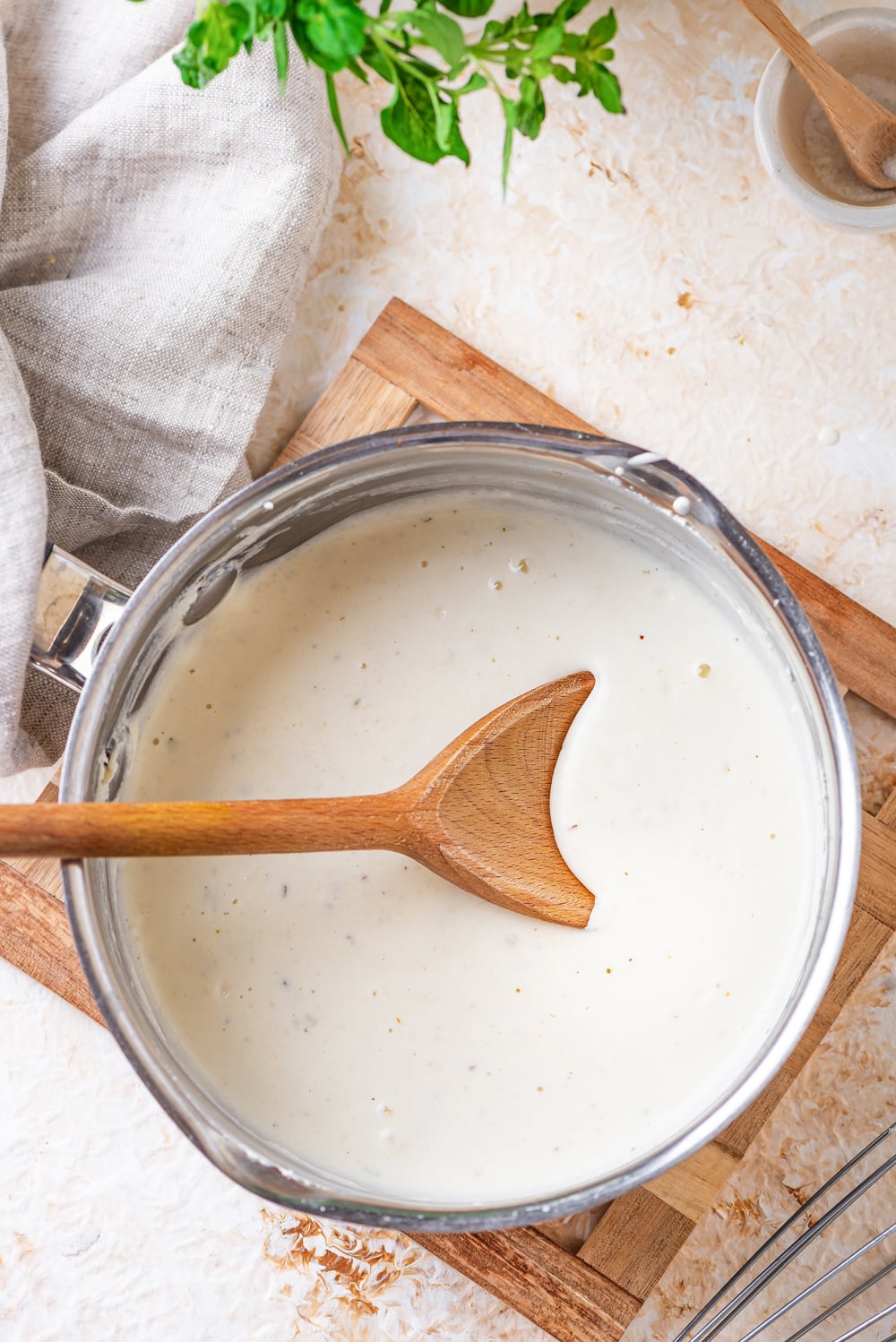 Grate Your Own Cheese
Now for this low carb alfredo sauce, the parmesan cheese will give the sauce that oh so cheesy flavor.
I recommend buying a block of parmesan cheese and grating it yourself, rather than getting the pre-grated kind.
Pre-grated or shredded cheeses usually have added starches in them that keeps the cheese from sticking together. And these starches will add unwanted carbs to the cheese in the process.
So, if you shred it yourself with a cheese grater, you'll keep the carbs as low as possible in the sauce.
Plus, if you end up with extra parmesan cheese, you can use it to make these low carb cheese crackers!
How to Make the Best Keto Alfredo Sauce
Alright, now that we've talked about the ingredients you'll need for this alfredo sauce, let's talk about how to make it.
Two simple steps are all you'll need to follow for this keto alfredo sauce recipe.
So, whether you're an expert or a beginner in the kitchen, I promise your keto alfredo sauce will turn out delicious.
Now let's get into the steps and make the sauce!
STEP 1: PREP WORK
So to start, you'll want to grate your parmesan cheese and mince two cloves of fresh garlic.
STEP 2: STOVE-TOP INSTRUCTIONS
The next step is to melt the butter and sauté the garlic in a saucepan over medium heat. This will take about 30 seconds.
Then, pour in the heavy cream and cream cheese and bring them to a boil while continually stirring.
Continue this for about 1 minute, then add your grated parmesan cheese, oregano, black pepper, and sea salt.
Once the ingredients are in the saucepan, stir everything together until the sauce is well-combined.
After this, remove the saucepan from the heat.
And voilà! Your keto alfredo sauce is ready to go!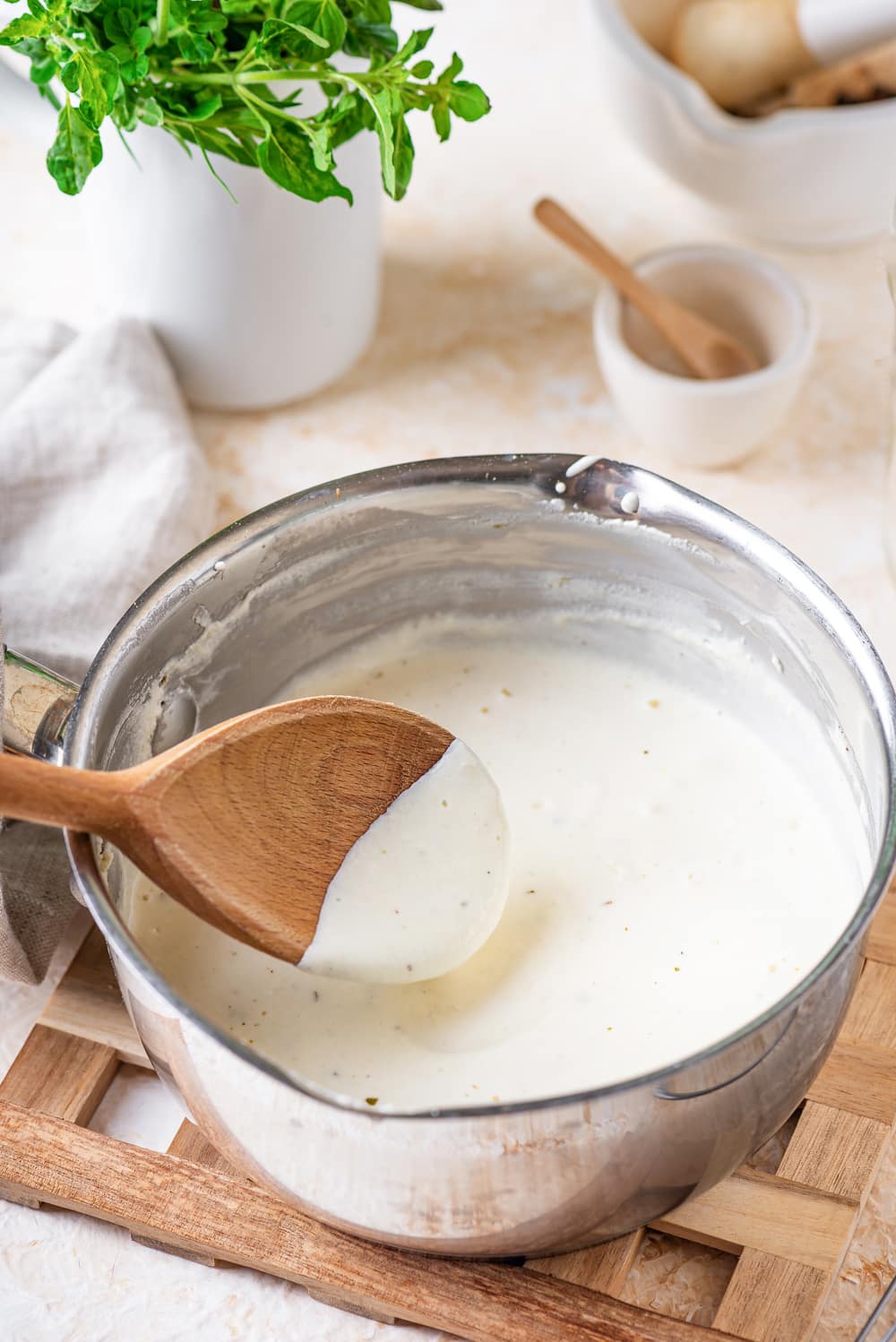 Ways to Use Keto Alfredo Sauce
I mentioned earlier a few traditional ways you can use this creamy keto alfredo sauce recipe, but there are many other ways to have it as well!
You can use it as a dipping sauce for these keto mozzarella sticks or keto crackers.
You could use it in place of marinara sauce for this 10-minute keto pizza.
Or, you could even meal prep this instant pot shredded chicken and use it as a sauce for that as well.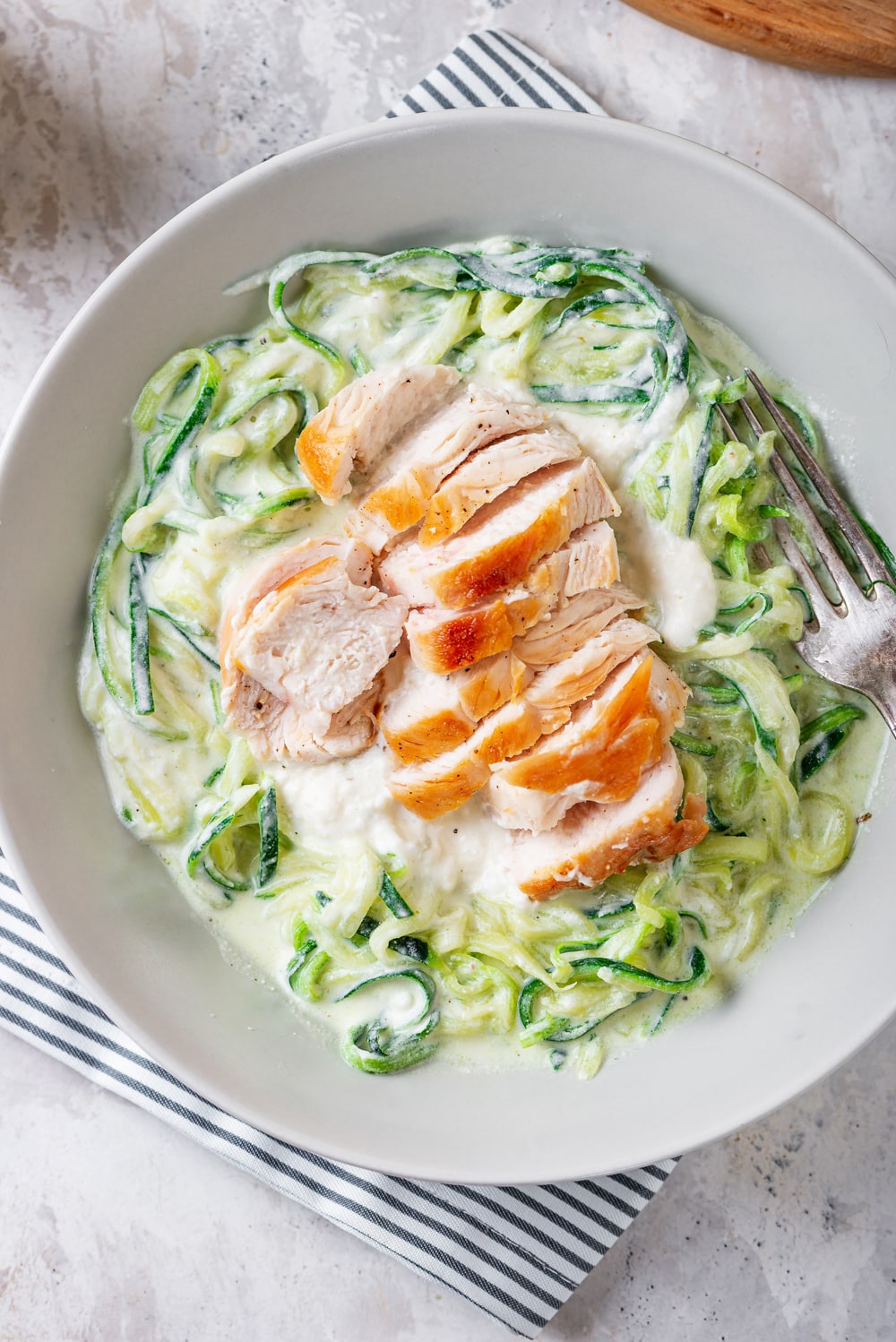 Serving It With Keto Pasta
Of course, one of the best ways - if not the best way - to enjoy this keto alfredo sauce is over pasta. I mean, it is a pasta sauce after all.
So, I highly recommend pairing it with some zoodles or this keto pasta made from hearts of palm.
Personally, I love using zoodles. I love how the freshness of the zoodles balances out the richness of the alfredo sauce.
And besides being fun to say, zoodles are super easy to make - I'll actually be talking more about that in my upcoming keto chicken alfredo recipe, so definitely stay tuned for that!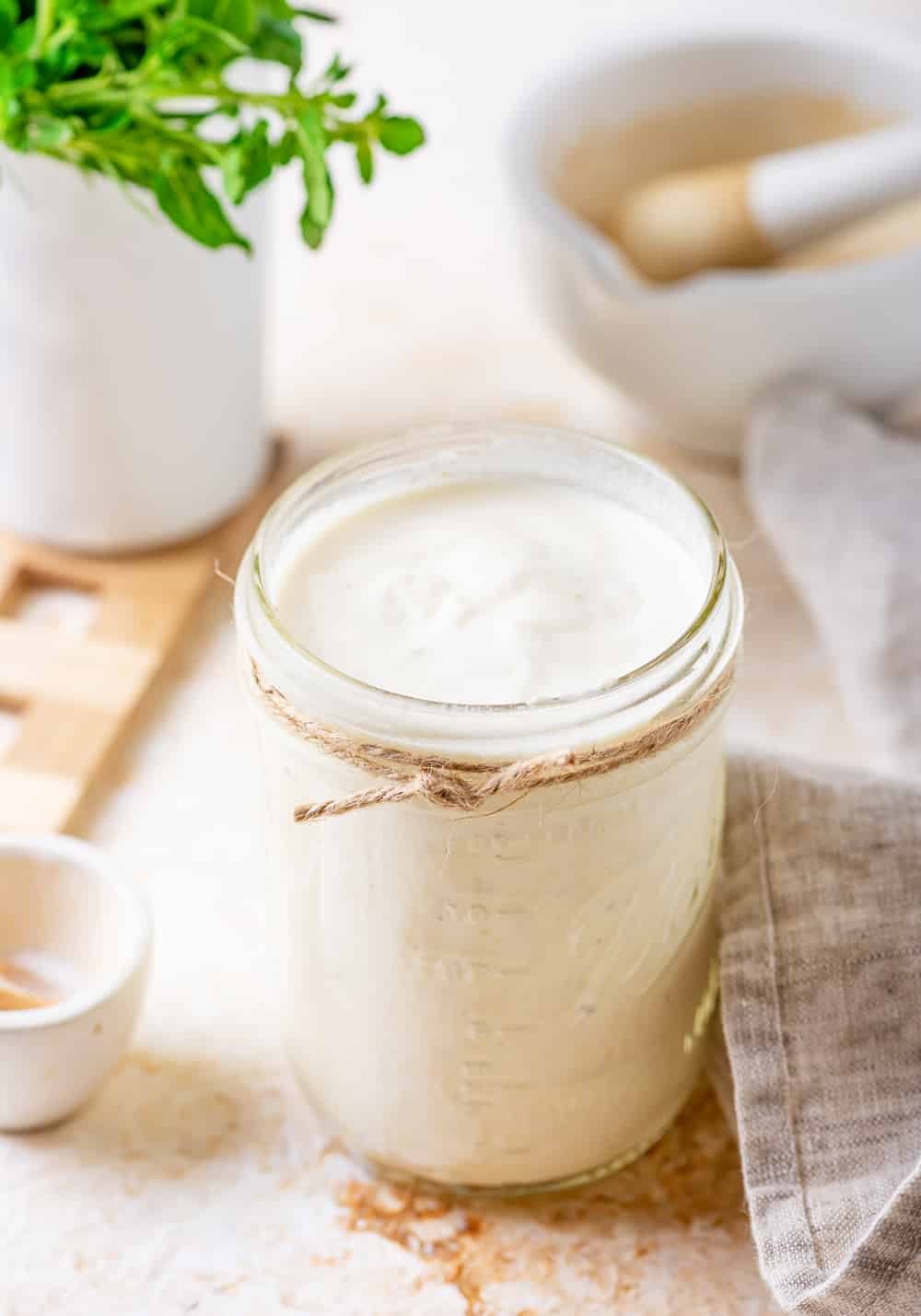 How to Store Keto Alfredo Sauce
So, this recipe makes 14 servings of keto sauce -which is perfect for a big dinner with family and friends, meal prep, or to have on hand to use for a variety of different keto meals.
And one more thing to love about this keto alfredo sauce is that it can be stored and reheated anytime!
You can keep the sauce in an airtight container in the fridge for up to a week. Or, you can also keep it in the freezer for up to 3 months.
How To Reheat Keto Alfredo Sauce
Once you're ready to enjoy this keto alfredo sauce recipe again, all you have to do to heat it back up is put it in the microwave or a saucepan over low heat until it reaches the desired temperature.
Now, take note that the sauce gets a little thicker after being stored. To thin it out, stir in a little more heavy cream - or even almond milk - as needed.
Wrapping It Up
That is how to make keto alfredo sauce! I mean, this easy keto alfredo sauce is high in fat and low in carbs & protein. It doesn't get much better than that.
This keto recipe is spot on to what you would get from an authentic Italian restaurant.
I can honestly say that this is one of the best sauce recipes I've ever made.
Oh, and if you're looking for some keto friendly pasta to put this alfredo sauce on, I've got a super tasty recipe on the blog that you should totally check out next.
Anyway, I hope you enjoy this rich, creamy, and easy keto alfredo sauce recipe. I'd love to hear how you use it in the comments below!
Print
5-Minute Keto Alfredo Sauce Recipe | One of The Best Low Carb Pasta Sauces You Can Make
This keto alfredo sauce is insanely rich, creamy, and cheesy. Honestly, it's so good that your friends and family won't even know it's low carb. Plus, this keto alfredo sauce is easy to make too - it takes just 5 minutes! Not to mention, every serving of it has just 1 NET CARB.
Author:
Prep Time:

5 minutes

Cook Time:

5 minutes

Total Time:

10 minutes

Yield:

14 servings

Category:

Sauce

Method:

Stove top

Cuisine:

Keto Low carb
1 Tbsp. (14g) Butter
2 Cloves Garlic (6g), Minced
1 Cup (240 mL) Heavy Cream
½ (112g) Cup Cream Cheese
½ (45g) Cup Grated Parmesan Cheese
⅓ Tsp. Oregano
Black Pepper to Taste
Salt to Taste
Instructions
Melt butter in a small saucepan over medium heat and sauté the garlic for about 30 seconds.

Add in the heavy cream and cream cheese. Bring it to a boil, stirring constantly. Cook for 1 minute.

Add in the parmesan and seasonings. Stir until well combined and remove from heat.

Serve immediately.
Notes
The scale up function only scales up the cups and not gram measurements. If using grams, you must scale them up yourself.
Nutrition
Serving Size:

2 tbsps

Calories:

110

Fat:

10

Carbohydrates:

1

Fiber:

0

Protein:

2.25
Keywords: Keto alfredo sauce, low carb alfredo sauce, keto sauce, low carb sauce, alfredo sauce, keto pasta sauce, low carb pasta sauce, pasta sauce keto, keto alfredo, low carb alfredo, alfredo sauce keto, alfredo sauce low carb, how to make keto alfredo sauce