This keto chocolate mousse recipe is full of rich chocolate decadence and is just so incredibly easy to make! From start-to-finish, it takes 15 minutes to whip up and only has 6 ingredients.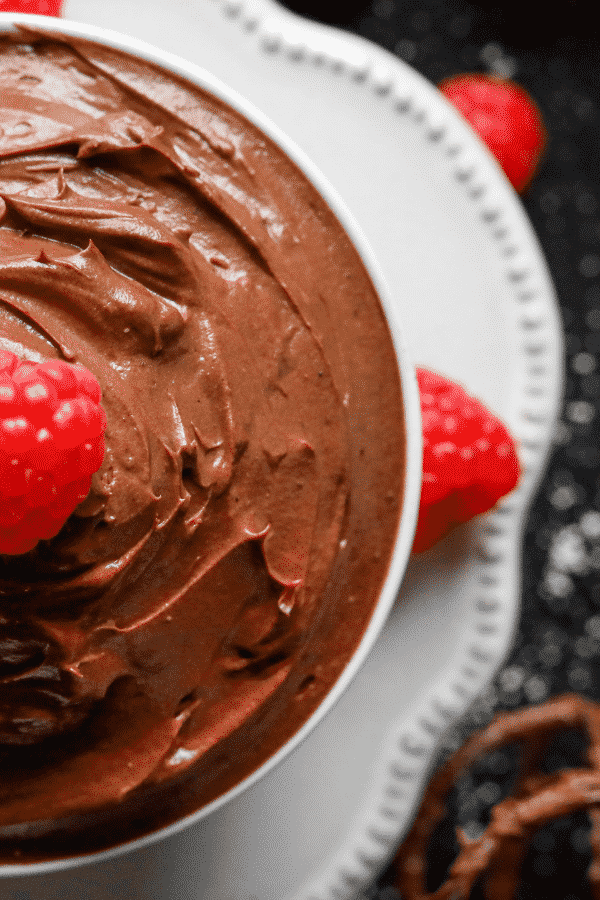 In my opinion, the best keto recipes are easy keto recipes. Recipes like my 5 Minute Keto Cinnamon Rolls, 15 Minute Cookies, and 2 Minute Bread are some of my favorites. Basically, any recipe that requires less than 15 minutes to make, has few steps, and has minimal ingredients are the ones I love to make and share with you.
So, that's why I love, love, LOVE, this keto chocolate mousse recipe!
Most low carb mousse recipes have you beating eggs, and melting chocolate, and chilling for hours. But not this mousse recipe.
And who's got time for all that stuff anyway?!
Not me, that's for sure.
How To Make Low Carb Chocolate Mousse
So, let's talk ingredients first.
For this recipe, you'll need cream cheese, heavy cream, Confectioners Swerve, dark unsweetened cocoa powder, pure vanilla extract, and salt.
You'll want to start things off by adding the cream cheese - preferably room temp. - to a medium-sized bowl.
By the way, for the best keto chocolate mousse results, I recommend using a food scale to weigh out your ingredients. It's just SO MUCH MORE ACCURATE than using cups etc.
Once you've got the cream cheese in the bowl you'll want to beat it with a hand mixer until it loosens up, and gets creamy. When that happens, you're all set to add the heavy cream.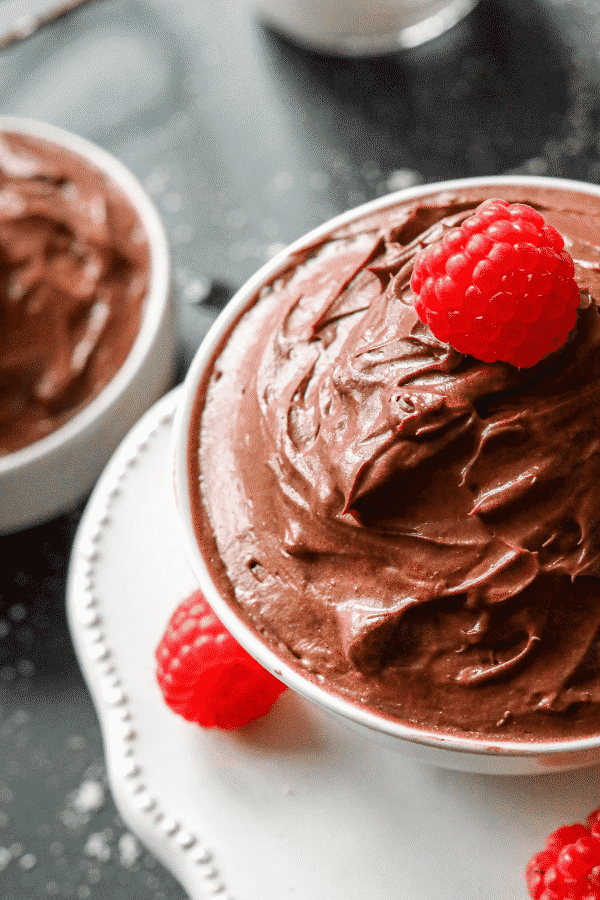 Now, at this point, you'll want to get your hand mixer back out and start beating those ingredients together until stiff ribbons start to appear in your bowl. And this should take a couple of minutes to happen. When it does, you're ready to add the rest of the ingredients into the bowl.
I recommend mixing everything together until the unsweetened cocoa powder combines with all of the other ingredients. Once that happens, you'll want to scrape the sides of your bowl with a spatula just to make sure all of the cocoa powder dissolves into the mousse. And after that's taken care of, just give the keto mousse one last mix with your hand mixer.
So, that's it.
It's really that simple to make a delicious, rich and decadent, low carb chocolate mousse.
And if you want an even more in-depth guide on how to make keto chocolate mousse be sure to check out the video above!
Sugar Free Low Carb Chocolate Mousse
Obviously, this is a keto chocolate mousse recipe. Having said that, using sugar is not an option. Instead, to keep things low carb, and as keto-friendly as possible, I recommend using Swerve. And, more specifically for today's keto chocolate mousse recipe, Confectioners Swerve. I'll talk more about why in a second.
So, the reason I love using Swerve to sweeten up my keto recipes is that it has 0 net carbs, 0 calories, and no impact on blood sugar levels. In my opinion, it's the best sweetener for the ketogenic diet.
However, if you don't want to use Swerve you can use Monk Fruit instead. But, if you do use Monk Fruit, I would still highly encourage you to use a Confectioners Monk Fruit like this.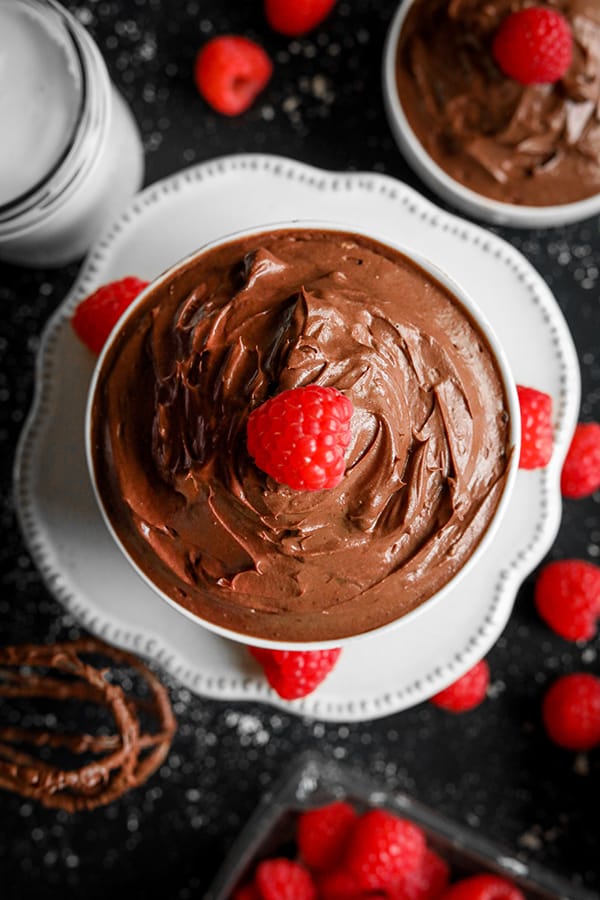 The reason I recommend using the "confectioners" version of Swerve and Monk Fruit is that it dissolves WAY better than the granulated kind. And if you're making a mousse you obviously want the sweetener to dissolve as effortlessly as possible.
Having said that, do not, I REPEAT, DO NOT, USE STEVIA. And the reason I say that is because stevia is MUCH SWEETER than both Swerve and Monk Fruit. In fact, stevia is 200 times sweeter than sugar.
The other two aren't even as sweet as sugar.
So, unfortunately, you can't substitute stevia evenly with them.
Print
Keto Chocolate Mousse Recipe (Easy & Low Carb)
A Keto chocolate mousse recipe that's so easy to make, incredibly tasty, and reminds you of a decadent low carb chocolate pudding! It's made with cream cheese, heavy cream, unsweetened cocoa powder, and just a few other ingredients.
Author:
Prep Time:

10

Total Time:

10 minutes

Yield:

4 Small Cups

Category:

Dessert

Method:

Keto
Instructions
Let the cream cheese come up to room temperature - or microwave it for 10 seconds to soften it
Add it to a medium sized bowl, and beat it with a hand mixer until it loosens up and becomes creamy
When it does, add in the heavy cream and beat again
You'll want to beat the two together until stiff ribbons form, and the heavy cream thickens up
Once that happens, add in the rest of the ingredients and mix again
This time you'll want to mix everything until the unsweetened cocoa powder completely dissolves into the other ingredients
When that happens, you'll want to scrape down the sides of the bowl with a spatula, and then mix everything together with your hand mixer one last time
Serve immediately, or store in the fridge for several days
By the way, it will thicken up even more if you refrigerate it
Notes
NOTE*
The Macros DO NOT include the "carbs" from Swerve. Swerve has 0 calories, so it should be tracked as 0 carbs. The FDA makes food companies list "sugar alcohols" as carbs, but that doesn't mean they should be tracked as such. That's why it's ALWAYS important to look at the calories of sweeteners and determine the true carb count FROM THE CALORIES!
Also, if using the recipe multiplier above it will not increase the "gram" counts for the ingredients.
Nutrition
Serving Size:

1 Small Cup

Calories:

160

Fat:

15

Carbohydrates:

3

Fiber:

1.5

Protein:

1
Keywords: keto chocolate mousse, keto chocolate mousse recipe, how to make keto chocolate mousse, low carb chocolate mousse,