If you love cinnamon rolls, you're going to be blown away with how delicious these keto cinnamon rolls are. They're soft, fluffy, chewy, and loaded with cinnamon sugar goodness. And the best part is that they only take 5 minutes to make!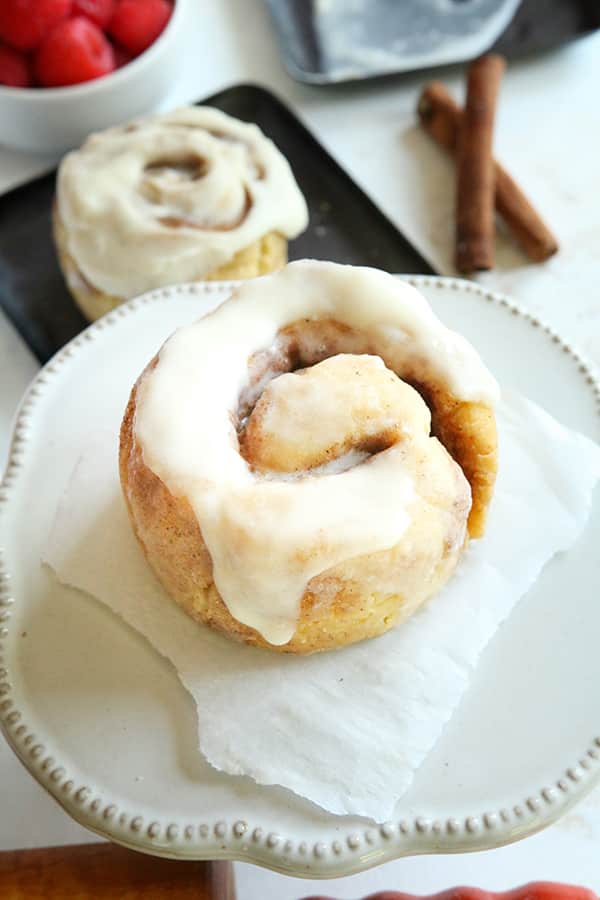 The BEST Keto Cinnamon Rolls
I'm convinced that this is THE BEST, EASY, LOW CARB, KETO Cinnamon Roll Recipe in existence.
Mainly because this recipe tastes legit - it's ooey gooey - and it's just so damn quick to make. Plus, I love, love, LOVE the fact that portion control is automatically built into the recipe since all this makes is just one cinnamon roll.
I don't know about you, but making 6, 8, or 10 easy keto cinnamon rolls is a big commitment for me. And that's what most recipes make.
That's a problem for me for two reasons.
Number one, I'm the kind of person who has very little self-control. So, eating one cinnamon roll usually turns into eating all of the cinnamon rolls. Especially with how delicious these low carb cinnamon rolls are.
And number two, there's only two of us in our house. So, if I make a batch of something, I typically have to find people to give the left-overs to.
Also, I'm just not a huge fan of spending forty-five minutes to an hour making cinnamon rolls from scratch. Which is what the average recipe will take you.
Instead, I'd rather spend 5 minutes making them. And, yeah, that's from scratch too!
So, that's pretty much why I think this is the best sugar free cinnamon roll recipe, well, ever.
Easy Keto Cinnamon Roll In A Mug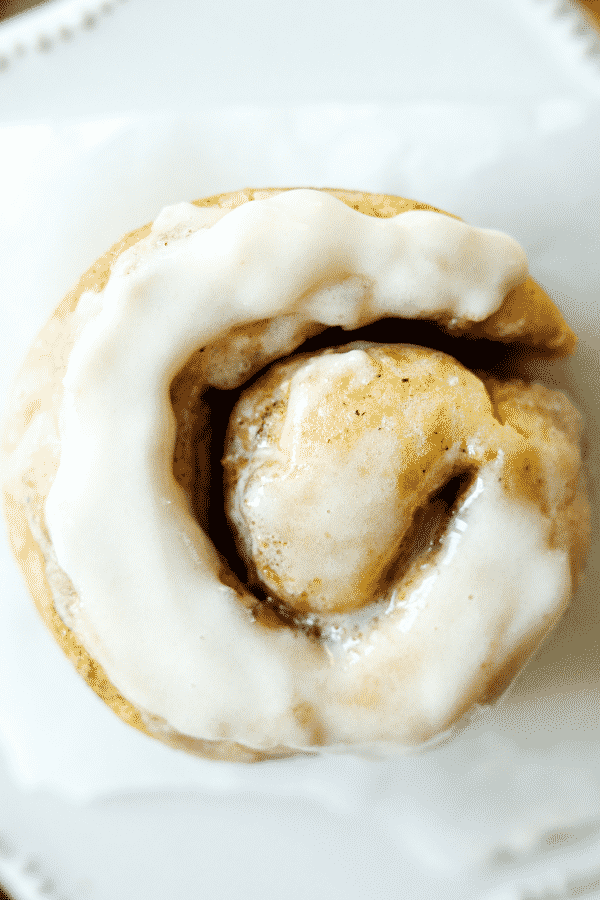 I've made a lot of keto mug cakes on the blog - like this one, and this one - but this keto cinnamon roll in a mug tops them all.
Making a cake in the microwave is one thing, but actually making a legitimate cinnamon roll in one is something entirely different.
As I mentioned, it takes just 5 minutes to make. And a third of that is cook-time!
By the way, this cinnamon roll mug cake recipe takes 90 seconds in my microwave, and it's extremely weak. It's only 700 Watts. So, there's a good chance it's going to take even less time in yours.
Having said that, make sure you check the wattage of your microwave before cooking your cinnamon roll and adjust accordingly.
I always recommend erring on the side of less time than more time, and then just adding 5-10 seconds as needed to finish cooking all of my mug recipes.
However, if microwaves are not for your thing, you can always bake this cinnamon roll in the oven. Instead of 90 seconds of cook-time though, it'll take about 15 - 20 minutes at 350 Degrees. And if you do decide to use the oven I highly recommend using a small ramekin like this to bake it in.
How To Make Keto Cinnamon Rolls
Honestly, it still kind of blows my mind that this keto cinnamon rolls recipe is even possible.
Mainly because of how simple it is to make.
You'll need less than 10 ingredients to make this cinnamon roll in a mug, and you probably have most of them in your kitchen already.
There are also very few steps to this keto cinnamon rolls recipe too. Which is always a bonus in my mind.
It's a "one bowl" recipe, which means all of the ingredients just get added to a single bowl. And once you've added the ingredients to your bowl all you'll need to do is mix, form, roll, and cook.
The icing for these keto cinnamon rolls only takes a second to prepare too. And you'll need just two ingredients to make it - Confectioners Swerve & Heavy Whipping Cream - so there's no sugar added to it either!
The icing is actually so quick to make, I usually just whip it up while the cinnamon roll is cooking. Then when the roll finishes up - either in the microwave or oven - and cools down, I can add the icing, and enjoy!
With that being said, for an in-depth explanation of how to make keto cinnamon rolls check out the video above.
Keto Cinnamon Roll Ingredients
You'll need to use some keto friendly ingredients to make today's low carb cinnamon rolls.
As I'm sure you already know, cinnamon rolls are typically LOADED with carbs. I mean, they're basically just rolled up balls of flour and sugar. And those ingredients are obviously not part of a ketogenic diet.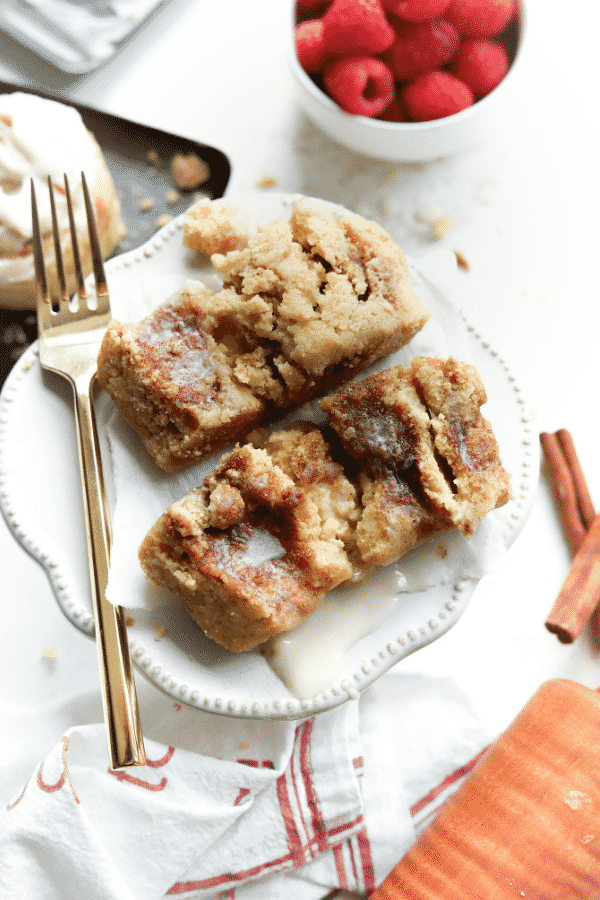 Sugar Free Sweeteners To Use
So, instead of using a white or wheat flour as the base of the cinnamon rolls you'll want to use almond flour. I recommend using this one by Kirkland's. Not only is it super affordable, but it ONLY HAS 2g NET CARBS per serving. And that's the lowest carb count on any flour you'll find.
Of course, you'll also want to substitute the sugar too in this keto cinnamon rolls recipe.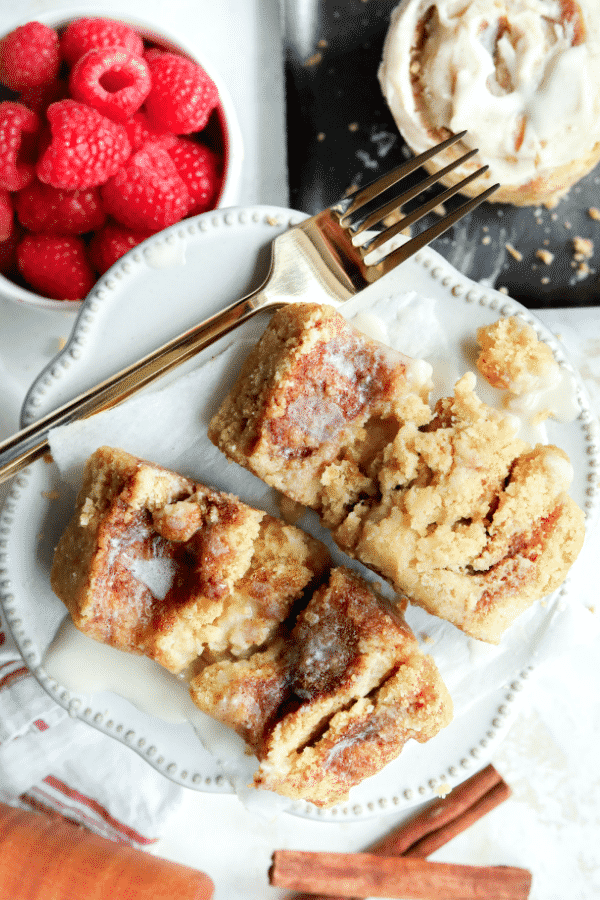 Swerve is my keto sweetener of choice, and it's what I recommend using for today's keto cinnamon rolls recipe.
If you've never used Swerve before, it is basically a sugar alcohol that's almost as sweet as sugar. It's an ideal sweetener for the ketogenic diet because it has 0 net carbs, 0 calories, and no impact on blood sugar.
Today, we're actually using 2 different kinds of it - Confectioners Swerve and Brown Swerve. The confectioners kind is to sweeten up the roll itself, and the icing. The Brown Swerve is to sweeten up the inside filling, and it's basically a keto version of brown sugar.
Just so you know, Monk Fruit - like this one by Lankanto - could also be used to sweeten up these keto cinnamon rolls. And if you decide to use the monk fruit, just make sure to replace the Swerve 1:1 with it.
By the way, do not, I repeat, DO NOT SUBSTITUTE SWERVE WITH STEVIA. They have different levels of sweetness and cannot be substituted equally for one another. Stevia is 200 times sweeter than sugar, while Swerve isn't even as sweet as sugar. So, just keep that in mind.
Keto Friendly Flours To Use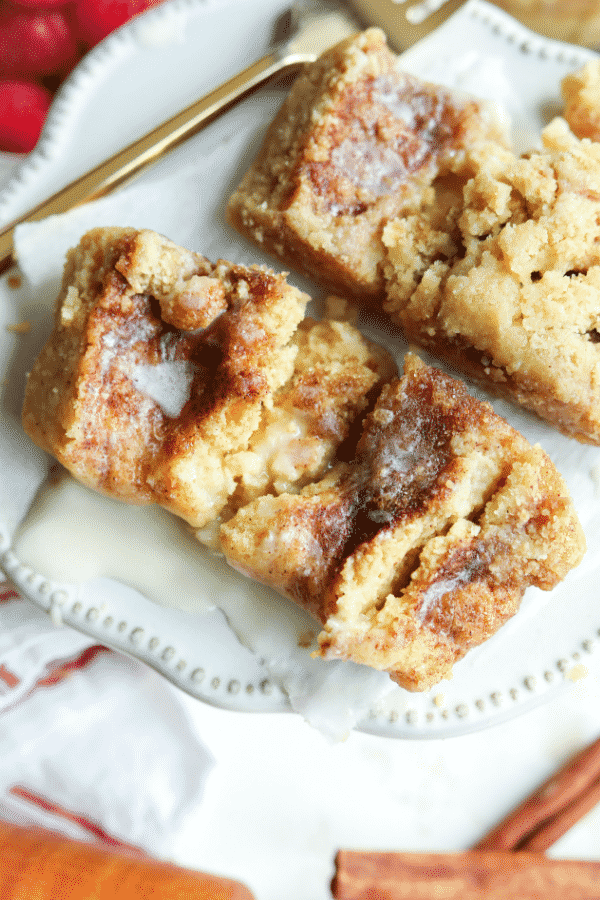 As I already mentioned, the base of today's keto cinnamon roll recipe is almond flour.
And it's important that you actually use almond flour for this recipe. I know that it seems silly to say that, but you wouldn't believe how many people try to replace it with coconut flour. And that's basically the worst thing you can do. Well, using wheat flour might be the worst thing, but substituting almond flour with coconut flour is right behind it.
So, let me explain why this doesn't work in this keto cinnamon rolls recipe.
Coconut flour is a SUPER ABSORBENT flour. It's basically the "sponge" of flours.
And, well, almond flour is not that.
Having said that, if you use coconut flour instead of almond flour you'll either end up with a crumbly mess, or super dry cinnamon rolls. And I don't want either of those two things to happen to you. So please take my advice here.
Wrapping It All Up
That is how to make delicious keto cinnamon rolls in only 5 minutes!
These are seriously some of the best cinnamon rolls that you can make (keto or not). Honestly, anyone who tries these raves over them and can't believe that they aren't regular cinnamon rolls.
Anyways, I hope you love these cinnamon rolls as much as I do. If you make them, leave a comment below and let me know your thoughts. And for more recipes, make sure to check out my Youtube channel and Instagram page.
More Keto Breakfast Recipes
If you want to give some more keto breakfast recipes a try, I have some more delicious ones on the blog I think you'll love.
Give one of these a try next:
Print
Keto Cinnamon Rolls In 5 Minutes | The BEST Easy Low Carb Cinnamon Roll Recipe
Keto Cinnamon Rolls made in a mug in 5 minutes. This is THE BEST quick and easy low carb cinnamon rolls recipe for keto. Each cinnamon roll has LESS THAN 5g NET CARBS, and is absolutely filled with ooey gooey deliciousness! Best of all, there's no mozzarella needed to make 'em!
Author:
Prep Time:

2 Minutes

Cook Time:

1 Minute

Total Time:

3 minutes

Yield:

1 Cinnamon Roll

Category:

Dessert

Cuisine:

Keto
Instructions
In a medium sized bowl add the egg yolk, melted butter, and vanilla extract
Once they've been added, whisk them until combined
Now add the dry ingredients
*Note: For best results measure them out to the gram on a food scale
When the dry ingredients have been added to the bowl, mix everything with a spatula until a crumbly sticky consistency forms
Once it does, use your hands to form a ball of dough
Now you'll want to get out a small sheet of parchment paper, and add the ball of dough to it
Press the ball of dough out into a long thin rectangle about 1 inch thick and 8 inches long
When you've done that coat the dough quickly wth baking spray - or a little melted butter - and add the cinnamon and Brown Swerve to the top of it
Make sure to press the Brown Swerve down into the dough
Once it's pressed into the dough, you can go ahead and roll it up to form a cinnamon roll
Now either coat a mug - or a small ramekin if using the oven - with baking spray and add the roll to it
Microwave for somewhere between 45 seconds to 90 seconds depending on the power of your microwave
*NOTE: My Microwave is 700 Watts and usually 75 seconds to 90 seconds is the perfect amount of time. Adjust accordingly depending on the power of yours. Yours will most likely take MUCH LESS TIME THAN MINE .... I always suggest undercooking mug recipe and the adding 5-10 seconds to finish them as needed!
If you decide to bake the cinnamon rolls they take about 15-20 minutes at 350 Degrees. Also, cook it on the lowest rack in the oven.
While the cinnamon rolls are cooking, you'll want to add the icing ingredients to a small dish and mix them together until a thick creamy icing forms
Once it does, and the cinnamon roll cools off a bit, add the icing to the top of the roll and enjoy!
*NOTE: These are BEST the day that you make them. The become more dense and less "doughy" the longer you keep them around.
Notes
NOTE*
The Macros DO NOT include the "carbs" from Swerve. Swerve has 0 calories, so it should be tracked as 0 carbs. The FDA makes food companies list "sugar alcohols" as carbs, but that doesn't mean they should be tracked as such. That's why it's ALWAYS important to look at the calories of sweeteners and determine the true carb count FROM THE CALORIES!
You'll need to update the grams calculations manually if scaling the recipe. The plug-in won't do that for you.
Net carb calculation:
11g Carbs - 7g Fiber = 4 NET CARBS per cinnamon roll
Nutrition
Serving Size:

1 Cinnamon Roll

Calories:

378

Fat:

31

Carbohydrates:

11

Fiber:

7

Protein:

12
Keywords: Keto cinnamon rolls, easy keto cinnamon rolls, how to make keto cinnamon rolls, low carb cinnamon rolls, how to make low carb cinnamon rolls, cinnamon rolls keto, keto cinnamon rolls recipe