An easy Strawberry Keto Ice Cream Recipe that's made in a mason jar instead of an ice cream machine! This no-churn low carb ice cream recipe takes just minutes to make. And it's so creamy and so delicious, you'd think it was storebought ice cream, rather than homemade.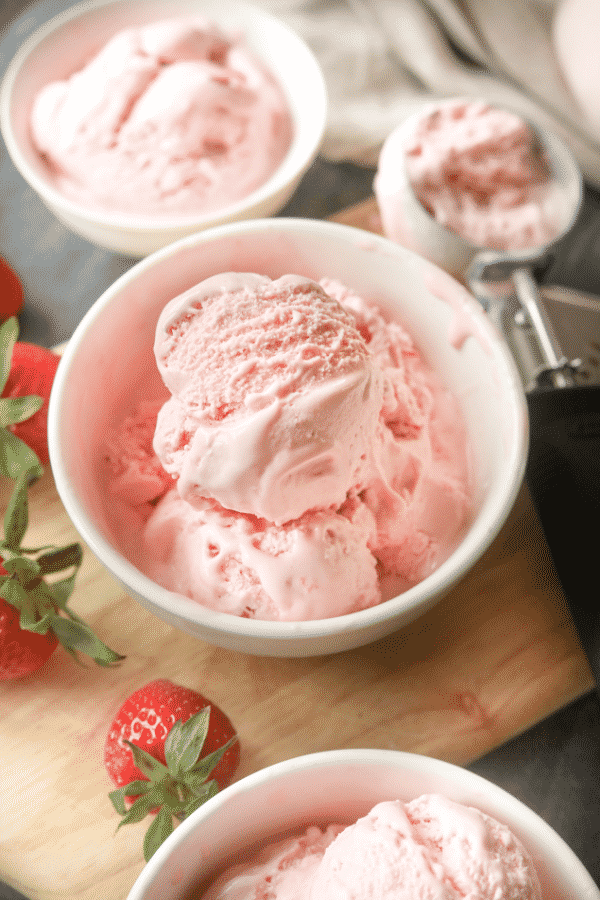 Today's Strawberry Mason Jar Keto Ice Cream Recipe is actually the third installment in an on-going keto ice cream series.
Of course, the first two recipes had to be chocolate and vanilla.
So, after today's recipe, you've got everything you need to make your own Neopolitan keto ice cream!
How To Make Strawberry Keto Ice Cream In A Mason Jar
The best thing about making ice cream in a mason jar is that you don't need any fancy equipment to make it.
There's no ice cream machine, no ice cream maker, and no churning necessary to make delicious low carb ice cream.
All you need is 5 minutes, a few simple ingredients, and a mason jar.
How easy does that sound?!
So, to make this ice cream the first thing you'll want to get out is your mason jar. I recommend using one that's at least 16 ounces so that the ice cream fits in the jar.
And that's all the equipment you'll need for this keto ice cream besides some measuring cups, tablespoons, and teaspoons.
Having said that, I highly recommend using a food scale to measure out the ingredients. All of your recipes will turn out so much better if you're weighing the ingredients out to the actual gram.
Anyways, as far as ingredients, you'll need heavy cream, diced strawberries, Confectioners Swerve, strawberry extract, and the tiniest bit of red food coloring.
Once you've got those ingredients out, you'll just add them to the mason jar, shake it vigorously for a couple of minutes, and then freeze the jar for somewhere around 4-5 hours.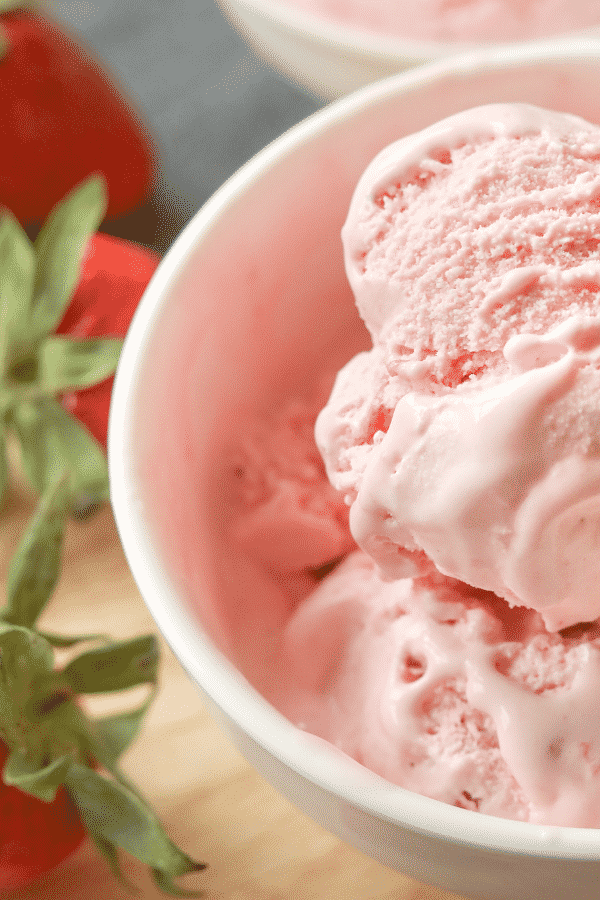 The ice cream is BEST the day that you make it. Otherwise, it can freeze pretty hard.
So, if you're not going to eat all of the keto ice cream the day you make it, I recommend either halving the recipe or using around 1-2 teaspoons (3-6 grams) of xylitol in place of some of the Swerve.
Also, you could completely substitute the Swerve with allulose as well.
But, we'll talk more about this in a second.
No Sugar Mason Jar Ice Cream
Most ice creams are loaded, LOADED, with sugar - the exception being Rebel Ice Cream.
And obviously, all of that sugar - and carbs - just isn't going to work for you if you're following a low carb ketogenic diet.
So, instead of using sugar, you'll want to use a keto friendly sugar substitute.
My favorite is Confectioners Swerve. It has zero net carbs, zero calories, and doesn't impact blood sugar levels. And it's the exact sugar substitute I used to make this strawberry keto mason jar ice cream.
However, if you use Swerve for your ice cream and don't eat it the day that you make it, the ice cream can get REALLY hard.
But, you can use Allulose - another keto approved sugar substitute - and avoid this problem altogether.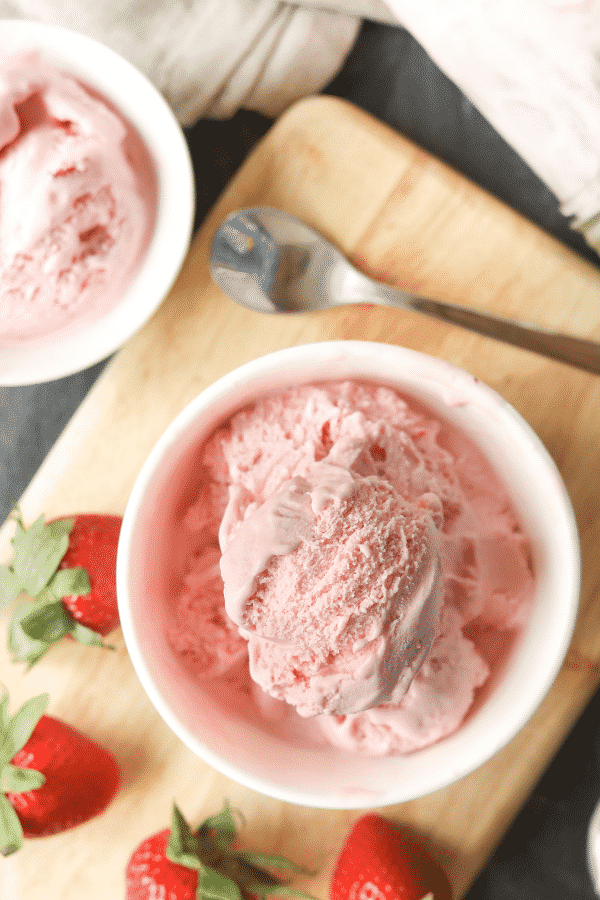 And, as I mentioned before, you could also just replace some of the Swerve with Xylitol to help it from freezing solid too. Xylitol is highly toxic to pets though, so just be aware of that.
Of course, you could just eat it the day you make it.
If you do that, this strawberry keto ice cream is incredibly creamy and oh-so-delicious!
Strawberry Ketogenic Ice Cream
This strawberry keto ice cream recipe is bursting with a ton strawberry flavor!
But, you might be surprised to find out that there aren't actually a lot of strawberries in it though.
I mean, there's enough where you'll get real pieces of strawberry in every bite, but not enough to add a ton of carbs. Even though strawberries are a keto friendly fruit, they still have carbs. And the ketogenic diet is all about keeping your carbs as low as possible.
So, instead of using a lot of strawberries to give this ice cream it's flavor, I used strawberry extract instead.
And it worked marvelously.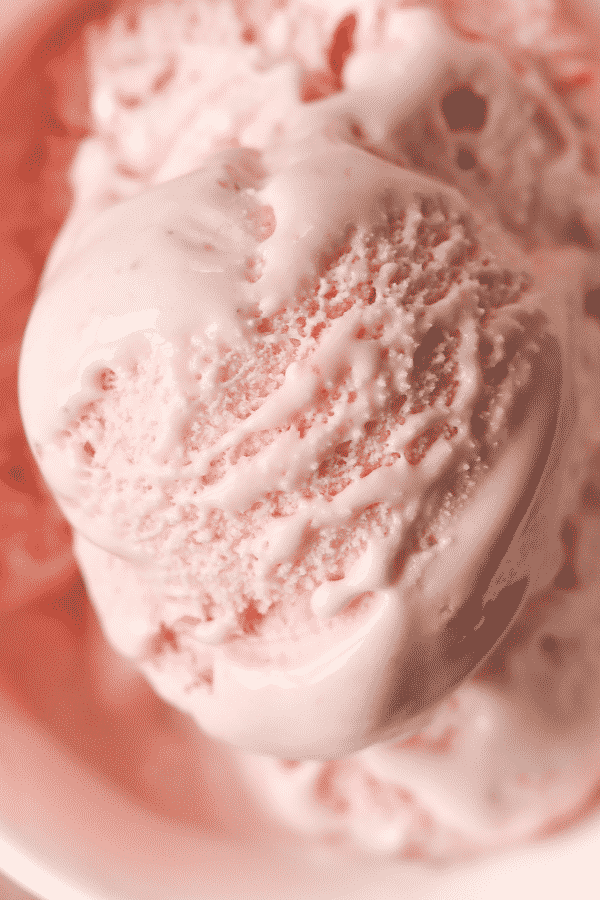 The combination of using real strawberries, and the extract, just provided the perfect depth of flavor to this low carb ice cream. Seeing real strawberries in almost every bite helps too.
Speaking of eating with your eyes. The last component to giving this strawberry keto ice cream an authentic look is using a tiny bit of red food coloring. Just an eighth of a teaspoon is enough to give it the ideal shade of strawberry pink color.
So, with that being said, I hope you enjoy all of the strawberry deliciousness you'll find in this mason jar ice cream recipe!
Print
Strawberry Keto Ice Cream | The Best Easy Low Carb Strawberry Mason Jar Ice Cream Recipe
Strawberry Keto Ice Cream Made in a Mason Jar! This is a no churn - no ice cream machine necessary - low carb ice cream recipe that's so delicious you'd think it was store bought. There's even REAL pieces of strawberry in every bite!
Author:
Prep Time:

5 Minutes

Cook Time:

4 Hours

Total Time:

4 hours 5 minutes

Yield:

3 Scoops

Category:

Dessert

Cuisine:

Keto
Instructions
First, dice the strawberries, add them to a small dish and set them aside
Next, add the mason jar to your food scale and measure out the other ingredients
Once those have been measured out, add the strawberries from earlier and shake the jar for several minutes
When the heavy cream thickens up - and almost doubles in size - freeze the jar for 4-5 hours
*NOTE: The ice cream is BEST the day that you make it. If you're planning on freezing it for more than a day I recommend using allulose instead of Confectioners Swerve. It will just help keep the ice cream from freezing solid.
Notes
***NOTE***
The Macros DO NOT include the "carbs" from Swerve. Swerve has 0 calories, so it should be tracked as 0 carbs. The FDA makes food companies list "sugar alcohols" as carbs, but that doesn't mean they should be tracked as such. That's why it's ALWAYS important to look at the calories of sweeteners and determine the true carb count FROM THE CALORIES!
Nutrition
Serving Size:

1 Scoop

Calories:

280

Fat:

29

Carbohydrates:

3

Fiber:

0

Protein:

1.5
Keywords: keto ice cream, mason jar keto ice cream, low carb ice cream, strawberry keto ice cream, keto ice cream recipe, keto mason jar ice cream recipe,