This easy Keto Yeast Bread recipe is light, airy, and soft. It also toasts incredibly well! Most importantly, it has the perfect texture and taste of bread. And the best part of all is that no eggs are necessary to make it. So it's definitely not an eggy keto bread recipe like so many recipes are. Plus, you can make it in just 5 minutes.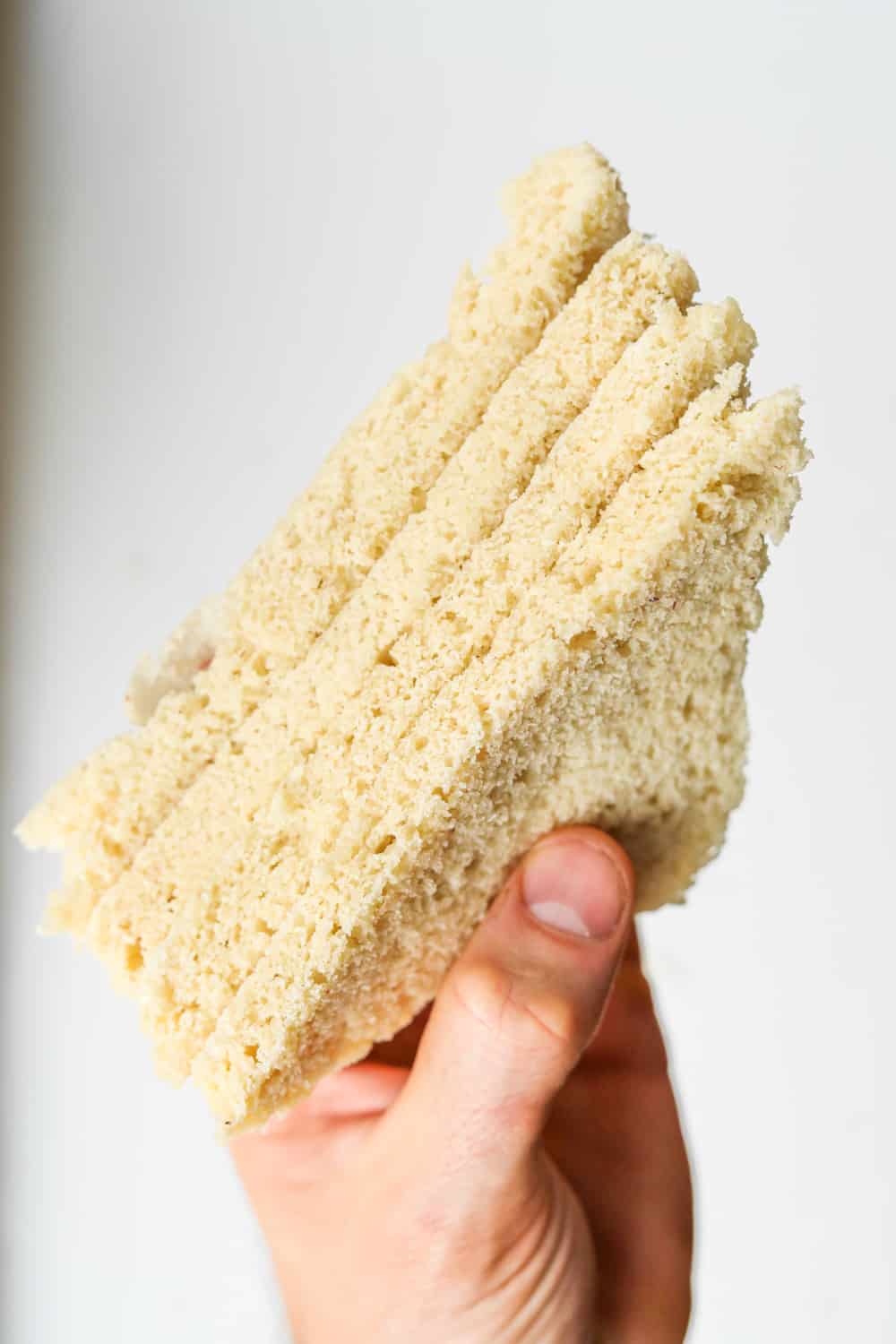 Keto Yeast Bread
So, I've been thinking about making a Keto Yeast Bread Recipe on the blog for a while now. There's just something about the tanginess of yeast bread that I love.
But, I just couldn't decide if I wanted to make a whole loaf of yeast bread or just a quick and easy 5-minute bread recipe.
Well, clearly the easy version won out!
And that's probably not a surprise because you guys know I love single-serve instant gratification kinds of recipes. Especially when those quicker versions turn out like the real thing....cough, cough, this yeast bread.
By the way, if you like this recipe, give this easy Keto White Bread Recipe a shot!
How To Make Keto Yeast Bread
There are actually very few steps to making this bread.
In a Medium-sized bowl, you'll want to add...
Salt
Then you'll just add warm water to the bowl and mix everything up into a thick paste.
From there, you'll coat a small sandwich container like this with baking spray, and add the batter to the container.
And once that's taken care of, it's time to cook or bake your bread!
By the way, I put together a list of the best keto bread options you can buy in the store. So, if you're not up for making keto bread from scratch, give one of those a shot.
Also, if you don't have protein powder I have a 90 second keto bread recipe that doesn't require it. Give that recipe a look, it's super easy to make.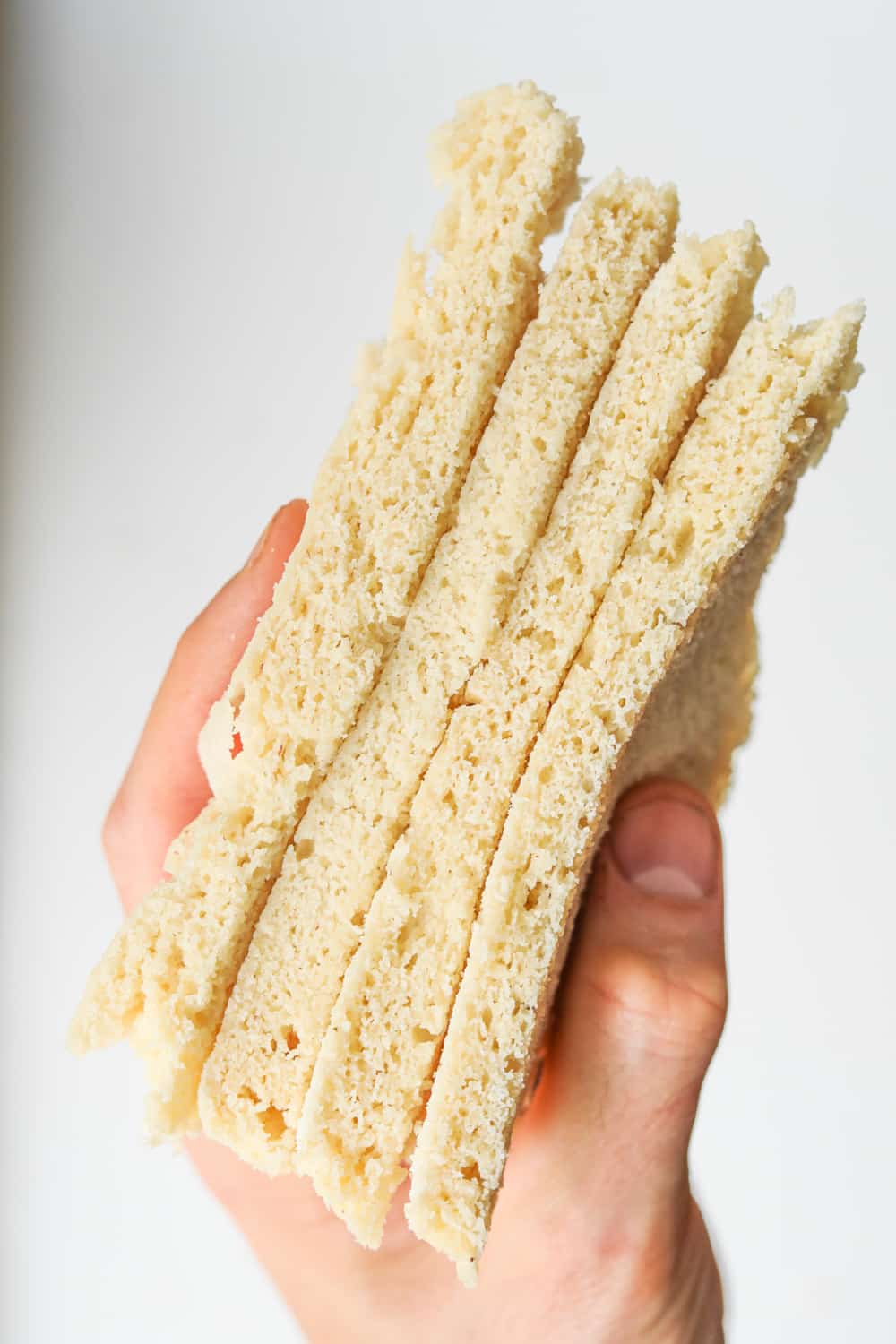 Microwave Cooking Instructions
So the quick and easy way to make this keto yeast bread is in the microwave.
Cooking it like this should only take around 2 minutes and 30 seconds.
At-least that's how long it takes in my 1100Watt microwave. But it's important to consider that all microwaves have different Wattages, so cook-times may vary in yours.
The main thing you're looking for is a "firm" top to the bread when you press down on it. If it feels exceptionally soft, just cook it in 15-second intervals until it firms up.
Now, when it feels done, it's important to let this low carb yeast bread to completely cool down in the dish.
It will be incredibly fragile - and hot - when it first comes out of the microwave. However, as it cools, it will continue cooking, and it will be much easier to slice as well.
So don't sleep on that pro-tip if you want to end up with the best results for your bread.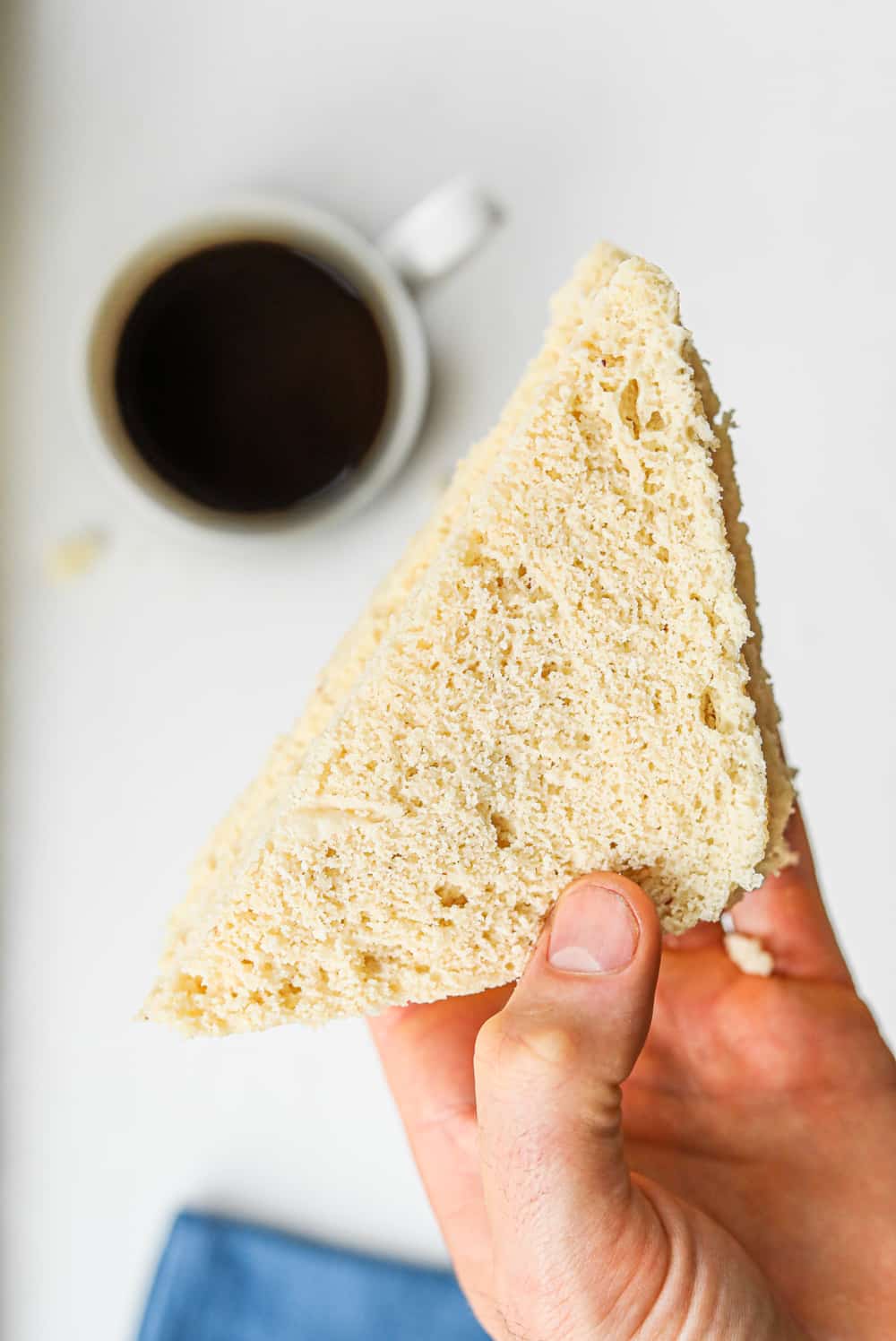 Baking Instructions
Ok, so if you want to bake this bread in the oven you can.
Just set your oven to 350 degrees Fahrenheit - or 177 degrees Celsius - and bake it for around 15 minutes.
You'll know it's done when the top feels firm and looks golden brown.
And then again, when you remove it from the oven let your keto yeast bread cool down before you try to slice it.
I don't even like to slice the bread when it's "warm". The cooler you let it get, the easier it will be to slice.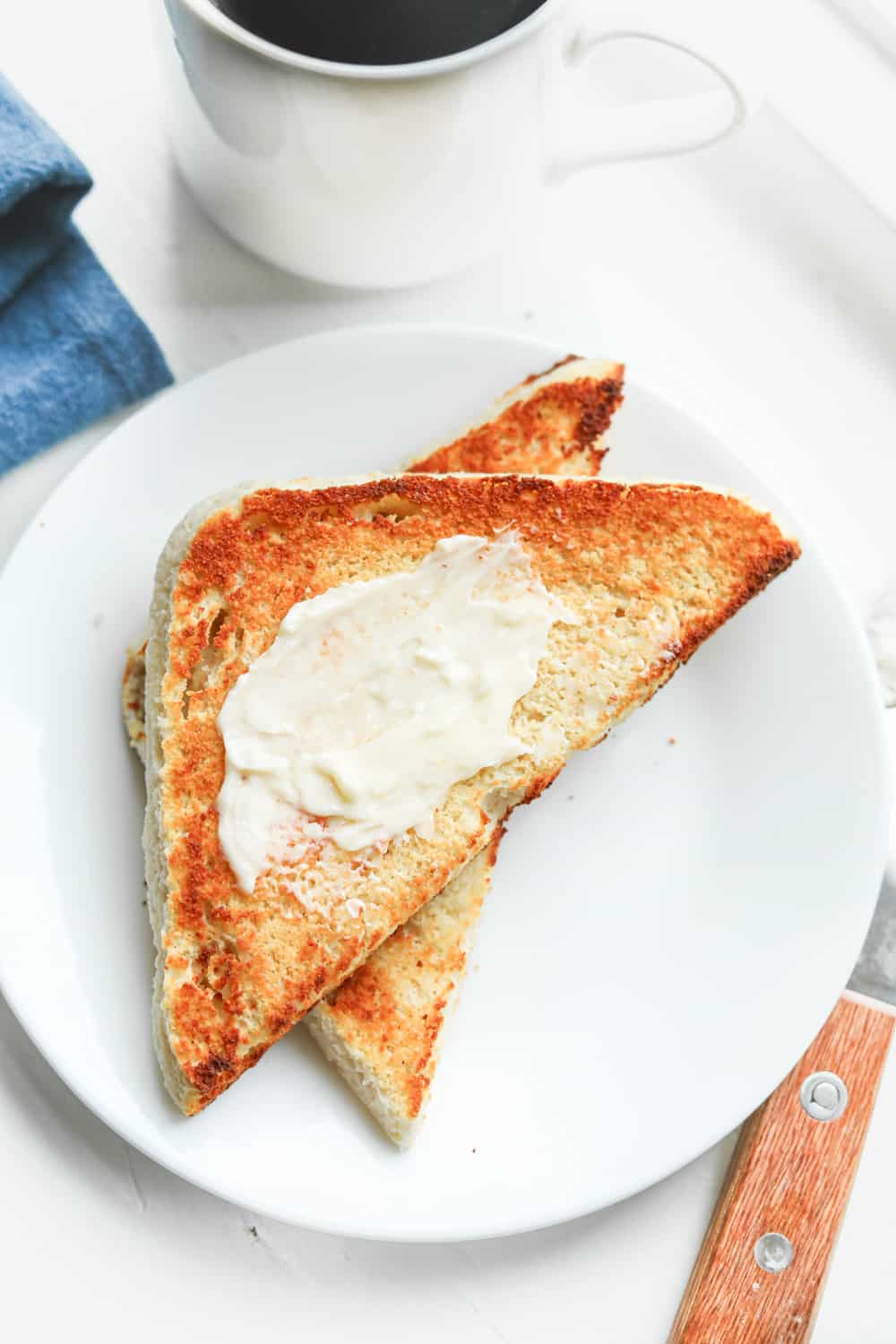 Flour Options
Like I mentioned earlier, the base of this keto yeast bread is almond flour.
However, there are a couple of low carb keto alternatives you can use as well.
My two favorites are sunflower seed flour and walnut flour. Mostly because you can substitute these with almond flour on a 1:1 basis.
Coconut flour, on the other hand, should NEVER be substituted for almond flour. It's FAR more absorbent than almond flour, and you can't substitute it 1:1. So, don't make that rookie mistake!
By the way, since you'll most likely have some almond flour left-over after making this recipe, you can put it to good use by making my almond flour zucchini bread recipe next.
Sweeteners
As I'm sure you already know, bread is just ever so slightly sweet tasting. And this bread recipe is no different.
However, instead of using sugar to sweeten the bread, you'll want to use Confectioners Swerve instead.
Swerve has zero calories, and zero carbs so it's an ideal low carb keto sweetener.
If you don't have Swerve on hand, you can always use Granulated Lakanto's Monk Fruit since you can substitute it 1:1. But, if you do use the Lakanto's sweetener I'd recommend blending it into a fine powder just so it dissolves easier.
And yes, I know Lakanto sells a confectioners blend, but I don't recommend using it...It's twice as sweet as Swerve so you can't substitute it 1:1.
By the way, I don't recommend using Stevia either. Stevia is 600 times sweeter than sugar, so the bread will be too sweet if you use it.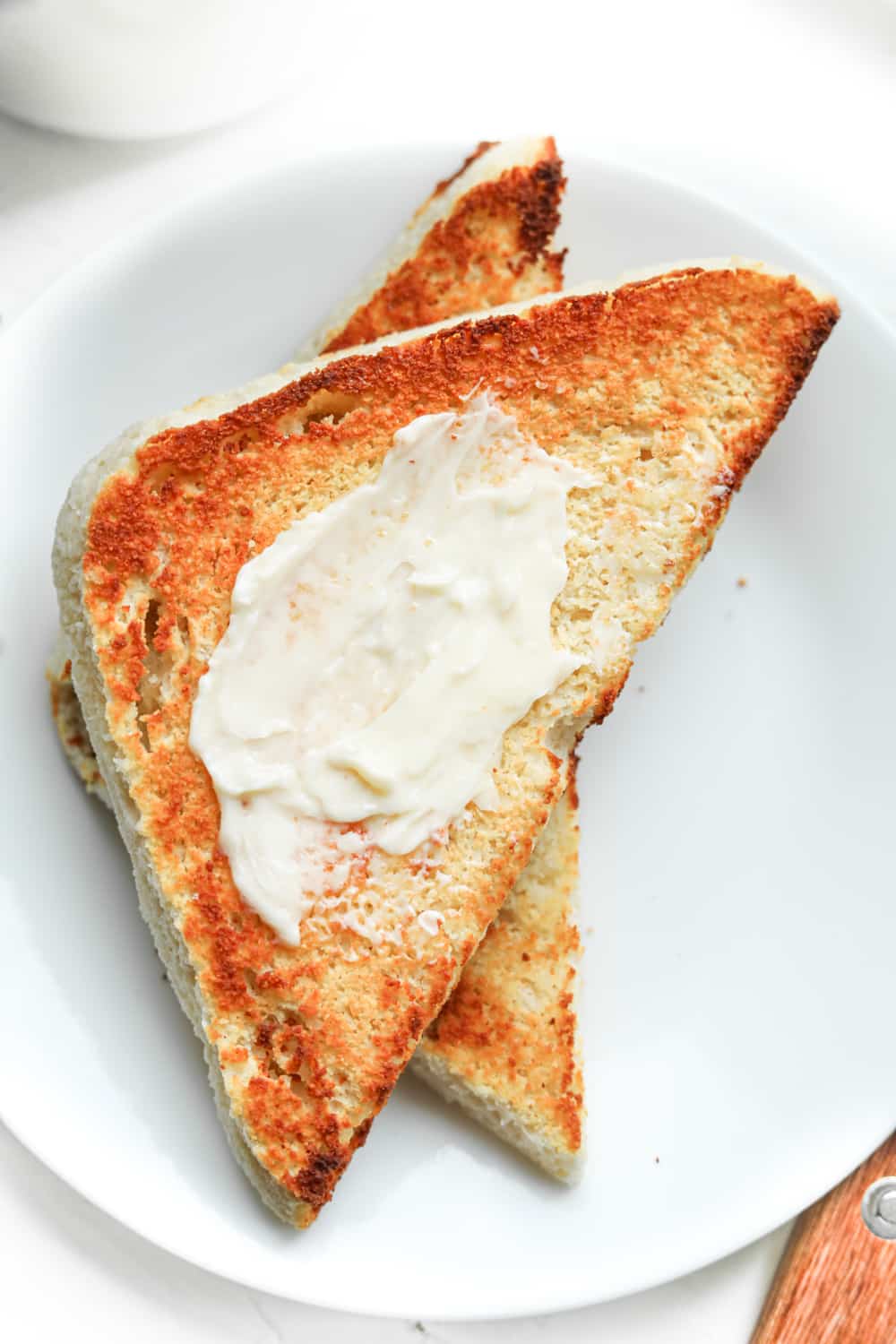 Protein Powders
Ok, so I've tried to substitute the protein powder out of this recipe.
I've tried replacing it with more almond flour, and I've tried replacing it with unflavored collagen. And both attempts were absolute failures.
That said, I don't recommend trying to replace it.
In fact, I don't even recommend using a different protein powder than the one I used - which was Isopure's Unflavored Whey Protein Powder. Different brands of protein powders have different consistencies, and this can alter how your yeast bread turns out.
So, for absolute best results, use Isopure!
Print
Keto Yeast Bread | Easy, Low Carb, & Made in 5 Minutes
A Keto Yeast Bread Recipe made in less than 5 minutes! This is THE BEST, easy to make, low carb yeast bread for the ketogenic diet. It's got the perfect chewiness to it, a delicious tanginess from the yeast, and it toasts incredibly well. Plus each slice of bread has just 1.5g NET CARBS!
Author:
Prep Time:

3 Minutes

Cook Time:

2

Total Time:

5 minutes

Yield:

4 Slices

Category:

Breakfast

Cuisine:

Keto
Instructions
***I HIGHLY recommend using a food scale for this recipe***
In a medium-sized bowl add all of the dry ingredients.
Now add the water, and mix until a thick "paste" consistency forms in the bowl.
Once it does, coat a square glass sandwich container with baking spray, and add the batter to it.
Use a spatula to evenly spread it out in the dish, and then microwave for around 2:30.
Add 15 seconds of cook-time as needed until the top is firm.
***My microwave is 1100Watts and 2:30-3:00 is always about the right amount of time. Cook-times may vary depending on the Wattage of your microwave.
Oven Instructions:
If you decide to bake the bread in the oven make sure to USE PARCHMENT PAPER. The bread can stick to the glass dish, and be a pain to get out, and the paper will ensure you can get it out of the dish as easy as possible.
Anyways, cook the bread in the oven at 350 Degrees Farenheit for around 15 minutes.
Cook just until the top is firm and golden brown.
Let the bread cool down in the dish until it reaches room temperature.
When it does, remove the bread from the dish, and use a bread knife to cut it in half.
Then use a larger knife to cut it into quarters.
Store in a sealed container for a couple of days.
Notes
For BEST results do not substitute anything in this recipe! And use a food scale.
3.5g Carbs - 2g Fiber = 1.5g NET CARBS a slice.
Nutrition
Serving Size:

1 Slice

Calories:

155

Fat:

11

Carbohydrates:

3.5

Fiber:

2

Protein:

9
Keywords: keto yeast bread, keto bread, keto yeast bread recipe, easy keto bread, best keto bread, how to make keto bread, how to make low carb bread, low carb yeast bread, low carb yeast bread recipe