This 90 second keto bread recipe is light, soft, perfectly chewy, and toasts incredibly well. And the best part, this easy keto bread recipe requires just 3 ingredients!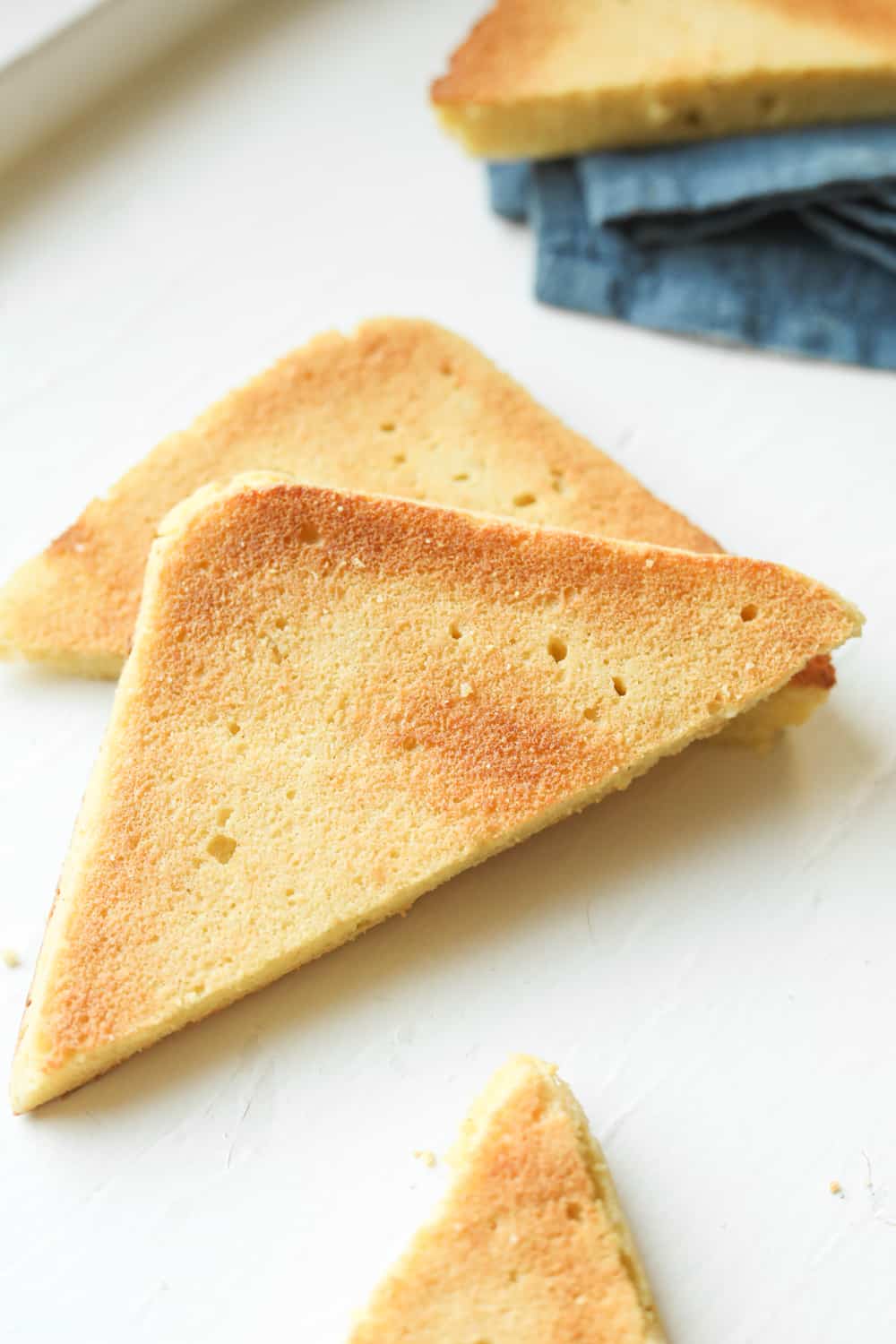 THE BEST 90 SECOND KETO BREAD
Most keto bread recipes are either super involved or time-consuming, or they make an entire loaf of bread. And I don't know about you, but sometimes keeping an entire loaf of keto bread around the house is, well, just too much bread.
So, I have just what you need, and it's in the form of this 90 second keto white bread.
And, how easy does this sound? All you have to do is mix together 3 ingredients, microwave the bread batter, and it's done. Seriously, even if you're new to keto baking, this bread will turn out perfect.
And this bread is legit - light, soft, perfectly chewy, and not eggy tasting at all! So it's the perfect recipe to whip up when you want to make a sandwich, grilled cheese, or some toast!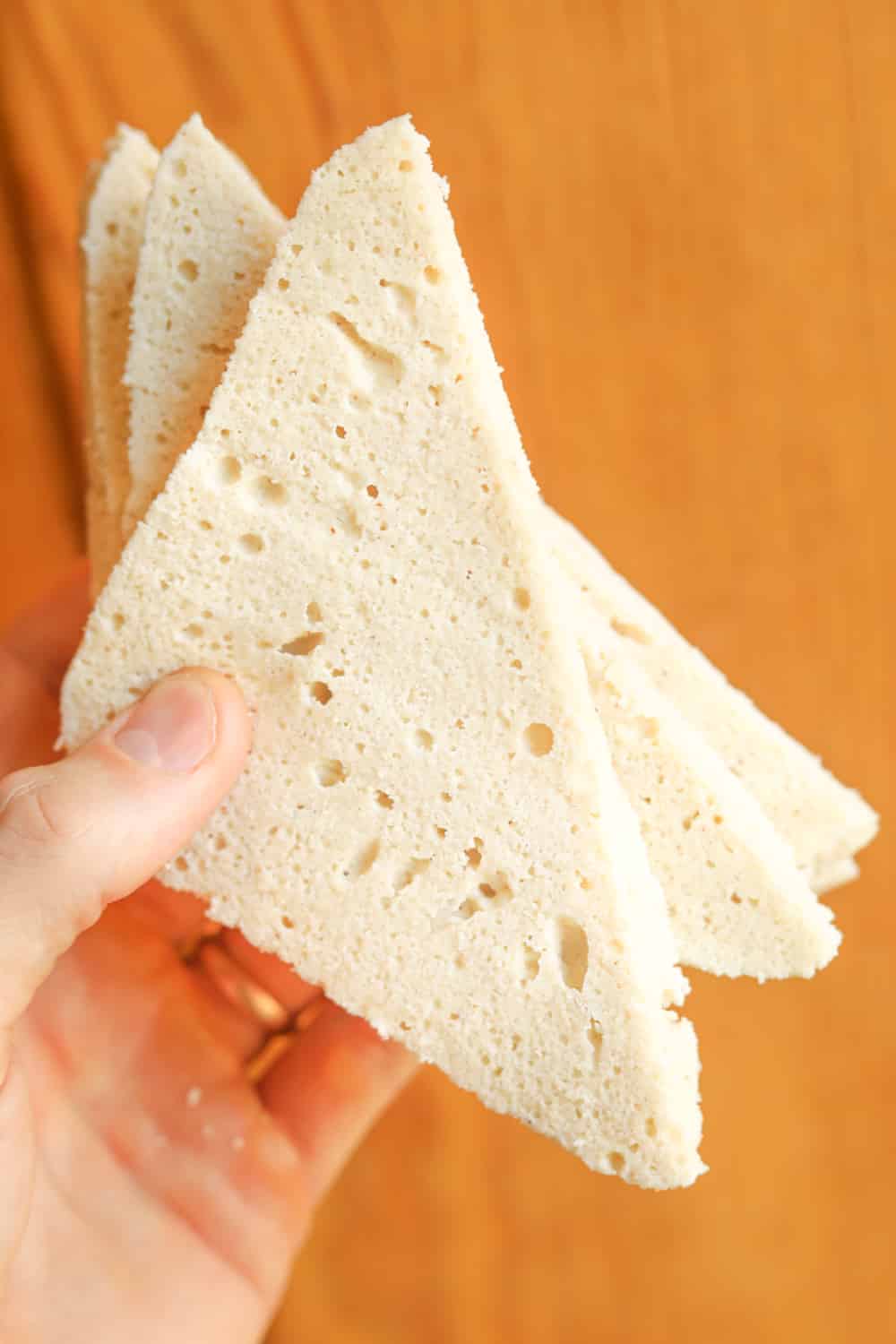 INGREDIENTS
So, as I mentioned, this 90 second keto bread only requires 3 ingredients!
Here's what you'll need:
¾ Cup almond flour
3 Extra large egg whites
3 Tbsps full-fat sour cream
By the way, you can also use every single one to make this Keto Banana Bread - it's pretty darn delicious and makes an excellent breakfast and dessert! Oh, and don't throw the egg yolks away, you can save them and make my keto peanut butter cookies with them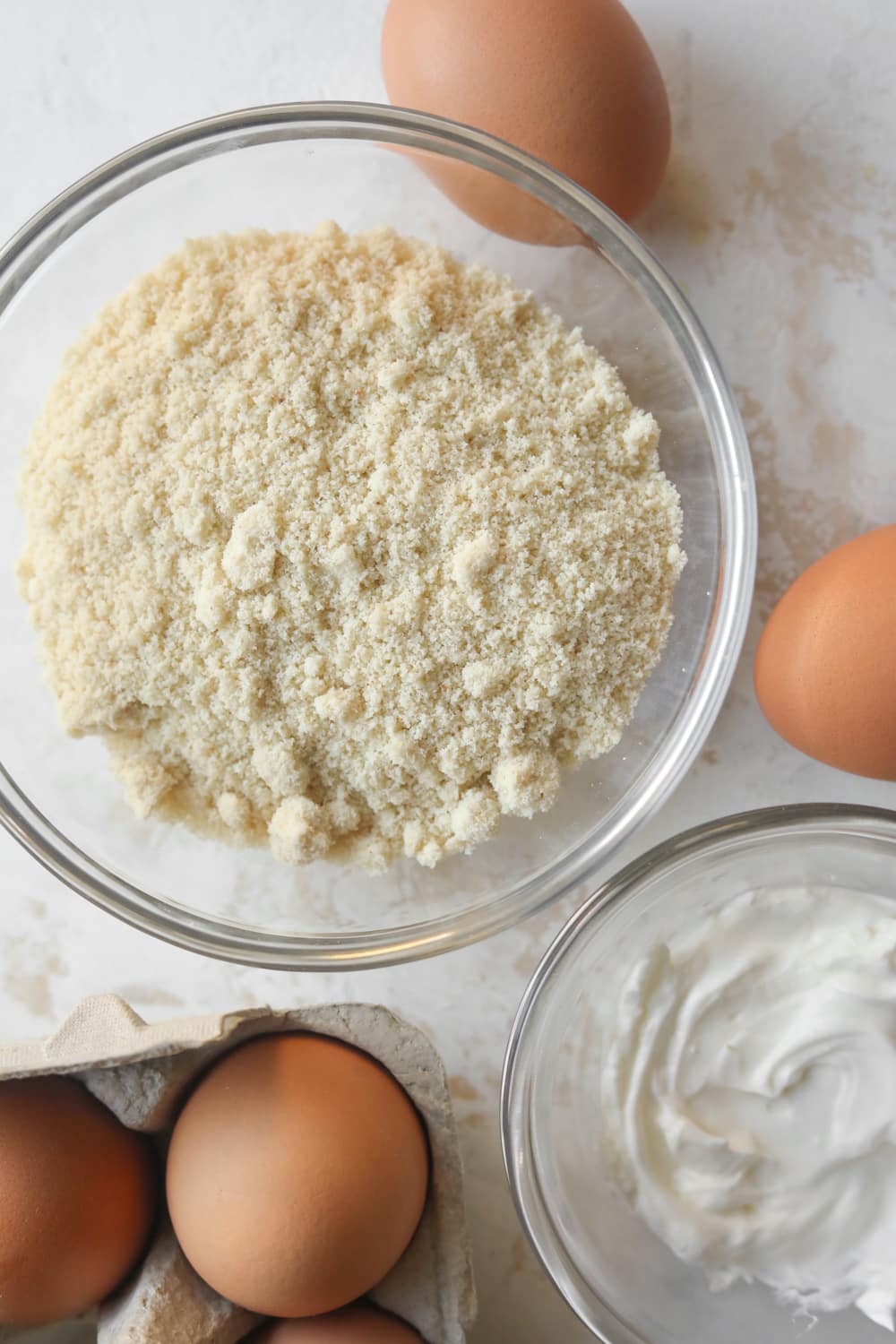 FLOUR TO USE FOR THIS KETO BREAD
So, as you can see, I used almond flour to make this bread keto, low carb, and gluten free.
But if you are allergic to almond flour - or want other options - you can also use walnut flour, pecan flour, or sunflower seed flour.
Any of these flours will work well to make this keto bread. Just make sure you DO NOT use coconut flour - it will dry the bread out.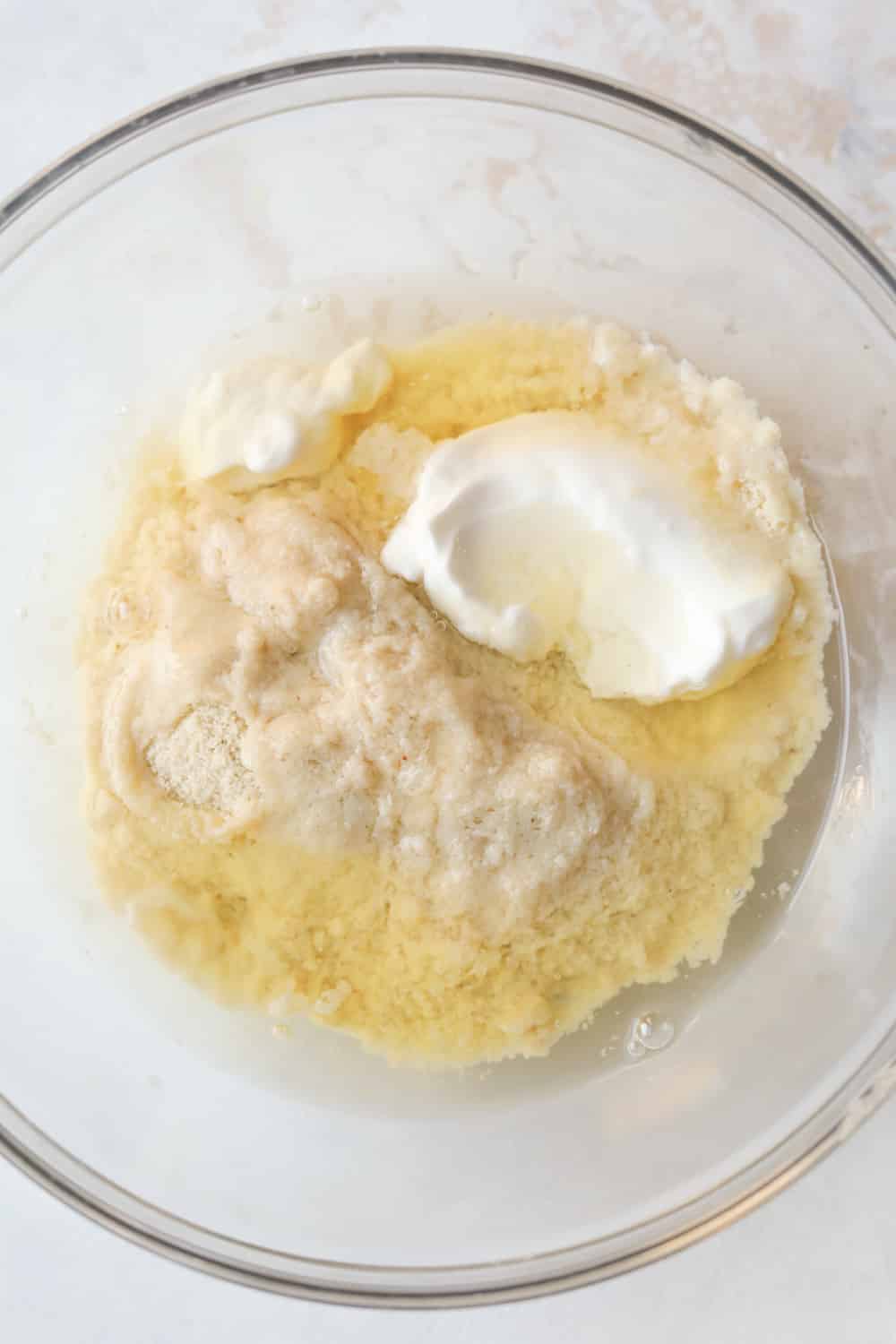 HOW TO MAKE KETO BREAD IN 90 SECONDS
Now, as I've alluded to a few times, all you need is just seconds to whip up this keto bread.
So, even if you're running low on time, you can still make it!
Anyway, let's not waste any more time - get your ingredients out, and let's make this quick keto bread!
STEP 1: MAKING THE BREAD BATTER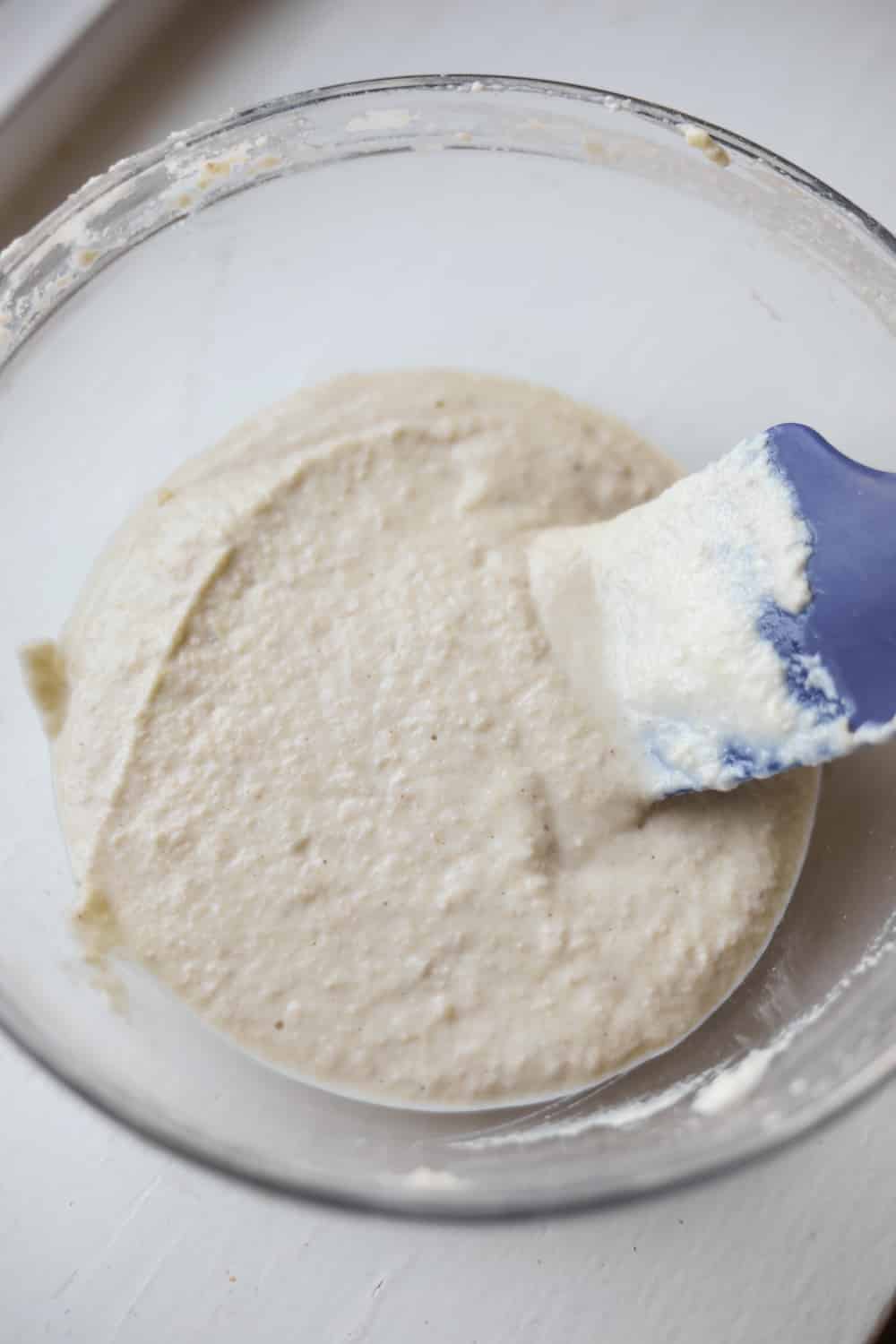 First, take out a medium-sized bowl and add the almond flour, egg whites, and sour cream to it.
Then, mix everything together until well combined and a thick batter forms.
STEP 2: COOKING THE KETO BREAD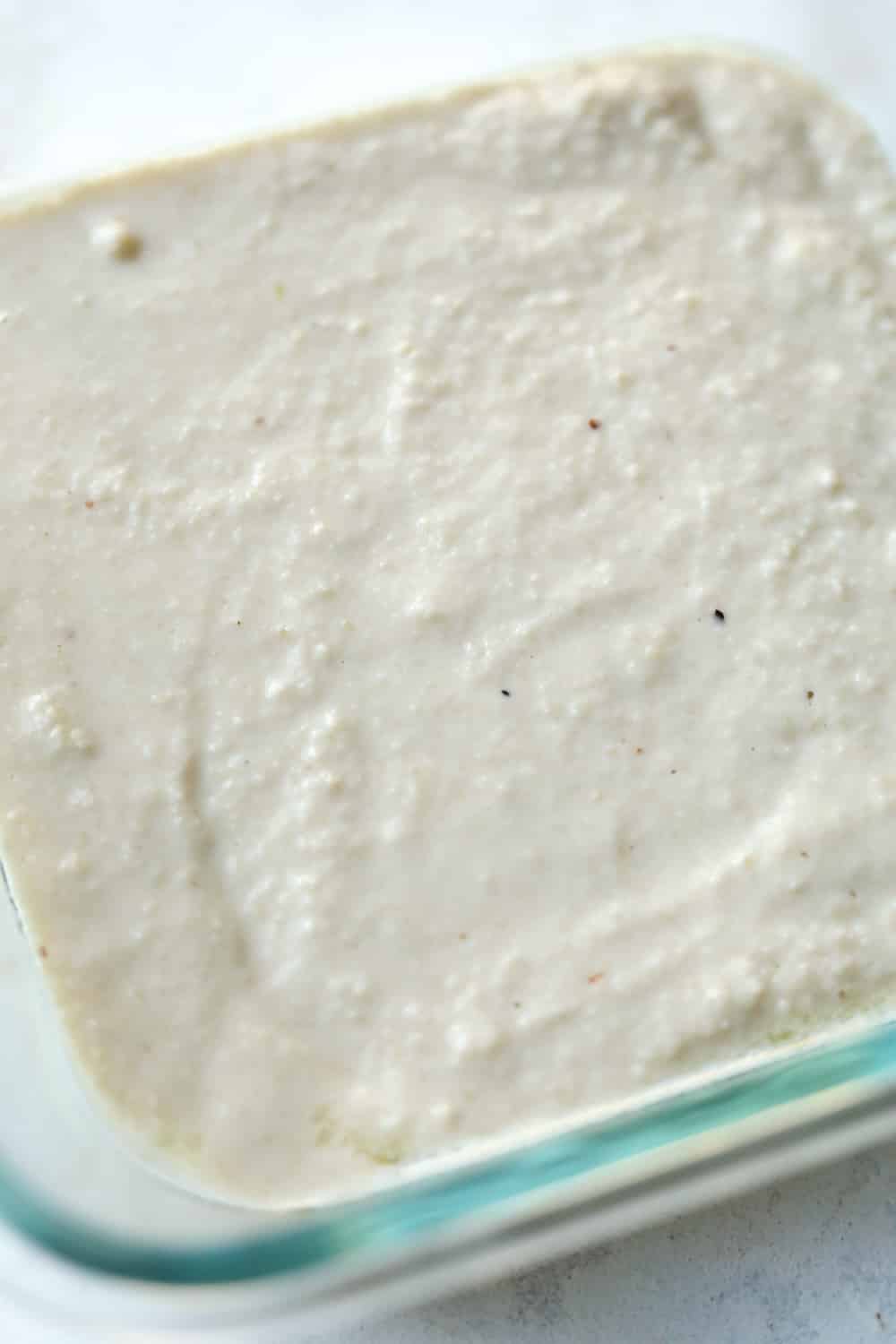 Now, coat a 6x6 glass dish with baking spray and add the bread batter to the dish.
Then cook it in the microwave for around 90 seconds - every microwave cooks differently, so you might have to cook it for another 30 seconds-ish.
Now, once it's cooked, let the bread cool in the dish for a few minutes - it will be quite hot, and you'll want it to cool to room temperature before proceeding.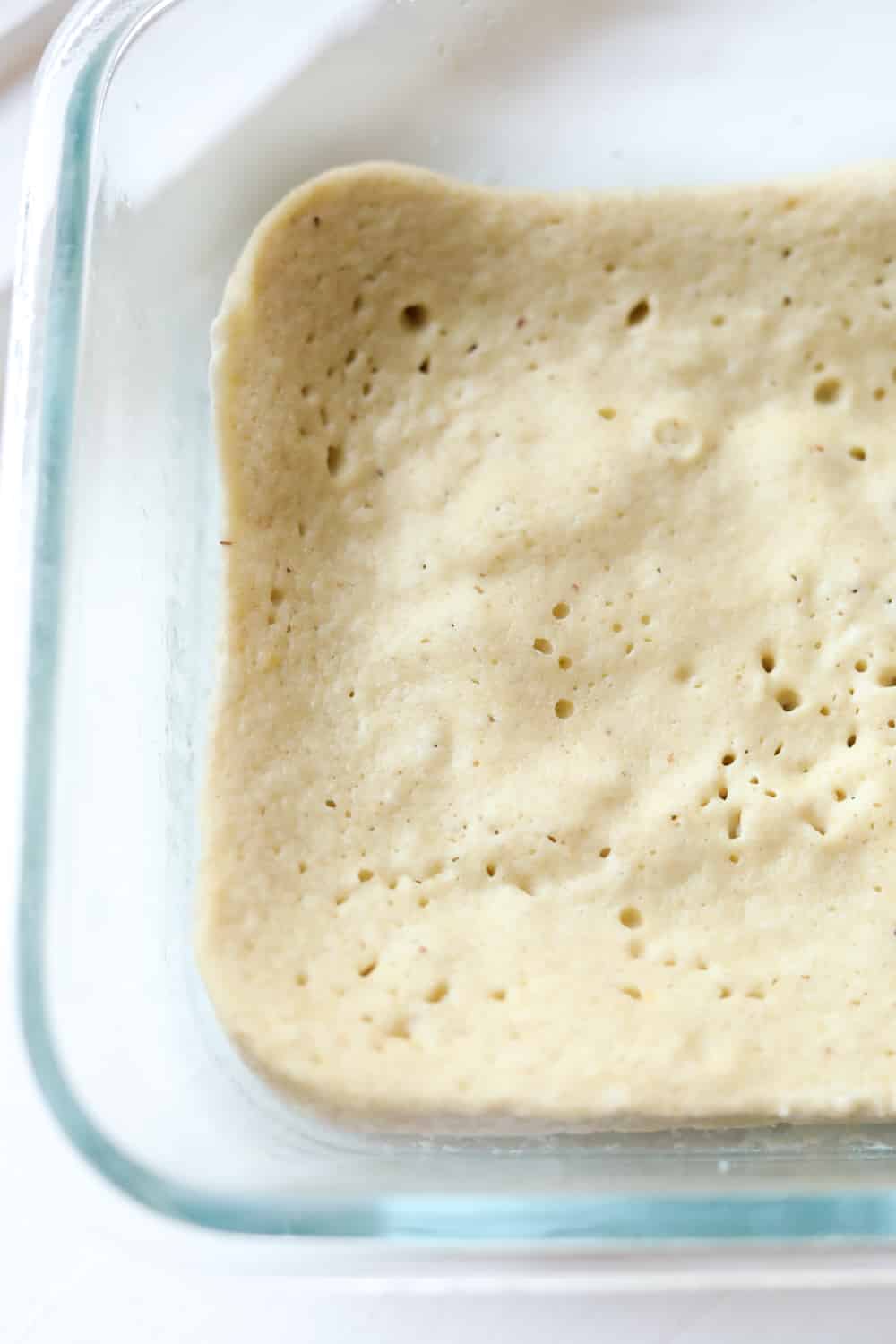 Then, when it's cooled, take it out of the dish, slice it horizontally to make 2 pieces and then cut it diagonally into 4 slices if you're going to make toast with it.
By the way, the bread can have a little moisture on the outside of it from cooking in the microwave. If it does, I like to pat it dry, and just let it dry on a wire rack for a few minutes.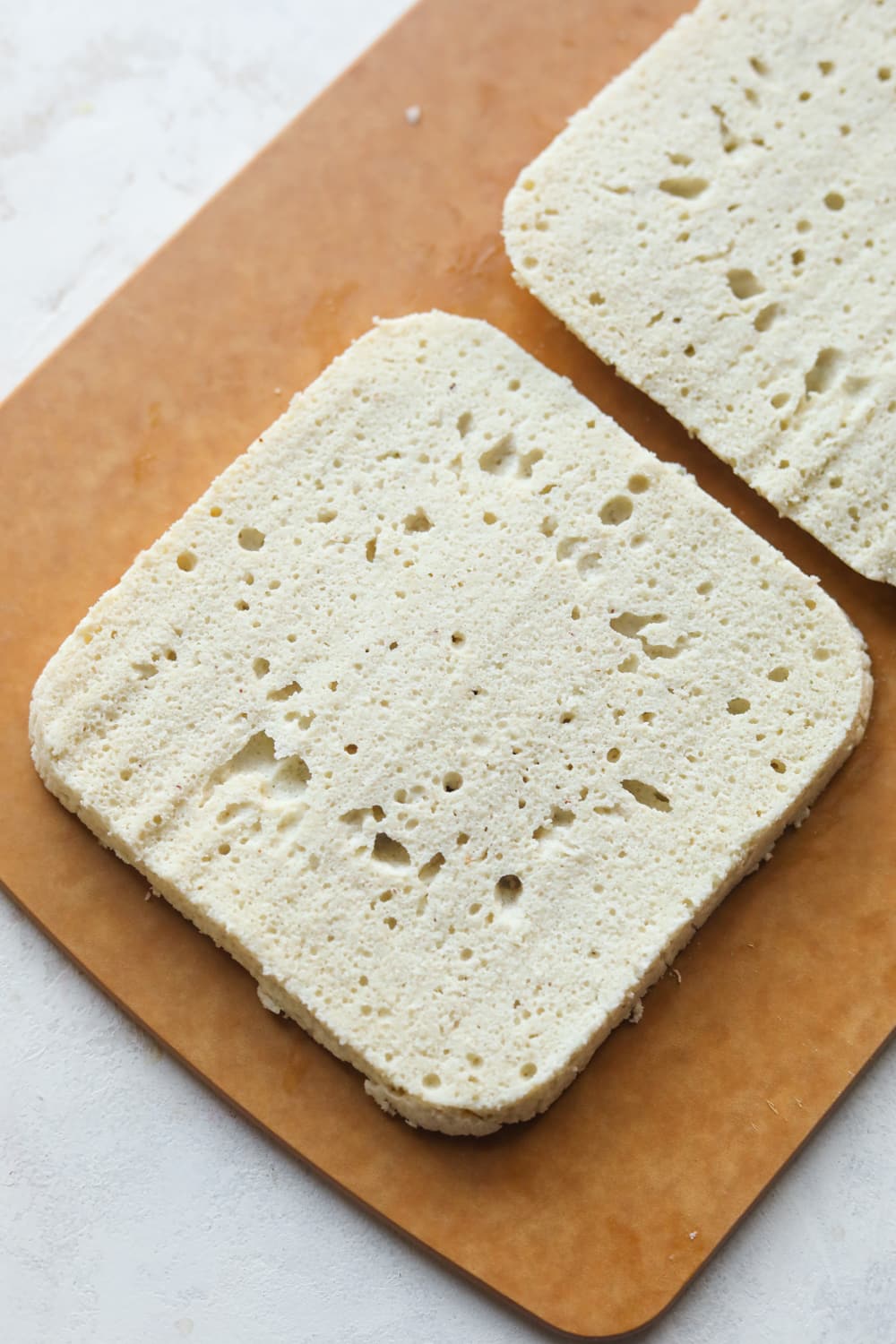 FAQS ABOUT THIS KETO BREAD RECIPE
What is keto bread?
Keto bread is really any bread that is low in carbs, high in fiber, and therefore low in net carbs. Typically keto bread has less than 3-5 net carbs a slice.
What are keto breads made of?
Keto breads have a lot of different ingredients in them. However, most storebough and homemade keto bread recipes are made with eggs, almond flour, wheat gluten, coconut flour, & baking powder. With that said, the commonality between them is that they all use ingredients that are all low in carbs.
Where to buy keto bread?
If you're looking for low carb bread to buy at the store, I have a list of all of the best keto bread you can buy! So make sure to check that out before you go grocery shopping next.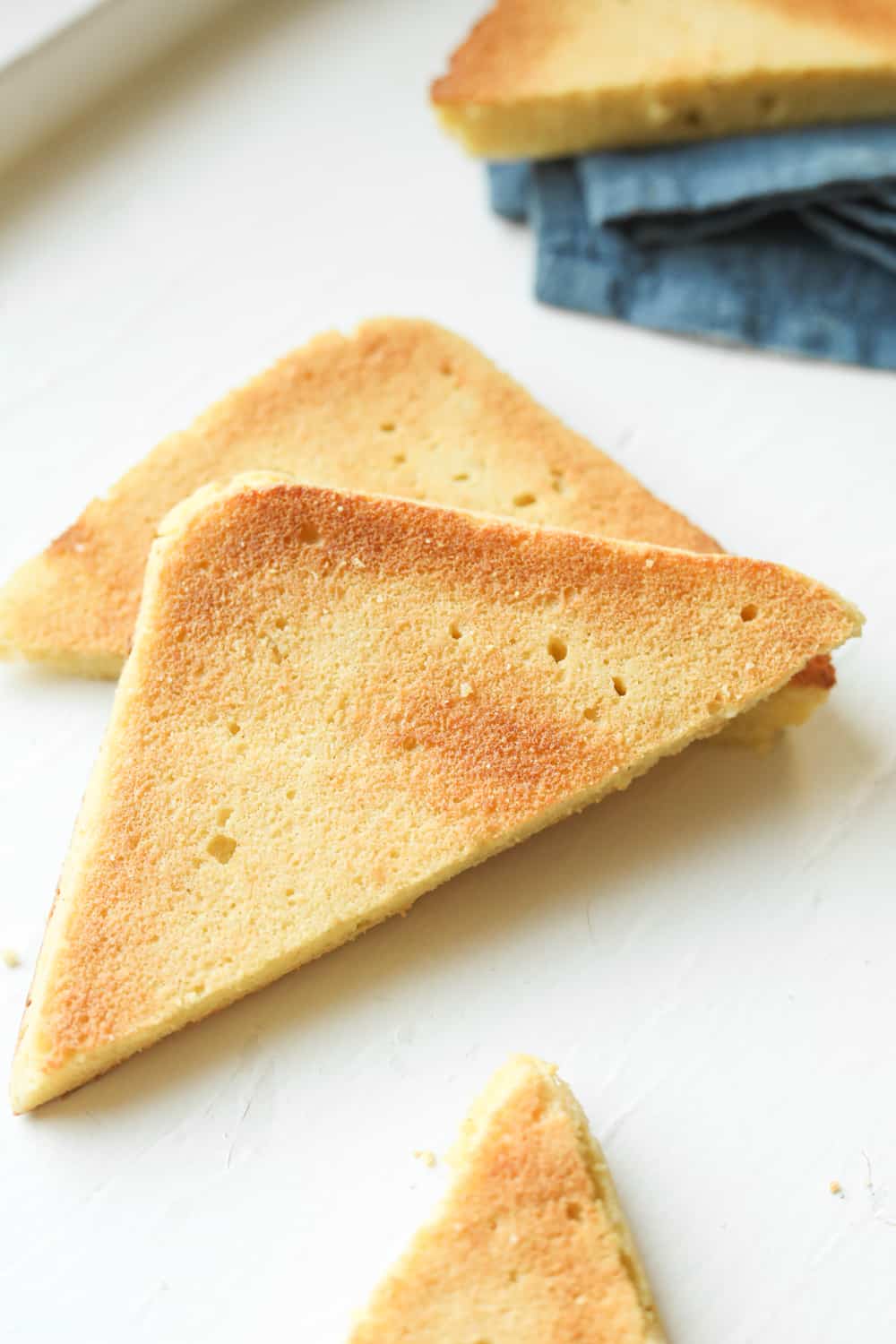 WRAPPING IT ALL UP
Well, that is how to make keto bread in 90 seconds!
This keto bread recipe is crazy delicious, and you can use it for a variety of things like a peanut butter and sugar free jelly sandwich, a grilled cheese, dipping into soup, or for classic toast and butter.
However you decide to eat it, it will be delicious, and I hope you enjoy this keto bread as much as I do.
Anyway, let me know what you use it for and how it turned out by leaving a comment below!
MORE
KETO BREAD RECIPES
If you're looking for more keto bread recipes to try, I have a variety of them on the blog that you can try!
Here are some easy keto bread recipes to make next:
Print
90 Second Keto Bread (Made With 3 Ingredients)
This keto bread is light, soft, perfectly chewy, and toasts incredibly well. But the best part, this keto bread recipe takes 90 seconds to make, and you only need 3 ingredients! 
Author:
Cook Time:

90 seconds

Total Time:

1 minutes

Yield:

4 slices

Category:

Breakfast

Method:

Microwave

Cuisine:

Keto Low carb
¾ cup (84g) almond flour
3 extra large egg whites
3 Tbsp (42g) sour cream
Instructions
Add all ingredients to a bowl.

Mix until well combined and a thick batter forms.

Coat a 6x6 glass dish with baking spray, and add the batter to it.

Cook for around 90 seconds (every microwave cooks differently though, so you may need another 30ish seconds). Let the bread cool in the dish for a few minutes.

Remove it and slice it horizontally into 2 pieces, and then cut into 4 slices.

Eat as is, toast, or enjoy however you want!
Notes
The scale up function does not change the gram measurements.
Nutrition
Serving Size:

1 slice

Calories:

80

Fat:

5.5

Carbohydrates:

2.75

Fiber:

0.75

Protein:

4.5
Keywords: keto bread, keto bread recipe, 90 second keto bread, 90 second keto bread recipe, 90 second keto bread without baking powder, 90 second keto bread not eggy, best 90 second keto bread recipe, keto bread 90 second, keto bread recipe microwave, keto bread recipe easy, low carb bread, keto friendly bread, low carb bread recipe microwave, how to make keto bread, 90 second low carb bread recipe, how to make keto 90 second bread