If you thought following a keto diet meant having to cut out bread, think again. This list has every keto bread there is to buy at the grocery store, or online! And no matter what types of bread you prefer, like white or wheat, there is a low carb bread for you on this list.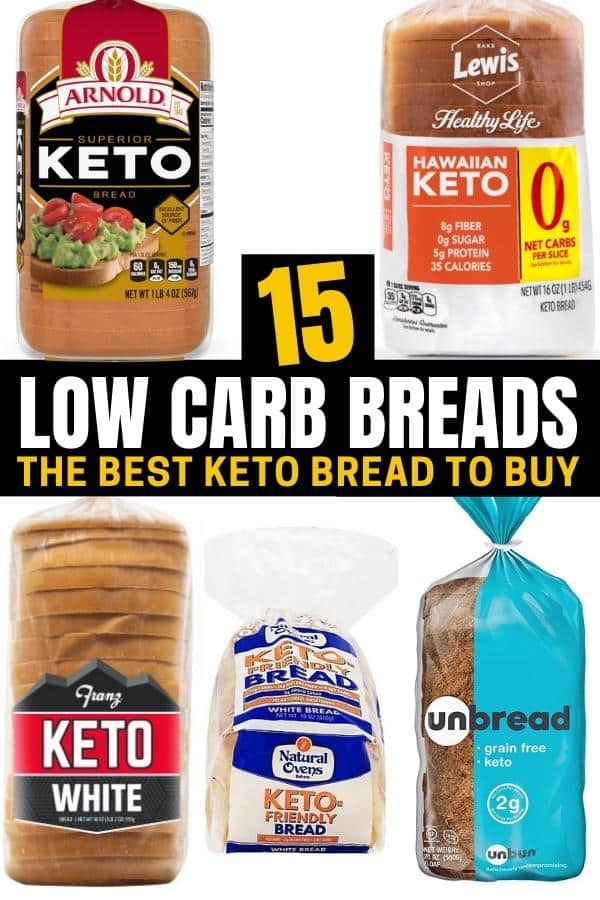 The Best Low Carb Bread
Regular bread is typically high in carbs and definitely not keto friendly.
But did you know there are a ton of low carb bread choices that you can buy? Well, there is, and - as I already mentioned - I have listed every single keto bread below!
Now, if you're new to the keto diet or just are wondering what keto bread is, it's basically any bread high in fiber with a low net carb count to keep your blood sugar low. Each slice should have 5 net carbs or less. By the way, to find the net carbs, just subtract the fiber from the total carb intake.
Oh, and speaking of net carbs, half of these options have 0 net carbs, with all of them having under 4 net carbs! With that said, you may be wondering where to buy keto bread, but, don't worry, every option on this list can either be found online or at your nearest grocery store!
So, whether you want to make a sandwich, grilled cheese, french toast, PB&J, or just some toast with almond butter or butter, you can find all of the best low carb bread options here.
Low Carb Bread Options
1. Thin Slim Foods 0 Net Carb Bread
The first keto bread on our list is this plain bread from Thin Slim Foods. It has 0 net carbs and 7g of protein per slice!
And they have a ton of flavors - honey, everything, cinnamon, and rye.
You can pick up a loaf here.
2. Lewis Bakeshop Healthy Life Keto Bread
This option is also a 0 net carb bread, and it has just 30 calories, making it a great low calorie bread, too!
But the best part, they offer white, cinnamon, and Hawaiian bread. So if you like Sweet Hawaiian Rolls, the Hawaiian flavor is pretty great. You can find it on Healthy Life's website, Kroger, Albertson's, or Walmart online.
3. L'oven Fresh Zero Carb Bread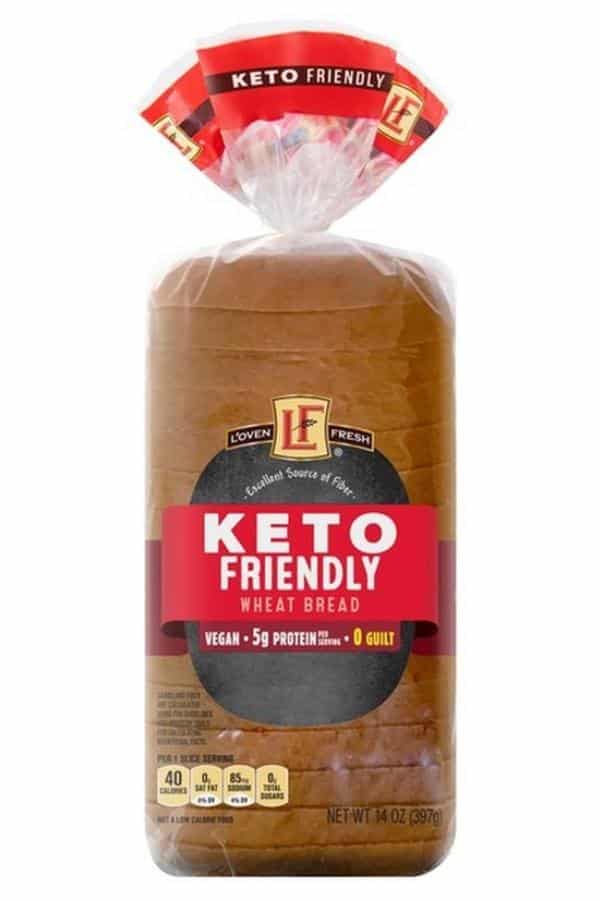 If you have an Aldi near you, you have one of the best options on this list.
The L'oven Fresh low carb bread Aldi offers comes in wheat or multiseed, and it is vegan with 0 net carbs per serving!
4. Natural Ovens Bakery Keto Friendly Bread
A classic white bread option is this one from Natural Ovens Bakery. It has no artificial sweeteners, no sugar, and 0 net carbs! This is also know as the Costco Keto Bread since you can find it in most Costco stores.
However, you can also grab some from amazon here.
5. Kiss My Keto Bread
This keto bread is offered in seeded wheat, golden wheat, dark wheat, and cinnamon raisin.
All of the wheat options have 0 net carbs, and the cinnamon raisin has 2 net carbs.
So if you like wheat bread, you'll love this low carb bread Walmart offers in stores and online!
You can get a loaf here.
6. Franz Keto White Bread
Another white bread option that is keto friendly is this one from Franz - it has 1 net carb!
Franz also makes keto hamburger buns and keto hot dog buns - both have 1 net carb too.
You can get them here.
7. Extraordinary Bites Keto Friendly White Bread
This low carb bread is another low calorie bread that is keto friendly with just 30 calories and 1 net carb per slice! And you can find this option at Walmart!
8. Aunt Millie's Low Carb Bread
Aunt Millie's low carb bread offers three classic flavors - white, wheat, and 5 seed.
And no matter what flavor you pick, it has just 1 net carb per serving!
The only downside is there's only one grocery store you can buy it at - Sprouts Farmers Market.
9. Unbun Unbread
The Unbread from Unbun is grain-free and has only 2 net carbs per serving!
And what's unique about this option is it is made with almond flour and coconut flour, like most keto bread recipes.
Grab this bread from Whole Foods Market or on Amazon here.
10. Carbonaut Bread
Carbonaut bread comes in white or seeded. They both have just 2 net carbs, are gluten free, and made with all plant-based ingredients!
You can find both of them on Amazon here.
11. Arnold Keto Bread
If you used to buy Arnold bread, guess what, they have keto bread! And it only has 3 net carbs per serving, so you can have the brand you know and love while keeping it low carb.
Plus, it should be in your nearest grocery store next to all of the other Arnold bread.
12. Sola Sweet And Buttery Bread
What's great about this option is Sola offers a few delicious flavors. The seeded, golden wheat, and sweet & buttery have just 2 net carbs, and the oat has 3 net carbs.
And you can get all of them here on Amazon.
13. Base Culture Original Keto Bread
This keto bread is packed with awesomeness. It is preservative-free, dairy-free, gluten-free, grain-free, and made with pure Paleo ingredients.
Oh, and each serving only has 4 net carbs, and you can get it at Target.
14. SoLo Carb Bread
Another 2 carb bread is this SoLo Carb Bread. The best thing about this bread is that it offers a rye flavor that is pretty hard to come by for keto bread.
Other flavors offered are country white and harvest wheat.
Pick it up at Walmart, or on Amazon here.
15. Lewis Bakeshop Healthy Life White Bread
So, Lewis Bakeshop has the keto bread I went over earlier, but their regular bread is also keto friendly, so I figured I'd include it on the list.
It has only 35 calories and 6 carbs with white, whole wheat, whole grain bread, and sourdough flavors!
16. Aunt Millies Live Carb Smart White Bread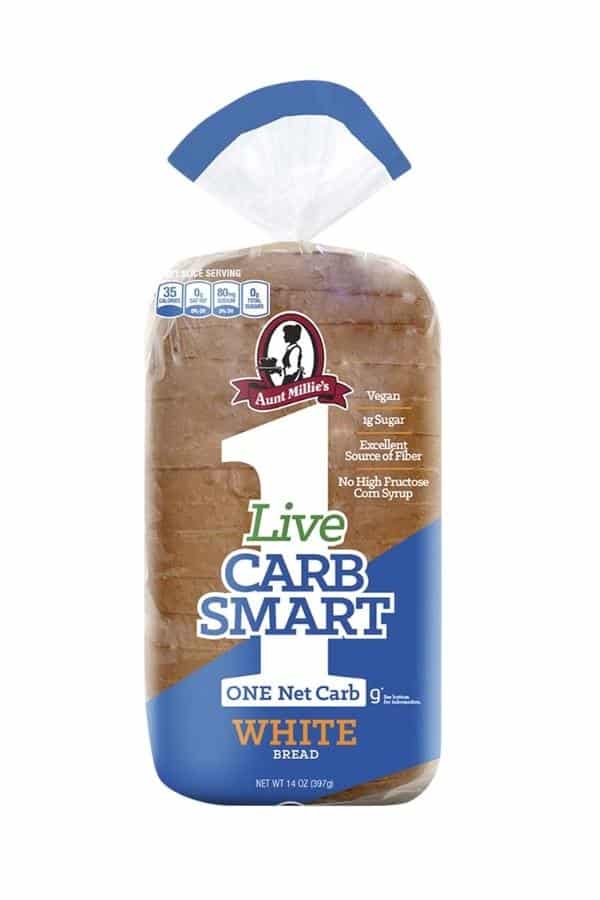 After I posted this list, I got a bunch of DM's on Instagram saying I missed the best lower carb bread option - which is this keto bread by Aunt Millies.
A lot of people said it's the closest thing to "real" bread that they've had. And with praise like that - along with the fact that each slice has just 1 net carb - it's now got a spot on my list of best keto breads to buy!
You can find a location closest to you selling it here.
Wrapping IT Up
There you have it, all the low carb bread that you can buy! And what's great about these options is the majority of them are low calorie bread that is high in protein and gluten free.
So, next time you're at the grocery store, look for these keto friendly breads! They are the perfect way to enjoy bread in any way you want while keeping your blood sugar in check.
I hope you enjoy this list of the best low carb breads, and it makes it a little easier to eat bread on the keto diet.
Let me know what your favorite one is - or if you find a bread not on this list - by leaving a comment below.
KETO BREAD RECIPES
Now, everything above is great if you want to buy bread at the store, but if you're going to make some bread at home, I have some great recipes on the blog I think you'll like! And all of them require no bread machine and no bread maker.
Check out these keto bread recipes: