This is by far THE BEST healthy, low carb, keto zucchini bread recipe! It's moist, it's flavorful, and it's ever so slightly sweetened. And it's just so easy to make too. Plus, each slice has only 3 net carbs!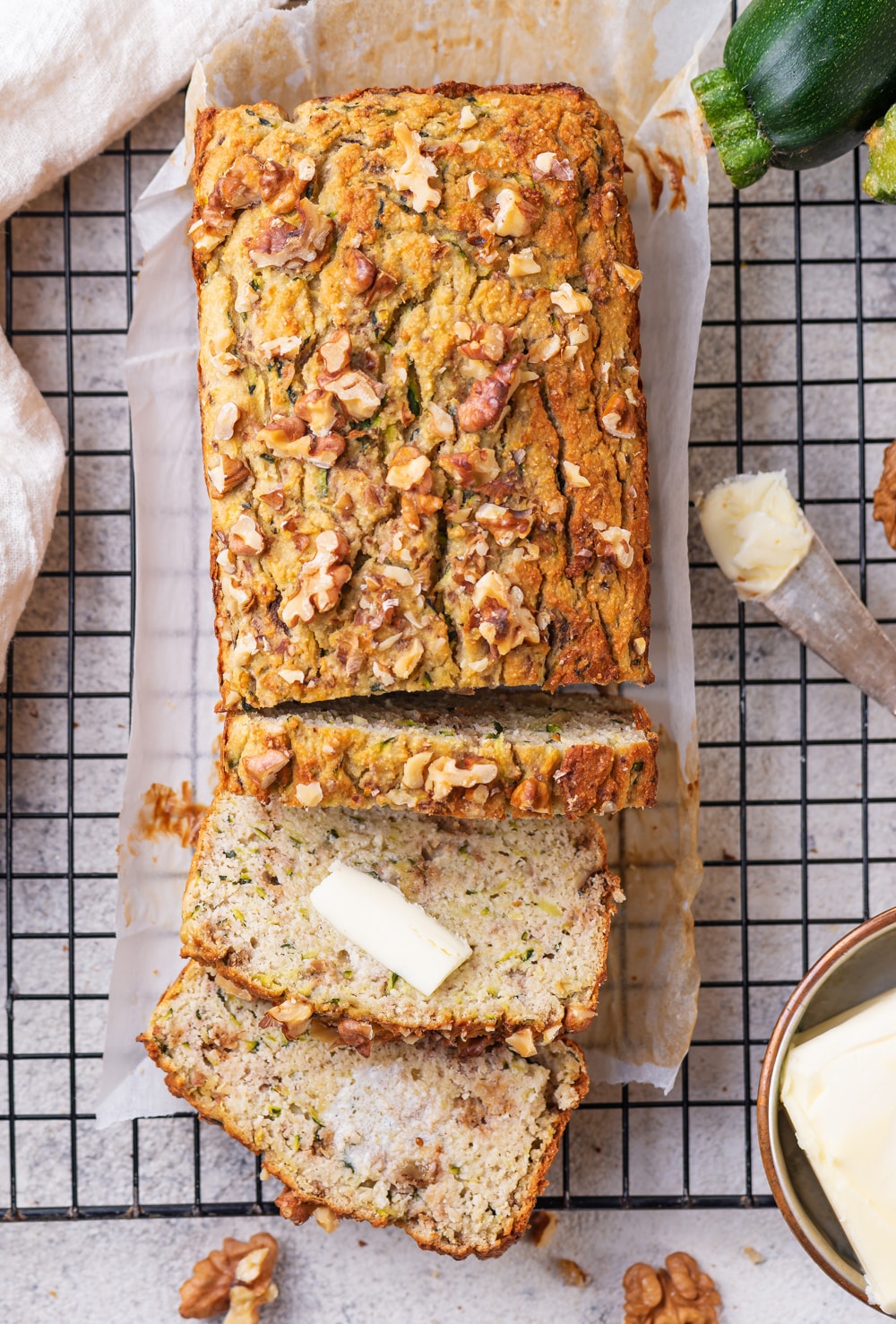 Keto Zucchini Bread
There's so much you can do with this keto zucchini bread. You can use it for a keto sandwich, have it every day with your favorite drink, or incorporate it in a salad.
The possibilities are endless!
Best of all, at only 3 net carbs per serving, this bread gives you all the satisfaction without the guilt.
Honestly, I love this recipe because it's super easy to make. After prepping and mixing the ingredients, all you have to do is wait for the bread to finish baking!
Actually, waiting for the bread to bake might be the hardest part of making it.
Oh, and there's no proofing involved either. Unlike a lot of bread recipes, where you need to wait a few hours for the bread to rest and expand before you can do anything else, there's none of that in this almond flour zucchini bread recipe!
It's an absolute piece of cake – well, a piece of bread.
Ingredients for Low Carb Zucchini Bread
There are actually only 10 ingredients you'll need to make this zucchini bread.
And, most - if not all of them - you probably have on hand already.
Here's what you'll need:
Grated Zucchini - about 2 medium-sized ones

1 ½ Cup

Almond Flour

½ Cup

Coconut Flour

Heaping 3 Tablespoons

Confectioners Swerve

2 Teaspoon Baking Powder

1 Teaspoon Apple Pie Spice Mix

⅓ Teaspoon Salt

4 Eggs, Beaten

3 Tablespoons Melted Butter - or coconut oil

¼ Cup Heavy Cream

1 Teaspoon (4g) Pure Vanilla Extract

Optional: Chopped Nuts, or Sugar Free Chocolate Chips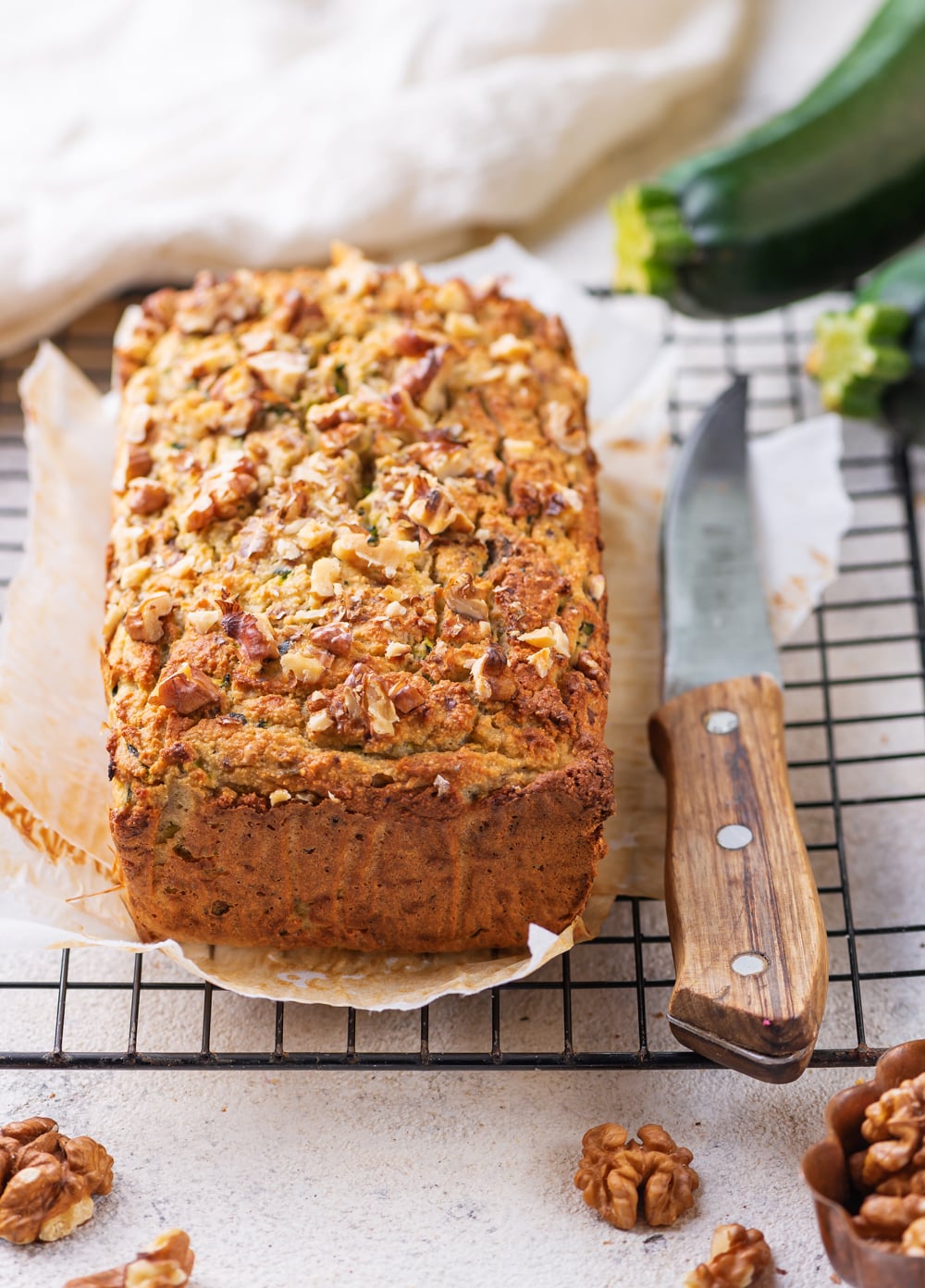 So, as I'm sure you can tell, this zucchini bread recipe is full of ingredients that contribute to its excellent flavor and texture. I'm not going to go into detail about everything, just the stuff that's super important to this recipe.
Using Zucchini To Make This Bread Recipe
First – and most obviously – let's talk about the zucchini.
You'll want to grate about 2 medium-sized zucchinis for this recipe. It's also the star of this low carb bread because it gives a light & refreshing flavor that you don't get in a lot of other bread recipes.
Plus, zucchini is totally low carb and keto friendly too!
Keto Flours To Use
I also want to talk about the mix of almond flour and coconut flour that you'll be using for this recipe.
I've mentioned a lot in the past how coconut flour can make some recipes dry and crumbly. It also has a sort of intense coconut flavor that doesn't work in some contexts.
BUT, in this recipe, coconut flour is a winner.
Mixing it with the almond flour gives the bread a lighter, ever so slightly chewy texture that is PERFECT for this zucchini bread.
And it's imperative to use coconut flour in this recipe because it helps soak up the excess water that is naturally expelled from the zucchini as it bakes.
Plus, the flavor works perfectly in this recipe too.
That said, don't use more coconut flour in place of almond flour – the ratios in this recipe are already what you want. If you need an almond flour substitute, you can sub in walnut flour or sunflower seed flour at a 1 to 1 ratio.
Also, for what it's worth, since this is a coconut flour & almond flour zucchini bread, it's also totally gluten free! So, if you have a gluten sensitivity - or intolerance - this recipe will be perfect for you.
The Best Spice Mix for Keto Zucchini Bread
So, now I'm going to let you in on the secret to making this the BEST zucchini bread in the world and that is...apple pie spice mix.
Apple pie spice mix has a great blend of spices: usually cinnamon, ginger, nutmeg, and cardamom. And the addition of the spice mix takes the flavors in this sugar free zucchini bread to another level.
Any apple pie spice mix will do – just make sure it doesn't have any sugar in it...that's extra carbs and extra sweetness we don't need.
No Sugar Zucchini Bread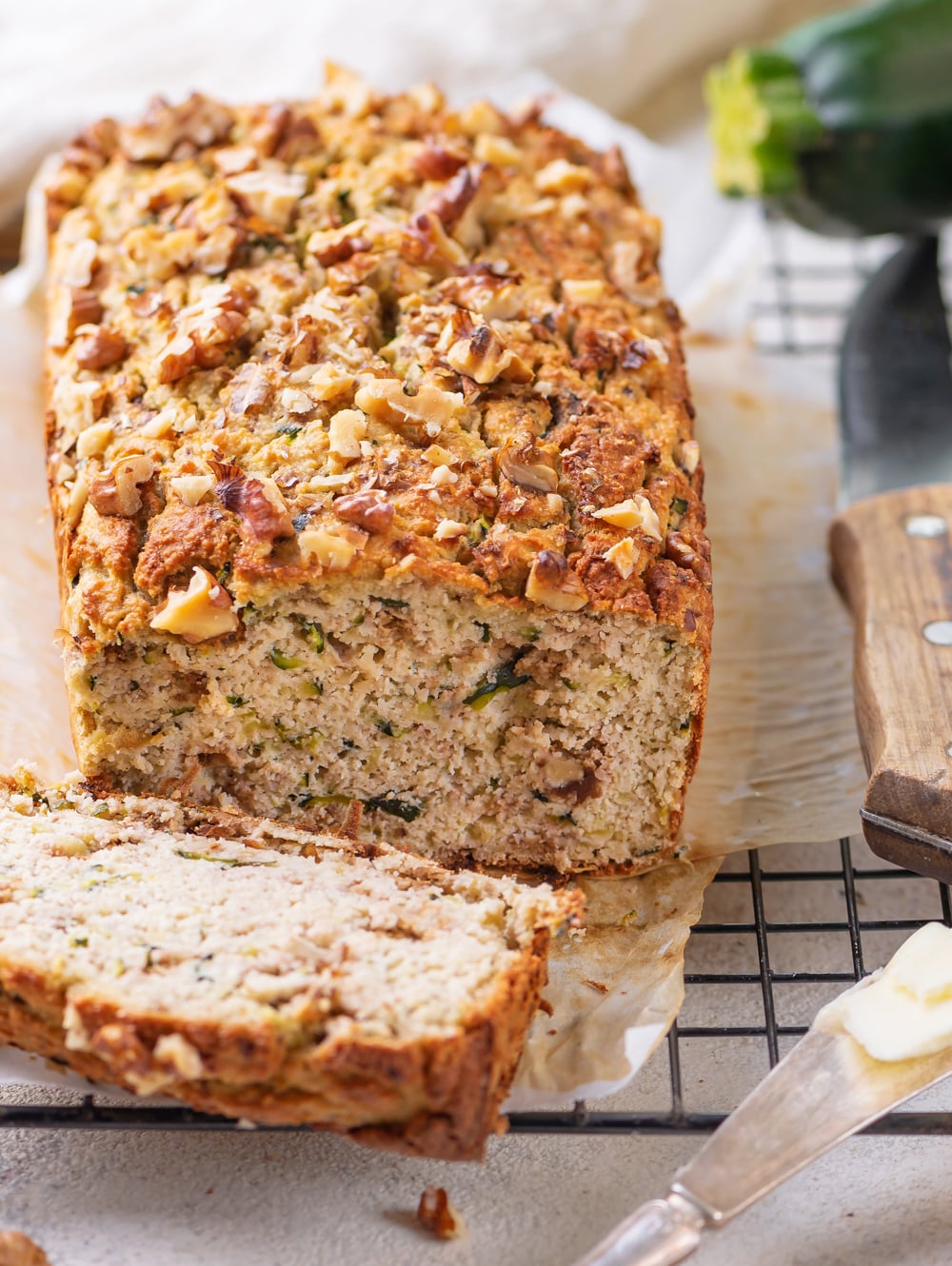 Lastly, I use Confectioners Swerve in this recipe to impart just a little sweetness that brings all those fantastic flavors out.
Swerve is my favorite keto friendly sugar substitute. It TRULY has 0 net carbs, and zero calories per serving.
Also, there's no sugar added to Swerve like there is with a lot of stevia products. If you ever see the words, maltodextrin or dextrose, on the back of those packages, THAT'S SUGAR.
Another great thing about Swerve is that it's as sweet as sugar. So replacing sugar in recipes that call for it is a breeze.
I use Swerve in a lot of my dessert recipes, and even in some drinks – like this keto dalgona coffee recipe. So, if you've never used it before, it's definitely worth picking some up.
That said, erythritol is 70% as sweet as sugar. A lot of people think you can substitute Swerve and erythritol equally for one another, but you can't.
So, don't try to replace the Swerve in this almond flour zucchini bread recipe with pure erythritol. The bread won't be sweet enough if you do.
However, if you'd like to substitute out the Swerve I'd do it by using some granulated Lakanto's monk fruit sweetener. Monk fruit sweetener is as sweet as sugar - atleast Lakanto's is - so it can be replaced 1:1 with Confectioners Swerve.
Toppings To Use For The Bread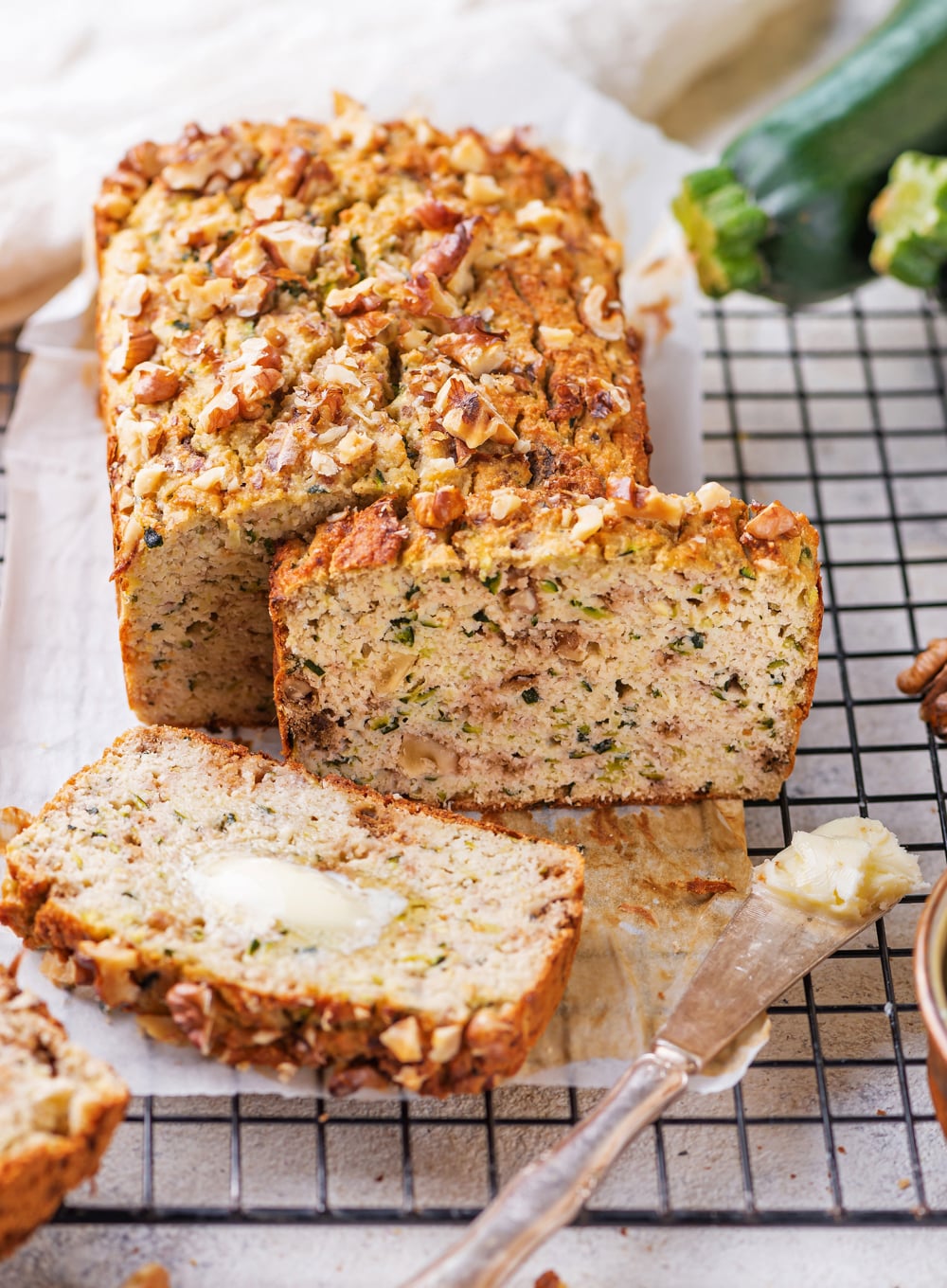 As an option, you can add chopped walnuts or pecans to the top of this bread.
They add a super satisfying crunch and go well with the flavors in this bread.
Also, if you want to know more about the best nuts and seeds you can have on keto, I've made a convenient list that you can check out.
Maybe you could try adding some of those on top of this bread too.
And let me know how it goes if you do!
Also, if you're looking for a sweeter option as an add-in for this keto bread recipe you could always use some sugar free chocolate chips. I like to use the semi-sweet chocolate chips from Lily's, but I know a lot of people love the sugar free ones by Choczero too.
HOW TO MAKE ZUCCHINI BREAD KETO
As I mentioned earlier, making this low carb zucchini loaf is super simple. All you have to do is follow a few simple steps.
Step 1: Prep Work
Alright, so, the first thing you'll want to do is finely grate the zucchini.
Then, you're going to place the grated zucchini in a sieve or strainer, and press the moisture out with your hands or a spoon.
Step 2: Mixing The Ingredients
Next, you'll want to add & mix all your dry ingredients – except for the grated zucchini and nuts, those go in last - in a medium-sized bowl.
Then you'll stir in the wet ingredients, followed by the zucchini and some of the nuts.
Step 3: Baking The Loaf
Finally, move the batter into a loaf pan lined with parchment paper, and sprinkle on more nuts - or chocolate chips - if you're adding them.
Cook the loaf for 50-70 minutes. The cook-time will vary so much because the amount of water in your zucchini will fluctuate.
Also, I like to cover my keto bread loaf after around 30 minutes. This helps ensure the crust turns out golden brown.
That said, You'll know it's done when you can insert a toothpick into the center and it comes out clean.
Once this happens, you can remove the zucchini bread from the oven and let it cool down in the pan.
And that's it!
Insanely easy & healthy zucchini bread in only about an hour.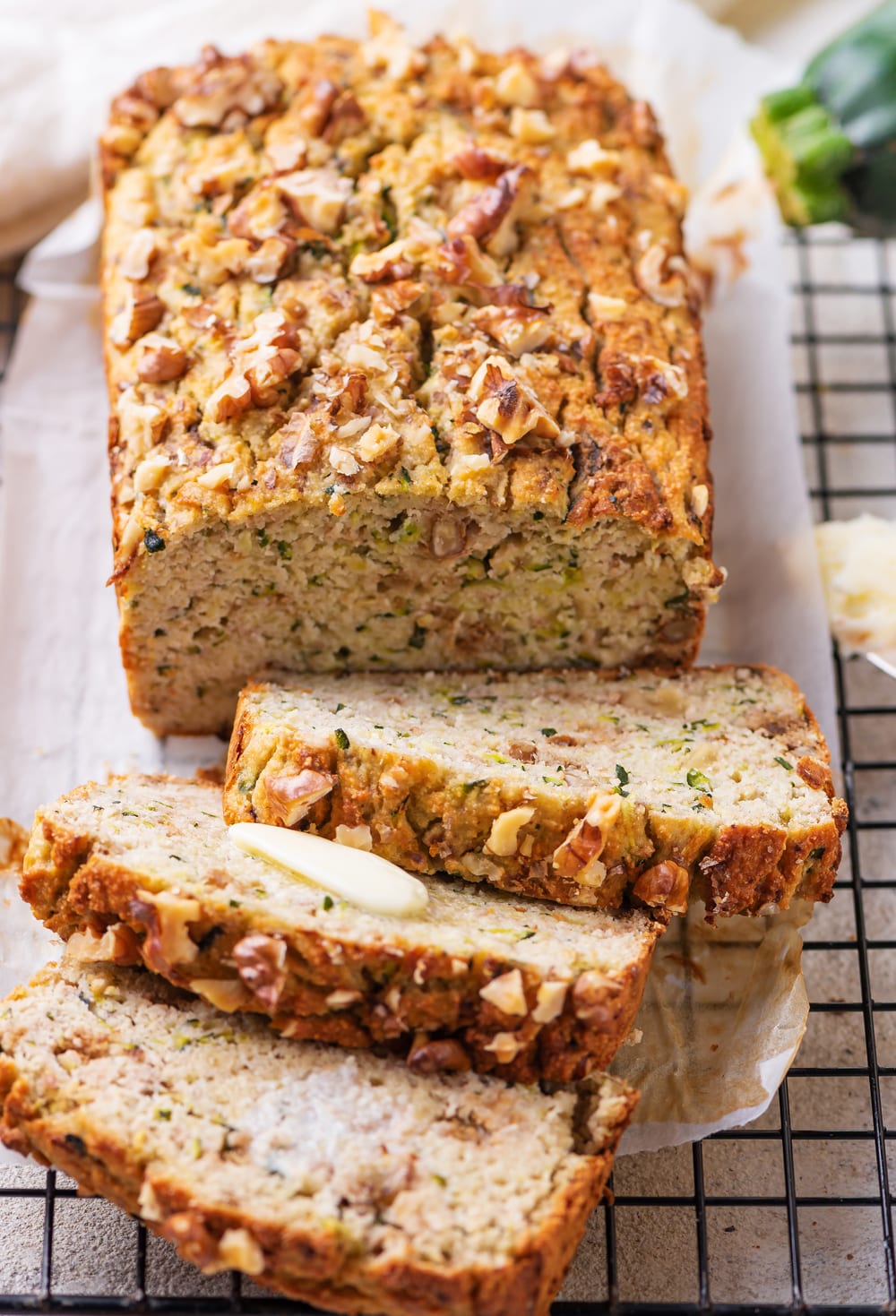 WHAT TO PAIR WITH THIS KETO ZUCCHINI BREAD
As I've said, this low carb bread would make an excellent sandwich, side, or even a light meal all on its own.
Recently I shared a recipe for sugar free dalgona coffee, and it would pair incredibly well with this bread.
My bulletproof coffee recipe would be awesome too.
Or, you could try it as a side to this ultra-creamy and super flavorful keto tuna salad. Personally, I think combining them makes an incredibly delicious keto lunch idea.
Plus, the two recipes together - the zucchini bread and tuna salad - only have 4.5 total net carbs!
MORE RECIPES
Lastly, if you want more delicious low carb recipes like this one you'll want to check out my cookbook – it's super affordable, and there are over a hundred and twenty five recipes in it!
There's even a whole section dedicated to different kinds of low carb bread recipes.
The recipes are all easy, tasty, and most come together in just a few minutes.
Whether you're just starting out on the keto diet or want to find new recipes to spice up your regular meal plans, there's something in the cookbook for everyone.
Print
Keto Zucchini Bread | Healthy, Easy, Low Carb, Zucchini Bread Recipe
This is by far THE BEST healthy, low carb, keto zucchini bread recipe! It's moist, it's flavorful, and it's ever so slightly sweetened. And it's just so easy to make too. Plus, each slice has only 3 net carbs!
Author:
Prep Time:

15 Minutes

Total Time:

60 Minutes

Yield:

10 Slices

Category:

Bread

Method:

Baking

Cuisine:

Keto Low Carb
Instructions
Preheat oven to 350

℉

(177

℃

). Line a loaf 9x5" pan with a parchment paper.
Finely grate the zucchini, skin on.

 

Place in a sieve/strainer over a bowl and press with your hands or a spoon to remove moisture.
In a large mixing bowl, whisk the almond flour, coconut flour, Swerve, baking powder, salt and spices.

Stir in beaten eggs, vanilla, heavy cream and melted butter.

Add zucchini and chopped walnuts, mix well.

Transfer the batter into the prepared loaf pan and sprinkle with nuts.

Bake for 50 to 70 minutes - checking on it every 5 minutes at the 50-minute mark - or until a toothpick inserted in the center of a loaf comes out clean.

*NOTE: The bread can brown quickly, so at the 30 minute mark I like to cover it with foil
Once it does, let the loaf cool in the pan, and then slice it in 10 pieces once it reaches room temperature.
Notes
The bread can brown quickly. Consider covering it with foil at the 30-minute mark to get the crust perfectly golden.
Nutrition
Serving Size:

1 Slice

Calories:

220

Fat:

17.5

Carbohydrates:

7

Fiber:

4

Protein:

7.5