This list of the best protein powders for weight gain has everything you need to start gaining weight and muscle in a healthy way. From the best whey protein powders to the best egg protein powders and plant-based protein powders, you'll definitely find your ideal match here!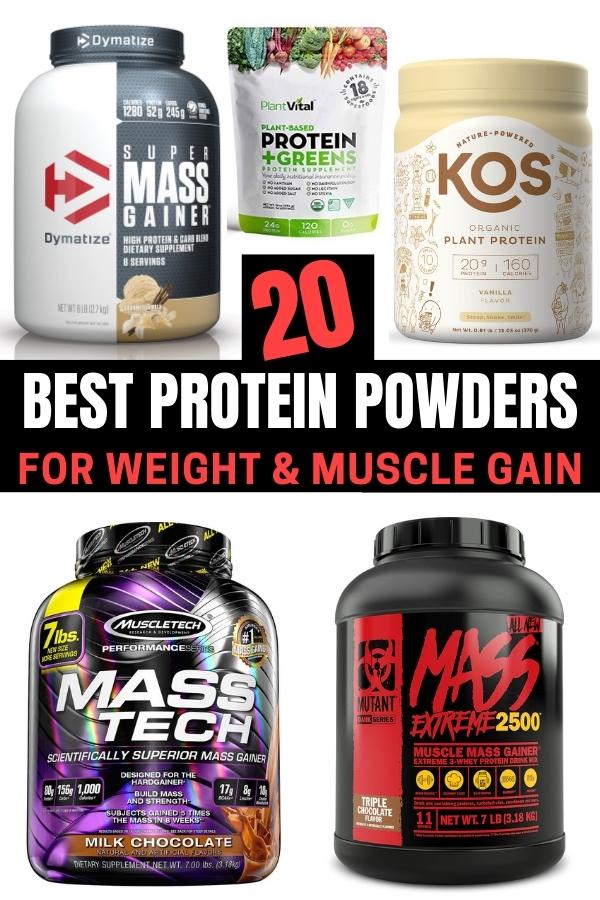 The Best Protein Powder For Weight Gain
The best way to gain weight is to gain muscle, and protein powders are a fantastic way to do just that.
But, of course, not all protein powders are made equal so you'll want to find one that provides your body the calories and protein it needs to gain weight without the unnecessary fillers and additives.
And to help you out, I put together this list of what I think are the 20 best protein powders for weight gain!
Whether you're looking for top-notch whey protein, egg protein, or plant-based protein options it's on this list.
So let's not waste any more time and jump right in!
1. Naked Mass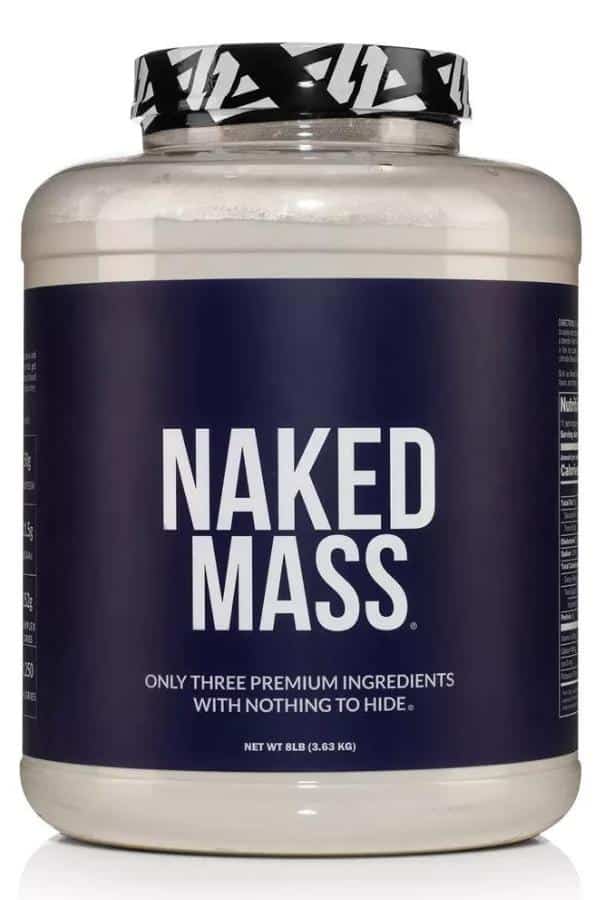 If you want to gain weight quickly and effectively, Naked Mass is one of the best protein powders you can reach for. A serving provides an incredible 1250 calories and 50g of protein.
The protein powder only has 4 ingredients - a blend of whey & casein protein, organic cocoa, organic maltodextrin, and natural flavor for the chocolate and vanilla versions.
Although this is one of the pricier options on this list in terms of price per serving, you can easily extend your use by opting for one scoop instead of four. A scoop still provides over 300 calories, the highest on this list.
Get it in unflavored, chocolate, or vanilla here.
2. Vegan Naked Mass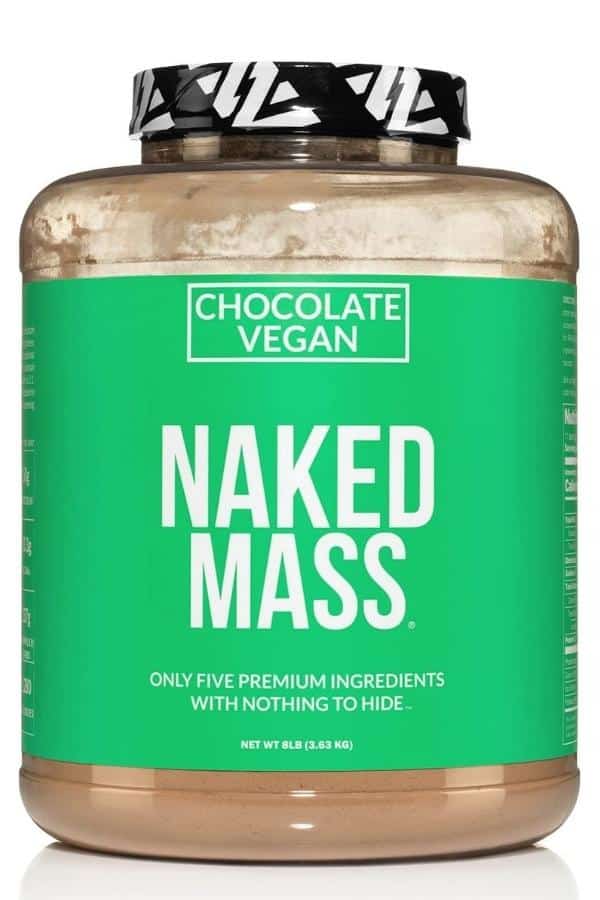 Those on a plant based diet don't have to miss out on the weight gain benefits of Naked Mass, because they also make a vegan version!
Just like the regular Naked Mass, this plant-based mass gainer packs 1250 calories and 50g of protein per serving.
The core 3 ingredients here are yellow pea protein, brown rice protein, and organic maltodextrin.
You can buy yours here.
3. Optimum Nutrition Serious Mass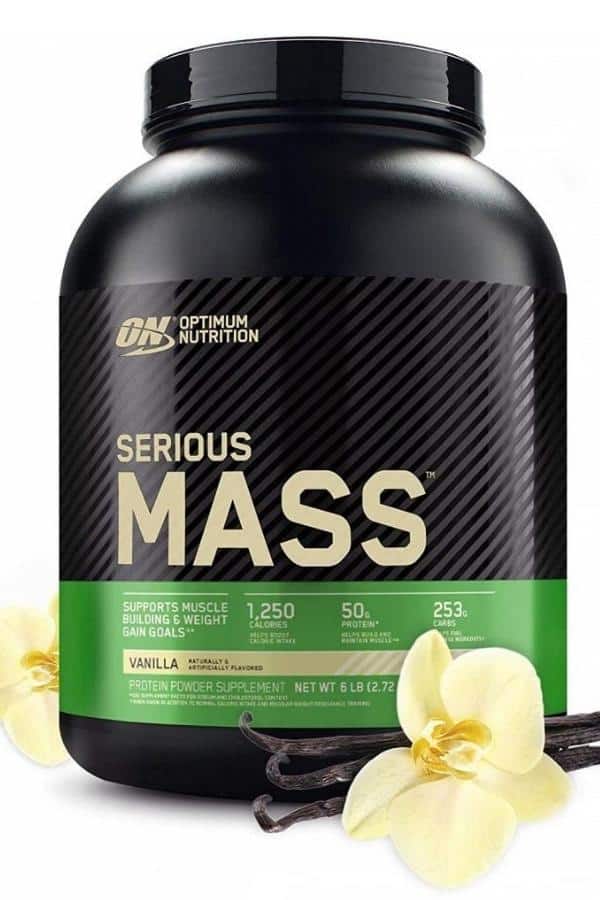 If you're looking for a protein powder that offers more flavors but still has all of the protein and calories you need, Serious Mass from Optimum Nutrition is an excellent choice.
Every 2 scoops have 1,250 calories with 50g of protein! And it comes in five delicious flavors - banana, chocolate, chocolate peanut butter, strawberry, and vanilla.
You can pick from all of the flavors here.
4. Dymatize Super Mass Gainer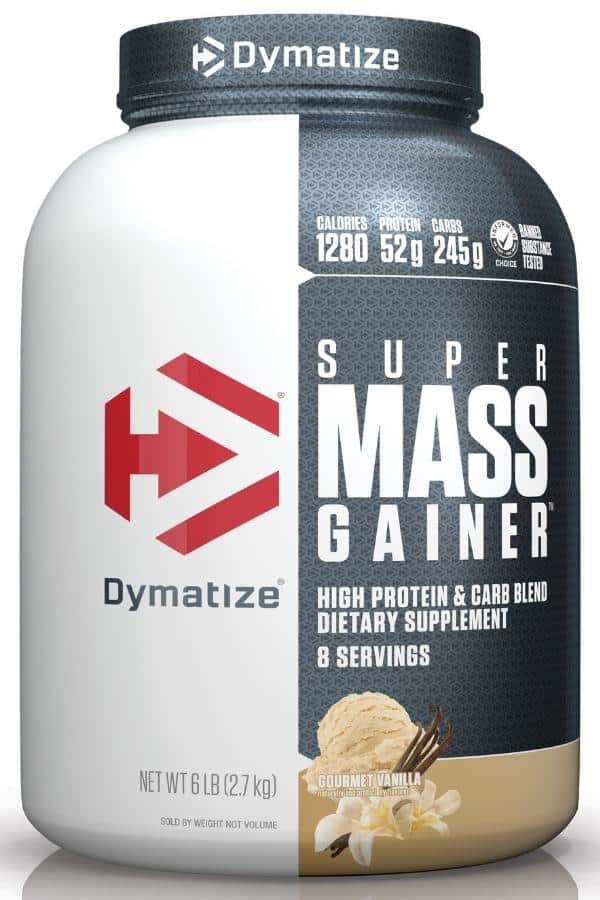 This super mass gainer offers 17 vitamins and minerals that support healthy muscle tissue and muscle recovery. Not to mention, it has a blend of fast and slow digesting proteins and 10.7 grams of BCAAS to help activate muscle protein synthesis.
And it will help you pack on some serious mass - the serving size is 2 ½ cups or 336g which has 1,280 calories and 52g of protein.
You can pick up the chocolate or vanilla flavors here.
5. MuscleTech Mass Tech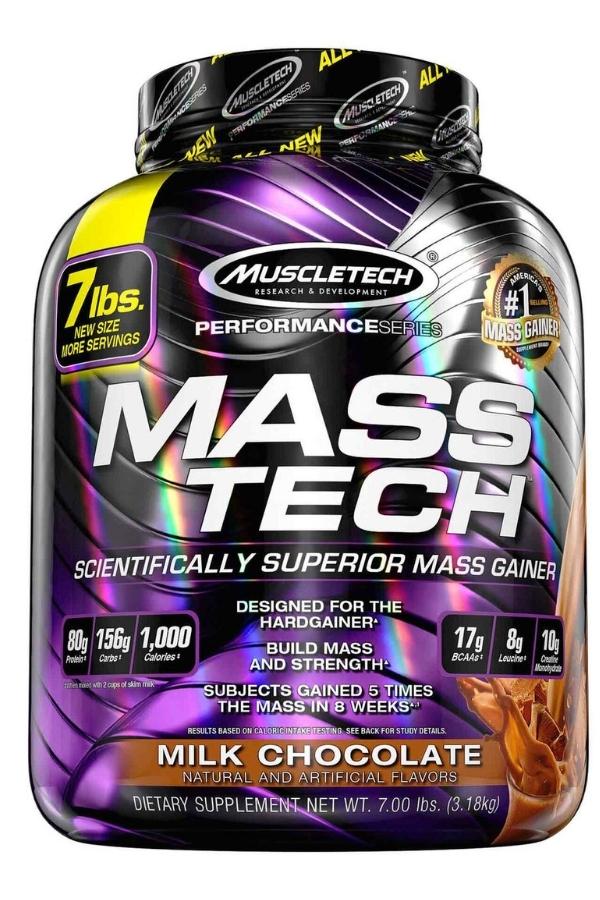 If eating enough protein in your day is a struggle, this high protein mass gainer is for you! Each serving mixed with water has 60g of protein, and if you mix the powder with 20 oz. of skim milk, it has 80g of protein.
Plus, there are 10g of creatine per serving to support even more muscle growth.
You can get their triple chocolate brownie flavor here.
Also, if you love chocolate, and you're trying to sneak some extra protein into your day, checkout this protein brownies recipe.
6. Mutant Mass Extreme Gainer
Now, if you don't struggle with eating enough protein throughout the day and just eating more calories is your goal, this mass gainer is just what you need.
Every 4 scoop serving has 1,070 calories with still an adequate amount of protein with 30 grams. And if you really want to up the protein and calories, it suggests that you have 4 scoops with 32 oz. of 1% milk - this will bring the calories up to 2,540 and protein up to 92 grams.
Give their triple chocolate, cookies and cream, or vanilla a try here.
7. Rival Nutrition Clean Gainer
This mass gain from Rival Nutrition has about half of the calories as the previous options, so it's ideal if you want to still put on some weight and gain muscle in a leaner way.
Every 2 heaping scoops have 560 calories with 30 grams of protein. Plus, there are some super fun flavors offered!
Try the s'mores, soft serve vanilla, cinnamon toast cereal, cookies and cream, and chocolate peanut butter here.
Also, for what it's worth, the chocolate flavor tastes great in this homemade weight gainer shake. I make it a ton when I'm trying to add some size, and it's so, so delicious.
8. Purely Inspired Organic All-in-One Nutritional Supplement Shake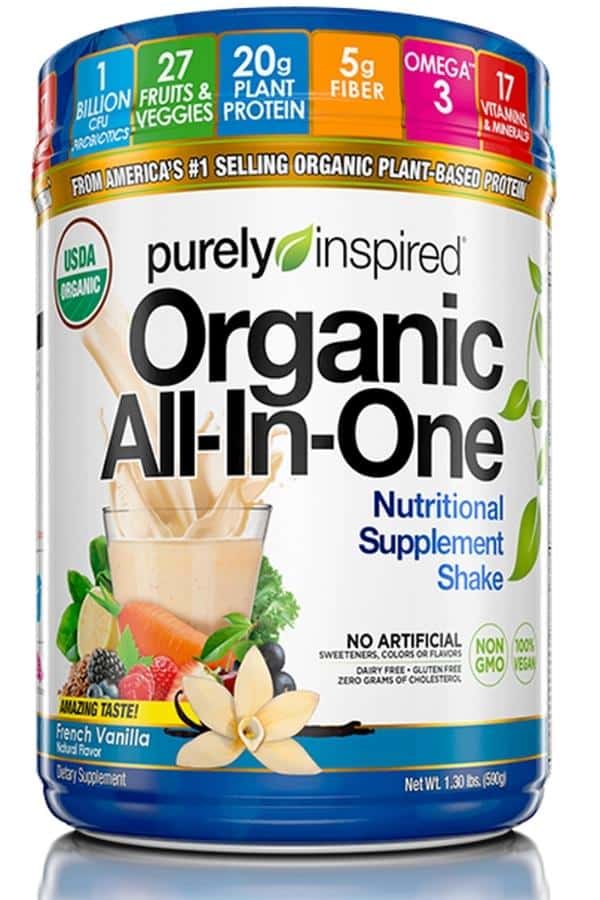 If you're looking for a protein powder that can provide optimum nutrition in addition to helping you gain weight, this all-in-one meal replacement is the perfect protein option to add to your daily diet.
It's made from plant protein with added nutrients from whole fruits and veggies, plus 1 billion CFU of probiotics and omega-3s.
For speedier weight gain, you can opt for 2 scoops per serving, which has 270 calories and 40g of protein.
Try it in decadent chocolate or french vanilla here.
9. Amazing Grass Vegan Protein & Kale Powder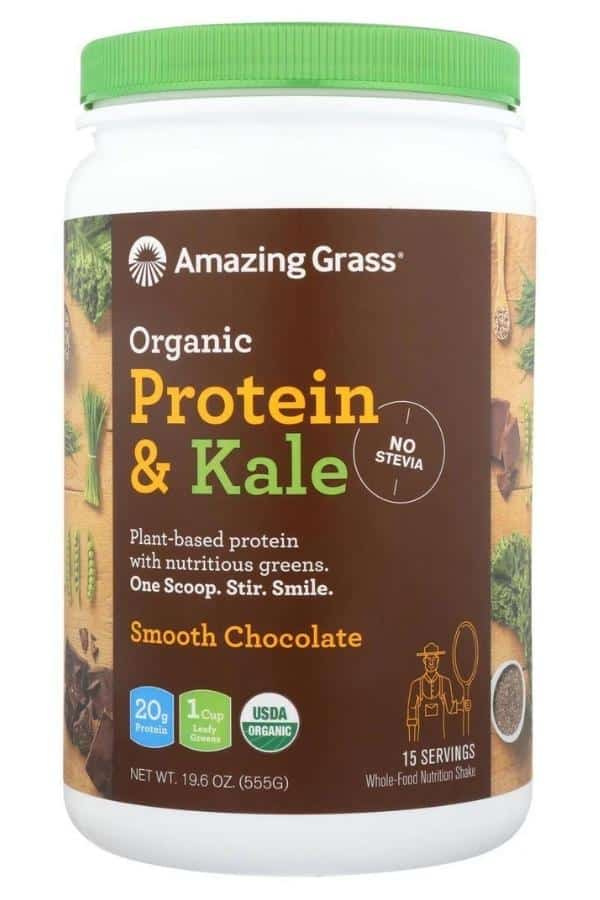 So, I'm sure you already know all the amazing benefits of kale. It boosts nutrition and can also improve muscle function and blood flow, resulting in even more benefits from your regular physical activity.
Well, combine that with the weight and muscle gain of plant-based protein and you've got a match made in heaven.
For the maximum benefits of this vegan protein powder for gaining weight, be sure to choose the honey roasted peanut flavor. It has 180 calories and 20g of protein per scoop, which is about 50 more calories than the other flavors.
Get this superfood protein powder here.
10. RSP TrueFit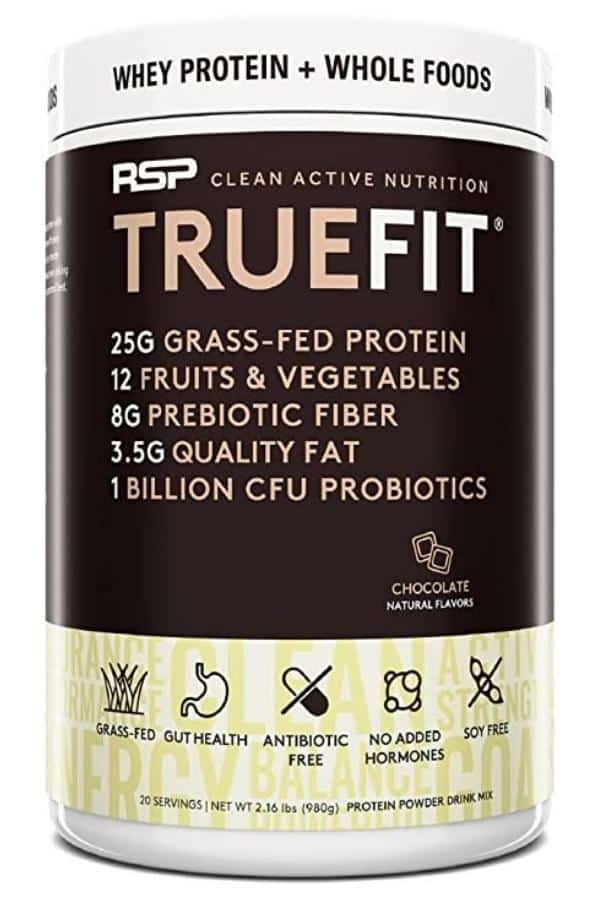 Quality ingredients and formulation is key when it comes to this protein powder from RSP.
TrueFit is a blend of grass-fed whey and organic whole foods, plus probiotics, prebiotic fiber, and quality fat. All these high-quality ingredients contribute to healthy weight gain and muscle growth, so this protein powder is a fantastic compliment to an active lifestyle.
A serving provides 170 calories and 25g of protein.
It's available here in chocolate, cinnamon churro, cold brew, and vanilla.
11. Orgain Organic Protein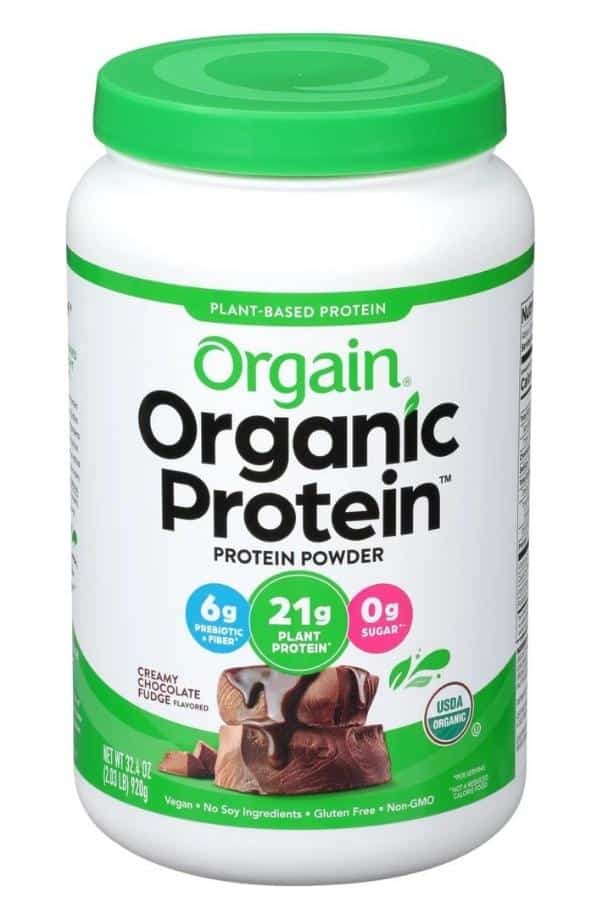 Another fantastic vegan protein powder for weight gain, this option from Orgain is certified USDA organic, which means you're getting the best quality weight gain ingredients in every scoop.
This plant-based protein powder is great if you prefer slow and steady weight gain over an instant bulk, a 2-scoop serving gives you 160 calories and 21g of protein.
Grab it in vanilla bean or creamy chocolate fudge here.
12. Vega Sport Premium Protein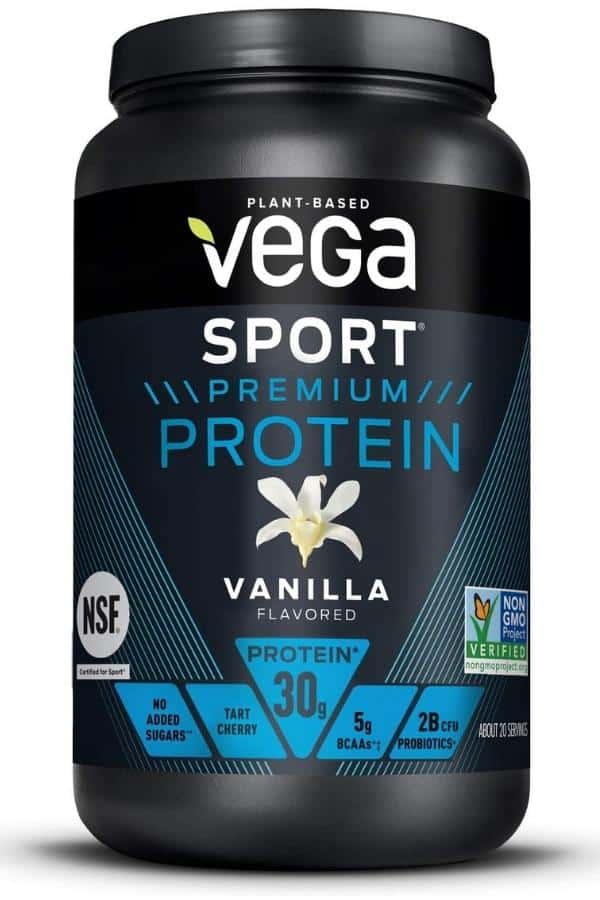 Working on weight gain and muscle growth at the same time won't be a problem with this plant-based protein powder from Vega.
In addition to 4 kinds of protein - pea protein, pumpkin seed protein, sunflower seed protein, and alfalfa protein - it contains 5g of BCAAs per serving. It also has tart cherry for even better post-workout recovery since it can help reduce inflammation.
One scoop provides 160 calories and 30g of protein - one of the highest for plant-based protein powders on this list!
You can get the Vega Sport premium protein powder in vanilla, peanut butter, chocolate, or mixed berry here.
13. KOS Organic Plant Protein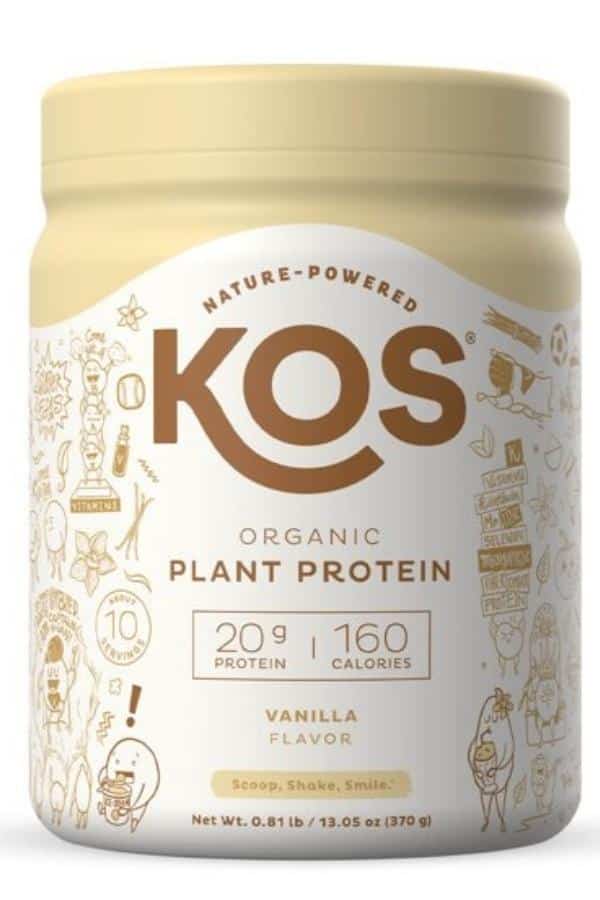 Each flavor of this KOS vegan protein powder provides its own unique benefits on top of weight gain support and healthy muscle growth.
Blueberry muffin comes with a signature immunity support blend and digestive enzyme blend.
The chocolate chip mint also has digestive enzyme support plus a fruit & veggie blend and signature vitamins & minerals blend.
Oh, and if flavor is king for you, try their Salted Caramel Coffee - it has a gold award for its fantastic taste and benefits!
This protein powder has 155 calories per serving with 25g of protein.
You can get all flavors here - they offer classic vanilla, chocolate, and peanut butter flavors along with the salted caramel coffee.
14. Promix Whey Protein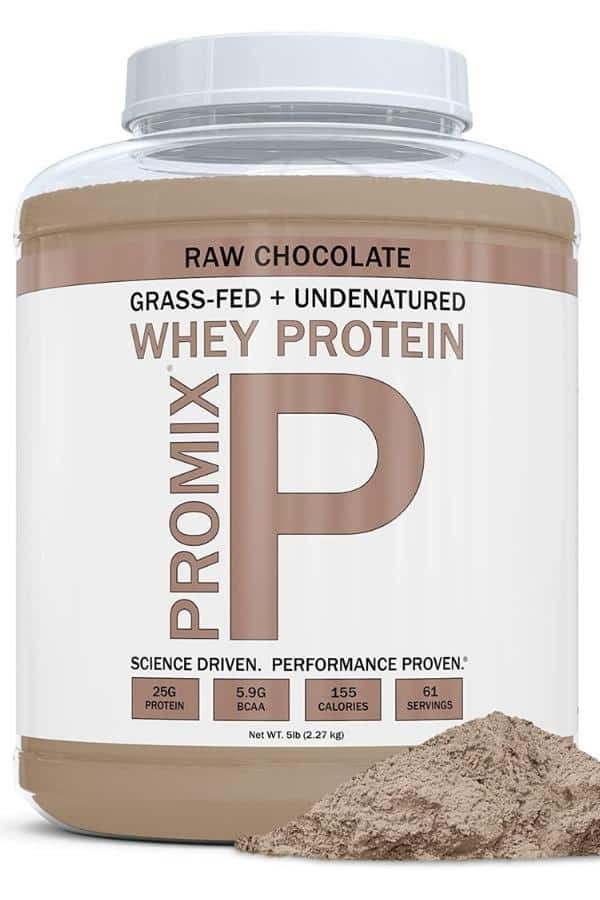 This carefully formulated protein powder is made with cold-processed, undenatured grass-fed whey protein, which means you're getting the optimum nutrition benefits that high-quality whey can provide.
On top of that, this whey protein powder also happens to be great for bulk buying. You can get about two months worth for just around a dollar per serving if you use it once a day.
It brings a good balance of 155 calories and 25g of protein for a 2-scoop serving.
This protein powder comes in chocolate, peanut butter, unflavored, and vanilla and you can pick it up here.
15. Garden of Life Raw Organic Meal Replacement Powder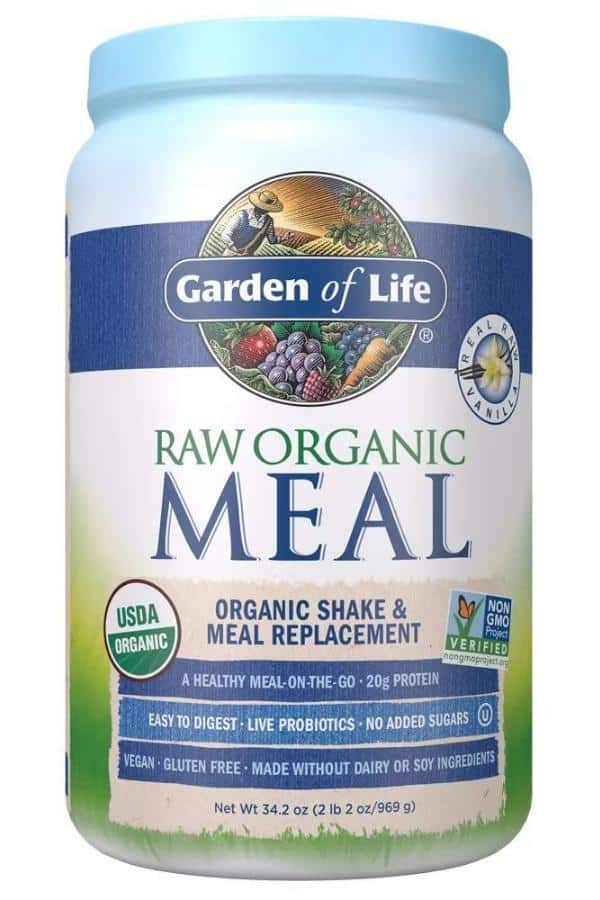 Although this option from Garden of Life is advertised as a meal replacement, it also functions as an excellent protein powder for weight gain if you take it between meals.
It has 130 calories and 20g of protein per scoop, and you also get the nutritional benefits from the added blends of fiber, fruits & vegetables, greens, whole food vitamins & minerals, and probiotics & enzymes.
That's a lot of fantastic ingredients all packed into just one scoop of this protein powder!
Try it lightly sweet or in one of three tasty flavors here.
16. Levels Grass Fed Whey Protein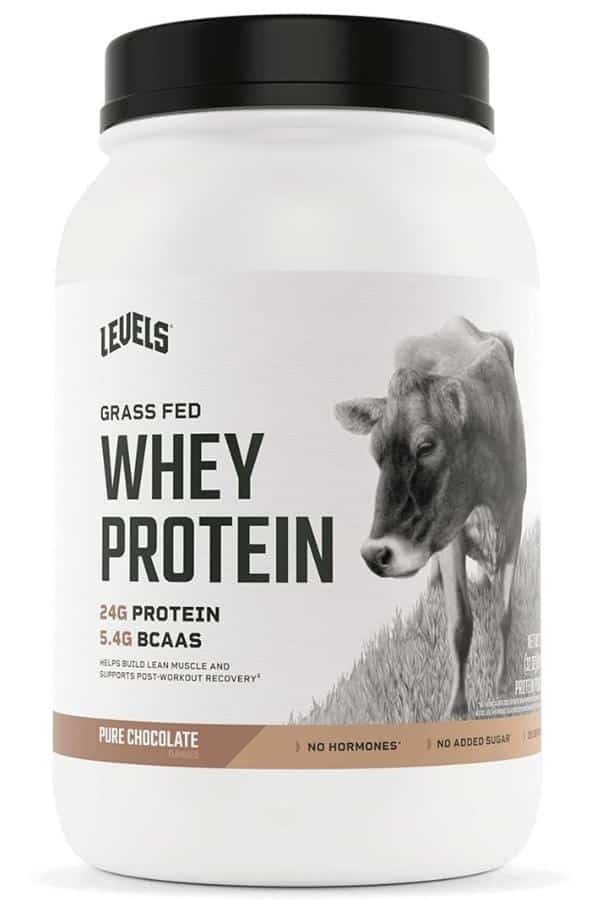 Another amazing whey protein powder for bulk, this protein powder made from grass-fed whey protein concentrate has about 71 servings per tub at just around a dollar per scoop. Each serving has 130 calories and 24g of protein.
And if you're avoiding sugar and maltodextrin, you'll definitely want to try this out as it's sweetened with stevia leaf extract and monk fruit extract.
Also, if you're the kind of person who likes switching up your protein powder flavors, this comes in 7 truly tasty options plus an unflavored one.
Get any of them here.
17. Bulk Supplements Whey Protein Concentrate 80%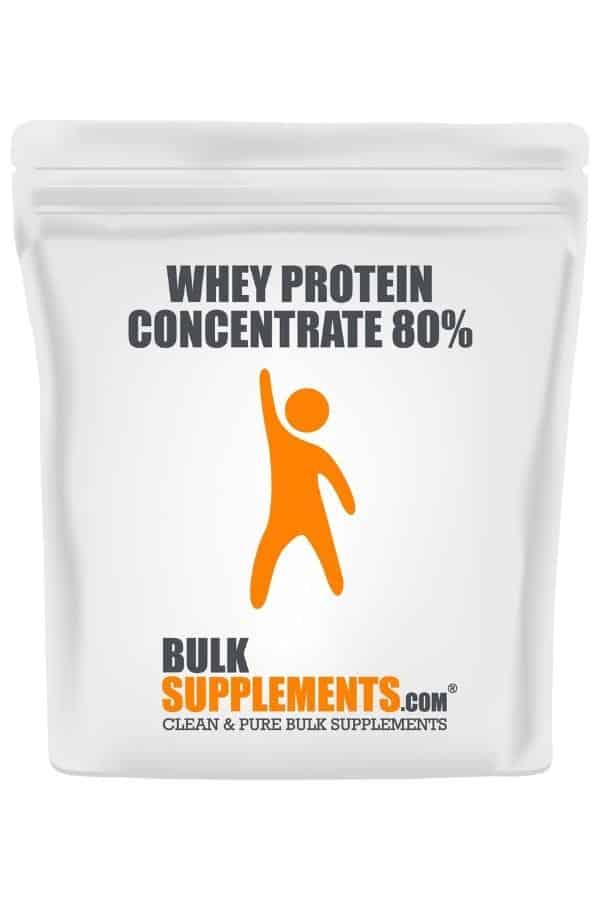 This whey protein powder is as pure as it gets! It comes unflavored and the only ingredient is whey protein concentrate, so it's an excellent choice if you like to add protein powder to shakes and desserts but don't want any other flavors getting in the way.
The 80% stands for the 80% of the protein that each scoop has. In total, you're getting 120 calories and 23g of protein for every 30 grams of powder (about the size of a regular scoop).
The Bulk Supplements brand also sells other beneficial workout supplements like creatine and casein protein that work hand in hand with physical activity to help you gain muscle mass in addition to gaining weight.
Order yours here.
18. MRM Nutrition Egg White Protein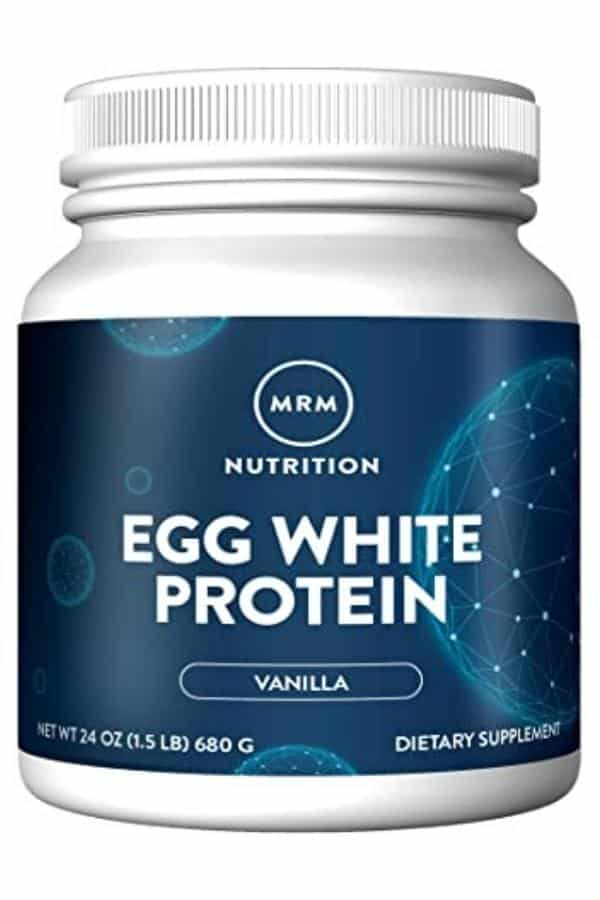 If you prefer to get your protein from egg protein instead of the usual dairy options, this egg white-based protein powder from MRM nutrition should definitely be on your radar.
What sets it apart from other egg protein powders is that it's made with only egg whites so there's a lot less fat and cholesterol, resulting in a healthier protein powder for weight gain.
It also doesn't have the eggy flavor that turns a lot of people off of egg protein powders, just clean-tasting chocolate, vanilla, or french vanilla.
Each serving is 2 scoops and has 120 calories and 23g of protein.
Try it for yourself here.
19. PlantVital Plant-Based Protein + Greens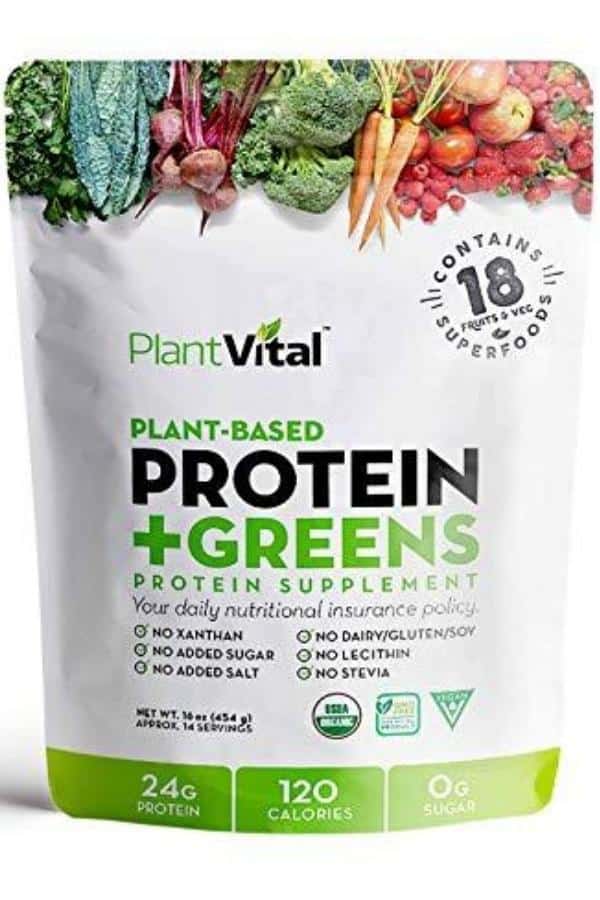 This superfood protein powder is a fantastic choice if you're trying to put on weight.
It has 5 sources of plant-based protein, 12 fruits and veggies, and 18 superfoods. And that's on top of the 120 calories and 24g of protein you get in each serving.
Oh, and did I mention it's certified organic? Get yours here.
20. Muscle Feast Hydrolyzed Whey Protein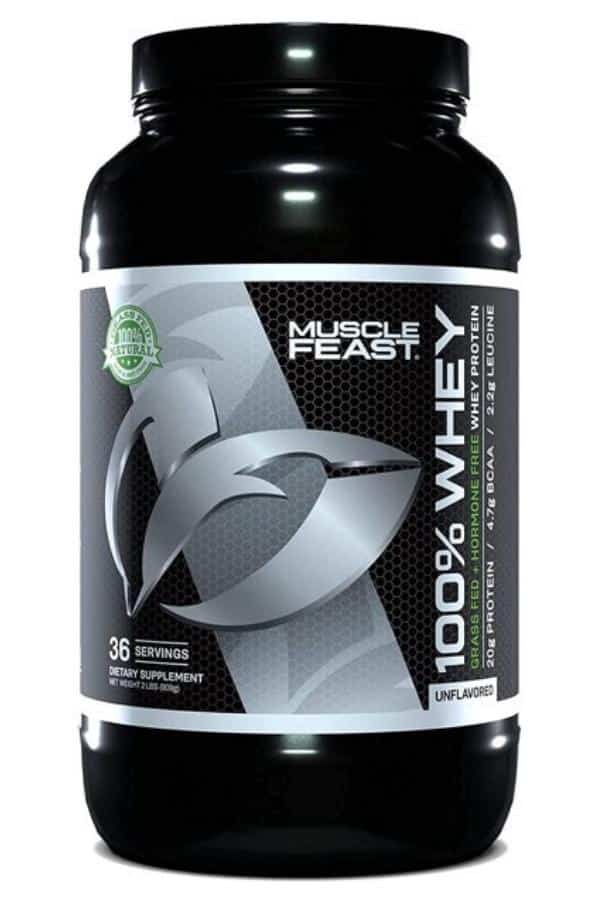 Rounding off our list of the best protein powder for weight gain is this hydrolyzed whey protein.
What sets hydrolyzed whey protein powders apart from other protein powders for weight gain is that the amino acids in hydrolyzed whey are more effectively absorbed by your body.
So, this protein powder can promote muscle growth and recovery while helping you gain weight.
And the great thing about the Muscle Feast protein powders is that they also come in 100% whey blend, isolate, concentrate, and premium blend options so you have more options for how you want to get in your protein.
A serving is one scoop and has 114 calories plus 23g of protein. Try it here!
Wrapping It All Up
Well, that's my list of the best protein powder for weight gain!
I hope you were able to find the protein powder you're looking for to support your weight and muscle-gaining goals.
If you've tried anything on this list - or you have a favorite I didn't mention - feel free to let me know in the comments below!
Protein Shake Recipes
The protein powders on this list are great, but protein powder just mixed with water isn't always the easiest to drink.
Well, I've created a ton of protein shake recipes that any of these protein powders would be delicious in! And making the shakes will also add on some more calories.
Give these protein shake recipes a try:
By the way, if you love cereal and you've ever wondered what the best high protein cereal options are right now, I recently put together a thorough guide on all of the best ones available. It's a super thorough list/guide with over 21 options!