This weight gainer shake is a quick, delicious, and healthy way to pack a ton of extra protein and calories into your diet. It's rich and creamy, naturally sweet, and can be made with any mass gainer protein powder. And it only has 4 ingredients and takes 10 minutes to make!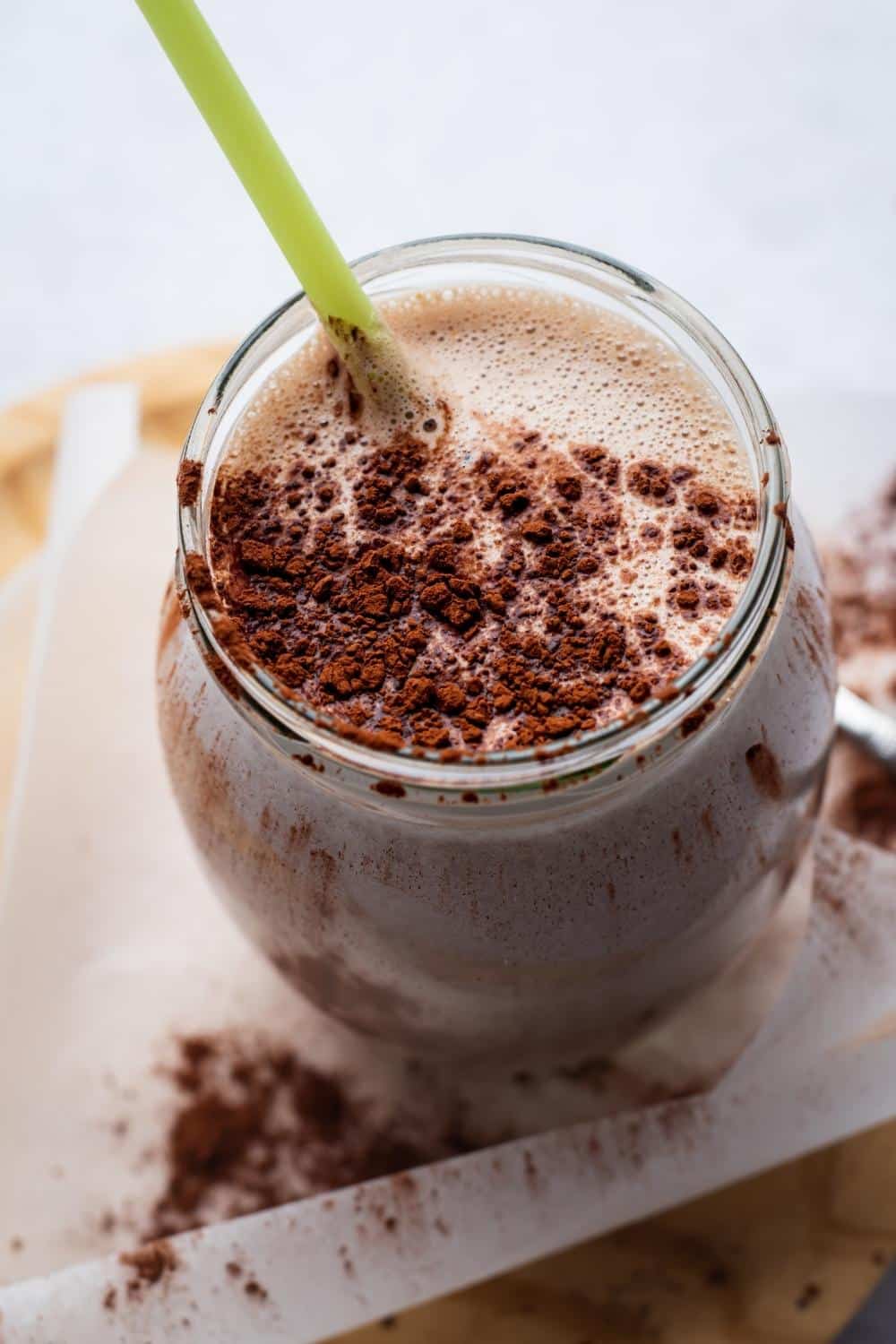 The Best Weight Gainer Shakes
Drinking protein shakes is a great way to boost your weight and help build muscle mass. But, if you really want to make the most out of your protein powder, you need to try this weight gain shake recipe.
It's a high-calorie protein shake that takes minutes to make and is packed with all the good stuff you need to improve the quality of your workouts, increase lean muscle mass, and speed up your recovery process.
Seriously, this weight gainer shake recipe can make all the difference during your bulking season. And you can make this mass gainer shake as a post-workout snack or a supplement to your breakfast, lunch, or dinner. It's great any time of the day.
Plus, all you need are just 4 super common ingredients and 10 minutes to make it.
With that said, I do recommend using some kind of mass gainer protein powder or weight gain powder in it - instead of just normal protein - to up the calories. So, if you don't happen to have one on hand - and you're looking for mass gainer protein powders to buy - check out my list of the best protein powder for weight gain. I've got several on that list that will work perfectly for this recipe.
By the way, if you're looking for some lightning-quick, high protein meals to make while you're gaining weight this air fryer chicken breast recipe, this Instant Pot shredded chicken, and this easy-to-make salmon recipe are some of my favorites.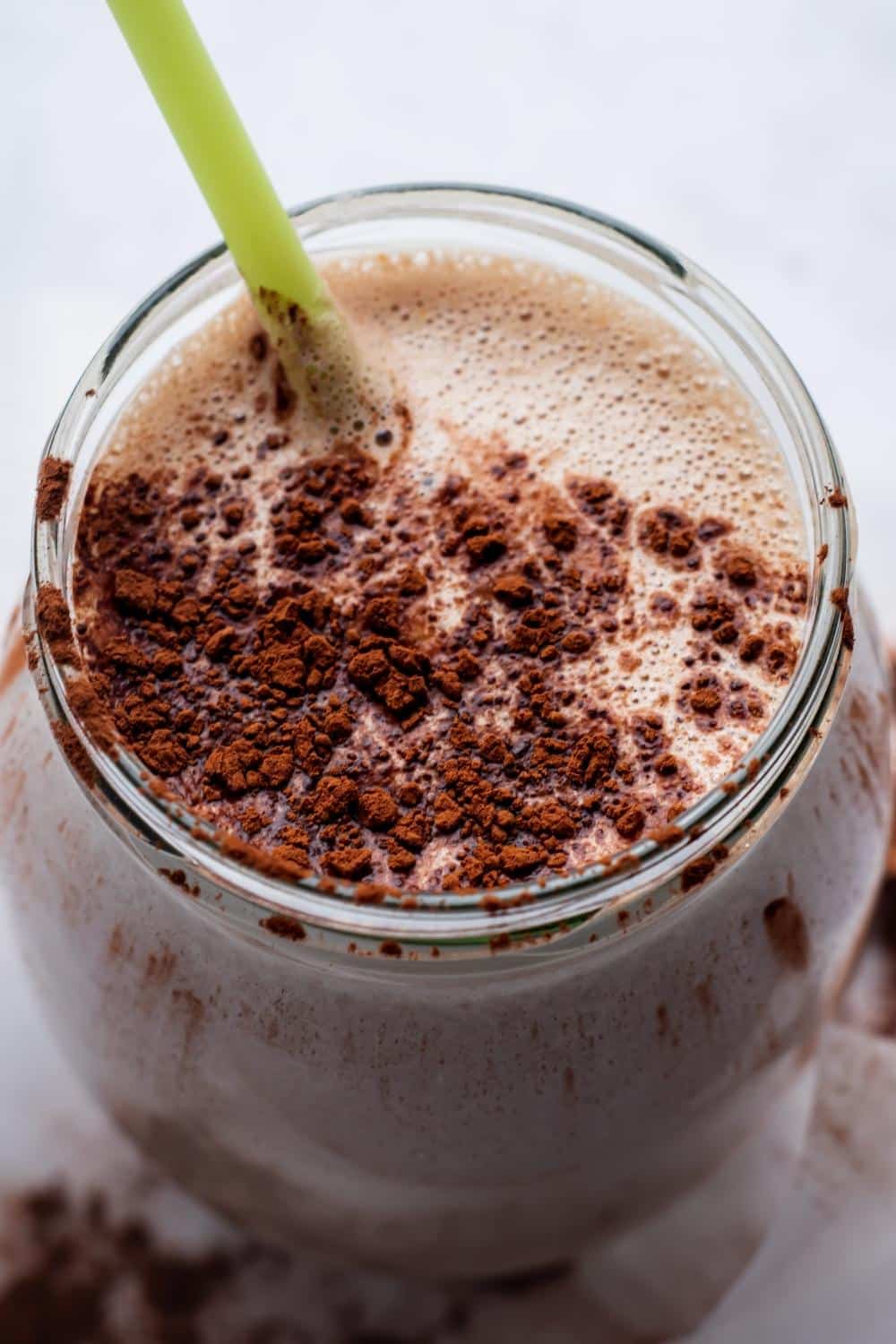 Ingredients
As I mentioned, you only need a handful of super simple ingredients to make this weight gainer shake. And they're so common, I wouldn't be surprised if you have all of them in your kitchen already.
Anyway, here's what you'll need to make this homemade weight gainer shake:
1 Cup Milk (you can use your favorite)
2 Tbsp. Peanut Butter
1 Banana or Frozen Banana
1 Scoop Weight Gain Protein Powder (or protein powder)
2 Cups Ice Cubes (optional)
Again, you can use any high quality protein powder for this recipe, but I highly encourage you to go with a quality mass gainer.
I usually like whey protein powder - or casein protein powder - since they're more effective when it comes to building serious mass, but you can also use your favorite plant-based protein powder for weight gain too. Also, for what it's worth, I typically also always use chocolate protein powder, but you use any flavor you want!
As for the milk, I like to use Fairlife milk since it has double the protein as regular milk, but you can use anything you want. To keep it vegan, you can swap the milk out with your favorite plant milk. Full-fat almond milk and full-fat coconut milk are some of the best options to use in weight gain smoothies.
Oh, and if you have the weight gain powder, you can use it to turn some more of my protein shakes into weight gainer shakes. So check out this Oreo protein shake and Wendy's frosty protein shake next.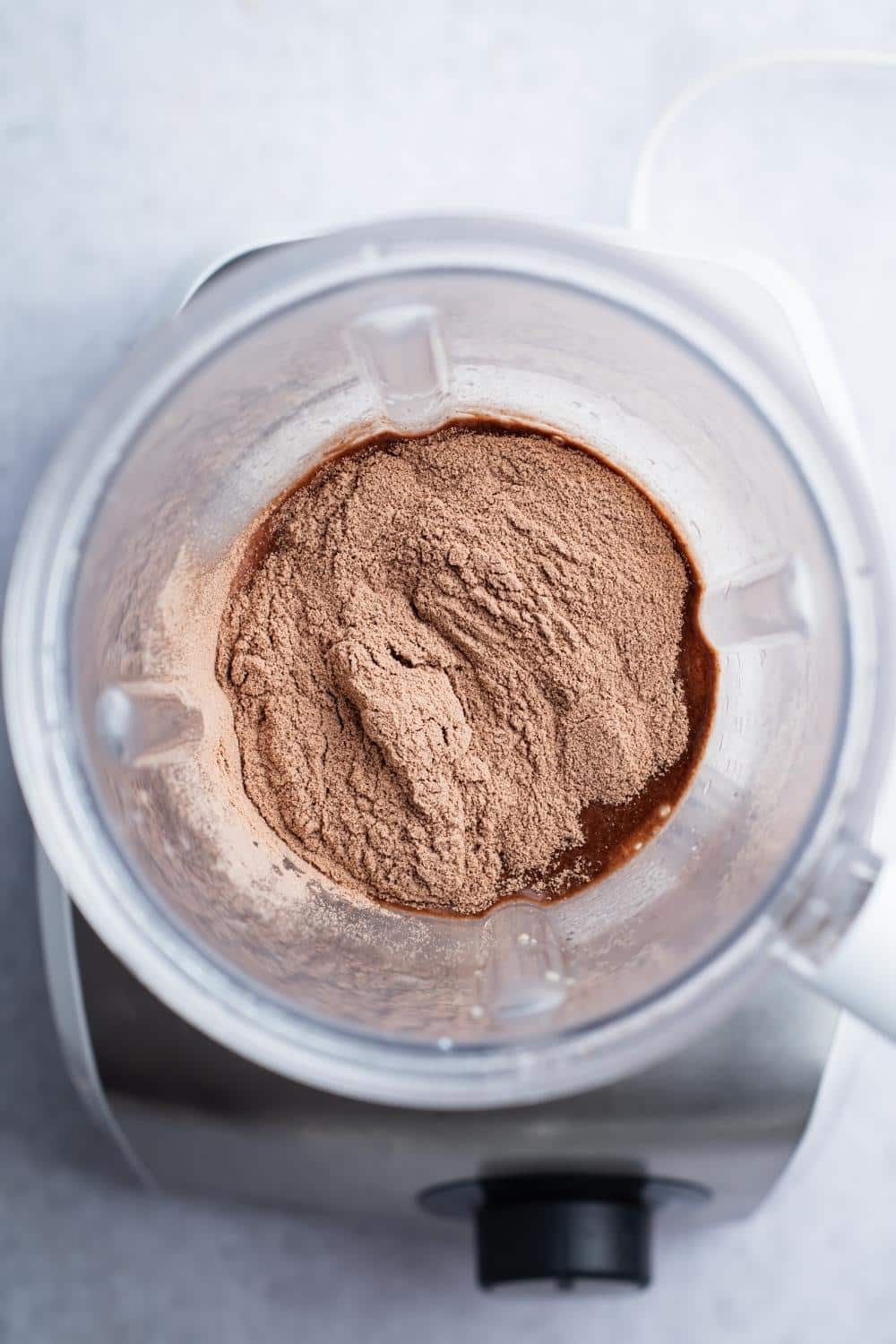 How to Make A Weight Gainer Shake
This recipe for a weight gainer shake makes enough for 1 serving. But, as always, you can double or triple the recipe to make more!
Now, let's get into the details of how to make this weight gainer protein shake.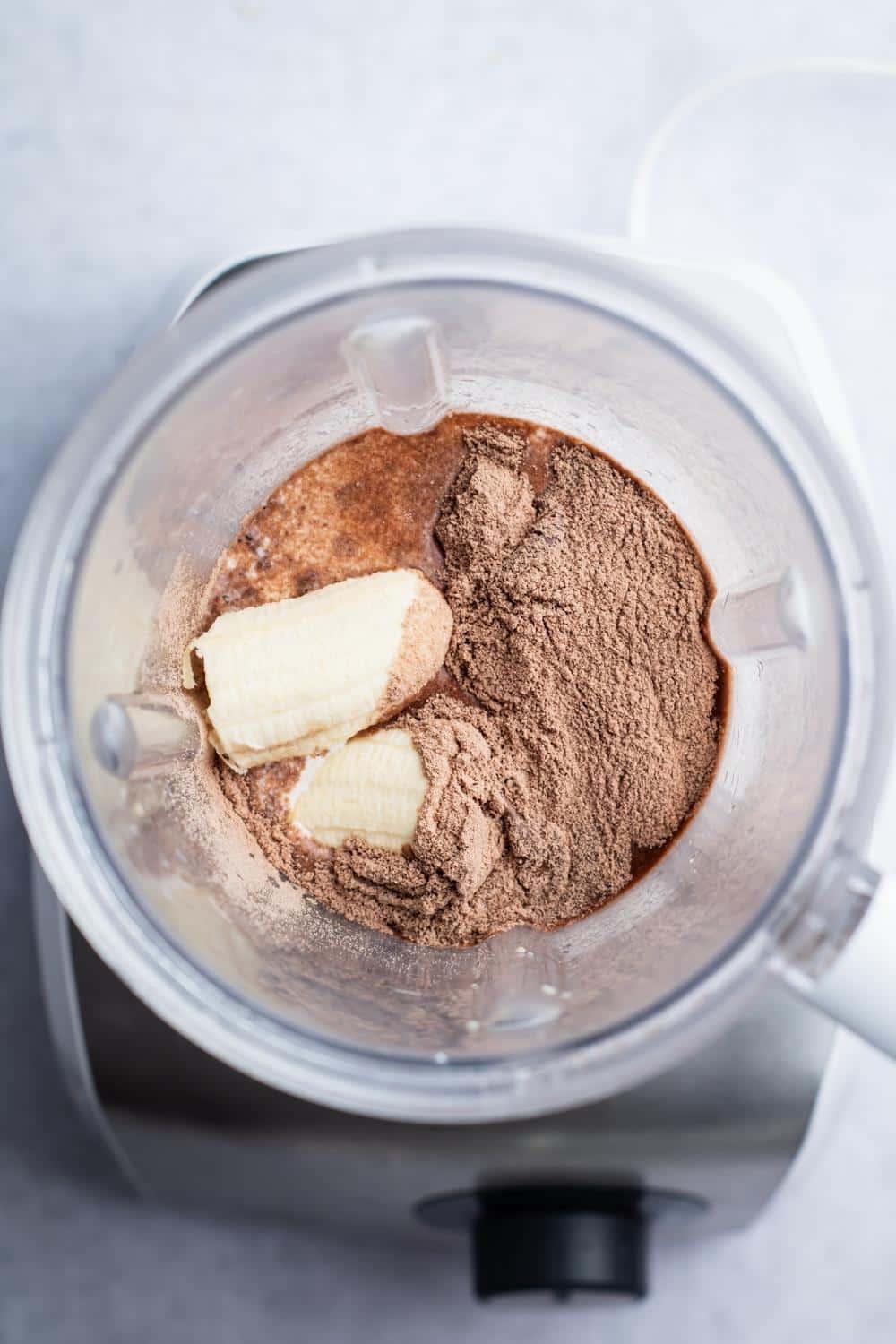 Step 1: Adding the Ingredients
So, you can use a blender, a Nutribullet-style single-serve blender, or even a food processor.
Once you have that, add the milk, a couple of tablespoons of peanut butter, a whole peeled banana, and a heaping scoop of chocolate weight gainer protein powder (or any protein powder flavor you want).
Pro-tip: using sliced-up frozen banana and cold milk is the best way to make this shake instantly cold and super thick and creamy.
But if you don't have those, you can also throw in some ice cubes before blending.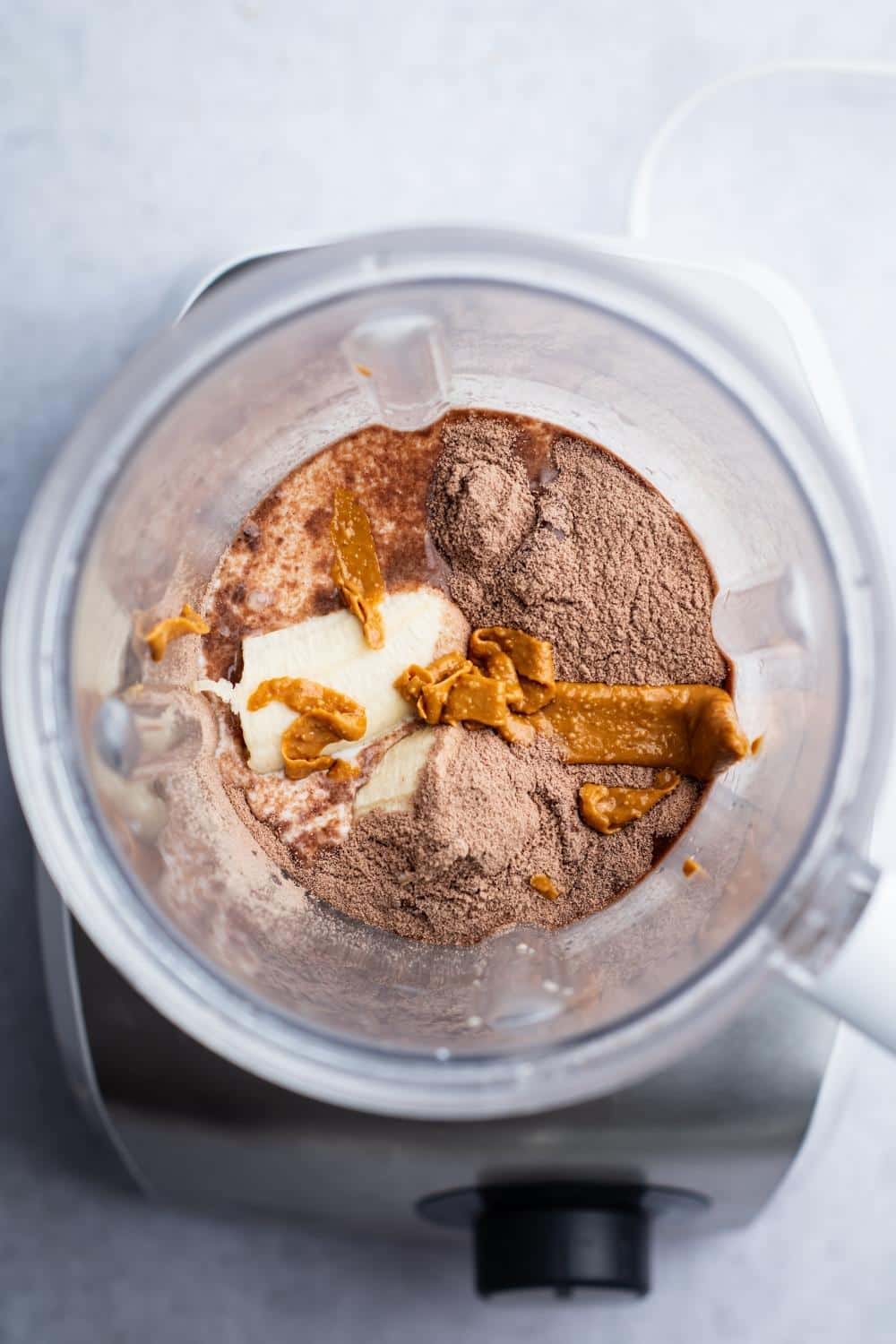 Step 2: Blending Everything Together
Once everything's in the blender, pulse until smooth and combined.
In my experience, this only takes about a minute to get it to the velvety smooth texture I want. But, of course, this could vary depending on if you're using ice or how many smoothies you're making.
Finally, transfer it into your favorite glass or mug, top it with cocoa powder, and enjoy!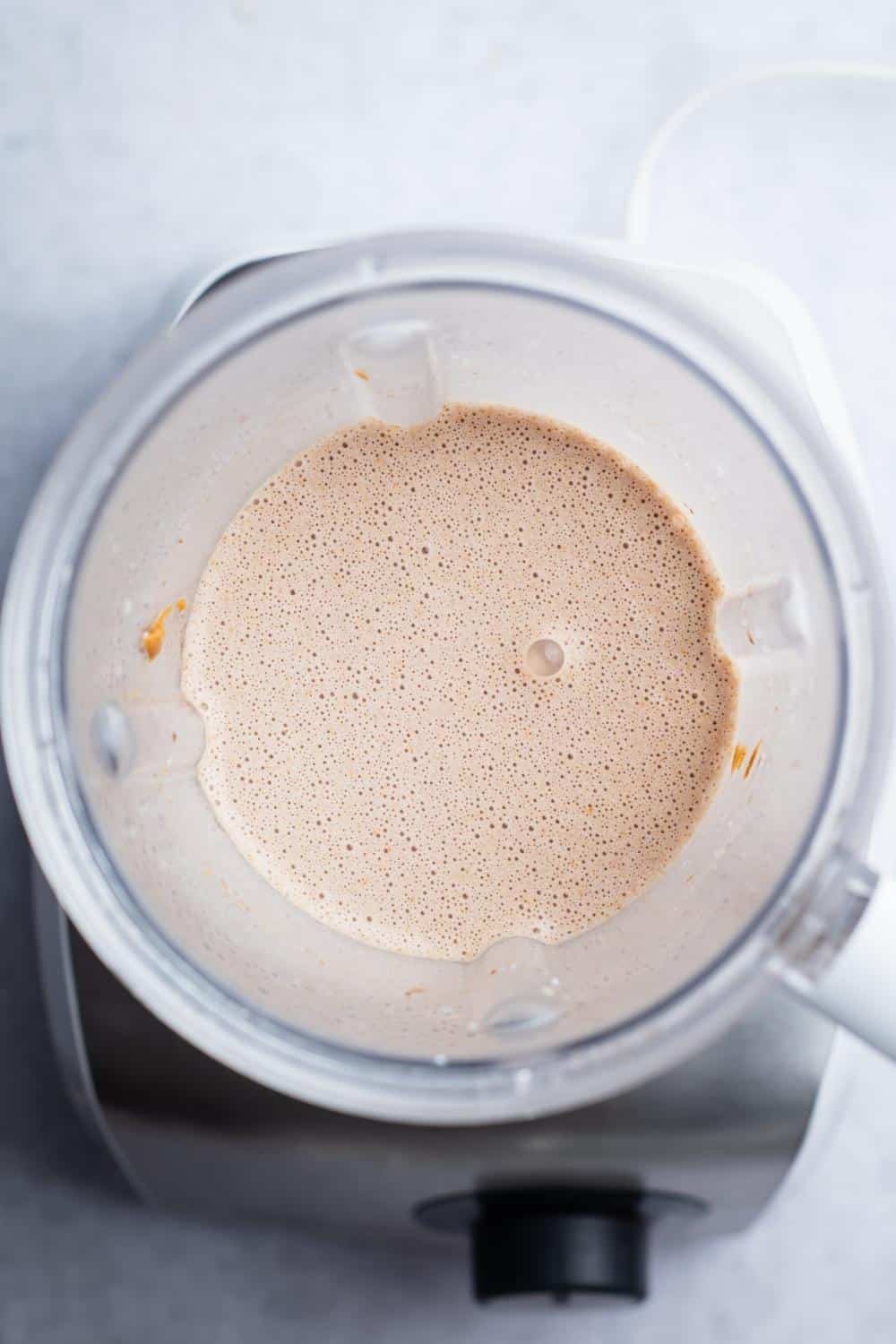 How to Store Weight Gainer Shakes
This shake - and really all weight gainer shakes and smoothies - are best enjoyed right after making them.
As I mentioned though, this recipe makes one weight gain smoothie, so you probably won't have any left.
But, if you do - and want to save some for later - you can store your weight gainer shake in an airtight mug, glass jar, or smoothie bottle with a sealed lid in the fridge for up to 3 days. If the protein powder separates, you can just shake - or blend - it up again to re-mix the shake together.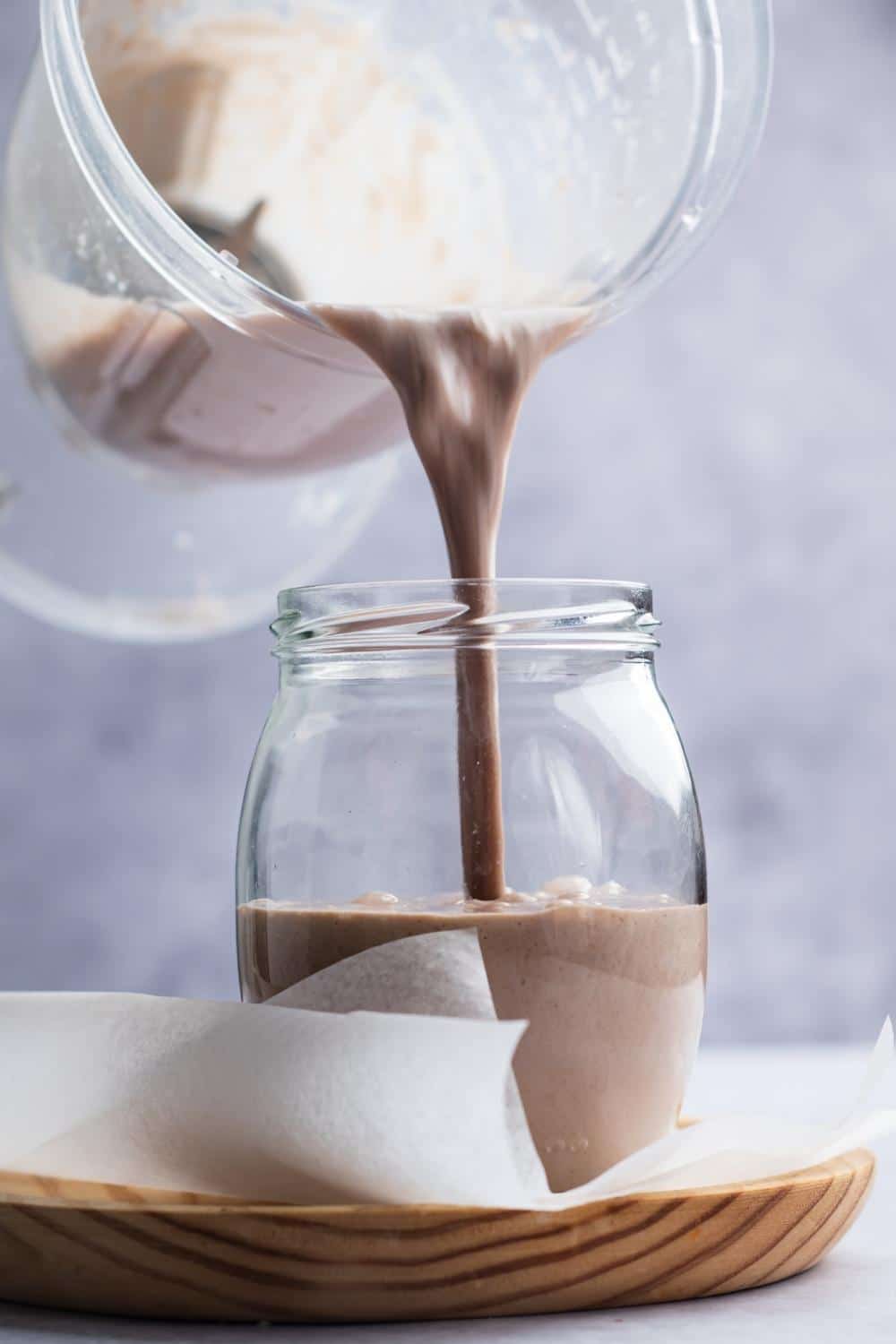 FAQs About This Weight Gainer Shake Recipe
Do weight gainer shakes work?
Yes, weight gainer shakes can help you gain weight quickly and are great for bulking. They're packed with protein and calories to keep you in a calorie surplus. So, they can be a great supplement to add additional calories to your diet built mainly around whole foods.
That being said, you'll want to choose weight gainer shakes that are made with nutrient-dense natural ingredients and little to no added sugar. Too much added sugar and empty calories are unnecessary and an unhealthy way to gain weight.
Which shake is best for weight gain?
There are a lot of fantastic weight gainer shake recipes and weight gain protein powders out there that are all effective for weight gain. Ultimately, you'll want to find a shake that has healthy fats, complex carbs, and high protein ingredients for the best weight gain results.
Peanut butter or any nut butter, bananas, avocados, milk, full-fat greek yogurt, oats, and of course, protein powder are some of the best ingredients for weight gain shakes. That's why I use most of them in this recipe.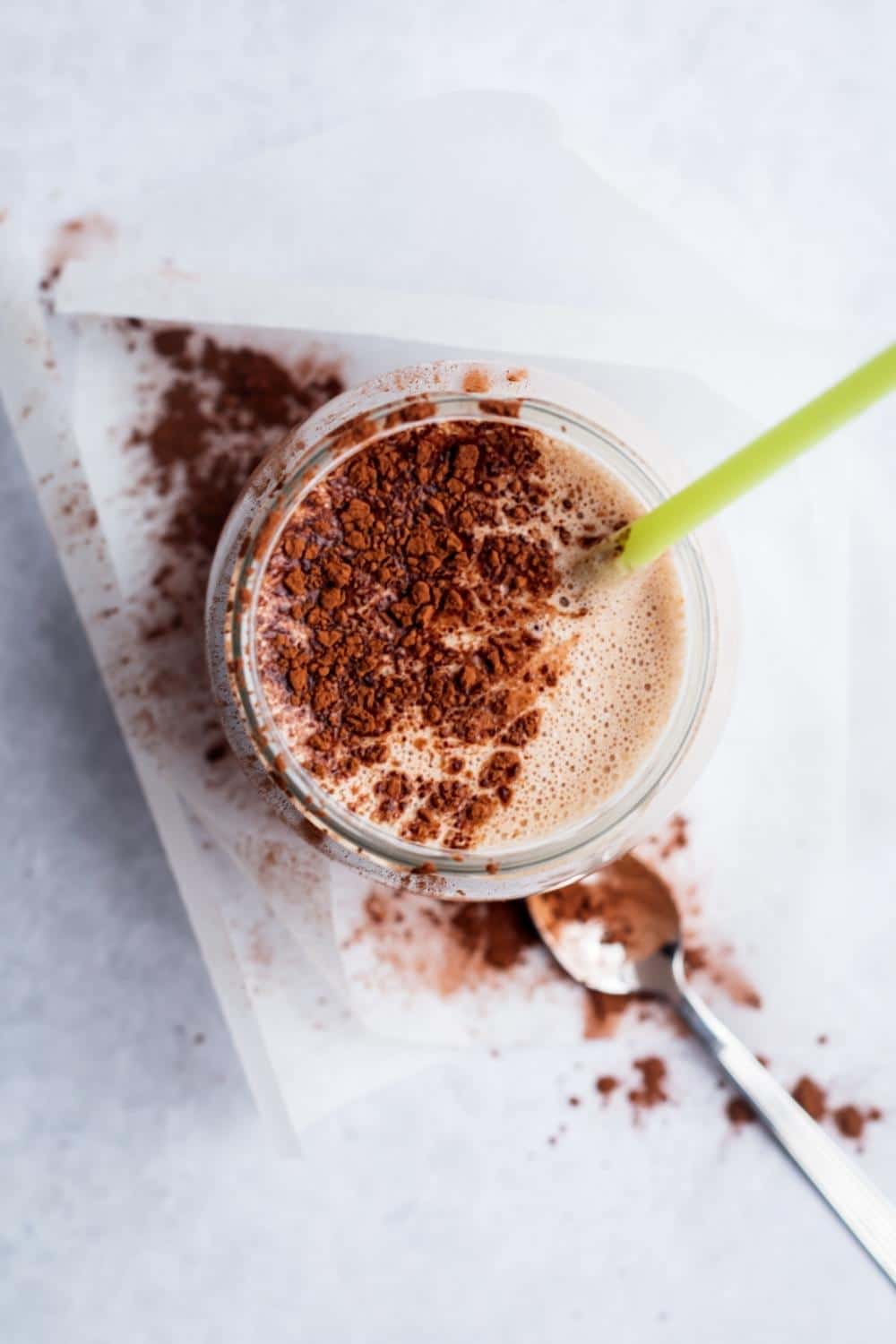 Wrapping It Up
Well, there you have it! That's how to make a weight gainer shake at home!
This protein powder shake is a great way to enhance your favorite protein powder in terms of taste, calories, and protein.
Plus, it's made with ingredients you probably already have at home.
Anyway, I'm positive you - and whoever else you make this weight gain smoothie for - will love it as much as I do!
If you make it, be sure to leave a comment below and let me know what you think! I'd love to hear your thoughts.
And for more recipes, check out my YouTube, Instagram, and TikTok. I have a ton more easy healthy recipes - just like this one - on them.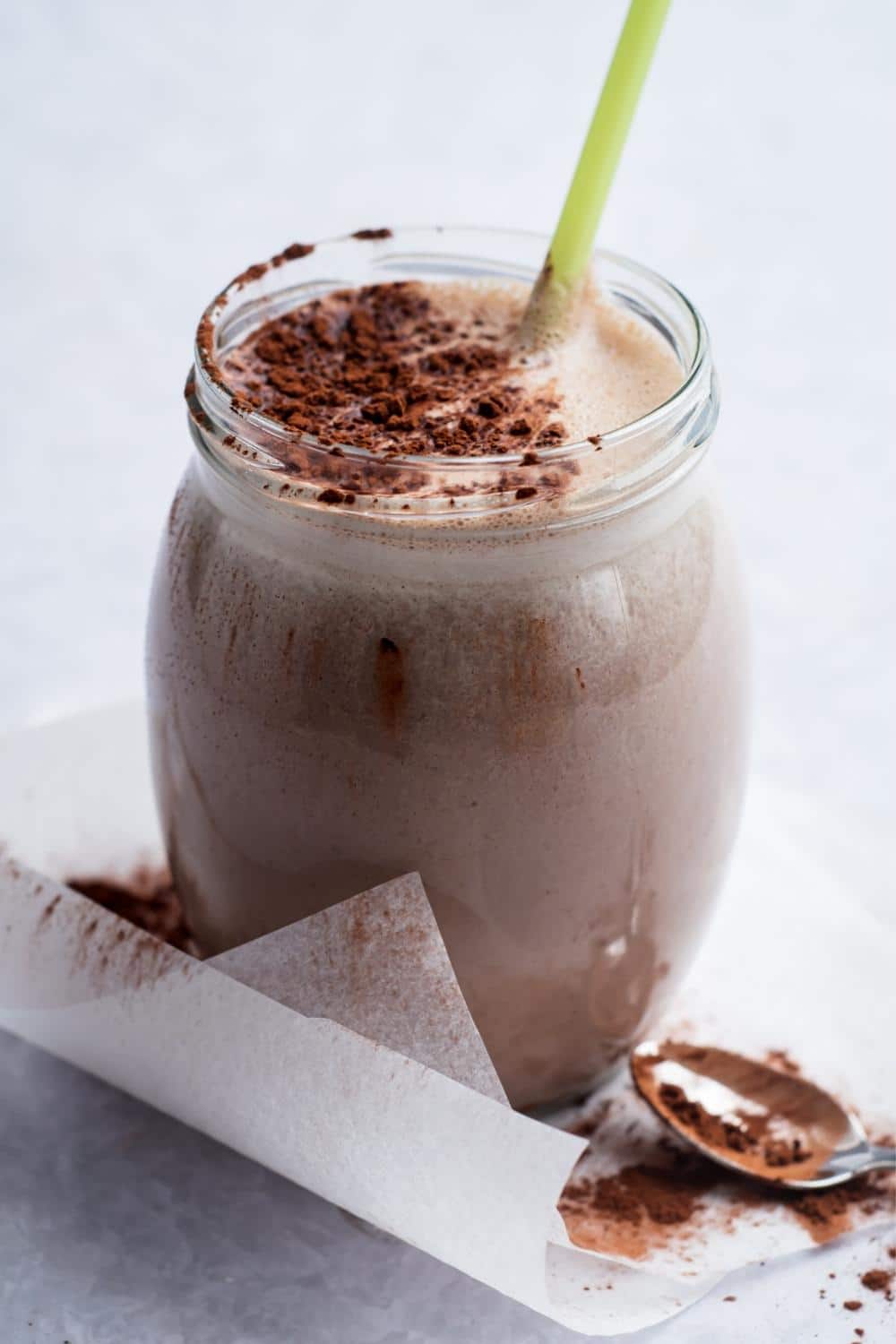 Protein Recipes
If you're looking for recipes that will help you build muscle and are ideal for before or after your workout, I have a bunch on the blog you have to try out!
Check out these high protein recipes:
Print
Quick & Easy Weight Gainer Shake Recipe | Chocolate Peanut Butter Flavor
This weight gainer shake is a quick, delicious, and healthy way to pack a ton of extra protein and calories into your diet. It's rich and creamy, naturally sweet, and can be made with any mass gainer protein powder. And it only has 4 ingredients and takes 10 minutes to make! 
Author:
Prep Time:

1 minute

Total Time:

1 minute

Yield:

1 serving

Category:

Drink

Method:

Mixing

Cuisine:

Protein
Instructions
Combine all ingredients in a blender and pulse until smooth (f

or a thicker shake, use a frozen banana and ice cubes).
Nutrition
Serving Size:

1 serving

Calories:

1,013

Fat:

19

Carbohydrates:

170

Fiber:

7

Protein:

46
Keywords: Weight gainer shakes, Protein shakes for weight gain, Gainer shake, Gain shake, Mass gainer shake, weight gainer shake, weight gainer shake recipe, mass gainer shake recipe, weight gainer shakes recipes, weight gainer shake at home, weight gainer shake ingredients