This air fryer bacon recipe is super quick and easy to make, with fantastic results every time. It's extra crispy and full of flavor, and you can make it in as fast as 8 minutes!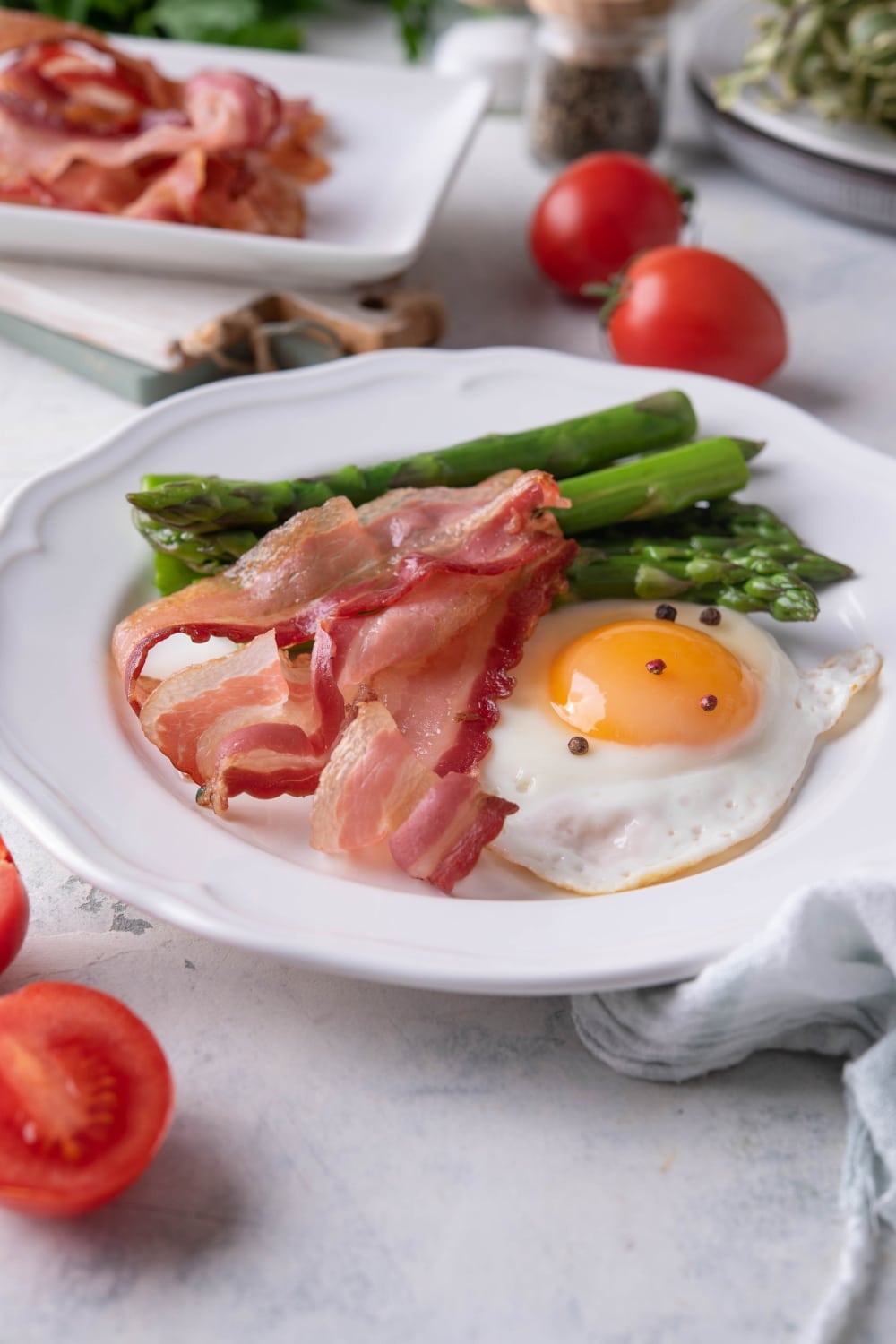 The Best Air Fryer Bacon
There's nothing like starting your day off with some crispy bacon. I mean, does it get any better than a few slices of bacon with breakfast?
And when it comes to making perfectly cooked, incredibly crispy bacon, the air fryer is where it's at!
It's a healthier way to cook bacon, and not only does the bacon always come out perfect, but it's also incredibly easy and effortless to make. All you have to do is pop the bacon into the air fryer and then let it take care of the rest. So there are no excess grease splatters, no sticking, and no oil needed!
Oh, and since this recipe is mostly hands-off, you'll have plenty of time to make some things to go with it. If you're looking for what to serve with bacon, I love making these protein waffles, oat flour pancakes, or eggs benedict. But really, you can serve this crispy air fryer bacon with anything you want, and it'll be delicious.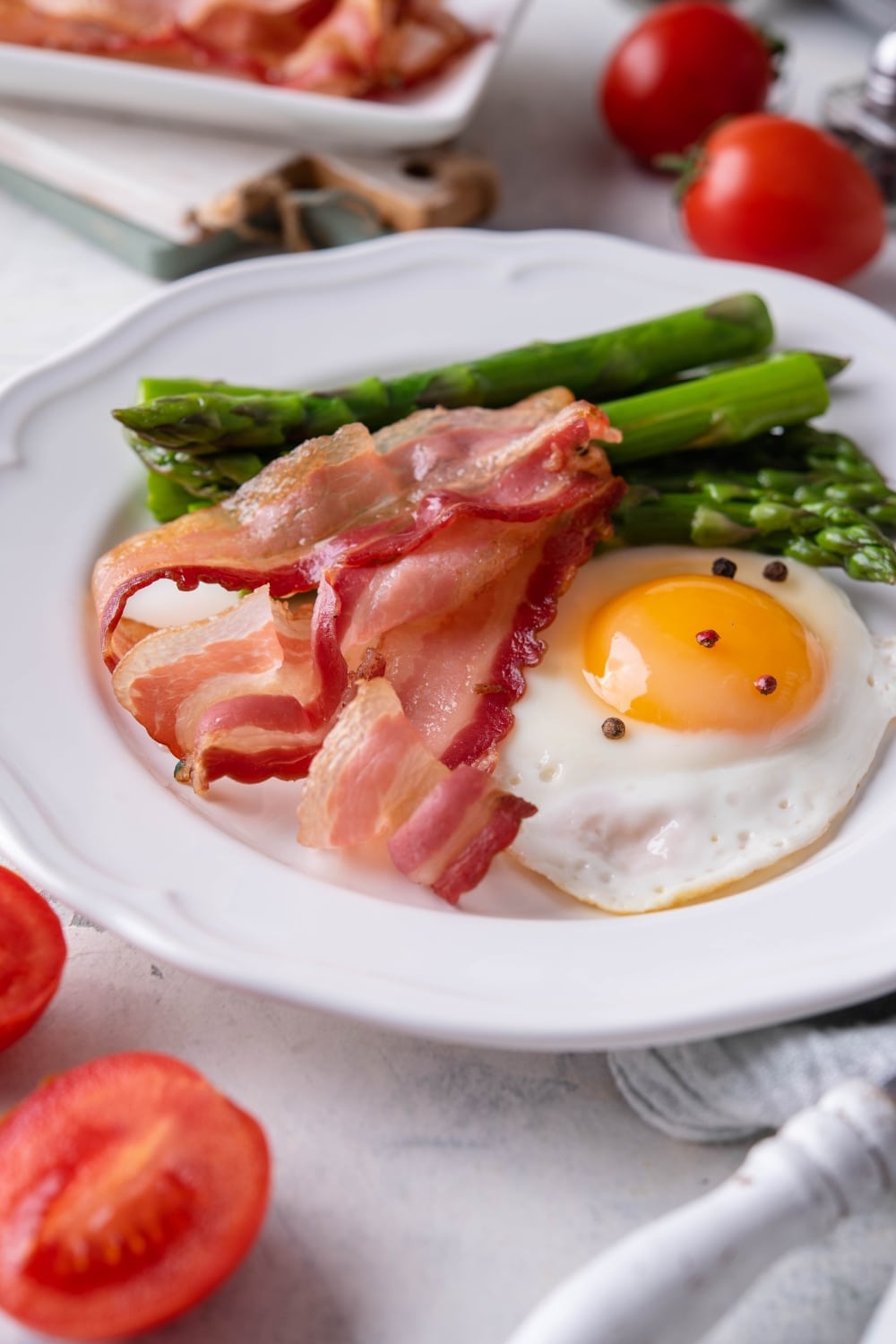 Ingredients
The best part about this recipe might be that you only need one ingredient, and I bet you can already guess what it is.
If not, here's what you'll need for this air fryer bacon recipe:
It's as simple as that! The bacon by itself has a ton of flavor already, and the natural fat will crisp up your air fried bacon into crunchy deliciousness.
Now, I used regular cut bacon for this recipe, but I also included instructions for cooking thick cut bacon slices if you want to use that instead. And if you want a lower fat version, you can use turkey bacon.
By the way, if you end up with some extra bacon strips after this recipe, you can use 'em to make this bacon wrapped asparagus in the air fryer too!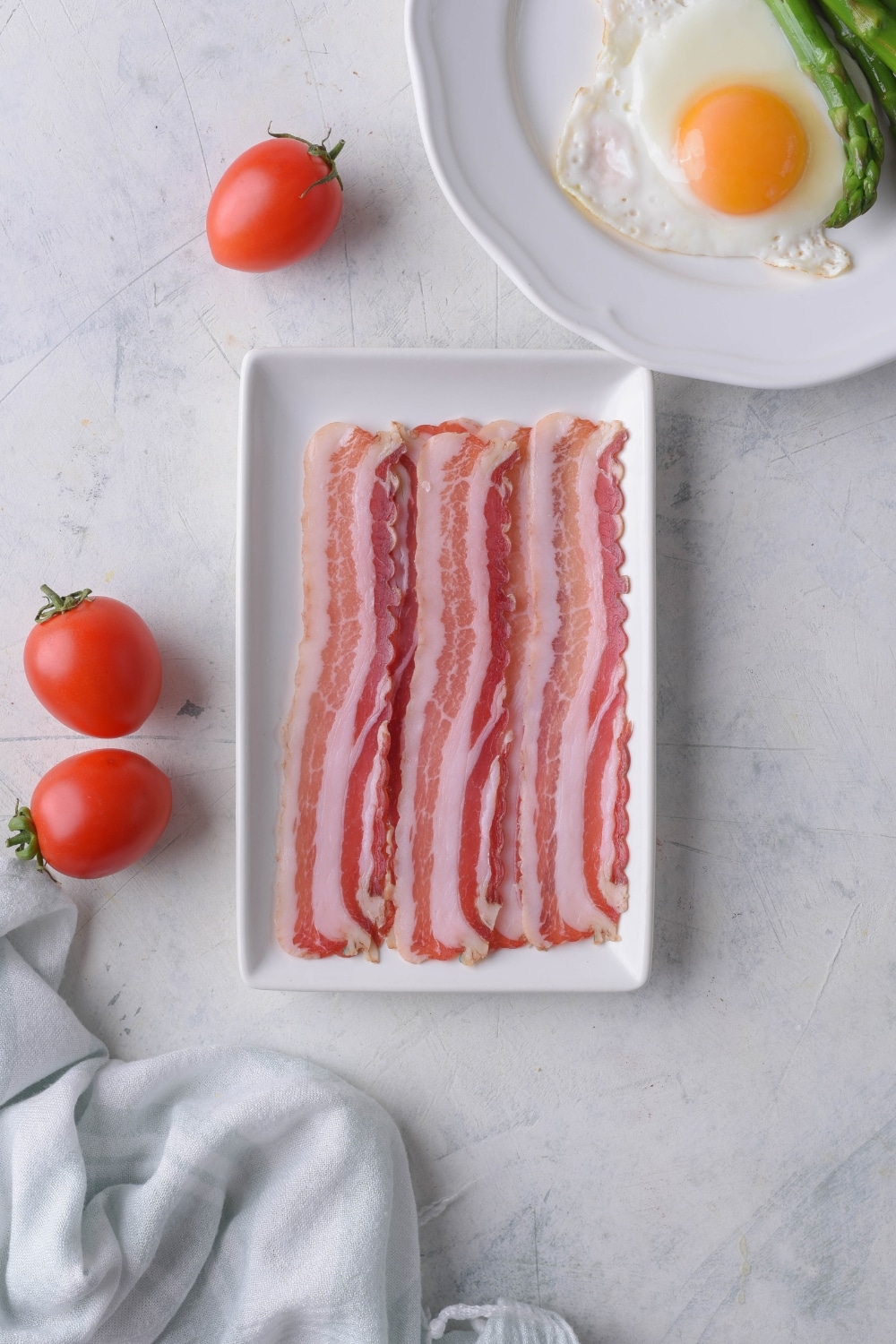 How To Make Air Fryer Bacon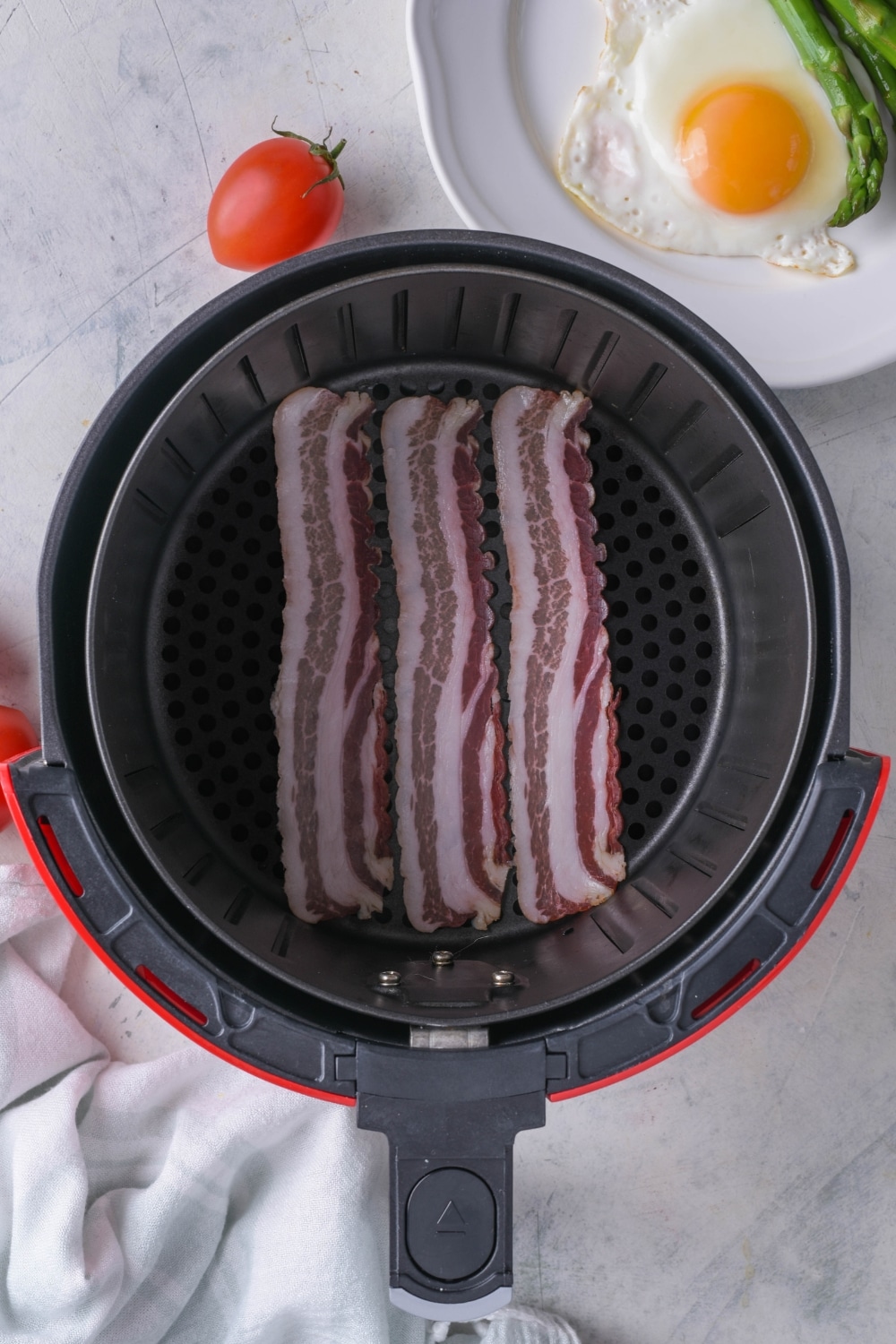 Step 1: Prep. First, you'll want to start by arranging your bacon slices in a single layer in the air fryer basket. If you can't fit everything in one layer, you can cook the bacon in batches or cut your bacon in half.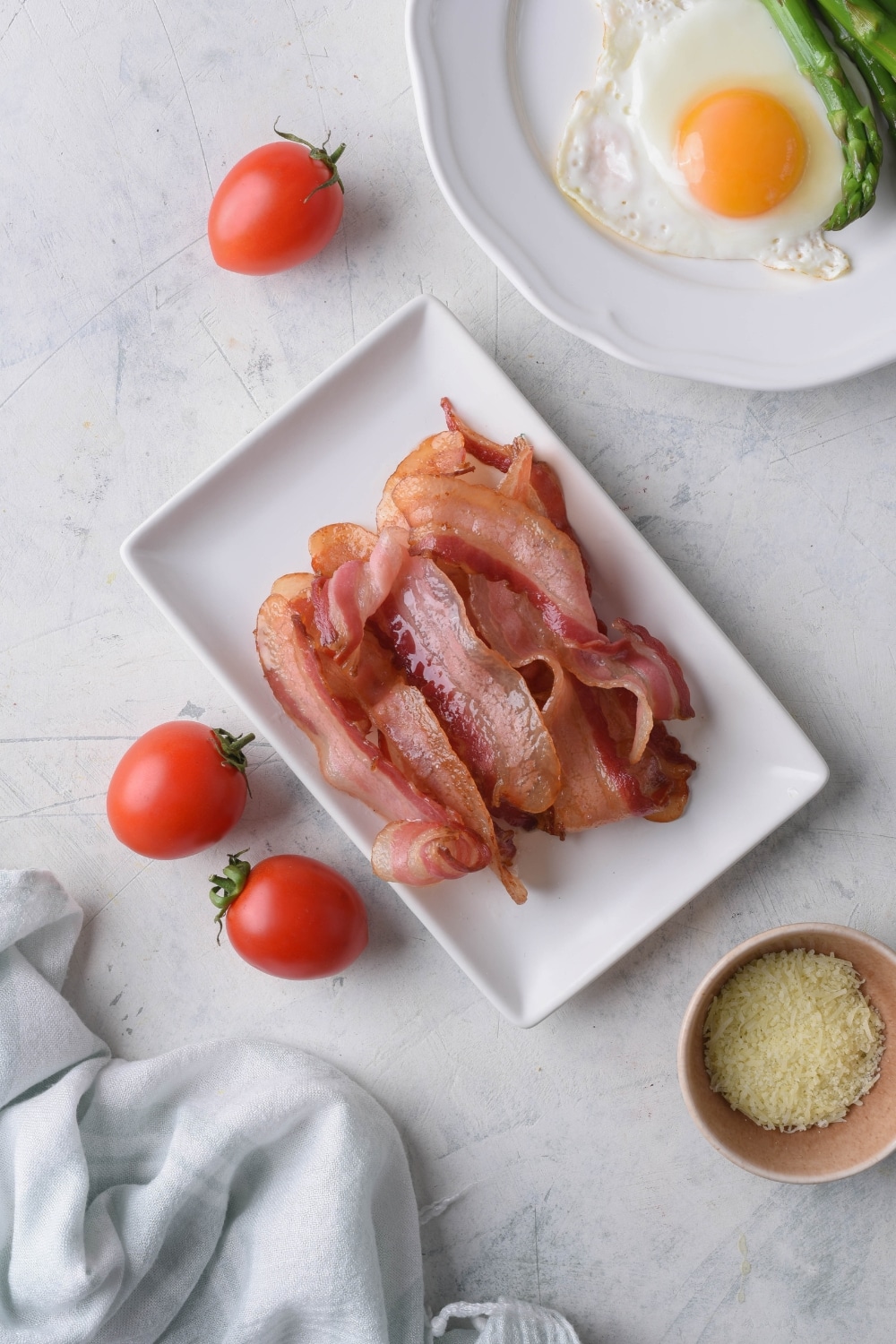 Step 2: Air fry. Turn the air fryer to 350°F (175°C) and cook for 7 minutes or until it reaches your desired crispiness. Flip the bacon halfway through cooking for evenly cooked bacon. If you're using thick sliced bacon, you'll want to air fry it for a little longer for about 10-12 minutes total. Oh, and if you're cooking your bacon in batches, you should pour out any excess bacon grease from the air fryer basket between batches to prevent it from smoking.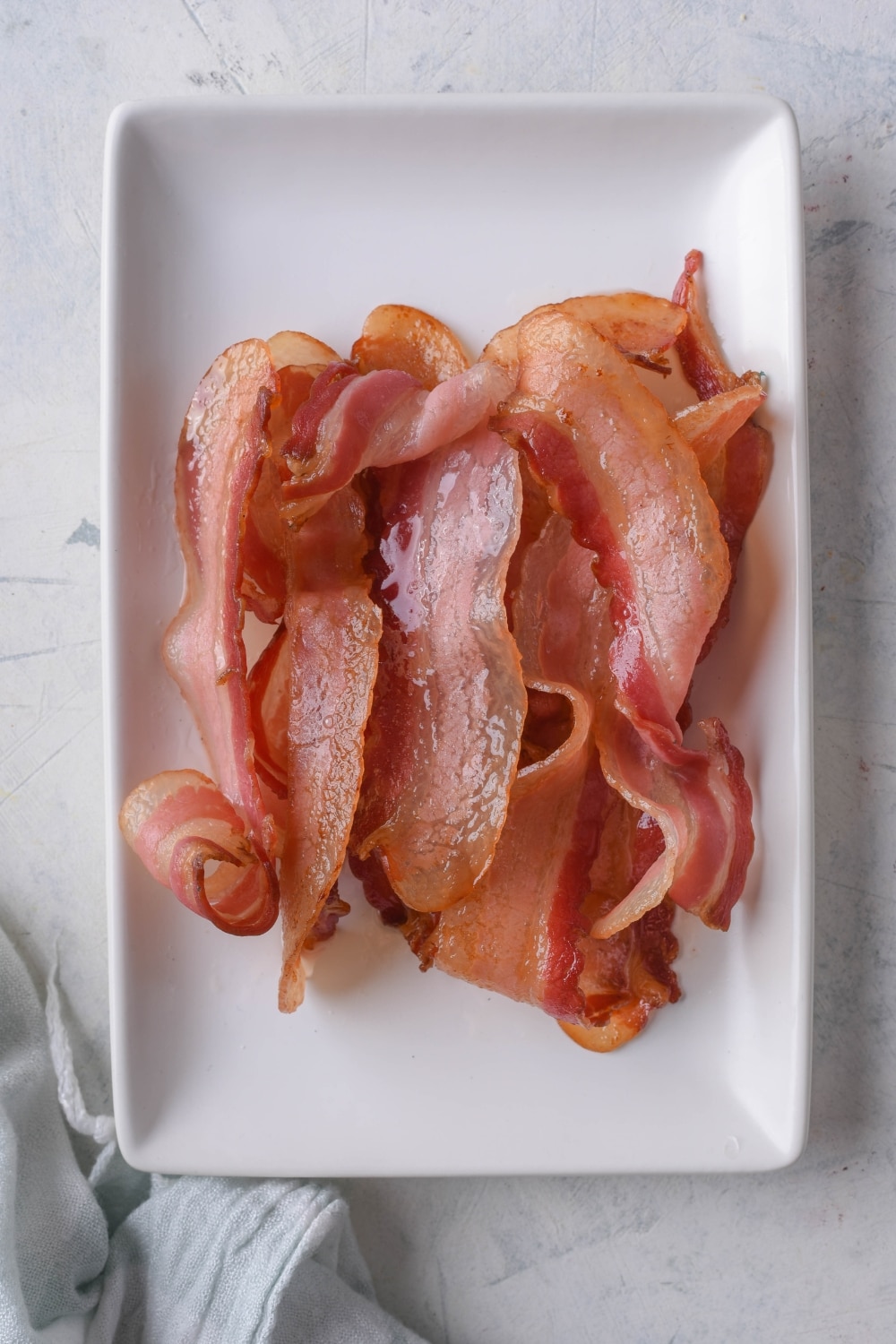 Step 3: Serve. As soon as your bacon is cooked to perfection and super crispy, you can transfer it to a paper towel-lined plate for a few minutes to soak up any extra grease. Serve hot with anything you want, and enjoy!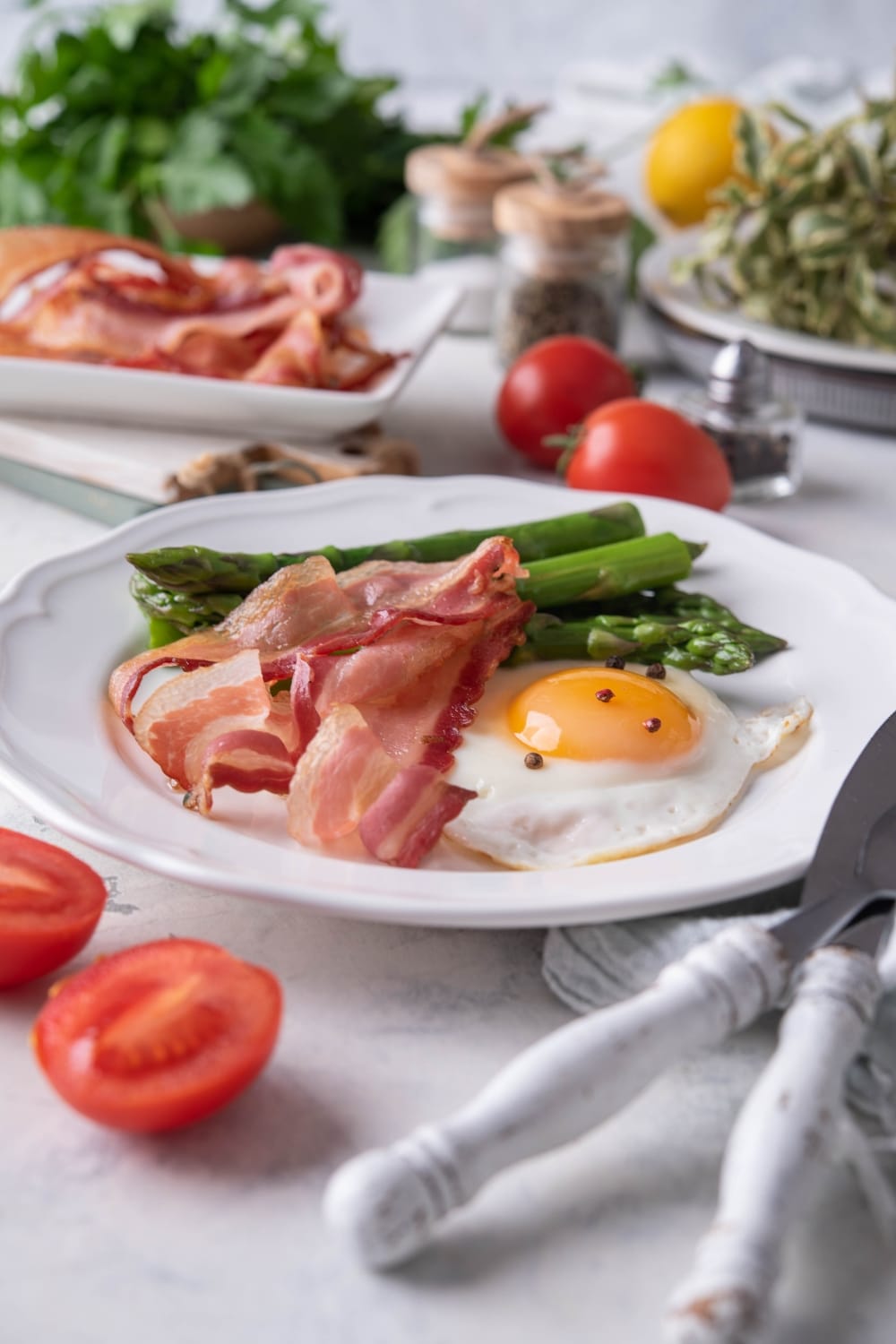 How To Store Cooked Bacon
This recipe air fryer bacon makes enough 8 slices, but you can really air fry as much bacon as you want.
And if you have any leftover bacon strips, just transfer the bacon to an airtight container lined with paper towels. Stored this way, your cooked bacon will last for up to 4-5 days in the fridge.
If you want to keep the bacon for longer, you can freeze the bacon in an airtight container for up to 4 months.
How To Reheat Air Fried Bacon
Whenever you're ready to enjoy the leftovers, I've found the best way to reheat it is to put the bacon back in the air fryer at 350°F for about 3 minutes or until it's warmed. And if you're starting from frozen bacon, just add a few more minutes to the reheating time.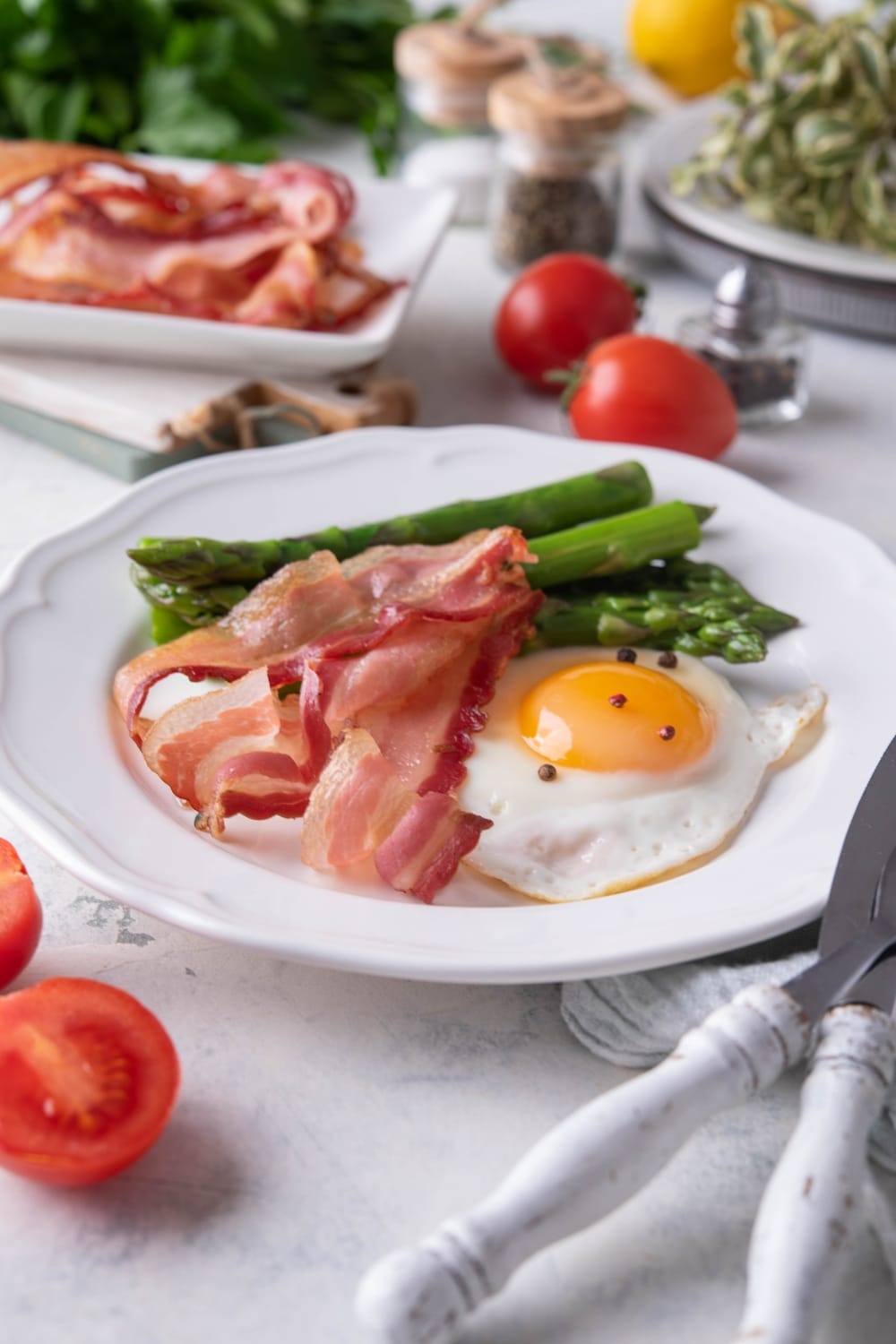 Frequently Asked Questions
Can you put raw bacon in an air fryer?
Yes! Air frying is a delicious and healthier way to cook bacon. In fact, you can even cook frozen raw bacon in the air fryer without defrosting it first. Just cook until you can pull the bacon strips apart, then arrange 'em in one layer and cook until crispy.
How long does it take to air fry bacon?
It will take about 7 minutes to get it nice and crispy. If you're cooking thick-cut bacon, it'll take about 10 minutes. Now, depending on how crispy you like your bacon, it may take a few more minutes to cook.
Is it better to air fry bacon or use the regular oven?
I think it is better to air fry bacon instead of using the oven because the air fryer will make it extra crispy. It will also cook the bacon much quicker than the oven will.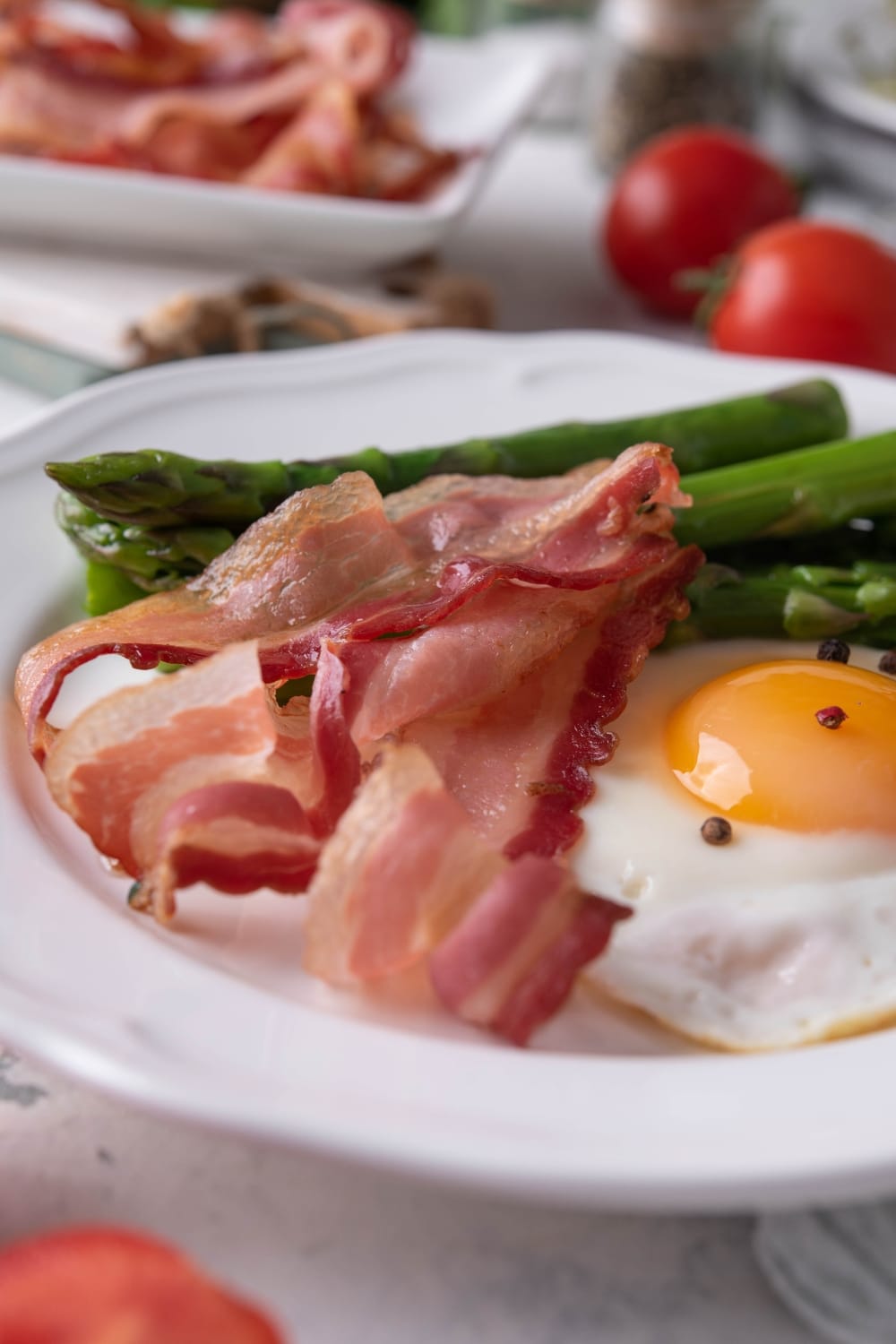 More Air Fryer Recipes To Try Next
Crispy Air Fryer Bacon Recipe
This air fryer bacon recipe is super quick and easy to make, with fantastic results every time. It's extra crispy and full of flavor, and you can make it in as fast as 8 minutes!
Instructions
Place the bacon in the air fryer in a single layer. If you cannot fit them all, do this in batches or just cut them up, so they fit nicely.

Air fry the bacon for 7 minutes at 350°F or until desired crispiness is reached, flipping half way through cooking. If you are using thick-cut bacon, air fry it for 10-12 minutes. If you are frying bacon in batches, make sure to discard any pan drippings before repeating the process.

Transfer the bacon to a paper towel-lined plate and allow it to drain a bit.

Serve or use as desired.
Nutrition Information:
Serving Size:

1 slice
Amount Per Serving:
Calories:

40
Total Fat:

3.5g
Saturated Fat:

1g
Trans Fat:

0g
Unsaturated Fat:

0g
Cholesterol:

11mg
Sodium:

194mg
Carbohydrates:

0g
Fiber:

0g
Sugar:

0g
Protein:

2.5g