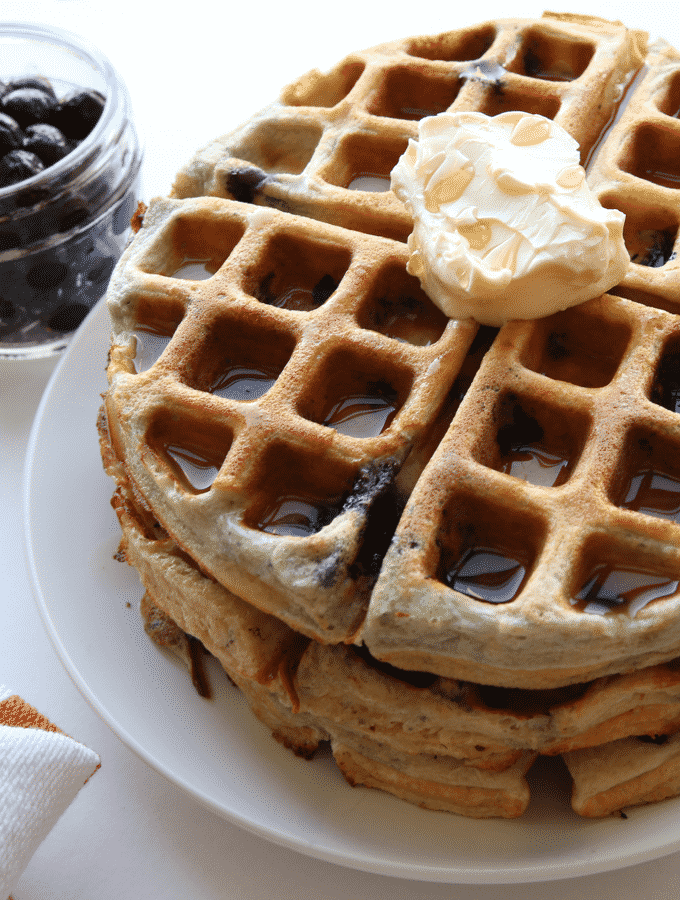 Low carb blueberry waffles don't get better than this! Seriously. I'm fairly certain this is the best low carb blueberry waffle recipe you're ever going to try!!
You guys already know that when I'm in "diet mode" one of my go-to meals is low calorie waffles. Before we go any further, if you missed my other waffle recipes you can check them out here - Chocolate & Banana Protein Waffles | Pumpkin Spice Protein Waffles. Ok, so now we can talk about these Blueberry Protein Waffles. The first thing you guys should know is that Alyssa has been all about these waffles lately. And she's tough to please - atleast when it comes to protein powder recipes. The last two Saturdays, before I even get a kiss in the morning, she's begging me to make her a batch. So I do what any good husband (we'll be married in 2 months so close enough right?) would do, and I make her these blueberry waffles.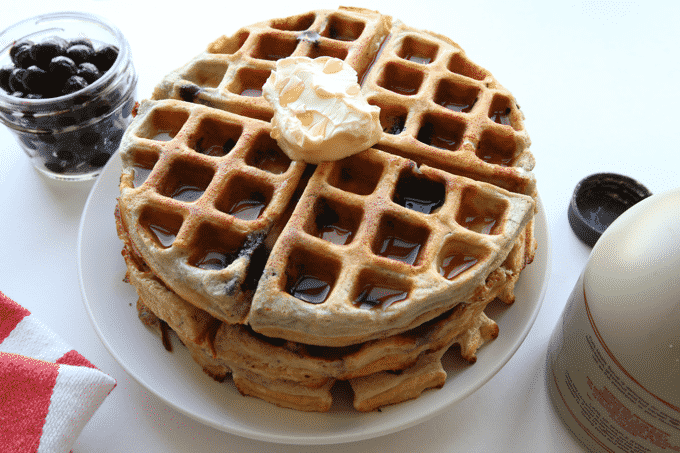 Now, I'm sure it's not much of a surprise to you guys, but I dig these just as much as she does. What's not to love about them?! They're quick and easy - only 5 ingredients, they're packed with protein, and they're just freaking delicious. Plus, I can easily fit 3 of them - which is how much the recipe will make - into my macros no prob-lemo. So if you're looking for a new protein waffle recipe, one that isn't dry (because I've had plenty that are), and actually tastes like "waffles", give this one a try!
Print
Healthy Protein Blueberry Waffle Recipe
Protein Blueberry Waffles
Author:
Prep Time:

5 mins

Cook Time:

10 mins

Total Time:

15 mins

Yield:

3 Waffles

Category:

Breakfast

Cuisine:

American
1

Egg

2

Egg whites

½ Cup

(

40g

) Oats

2

Scoops (60g) ISOPURE Vanilla WPI

¼ Cup

(

60g

) non-fat Greek yogurt

¼ Cup

(

60g

) unsweetened applesauce
Instructions
In a blender add all the ingredients
Blend until smooth
Add batter to waffle iron
Top with ¼ Cup (35g) blueberries
Repeat twice more
Nutrition
Serving Size:

1 Waffle

Calories:

192

Fat:

3

Carbohydrates:

16

Fiber:

3

Protein:

25
---
Do you need help losing weight, but don't know where to begin?
My e-book Macros Made Easy can help!
The book is a detailed weight loss guide that shows you step-by-step how to build a weight loss plan specifically for you.
One of the most frustrating things about dieting is hitting weight loss plateaus. That's why Macros Made Easy also comes along with a spreadsheet to hold you accountable, and track your progress. The spreadsheet will also alert you when you need to make adjustments to your diet so you can continue losing weight, and avoid those annoying plateaus.
I started tracking my macronutrients (protein, carbohydrate, and fat intake) over 6 years ago - and I've lost over 70lbs because of it! Not only have I lost the weight, I've kept it off too. Plus, I didn't eliminate any foods from my diet to do it- and neither will you!
If you're ready to start your weight loss journey today, you can pick-up a downloadable copy of Macros Made Easy here!