Want to keep coleslaw as your classic BBQ side dish even while on the keto diet? Now you can! This easy keto coleslaw recipe is just as tasty as the regular thing, plus it's super quick to throw together.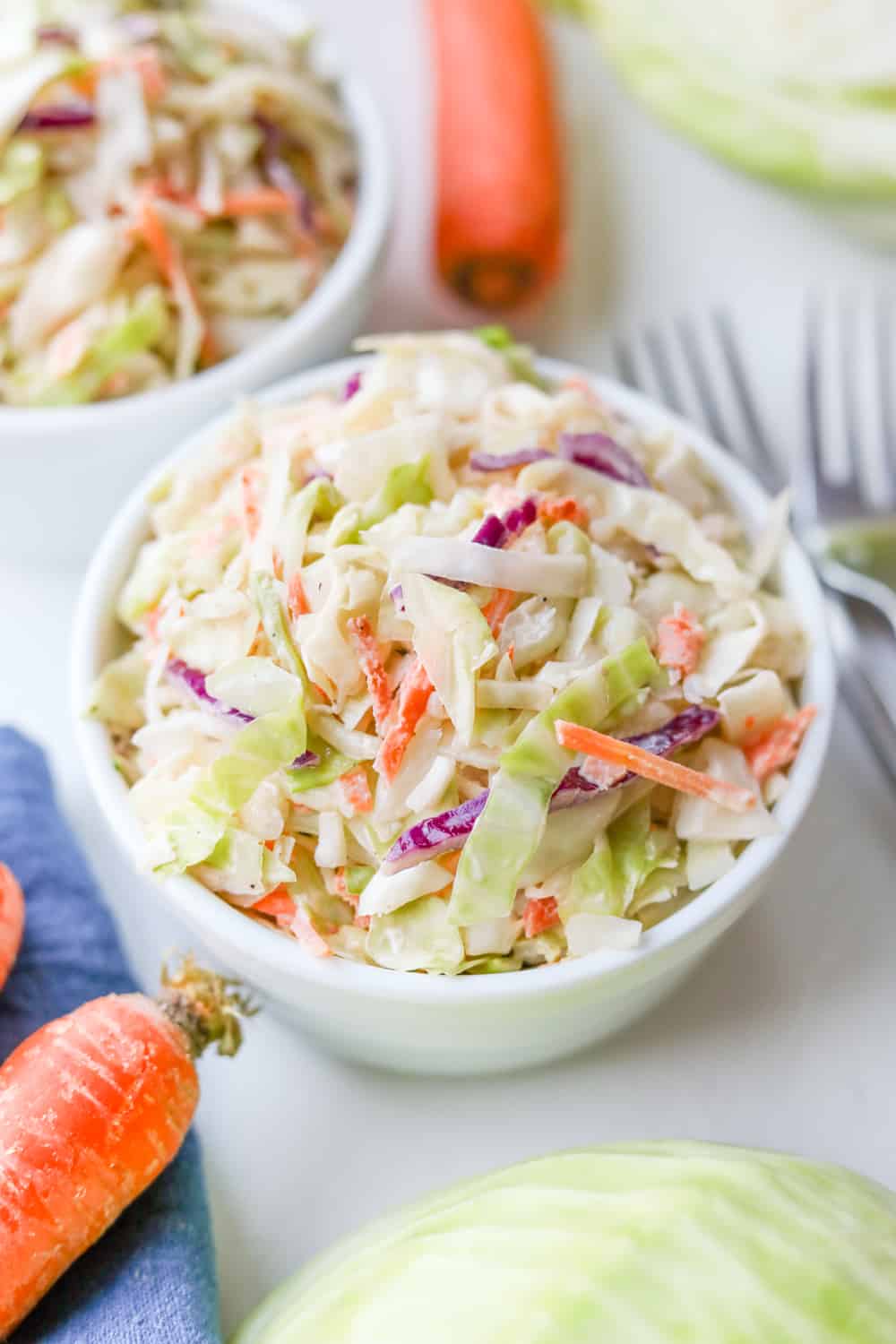 The Best Keto Coleslaw You'll Ever Taste
You arguably can't enjoy a barbecue or a luncheon with friends if you don't have great coleslaw.
It's a staple side dish for chicken, burger patties, and more.
But like so many other tasty dishes, the keto diet places a bunch of restrictions on whether you can enjoy this favored food.
However, with this easy keto coleslaw recipe, you'll be able to have the BBQ you've always wanted without giving up your keto diet. And that's especially true if you're making some delicious meat with my famous keto friendly bbq sauce recipe.
Let's dive into the ingredients for this low carb keto coleslaw recipe!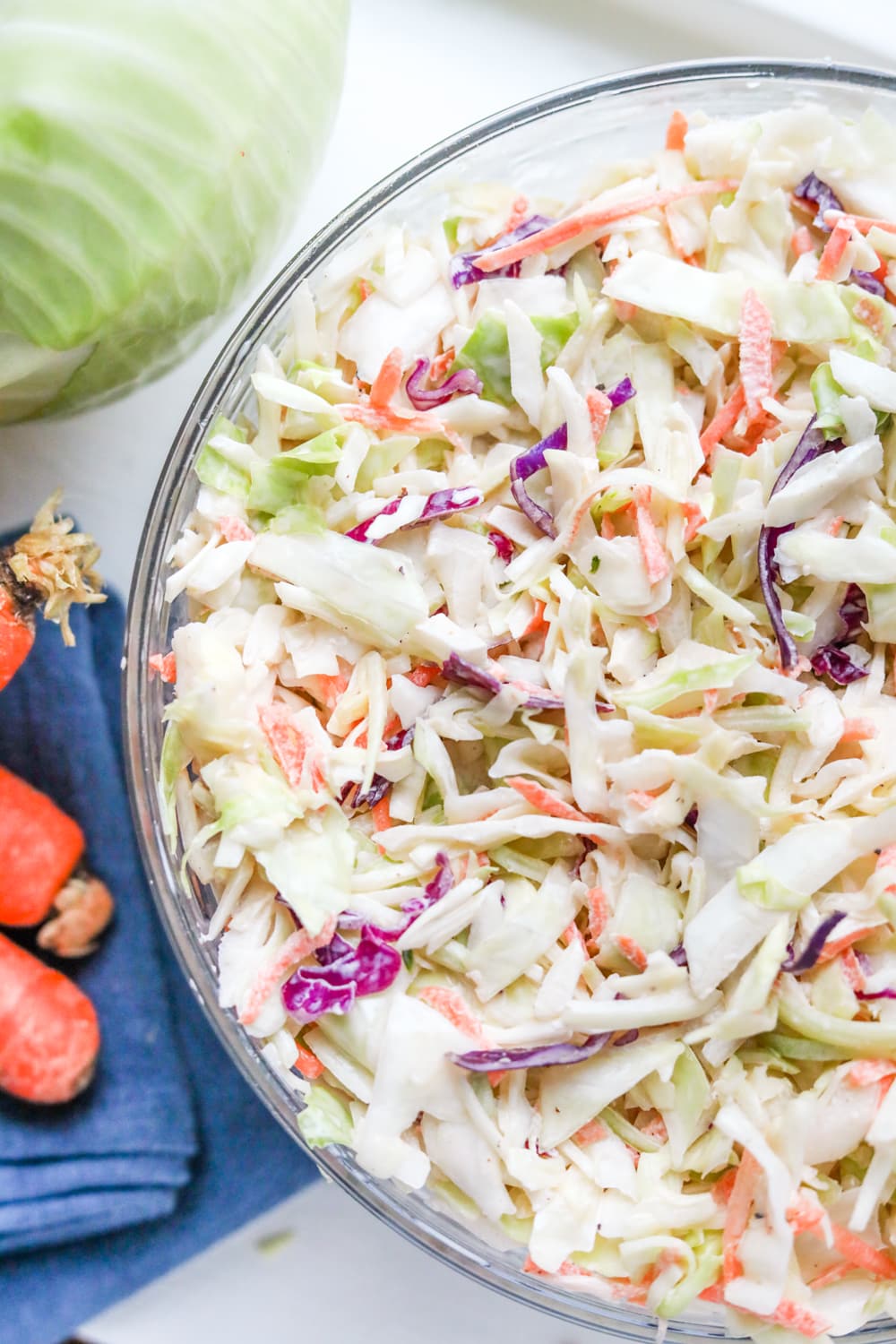 Ingredients
The ingredients you'll need to make this low carb keto coleslaw are super simple. And a lot of them are the same ingredients you'd find in regular coleslaw!
Check out what you'll need:
1 Small head (400g) green cabbage
1 Medium sized carrot (50g)
*Optional: 1 Cup (85g) broccoli slaw
And for the coleslaw dressing:
Heaping ⅓ cup (90g) Mayonnaise
1 Tbsp (15g) Unsweetened almond milk
1 Tbsp (15g) Rice vinegar
1 Tbsp (10g) Confectioners Swerve
¼ Tsp Celery salt
Crushed black pepper to taste
So simple, right?
And you can use many of these ingredients to make these cabbage rolls, so you'll definitely want to check out that recipe next!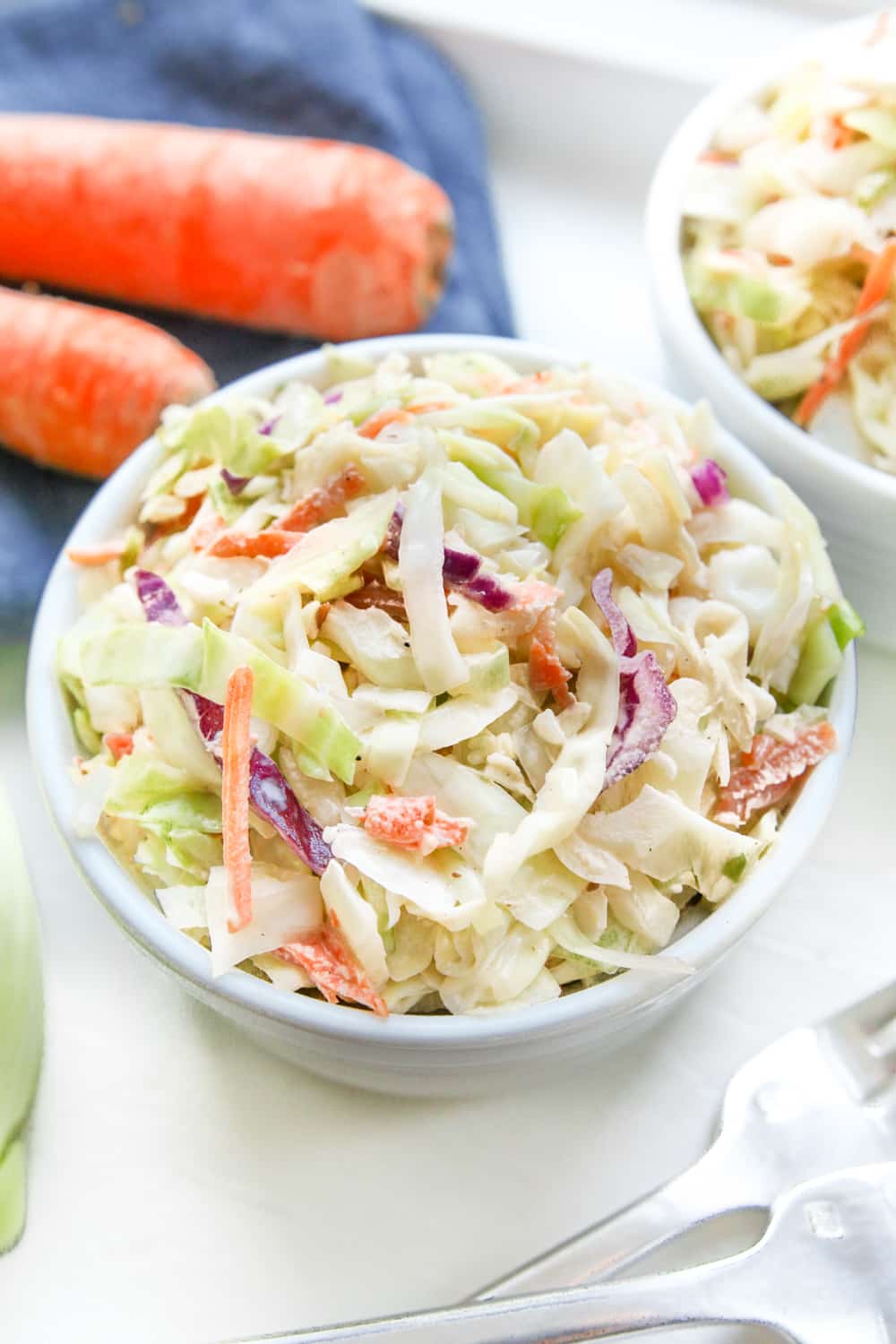 Consider Adding Broccoli
You can also use a broccoli slaw like this one to increase the volume of your keto coleslaw, or in lieu of traditional cabbage entirely.
In a nutshell, broccoli slaw uses shredded raw broccoli stalks, carrots, and red cabbage.
Usually, you'll find these broccoli slaw packages in the "prepared foods" section of your grocery store.
That said, just double-check and make sure the carb count is the about the same as it would be if you used "standard" ingredients. You want to look for one in the 2-3 net carb range.
It's also a good idea to pick up a broccoli slaw that doesn't double down on ingredients you'll already be adding unless you want to forgo the ingredients yourself. For instance, you could ignore the carrot preparation mentioned above if a broccoli slaw you'll add already has sliced carrots for the mix.
At the end of the day, it's up to you if you want to use these prepared broccoli slaw packages.
They do change the flavor of your keto coleslaw slightly. But I think in a good way.
And, if you don't like the taste of cabbage, broccoli slaw can be a great way to avoid using it, while still making coleslaw!
Having said that, some folks - like me - even like to add the broccoli slaw and keep cabbage for a new tasting experience.
Again, it's totally up to you!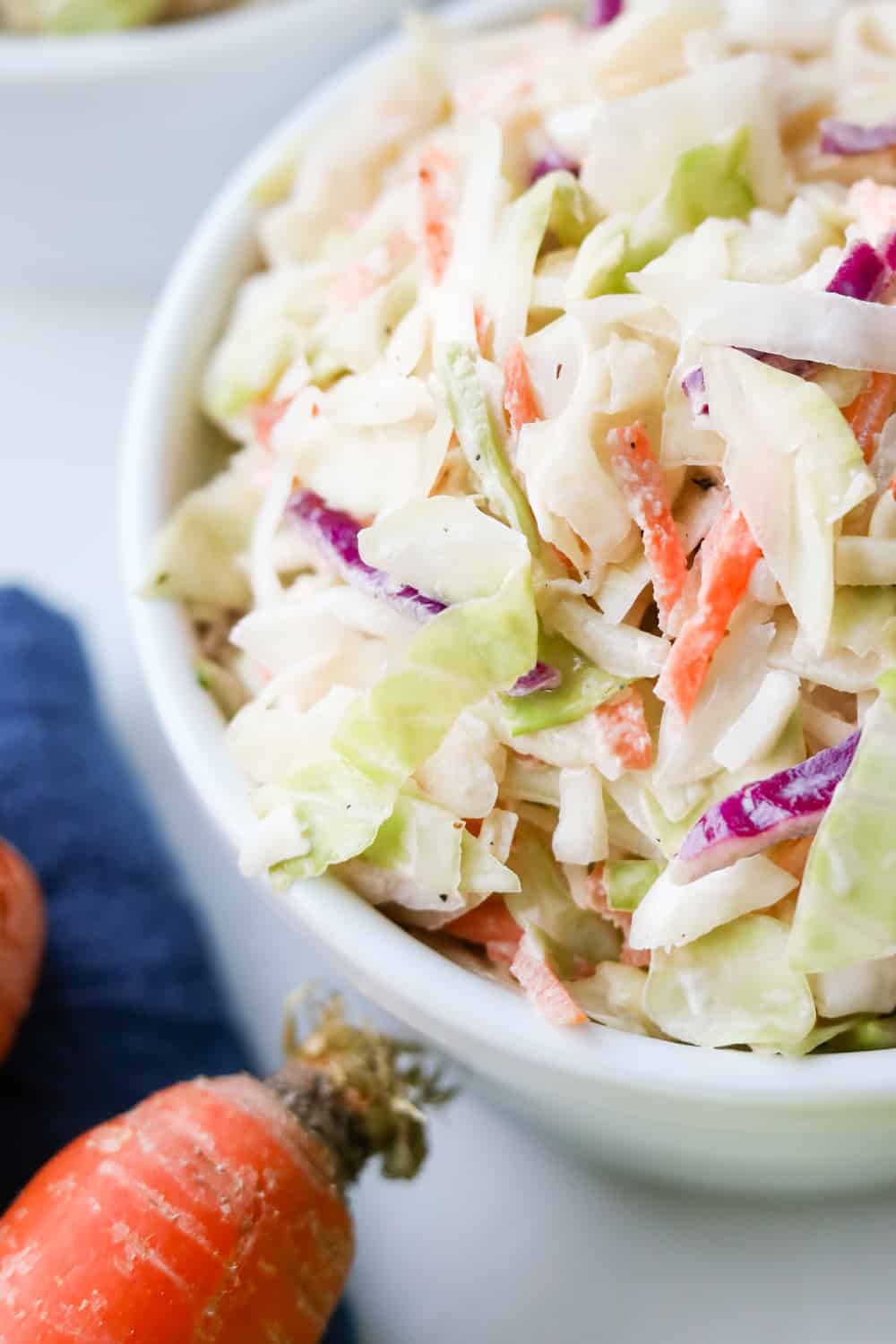 How To Make Keto Coleslaw
The process of making this coleslaw keto friendly is a super simple one.
So in just a few steps, you'll have one of the best tasting coleslaw to use for anything you want!
Now let's get into the recipe.
Helpful Tips
Before we get started, here are a few helpful tips to make this recipe go even smoother.
When its time to shred the coleslaw ingredients, you can also use a food processor to help you shred them.
This is obviously a lot faster than shredding all the ingredients together by hand, even if you have a great pair of utensils just for the occasion.
Using a food processor is also a great idea if you need to make a huge amount of this coleslaw for a big party or backyard celebration.
You'll be able to prepare several servings in 15 to 20 minutes if you use the food processor, and you can even dress it in there if you'd like too.
Just like with regular coleslaw, you need to store this keto coleslaw within two hours of preparing if you don't want to develop a strange odor or flavor.
It can only really be left at room temperature (defined as between 68°F to 72°F) for 90 minutes before you're in the danger zone.
On the flip side, properly store coleslaw will last for between 3 to 5 days when refrigerated.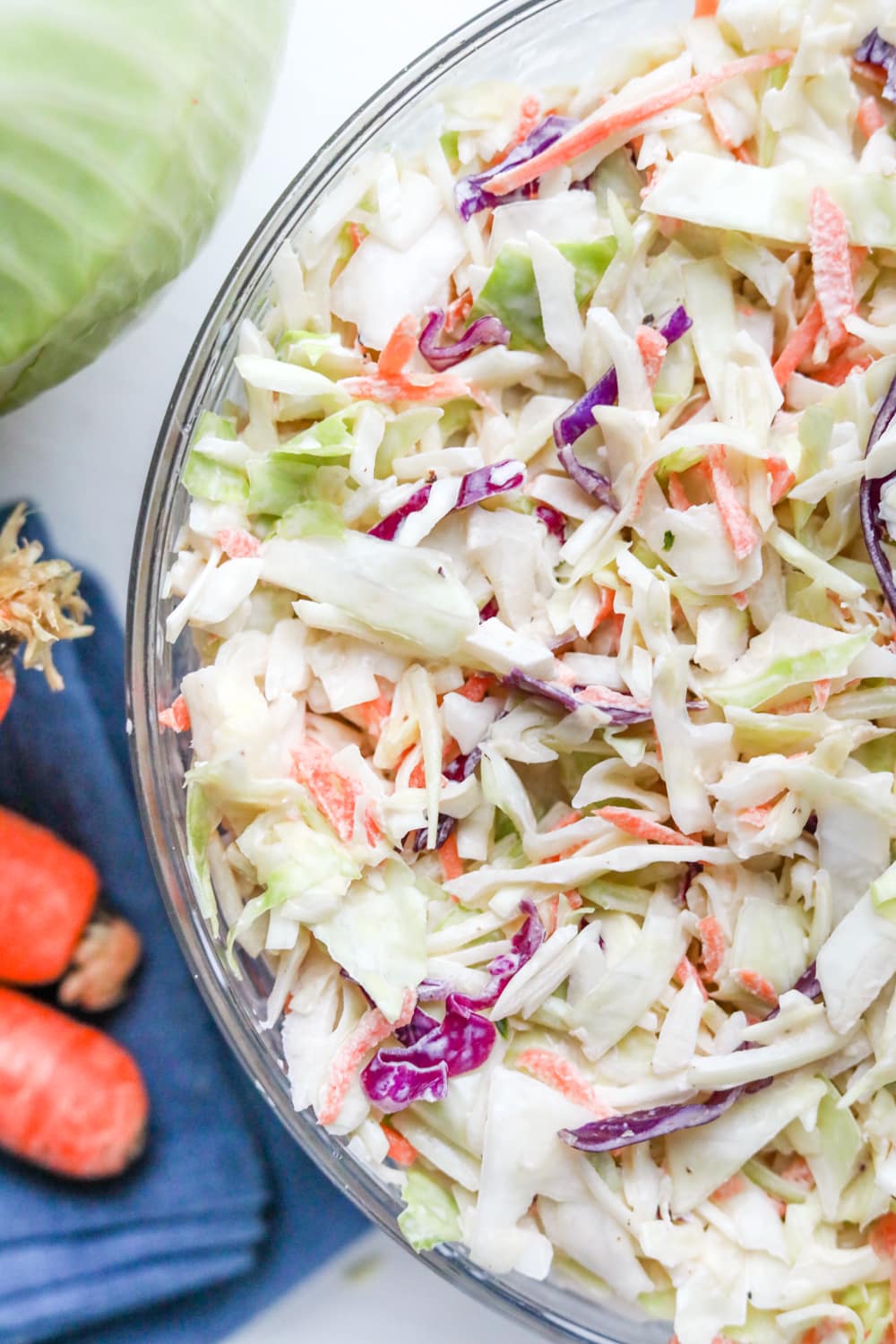 Step 1: Prep Work
First off, use a hand peeler to peel any skin off of the regular-sized carrot you'll use for this recipe.
Alternatively, if you pick up a handful of baby carrots, you may not need to peel the skin off and can just wash them under the faucet.
Either way, cut the ends off of your carrot(s).
Use a grater as you would with cheese to grate the carrots into narrow slices.
Pro tip: the larger teardrop-shaped end of your grater is best for this purpose. After the carrots are prepped, transfer the shredded carrot slices or strips to a large bowl and place them aside.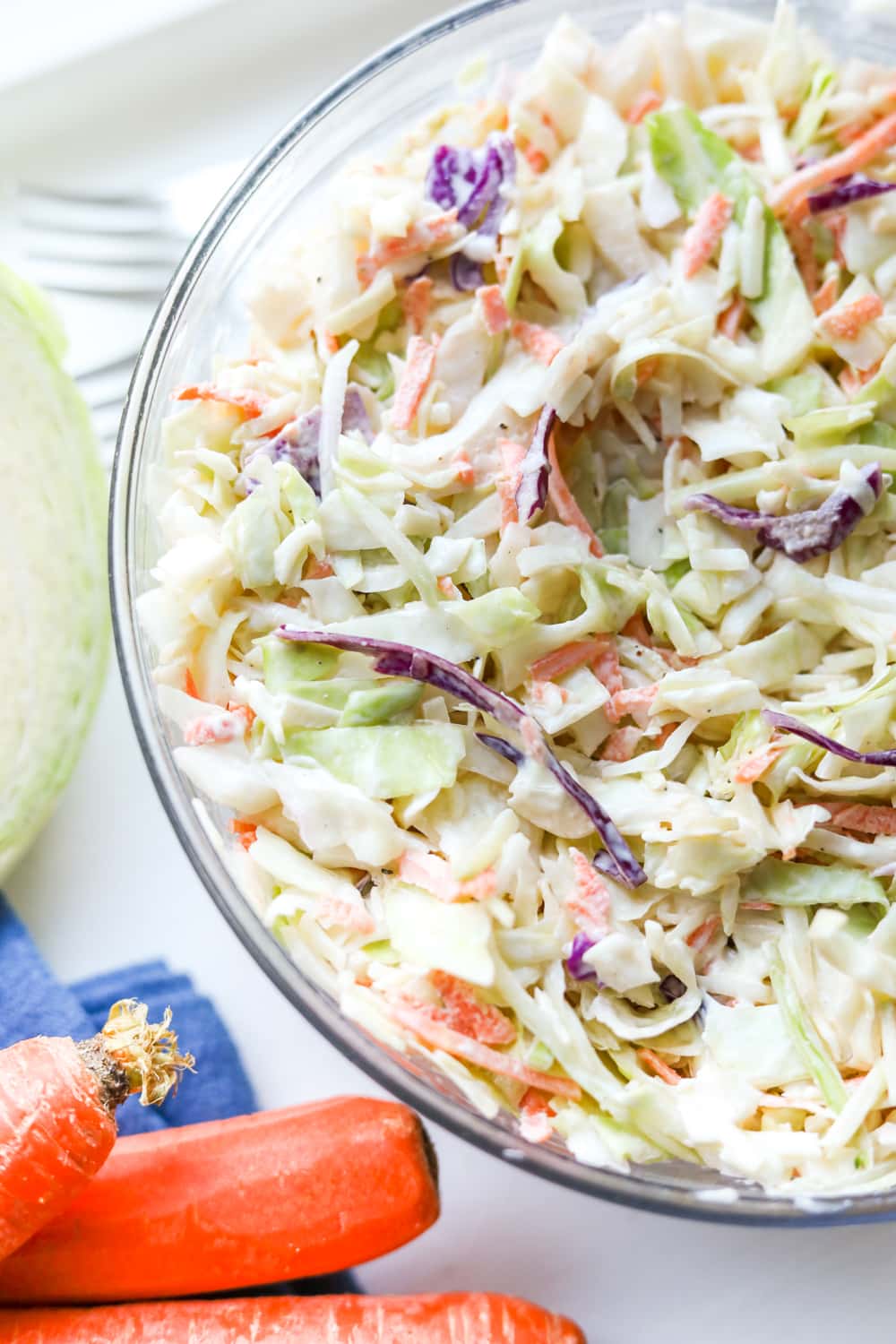 Step 2: Shredding The Cabbage
Now it's cabbage time.
Cut the stem of your cabbage off, then cut the cabbage in half.
Check the interior of the cabbage and remove any of the inner stem that remains, as it'll mess with the flavor and texture.
Slice the remaining cabbage multiple times lengthwise so you end up with plenty of long strips just like you have with your carrots.
Also, you can also slice the cabbage a few times width-wise to make some smaller pieces too.
Now, after thoroughly shredding the cabbage, place it in the bowl with the carrot strips.
Step 3: Making The Dressing
A good low-carb coleslaw for keto still needs a tasty dressing.
Add the dressing ingredients, including mayonnaise, vinegar, Swerve, celery salt, almond milk, and crushed black pepper into the same main bowl. Don't worry about throwing in one ingredient time as you're about to mix everything together anyway.
When it comes to the vinegar, be careful not to add too much at once.
I recommend 1 tablespoon, but feel free to go even lower if you don't like a tangy coleslaw as I do.
You can always add more to your coleslaw dressing later on if it's not tangy enough for you when you're finished making it.
Anyways, now you can take a few salad tossing utensils or spoons and toss the salad until the dressing is spread out evenly throughout the mixture.
Good coleslaw should look creamy and uniform in texture, so it might take a few minutes to get things just right.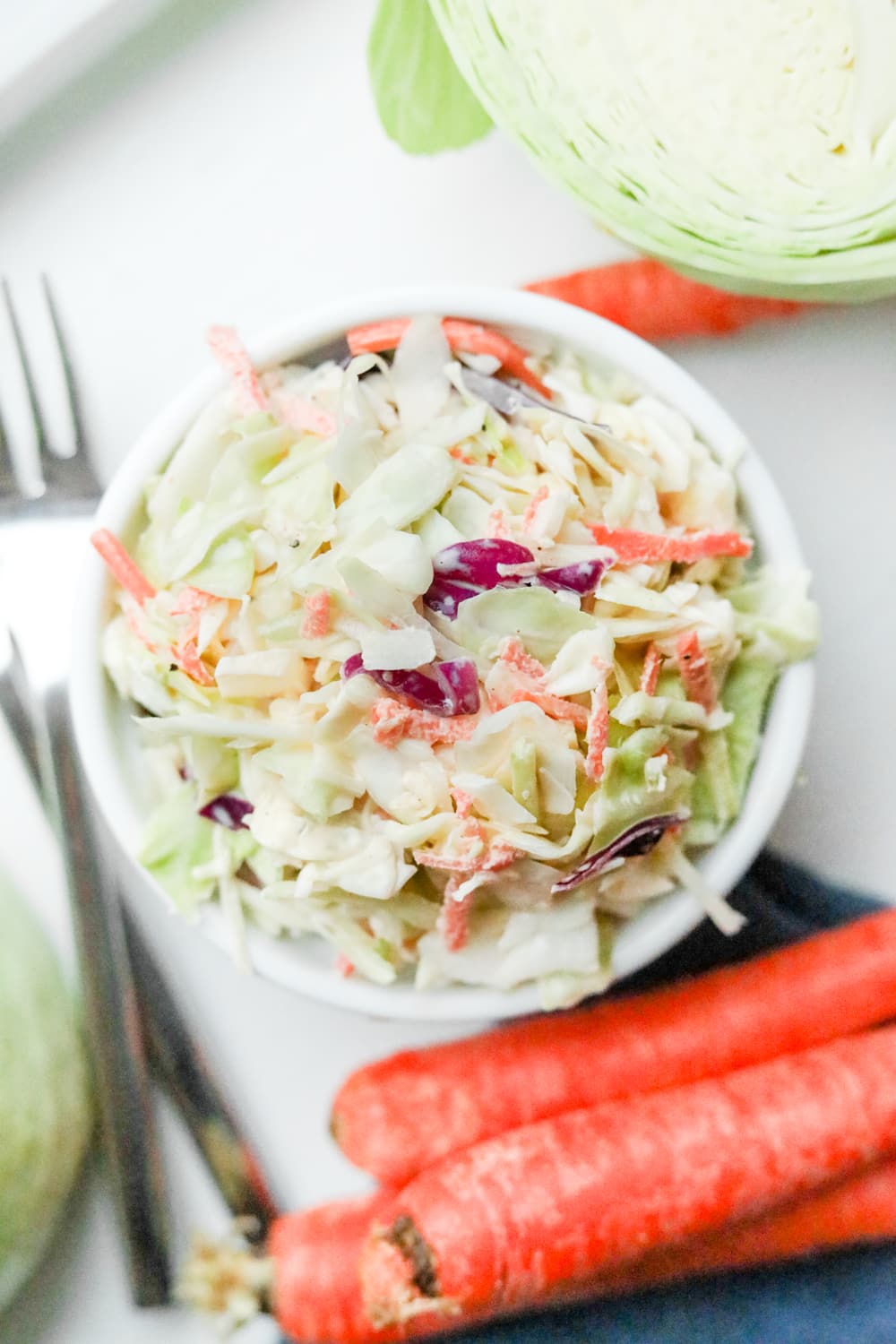 How To Store Keto Coleslaw
Like with any coleslaw, you'll need to keep this keto coleslaw stored in a cold environment if you want it to last.
We'd recommend placing it in an airtight Tupperware or glass container in your refrigerator, where it'll last for three-four days before starting to turn.
This should be enough time to consume any regular portion of this recipe, and the prep time isn't too bad so you can always make more when you run out.
This keto coleslaw is better than the normal thing over the long term because it doesn't have any sugar, either.
This keeps its flavor really consistent over the days after you prep it.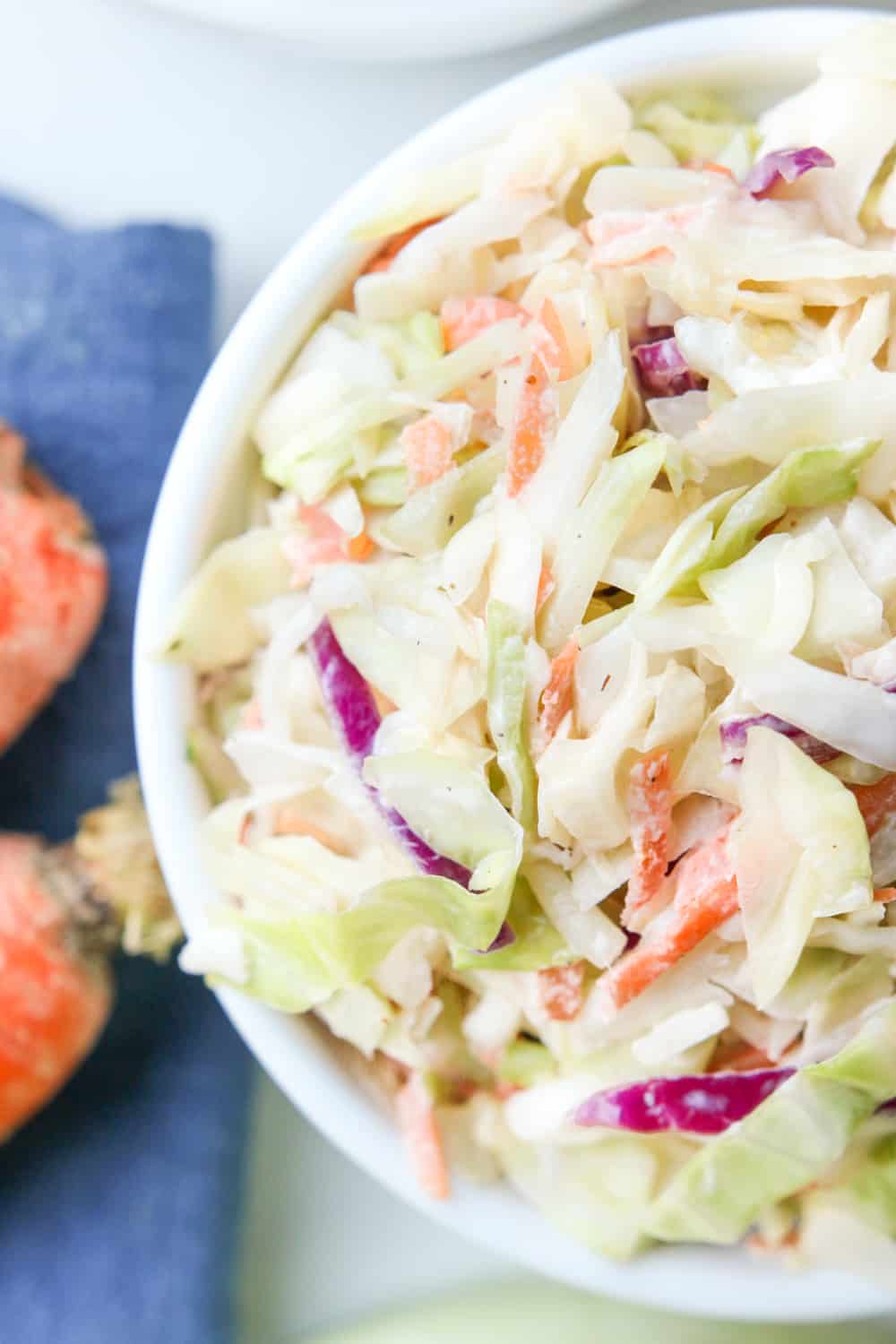 Wrapping It All Up
That is how to make the easiest and most delicious sugar free coleslaw!
It's so fresh, flavorful, and really tastes just like traditional coleslaw.
If you made it, leave a comment below and let me know your thoughts, I'd love to hear!
Print
Keto Coleslaw | Best, Easy, Low Carb Coleslaw Recipe
This is THE BEST easy low carb keto coleslaw recipe. It's the perfect side dish to any dinner, not just BBQ! Also, the coleslaw dressing I use to make this keto coleslaw recipe with is completely sugar free, but you'd never know! Mostly because it's perfectly tangy, yet sweet at the same time. And, every serving has LESS THAN 1 NET CARB!
Author:
Prep Time:

10 Minutes

Cook Time:

0 Minutes

Total Time:

10 minutes

Yield:

8 Cups

Category:

Side Dish

Method:

One Bowl

Cuisine:

Keto
Instructions
Use a hand peeler to peel the skin off of the carrot.

Once peeled, cut the end off of the carrot, and use a hand grater to grate it. The large "teardrop" shaped end of the grater is the one you'd like to use.

When that's grated, transfer the shredded carrot to a large bowl, and set aside.

Now cut the stem off of the cabbage, and cut it in half.

At this point, remove any of the inner-stem, and slice it multiple times lengthwise, as well as a few times widthwise as well.

Once all of the cabbage is thoroughly shredded, transfer it to the bowl with the carrots.

Add the broccoli slaw if you're using it.

Now, add all of the dressing ingredients - the mayo, almond milk, vinegar, Swerve, celery salt, and crushed black pepper.

Toss the salad until the dressing is well incorporated into the slaw, and everything looks creamy.

Store in an air-tight container for up to several days.
Nutrition
Serving Size:

1 Cup

Calories:

95

Fat:

9

Carbohydrates:

2.75

Fiber:

2

Protein:

.5
Keywords: Keto coleslaw, coleslaw keto, keto coleslaw recipe, easy keto coleslaw, best keto coleslaw, keto coleslaw dressing, coleslaw dressing keto, low carb coleslaw, coleslaw dressing keto, how to make keto coleslaw