This keto BBQ sauce recipe is sweet, tangy, and bold with no added sugars. It will instantly upgrade the flavor of whatever you put it on - especially chicken, ribs, and pulled pork. And best of all each serving has less than 1 carbs!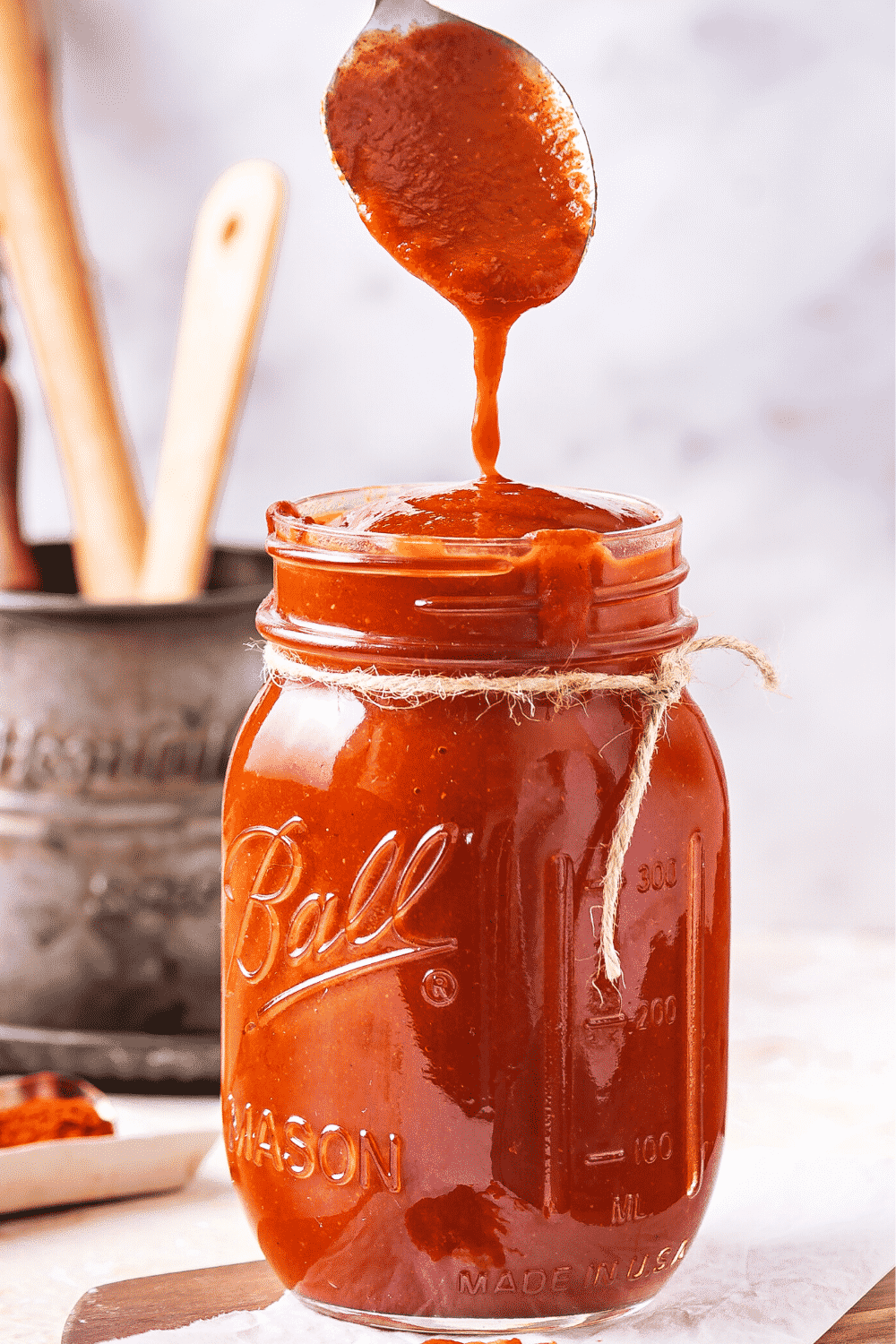 THE BEST KETO BBQ SAUCE
This keto barbecue sauce is going to be the hit at your next BBQ. Atleast it will be with anyone who's watching their carb count.
Now, there's no denying that some pretty tasty keto-friendly BBQ sauces exist out there - like this one by G Hughes, and this one by Sweet Baby Ray's - but none of them are as low carb as this homemade sauce.
Also, for what it's worth, none of them are as cheap ounce for ounce as this sauce is to make.
And what's great about this sauce is that you can tailor it to your preferences, and make it taste how you want it.
So, if you want a keto bbq sauce that's a bit more smoky and bold you can add a little liquid smoke. Or, if you want to make a spicier BBQ sauce all you have to do is add a bit more hot sauce.
The base recipe though literally has everything you could want in a BBQ sauce - it's bold, sweet, smoky, tangy, and savory with a touch of heat that brings all the flavors together. So, you might want to just keep it as is, since it's pretty darn good that way already!
Oh, and by the way this is about as quick and easy as a BBQ sauce recipe gets! The recipe literally takes minutes to make, and has just a few simple ingredients!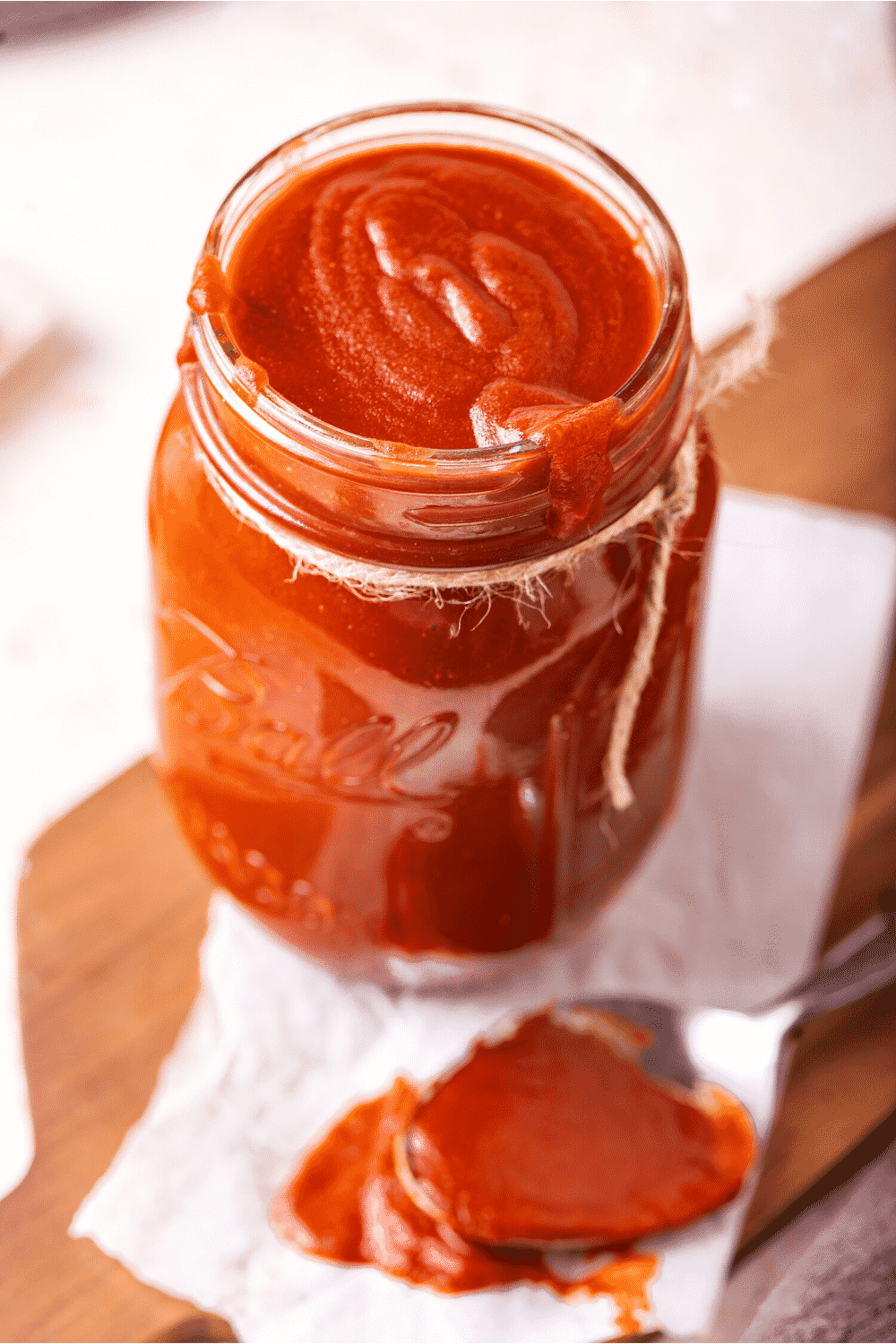 INGREDIENTS
So as I just mentioned, you'll only need a few common low carb ingredients to make this keto BBQ sauce recipe.
Ingredients like:
5oz apple cider vinegar
½ Cup Brown Swerve
Just under ¾ Cups sugar-free ketchup
2 Tbsps liquid aminos
1 tablespoon smoked paprika
Pinch of garlic salt, onion powder, and paprika
Splash of hot sauce
Pretty standard stuff, right?!
Now, having said that, I highly suggest using all of these ingredients to make this BBQ sauce - the combination of everything creates the perfect blend of flavors.
And they give it that slightly thick consistency that makes it even more legit.
So, don't skip out on any of these ingredients, but feel free to add to them.
Now, before we make this BBQ sauce, let's go over two of the main ingredients that keep this recipe sugar-free.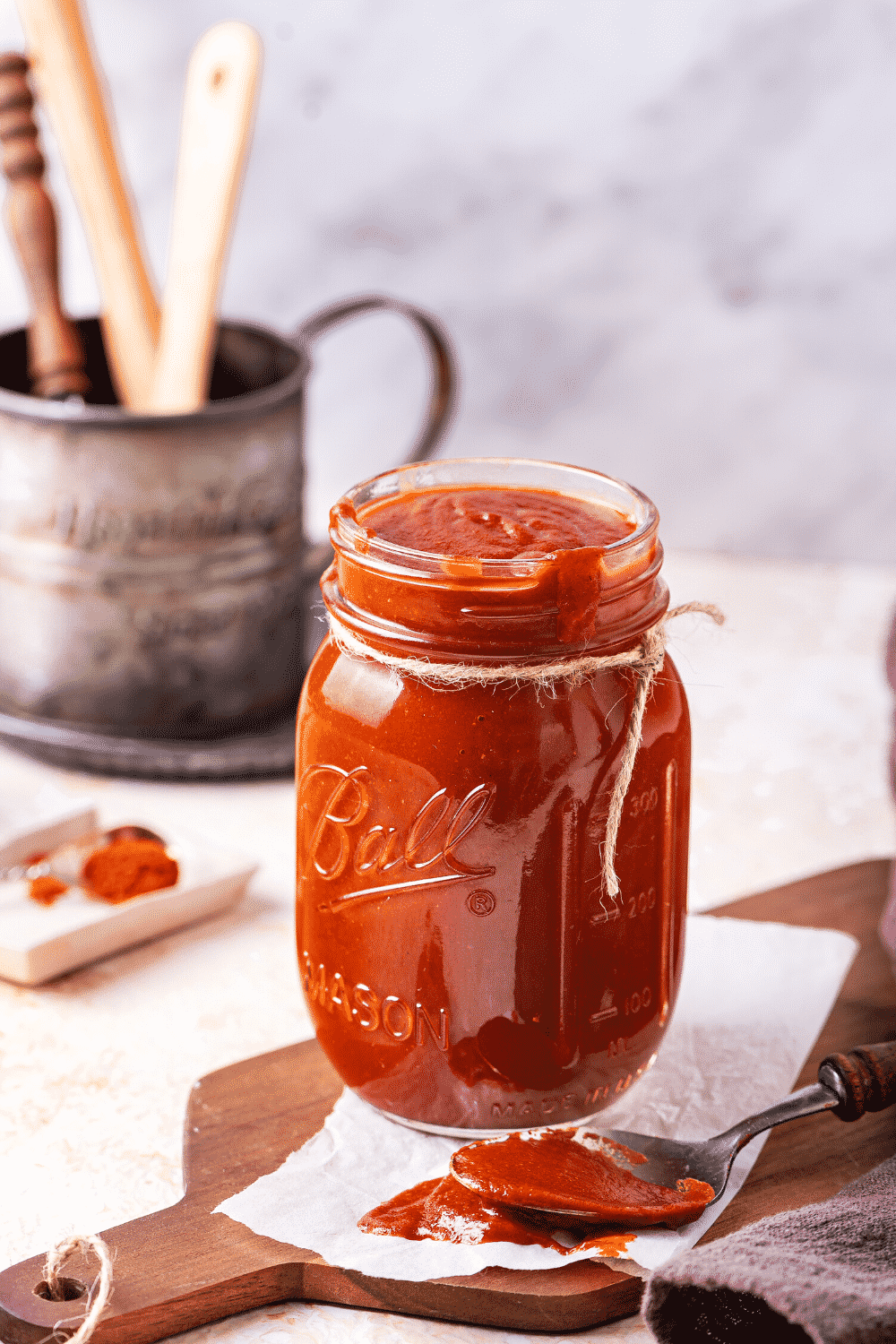 Ketchup To Use
So, to keep this keto friendly BBQ sauce low carb and sugar free, we will be using sugar-free ketchup and Brown Swerve.
You can pretty much use any sugar-free ketchup for this recipe - like this one by Heinz, or this one by G Hughes - and the flavor will turn out on-point.
The one thing you want to make sure of though is that the ketchup is sweetened without using sugar. For instance, Primal Kitchens ketchup has no sweetener in it, so if you use it, this sauce won't turn out sweet enough.
Sweetener To Use
Now, what I think puts this BBQ sauce recipe above the rest is the addition of the brown sugar substitute.
Brown Swerve is a brown sugar sweetener replacement with 0 carbs, no sugar, and it is just as sweet as brown sugar. It also adds the perfect hint of flavor/sweetness that keeps the BBQ sauce from having an overpowering smoky or tangy flavor.
With that said, if you can't find Brown Swerve, Lakanto has a Golden Monk Fruit that will work just as well to make this sugar free barbecue sauce.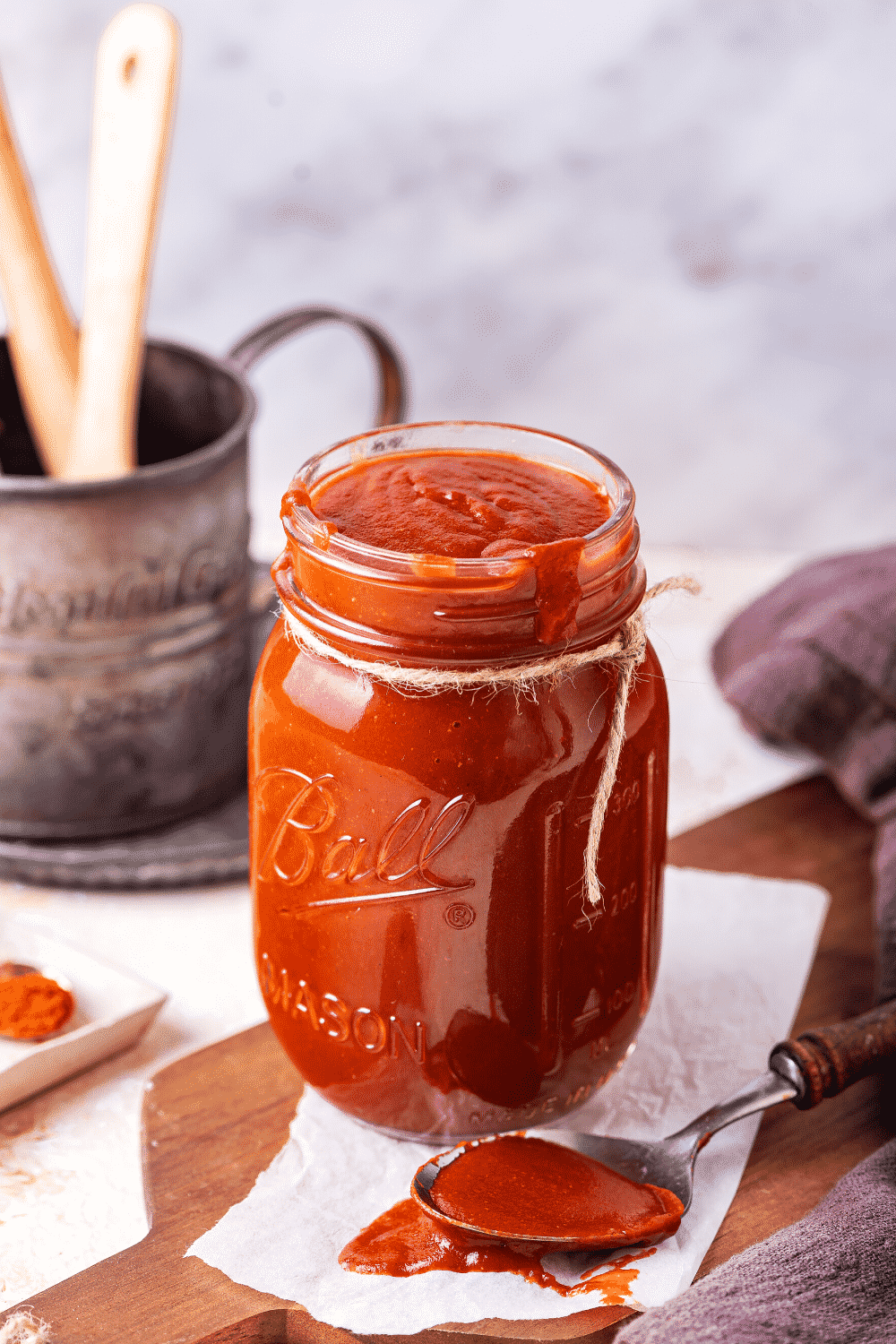 HOW TO MAKE KETO BBQ SAUCE
This recipe is beyond easy to make and just takes a few minutes. So anytime you feel like your meal is lacking something, you can whip up a little of this homemade bbq sauce in no time.
It seriously is a total meal saver and will become your new favorite condiment.
Now let's make sugar free bbq sauce!
COOKING IT ALL IN ONE POT
First, take out a small pot, add all of your ingredients to it, and give them a little whisk to combine.
Then place your pot on the stove over medium heat and bring the ingredients to a boil. Once the ingredients are boiling, reduce the heat to a simmer.
Leave your BBQ sauce simmering until it thickens up. And if you prefer a thinner sauce, just add in ½ tablespoon of water at a time after it thickens until it reaches your ideal consistency.
To finish up, let your BBQ sauce cool completely, then serve and enjoy!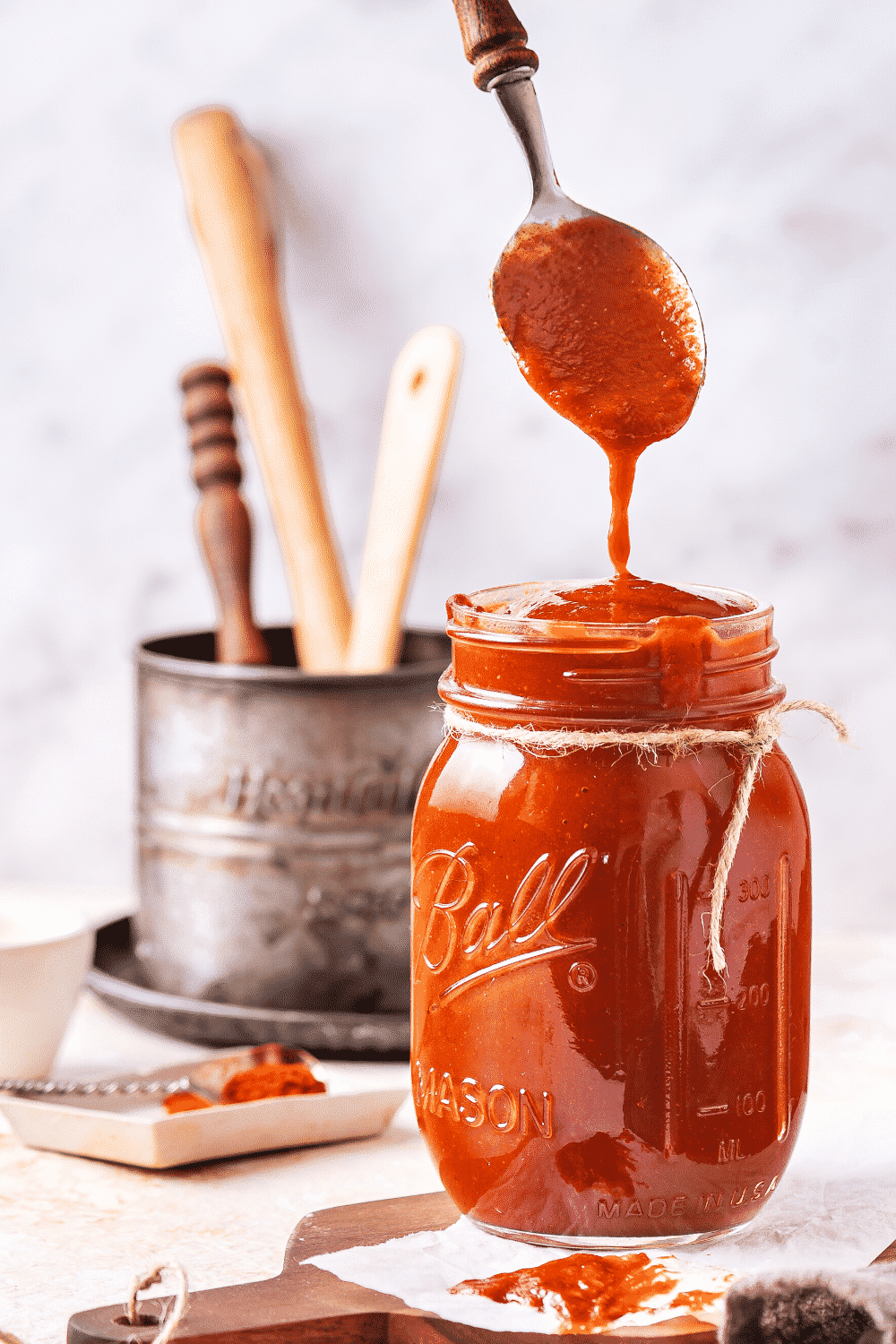 WHAT TO USE THIS BBQ SAUCE ON
This easy keto BBQ sauce elevates the flavor of anything you put it on.
Here are some of my favorite recipes to use it with:
I'm probably missing a few recipes I use it for, but you get the point that there are endless uses for this BBQ sauce.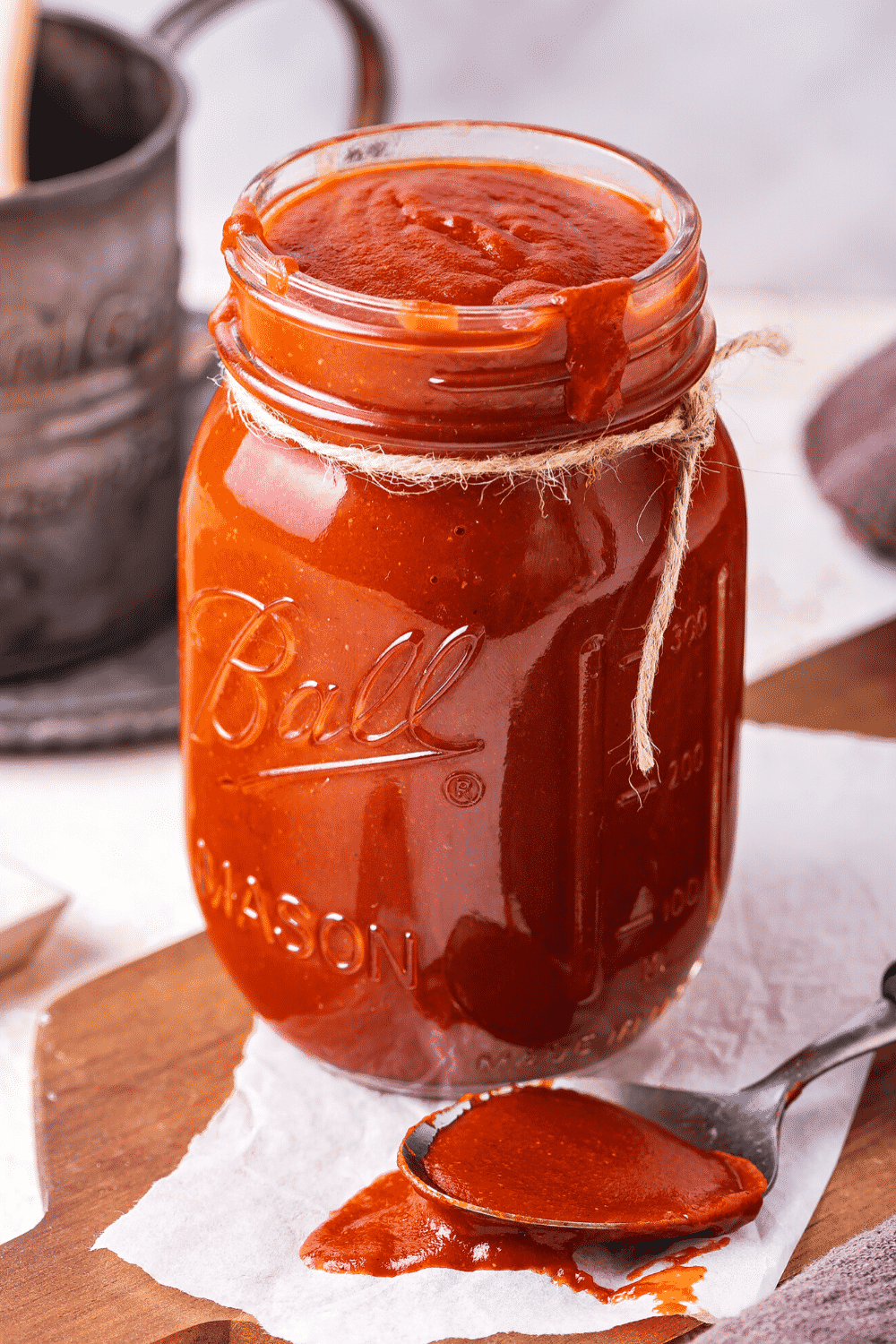 STORING YOUR KETO BBQ SAUCE
So, this recipe will make 14 servings of BBQ sauce - each serving is 2 tablespoons. And my favorite part about this recipe is doubling or tripling it, so I have some for the entire week!
And, honestly, it gets better as the days go on because when it is sitting, it gives all the flavors a chance to continue blending together, creating an even tastier sauce.
With that said, you can store your leftover sauce in the refrigerator in an airtight container - or resealable glass jar - for up to 2 weeks!
And trust me, there is nothing better than having this sugar free BBQ sauce sitting in your fridge ready to be used.
NUTRITIONAL INFORMATION
As I mentioned earlier, each serving of this sugar free BBQ sauce recipe has less than 1 NET CARBS.
As for the rest of the nutritional breakdown, each serving has:
4 calories

0g Fat

.75g Carbs

0g Fiber

.75 NET CARBS

0g Protein
A keto condiment doesn't get any better than this! At least I don't think it does.
Whenever you need to add some deliciousness to your meal, make this keto BBQ sauce, and your tastebuds will thank you.
If you make it, leave a comment below and let me know what you think - I'd love to hear!
Print
Keto BBQ Sauce with Less Than 1 Carb
This keto BBQ sauce recipe is sweet, tangy, and bold with no added sugars. It will instantly upgrade the flavor of whatever you put it on. And honestly, you can put this keto BBQ sauce on pretty much anything.
Author:
Prep Time:

5 minutes

Cook Time:

5 minutes

Total Time:

10 minutes

Yield:

14 servings

Category:

Condiment

Method:

Stovetop

Cuisine:

Keto Low Carb
Instructions
Put all of your ingredients in a small pot and give them a little whisk.

Put your pot over medium heat on the stove and bring ingredients to a boil.

Reduce heat to simmer and continue simmering until the sauce thickens up.

Cool completely then serve.
Notes
The scale up function does not change the gram measurements.
Nutrition
Serving Size:

2 Tbsps (30g)

Calories:

4

Fat:

0

Carbohydrates:

.75

Fiber:

0

Protein:

0
Keywords: keto bbq sauce, keto bbq sauce recipe, easy keto bbq sauce recipe low carb bbq sauce, low carb bbq sauce recipe, keto barbecue sauce, keto barbecue sauce recipe, low carb barbecue sauce, low carb barbecue sauce recipe, how to make keto barbecue sauce, how to make keto bbq sauce, sugar free bbq sauce recipe, keto bbq sauce recipe with ketchup, keto bbq sauce homemade, keto bbq sauce recipe sugar free ketchup keto bbq sauce recipe without tomato paste, homemade keto barbecue sauce recipe