These Keto Oreos is one of the best low carb mug cakes you'll try. It has all the chocolatiness and creaminess you love about traditional Oreo cookies but in a soft and fluffy cake form. Plus, it takes less than 5 minutes to make, and the entire thing has just 3 net carbs!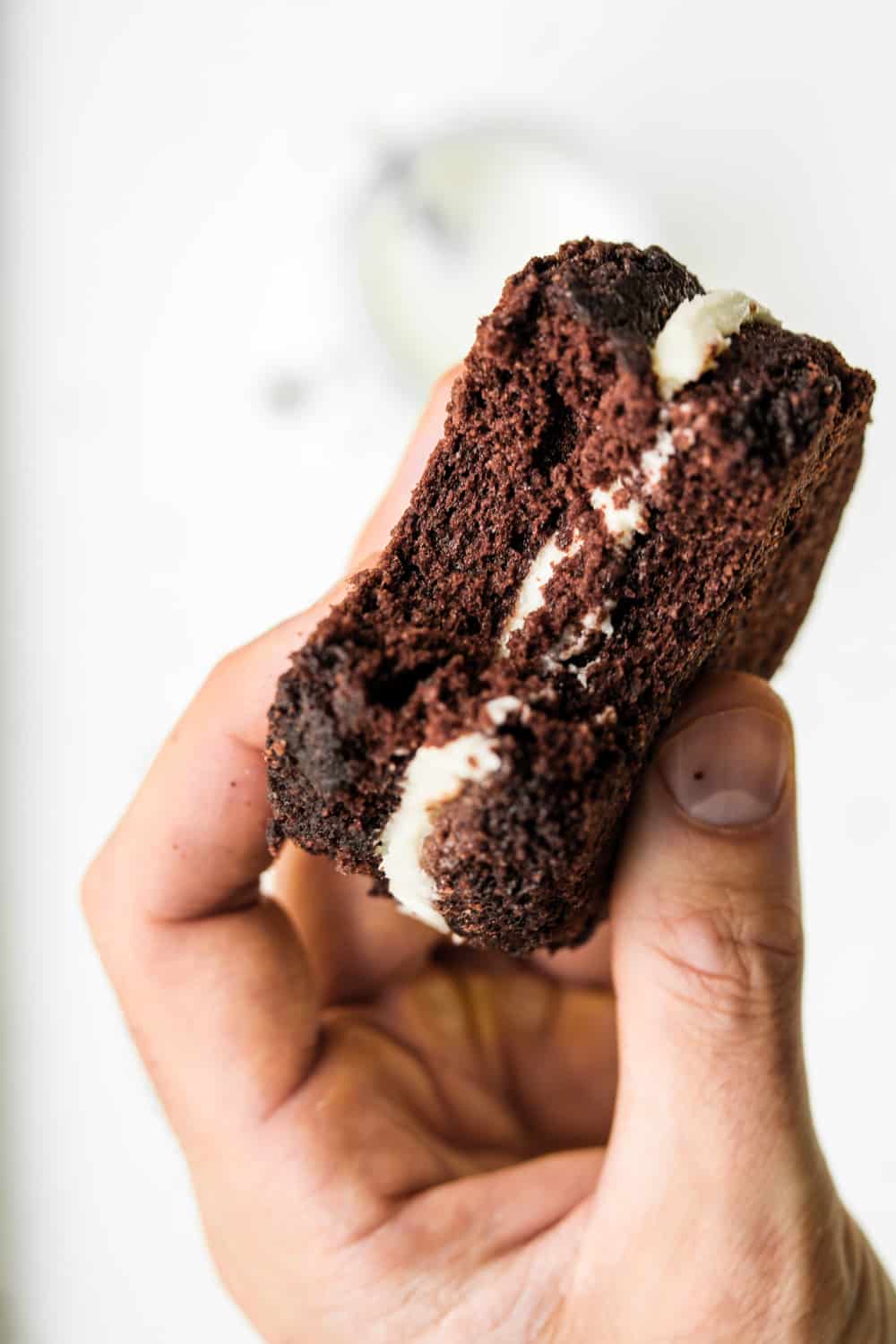 The Best Keto Oreos
If you're on a low-carb diet, you probably think that your dessert choices are few and far between, and you might miss the days when you would grab a couple of Oreos or eat a piece of cake whenever you wanted to.
Those days are long gone now that you're on a keto diet, right?
Well… maybe not.
Now, you may not be eating "normal" keto Oreos or chocolate cake, but what if we told you that there was an option to combine the two?!
What if there was a giant keto Oreos shaped chocolate mug cake with a cream filling that is low carb and keto-friendly?
Sounds too good to be true, doesn't it?
But it's not!
If you use the right ingredients, you can make a super quick and delicious low carb Oreo mug cake in just a few minutes.
One of the primary keys to this recipe is swapping out regular sugar or sweetener for Confectioner's Swerve.
It's a zero-calorie sweetener that adds no net carbs to the recipe.
Combined with a slew of other delicious ingredients, this keto-friendly Oreo mug cake is going to be your favorite new dessert.
Read on to learn how to make keto Oreos in a 1 minute mug cake form that the whole family will enjoy!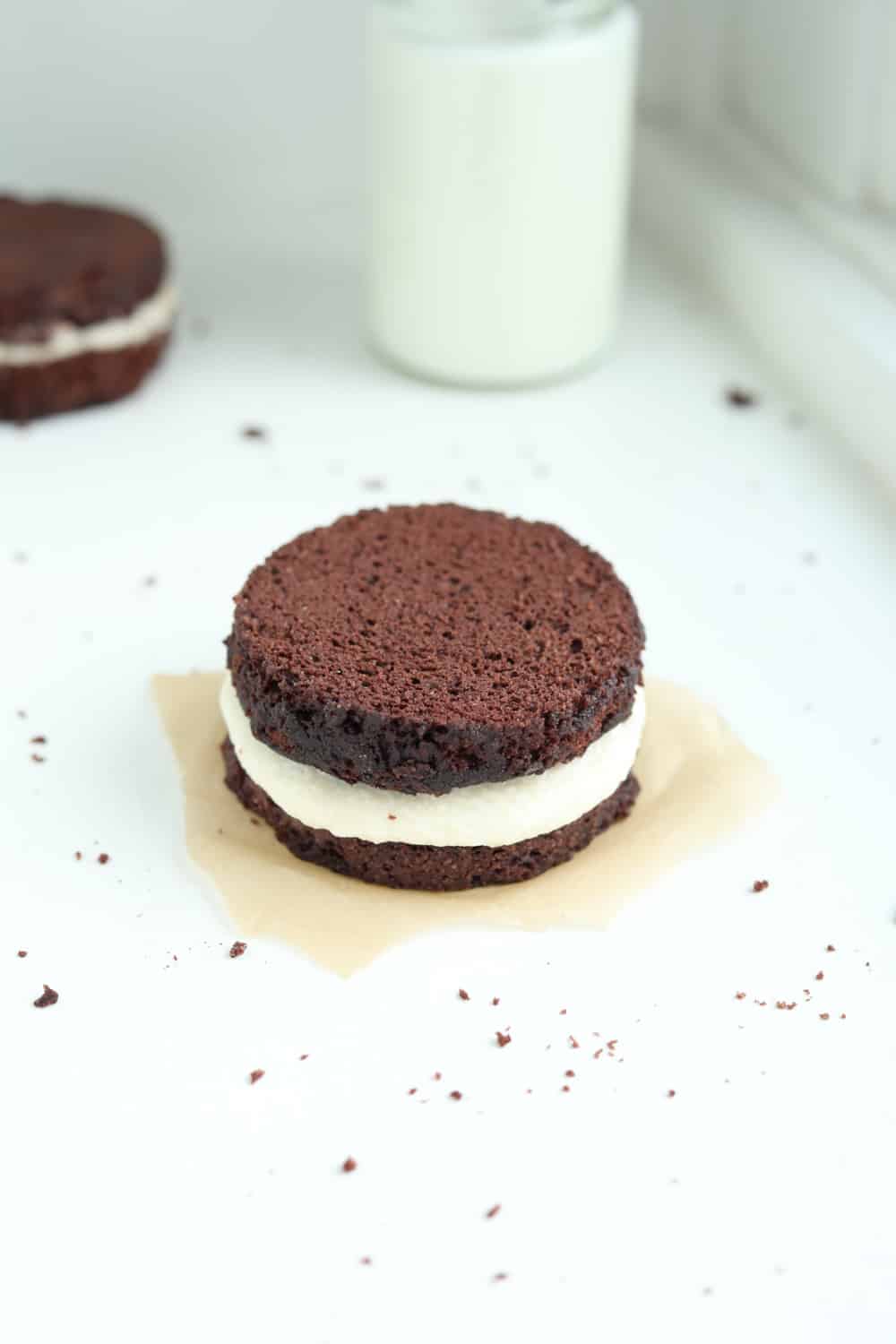 Ingredients for This Low Carb Oreo Mug Cake
One of the best things about this Oreo cookies is that it uses very standard low carb ingredients.
Ingredients like:
Not too shabby eh?!
Now, the base of these keto Oreo cookies are made using almond flour. And if you don't want to use almond flour, you can substitute it out with sunflower seed or walnut flour, but do not use coconut flour. Coconut flour is too absorbent and will dry out the low carb Oreo cookies.
And if you need to grab some almond flour from the store, make sure to stock up so you can make these keto chocolate chip cookies next!
How to Create the Best Oreo Mug Cake
As I mentioned before, making the low carb Oreos takes all of 5 minutes.
So, as you can imagine, there are very few steps required to make this cake.
And, honestly, that's one of my favorite things about it - it's so easy to make!
Making the Cream Filling
You'll want to start this delicious keto Oreos by making the cream first.
To start, add the butter and the coconut oil to a medium-sized bowl.
Melt the butter and coconut oil mixture in the microwave should only take about 15-25 seconds, depending on your microwave wattage.
It's okay if the butter is still a little solid, it'll get mixed up.
After they've melted, add in the almond milk and scoop three tablespoons of Confectioner's Swerve into the mix to healthily sweeten it up.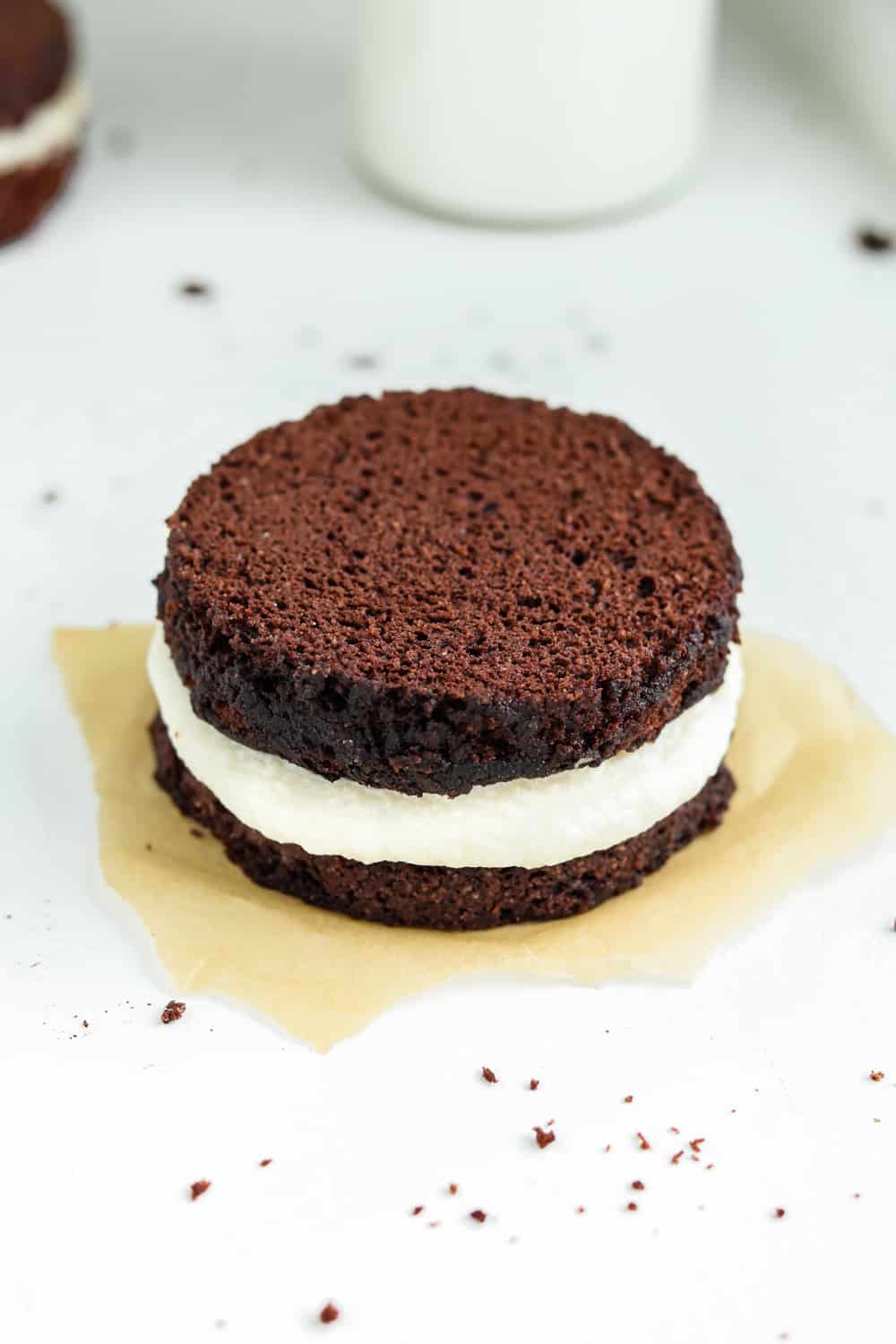 Using Swerve is how we're going to not only sweeten the cream filling up but the cake too. It has 0 calories and 0 net carbs - and it's as sweet as sugar - so it's the perfect low carb keto sweetener.
However, if you don't have Swerve, you could also use Lakanto's Confectioners Monk Fruit or any keto friendly powdered sweetener.
That said, I do not recommend using stevia. Most stevias are mixed with maltodextrin or dextrose, and both of those are just different words for sugar.
Also, stevia products are usually MUCH SWEETER than the sugar alternatives were using for today's mug cake. So you won't be able to equally substitute them in the recipe.
Anyways, after we add the keto-friendly sweetener, we'll want to stir up the ingredients in the bowl until everything is evenly mixed.
Now we can set that bowl of cream filling aside, and move on to making the cake parts!
Creating the Cake Portions of the Oreo Mug Cake
Start this portion of the recipe off by adding the remaining ½ tablespoon of butter into a mixing cup.
Again, melt the butter using the microwave — it should take less time than before this time around.
Next, break the egg and add it into the mixing cup, followed by the vanilla extract.
Mix these ingredients up until everything is evenly combined.
The next thing you'll need to do is start adding the dry ingredients for the cake portion to the mixture.
Start by adding the almond flour, followed by two heaping tablespoons of Confectioner's Swerve.
Now, of course, we can't forget about the chocolate for the low carb Oreos!
Add in the dark unsweetened cocoa powder to give it that delectable chocolate taste and the chocolate coloring that makes you know it's about to taste delicious.
Lastly, add in the baking powder so that the cake portions will rise, and mix everything until you have a thick chocolate batter that you can't wait to try.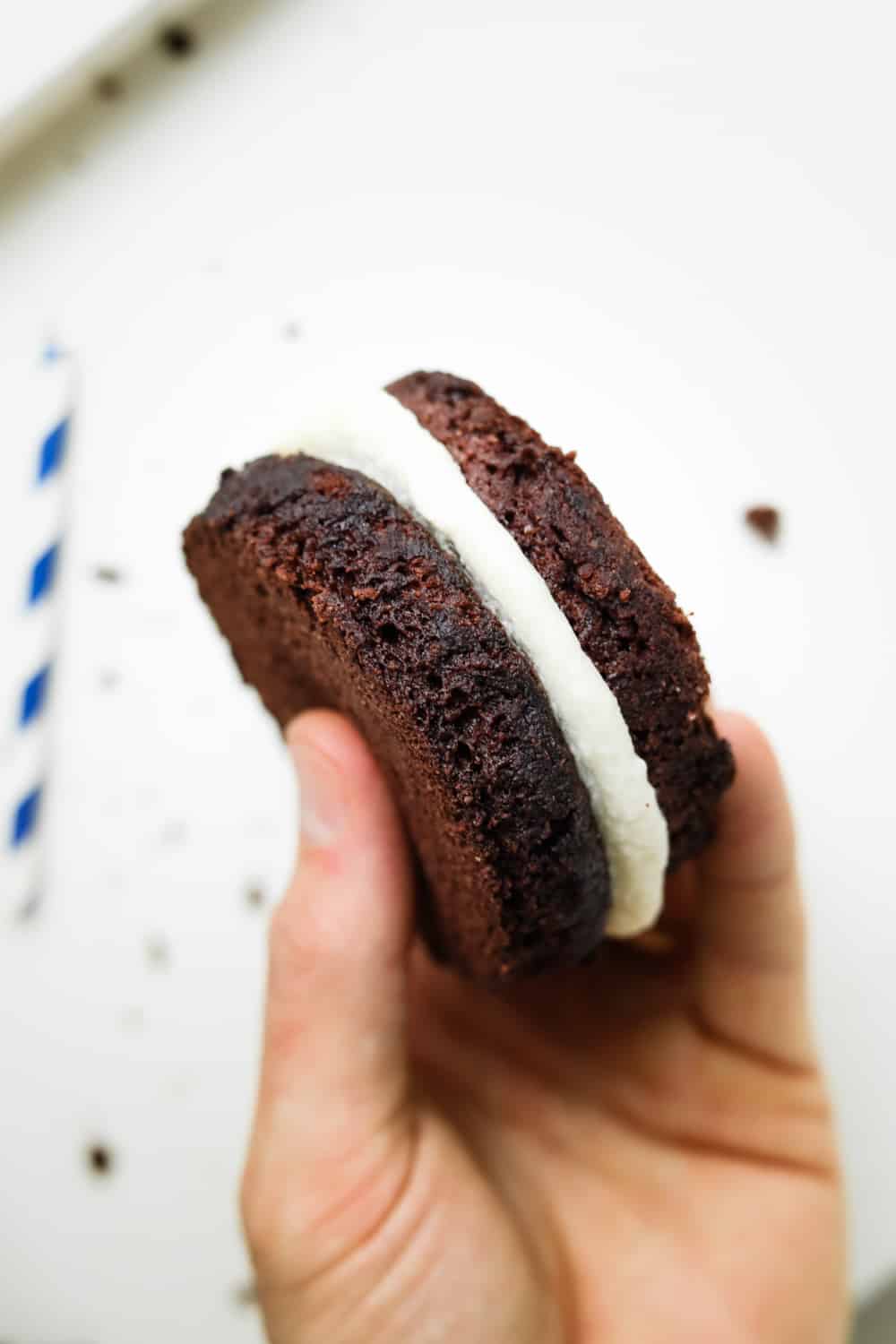 Baking the Mug Cake In The Microwave
Ok, now let's talk about how to cook this mug cake in the microwave.
First, start by coating an 8oz ramekin with baking spray to prevent the cake from sticking — you don't want to waste any!
Next, add all of the delicious chocolate cake batter to the ramekin, and make sure it's evenly distributed throughout the dish to ensure proper cooking all the way through.
Now we're all set to cook the cake.
And cooking the cake is way easier than you may think.
The best way to cook it is to place the ramekin in the microwave and cook it for 30 seconds. Then, after the timer goes off, check on the mug cake to make sure everything looks good, then cook it for another 15 seconds to finish it off.
As a tip, err on the side of caution when it comes to cooking the cake in the microwave - a slightly underdone cake will taste far better than an overcooked cake every time!
So aim for just slightly undercooking it - the cake will continue to cook as it cools
Baking This Low Carb Mug Cake In The Oven
Ok, if microwaves aren't "your thing", you can always cook the keto Oreos in the oven too.
Just set your oven to 350° Fahrenheit (177° Celsius), and cook the cake for somewhere around 10-15 minutes.
That said, make sure to keep an eye around the cake at the 10-minute mark, because it can finish cooking quickly.
Once you can insert a toothpick into the cake and it comes out clean, it's done.
Finishing off the Oreo Mug Cake
Now, when you pull it out of the microwave/oven, let the cake cool for a couple of minutes, and then run a butter knife around the edge of the cake to make it easier to get out.
Pop the cake out of the ramekin, put it on a small plate, and then use a knife or round cookie cutter to carefully cut the chocolate cake in half like a hamburger bun.
Invert the pieces of cake (flip them upside down) so that the freshly cut sides are on the top and bottom of your keto Oreo cookie.
Now it's finally time to add the cream filling to the bottom half of the mug cake and top it off with the other half.
Voila, you're done! That's all it takes to make delicious keto Oreo cookies that you will love!
Nutritional Info for Keto Oreo Mug Cake
So, here's the nutritional info on this cake...
400 Calories
35g Fat
8g Carbs
5g Fiber
3g NET CARBS
13g Protein
As you can see from the nutritional information above, this dessert cuisine is low in carbs and great for anyone looking for a healthy, sugar free keto treat that tastes like a cheat meal!
This mug cake is a delectable dessert that gives you the taste and joy of eating a cream-filled chocolate cake that looks like a giant keto Oreo cookie without swaying from your keto diet.
I hope that you'll give it a shot, let me know what you think about this quick and easy keto Oreo cookie recipe!
It's one of my favorites, and we hope you like it just as much!
By the way, I recently came out with a keto Oreo cookie protein shake recipe that is to die for. So, if you love Oreo's, give that a look next.
Other Keto Mug Cakes To Try
If you liked this mug cake version of homemade Oreo cookies, you like some of my other keto mug cakes! Give one of these keto treats a try next:
Print
Keto Oreo Mug Cake
This keto Oreo Mug Cake is basically what would happen if an Oreo and a piece of cake made a baby. It's made in the microwave in less than 5 minutes, and the whole thing has less than 3 net carbs.
Author:
Prep Time:

4 minutes

Cook Time:

1 minute

Total Time:

5 minutes

Yield:

1 Oreo Mug Cake

Category:

Dessert

Method:

Baking

Cuisine:

Keto Low Carb
Instructions
Add all of the cream filling ingredients to a small dish and mix until combined.
Once combined set that small dish aside, and start working on the cake.
In a large measuring cup add all of the cake ingredients, and mix until thick/combined.
Now coat an 8oz. ramekin with baking spray, and pour the cake batter into it.
Cook in the microwave for 30 seconds, check on it and cook for another 15-ish seconds.
You want the cake to be slightly underdone - it will finish cooking as it cools.
Once the cake cools, cut it in half, and invert the cake - you want the inside part to be the top and bottom of it.
Add the cream filling to the bottom part of the cake, and then add the top to it.
*** COOKING IN THE OVEN ***
Cook in the oven at 350 F. for around 10-15 minutes.
Once you can insert a toothpick into the middle of it, and remove it clean, it's done.
Nutrition
Serving Size:

1 Oreo cake

Calories:

400

Fat:

35

Carbohydrates:

8

Fiber:

5

Protein:

13
Keywords: Keto mug cake, oreo mug cake, mug cake keto, low carb mug cake, low carb oreo mug cake, keto mug cake recipe