If you're looking for the best soft and chewy keto chocolate chip cookies recipe, you've found it! In fact, these cookies are so good my friends and family can't tell the difference between these low carb chocolate chip cookies, and "regular" high carb ones. And, even better yet, each cookie has LESS THAN 1 NET CARB.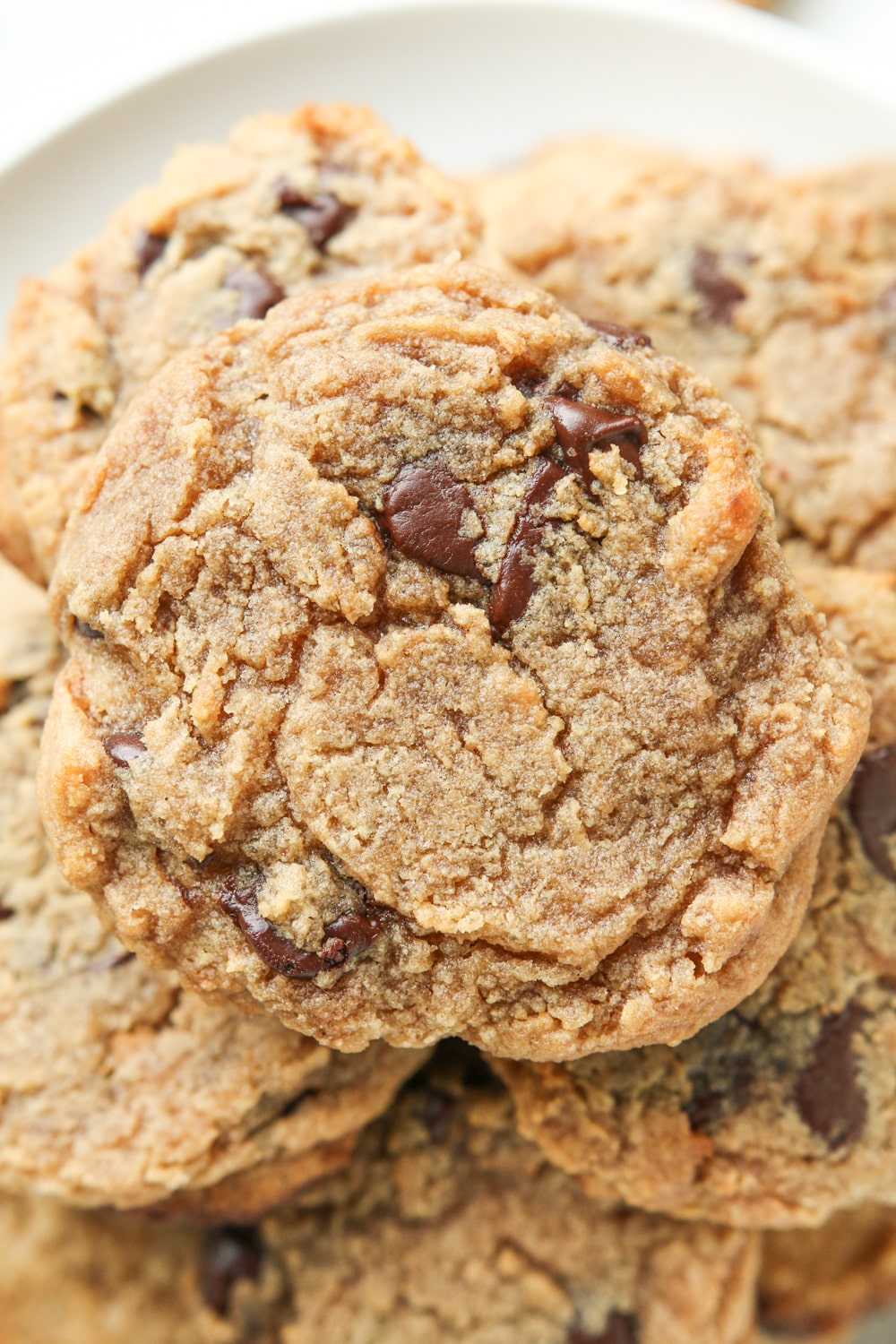 The BEST Keto Chocolate Chip Cookies
I don't know about you guys, but chocolate chip cookies are my favorite kind of cookie.
I mean, is there anything better than eating one when it's warm and ooey-gooey?
Maybe the only thing that comes close to that is dipping one in some ice-cold milk - almond of course - until it softens up. Gah, just thinking about that makes me hungry!
Anyways, I like mine with a soft and chewy inside and crisp outside. And of course, the more chocolate chips, the better!
So if that sounds like your kind of chocolate chip cookie, then these keto chocolate chip ones are sure to hit the spot. Not to mention, at less than 1 NET CARB per cookie, you can indulge in more than just a couple of these and stay in ketosis! And you know I'm a fan of that.
Ok, enough jibber-jabber, let's talk about how to make these chocolate chip cookies keto friendly!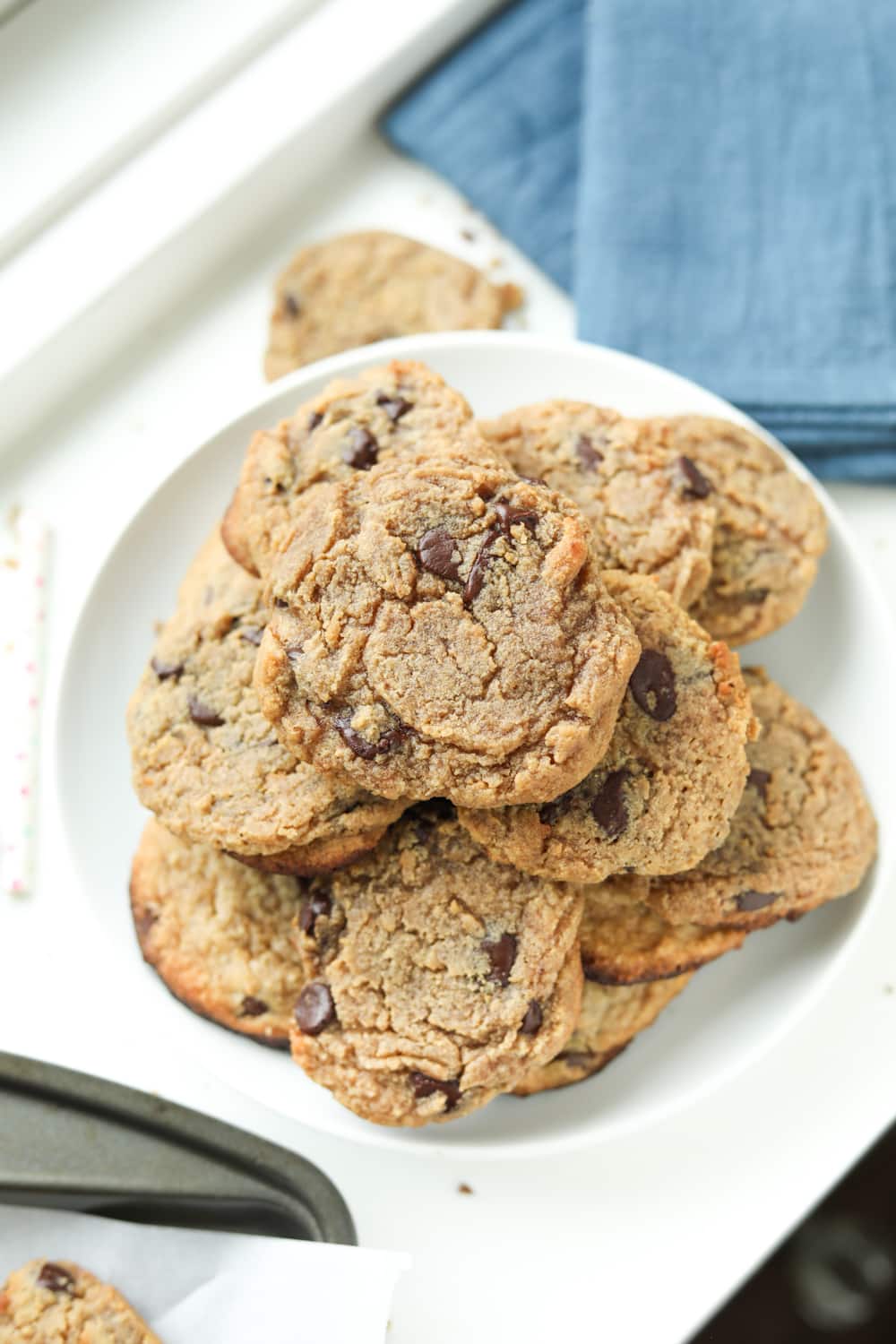 Ingredients You'll Want To Use For These Keto Chocolate Chip Cookies
So the key to getting these chocolate chip cookies as low carb as possible is picking the right keto substitutes.
Like most cookie recipes, chocolate chip cookies are loaded with sugar and flour.
So, instead of using those "normal" ingredients, we'll be using keto-friendly alternatives instead. And if you've been doing keto for a bit, you probably have most of what you need in your pantry already!
That said, for today's low carb almond flour chocolate chip cookies recipe we'll be using ingredients like:
Now, let's go a little more in-depth, and talk about why you'll want to use these ingredients to make your cookies.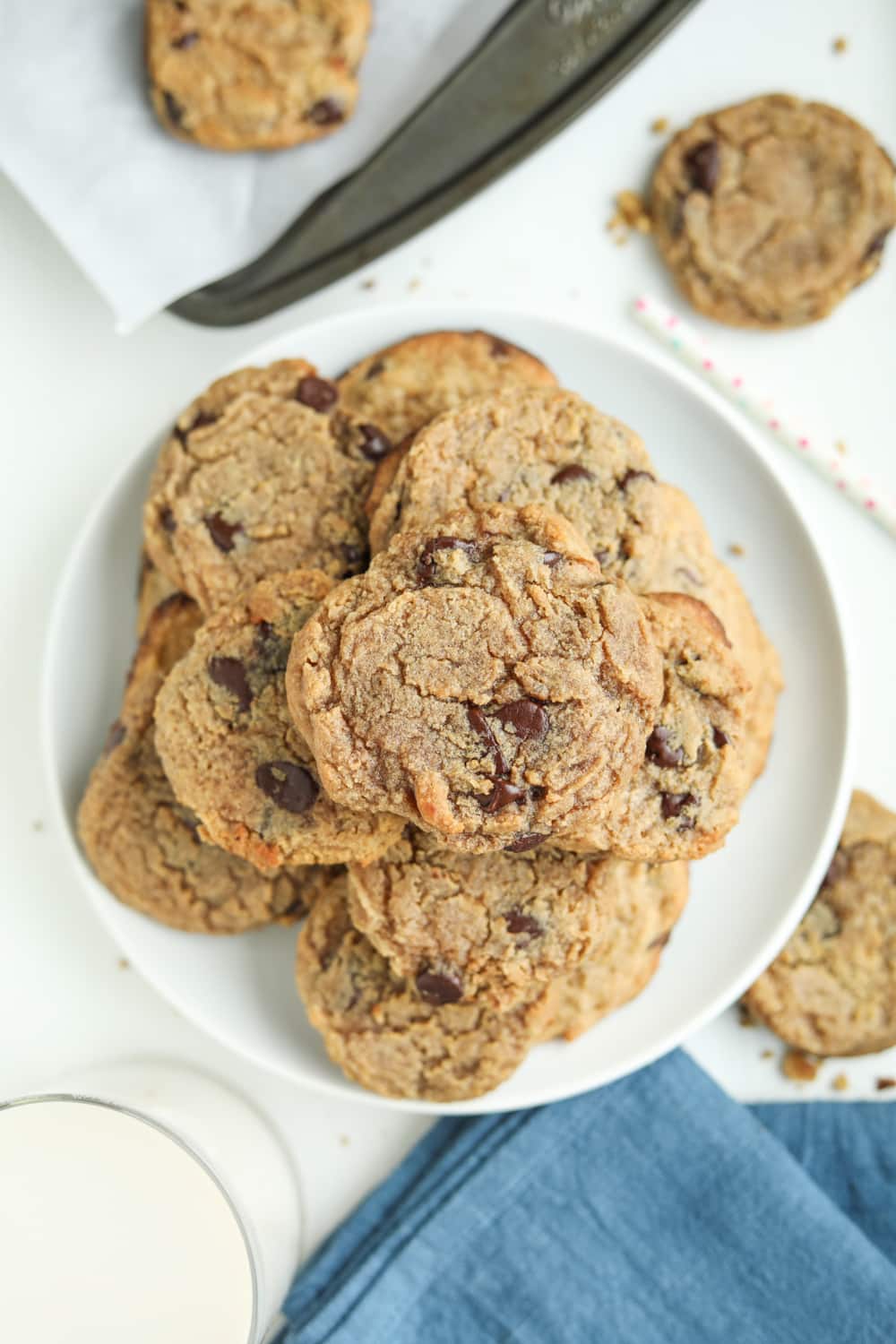 FLOURS TO USE TO MAKE THESE COOKIES KETO
Instead of using the white - or wheat - flours you'd typically find in high carb cookies, you'll notice we're using almond flour instead.
Almond flour is one of the lowest - if not the lowest - carbohydrate flours you can use. So, it just makes sense to use it to make our cookie recipe.
That said, my go-to almond flour is the Blue Diamond Blanched Almond Flour since it's really low in carbs and works great in any recipe.
Now, if you don't have almond flour in your pantry already I definitely recommend that you get it because I use it in a LOT of my keto recipes.
And I mean a lot.
You can use it to make this super chocolatey keto cake, these totally easy low carb pancakes, and these sweet and tangy keto lemon bars to name a few.
Also, in my opinion, almond flour is the best keto substitute for regular flour – you can barely taste the difference, and it has the closest consistency to "regular" flour too. It's also a gluten free flour, and that means these double as gluten free cookie as well.
Now, with that said, if almond flour isn't your "thing", the best substitutes for almond flour are sunflower seed flour and walnut flour.
You can use these in place of almond flour in any of my recipes at a 1:1 ratio.
So keep that in mind if you're trying to make these keto cookies.
FLOURS NOT TO USE TO MAKE THESE COOKIES
Using white or wheat flour to make these cookies is out because they're so high in carbs.
Pretty obvious, right?!
However, you also DON'T want to substitute the almond flour out with coconut flour – unfortunately, they are not substitutable.
Coconut flour absorbs a ton of moisture and will have a really dry and crumbly outcome...if the cookies even turn out at all.
Also, the taste of coconut flour is pretty strong and will impart a noticeable coconut flavor. And, I don't know about you, but I definitely don't want to taste coconut when I eat a chocolate chip cookie.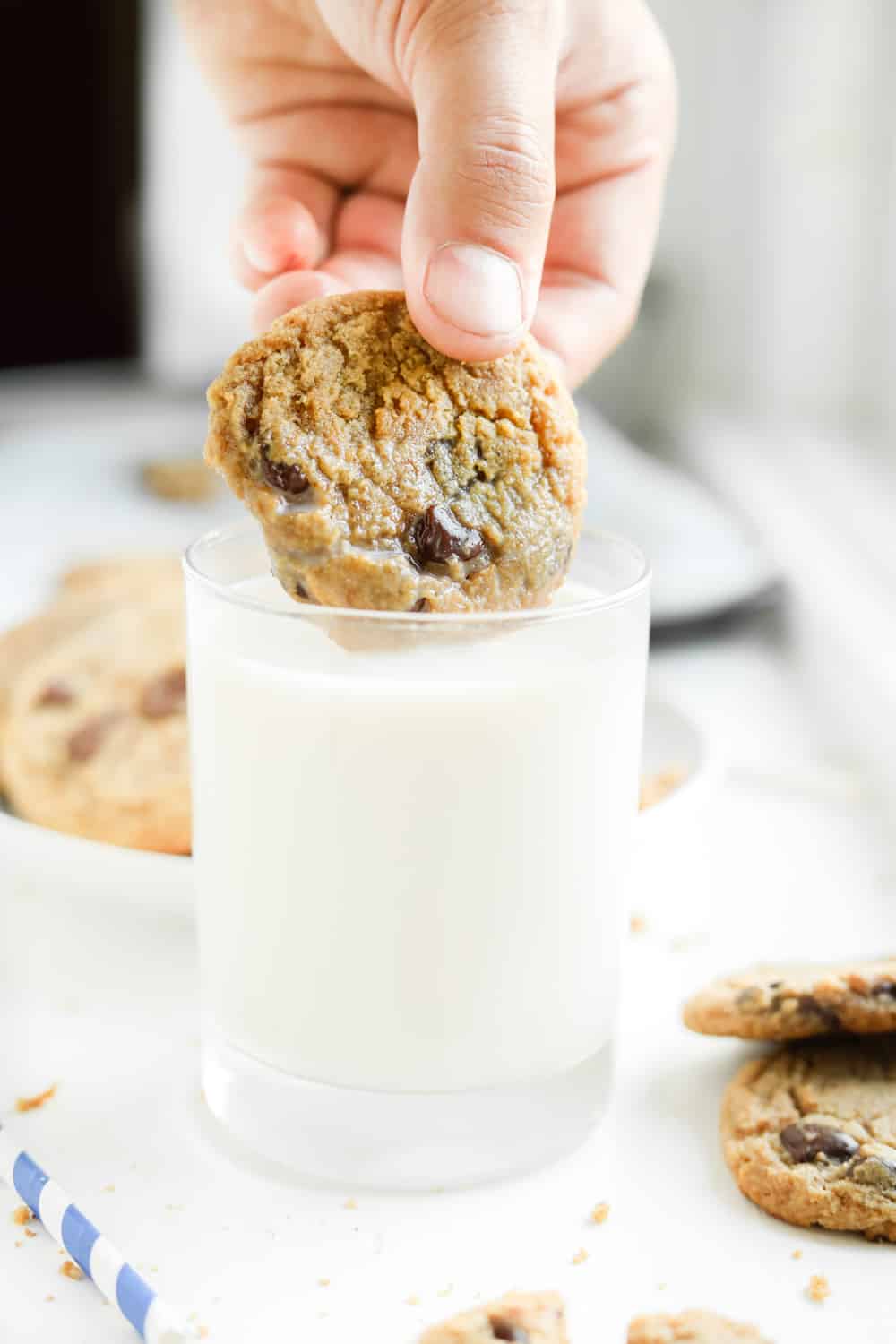 HOW TO SWEETEN YOUR KETO CHOCOLATE CHIP COOKIES
Ok, we've talked about the best flour substitutes for keto, and now I want to go into a little more detail about the best sweeteners for keto!
If you've been following me for a while, you probably know that my absolute go-to for replacing sugar in a keto friendly way is Swerve.
It's a sugar alcohol with 0 NET CARBS and 0 CALORIES, which makes it perfect for a low carb diet - like keto!
Also, it's as sweet as sugar, which is a crucial detail for selecting the right sweetener for this recipe.
Having said that, Lakanto's Confectioners Monk Fruit can also be used to make these keto chocolate chip cookies as well.
And the best part is monk fruit is as sweet as sugar - just like Swerve - so you can substitute it on a 1:1 basis with Swerve.
By the way, a lot of people think pure erythritol and Swerve/Monk Fruit are interchangeable. Unfortunately, this is not the case.
Pure erythritol is only 70% the sweetness of regular sugar - so it won't make a sweet enough substitute. Thus, it isn't an ideal replacement for Swerve/Lakanto.
So, in my opinion, Swerve/Lakanto are the best sugar substitutes to use for keto recipes and end up with delicious results.
As a lot of you know, I use confectioners swerve in almost ALL of my dessert recipes...and brown swerve is the perfect brown sugar replacement - which is a key component to these cookies.
So, what I'm saying is, don't hesitate to pick some of these up. They're worth the money, and you'll save yourself a ton of carbs and calories!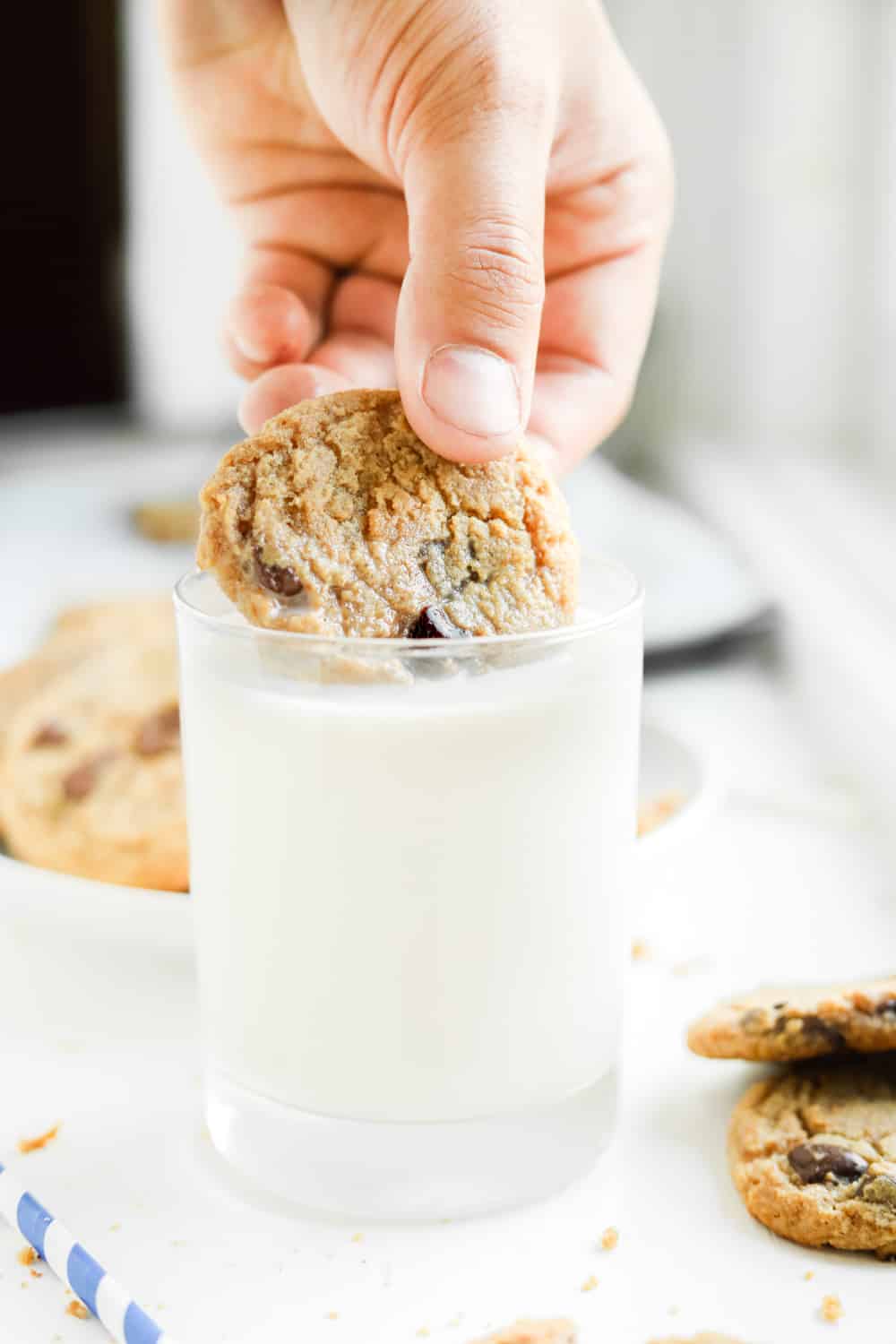 SUGAR ALCOHOLS TO AVOID
Many other sugar substitutes are a lot sweeter than sugar and can lead to some way-too-sweet results.
For example, pure stevia is 300 times sweeter than regular sugar. Imagine if you substituted that in a cookie at a 1:1 ratio. It gives me a toothache just thinking about it.
Not to mention, a lot of companies will mix stevia with maltodextrin or dextrose – both of which are sugar – to their sweetener and label it 0 calories.
However, when you look closely at the nutritional information, a serving size is LESS THAN 1g. Obviously, anything can be 0 calories if the serving suggestion is less than 1g.
This is a sneaky move that companies do to falsely advertise their product to those trying to avoid sugar.
That said, most Splenda products contain sugar, just like those stevia products we just mentioned.
The one exception is their liquid Splenda product, but we're not using a liquid sweetener in today's low carb cookie recipe, so you'll want to avoid using granulated Splenda products as well.
While we're on the subject, I recommend avoiding sweetening your almond flour chocolate chip cookies with maltitol or xylitol.
These sugar alcohols are often used in "sugar-free" products, but they half the carbs and calories of normal sugar – which means they can kick you out of ketosis. So you'll want to avoid using them for your cookies.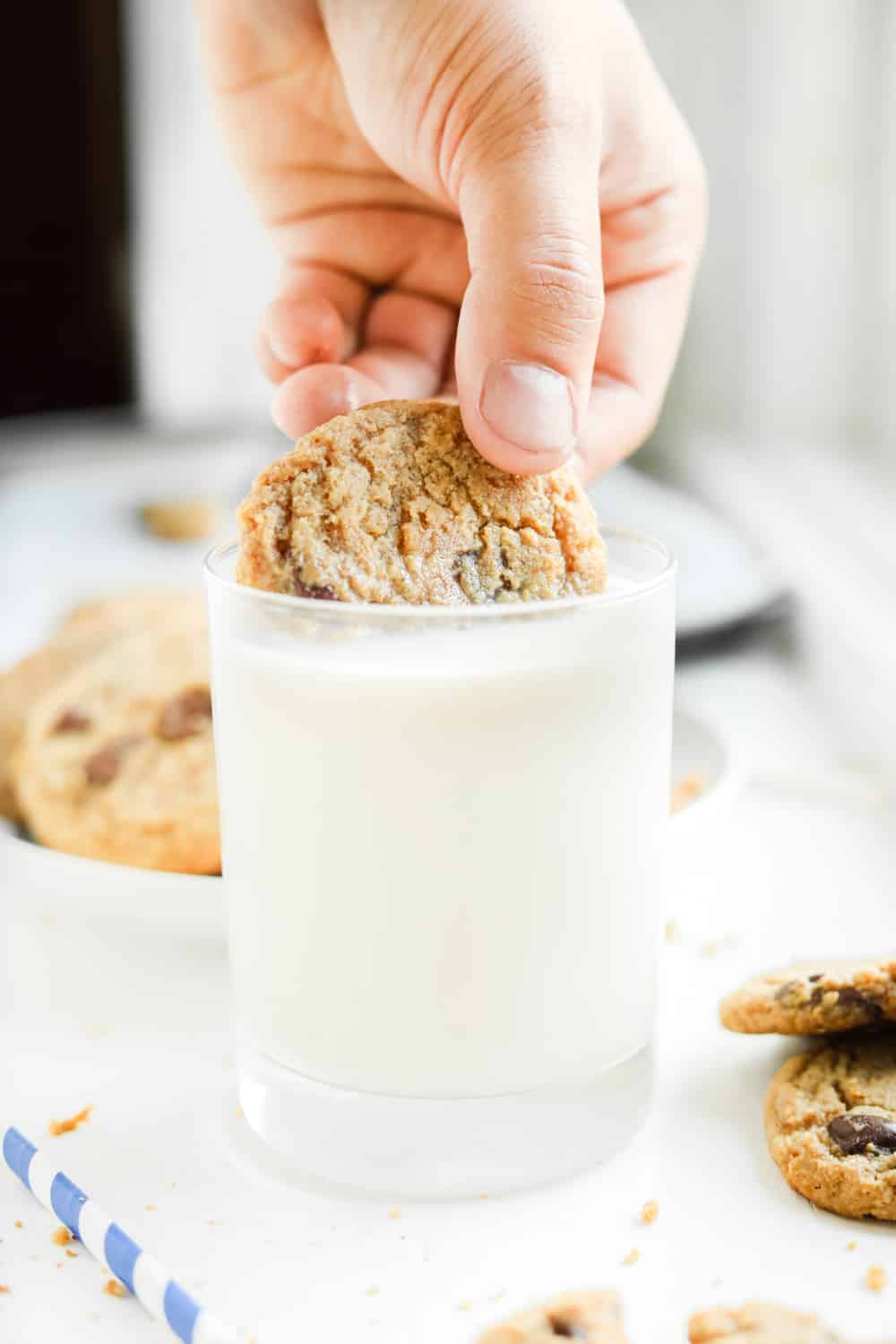 LOW CARB KETO CHOCOLATE CHIPS
Obviously, this wouldn't be the best keto chocolate chip cookie recipe ever without some high-quality, sugar free chocolate chips.
I like to use the 0 NET CARB Semi-Sweetened Baking Chips from Lily's.
These are super low carb, keto-friendly, and are just so deliciously chocolatey - and of course, they're also completely sugar free!
And of course, they become wonderfully ooey and gooey when baked into these keto chocolate chip cookies.
I definitely recommend 'em whenever you need some sugar free chocolate chips for recipes – they're especiallt good in my 1 minute double chocolate chip keto cookies, keto mason jar mint chocolate chip ice cream, and keto peanut butter chocolate chip cookies.
Yum, yum, yum!
By the way, if you can't find those Lily's Chocolate Chips, you might be able to find ChocZero's Sugar-Free Keto Friendly Chocolate Chips. And, if you do, those will work great in these cookies too. Again, the ChocZero ones are sugar free chocolate chips, so they're great for the keto diet as well.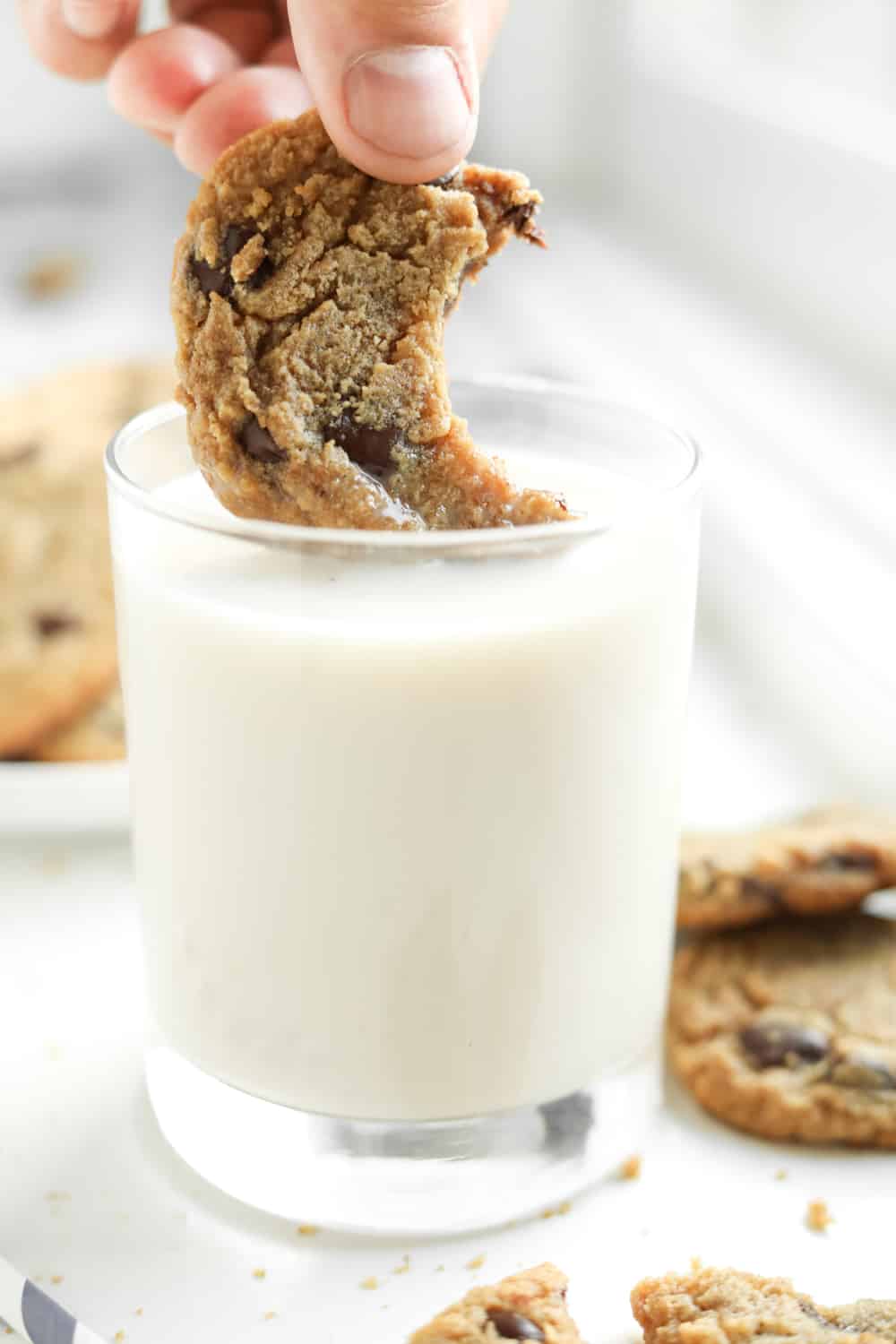 Making Your Low Carb Chocolate Chip Cookies
Ok, we've talked about the ingredients, now we've got to talk about how to make these cookies.
The good news is that these almond flour chocolate chip cookies are surprisingly quick and easy to make.
The first thing you'll want to do is sift the almond flour through a sieve. Doing this will ensure the chocolate chip cookies end up having a soft and chewy texture to them.
After the almond flour is sifted, you can add the baking soda, salt, and chocolate chips to the bowl. Then, just mix those up until well combined, and set that bowl aside.
Next, you'll want to get out an even larger bowl and add your softened butter.
Now, once you've done that, you'll add the Confectioners Swerve - or Lakanto's monk fruit - and the Brown "Sugar" Swerve to the bowl, and cream those ingredients together.
That said, if you try to cream the mixture with hardened butter, it will take longer and is honestly just unnecessarily difficult, so make sure to use softened butter!
Once you've creamed the butter and Swerve thoroughly, add in the egg and beat it into the ingredients until it's well combined. Then, when it does, add in the vanilla extract and mix again.
At this point, you're ready to get your dry ingredients back out and add them to the bowl. That said, you'll want to add & mix them in 2 batches - adding & mixing half of the dry ingredients at a time.
Then, when everything is mixed up well, you'll want to chill the cookie dough in the refrigerator for 30 minutes before baking the cookies.
If you skip this step, your cookies will spread out way too much in the oven, and you won't achieve that perfect cookie size and texture - so make sure to chill your cookie dough for the best results.
Oh, and by the way, I recommend using two separate baking sheets for these cookies. The recipe makes 12-15 cookies, which is just way too many for one normal-sized baking sheet. If they're overcrowded on the pan, they'll bake into one another, and that's something you'll want to avoid.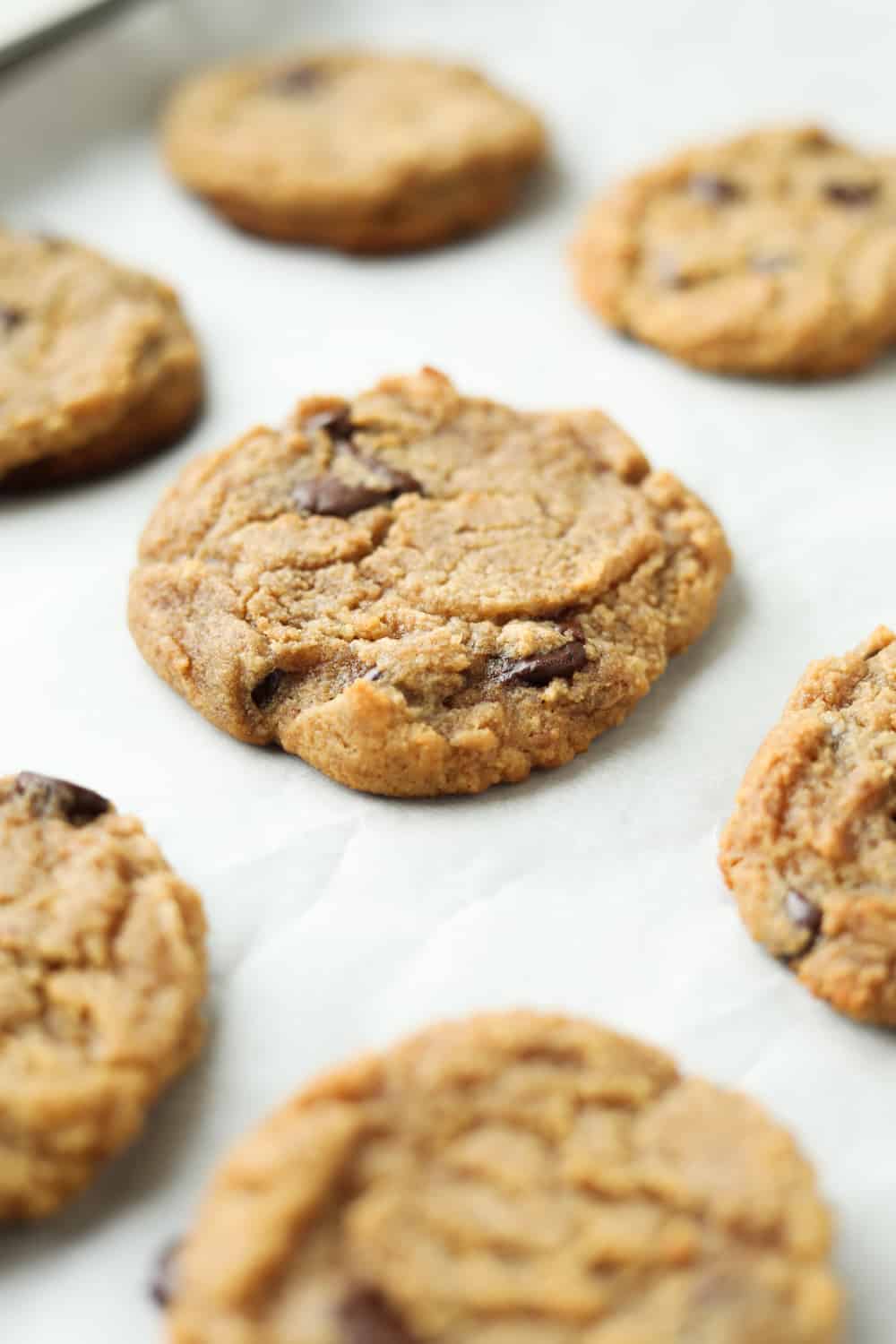 BAKING THESE SUGAR FREE CHOCOLATE CHIP COOKIES IN THE OVEN
Now, let's talk about baking these cookies.
One of the best things about this keto chocolate chip cookie recipe is that the cookies only need about 10 minutes to bake!
Having said that, you will want to flatten your cookie dough with the bottom of a spoon at the 3 minute mark of baking.
The cookies won't flatten too much on their own, so doing this helps give them the right shape and thickness.
Lastly – no matter how badly you want to eat these cookies – make sure to let them set for 30 minutes after taking them out of the oven.
Fresh out of the oven, they're a little too soft, so giving them that time to set will provide you with the crave-worthy soft and chewy texture you want.
Now, if you want to eat them warm, the best thing to do is to heat them in the microwave - after they've set, of course - for 5 seconds.
That's usually enough time to warm them up and get them all ooey-gooey.
STORING THE COOKIES
As far as storing the cookies, you'll want to keep them in an airtight container. Storing them like this should allow them to stay good for almost a week.
I keep mine out on my kitchen counter, but you can refrigerate them if you'd like.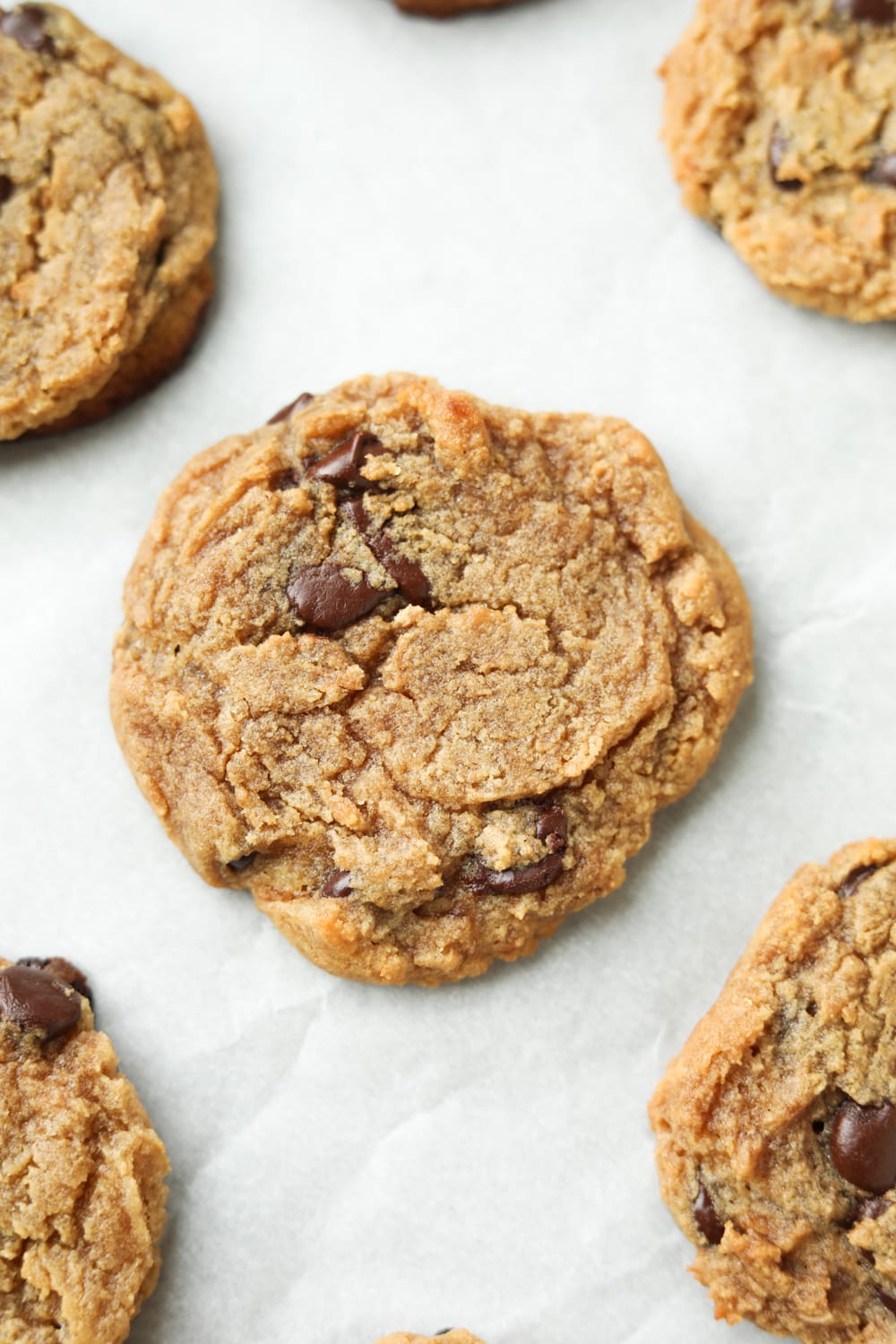 Nutritional Info On These Low Carb Cookies
Okay, so as we've already talked about, these keto chocolate chip cookies have less than 1 NET CARB a piece.
But what about the full nutritional breakdown per cookie?
Well, if you make 12 cookies, each cookie will have:
150 Calories

13.5g Fat

3.75g Carbs

3g Fiber

.75g NET CARBS

3g Protein
Not too shabby, eh?!
I mean, it's pretty tough to find a cookie recipe that's as delicious - and has as few net carbs - as this one.
More Keto Dessert Ideas
What I really love about these sugar free chocolate chip cookies is that they don't taste low carb at all.
They're sweet, chocolatey, and super satisfying.
And, I've got to say, a lot of my dessert recipes are in the same boat. When you taste them, you'd never know they were keto desserts.
So if you want more keto-friendly dessert ideas here are a few of my favorites:
The Best Keto Cheesecake – it's rich, smooth, and creamy with a keto shortbread cookie crust that's absolutely on point!
The Best Low Carb Chocolate Cake – an incredibly decadent and moist chocolate cake complete with keto chocolate buttercream frosting. Each slice is just 2.5 net carbs!
Keto Brownies – Not only are these fudgy keto brownies addictive they also come together in just 5 minutes! The ideal keto dessert if you want a chocolatey keto recipe that's both quick and easy.
And of course, I highly recommend my cookbook - The Ultimate Low Carb Keto Cookbook for over 125 low carb sweets ideas! They're all crazy delicious, easy to make, and the perfect answer to your sugar cravings.
So that's my keto friendly chocolate chip cookies recipe!
I hope you guys enjoy them.
By the way, you can find a video of this chocolate chip cookie recipe over at my Youtube channel too.
So, check out that video, and as always, let me know in the comments if you tried these cookies!
Print
Keto Chocolate Chip Cookies | The BEST Low Carb Chocolate Chip Cookie Recipe For Keto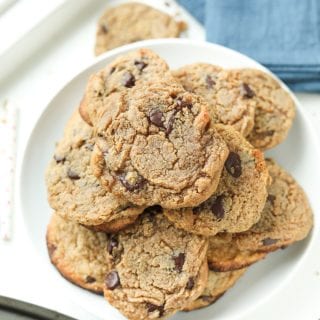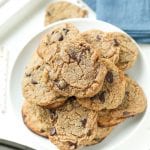 If you're looking for the best soft and chewy keto chocolate chip cookies recipe, you've found it! In fact, these cookies are so good my friends and family can't tell the difference between these low carb chocolate chip cookies, and "regular" high carb ones. And, even better yet, each cookie has LESS THAN 1 NET CARB.
Author:
Prep Time:

10

Cook Time:

10

Total Time:

20 minutes

Yield:

12-15 Cookies

Category:

Dessert

Method:

Baking

Cuisine:

Keto Low Carb
Instructions
First, preheat your oven to 325 °F.

Sift the 

almond flour

 through a 

sieve

 and into a medium-sized bowl.

Now add the baking soda and a generous pinch of salt.

Combine the ingredients thoroughly with a wire whisk and set aside.

In a separate larger bowl, add the softened butter.

Then, add in the 

brown swerve

 and 

confectioners swerve

.

Use a hand mixer and cream the butter and sweetener together for 3-5 minutes - making sure to scrape down the sides of the bowl throughout the process.

Crack a large room-temperature egg into the bowl and mix.

Next, add in the 

vanilla extract

 and mix again until everything is well combined.

Now, add just half of the dry ingredients into the bowl and mix with a rubber spatula.

Once the dry ingredients have been incorporated, add the rest and mix again.

Then, fold in the 

0 net carb chocolate chips

.

Refrigerate the dough for 30 minutes.

Once the dough is chilled, use a 

cookie scoop

 to form 12 equal-sized cookies.
You don't want to crowd your cookies on the 

sheet

 so you can use two separate 

baking sheets

 for this if necessary.

Bake them for 3 minutes, flatten the tops of the cookies with the back of a spoon, and then continue to bake for another 5-7 minutes.

The cookies will be extremely soft when they come out of the oven so let those rest for another 30 minutes.

Once they've had time to set, you can serve and enjoy!
Nutrition
Serving Size:

1 Cookie

Calories:

150

Fat:

13.5

Carbohydrates:

3.75

Fiber:

3

Protein:

3
Keywords: Keto chocolate chip cookies, chocolate chip cookies keto, keto chocolate chip cookies recipe, How to make keto chocolate chip cookies, easy keto chocolate chip cookies, best keto chocolate chip cookies, low carb chocolate chip cookies, chocolate chip cookies low carb, low carb chocolate chip cookies recipe, Recipe for keto chocolate chip cookies, keto cookies, keto cookie recipe, cookies keto