This low calorie cereal tastes exactly like Cinnamon Toast Crunch, but these little squares of deliciousness have just 60 calories per serving and zero grams of sugar! Plus, it takes just minutes to make this healthy cereal recipe!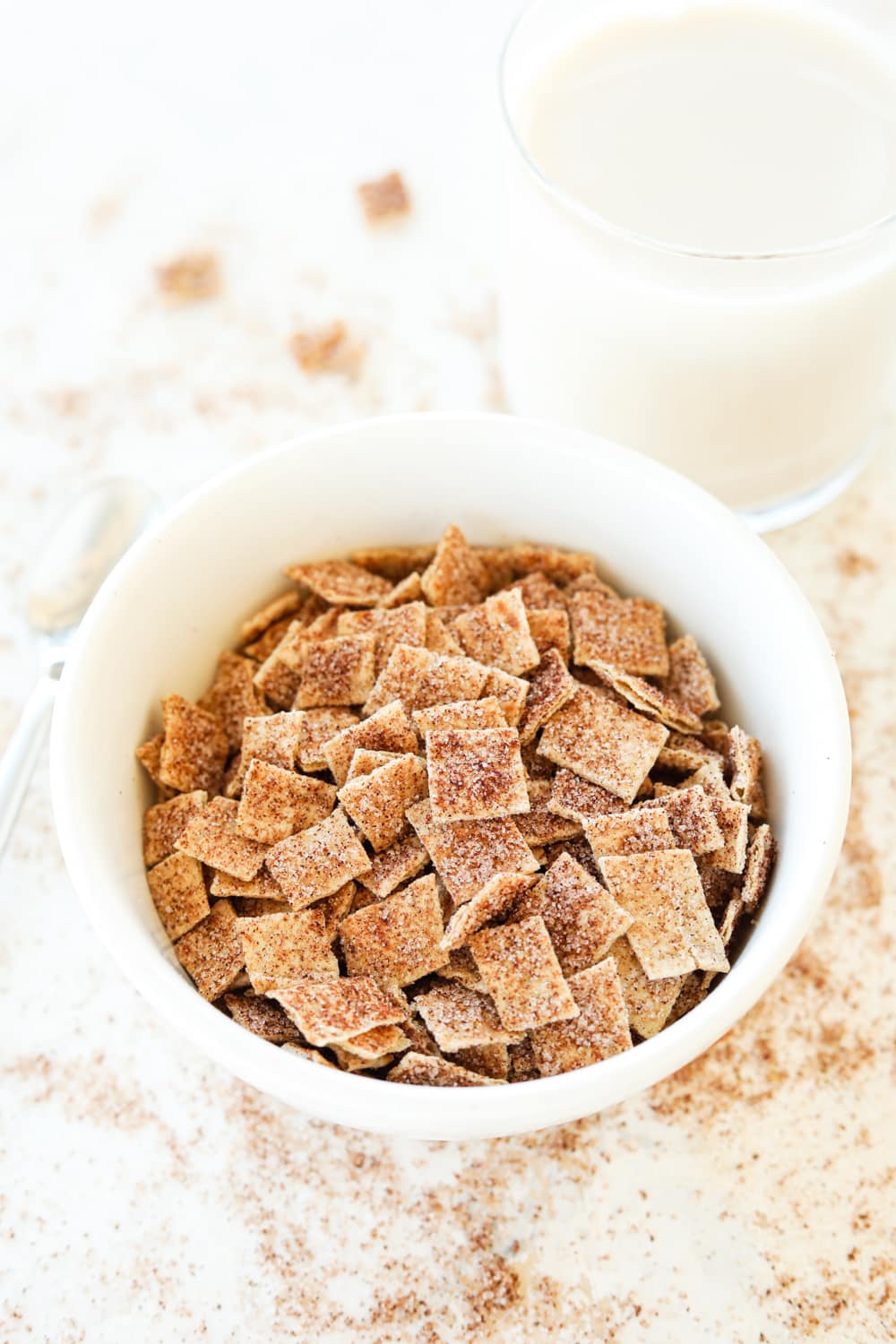 The Best Low Calorie cereal
I love to eat breakfast cereals, but I'm not a fan of all of the calories that typically come in them.
So, if you're like me, and have been looking for a breakfast cereal that is low in calories, high in fiber, and has no added sugar, you've found just what you needed with this homemade cereal recipe.
This low calorie cereal is filled with cinnamon sugar flavor and it has the same texture as any crunchy "normal" cereal has. Honestly, you won't be able to tell the difference between this healthy cereal and regular Cinnamon Toast Crunch!
Yeah, it's that good.
But instead of being loaded with carbs and sugar, this healthy breakfast is pretty low in net carbs and - as I already mentioned - has no added sugar. In fact, it's totally sugar free!
Not to mention, this cereal is a pretty high protein cereal too. It has 6 grams of protein per serving.
With all of that said though, this cereal is not just good for you, it tastes pretty darn good too.
Since I created this recipe, I have not been able to stop eating it. I usually have a bowl for breakfast and then I even eat some of it without milk for a late-night snack as well.
And It has been helping me lose weight since it's so filling and so low in calories.
Anyway, I'm pretty confident that this recipe is the lowest calorie cereal that you'll find. But if you want to check out some other breakfast cereals that you can buy at the grocery stores, give my healthy cereal list a look next. It has all of the best low calorie cereal options that you can find at the store with no added sugar, and they're all pretty great for weight loss as well.
Ingredients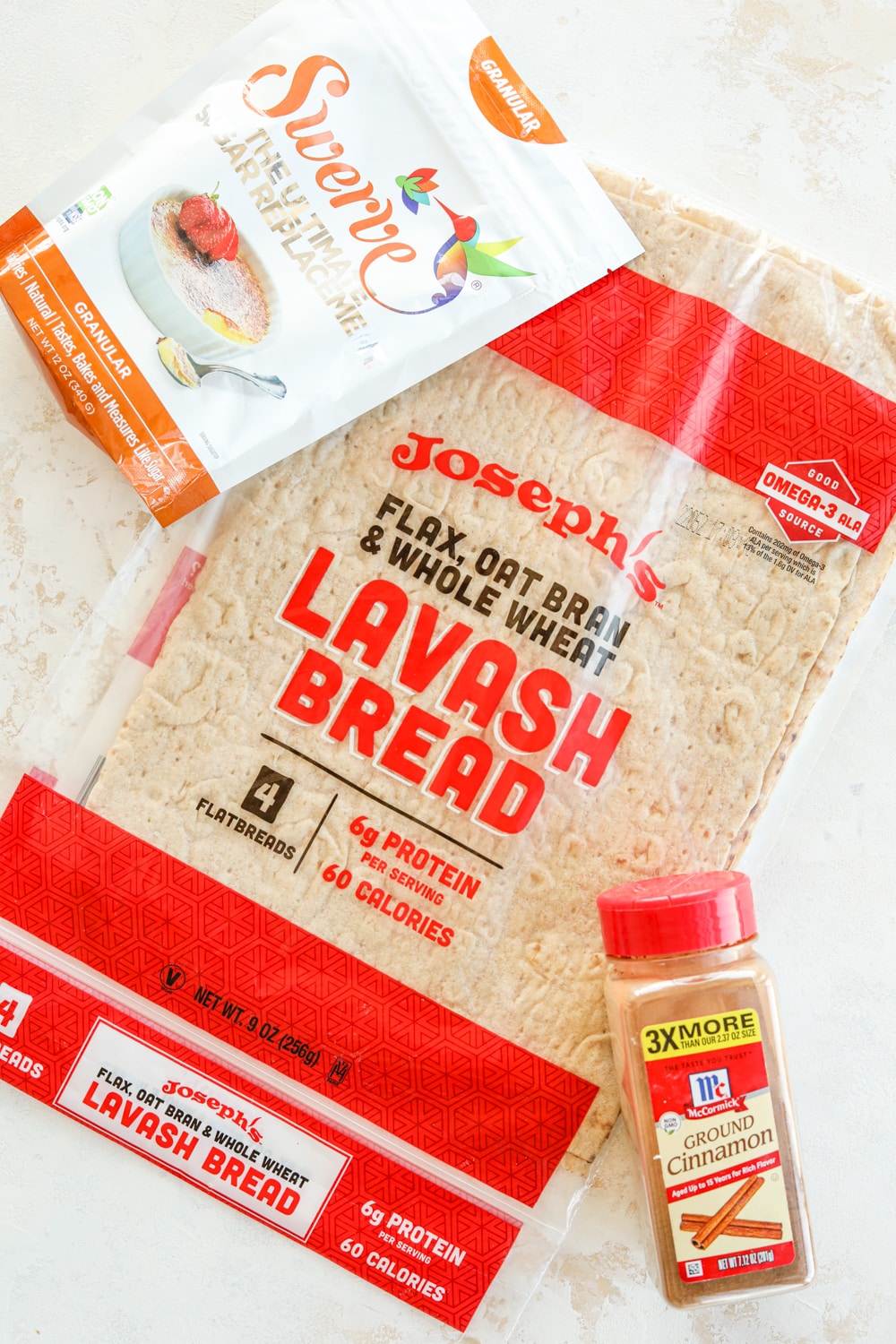 So, to make this Cinnamon Toast Crunch recipe, you'll need just 3 ingredients! And, honestly, it's crazy to think you can make a healthy cereal that tastes so darn good with minimal ingredients.
Also, there are no artificial ingredients on this list, unlike some low sugar cereals you'll find at the store.
Here's everything you'll need to make this nutritious cereal:
¼ Cup Granular Swerve
1 Tbps. Cinnamon
1 Joesph's Lavash Bread (or any low carb tortilla)
Now that's a super simple ingredients list, right?
By the way, if you have to run to the store to get these, it's totally worth the trip. And you'll want to stock up on everything because you'll want to have a big bowl of this high fiber cereal every morning for breakfast!
Oh, and you can use the cinnamon and granular Swerve to make my giant protein cinnamon roll for another healthy breakfast option! I've loved both of these recipes to help me with my weight loss goals.
Also, for what it's worth, I like to use the whole grain wheat Joseph's Lavash bread, but they have an original flavor that is just as good! And if you can't find the Lavash bread, you can use any low carb tortillas. I like these carb balance ones from Mission.
How To Make Cinnamon Toast Crunch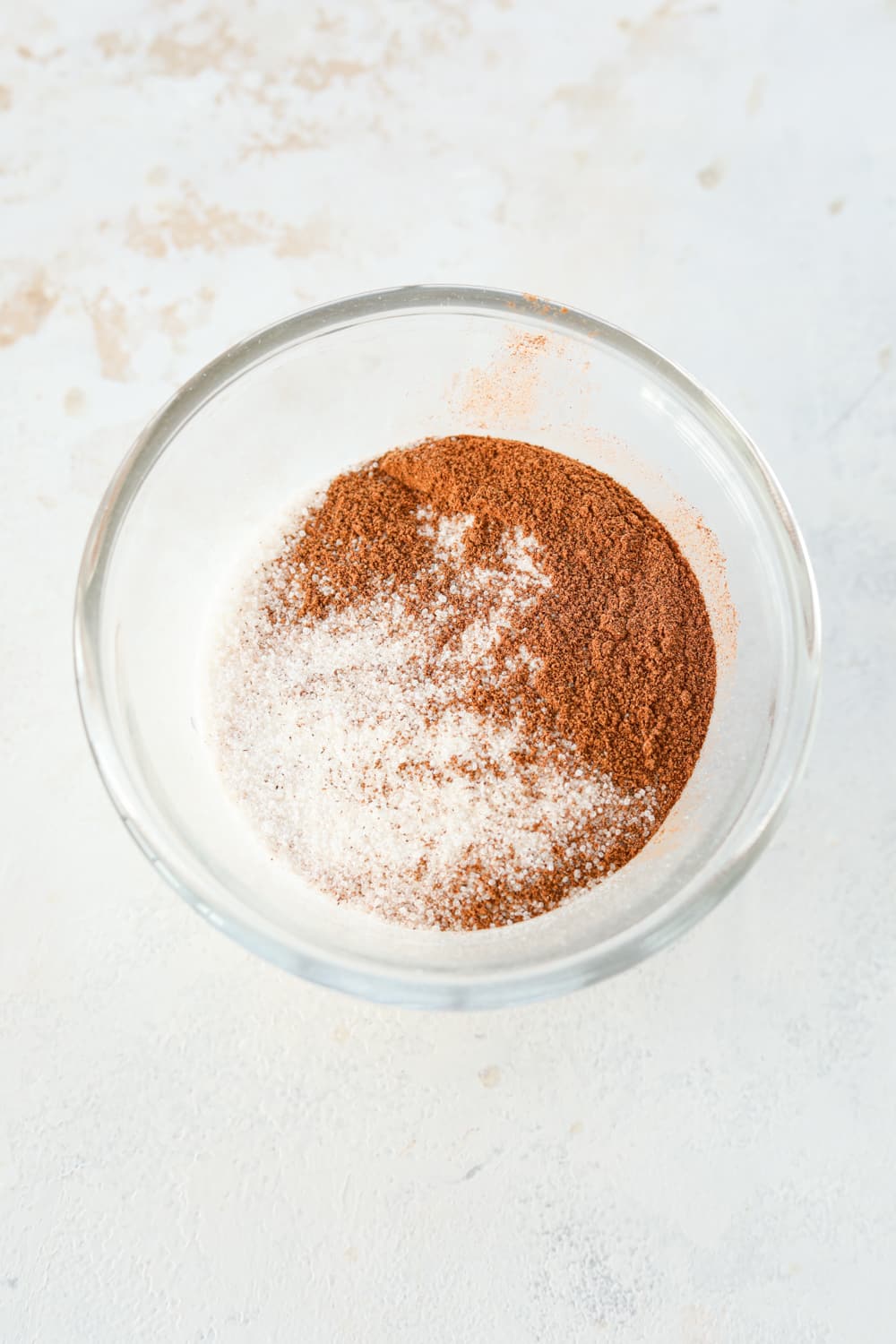 Now, the process of how to make Cinnamon Toast Crunch healthy is actually super easy. It literally takes under 5 minutes!
Seriously, you'll be blown away by how easy this really is, and that's one of the reasons I make it almost every day.
So, get out the ingredients, and I'll show you how to make cereal in the comfort of your own home!
Step 1: Making The Cinnamon-Sugar Topping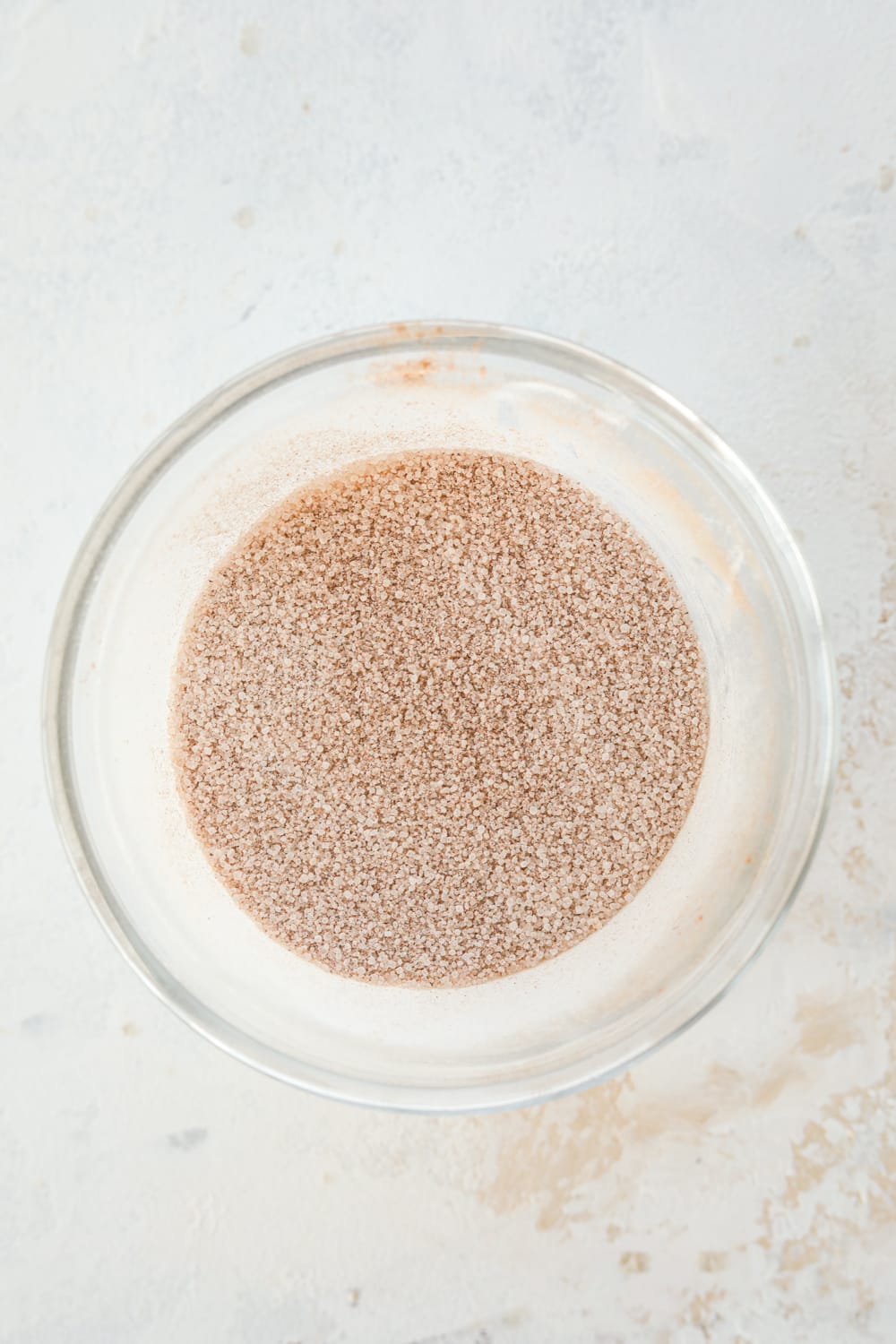 First, you'll want to start by adding the granular swerve and cinnamon to a bowl. You can really use any sugar free sweetener that you want, like monk fruit or erythritol. Buy, with that said, my favorite one to use is Swerve.
Anyway, during this step, you'll want to mix the cinnamon and sweetener together until it is well combined and then set it aside for later.
Step 2: Prepping The Bread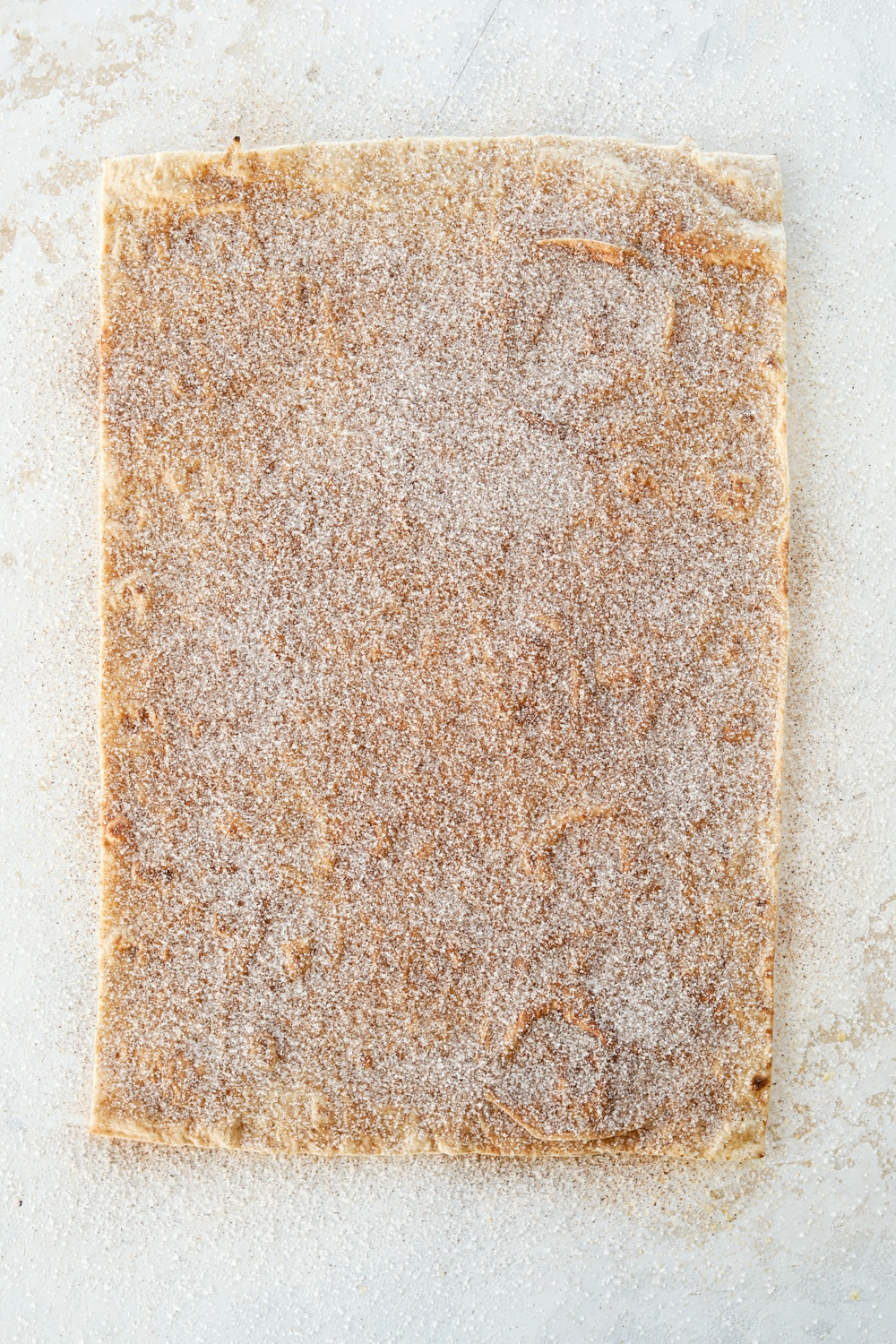 Next, take out the Lavash bread - or low carb tortilla - and put it on a flat surface. Spray one side of it with baking spray - I like to use butter flavored - and then sprinkle half of the cinnamon sugar mixture evenly on top of it.
Then, use your hands to press the topping down into the bread to make it stick.
Now, flip it over, spray the other side with baking spray, and sprinkle the rest of the sugar free topping on it like you just did.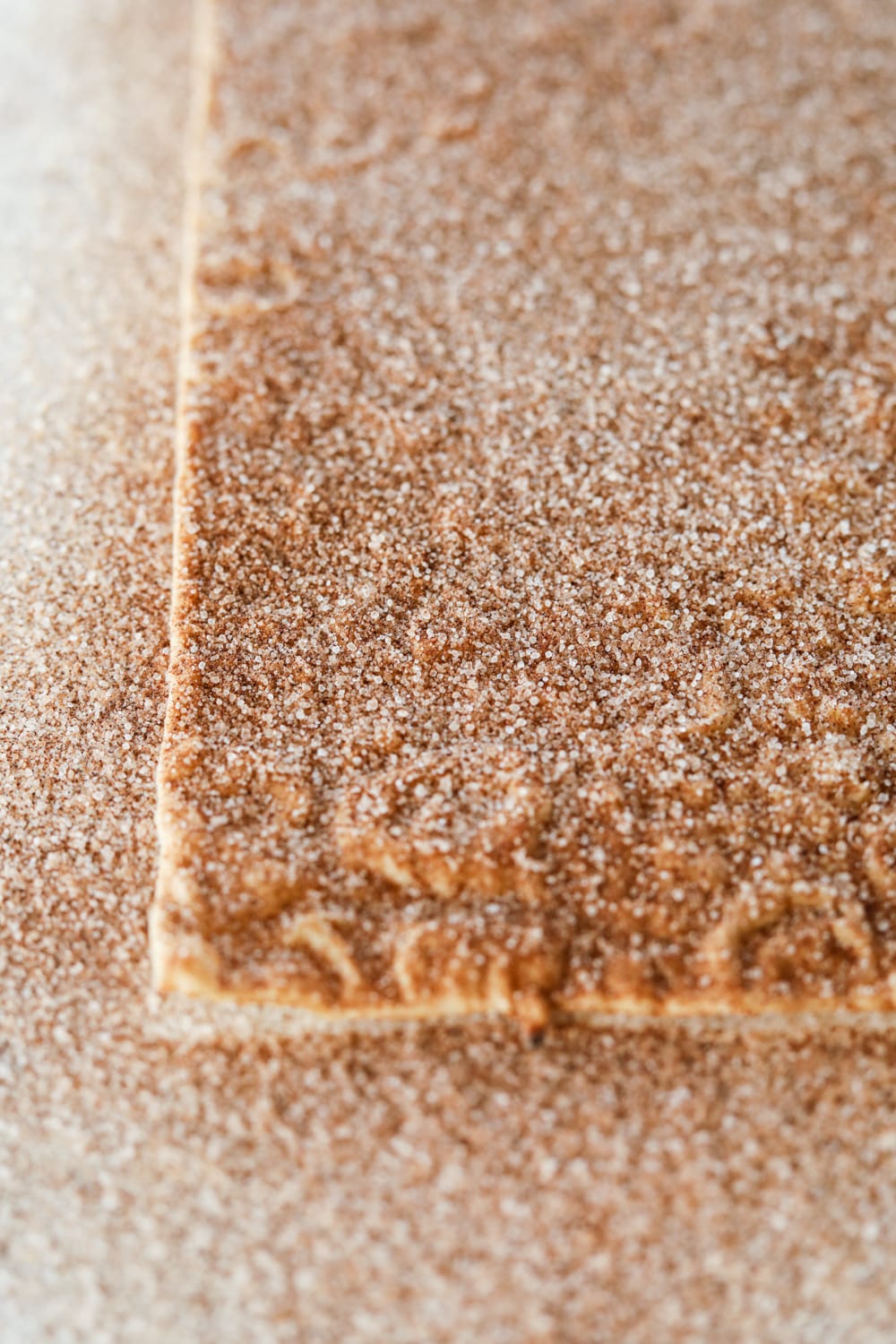 Step 3: Making The Cinnamon Toast Crunch Squares
So, now that the bread or wrap is coated in cinnamon sugar deliciousness, it's time to make it look like cereal.
To do that, take out a pizza cutter and cut it into quarter-inch wide strips.
I typically cut about 15 strips vertically and 20 strips horizontally. These proportions end up creating the perfect sized squares for Cinnamon Toast Crunch.
And you'll see exactly what I mean by that in the photo below.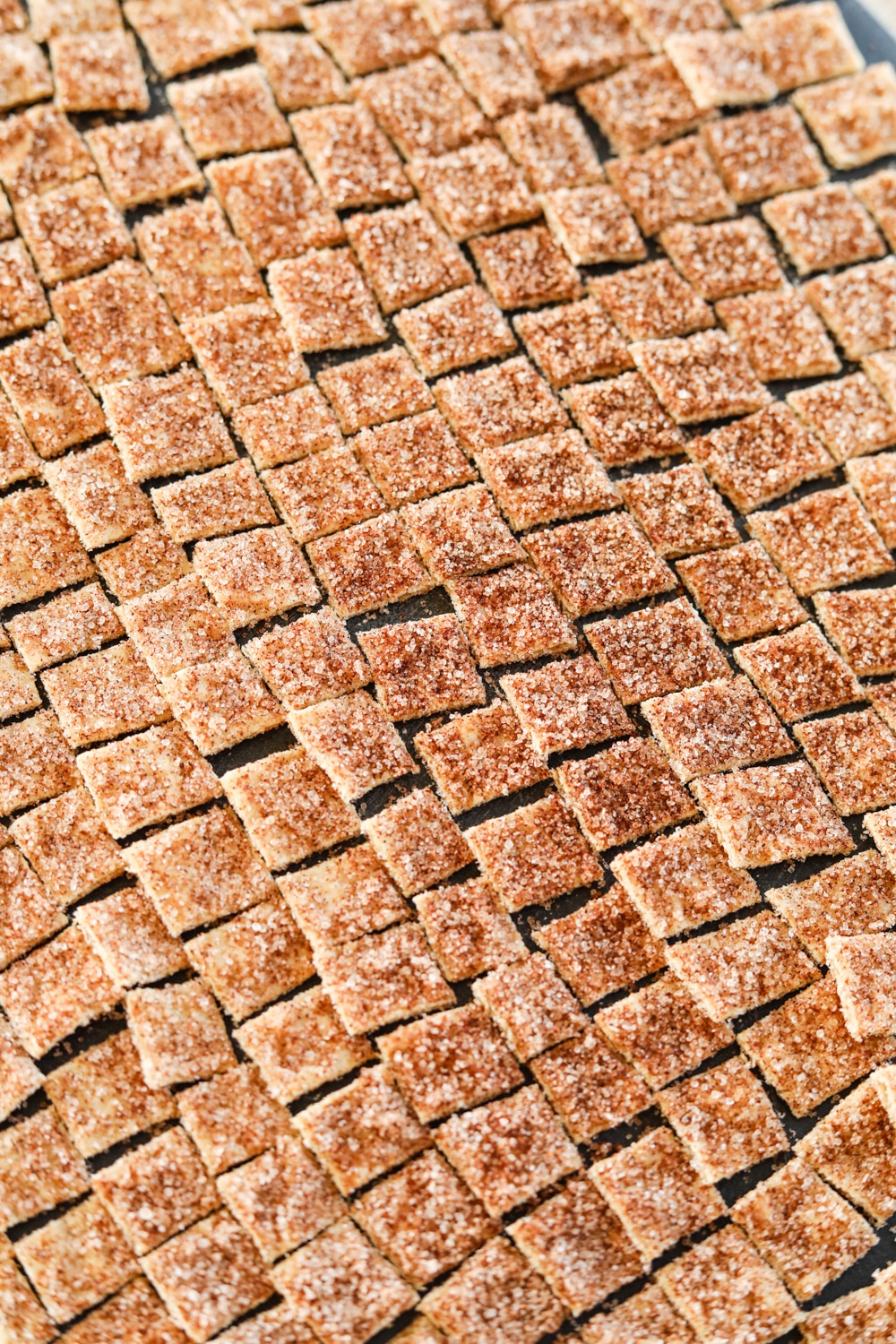 Step 4: Creating The Cereal
Now it's time to create some crunchy cereal! You can do this in two ways, either microwaving the cereal or leaving it out overnight.
For the microwave version, put the squares on a paper towel lined plate, and make sure not to overcrowd them. And you'll probably have to do this in three to four batches depending on the size of your plate.
Next, microwave the squares for about 20-30 seconds. Then, let them cool completely on the paper towel so they can crisp up.
However, if you don't have a microwave - or if you don't want to use the microwave - don't worry, you can still make this cereal. All you have to do is simply leave the cut squares out uncovered overnight and they'll get just as crispy.
Then, your low calorie cereal will be ready to eat when you wake up!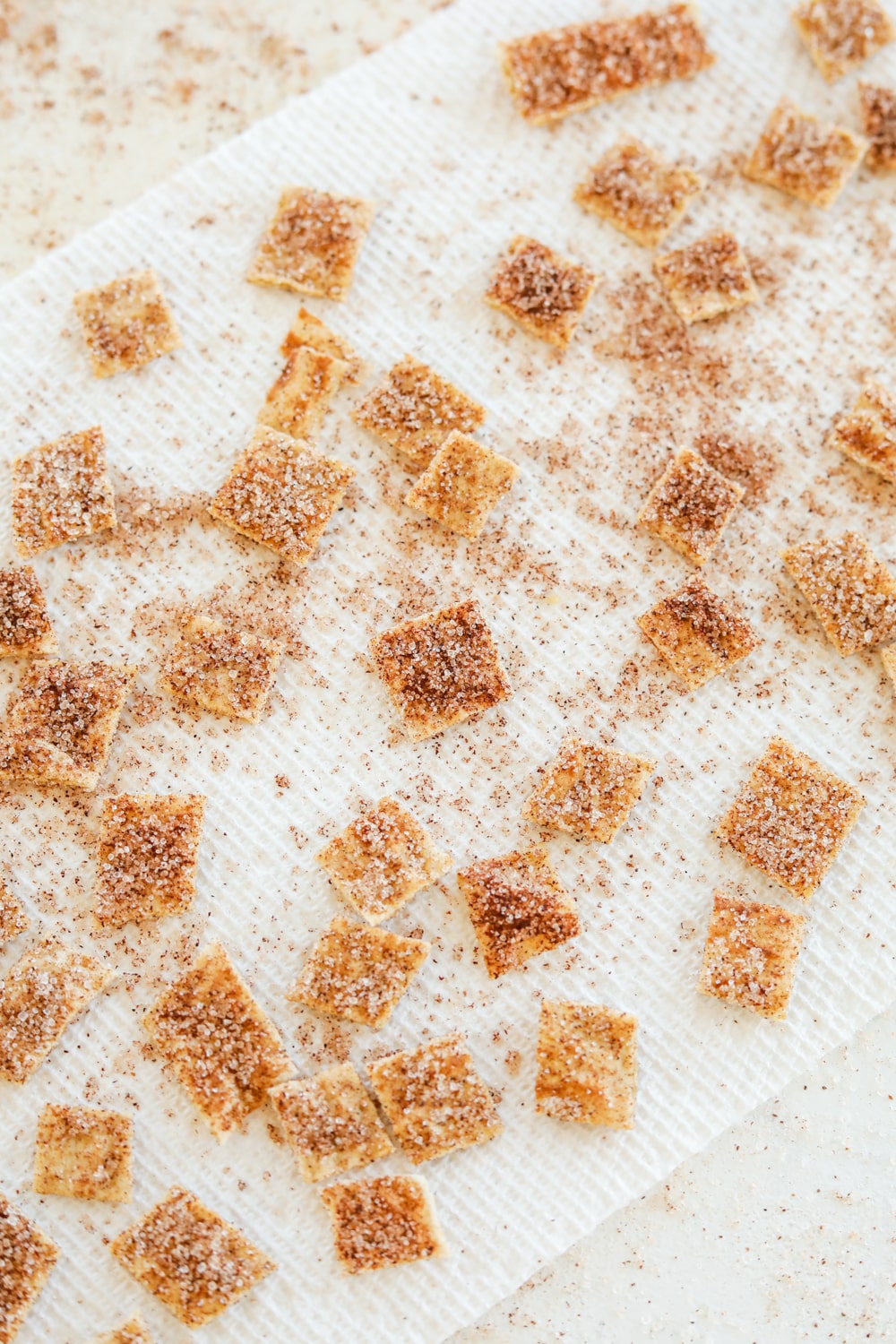 Step 5: Eating The Cereal
So, if you want a traditional cereal experience, just wait for the squares to harden up and then add them to a big bowl with some milk.
But, honestly, these little cinnamony sugary squares are so delicious on their own without milk they make a great snack. Seriously, I love having them as a sweet snack to pick at, and they always curb my sweets cravings without actually eating sugar.
With that said, however you eat this breakfast cereal, it will be delicious!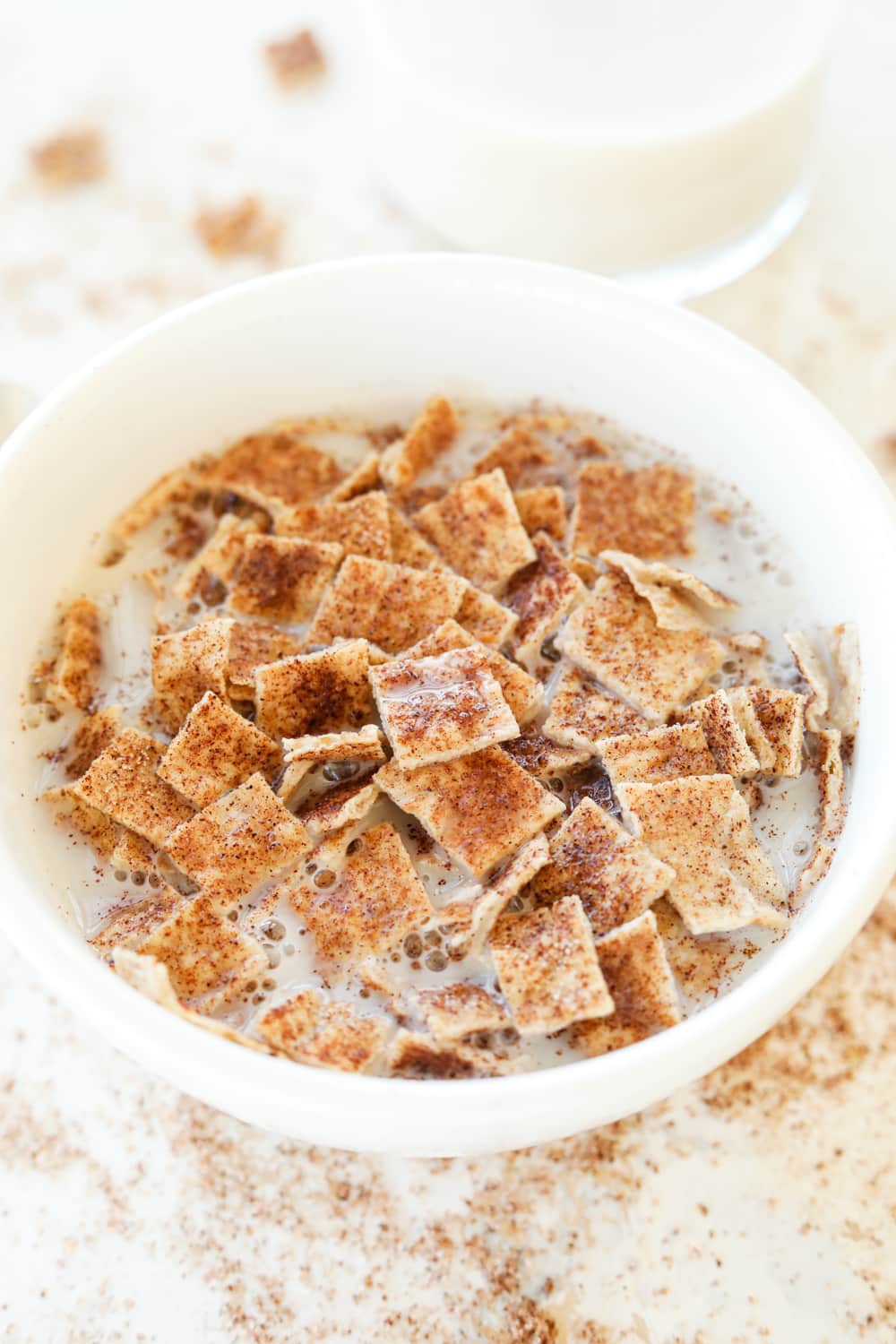 How To Store Homemade Cereal
As I said earlier, this low calorie cereal recipe will make one big serving for only 60 calories!
And odds are you won't have any leftover - so I recommend making 2,3, or 4 batches all at once so you can enjoy it all week long. That's what I like to do anyway. And who doesn't want to start their day with some healthy cereal every day of the week, am I right?
Seriously, you can never have too much of this ready to eat since there are no better breakfast cereals out there.
Anyway, as far as storing goes, after the squares harden, you can keep them in an airtight container - or resealable bag - and the cereal will last for about 5 days.
Then, whenever you want it, either snack on it right out of the bag or add it to a bowl with some milk! Enjoy.
Wrapping It All Up
Well, that is how to make low calorie cereal with only 3 ingredients in under 5 minutes! Pretty wild right?
I seriously can't get enough of this low calorie, low carb, low fat, high fiber, and low sugar version of Cinnamon Toast Crunch. It has been one of my go-to meals lately for weight loss and it always leaves me feeling full and satisfied.
Anyway, I hope you enjoy this recipe and it can help you replace all of the refined sugar high carb cereals you might be used to eating in the morning. This homemade cereal has all the deliciousness of the processed ones at the grocery store, but none of the sugar crash you get after eating those.
As always, if you give it a try, leave a comment below and let me know what you think.
Oh, and for more delicious recipes just like this one, check out my Youtube channel!
LOW CALORIE RECIPES
If you want some more low calorie recipes, I have a bunch on the blog that I think you'll like!
Give these a try next:
Print
Low Calorie Cereal That Tastes Like Cinnamon Toast Crunch
This low calorie cereal tastes exactly like Cinnamon Toast Crunch, but these little squares of deliciousness have just 60 calories per serving with zero grams of sugar! And it takes just minutes to make this healthy cereal!
Author:
Prep Time:

1 minute

Cook Time:

1 minute

Total Time:

2 minutes

Yield:

1 serving

Category:

Breakfast

Method:

Microwave

Cuisine:

Low Calorie
Instructions
Add the granular swerve and cinnamon to a bowl and mix.

Coat one side of the Lavash bread with baking spray (I used butter flavored).




Sprinkle half of the cinnamon sugar on top and press it into the bread with your hands.

Flip it over, spray, and add the rest of the cinnamon sugar to it.

Cut into quarter inch strips (about 15 vertically and 20 horizontally).

Add the squares to a paper towel lined plate and microwave for 30 seconds and let them cool to harden. Or you can leave the squares out overnight to harden. 

Add the squares to a bowl with the milk of your choice and enjoy!
Nutrition
Serving Size:

1 serving

Calories:

60

Fat:

1.5

Carbohydrates:

8

Fiber:

2

Protein:

6
Keywords: low calorie cereal, low calorie cereal recipe, healthy cereal, healthy cereal recipe, how to make cereal, how to make cereal healthy, how to make cinnamon toast crunch, cinnamon toast crunch recipe, best cereal recipe, easy cereal recipe, homemade cereal, healthy breakfast, low calorie breakfast, low calorie breakfast recipe, healthy breakfast recipe,