This healthy cereal list has everything from keto cereal, to sugar free cereal, to protein cereal, to even high fiber cereal. So, no matter what you're looking for, these healthy cereal options will help you to start your mornings off right!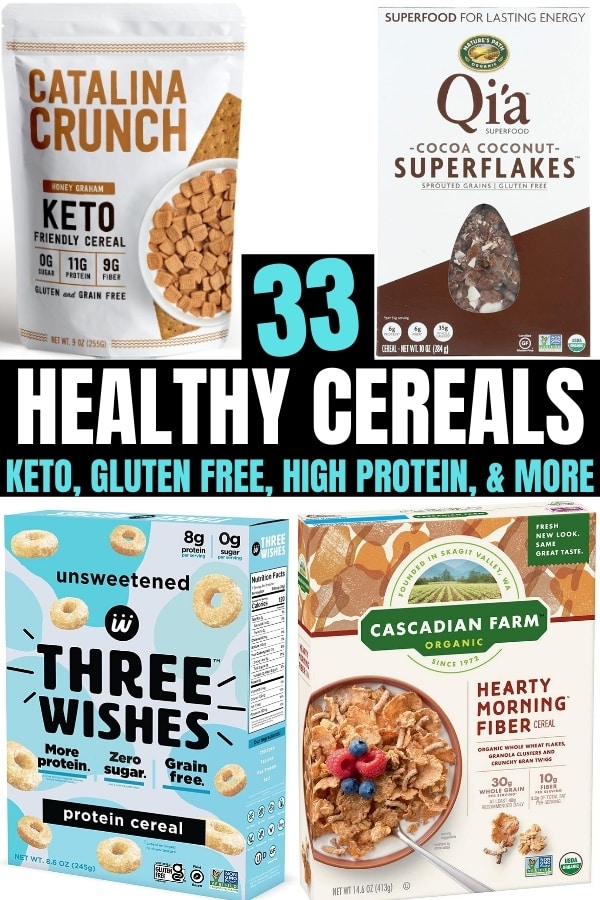 THE BEST HEALTHY CEREAL
Cereal is one of the easiest and yummiest ways to start the day, but it's no secret that it isn't always the healthiest option. Typically cereal is loaded with sugar and has no real benefits.
So I put together this list of cereals with over 30 healthy options! And there are a ton of different types of cereal, so I guarantee there's something here for you.
Plus, a bunch of these are excellent choices as a healthy cereal for kids. So, if you've got picky eaters at home, these will be great for them too.
Anyway, I broke all of the healthy breakfast cereal options into 5 categories - keto cereal, sugar free cereal, high fiber cereal, protein cereal and gluten free cereal - so whatever you're looking for, you'll find it here!
KETO CEREAL
If you're following the keto diet, breakfast cereal is usually one of the first things you have to cut out, but it doesn't have to be!
Keto friendly cereal really does exist, and all of these low carb cereal options have under 5 net carbs!
1. HighKey Protein Cereal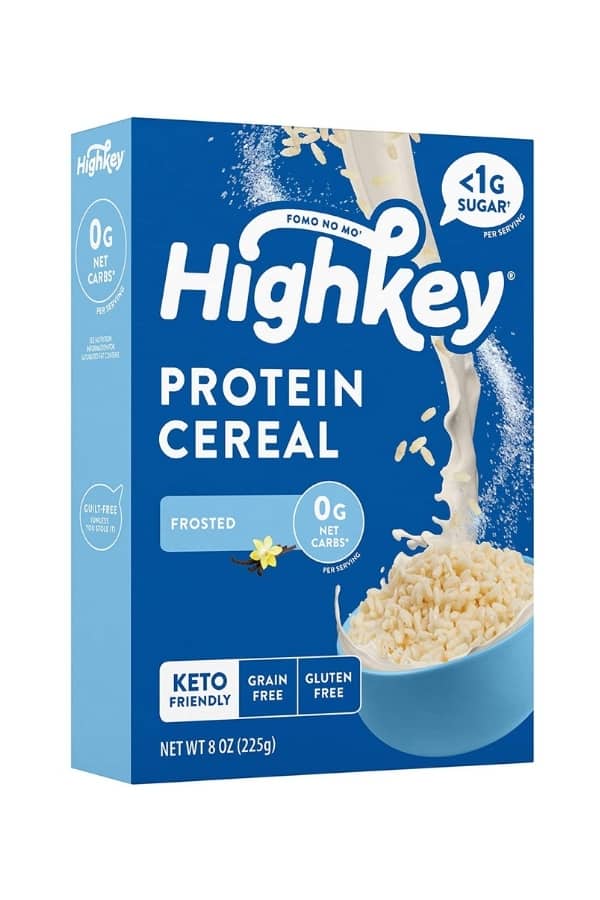 This high protein and low carb cereal is as keto friendly as it gets. It has 0 net carbs, 10g of protein and is completely grain-free and gluten free.
And there are some pretty awesome flavors - you can try their frosted, cocoa, or honey nut.
2. Bubba's Fine Foods Keto Granola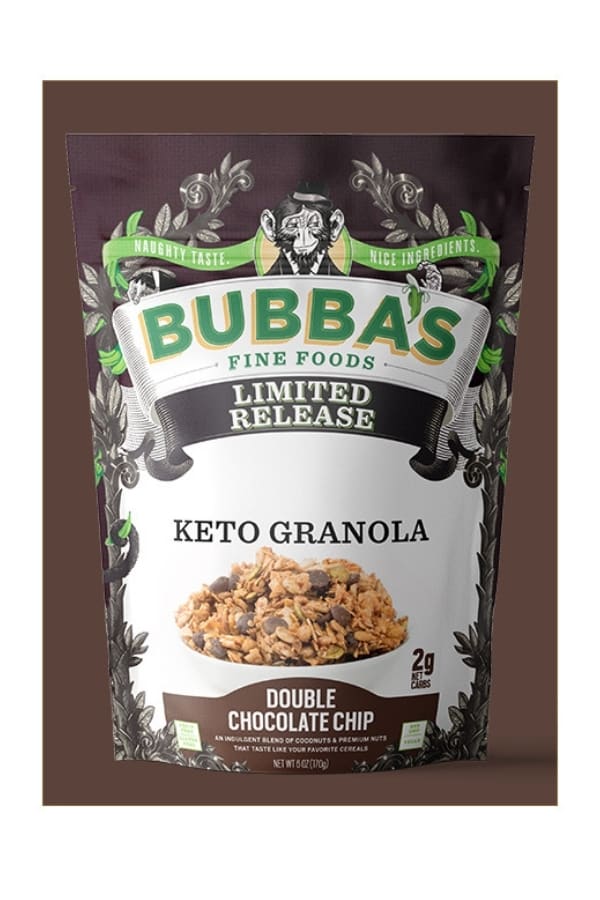 This granola-based keto cereal gives you all the sweetness and flavor of regular granola without the high sugar content. It is just as delicious in some milk as in yogurt, and each serving only has 2 net carbs!
Try their double chocolate chip, lemon blueberry tart, and maple cinnamon crunch versions here.
Oh, and if you want to make some homemade low carb granola, check out my Keto Granola recipe!
3. Nature's Path Organic Keto Cereal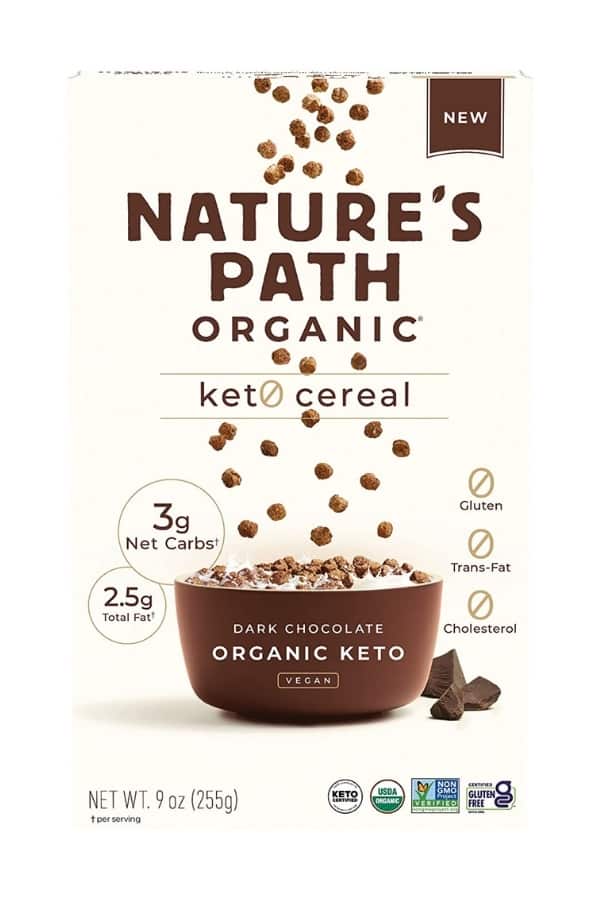 If you love cereal with a good crunch, you'll love this keto cereal. It is sweetened with erythritol, and has just 3 net carbs with a ton of healthy fats!
And it comes in two tasty flavors - dark chocolate and cinnamon toast.
4. Wonder Works Keto Friendly Cereal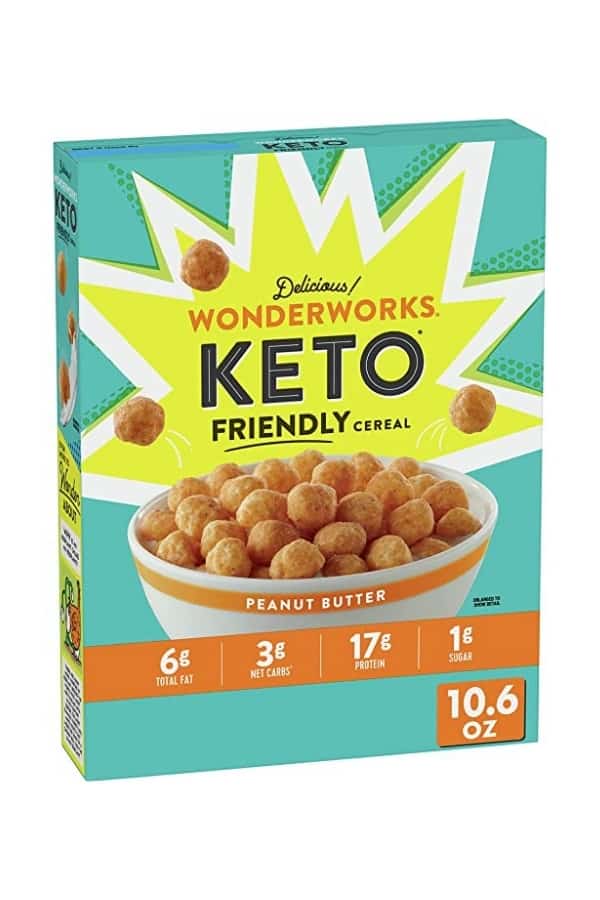 The name says it all - this keto friendly cereal is a true wonder. It is packed with 15g of protein and only has 3 net carbs!
The peanut butter flavor reminds me of Captain Crunch, and there is also a delicious chocolate flavor and cinnamon flavor you can find in the cereal aisle.
5. Magic Spoon Cereal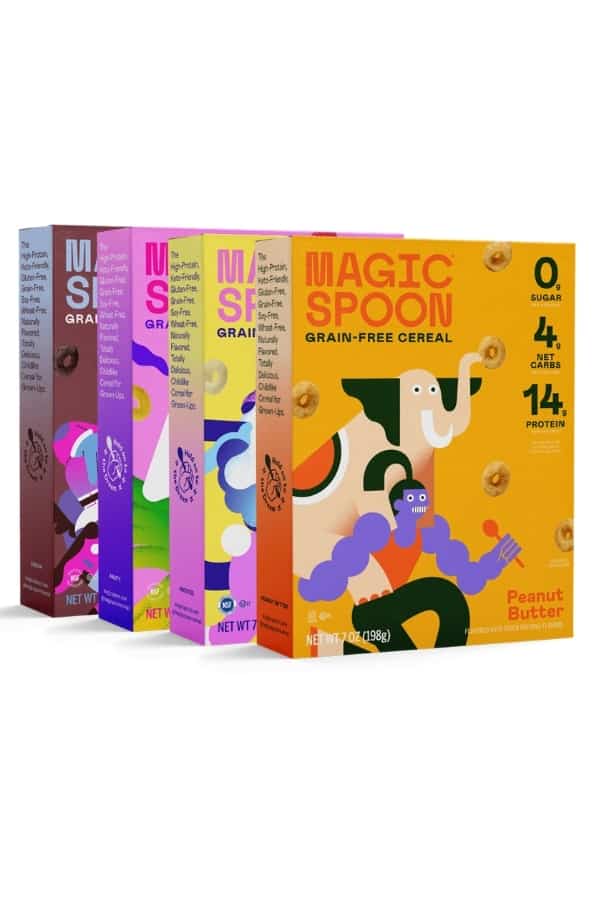 Magical Spoon cereal has been trending everywhere lately, and with good reason! It's a gluten free, low carb, and no grain cereal with 11g of protein and 4 net carbs per serving. And it's pretty darn tasty too.
But the best part, there are a ton of flavors - fruity, peanut butter, cocoa, cinnamon, frosted, blueberry, maple waffle, and cookies & cream. Try a cocoa, frosted, fruity, and peanut butter variety pack here. The flavors are why I think this is one of the best healthy breakfast cereals.
By the way, if you're trying to sneak even more protein into your day give this protein mug cake recipe a shot!
6. Schoolyard Snacks Low Carb Keto Cereal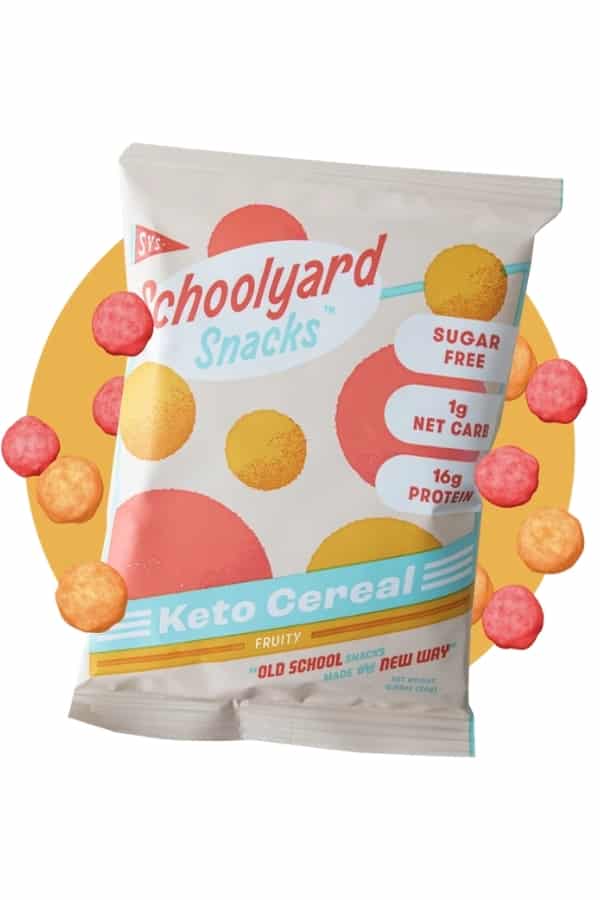 This low carb cereal is super unique because it comes in single-serve 100 calorie snack bags! And I'm a huge fan of this since portion control is built right into the cereal.
Also, it's completely sugar free, and has just 1 net carb, while packing 15g of protein per serving! So, not only is it low carb and low in calories, but this delicious cereal packs a ton of protein as well.
And you can choose from multiple flavors - peanut butter, cinnamon bun, cocoa, fruity, and cookies & cream.
7. Catalina Crunch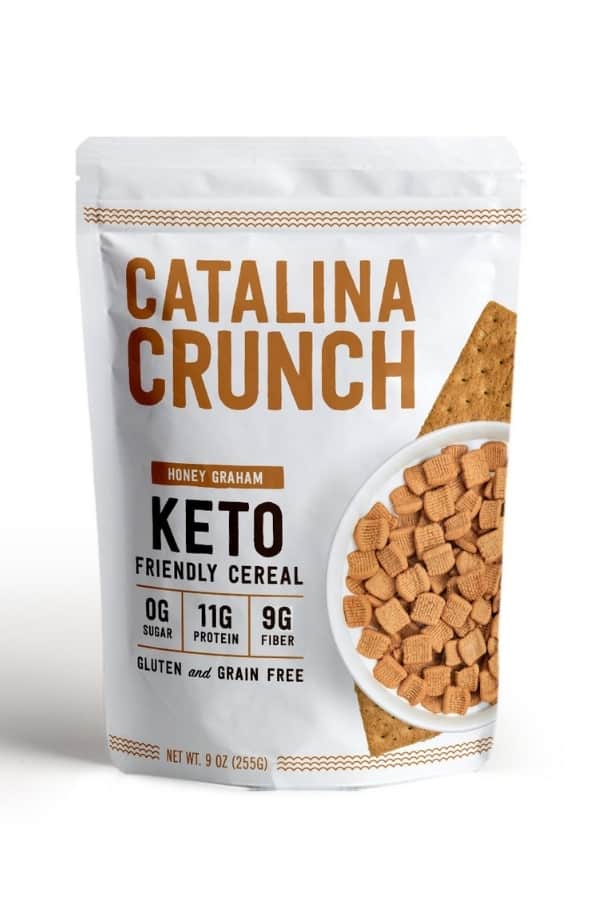 If you want some adventurous cereal flavors, there's a good chance Catalina Crunch has it - you can choose from dark chocolate, maple waffle, chocolate banana, cinnamon toast, honey graham, and mint chocolate.
Every flavor has 11g of protein and just 5 net carbs! And this keto cereal is also gluten & grain-free, and vegan.
SUGAR FREE CEREAL
As I mentioned earlier, cereal is typically just all sugar with no real health benefits.
So if you've been looking for healthy cereal options that have no sugar, check out all of these cereals!
8. Three Wishes Unsweetened Grain Free Cereal


This unsweetened version of Three Wishes cereal loops has all the crunchiness and high protein content of the original, but with 0g of sugar!
And it is made with nutrient-rich, plant based ingredients! Pick up this sugar free cereal here.
9. Kashi 7 Whole Grain Puffs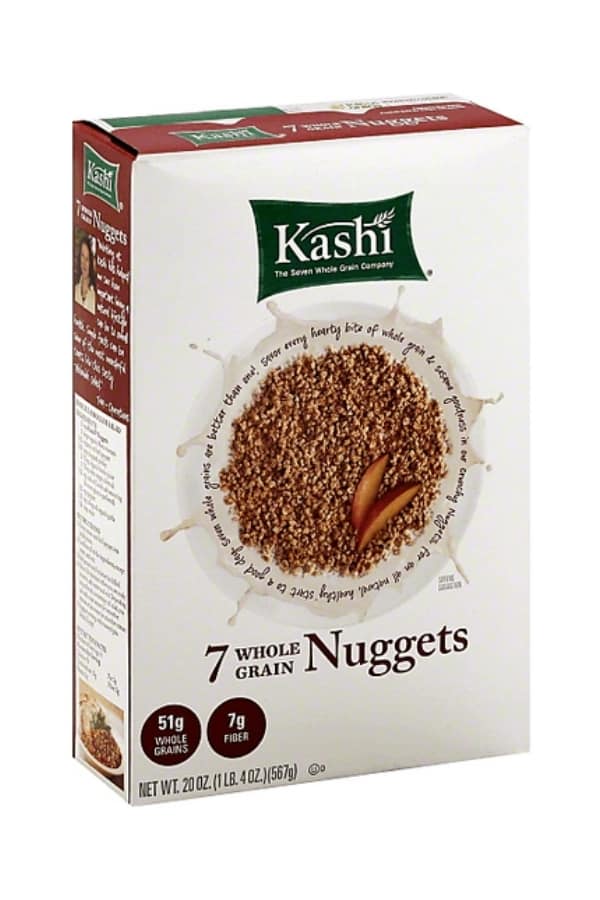 If you're all about clean eating, this crispy puffed cereal from Kashi is exactly what you need.
It's made from a healthy mix of wheat, brown rice, oats, barley, triticale, rye, buckwheat, and sesame seeds with no added preservatives. And, of course, it has 0g of sugar!
10. Arrowhead Mills Puffed Corn Cereal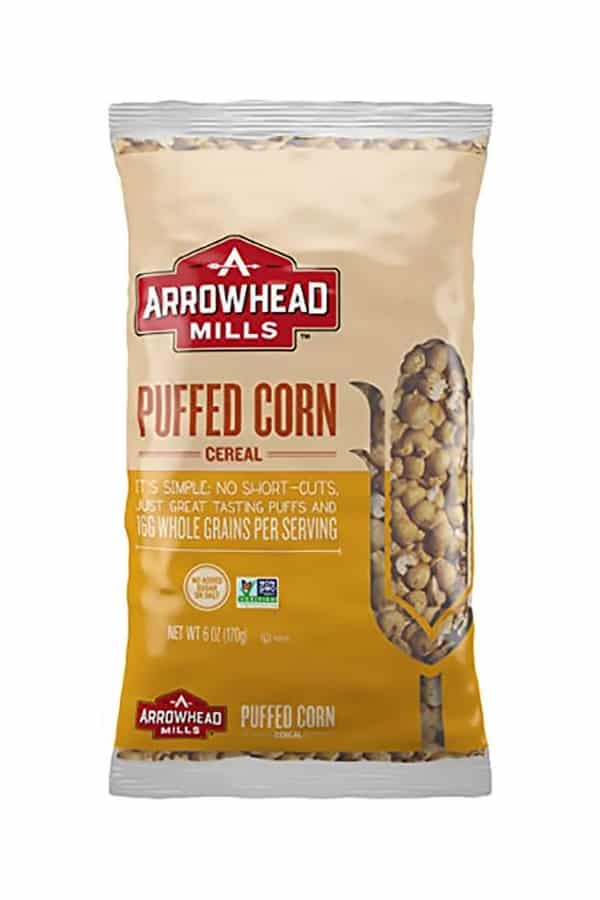 Arrowhead Mills keeps breakfast super simple with just one ingredient - puffed corn.
It has 0g of sugar with no added flavoring, so you can customize this organic cereal any way you want or even snack on it dry - you can check it out here.
11. Kapok Naturals Organic Quinoa Pop Cereal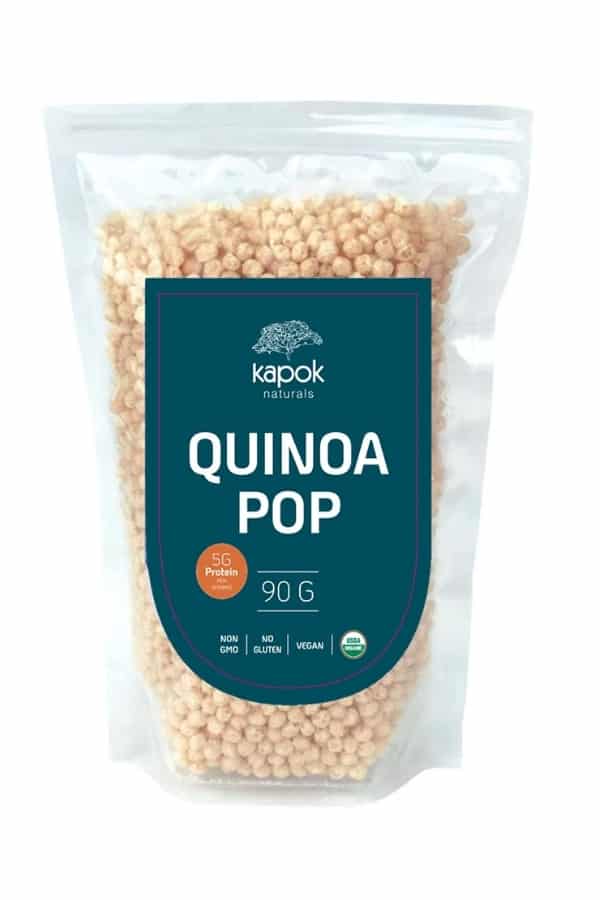 Start your day off with the goodness of quinoa for a variety of health benefits in an airy, crispy puffed sugar free cereal form!
This puffed quinoa cereal from Kapok is perfect for breakfast, snacking, or mixing with other cereals for some added crunch. And you can jazz it up with some fresh berries or sliced banana. You can get yours directly from their Amazon store.
12. Food For Life Ezekiel Sprouted Whole Grain Cereal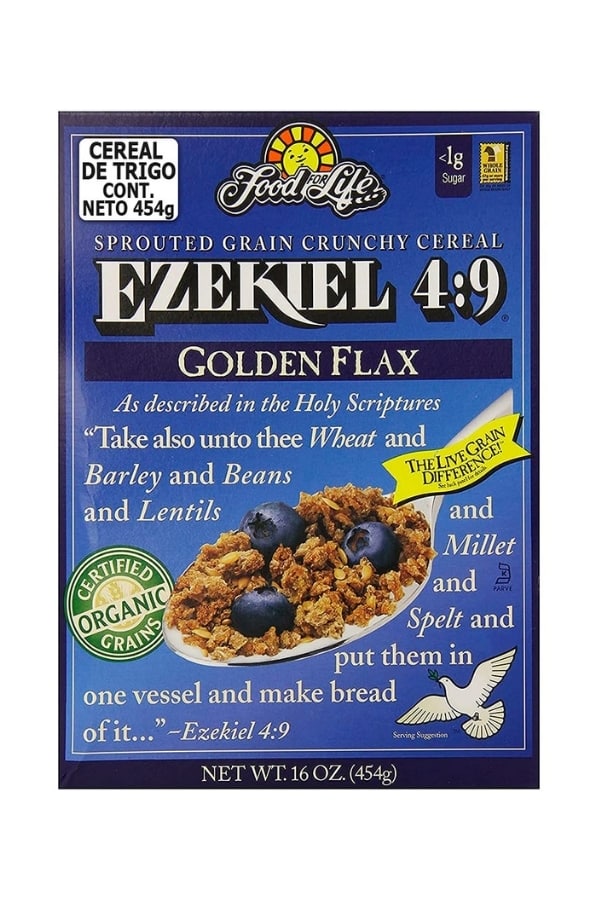 If you like Ezekiel bread, then you'll love the cereal version. This Ezekiel cereal is made from a mix of organic sprouted grains, seeds, and legumes.
It's a non-GMO, kosher certified, vegan, and sugar free cereal! Try out their Original, Golden Flax, and Almond flavors. But you will want to stay away from the cinnamon raisin flavor since it has added sugars.
PROTEIN CEREAL
Want to add some more protein to your day? A protein cereal is a perfect way to do that!
Eat it with fairlife milk - which has double the protein as regular milk - and you'll have a delicious high protein breakfast.
And since these cereals are high in protein, they keep you fuller for longer, so you'll be good to go until lunch after you eat cereal from this section!
13. Kellogg's Special K Protein Cereal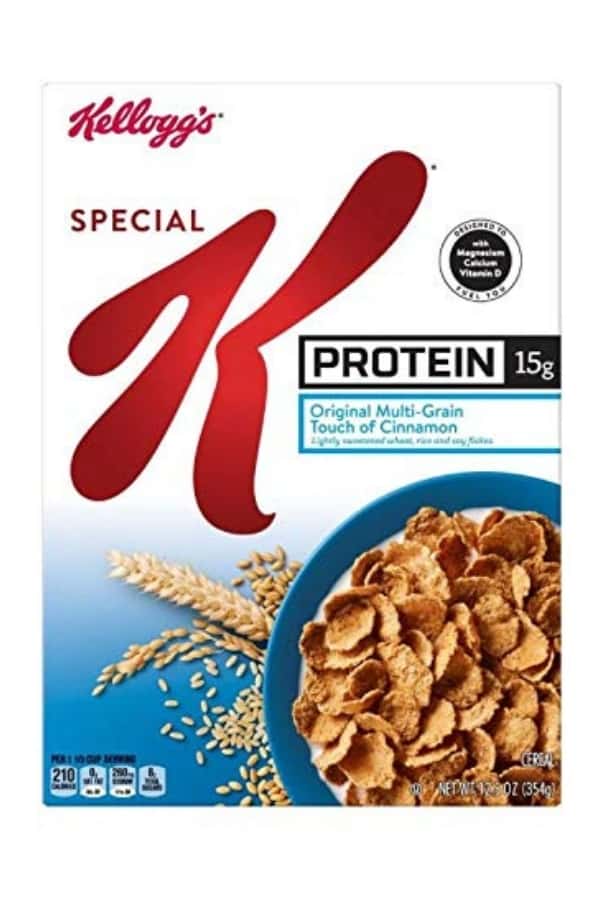 If you want to pack as much protein into your mornings as possible, this high-protein version of Special K is a great option. Each bowl has a whopping 15g of protein per serving!
14. Kay's Natural Protein Cereal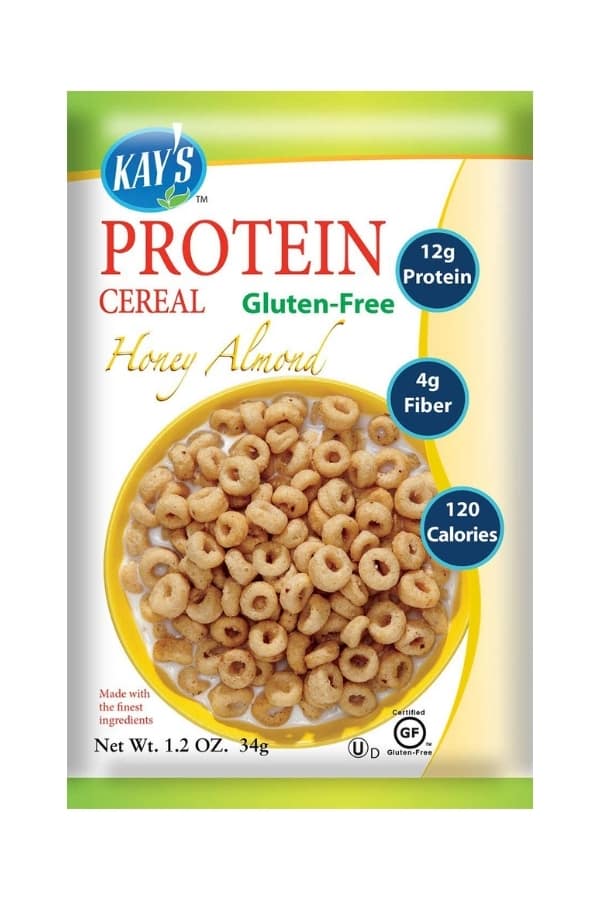 Kay's Natural Protein Cereal is basically high protein Cheerios. It comes in French Vanilla, Honey Almond, or Apple Cinnamon flavors and has a total of 12g protein per serving!
Oh, and it's also gluten free and has 4g of fiber. Check it out here.
Speaking of keeping things gluten free, this gluten free chocolate chip cookie recipe is top notch. So definitely give that a try if you're avoiding gluten!
15. Kashi Go Cereal
Kashi Go has many flavors, but the original and cinnamon crisp are the highest in protein with 12g per serving.
The other flavors are: peanut butter (10g protein), chocolate crunch (10g protein), coconut almond crunch (10g protein), honey almond (9g protein), and toasted berry crisp (9g protein).
16. 365 Protein & Fiber Crunch Cereal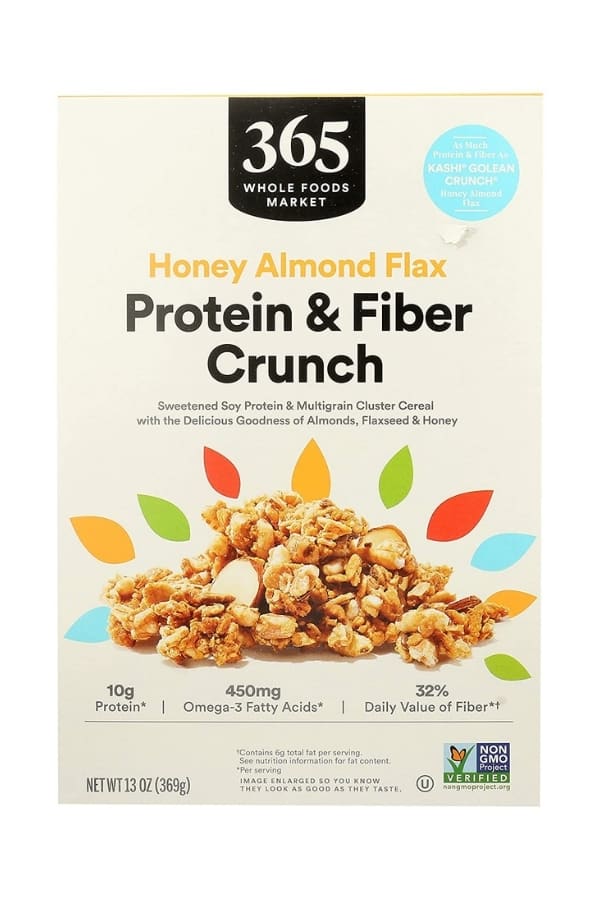 This Honey Almond Flax cereal from Whole Foods Market packs a one-two punch of high protein and high fiber. It's made with organic, non-GMO ingredients and has 10g of protein and 9g of fiber per serving.
You can pick it up from a Whole Foods near you!
17. Three Wishes Grain Free Cereal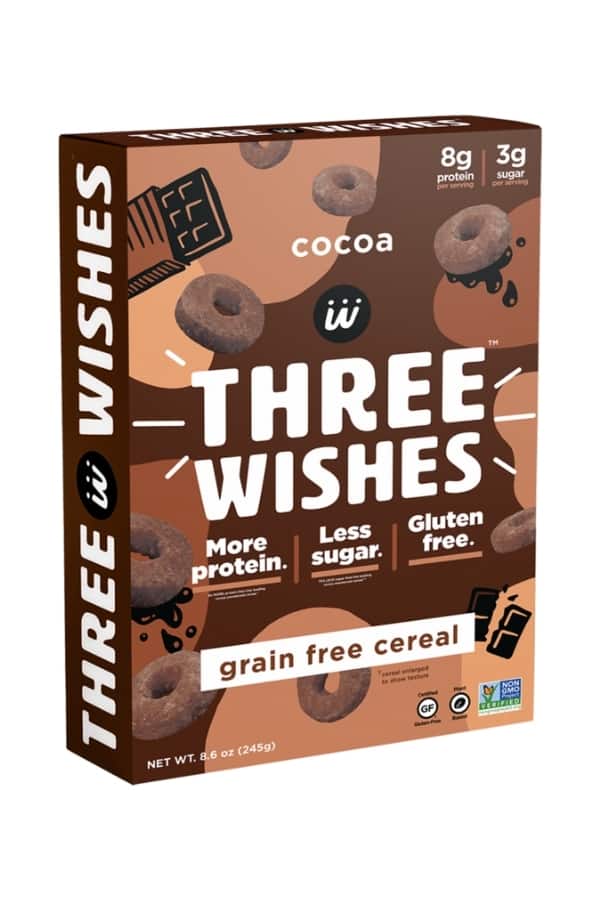 What I love about these plant based cereal loops is that they come in a huge variety of flavors, so you'll never get tired of them. You can get them in frosted, fruity, cinnamon, cocoa, and honey flavors.
And to make them even better, each serving has 8g of protein per serving with only 3g of sugar!
18. RX Cereal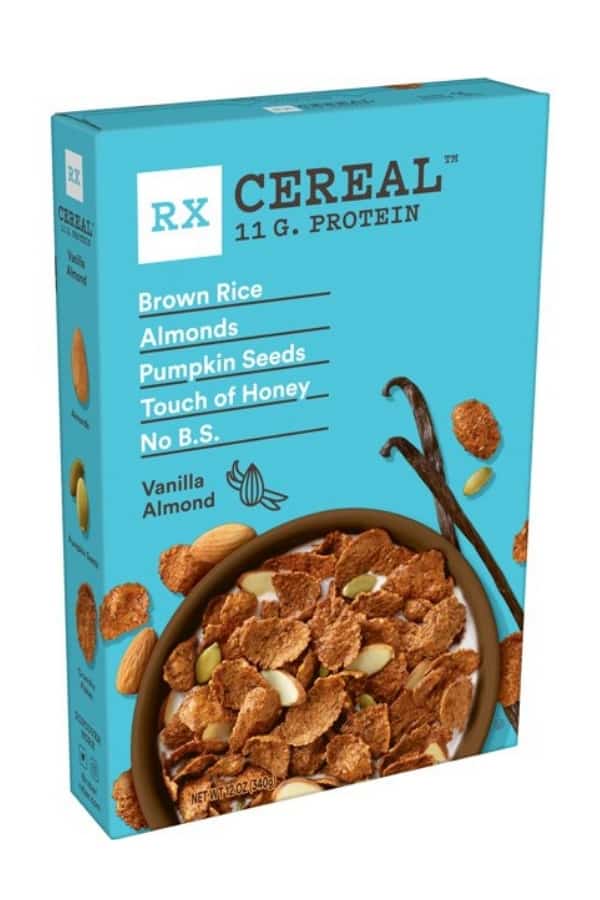 You've probably heard of RX bars before, but did you know they make cereal too with 11g of protein? And an added benefit is they are made with just a few ingredients that are listed on the front of the box! So like the box says, there's no B.S. in it. That's why it's one of the healthiest cereal choices.
This protein cereal comes in vanilla almond, strawberry, and chocolate almond.
HIGH FIBER CEREAL
High fiber cereal is a great way to help start your day off by stabilizing your blood sugar levels. It also is more satiating, so it fills you up quicker and keeps you full longer.
And adding some high fiber cereals to your diet is a great way to keep you regular.
19. Nature's Path Organic Smart Bran Cereal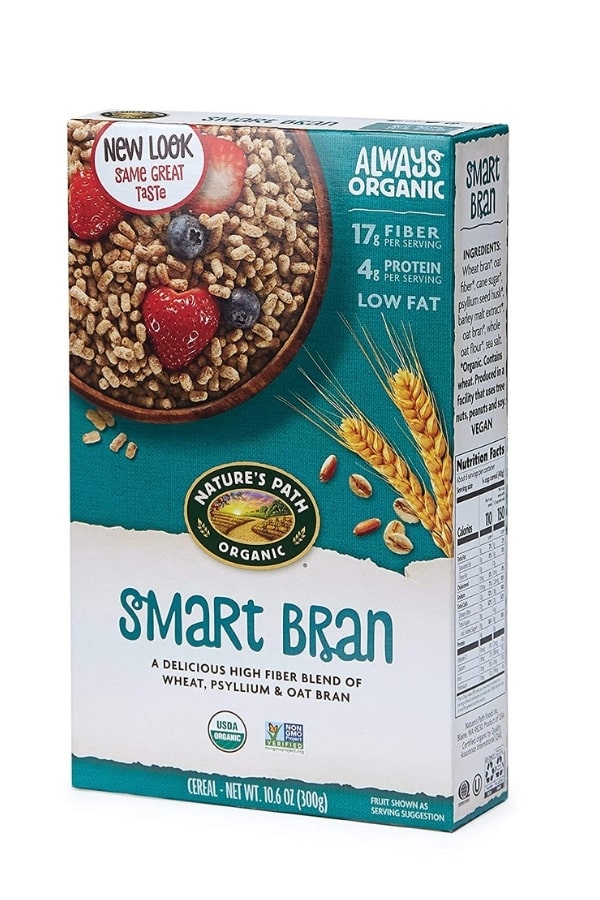 The Smart Bran cereal from Nature's Path Organic is made with a blend of organic wheat bran, oat bran, and psyllium husk for a total of 17g of fiber - which is one of the highest amounts you'll find in any cereal!
You can get it online here.
20. Poop Like a Champion Ultra Fiber Cereal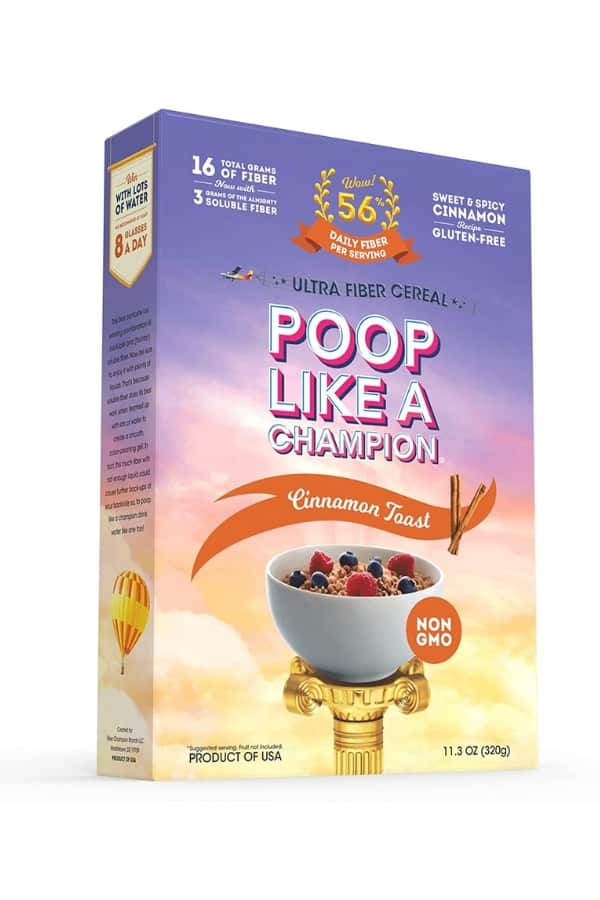 What sets Poop Like a Champion apart (besides its hilarious name) is that it's made with insoluble fiber and soluble fiber, which are both necessary for super smooth digestion.
Each serving comes out to 16g of fiber, and just over 1.5 servings worth will fulfill 100% of your daily fiber needs. And it comes in a tasty cinnamon toast flavor.
21. Kellogg's All-Bran Buds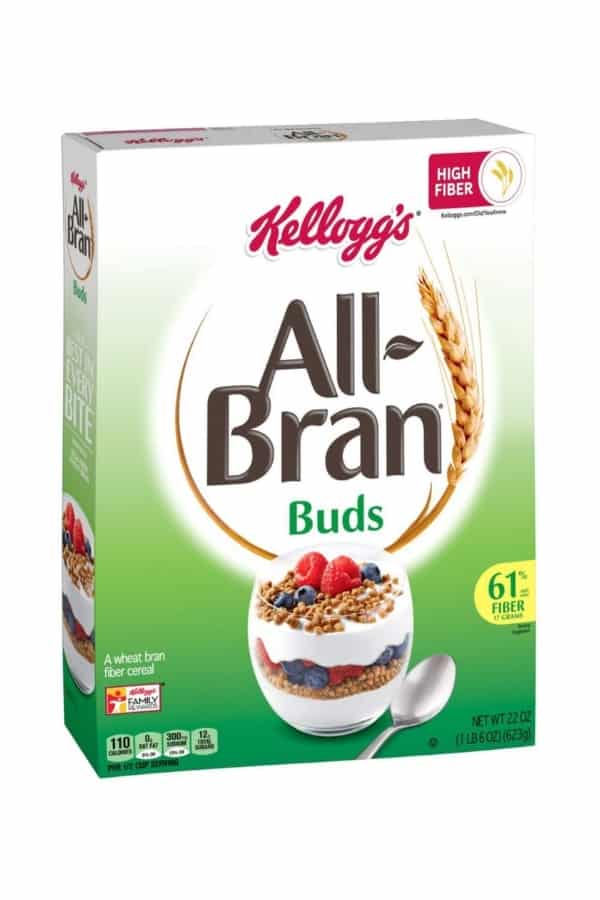 This fiber-rich cereal from Kellogg is addictively crunchy and has the perfect amount of sweetness.
As the name says, it is made out of just bran, and each serving comes out to 13g of fiber. Grab two boxes with a free cereal bowl here.
22. Cascadian Farm Organic Hearty Morning Fiber Cereal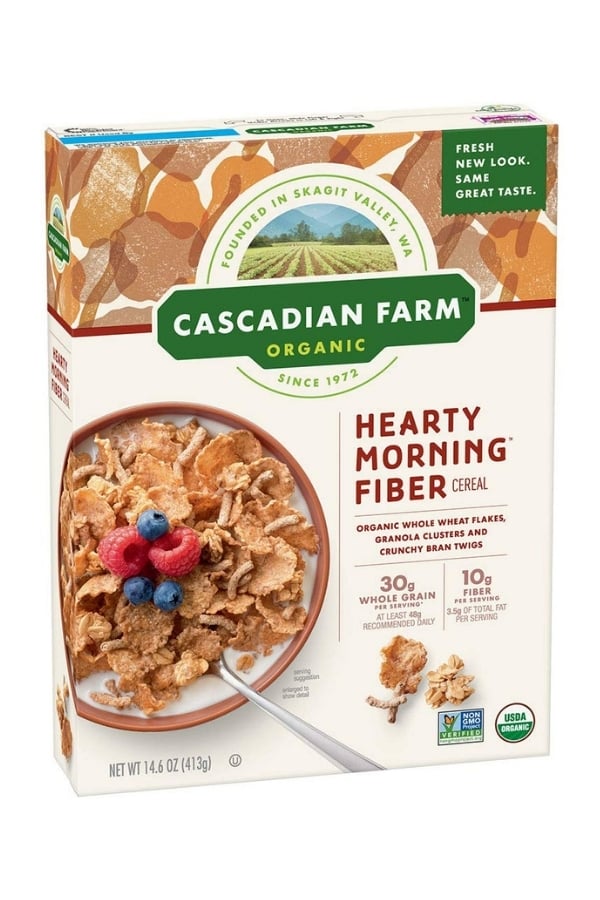 This hearty cereal from Cascadian Farm Organic is made with a deliciously crunchy and flavorful mix of whole wheat flakes, granola clusters, and crunchy bran twigs.
Each serving comes out to 10g of fiber - check it out here.
23. Uncle Sam Original Wheat Berry Flakes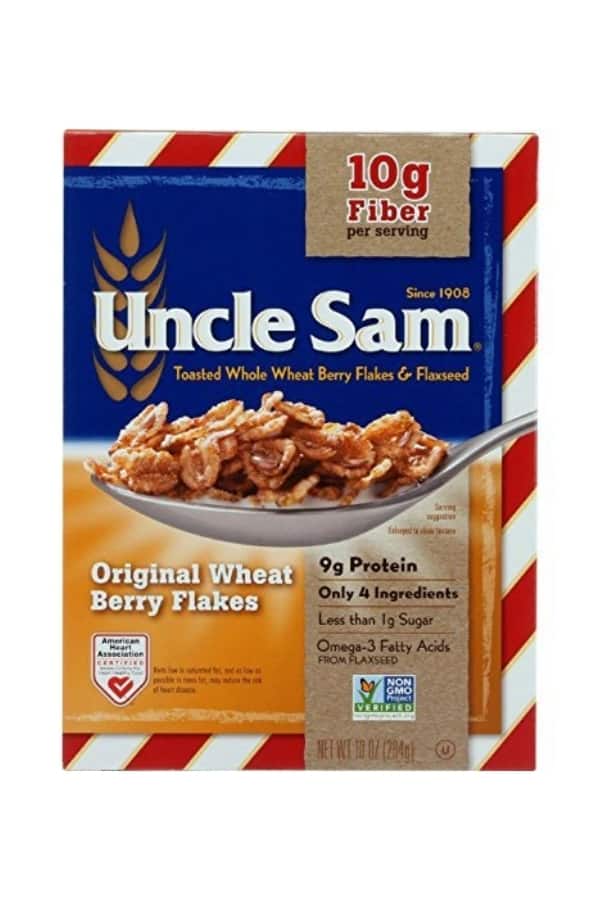 If you're looking for a high fiber cereal with no added sugar, these wheat berry flakes from Uncle Sam are just what you want.
It's made with toasted wheat berry flakes and whole flaxseeds for double the flavor and crunch at just 10g of fiber per bowl!
24. Post Grape-Nuts Cereal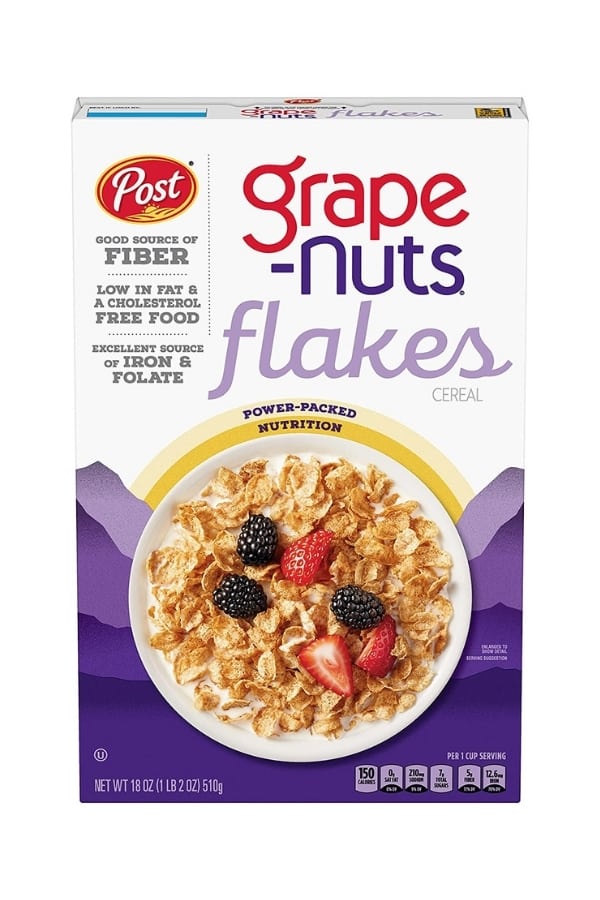 Grape-Nuts is basically the OG high fiber cereal. This classic cereal is packed with nutrients, has 100% of your daily recommended whole grain servings, and 7g of fiber per bowl.
Bonus: it stays crunchy a lot longer sitting in milk than most cereals!
GLUTEN FREE CEREAL
Our last - but not least - category of healthy cereal options is some gluten free cereal.
So if you have a gluten intolerance or just want gluten free breakfast options, check out all of these cereals!
25. Forager Organic Grain-Free O's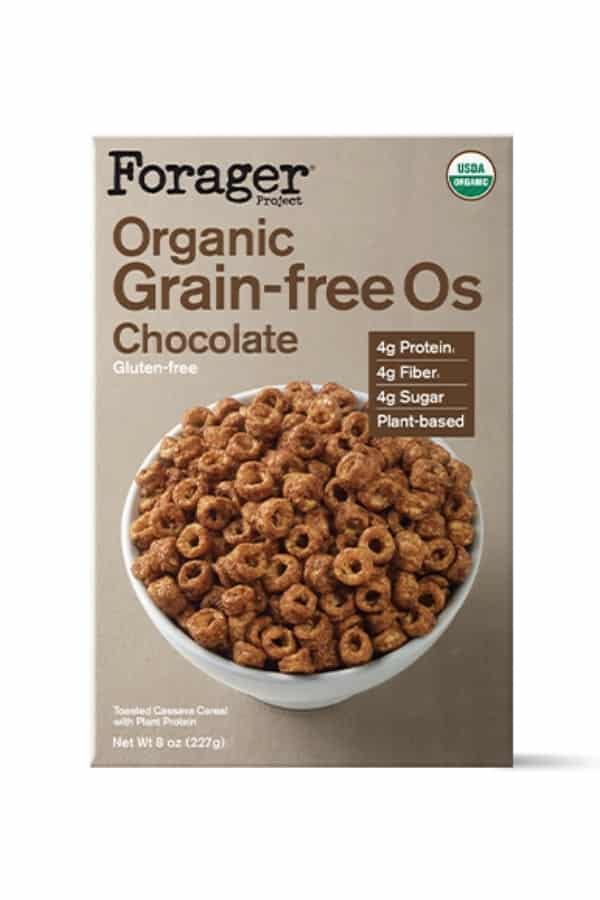 This cereal has a shape reminiscent of Cheerios, but it is gluten free, plant based, and organic!
And it has three delicious flavors to choose from - chocolate, cinnamon, and strawberry.
26. Nature's Path Organic Envirokids Cereal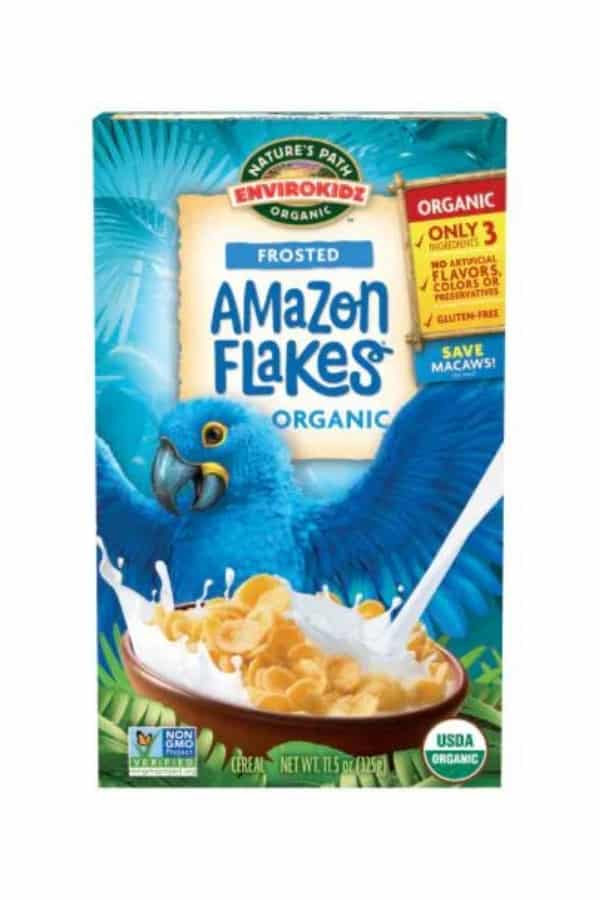 The Envirokids cereal from Nature's Path is a healthy cereal option for the whole family.
It is made with organic, non-GMO, fair-trade ingredients, and there's a version for almost any regular cereal you can think of!
27. Nature's Path Organic Sunrise Cereal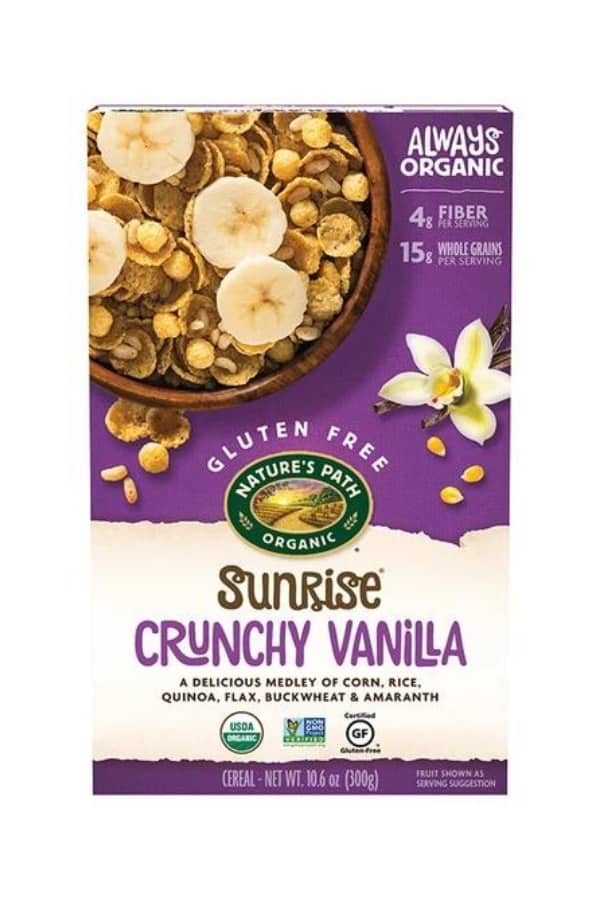 Another gluten free cereal from Nature's Path is this Sunrise Cereal. This cereal is organic, vegan, kosher, and made from high-quality ingredients like all of their products.
Try it in Crunchy Vanilla, Crunchy Maple, Crunchy Honey, and Crunchy Cinnamon.
28. Qi'a Cocoa Coconut Superflakes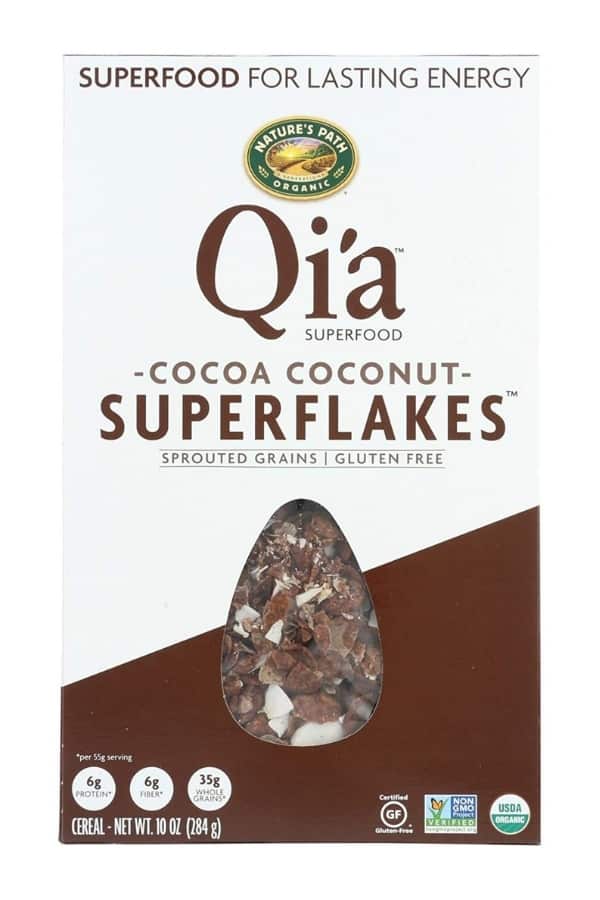 These cereal flakes are made with sprouted grains which are gluten free and have more nutritional value than regular whole grains.
In addition, this cereal is boosted with some crisp coconut flakes, chia seeds, and cocoa powder with a touch of honey for a wonderful flavor.
29. Cascadian Farm Organic Honey Vanilla Crunch Cereal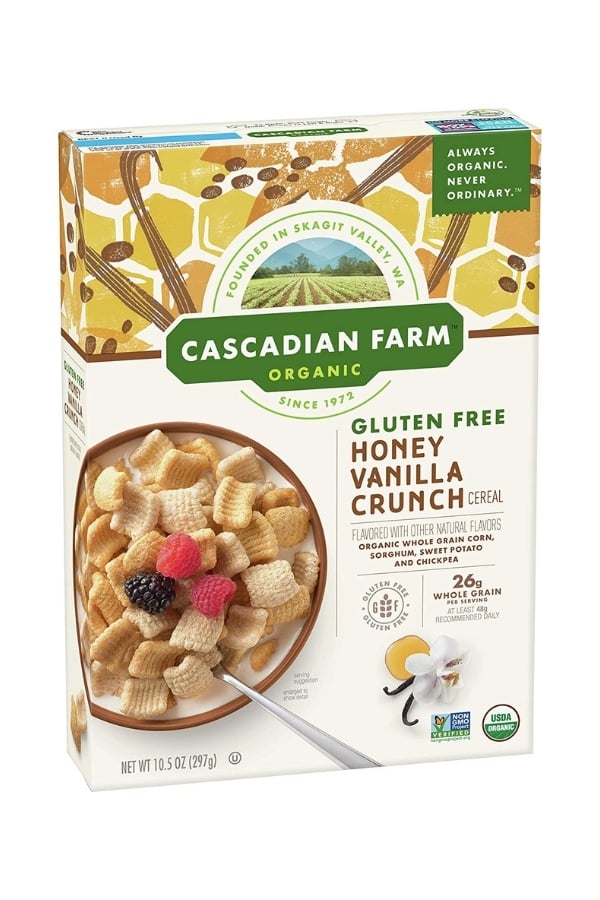 This gluten free, organic cereal from Cascadian Farm definitely delivers on crunch - it keeps its light, crispy texture even when soaked in milk.
And you can also try their Berry Vanilla Puffs version.
30. Mom's Best Crispy Cocoa Rice Cereal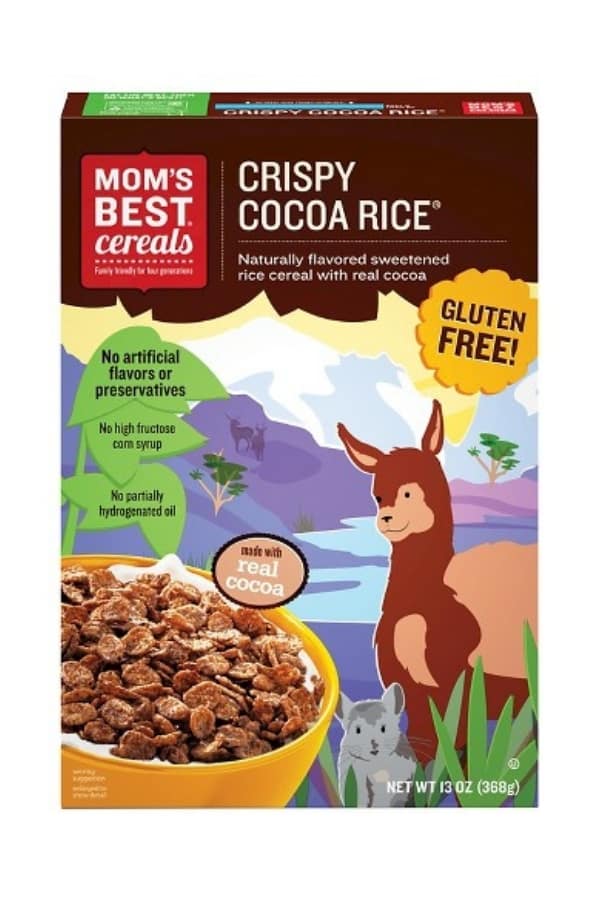 This crispy rice cereal has everything you love about Cocoa Krispies but with no artificial flavors, preservatives, or high fructose corn syrup!
31. Love Grown Power O's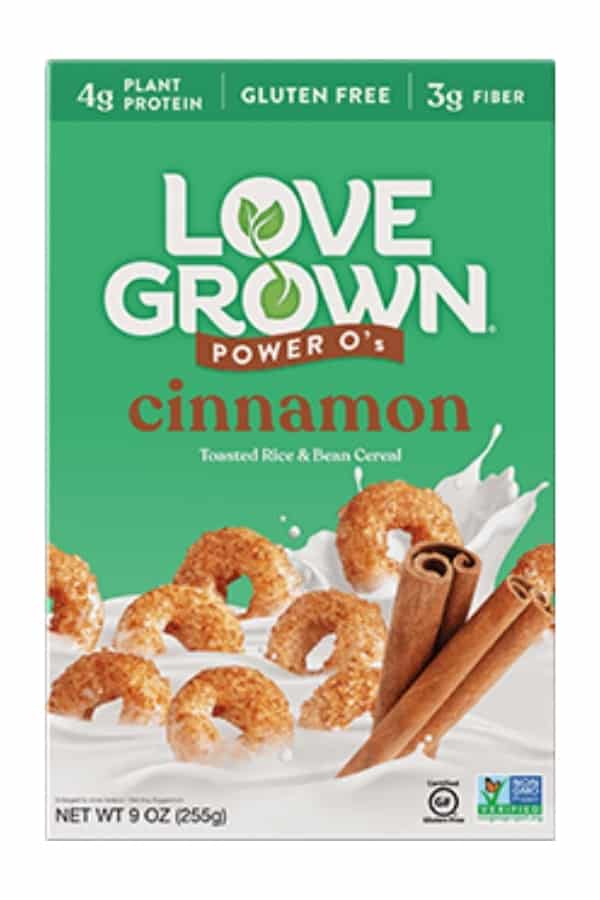 This plant-powered cereal is both gluten free and high in plant protein, with 4g per serving.
It is made with simple ingredients and is just a great way to start your morning. Oh, and it comes in chocolate and cinnamon along with the original flavor.
32. Bob's Red Mill Gluten Free Muesli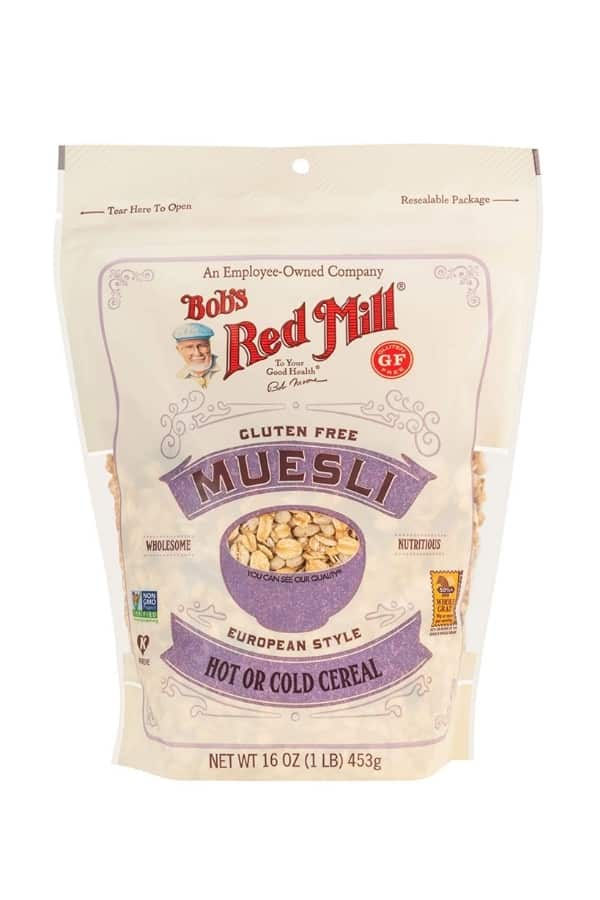 You can have this gluten free muesli two different ways - eat it like a regular cereal with milk or heat it up on the stove like oatmeal.
The original version comes with raisins, almonds, and cranberries, while the tropical version has mango, macadamia nuts, and freeze-dried strawberry!
33. Annie's Homegrown Organic Cinnabunnies Cereal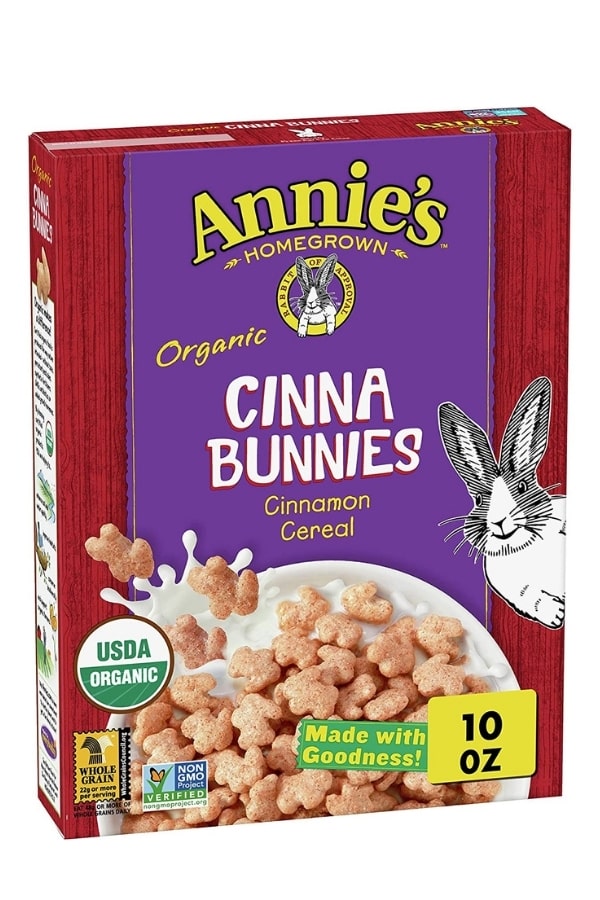 This cinnamon bunny cereal makes a fun breakfast treat at any age!
It's reminiscent of cinnamon toast crunch but is made with non-GMO, organic whole grain sorghum, white rice flour, and chickpea flour.
WRAPPING IT ALL UP
There you have it, all of the best healthy cereal that you can buy!
This extensive list of cereals has something for everyone - whether you're an adult or kid, need some more fiber in your diet, or are avoiding sugar, you'll find a healthy cereal that will kick off your day in the best way.
Anyway, I hope you like these healthy cereal options and find this list helpful.
Let me know what cereals you try and which one's your favorite!
By the way, if you liked this list, you might be interested in some of my other healthy lists: