This low calorie vodka list has everything you need to enjoy a few drinks without the unnecessary calories. Everything on this list has under 110 calories, and there are so many options to choose from, like traditional vodka, flavored vodkas, top-shelf vodkas, and more!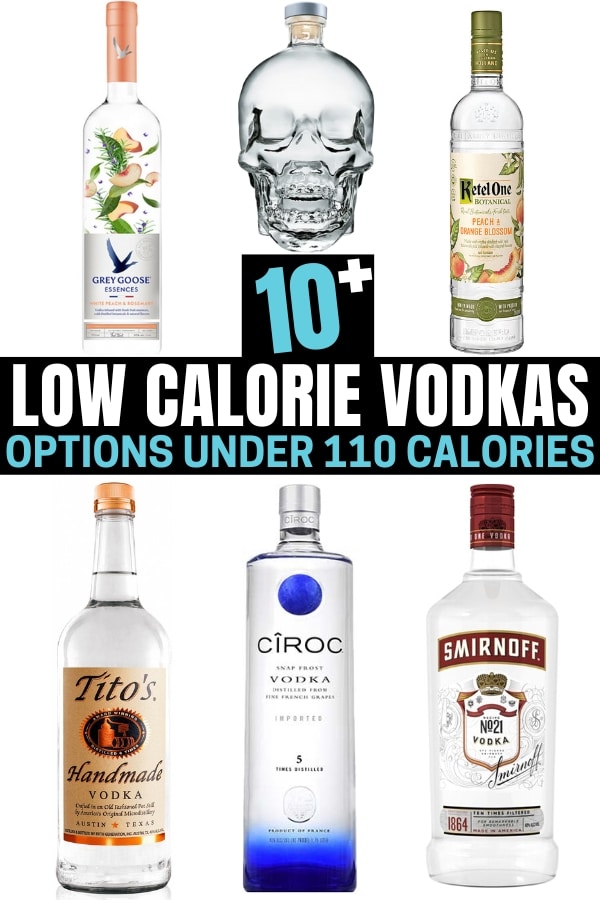 The Best Low Calorie Vodkas
Vodka is one of the lowest calorie alcoholic drinks out there, and it's super versatile too. You can enjoy it neat, over ice, or mixed with anything that has zero calories - like diet soda, soda water, or even energy drinks. Honestly, there are so many ways to mix vodka that you'll never run out of low calorie drink options with it!
Now, just so you know, some vodkas are higher in calories than others - a common misconception is that they all have the same amount of calories. So, with that said, if you're following a calorie-controlled diet, you'll most likely want to go with one that has the lowest amount possible.
And that's exactly why I compiled this list of all the lowest calorie vodka options out there! I wanted it to be easy for you to pick
There are over 12 options to choose from, and as I mentioned, all of them are under 110 calories. So, no matter what flavor vodka you're looking for, you're sure to find it here. On that note, let's not waste another second and dive into the list!
13 Lowest Calorie Vodka Options
1. Grey Goose Essences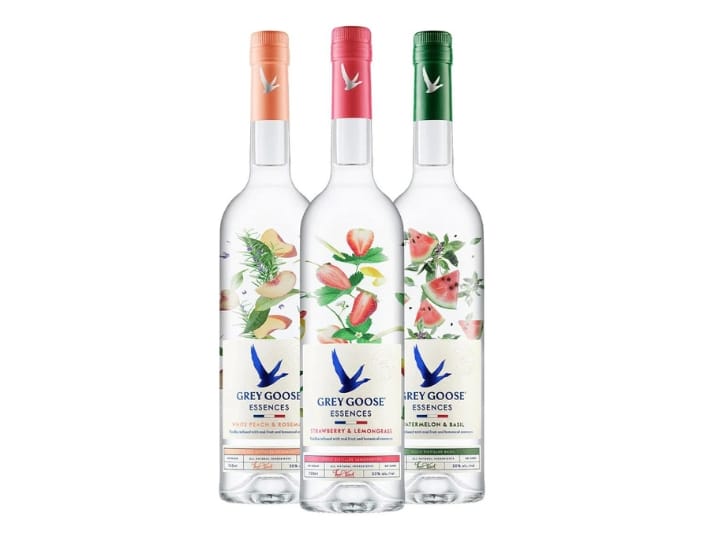 Nutritional Info for 1.5 oz. (42g):
You probably know Grey Goose for their high-quality French vodka, but they also have a flavored vodka line that has fewer calories per shot - Grey Goose Essences.
It's a botanical-infused vodka that's made with fruits and herbs, and it comes in three flavors - strawberry & lemongrass, watermelon & basil, and white peach & rosemary. They all make a refreshing drink on their own, but they're an even more delicious addition to mixed drinks.
Also, for what it's worth, Grey Goose's Essence is one of the lowest calorie vodka on the market - and on this list. It has just 73 calories per 1.5oz shot. Plus, since it comes in a bunch of flavors, so you'll never run out of low calorie drinks to make with it!
2. Ketel One Botanical Vodka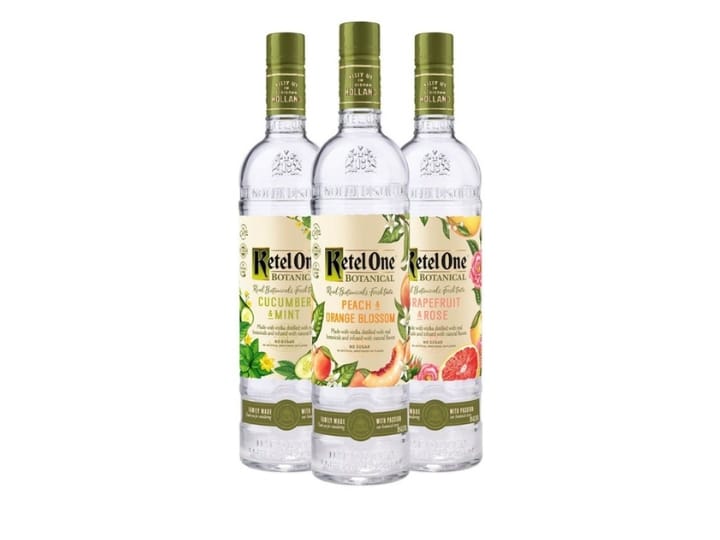 Nutritional Info for 1.5 oz.(42g):
Another botanical-flavored low calorie vodka is this option from Ketel One. While the original Ketel One vodka is already pretty low in calories at 97 calories per shot, the botanical series is the better choice since it has just 73 calories per shot. And that calorie count makes it one of the best low calorie vodkas on the market right now.
Also, this version of Ketel One vodka comes in three different flavors - cucumber and mint, peach and orange blossom, and grapefruit and rose. If those flavors sound delicious, just wait until you sip on them!
Oh, and for what it's worth, I love mixing the cucumber and mint flavor with a splash of sparkling water and a little squeeze of fresh lime juice - gah, it's so good! I highly recommend giving that a try sometime.
3. Absolut Elyx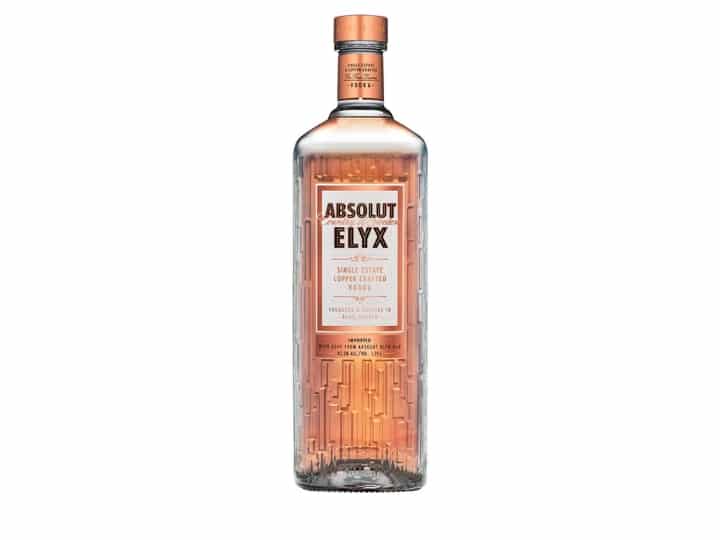 Nutritional Info for 1.5 oz.(42g):
Absolut Elyx is Absolut's top-shelf premium vodka. It's another high-quality vodka, but it's grown and made on a single estate. The vodka is made with winter wheat from Southern Sweden, and it gets distilled in a vintage copper pot still from 1921.
Even if you aren't an Absolut Vodka fan, Elyx is worth a try. It's undeniably smooth, and it comes in at just 87 calories per shot! Which is low enough to make this vodka a top 3 low calorie option out on the market right now.
4. Smirnoff No. 21 Vodka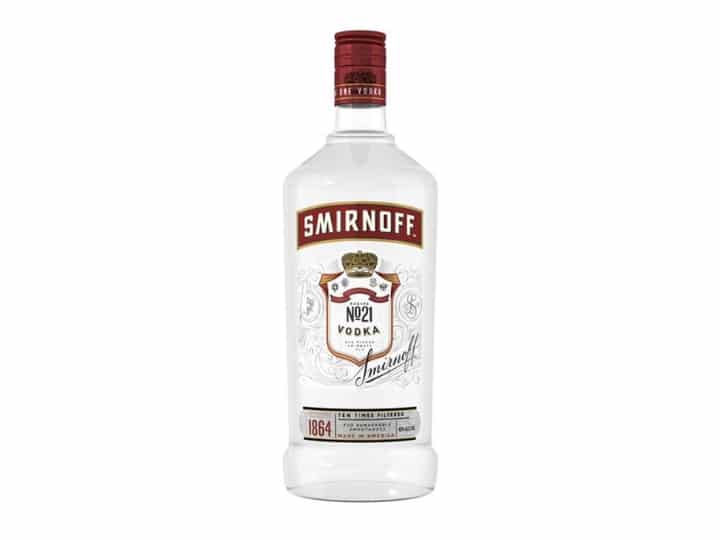 Nutritional Info for 1.5 oz.(42g):
Smirnoff vodka claims the top spot in the world's best-selling vodka brands and is sold in 130 countries, so it's extremely accessible. Chances are, you've seen their iconic red and white bottle at parties, at the store, or even in your own liquor cabinet.
The good news is that it also happens to be one of the lowest calorie options out there! A shot of their original No. 21 vodka has just 96 calories. That said, you'll want to avoid the iconic Smirnoff ice since it has considerably more calories per serving.
5. Grey Goose Vodka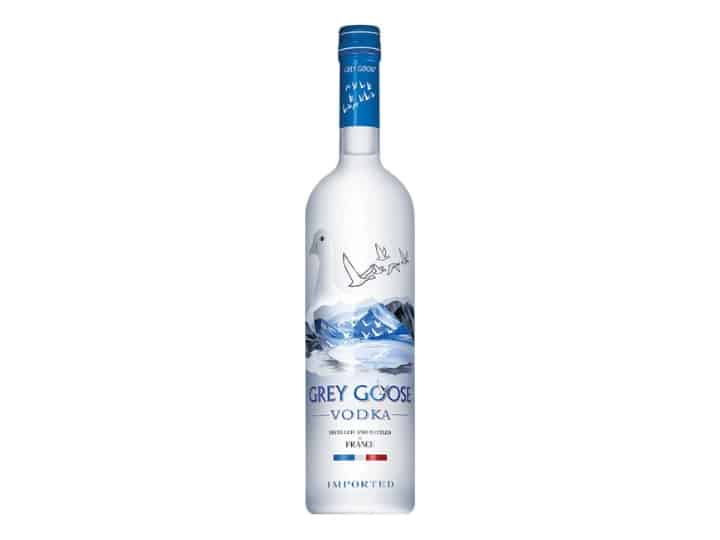 Nutritional Info for 1.5 oz.(42g):
Alright, so we've talked about Grey Goose Essences, and now we're moving on to the OG. Grey Goose's classic unflavored vodka is made in France with just two ingredients: single-origin winter wheat and limestone-filtered natural spring water.
The resulting flavor is clean and smooth, making it a super popular choice in vodka martini recipes. Plus, at just 96 calories per shot, you can keep your martini super low in calories by going with it.
6. Crystal Head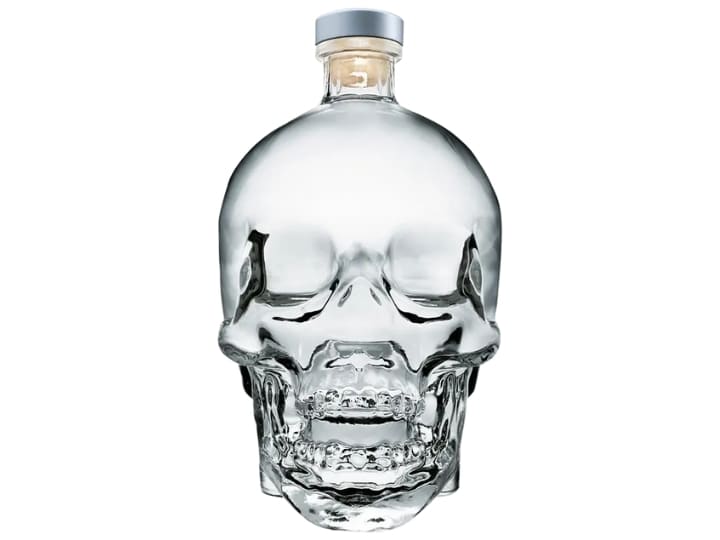 Nutritional Info for 1.5 oz.(42g):
Crystal Head vodka is recognizable by its attention-grabbing bottle, which looks like a crystal skull. But there's more to this vodka than its unique packaging - it also packs a delicious punch.
It's made in Canada from locally sourced corn and best-in-class peaches. It's filtered seven times, with part of the distillation process involving Herkimer diamonds and part of it involving activated charcoal.
The result is a super smooth vodka with notes of sweet vanilla, peaches, black pepper, and hints of citrus. And you can get all that deliciousness in a shot that has just 96 calories a shot.
7. Ciroc Snap Frost Vodka
Nutritional Info for 1.5 oz.(42g):
If you're a fan of fruity-tasting notes in your vodka, Ciroc vodka should be on your radar. It's made in France from French grapes and has a smooth and rich finish with the citrusy aroma of grapes and mint.
Worth noting is that Ciroc vodka is especially popular for mixing, so it makes a fantastic add-in to low calorie cocktails - especially since it only has 97 calories a shot! My wife's favorite thing to do with it is to combine a shot - or two - of it with some ice, diet coke, and fresh lemon juice. I have to admit it's quite a tasty drink, so I highly recommend giving it a try sometime.
8. Tito's Handmade Vodka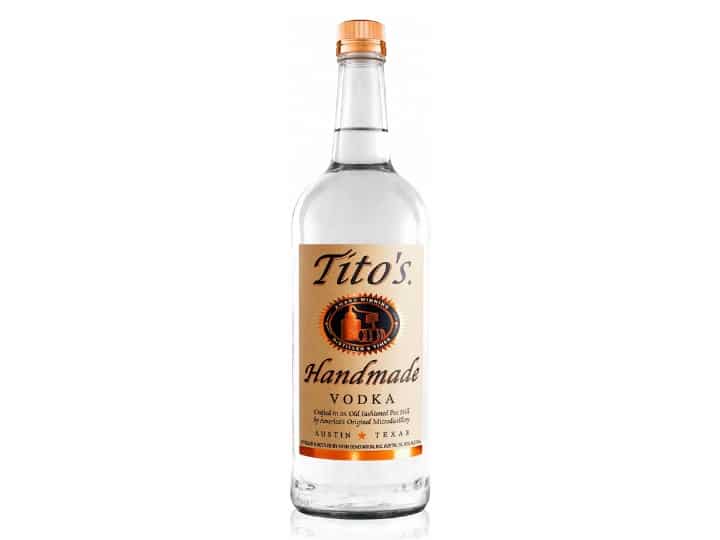 Nutritional Info for 1.5 oz.(42g):
Tito's Vodka is a classic American-style vodka focusing on quality and tradition. It's crafted in the oldest legal distillery in Austin, Texas, using old-fashioned pot stills, and every single batch is taste-tested to ensure consistency.
A shot of this corn-based gluten-free vodka comes to just 98 calories, so it's another fantastic low calorie vodka option out on the market.
Oh, also, for what it's worth, it's said that Tito's will give you less of a hangover since it's distilled 6 times. I can't quite verify that though as I've never gotten drunk on Tito's before. But, hey, it's worth keeping in mind.
9. Absolut Vodka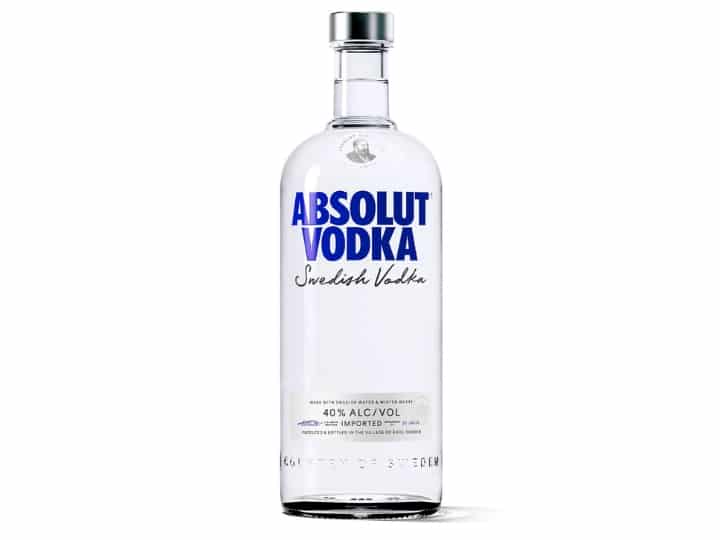 Nutritional Info for 1.5 oz.(42g) of Original:
One of the most popular vodka brands worldwide, Absolut is a staple vodka brand that you can buy practically anywhere.
Their classic unflavored vodka has just a little under 100 calories per 1.5 oz shot. Also worth mentioning is the fact that their naturally flavored vodkas, like Absolut vanilla and Absolut peach, are also similarly low in calories - with most having 99 calories or less per serving.
10. Effen Vodka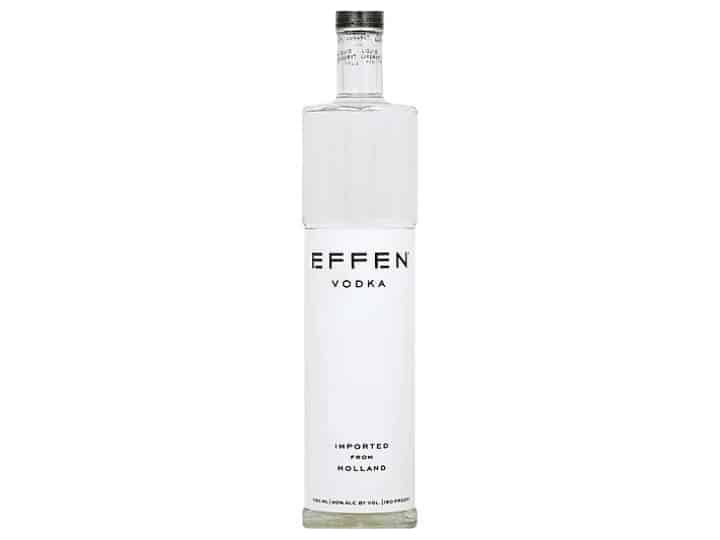 Nutritional Info for 1.5 oz.(42g):
Effen's vodka uses a 120-year-old grain spirit recipe from a 4th generation Dutch distillery, updated with modern filtration and distillation techniques for a really clean and crisp flavor. Plus, it has just 98 calories per standard-sized shot, making it one of the lowest calorie vodkas available!
11. Stoli Vodka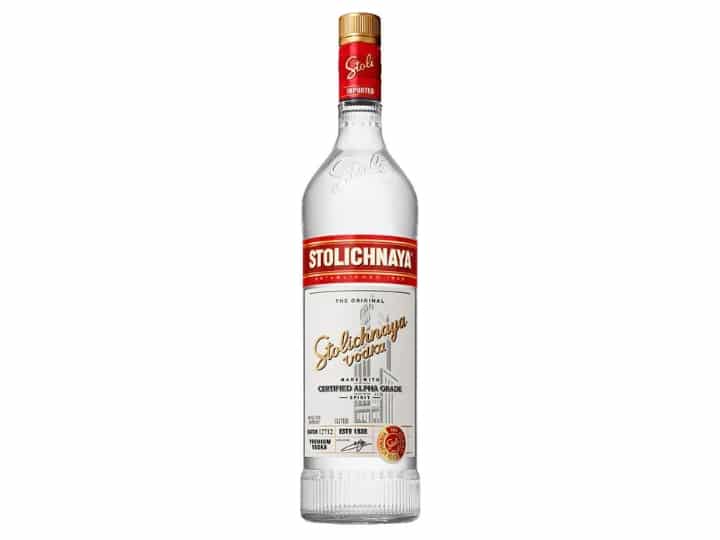 Nutritional Info for 1.5 oz.(42g):
37.5-40% ABV
101 Calories
Originally known as Stolichnaya Vodka, this Latvian vodka recently shortened its name to Stoli. Made with grains filtered through birch charcoal and quartz sand, it has a clean and slightly sweet flavor that's a favorite for mixed drinks. Plus, it has just about 100 calories per standard-sized shot.
By the way, if you want something a little stronger, their 100-proof vodka is also decently low in calories at only 124 calories for a 1.5 oz shot.
12. Belvedere Vodka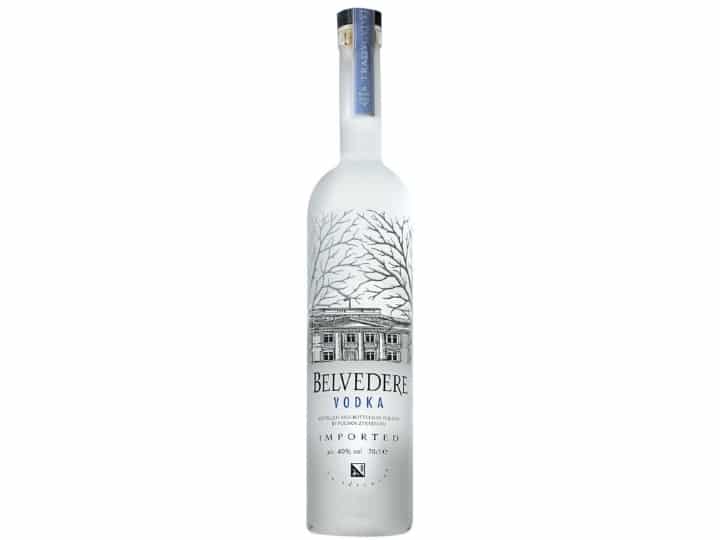 Nutritional Info for 1.5 oz.(42g):
This traditional Polish vodka is made from golden rye and quadruple distilled for a smooth, clean flavor with hints of vanilla, almond, and white pepper.
It has a great reputation as one of the best-tasting vodkas and is considered a top-shelf vodka without the heavy top-shelf price tag. Plus, at just around 104 calories per shot, there should be nothing stopping you from diving into this much-loved drink!
13. Truly Vodka Seltzer (Bonus)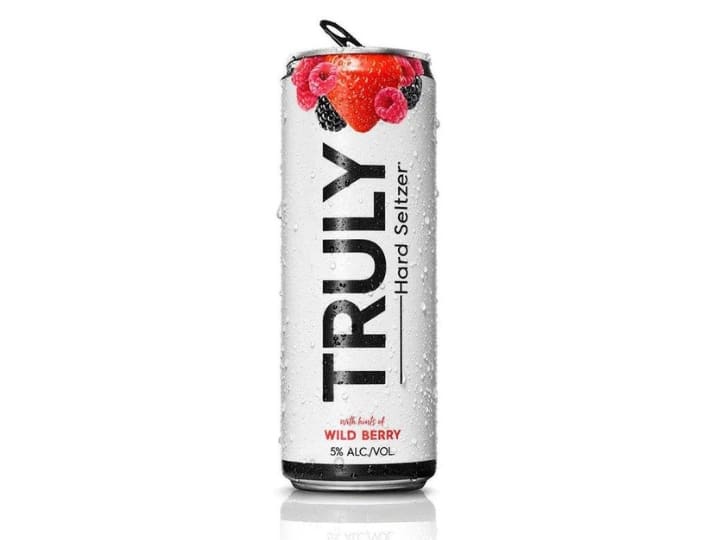 Nutritional Info for 12 oz.:
If you want to cut back on the alcohol content but still want the taste of vodka, Truly's vodka seltzer is a great option to go with. It has just 110 calories per 12 oz can, and it combines sparkling water with real fruit juice and vodka that's been distilled 6 times.
Plus, it comes in a ton of great flavors, with new ones being added all the time!
Wrapping It Up
Well, those are all the best low calorie vodka options you can try/buy right now!
As you can see from this list, there are so many fantastic vodkas to choose from that are low in calories. They're all great on their own, but they're even better when they're added to a few ice cubes, or mixed with a zero calorie drink like club soda or diet coke.
Anyway, I hope you find this list of low calorie vodkas helpful!
As always, if you try any of the options I recommended here or if you know some great low calorie alcoholic drinks to make with 'em, leave a comment below!
More Low Calorie Drinks
If you liked this low calorie vodka list, I have more great low calorie guides you can check out next!
Here are some of my reader's favorites:
Oh, and if you're looking for some easy low calorie recipes to make, be sure to follow my YouTube, Instagram, and TikTok pages. I post new recipes on there all the time.