Easy chocolate keto cookies - the best low carb soft and chewy sugar free chocolate cookie recipe!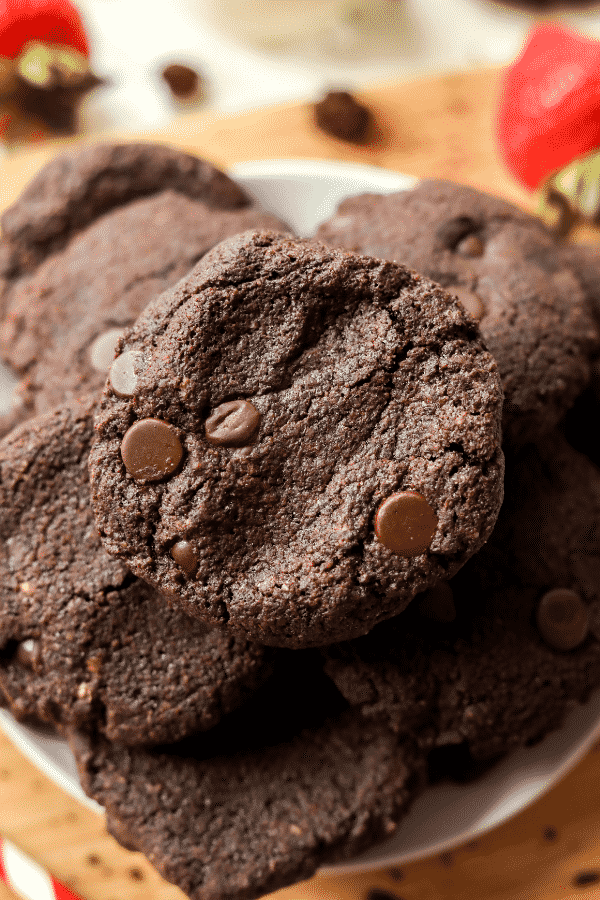 EASY CHOCOLATE KETO COOKIES
In my opinion, the best keto recipes are easy ones!
And these are some easy chocolate keto cookies to make.
Let's talk about just how easy.
From start-to-finish, these low carb cookies take 15-20 minutes. They actually only need 10 minutes MAXIMUM of baking time. How quick is that?!
And all you need to do is add all the ingredients to one bowl, mix, scoop, and bake!
Seriously, even if you're not even that good of a cook/baker you can make this keto cookie recipe.
How To Make Chocolate Keto Cookies
As always, if you want an in-depth walkthrough on how to make keto chocolate cookies check out the video above!
Like I said before, this is a one bowl recipe.
So the first thing you'll want to do is get out your food scale and a medium-sized bowl. Side note, if you don't have a food scale yet, you really should make the investment in one. Baking is a science, and weighing out all of your ingredients to the gram is the best way to ensure your keto recipes are a success!
Anyways, you'll want to add some unsalted butter and Keto Chocolate Chips to the bowl. These Chocolate Chips by Lily's have 0 NET CARBS, and that's what I've been using lately.
Next, you'll want to melt them quickly in your microwave. Somewhere between 15-30 seconds should do the trick depending on how powerful your microwave is. And then once they're done in the microwave just give them a quick mix with your spatula.
After that, you can start adding the rest of the wet ingredients for these low carb double chocolate chip cookies.
So, you'll want to add a beaten egg and pure vanilla extract, and then mix everything up again.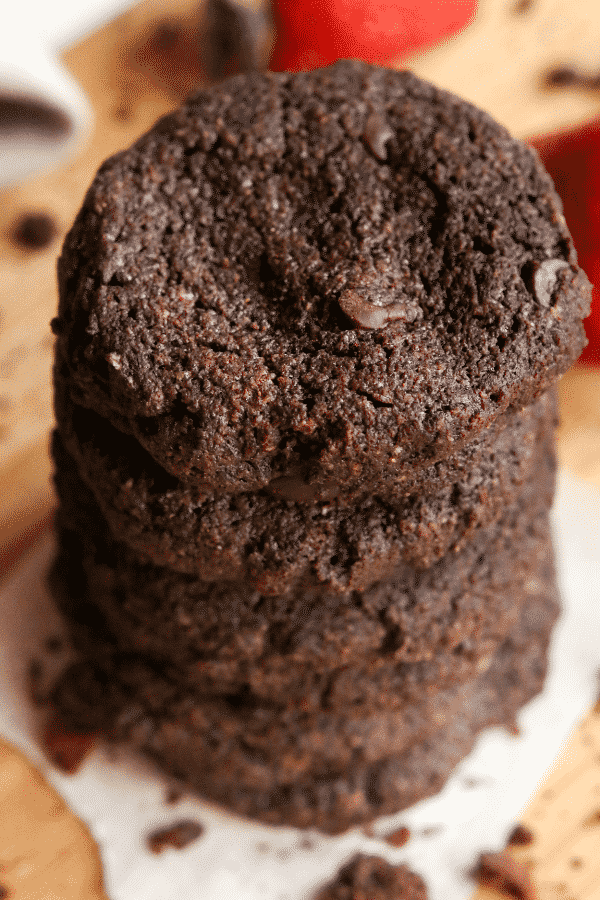 Now at this point, you'll want to add all of the dry ingredients.
Once you've taken care of that, you can mix everything one last time. At this point, a ball of chocolate cookie dough will form, and you can start making the low carb cookies from it.
Just so you know, I have a cookie scoop the size of a tablespoon, and the recipe makes 11 cookies using that sized scoop. Once you've scooped the cookies out you'll want to flatten them with a spoon or a spatula. I also like to add 2-3 Keto Chocolate Chips to the tops of them at this point too. And now they're ready for the oven!
You'll want to bake these keto cookies for 8-10 minutes tops. They will be - and should be - VERY soft when they come out of the oven. But, they will firm up and set as they cool. Most likely this will take about 20-30 minutes.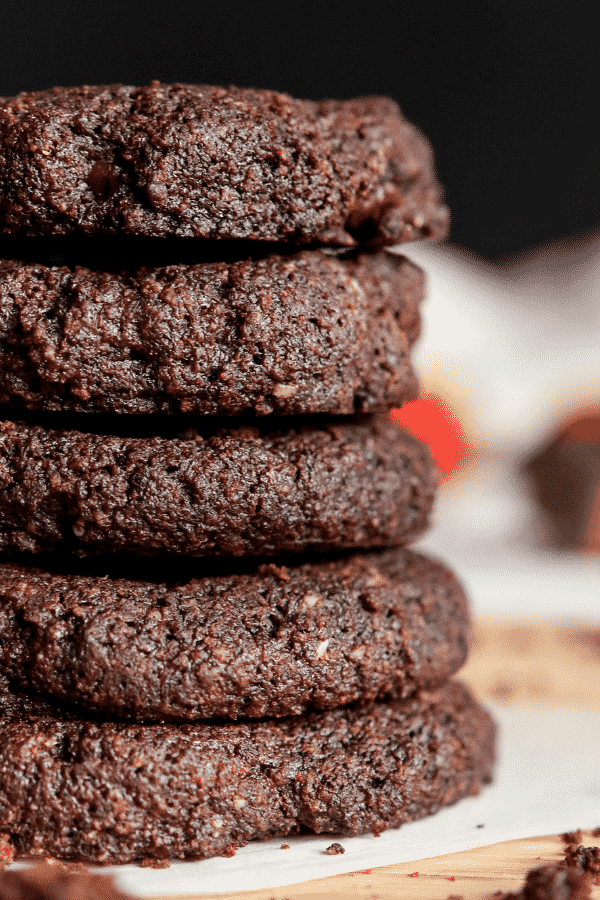 Low Carb Chocolate Cookies
Making low carb chocolate cookies requires some alternative ingredients.
As I'm sure you know, ingredients like wheat flour, sugar, and sweetened chocolate chips aren't keto friendly ingredients. And those are the most common things you'll find in "normal" cookies.
So, instead of using sugar - which is loaded with carbs - you'll want to use Swerve. If you've never used Swerve before it is the perfect sweetener for keto. It has zero net carbs, zero calories, and doesn't impact blood sugar levels.
For today's Double Chocolate Chip Keto Cookies I actually used Confectioners Swerve. Confectioners just means powdered, so it dissolves easier. I actually like to use it in all my keto recipes that call for added sweetness.
Now, it's important to know that STEVIA SHOULD NOT BE USED as a substitute for Swerve. Stevia & Swerve have different levels of sweetness. Stevia is 200 times sweeter than sugar, and Swerve is actually LESS sweet than sugar.
If you want to replace the Swerve with something else I recommend using Monk Fruit. They have the same levels of sweetness.
Like I mentioned before, to make these cookies LOW CARB chocolate cookies, you'll need to swap out the sweetened chocolate chips most cookie recipes use.
I like to use Lily's Chocolate Chips. They actually recently came out with a 0 NET CARB semi-sweetened chocolate chip, and they're so delicious. Like, you can't even tell they're low carb, I mean NO CARB!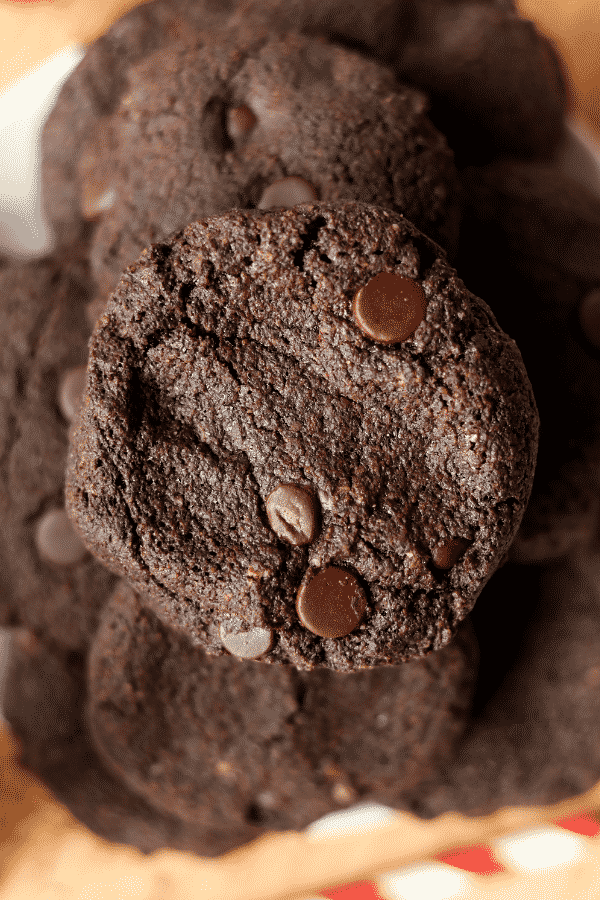 Keto Cookies Made With Almond Flour
These Chocolate Keto Cookies are made with almond flour. I personally LOVE to bake with almond flour, and it worked especially well in today's low carb cookie recipe.
There are two main reasons I love almond flour so much.
It has close to the same properties of wheat flour

It's incredibly low carb
The best almond flour I've found is this Blanched Almond Flour By Kirkland's. I use it in practically all of my keto cookie recipes, like this peanut butter one, and this chocolate chip one.
Having said that, it's also super affordable, and it only has 2 NET CARBS a serving!
It's also worth mentioning that you SHOULD NEVER substitute coconut flour for almond flour. The reason for this is that coconut flour is super absorbent, and almond flour is not.
So do not try to use coconut flour in this chocolate keto cookie recipe. Your cookies will end up not working at all, or they'll be incredibly dry.
Print
Chocolate Keto Cookies | Easy, Low Carb, & Sugar Free
Easy Sugar Free CHOCOLATE KETO COOKIES! My family thinks this is THE BEST low carb chocolate cookie recipe. From start-to-finish, they only take 15-20 minutes to make, and each one has LESS THAN 1 NET CARB.
Author:
Prep Time:

10

Cook Time:

10

Total Time:

20 minutes

Yield:

11 Cookies

Category:

Dessert
Instructions
Pre-heat your oven to 325 Degrees
In a medium-sized bowl add the butter and half of the chocolate chips
Microwave for 15-30 seconds - just enough time to slightly melt the butter and chocolate
Mix the two together until a chocolate sauce forms
Now, in a small dish, add and whisk the egg until the yolk combines with the whites
Once it does, add the egg and the vanilla extract to the bowl with the chocolate sauce
Mix again
Now add the rest of the dry ingredients - saving some of the chocolate chips to top the cookies with
Mix until a ball of chocolate cookie dough forms
When it does, use a cookie scoop (or a tablespoon) to form 11 equal sized cookies
Add the cookies to a baking sheet lined with parchment paper and top each cookie with the left-over chocolate chips
Now flatten each cookie with either a spoon or a spatula, and bake them for 8-10 minutes
They should be VERY soft when they come out of the oven but don't worry this is normal
Let the cookies cool down in the baking sheet
As they cool they will set and firm up
Once they do cool down, enjoy, and store the leftovers in an airtight container in the fridge
Notes
NOTE*
The Macros DO NOT include the "carbs" from Swerve. Swerve has 0 calories, so it should be tracked as 0 carbs. The FDA makes food companies list "sugar alcohols" as carbs, but that doesn't mean they should be tracked as such. That's why it's ALWAYS important to look at the calories of sweeteners and determine the true carb count FROM THE CALORIES!
You'll need to update the grams calculations manually if scaling the recipe. The plug-in won't do that for you.
Nutrition
Serving Size:

1 Cookie

Calories:

81

Fat:

7.5

Carbohydrates:

3.5

Fiber:

2.75

Protein:

1.5
Keywords: Chocolate Cookies, Keto Cookies, Easy Keto Cookies, Double Chocolate Chip Keto Cookies, Chocolate Keto Cookies Made With Almond Flour, How to make keto cookies, low carb cookies, how to make low carb cookies,